Reading Time:
8
minutes
Updated: 10/18/2021 | Holiday Gift Guide for Active Women
As active women over here at Schimiggy Reviews, we have a good idea of what active women want.
Active women with products that can sustain their output. They want their efforts to be amplified so that they can continue living their best lives and reaching their potential.
Are you looking to buy gifts for the active woman in your life? Consider these products that will help make active living accessible, manageable and fun!
Holiday Gift Guide for Active Women
#1 CRZ Yoga Apparel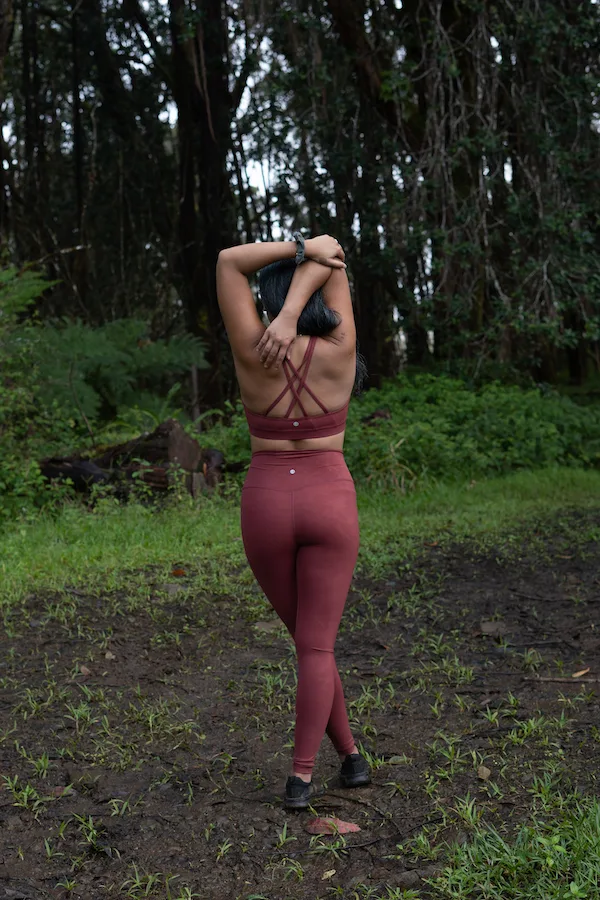 CRZ Yoga is known for making amazing dupes of lululemon's activewear. We love their stuff because it's super comfortable, stylish, and very affordable. We recommend going with your true size in CRZ Yoga apparel.
Use code SCHIMIGGY to get a 10% discount at CRZ Yoga. Read our full CRZ Yoga review here.
#2 Hydro Flask Insulated Tote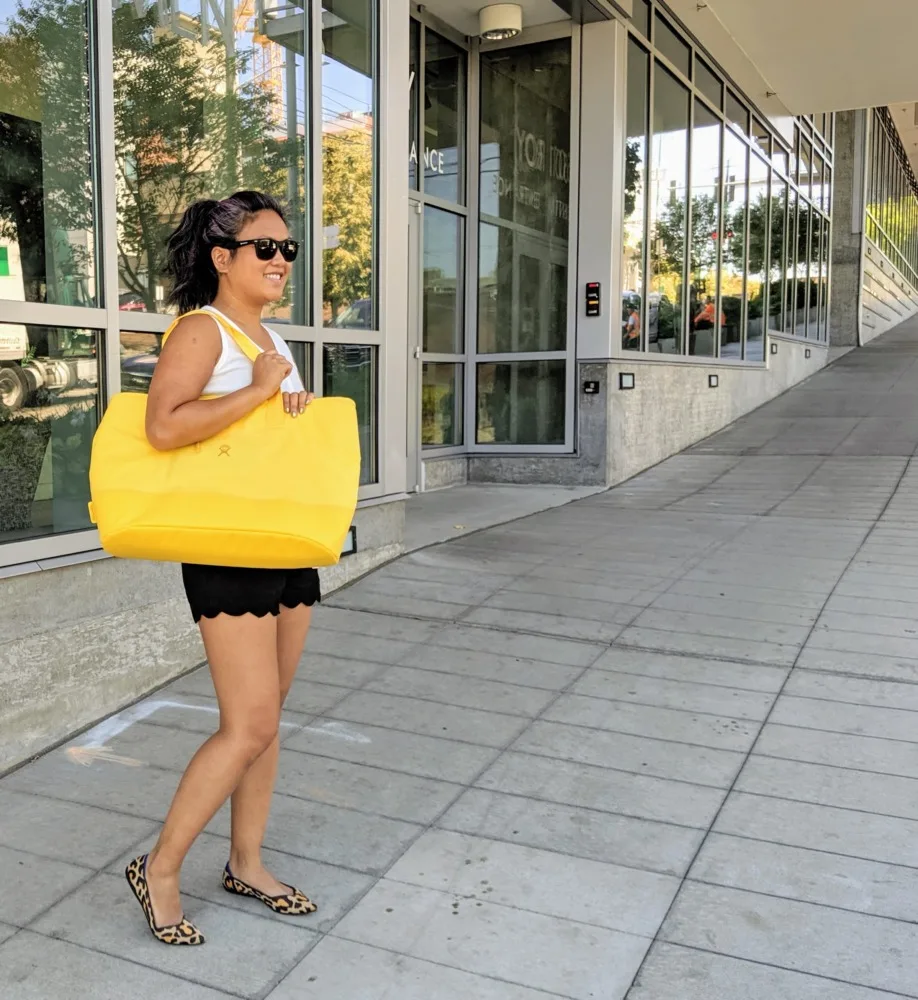 Hydro Flask's Insulated Totes keep my food fresh when I am on the go. Your food will stay either warm or cold for up to 4 hours!
We highly recommend getting a lunch bag (8L) and one larger bag (20L or 35L) for your grocery trips. Single-use plastics are a thing of the past.
They're also super stylish and come in fun colors. It's totes awesome!
Related: How to Keep Food and Groceries Fresh While You're Out and About
#3 HaloVino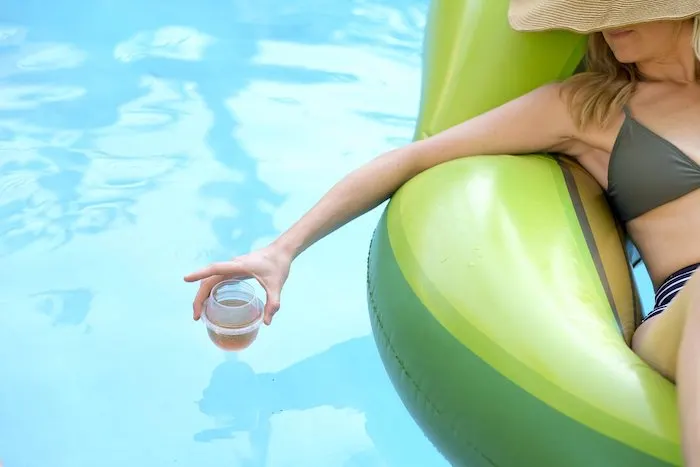 HaloVino makes these awesome tumblers that FLOAT in water. Bring them to the pool, beach or cruise and never have to worry about breaking glass or losing your beverage again.
#4 Banton Frameworks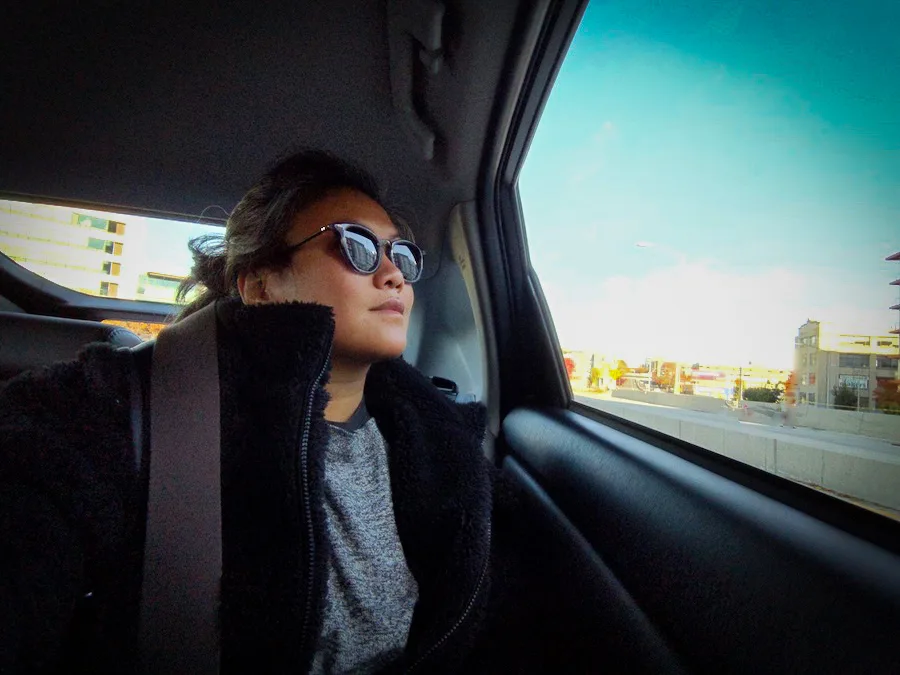 Banton Frameworks makes high-quality polarized sunglasses and prescription glasses for men and women. All their frames are carefully crafted and durable. They also come with a slim case and cleaning cloth. If you've been looking for artisanal frames, these are it.
They will send you a pair to try on prior to placing the prescription lenses in your frames to ensure a perfect fit.
#5 Jaybird Vista True Wireless Headphones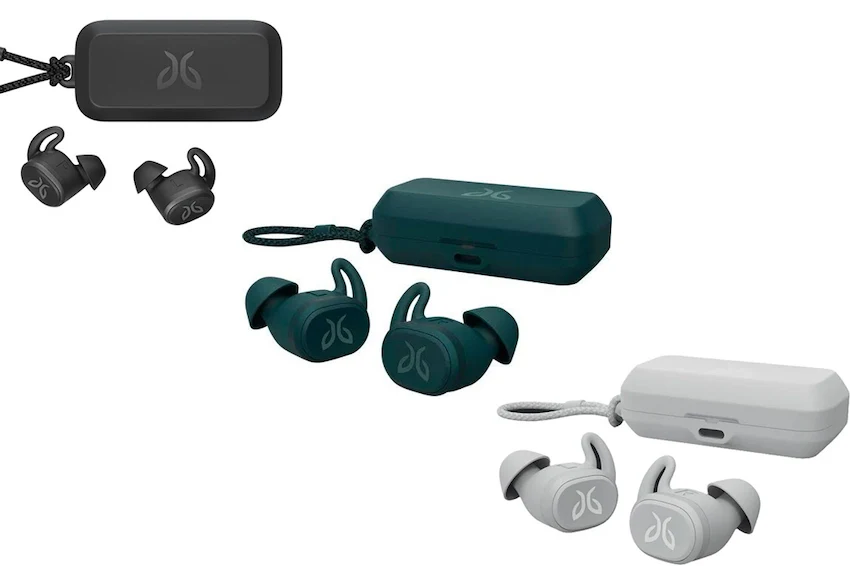 Jaybird Vista's ($179) wireless headphones are perfect for your friend who wants to listen to her tunes while outdoors. We wear these while hiking, running, boating and even while doing yoga outside.
The Vista headphones come in three colors. They are by far the lightest pair of wireless earphones we've ever tried and the battery life is up to 16 hours (with case charging time)!
Related: Jaybird Vista Review | True Wireless Sport Headphones
#6 Silicone Rings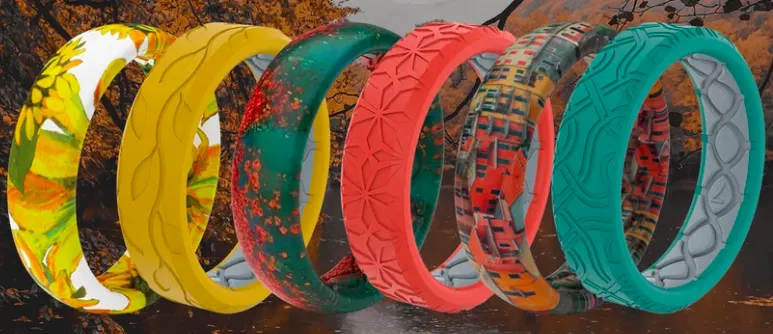 We love silicone rings because they're durable and fashionable. If you're like us and like to get your hands dirty, silicone rings are a sure way to stay fashionable while exploring the world. They're also great for both men and women.
Groove Life makes awesome silicone rings with different designs and sizes. We're a huge fan of their stacked bands!
#7 Body Systems Go Essentials Kit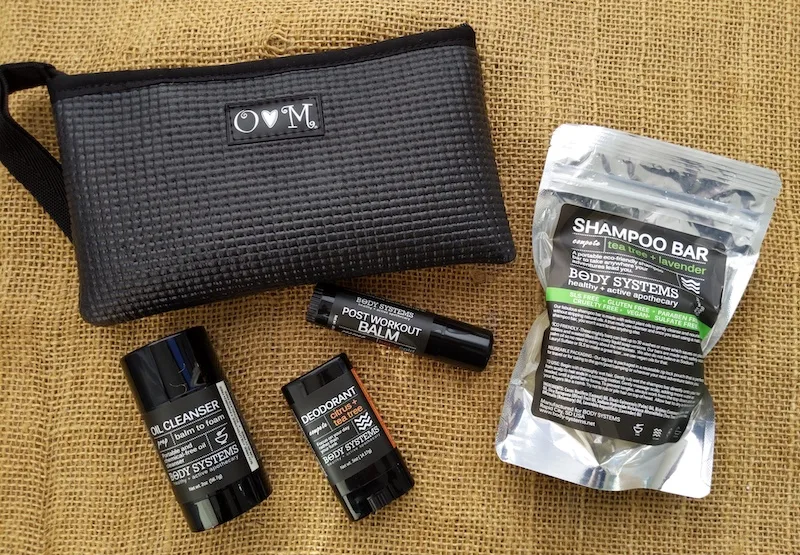 The Body Systems Go Essentials Kit ($40-$60) is perfect for women on the go. The bag is made from yoga mats and the set can be purchased with or without the yoga mat bag.
The set includes deodorant, solid cleanser, post-workout balm and a full-sized shampoo bar!
The best part about this kit is that all the ingredients are natural, sulfate-free and come in recyclable packaging.
Related: Sulfate-Free and Non-Toxic Shampoo Bars + Tips!
#8 Nomader Collapsible Water Bottle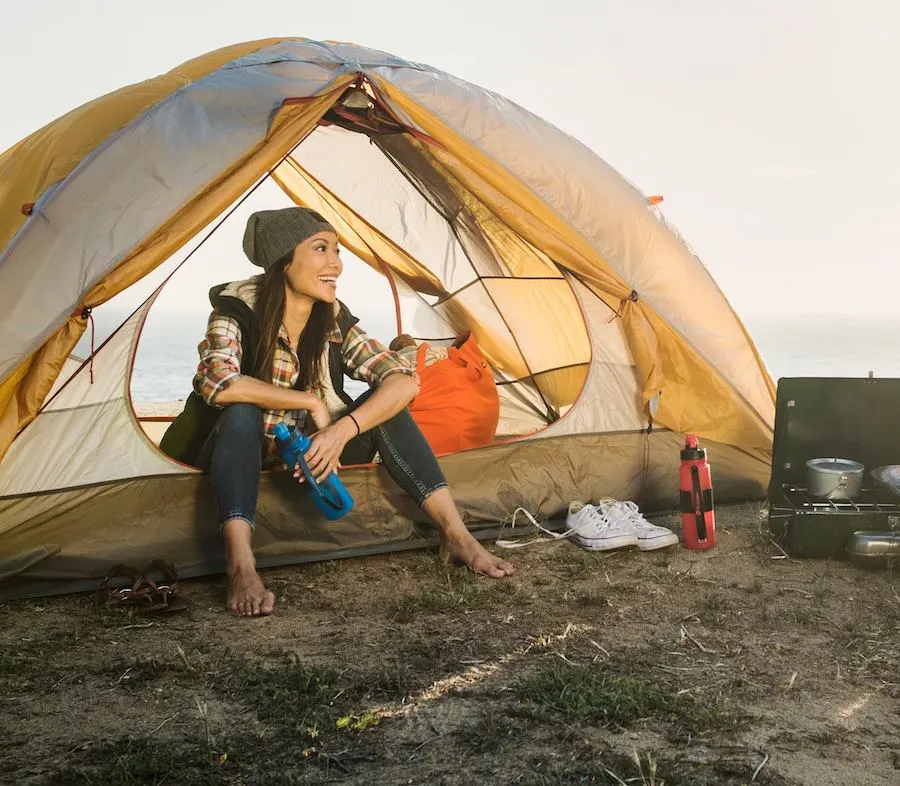 Nomader makes collapsible water bottles that roll up and tuck into your bag. You can also wear the bottle from a carabiner and go hands-free. The bottles come in various colors, are super easy to clean, and BPA free!
#9 Block Island Organics Skincare

Block Island Organics makes a gentle cleanser and sunscreen for active women. Their products are also natural, organic and non-toxic.
We use the purifying facial cleanser and face moisturizer when traveling.
#10 Osprey Porter Backpack
We're literally obsessed with the Osprey Porter travel backpack. The bag carries more than a carry-on's worth and can also be used as a duffel bag.
The 46L bag comes in various colors such as red, black, green, and even teal. We're all for it.
#11 Busy Beauty Showerless Travel Kit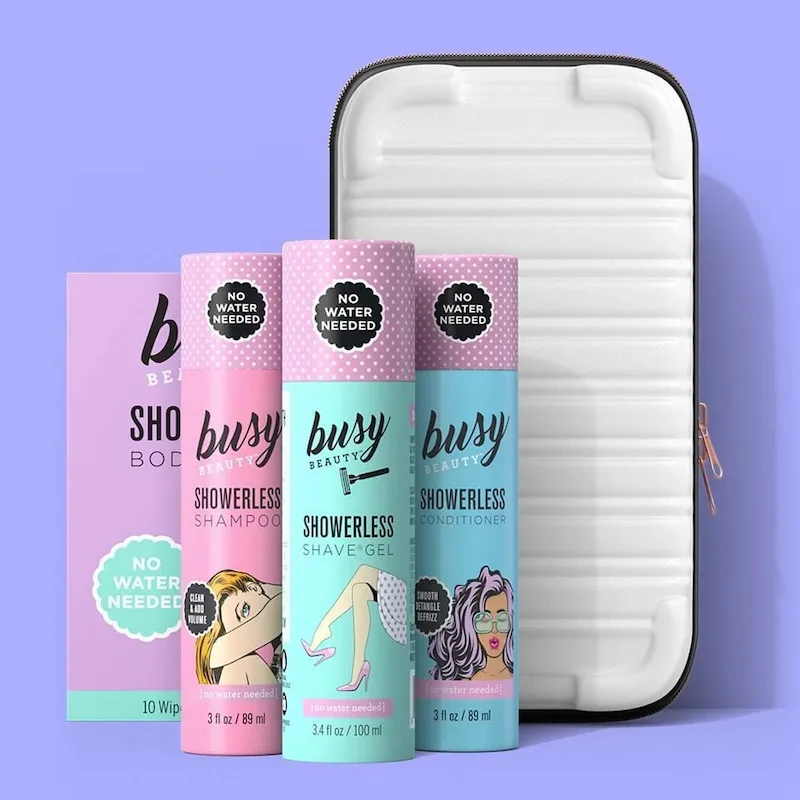 Busy Beauty's Showerless Travel Kit ($44.95) is the bee's knees. The kit comes with dry shampoo, dry conditioner, showerless shaving cream and large body wipes to clean your ENTIRE body.
It's great for women who are always on the go and cannot take a long shower post-workout. The kit comes in an iFly hard toiletry case that we are obsessed with.
Use our link to get $10 off your first order at Busy Beauty.
#12 Nomadik Subscription Box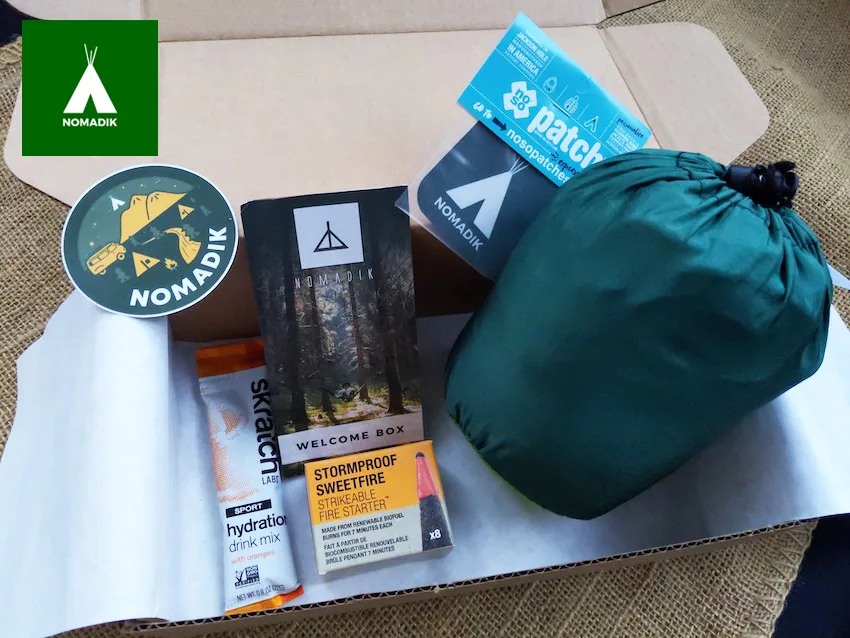 Get your friend a box full of adventure! Nomadik makes subscription boxes for people who love the outdoors. Boxes start at only $29.99 and comes with $70+ worth of gear.
You can easily skip and change your box subscriptions to fit your needs.
All members receive the Nomadik Welcome Box that comes with a Lawson hammock, NOSO Patch, Stormproof fire starter matches, Skratch Labs hydration drink mix, and Nomadik sticker.
#13 Caterpy Laces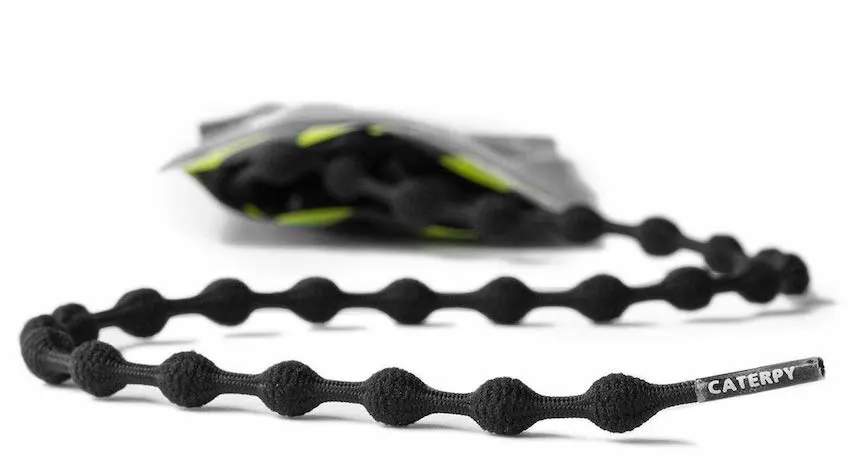 Caterpy Laces will take care of pesky shoelaces that won't stay put. The laces are stretchy, durable and come in many fun colors to match your sneakers.
#14 UWILA Warrior Underwear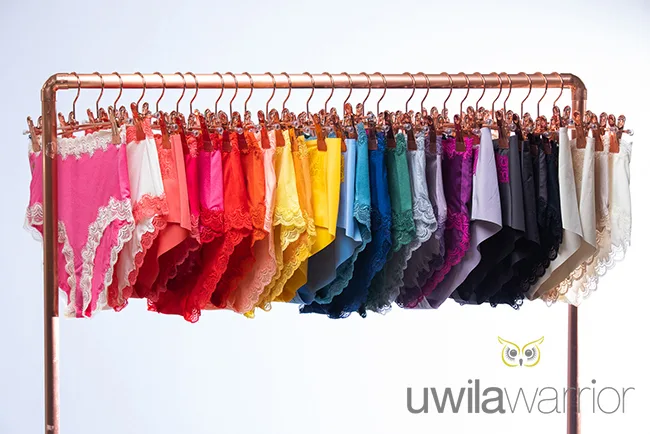 UWILA Warrior makes luxe underwear and sleepwear for women. Choose from seamless and lace underwear. Their panties are airy light and fit like a second skin. You won't even feel it when worn, making them perfect for sports and high-impact exercising.
Their panties range from $22 up to $58 for embroidered designs. They also come with a satisfaction guarantee. If you don't like your panties, exchange them for a pair you'll love!
#15 Colorado Aromatics Athlete Care Kit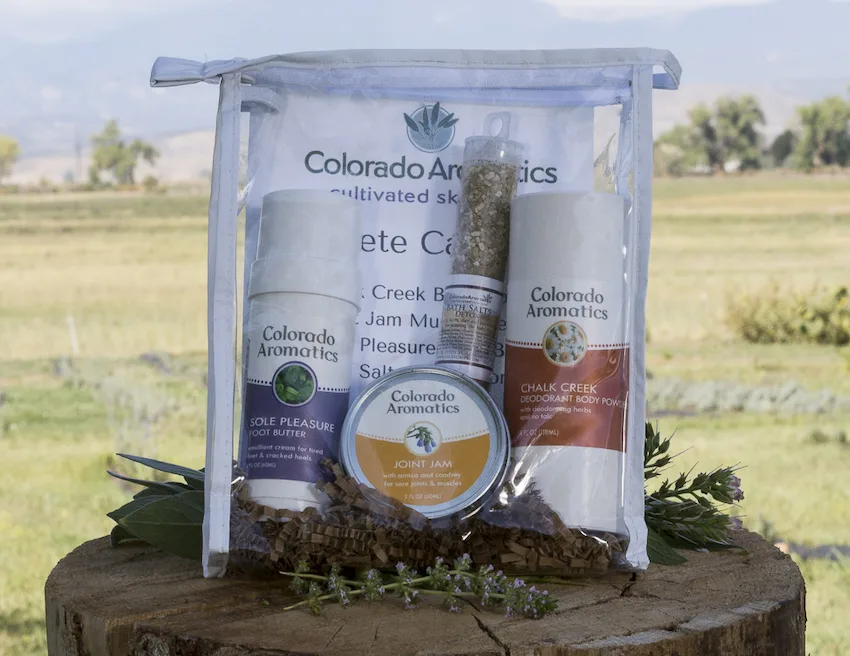 Colorado Aromatics offers a kit to pamper your favorite athlete. The kit ($37.59) includes a Sole Pleasure Foot Butter (2 oz), Joint Jam (2 oz), Detox Bath salts with epsom salt and a Chalk Creek Deodorant Powder (4 oz).
We LOVE the deodorant that comes in compostable packaging!
Dr Cindy Jones is a Biochemist and cancer researcher turned herbalist and natural skin care advocate and formulator. Her entire line of beauty products is all natural and protects you from harsh weather factors such as wind, sun and more.
They also have a physical spa with an esthetician in Longmont, Colorado.
#16 Final Straw

The Final Straw is the last straw you'll ever need! The straw compacts into its case and even comes with a telescoping cleaning brush. Mix and match different cases and straw colors to create a personalized tool that will help you reduce or even eliminate your single-use plastic consumption.
We created a sustainable travel kit that you can check out in our Sustainable Travel Guide. It's the perfect kit for reducing your carbon footprint while traveling.
#17 Love Sun Body Sunblock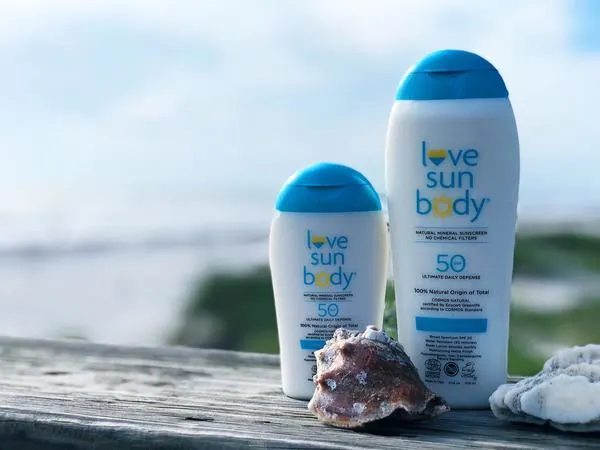 If you don't want to turn into a raisin, use sunscreen to protect your skin. Sun damage can be hard to reverse. We recommend Sun Love Body, a certified Cosmos natural (meaning products are 100% organic and natural) mineral sunscreen that applies smoothly against my tan skin.
Most mineral sunblocks leave a white film on my skin but this stuff doesn't. It comes in Broad Spectrum SPF 30 and SPF 50 and is unscented, which is perfect for people who are sensitive to strong scents.
#18 Anti-Theft Scarf by Waypoint Goods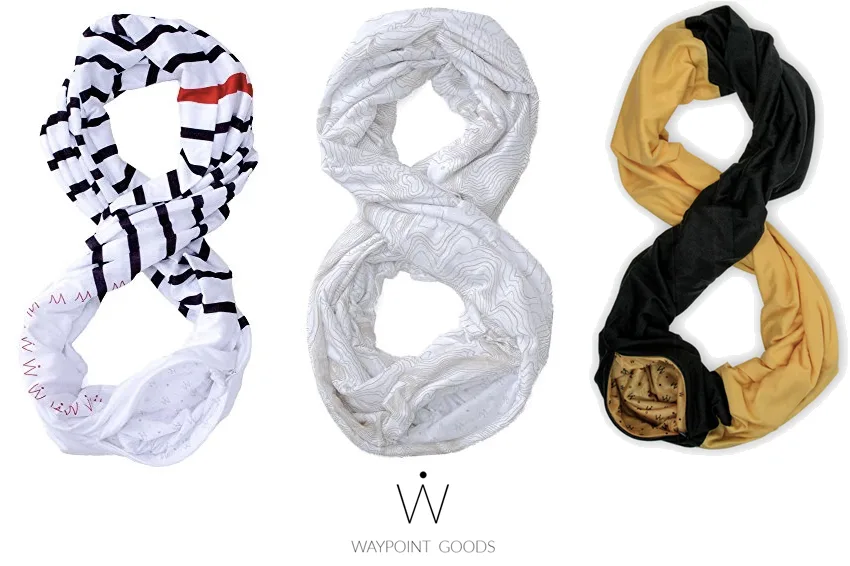 We love these anti-theft scarves by Waypoint Goods. The infinity scarf style is flattering and houses a zipper pocket for all your important belongings. Stow your cellphone, credit cards, passports and more in this hidden sleeve and travel with peace of mind.
Related: Anti-Theft Clothing and Accessories | How to Prevent Theft While Traveling
#19 Earthkind's Stay Away Mosquito Spray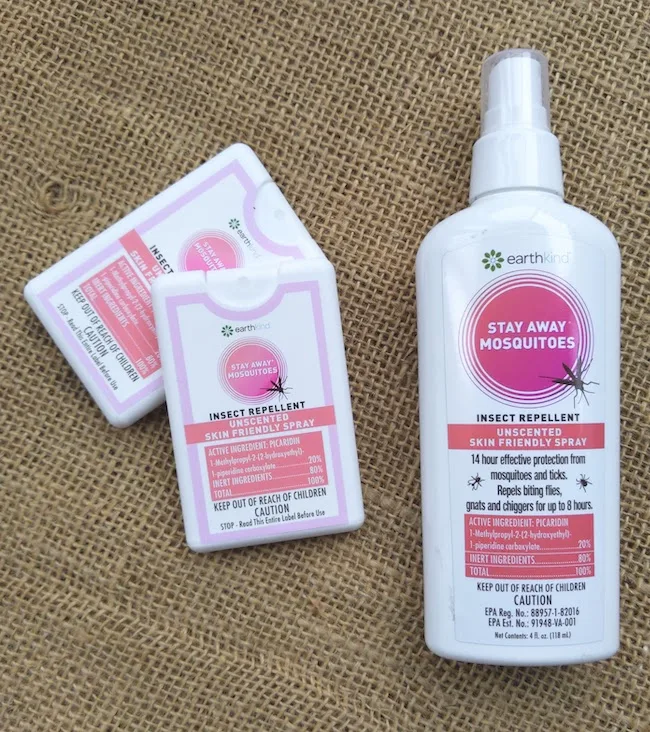 Earthkind's Stay Away mosquito spray comes in both travel sized and large sized containers. The ingredients are all-natural and eco-friendly.
If you know someone who loves to be outdoors or travels often, this is a great gift to ward off pesky insects that might cross your path.
And lastly, if your gift recipient is looking for an adventure, we recommend experiences from globosurfer.com or REI. Experiences are always great for those who want an adventure or live minimalist lifestyle.
We hope you enjoyed our holiday gift guide for active women. Do you have gifts you'd like to recommend to our team? We're all ears! Feel free to send us a message if you'd like to include your gift.
If you liked our Holiday Gift Guide for Active Women, you might like these posts too:
We received these products to test out on Schimiggy Reviews. As always, all thoughts and opinions are 100% honest and our own.
---
Looking for more gift ideas? Check out all the other amazing gift guides below!
It's Just Kris | Majenica Writes | Stacy Tilton Reviews | Reviewz and Newz
Southern Mommas | Tabby's Pantry | Hot Mess Housewife | Mama Dews
From Moms to Grandmas | Keeping Up With Coco | The Review Wire
Chatty Patty's Place | Missy's Product Reviews | Peyton's Momma
This Mama's Life | Things That Make People Go Aww | My Four and More | Schimiggy Reviews – Holiday Gift Guide for Active Women
Thank you for visiting today! If you found this encouraging or informative, please connect with us on Instagram or TikTok.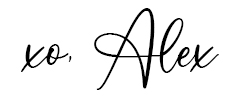 Sign up for our monthly newsletter for updates and more. We promise we won't spam you! Feel free to unsubscribe anytime.
If you're a brand and want to work with us, please visit this page to get in touch.