Reading Time:
13
minutes
Updated: 4/5/2021 | Best Non-Toxic Shampoo Bars
I recently made the switch to non-toxic and sulfate free shampoo bars in an effort to get myself closer to ZERO WASTE!
Zero waste means eliminating one's output which ends up in the trash or in our landfills. According to the EPA, about 1/3 of landfill waste comes from personal care products.
Although it takes on average 4-6 months for me to go through a shampoo bottle, at the end, I still have a bottle that I can't refill with the same product.
Let's talk about shampoo bars! LUSH Cosmetics shampoo bars went viral after a Facebook video made people conscious about the impact of single-use plastics.
From my review of their shampoo bars, what I learned was that LUSH shampoo bars are not the best for my skin or the environment due to their inclusion of Sodium Laureth Sulfate (SLS), Sodium Coco Sulfate (SCS) and Ammonium Lauryl Sulfate (ALS). And these are just the more commonly know surfactants.
Both SLS and SCS are detergents and surfactants that are inexpensive and commonly used in cleaning products to create that lathered soap feeling that usually indicates that our hair is clean. Contrary to belief, a lather doesn't always mean you're clean.
Sulfates are also skin irritants, so if you have psoriasis, it can cause flare-ups or even embarrassing dandruff.
In general, I recommend steering clear of products made with sulfates because it can be harmful to your body and the environment.
While reviewing the LUSH shampoo bars, I stumbled upon an article from Lush (not surprised it's from their marketing team) about how sulfates aren't so bad and you shouldn't stress about them blah blah…but they are dead wrong.
Enter sulfate FREE shampoo bars! Luckily, we live in a world when natural beauty products can be found everywhere nowadays.
In this article, we will break down a few things you should know about shampoo bars. And if you already know, you can skip right to our list of recommended non-toxic shampoo bars.
Benefits of Using Shampoo Bars
Aside from the ability to complement a zero waste lifestyle, here are some benefits people have experienced while using shampoo bars.
They're small and compact. Shampoo bars are lightweight and will fit anywhere, making them the perfect travel companion and accessory. One bar of soap is equivalent to 3 shampoo bottles, so that means they will last for months. Ditch the weight and single-use plastic and opt for the convenience of shampoo bars!
They are easy to travel with. Shampoo bars eliminate the worry that something will leak in your bag. Trust me that is not something you want to experience, especially when your trip is just beginning.
They last longer. A little goes a long way. I swipe my hair 8-10 times with a wet bar and that is usually is enough to lather my long mane. Most shampoo bars advertise a lifespan of 60-80 uses, which is still 3 times longer than a bottle of shampoo.
They have non-toxic options. It is possible to find non-toxic and sulfate free shampoo bars if you know where to look.
They don't use plastic packaging. Most shampoo bars are packaged in biodegradable paper or in no package at all if sold in-store. This helps decrease the amount of plastic waste typically associated with hair products.
Shampoo bars can be used for both hair and body. A shampoo bar are equipped to handle both jobs. It also helps to lighten the load and make space in your toiletry bag.
Your hair will feel more nourished. With the lack of surfactants, your hair will preserve its moisture and feel much healthier. I have dry and frizzy gray hair, so shampoo bars have been a lifesaver for taming my hair in dry and humid weather.
You can finish the entire bar! Compared to shampoo bottles, I am always trying to shake the last drop out and even then, there is still some product left in the bottles! You also leave single-use plastic waste. A shampoo bar will leave zero waste!
Cons of Using Shampoo Bars
Then there's always the bad stuff. But don't worry, the positives still outweigh the negatives. Here are some drawbacks to switching to shampoo bars:
It doesn't get your hair as clean. Because the bars don't lather much, many people report that their hair does not feel as clean. All natural shampoo can also leave hair feeling waxy due to the oils that create a "soap scum." When this happens, the solution is to wash the residue away with apple cider vinegar (ACV). I recommend starting with less and adding to your wash as needed so that you don't apply too much and leave your hair feeling gross.
Waiting for shampoo bars to dry can be time-consuming. If you don't wait for your bars to dry before packing them away, they can turn into a pile of mush. I recommend using a leak-proof container (I use an Altoids tin) to store your bar while traveling. While in the shower, keep your bar away from running water. Only use what you need and then tuck it back into the tin to dry while you wash the rest of your body. You can also slice your shampoo bar into smaller pieces and only use a single flake with every shower.
Shampoo bars will lose its scent and harden over time if not used. Over time, the fragrance of the bar disappears. Over time, water will also evaporate from the bar, causing it to dry up and harden. It's safe to say that most of the shampoo bars will perform best and have a best by date for at least a year after purchase.
We can't avoid all chemicals. What we can do is choose to avoid the most harmful ones. All natural shampoo bars are made with chemicals, however, some are not harmful.
Types of Shampoo Bars
There are three types of shampoo bars. Most sulfate free bars are made using the first two methods.
1. Cold-pressed: What most DIY and natural personal care companies use. Cold-pressed bars are often full of natural oils (nourishing fats) to help condition your hair and usually free of SLS-free. Bars are made by mixing fixed oils (like coconut) with an alkali (such as Lye) to achieve saponification, where the composition of the fixed oils change when the alkali is added.
However, because of the oils and butters can cause build up, many users will rinse their hair with a clarifying product (such as an apple cider vinegar rinse) to prevent and remove build-up.
A good, cold-pressed soap won't have any lye left over after the saponification process.
2. Glycerin-based: Soaps containing natural glycerin tend to be kinder on the hair and scalp due to their lower pH levels (more pH balanced), which helps to keep your skin and hair maintain its moisture.
Some people complain that it glycerin soaps do not lather as much and also may contain palm oil.
3. Solid surfactant: These soaps offer the best lather (thanks to sulfates) and most people report that their hair feels very clean afterward (this was my experience with Lush).
However, they contain SLS which can be an irritant for some people. The main purpose of a surfactant soap is to remove the dirt, oil, and bacteria. It can also be very drying and often require the use of conditioners.
How to Use Shampoo Bars
You may be considering switching to a shampoo bar. Here are some steps on how to use bar shampoo:
Step 1: Thoroughly saturate hair your hair and scalp with lukewarm water. The wetter the hair, the easier it will be for the shampoo bar to lather and distribute.
Step 2: You can either cut the shampoo bar into little pieces or rub the bar on your wet hair. I like to lather it in my hands first before applying onto my hair.
When I need more shampoo, I take the bar and swipe my hair a few times to add some extra lather.
Step 3: Place your shampoo bar into its leak-proof container or soap shelf and away from water to prevent it from disintegrating.
Step 4: Continue gently lathering the hair in sections to avoid tangling. Slowly work the lather from the scalp and make your way down to the ends of your hair.
I like to massage my scalp firmly with the pad of my fingertip to prevent soap buildup.
Step 5: Rinse well under running lukewarm water. Use an apple cider vinegar wash if you need to remove soap scum. I tend to use ACV every 3-4 washes just to remove any build-up.
Step 6: Rinse your hair one more time to remove the ACV and gently wring your hair by squeezing your hair between your palms.
Step 7: At this point, is a great time to dry your hair. I gently pat my hair from the scalp down to the tips.
Step 8: Once hair is dried (can be damp), add leave-in conditioner and your desired styling products.
Shampoo Bar Tips
#1 Sample It: If it's your first time using shampoo bars, I recommend getting various samples or travel size bars to test how they react to your scalp and hair. Shampoo bar recipes vary from brand to brand. Test them all out and see what works for you!
#2 Change It Up: Your hair changes with different environments and seasons. It's a good idea to change your shampoo bar regularly so that it helps your hair adapt to the atmosphere.
#3 Use Lukewarm Water to Rinse Thoroughly: When using shampoo bars, your hair and skin will need to adjust to shampoo bars. Initially, it will feel un-clean due to lack of sulfates. Using lukewarm water and giving a good thorough rinse will help to reduce residue left on your scalp and hair.
#4 Consult with Your Hair Dresser: Analyze your hair (usually done with a hairdresser) so that you make the best shampoo bar decision. There are different bars for dry, oily and normal hair.
#5 Stagger Your Hair Washes: Once you've become accustomed to shampoo bars, you'll find that you do not have to wash your hair every day.
#6 Use Coconut Oil to Moisturize and Reduce Frizz: After a shampoo bar wash, your hair may feel frizzy and dry. You can use coconut oil as a moisturizer for your hair. I use a pea-shaped amount and emulsify it in the palm of my hand.
I then run it using my fingers and massage it throughout my hair and scalp. This also helps to control and reduce any frizz.
Best Sulfate-Free Shampoo Bar Brands
If you're looking to avoid carcinogens, these non-toxic and natural shampoo bars are for you!
Some are even cheaper than LUSH shampoo bars. Sulfates aren't great for you and there are plenty of natural alternatives that provide the lather effect for soap.
Buyer be warned–you may need to use apple cider vinegar (AVC) to wash any soapy residue leftover from using natural shampoo bars.
I've also indicated if a bar contains palm oil and any applicable discounts.
#1 Amish Farms
Amish Farms Handmade Bar Soaps ($14.99 for a 6 pack) is made with sustainably sourced palm oil and has a creamy rich lather.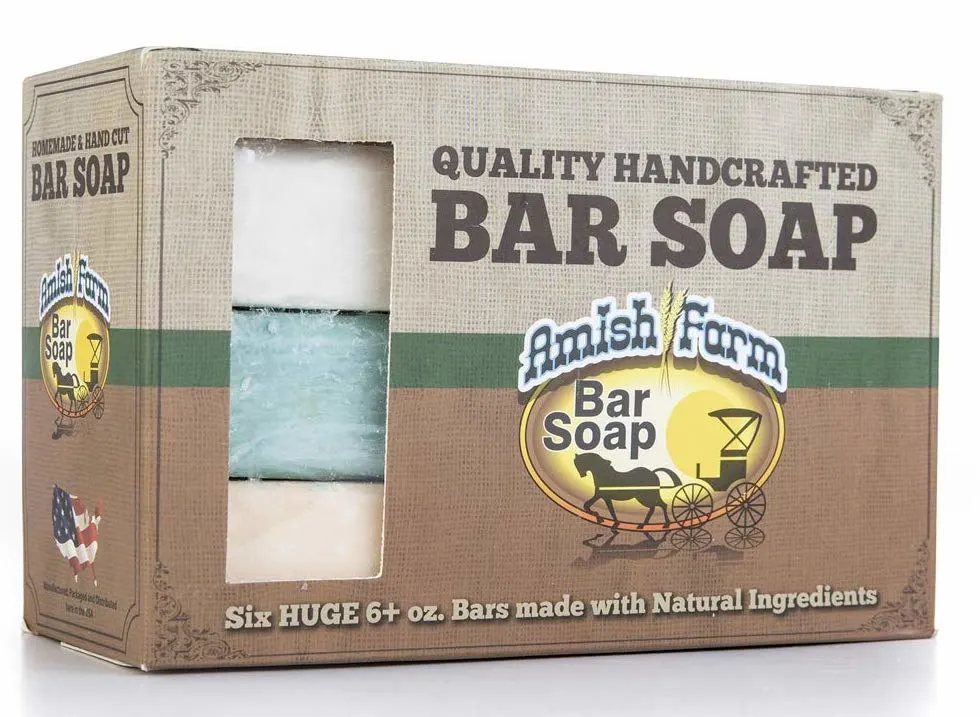 #2 Beauty and the Bees
Beauty and the Bees Shampoo Bars ($9) come in a variety of scents and blends for different hair types. They're based out of Australia.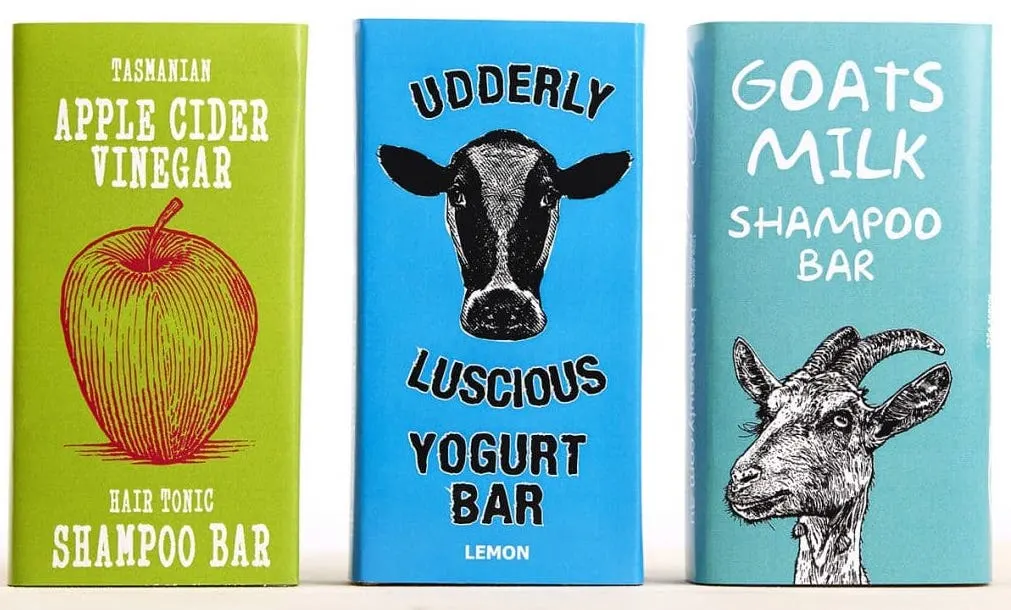 #3 by Humankind
by Humankind ($12.95 for 4 oz) – This shampoo bar comes in cardboard packaging and lathered REALLY well. The lather was very silky and the Lavender lemon scented bar smelled amazing! The palm oil in the bar is ethically and sustainably sourced.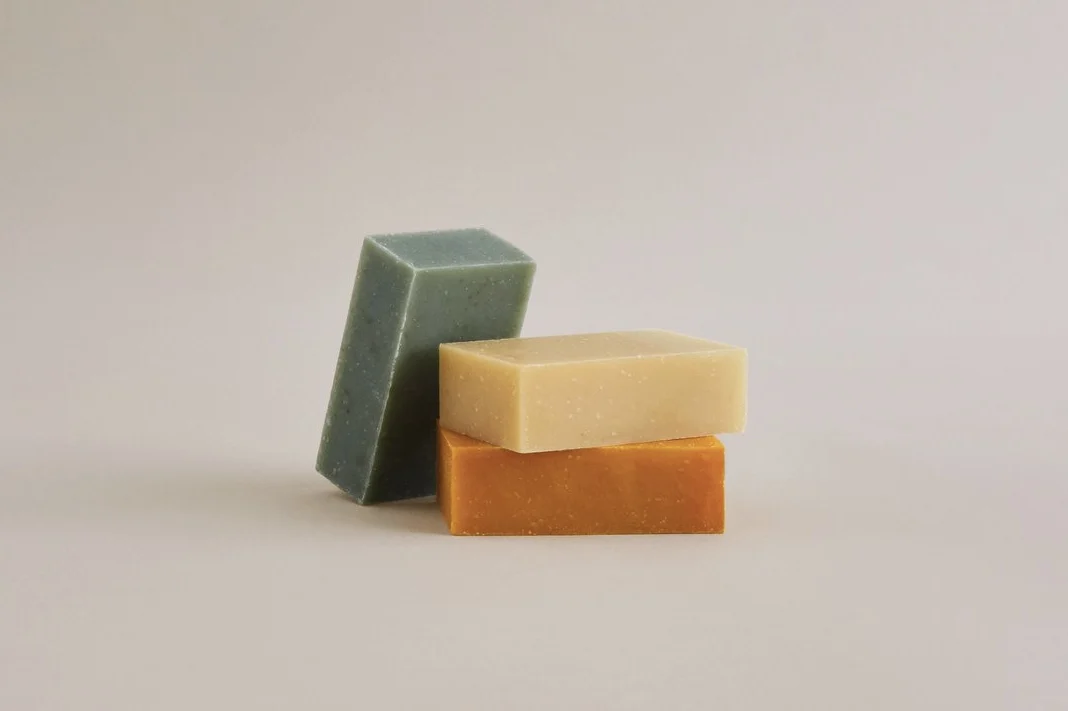 #4 HiBar
HiBar ($13.95 for 3.2 oz) contains traces of ethically and sustainably sourced palm oil. They sell both shampoo and conditioner bars for different hair types.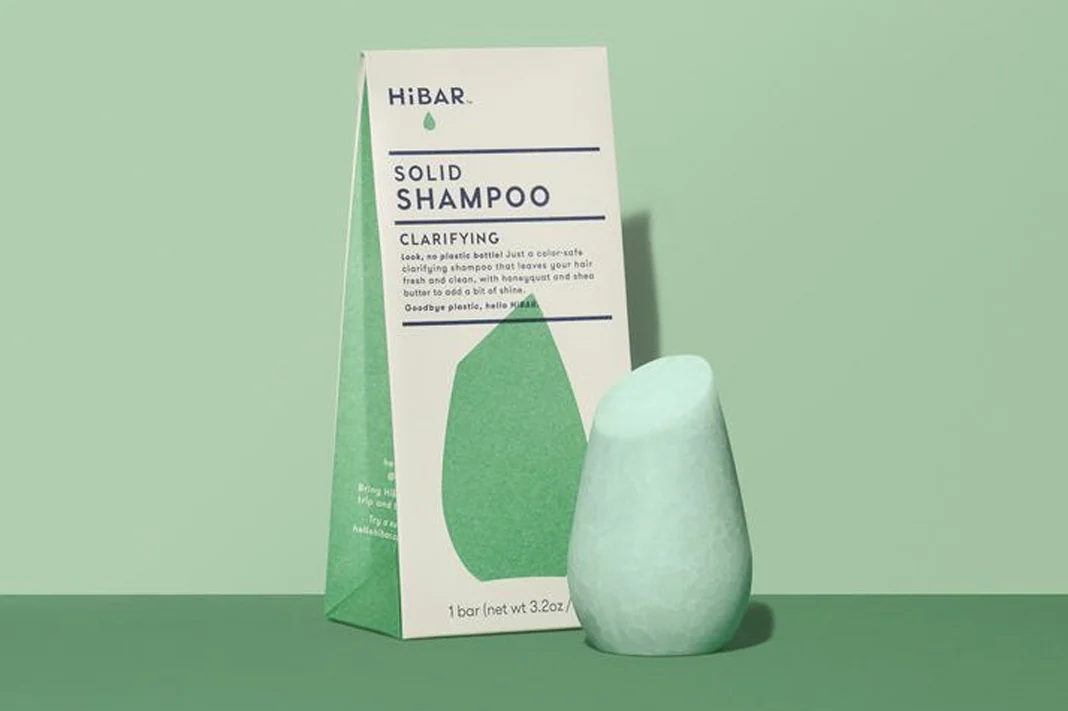 #5 Chagrin Valley
Chagrin Valley Shampoo Bars run about ~$9 for 5.8 oz. Some bars may contain palm oil which can leave a residue in your hair. Chagrin also makes an Apple Cider Vinegar (ACV) rinse to get rid of any residue.
Use this link to get $5 off your first order at Chagrin Valley.
#6 Unwrapped Life
I just found out about this Canadian beauty company that makes non-toxic shampoo bars for many types. They also have dreamy scents that will make you want to travel the world.
Their packing is also totally PLASTIC-FREE down to the tape on the box. I am a fan!
Save 15% off your orders at Unwrapped Life when you use our link.
#7 Well Earth Goods
Well Earth Goods makes their own shampoo and conditioner bars. Their shop is small but very intentional! You'll find most of what zero waste goods you need here.
Sign-up for their subscription program to save money.
#8 Friendly Soap
Friendly Soap ($7.95 for 4 oz) is made with castor oil and contain no palm oil. Their bars lather nicely and smell great!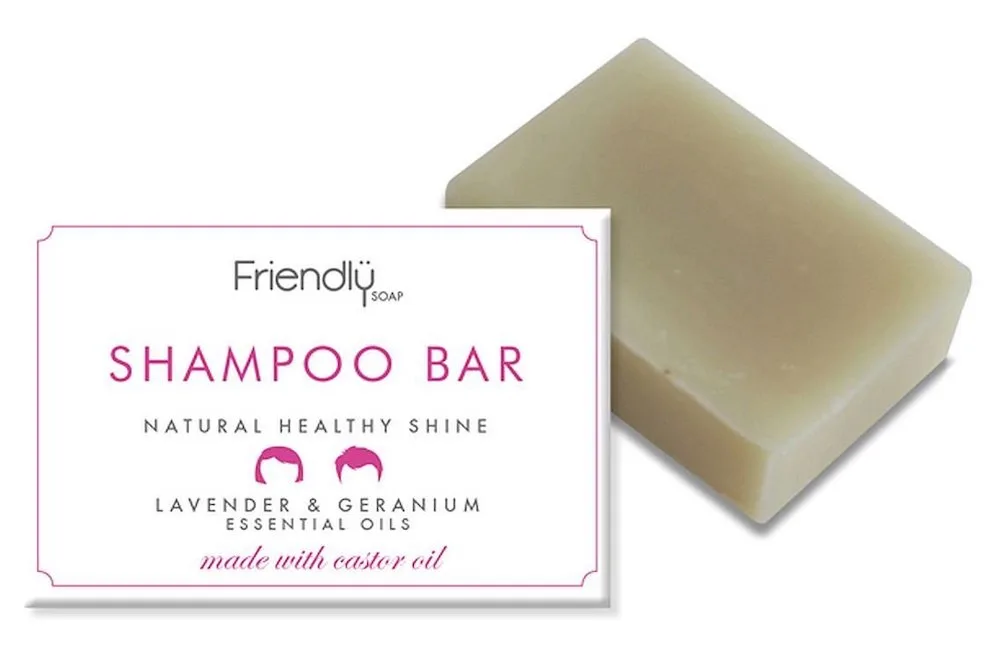 #9 J.R. Liggett
J.R. Liggett Shampoo Bar ($9 for 3.5 oz) makes full and travel-sized bars. I have their travel pouch that keeps my bars clean and easy to transport.
Buy J.R. Liggett on Amazon or directly from their website.
#10 OYIN Grand
The OYIN Grand Poo Bar ($7 for 3.5 oz) comes in a hefty size. It is wrapped in plastic so that's the only thing that sucks about this bar.
Use this link to get 25% off your orders at OYIN. You can also buy OYIN on Amazon.
#11 Three Sisters Apothecary by Soap Cauldron
Three Sisters Apothecary by Soap Cauldron makes sulfate-free shampoo bars, conditioner bars and even hair oil (which we're in LOVE with!).
They make all their products in small batches and even offer pet products!
Buy their products individually or save when your purchase sets.
#12 Shannon's Soaps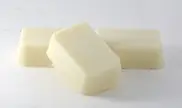 Shannon's Soaps shampoo bars ($5 for 4 oz) contain sustainable palm oil. They come in two scents and you receive free shipping on all orders.
#13 Obia Naturals
Obia Naturals ($9.99 for 4 oz) makes shampoo bars with coconut shae butter and neem and tea tree oil. They're also perfect for curly hair.
Use this link for $5 off your Obia Naturals order. You can also buy Obia Natural shampoo bars on Amazon.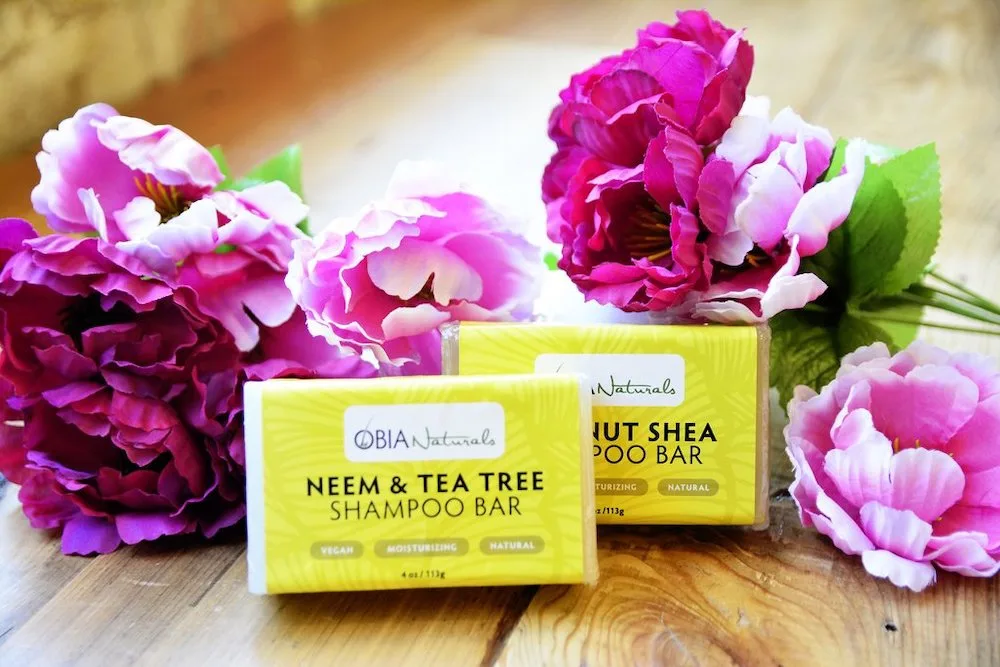 #14 Jack59
Jack59 makes sulfate, silicone and phosphate free shampoo and conditioner bars for various hair concerns and types. They also make gluten free options.
Use this link to save 15% off your first order at Jack59.
#15 Skipping Stone
Skipping Stone Shampoo Bars ($9 for 3.3 oz) are wrapped in paper and are pressed into a hockey puck shape.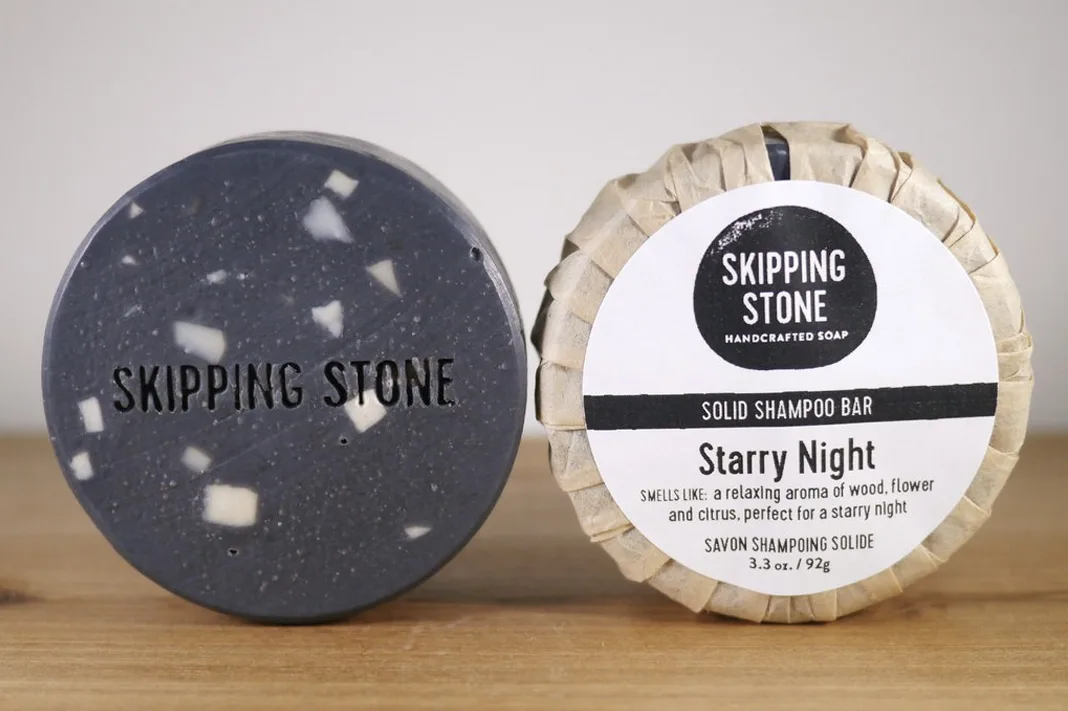 #16 Yellow Bird
Yellow Bird Shampoo bar ($10 for 4.5 oz) comes in a cute egg carton shaped case. The palm oil in their bars is sustainably sourced.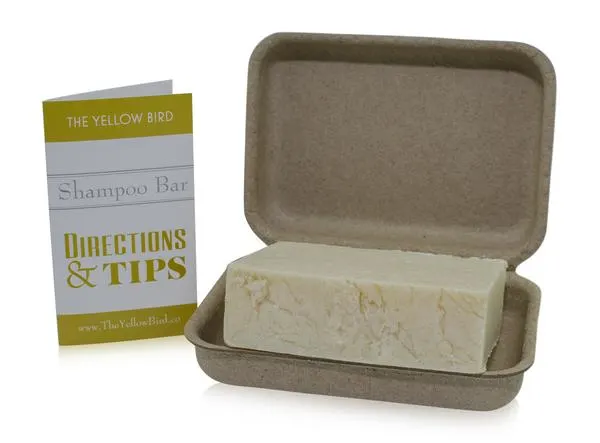 #17 Whidbey Island Natural
Whidbey Island Natural Shampoo and Body Wash Bar ($8.80 for 4.2 oz) is a two in one product. Get your body and hair washed with one bar.
Use this link to get 10% off your orders at the Whidbey Island Natural store.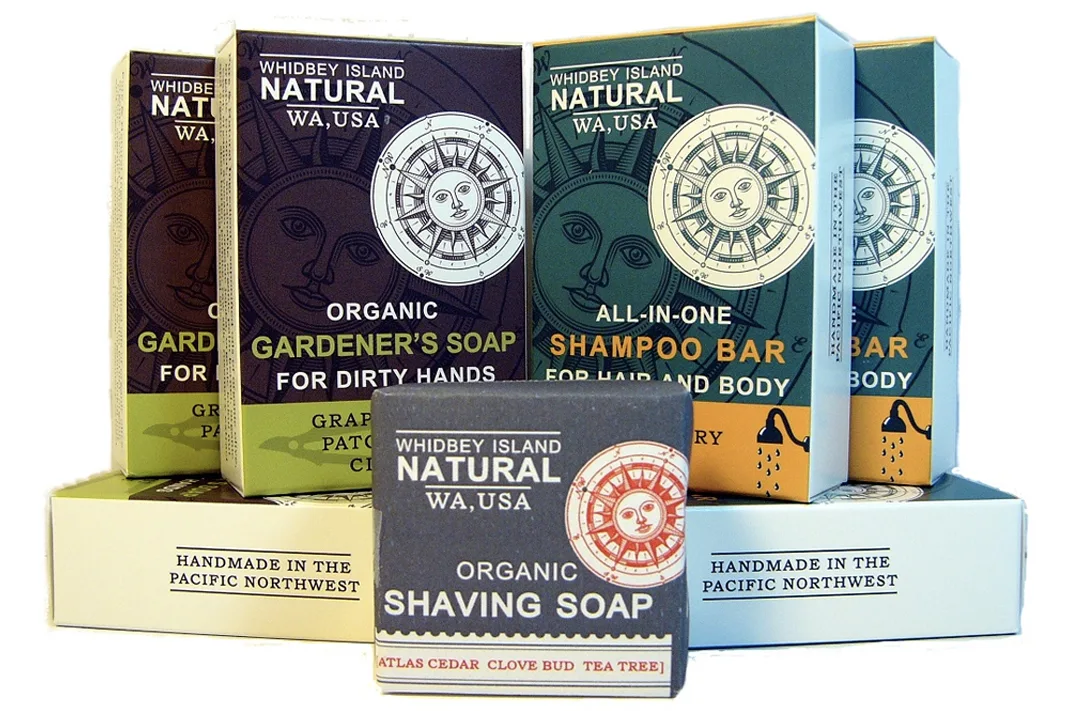 #18 Falls River Soap
Falls River Soap ($3.95 for 3.5 oz) shampoo bars are great for all hair types. They also make natural care products for pets.
Buy Falls River Soap on Amazon.
#19 Skinny & Co.
Skinny & Co.'s shampoo bars are backed by Oprah. They also offer a wide range of all-natural personal care products. Buy Skinny Co. directly on their website or on Amazon.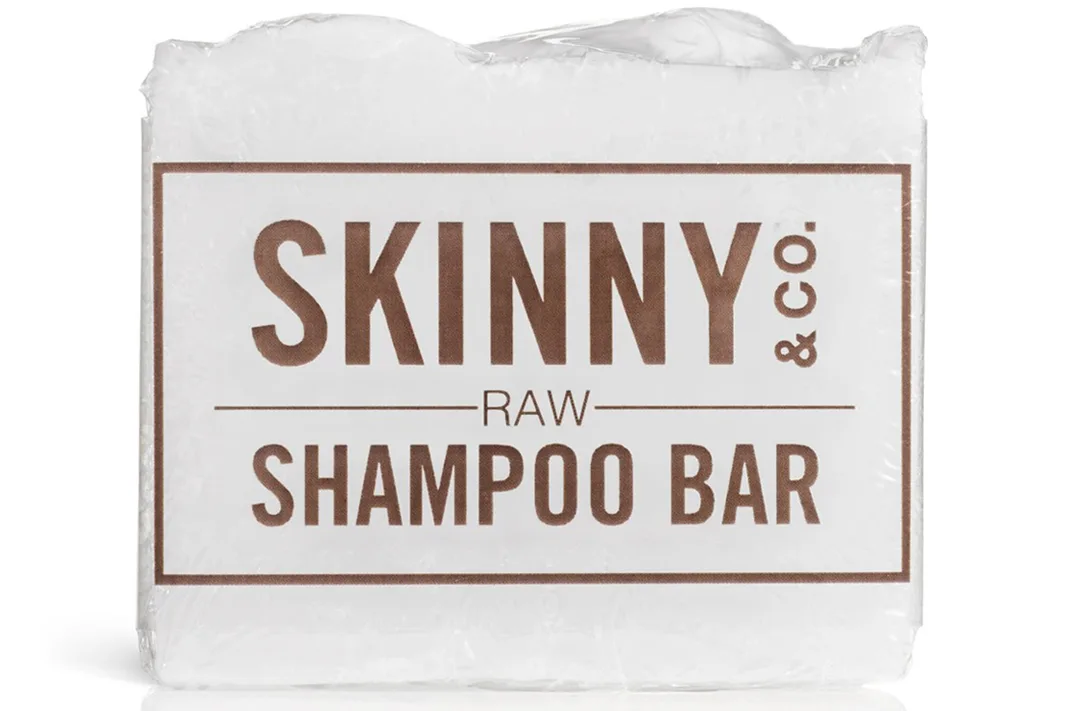 #20 MAD Optimist
I recently reviewed MAD Optimist on my blog and I am in love!
Mad Optimist allows you to customize your products that are made to order. They also use a pay what you can model and allow you to buy products from $5 to $10.
This makes their products affordable and accessible to everyone who wants all-natural body care products.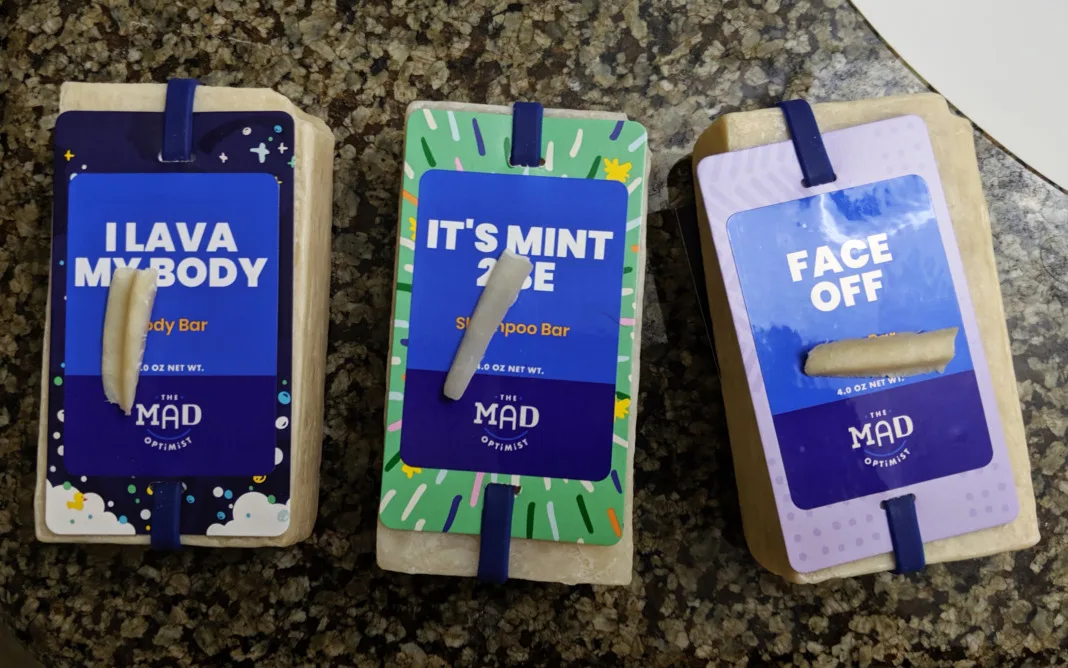 #21 Lamazuna
Lamazuna makes non-toxic shampoo bars that smell heavenly. Simply wet the bar, lather it up and apply it to your wet hair. Rinse it out thoroughly afterward.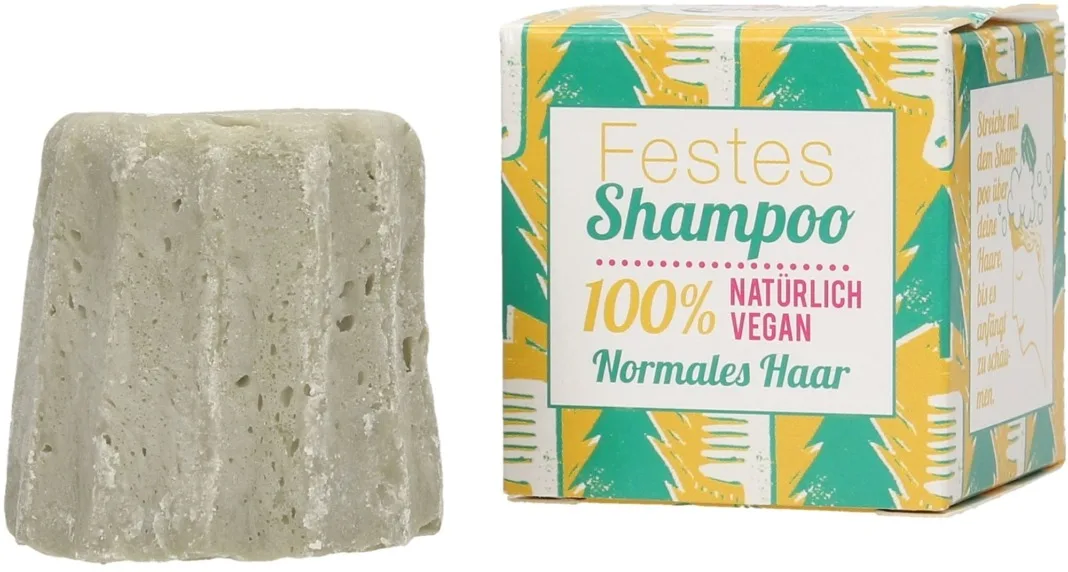 #22 Body Systems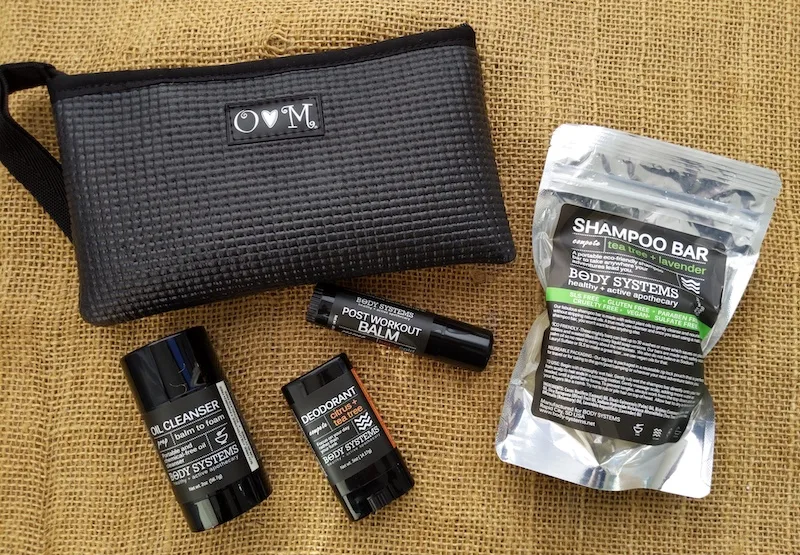 Body Systems makes an awesome kit that includes all-natural products made for active people. All the products are solid and include a shampoo bar, deodorant stick, solid cleanser and post-workout balm.
Everything is packaged in a black yoga mat toiletry bag. You can also buy the entire kit without the bag saving you $20 off the kit.
The only downside to Body Systems is that many of their products are wrapped in plastic. On the plus side, the plastic is recyclable.
#23 Meow Meow Tweet
Meow Meow Tweet makes a Rosemary Avocado and Lavender Coconut Milk shampoo bars. Their bars lather up easily and leave your hair feeling fresh and clean.
Buy Meow Meow Tweet on Amazon and at the Package Free Store. Use this link at the Package Free store and get $10 off your first order.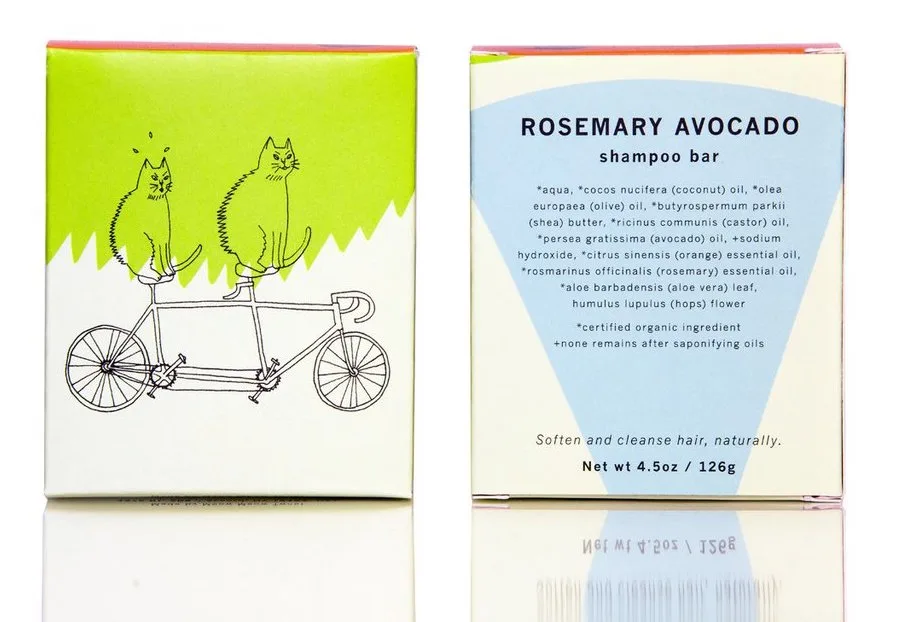 Final Thoughts
Are you ready to make the switch? You'll find out that ditching liquid shampoos is easier than you think. Let me know about your experience in the comments.
Let's live sustainably together and go plastic free!
Here's an idea! You can also try making your own natural shampoo bars!
With some time and the right ingredients, you can easily make shampoo bars for the whole family. I found this awesome natural shampoo recipe on Youtube. Watch it below!
If you liked this post, please consider saving it for later on Pinterest!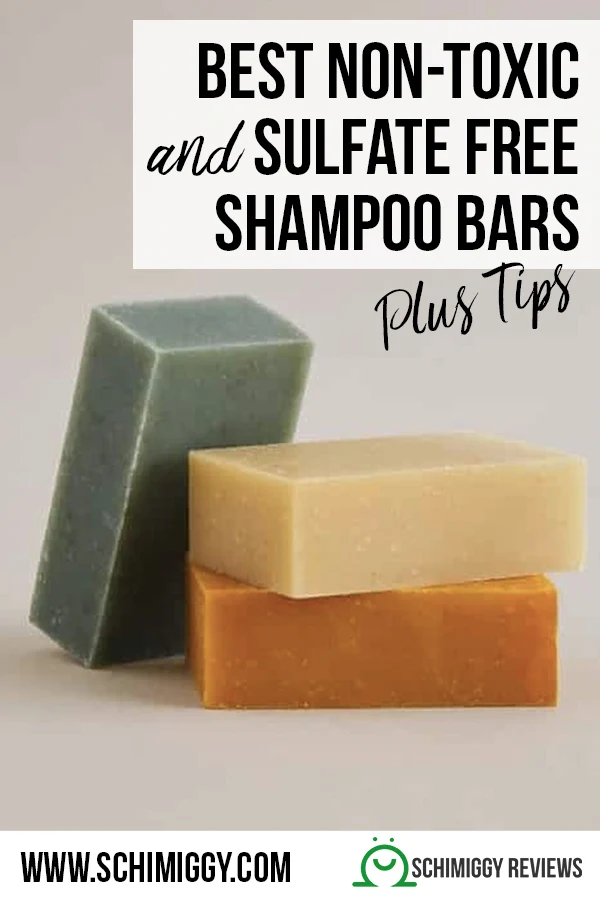 If you liked this post, you might like these articles too:
Resources:
https://www.healthline.com/nutrition/palm-oil#section6
https://ireadlabelsforyou.com/all-natural-shampoo-bars-good/
https://www.ncbi.nlm.nih.gov/pmc/articles/PMC4651417/
Thank you for visiting today! If you found this encouraging or informative, please connect with us on Instagram or TikTok.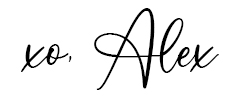 Sign up for our monthly newsletter for updates and more. We promise we won't spam you! Feel free to unsubscribe anytime.
If you're a brand and want to work with us, please visit this page to get in touch.