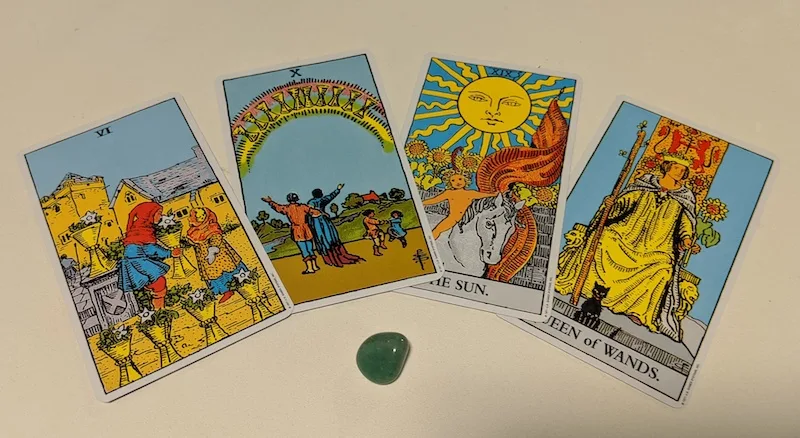 Sign-Up for a Tarot Reading!
I received a Tarot deck from a friend one day and this opened my mind to a new way of thinking and receiving the world around me. This allowed me to tune into my ability and gift of channeling the world's energy to help guide others in the direction they need to go.
Have you ever wondered what would have happened if you went down a particular path?
Do you have questions that need answers?
Do you just want some guidance right here and now?
I offer 10-minute Tarot readings for those seeking clarity and direction. The cost for each reading is only $5.*
After your purchase, I will reach out to you to schedule a time and date to meet!
If you'd like a longer reading, please e-mail me and we can customize your session to fit your needs.
Thank you for visiting my online home and I look forward to connecting with you soon!
*Once you add the item to cart, click on "proceed to checkout" to complete your payment and secure your session. You will be able to pay via PayPal or credit card.
FAQs
#1 How do I prepare for my reading?
We will be meeting via Whereby for your reading.
Whereby is a video conferencing tool that is very similar to Zoom. Whereby is free to use on desktop or via mobile. If you decide to join on mobile, you can download the app and will need to allow video and sound permissions to see and hear me during our reading.
If you decide to download Whereby onto your phone, I recommend doing so 5-10 minutes prior to our session so that you can familiarize yourself with the platform. It's really easy to setup and should take no more than 3-5 minutes to do so.
#2 What will happen if I do not show up for my reading?
I will wait online for 5 minutes and send a reminder e-mail for you to join our meeting. After 5 minutes, I will end the session and you will need to buy another reading.
Unfortunately, no refunds are offered due to no-shows. This rule is in place because it honors the time I have set aside to offer the reading to you.
#3 How often should I get a reading?
Anytime you feel the need for one. I have clients that want to do their readings on a monthly basis.
If you'd like to schedule a regular reading, please e-mail me.
#4 Can a Tarot reading predict the future?
A Tarot reading is meant to offer some sort of guidance to you. It is not meant to predict the future or specifically resolve a problem for you. You will need to use what the cards are telling you to make the best decision for yourself.
Spread the word or save this for later by pinning this to Pinterest!
---
Thank you for visiting today! If you found this encouraging or informative, please connect with us on Instagram, Youtube, Pinterest, Facebook or Twitter. We'd love to meet you!
Sign-up for our monthly newsletter for updates and more. We promise we won't spam you! Feel free to unsubscribe anytime.
For more fitness fashion discounts and offers, please visit our Fitness Instructor Discounts + Brands Directory or favorite brands coupon codes list.
If you're a brand and want to submit a product for us to review, please use this form to get in touch.
This site uses affiliate links. Clicking on or purchasing via an affiliate link may result in commissions for us which help keep the content flowing and lights on at Schimiggy Reviews. You may read more about this in our privacy policy.