Reading Time:
7
minutes
Updated: 3/12/2021 | Anti-Theft Clothing & Accessories | How to Prevent Pickpocketing
I remember the first trip I ever took abroad, I read and heard stories about pickpocketers and travelers becoming stranded indefinitely in another country.
That can be a traveler's worst nightmare!
One way that we prevent theft is by wearing anti-theft clothing or accessories. Many anti-theft products have hidden pockets, indestructible fabrics or even can be worn under your clothing close to your body and away from thieving eyes.
It's important to prepare and prevent these situations from happening so that you can have a memorable and safe vacation.
With so many products on the market, we tested the following products to provide our readers with the best gear to keep your important stuff safe.
Here are some anti-theft products that you can wear to prevent people from stealing your belongings when you least suspect it.
Anti-Theft Clothing and Accessories
#1 Scarf with Pockets
One of the things I never leave home with while traveling is my scarf. Scarves are great for keeping warm, folding up and using as a pillow, and keeping cool from the under the hot sun.
We love infinity scarves with hidden pockets. They come in multiple colors and a zipper pocket to keep your belongings safe and out of sight from sticky fingers.
#2 Anti-Theft Backpacks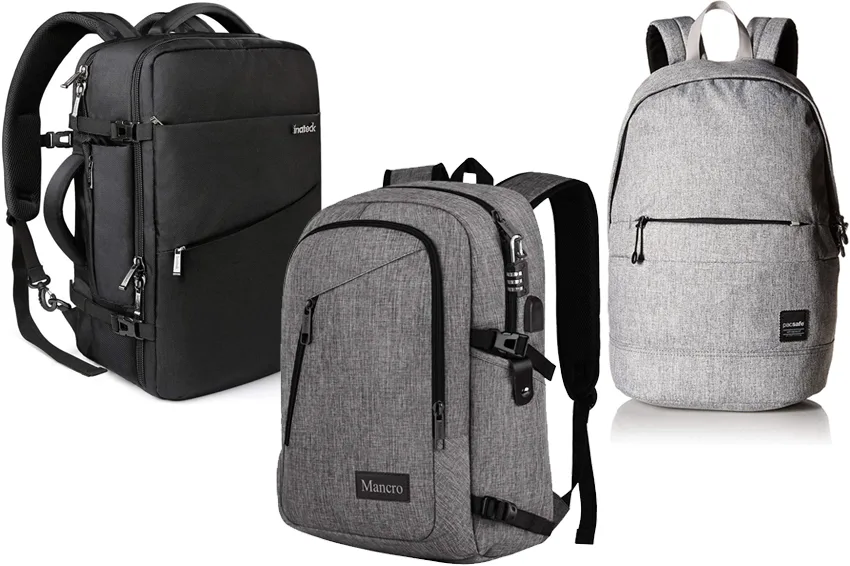 Anti-thefts backpacks are made to last. They will have features that make it difficult for thieves to steal your belongings such as locks, impenetrable fabric, hidden zippers and pockets and even built-in RFID pockets to prevent data-theft.
Here are Anti-Theft Backpacks that we recommend:
Related: High Spirit Bags Review: Fashionable Anti-Theft Backpacks
#3 Money Belt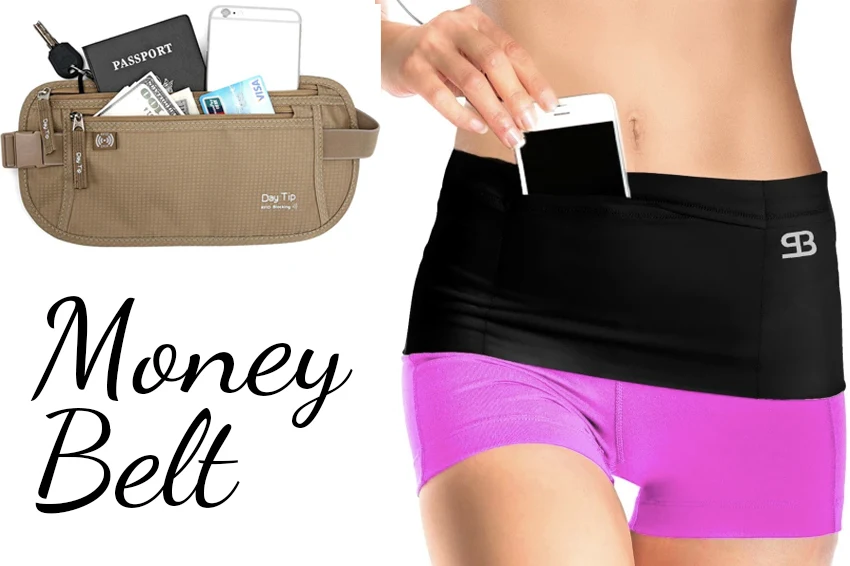 A money belt is worn near the body and protects your personal belongings such as credit cards, passport, IDs and more. According to a 2015 Statista study, 9% of travelers often lose their credit cards due to theft. Luckily there are wearables you can wear to prevent credit card theft.
Money belts are typically worn under your clothing and look like flat profile waist bags/fanny packs. if you like to go hands-free, we recommend going with a money belt.
Money Belt brands that we love:
#4 Clothing with Hidden Pockets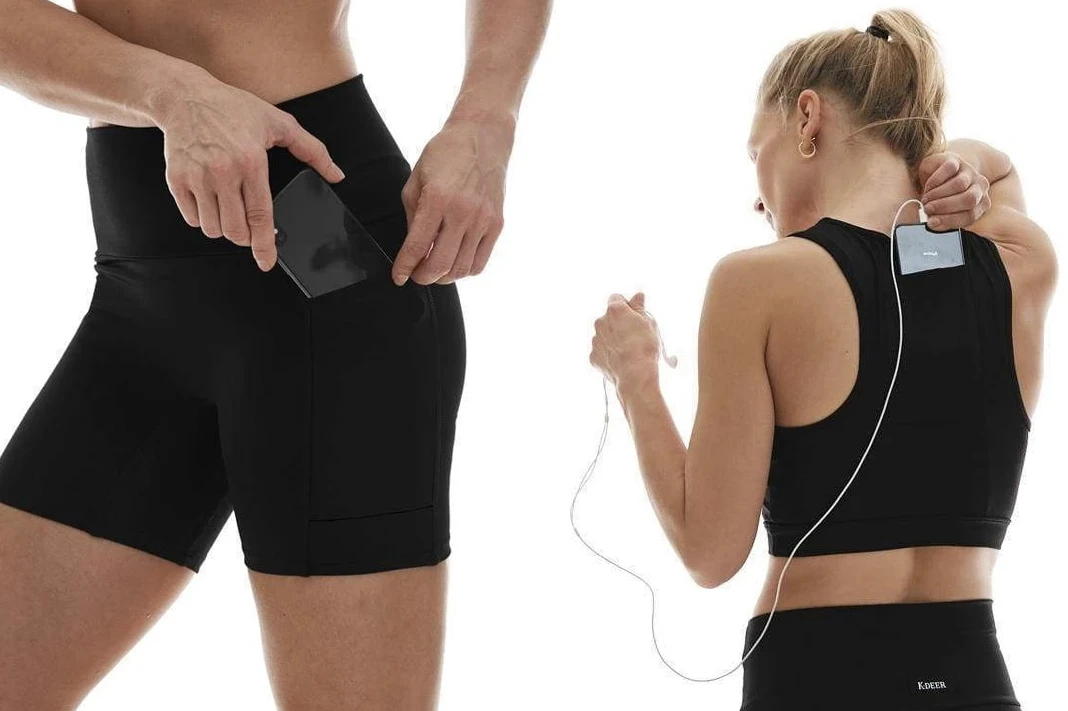 We always travel wearing clothing with lots of pockets. Pockets are a great way to hide your belongings and travel hands-free.
While we love pocket activewear by K-Deer or lululemon, there are also clothing items made specifically to prevent theft while traveling.
Brands that make anti-theft clothing include:
#5 Tracking Devices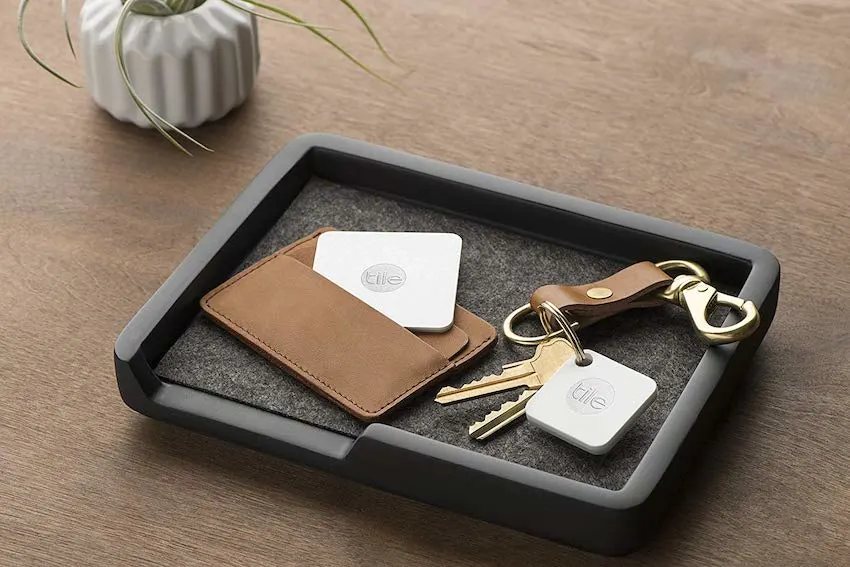 Attach a tracking device that you can attach to important belongings. If you tend to misplace your belongings, attach a tracker to that item and use your phone or web browser to track your device when it goes missing.
Prior to traveling abroad, consider attaching a tracking device to your personal belongings including luggage in the event that things get stolen.
We recommend the following tracker devices:
#6 Small Pad Lock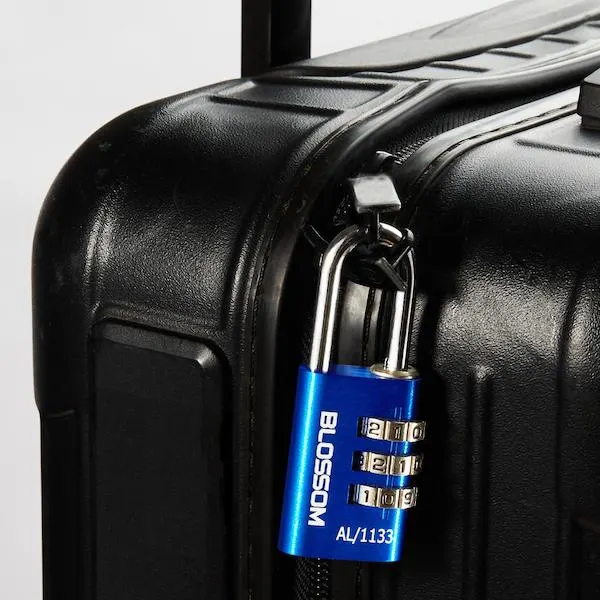 A small combination pad lock is great for keeping your stuff safe in many ways. Oftentimes, you may need a padlock at hostels in order to use their lockers.
#7 The Aqua Vault "Flex Safe"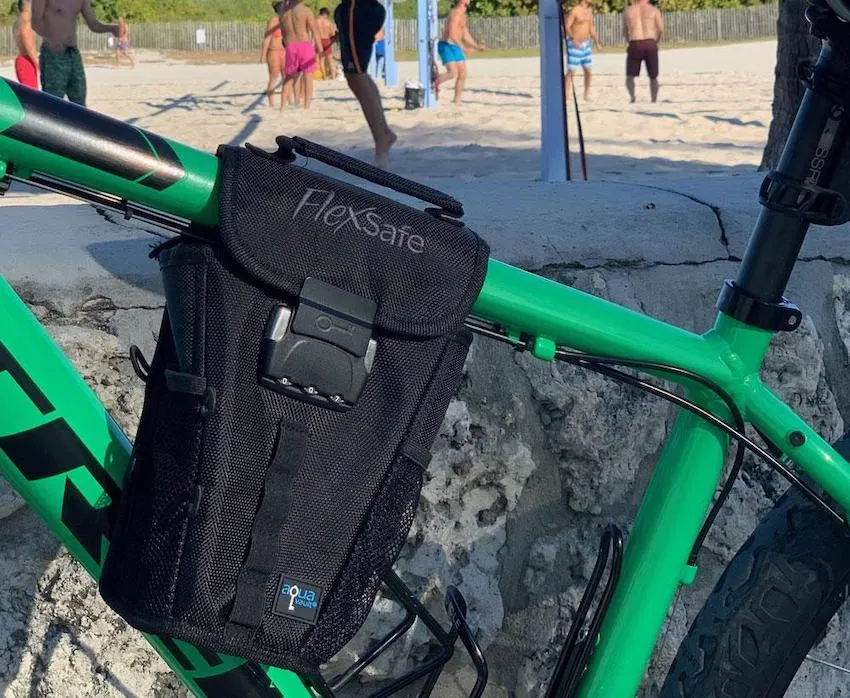 The Aqua Vault "Flex Safe" is a portable safe that you can snap onto bars, beams and rails to keep your belongings safe and secure. The Flex Safe packs into your luggage and requires a 3 digit code to open.
Snap it onto your bike, lawn chairs, gates, etc. and keep your important stuff safe while you explore the world. It is spacious enough for multiple smartphones and all your important documents.
What we really love is the ability to register your code on TheAquaVault.com so that you can access it when you need it.
#8 Defender Ring
The awesome Defender Ring conceals a pointy weapon that you can use to defend yourself in the event of danger. This is a great gift for solo female AND male travelers who want to stay safe from burglars and predators.
Choose from their many styles such as a Rose, pearl, sphere and Plumeria and colors (gold, silver and rose gold).
You can use code SCHIMIGGY to save 10% off your orders at Defender Ring.
#9 RFID Blocking Accessories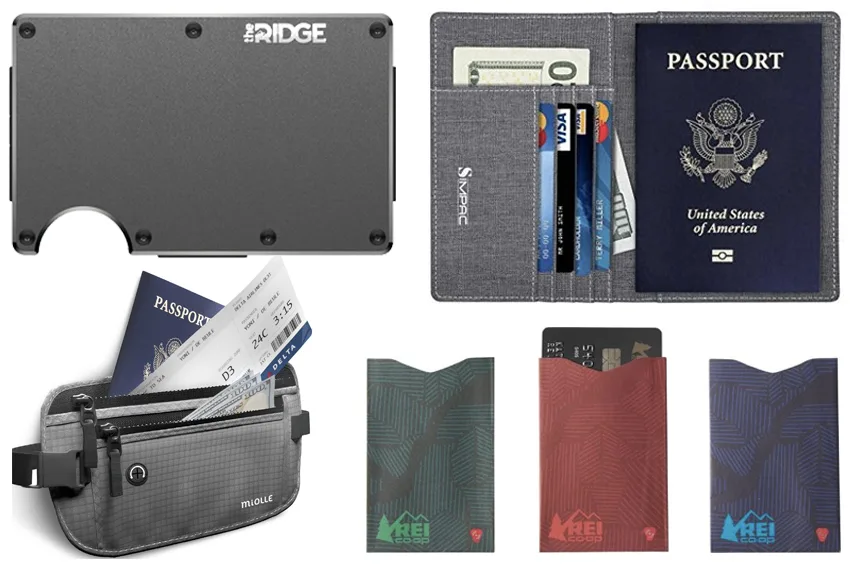 When buying any accessories, consider getting products equipped with Radio frequency identification, or RFID, blocking ability.
Data thieves can steal your information with magnetic card readers and by just brushing up against you. This is known as RFID skimming. It's very common in countries where contactless or wireless payment is accepted.
Keep your data safe and use RFID blocking to prevent thieves from stealing your information.
Items with RFID blocking capability include the following:
#10 Stashitware – Underwear with Pockets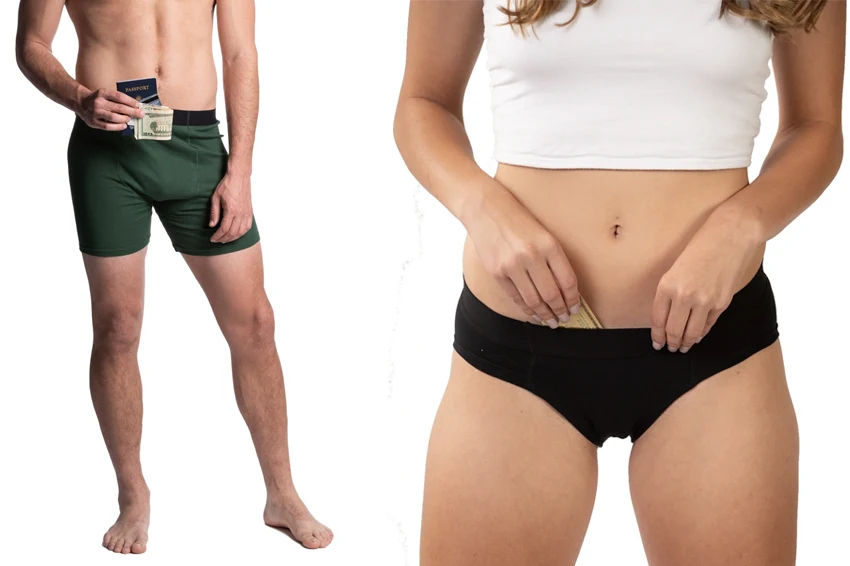 Stashitware makes undergarments with pockets to hide your important belongings. The hidden pocket allows your important documents to be stowed and away from pickpocketers.
These hidden pocket undergarments can be purchased on Stashitware and on Amazon.
#11 PortaPocket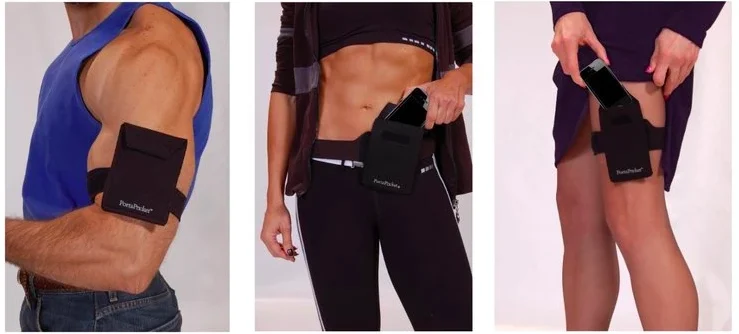 The PortaPocket is a hidden compartment that you can wear on your body to hold your important belongings.
The neoprene sleeve detaches from the velcro strap so that you can access your belongings easily. Stick the sleeve back onto your velcro strap and continue going about your day hands-free.
You can wear the PortaPocket around your waist, chest, arm, thigh and even calf. The ability to adjust the fit makes it very useful for traveling, working out and to crowded events like festivals and concerts. It also comes in various sizes and can be used with an RFID sleeve to protect your data from skimming thieves.
I wore my PortaPocket underneath a bridesmaids dress and it changed my life! Now I wear it underneath all my dresses and never leave home without it.
We recommend the PortaPocket Essentials kit ($24.95) which comes with two different sized pockets and strap for your legs and arms.
#12 Wrist Wallets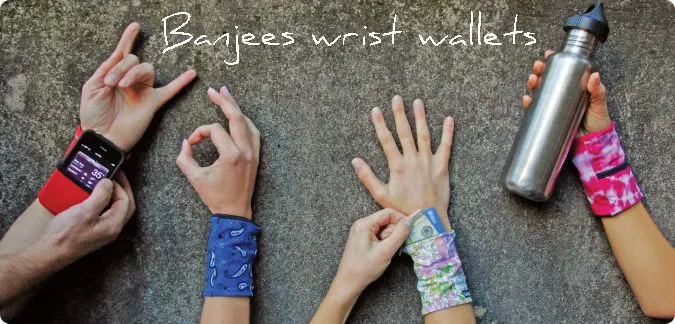 Wrist wallets are a great way to travel light and safe. The wrist wallet comes with pockets and fits around your wrist or ankle.
Smartphones can fit in wrist wallets and they stretch well beyond what you might anticipate. They also come in various colors and sizes.
Here are Wrist Wallet brands we recommend:
#13 Portable Door Locks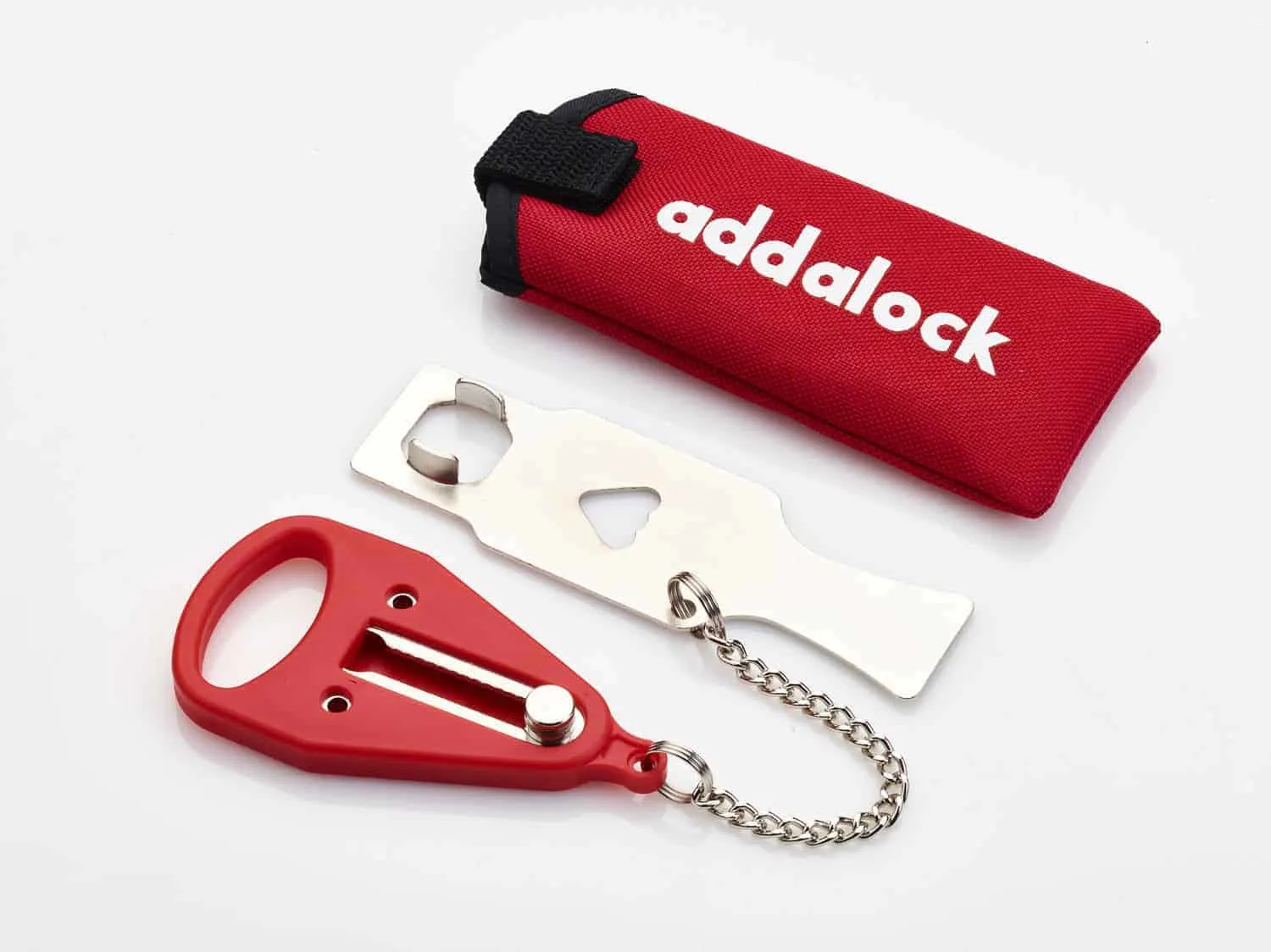 The Add-a-Lock is a portable lock that you can use to add security to your home away from home. The temporary lock makes it so that burglars can not enter your unit and that you can sleep with a peace of mind.
#14 The Pocklette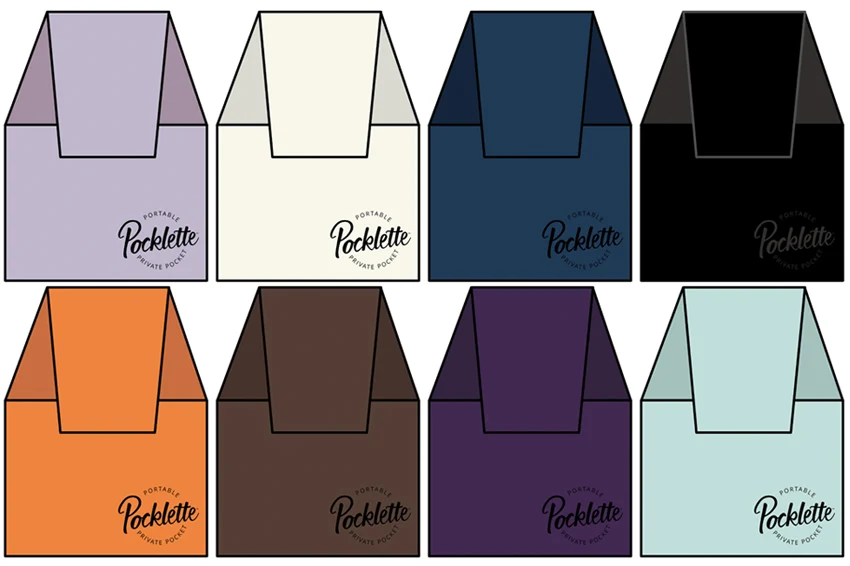 The Pocklette is a portable pocket that snaps around your bra or underwear. It's meant to hold your important documents like credit cards, Passports, IDs and dollar dollar bills yo.
The pocket simply snaps into your bra or underwear bands and is a great way to move about hands free. Head to the restroom to discreetly retrieve your belongings. You can even loop your Pocklette around your underwear if the bra is not an ideal place for hiding.
The Pocklette is lightweight and attaches with velcro to your undergarments. They also come in many colors to match your mood of the day.
Each Pocklette is thoughtfully handmade from imported fabric by a mother and daughter duo in Pennsylvania.
#15 Bindle Bottle
The Bindle Bottle has a secret compartment at the bottom that allows you to keep all your important belongings hidden from view.
Choose from their 20 or 24 oz bottles in different fun and bright colors and patterns.
#16 Sewable Pockets
If you don't want to buy new clothing, consider buying these pockets that you can sew into your apparel for extra storage. The pockets are lightweight and are discreet.
The pockets come with a velcro closure to secure your belongings and the pocket is large enough to fit your phone and passport.
Final Thoughts
One of the best ways of preventing theft is by preparing for the worst. Wearing anti-theft apparel and accessories is just one of the ways you can prepare. Make sure you stay vigilant even while wearing anti-theft gear.
Related: Common Travel Stories from Around the World
We received these products to test out on Schimiggy Reviews. As always, all thoughts and opinions are 100% honest and our own.
If you liked this article, you might like these too:
---
Thank you for visiting today! If you found this encouraging or informative, please connect with us on Instagram, Youtube, Pinterest, Facebook or Twitter. We'd love to meet you!
Sign-up for our monthly newsletter for updates and more. We promise we won't spam you! Feel free to unsubscribe anytime.
For more fitness fashion discounts and offers, please visit our Fitness Instructor Discounts + Brands Directory or favorite brands coupon codes list.
If you're a brand and want to submit a product for us to review, please use this form to get in touch.
This site uses affiliate links. Clicking on or purchasing via an affiliate link may result in commissions for us which help keep the content flowing and lights on at Schimiggy Reviews. You may read more about this in our privacy policy.