CRZ Yoga Naked Feel Leggings
$24-$28
Reading Time:
6
minutes
Current CRZ Yoga Deals
Use code SCHIMIGGY to save 10% off all your orders at CRZ Yoga. Shop now→
Updated: 12/30/2021 | CRZ Yoga Review

Disclaimer: I received CRZ Yoga products to conduct my review, but all thoughts and opinions are my own and 100% honest.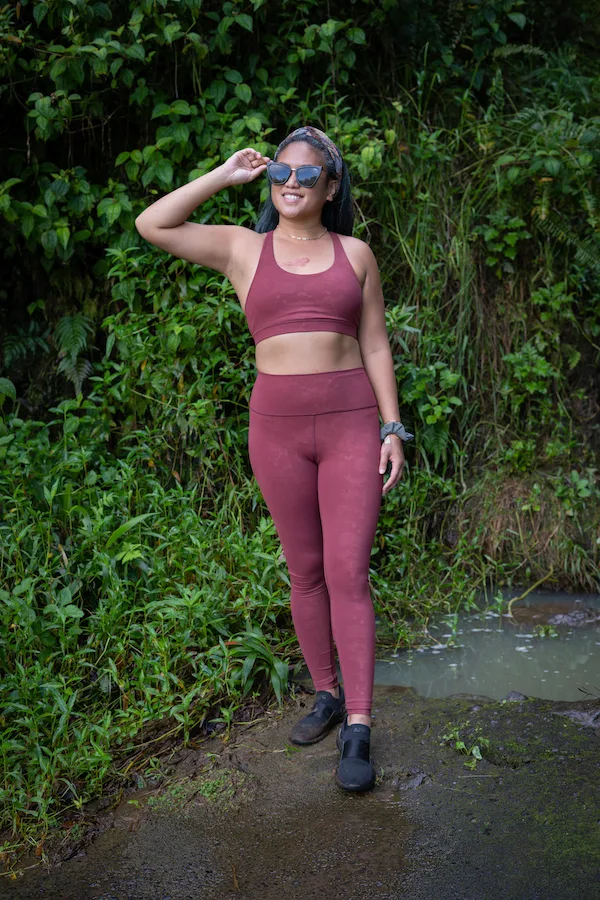 About CRZ Yoga
CRZ Yoga was founded in 2005 as an affordable and high-quality athletic apparel company for women and men. They offer sports bras, tops, bottoms, leggings, swimwear and much more.
They make their own proprietary fabric and many of their styles reflect the popular silhouettes pioneered by lululemon.
They've quickly become a reputable lululemon dupe with Align-like leggings costing only $26 USD.
While they are high-quality, they are still a fast-fashion brand.
Related: Best lululemon Dupes
CRZ Yoga Review
We reviewed the following items from CRZ Yoga and indicated which styles are our favorite.
Visit our list of recommended CRZ Yoga products for lululemon lovers here.
How do CRZ Yoga leggings fit?
CRZ Yoga runs true to size (TTS). I wear a size 6 in lululemon, which is equivalent to a CRZ Yoga size small. We highly recommend referring to their size chart to find the best fit.
If you're in between sizes, we recommend sizing down because the fabric is very stretchy.
As for tops, we recommend sizing up in their bras and getting your true size in the t-shirts, tops and tanks.
When compared to lululemon's Nulu fabric, CRZ Yoga's fabric felt more slippery and this caused some slippage during wear. However, CRZ fabric retains its shape pretty well after multiple washes.
You can view CRZ Yoga's sizing information here.
What is CRZ Yoga APparel designed for?
CRZ Yoga fabrics are super soft and designed for all types of activities. You can even lounge in them.
Many of their pieces are very close to or exact dupes of popular lululemon products. Below are examples of just a few styles you may recognize if you're a lululemon addict.
What is the inseam of CRZ Yoga pants?
CRZ Yoga pants come with various inseams. Currently, their Naked Feel pants are offered in capri (19″), 7/8 (25″), and full (28″) lengths.
I am 5'5″ for reference and wearing the 7/8 length in this review.
What is the rise on their leggings?
The leggings have a high rise fit. The front rise measures 9″ and back rise measures 10.5″. The waistband sits 1″ above my navel.
How tall is the waistband on their leggings?
The leggings come with a tall waistband measuring 5." It covers my waistline and muffin top very well.
The waistband fits 1″ over my naval. It also lays flat against my waist. The back waistband is sewn using a double seam that is similar to the first iteration of the lululemon Align pants.
Unfortunately, there are no extra tall lengths for CRZ Yoga pants, so taller ladies may need to stick with lululemon and their offerings.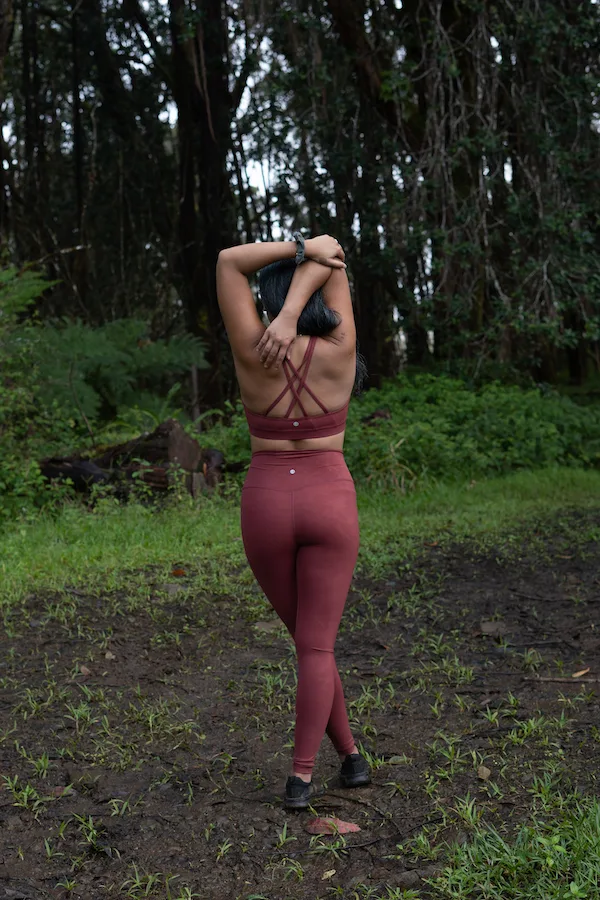 Fabric Details and Features
Fabric Content: 71% Polyamide and 29% Spandex blend
Fabric Feel: The fabric feels silky, lightweight and buttery soft. It has a naked feel sensation during wear and can feel slippery.
Fabric Performance:

Quick Drying
Dry Wicking,
4-Way Stretch
Fabric does not pill.
Pants slip often during wear and without much strain.
Durable fabric
Decent compression
Visible Panty Line (VPL) – shows the outline of your underwear.

Opacity: CRZ Yoga leggings are 100% opaque (not see-through), including their white backed printed leggings.
Fabric Features:

CRZ Yoga logo on the back of the waistband and bras.
Hidden waistband pocket that opens from the side.
When should you wear CRZ Yoga apparel?
I wear my CRZ Yoga apparel mostly to lounge around and workout in. I wear their sports bra for all types of activities such as yoga, weight training, hiking, etc.
I would not be concerned with putting too much strain on your CRZ Yoga leggings. They're pretty durable and won't scratch or pill easily.
How much do CRZ Yoga leggings cost?
CRZ Yoga leggings cost $24-$28 per pant. This is a fraction of the cost compared to lululemon Aligns which cost $98 a pair.
Do their pants have a gusset?
CRZ Yoga pants have a triangle-shaped, double-layered gusset.
What types of seams are used on CRZ Yoga leggings?
CRZ Yoga uses flat-felled seams on their apparel. This prevents chafing and allows the fit to contour to the body.
Do the leggings have UPF protection?
Not Disclosed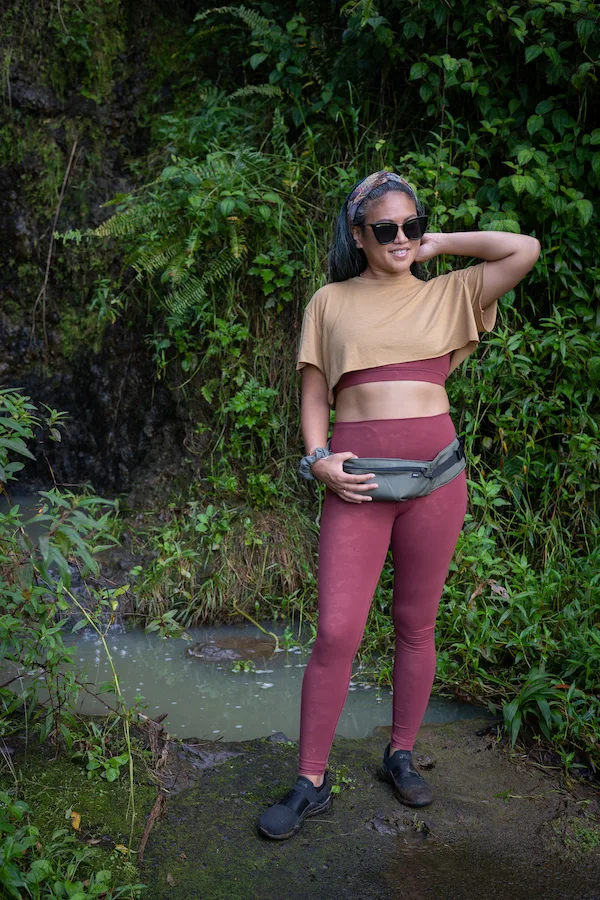 Where is CRZ Yoga apparel made?
Designed and made in China. They are considered a fast-fashion brand.
What are CRZ Yoga care instructions?
Machine wash cold and hang to dry on a foldable drying rack like this one. Their fabrics are super easy to care for.
I did not have to worry about color bleeding, warping or shrinkage.
Should I Buy CRZ Yoga?
Honestly, we love CRZ Yoga sports bras and tops. They cost a fraction compared to lululemon and perform just as well.
We still prefer lululemon Align leggings over CRZ Yoga's Naked Feel leggings due to slippage issues. Nulu fabric is also just so dang comfy. Once you give the real deal a try, you'll want to live in them.
CRZ yoga is still a great lululemon leggings dupe, so we think you should give them a try. It's only $24-$28 a pair and are still very comfy to lounge around in.
And we just wanted to mention that CRZ Yoga is a fast-fashion brand that is known to copy some of lululemon's best styles. If you're looking for a feel-good brand, lululemon's sustainability efforts should be noted.
We hope this CRZ Yoga review was helpful. Scroll down to see where you can buy their apparel.
Is CRZ Yoga the same as lululemon?
Not at all. The designs may look the same as lululemon's popular items, but the quality is very different.
CRZ Yoga fabric is typically stretchier, not as compressive but definitely more durable than lululemon's proprietary fabrics.
We review and compare CRZ Yoga styles that are similar to lululemon styles here.
Where to Buy CRZ Yoga
Shop for CRZ Yoga directly from their website or on Amazon.
If you buy directly from their site, use code SCHIMIGGY to save 10% off all your orders.
You'll also enjoy FREE SHIPPING and no tax on their site.
Should you need to return your purchase, they make it super simple to do so. Follow their return instructions here.
If you enjoyed our CRZ Yoga review, please share it on Pinterest. Thank you for your support!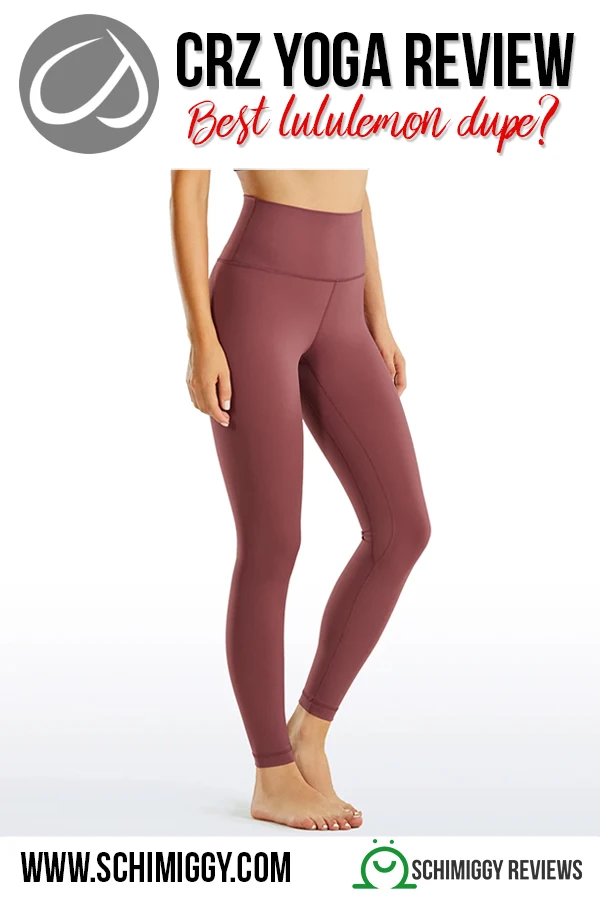 ---
Thank you for visiting today! If you found this encouraging or informative, please connect with us on Instagram, Youtube, Pinterest, Facebook or Twitter. We'd love to meet you!
Sign-up for our monthly newsletter for updates and more. We promise we won't spam you! Feel free to unsubscribe anytime.
For more fitness fashion discounts and offers, please visit our Fitness Instructor Discounts + Brands Directory or favorite brands coupon codes list.
If you're a brand and want to submit a product for us to review, please use this form to get in touch.
This site uses affiliate links. Clicking on or purchasing via an affiliate link may result in commissions for us which help keep the content flowing and lights on at Schimiggy Reviews. You may read more about this in our privacy policy.