Reading Time:
5
minutes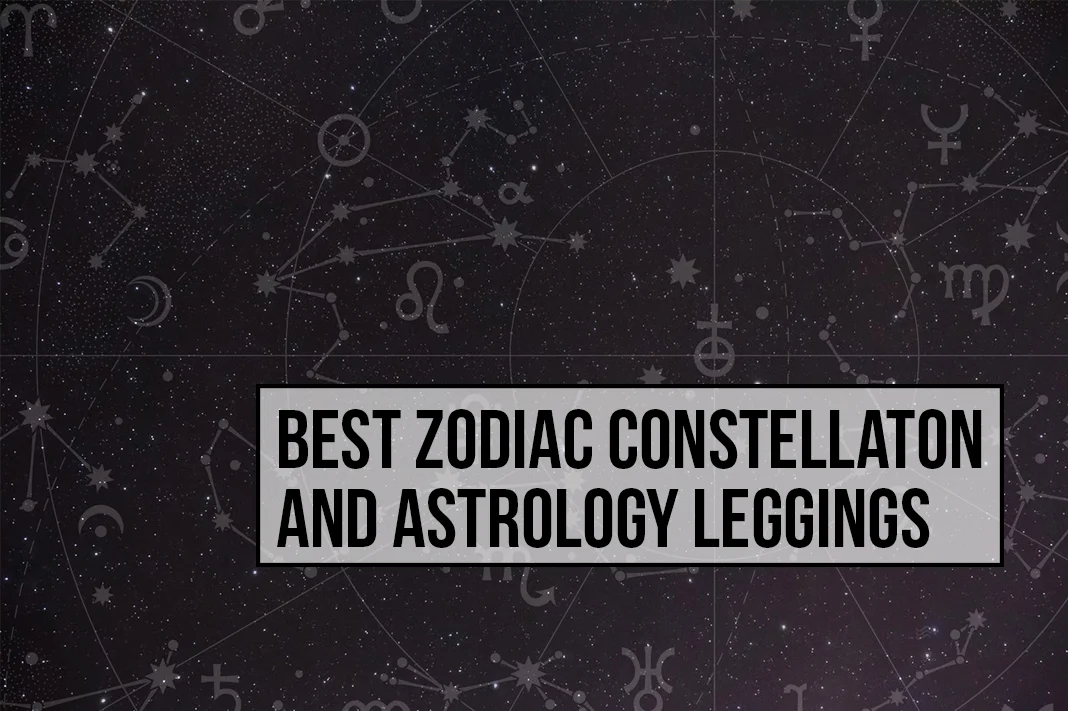 Updated: 12/5/2019
So many brands have got us seeing stars!
Zodiac signs are made of star patterns and are often used to paint a picture who we are, our temperaments, and sometimes who we're compatible with.
I don't 100% believe in zodiac sign interpretation, however it's fun to learn about where a particular behavior could come from reading the zodiac profiles.
There are 12 zodiac signs are comprised of four elements (Wind, Water, Fire and Earth). The elements manifest in each of us. By reading our Zodiac sign profiles, we learn ways to deal with both our positive and negative traits.
If you're into wearing your sign openly, below are some of the best activewear brands offering Zodiac and Constellation prints.
Best Zodiac Constellation and Astrology Leggings
#1 Ultracor
Ultracor is a super luxe activewear brand. Their cosmic collection offers ombre purple fabrics with screen printed constellation signs and stars on the fabric.
Buy Ultracor on their website and at Carbon38 (get 25% off your first order with this link or code SHMGY25).
#2 Teeki
Teeki's Stardust hot pant ($76) are soft and stretchy. The signs are printed in purple on a navy background. Teeki leggings are great for hot yoga and casual wear.
Get at 10% off Teeki coupon code here.
#3 Running Bare
Running Bare is an Australian brand that makes luxe activewear. Their prints are some of the more interesting that I've seen. Their Paris Namaste pant offers constellation prints over a black background. The leggings are white backed however they are not see-through. The pants also have a matching high-neck, zip front sports bra.
Buy Running Bare on their store website and on Carbon38 (enjoy 15% off your first two orders with this link).
#4 Arthletic Wear
Arthletic Wear is a Serbian based activewear company headed by twin sisters with a passion for yoga and art. They have Zodiac leggings in blue and an ombre pink and blue color.
Buy Arthletic Wear here and use code YOGANEWS for 20% off.
Read our Arthletic Wear reviews here.>>
#5 Onzie
Onzie offers constellation prints in blue and pink (copper) colors. The leggings are high-waisted and fabric is compressive and high-quality.
Buy Onzie on their webstore, REI or Nordstrom.
Read our Onzie reviews here.>>
#6 Target JoyLab™
Target's in-house JoyLab activewear brand offers a constellation print leggings and sports bra. Their line is eco-friendly however it does have some opacity issues. For $30 this is a good budget legging for the fashion-forward yogi.
Read our Joylab review here.>>
#7 Emily Hsu
Emily Hsu offers long leggings with extended length and tall waistbands for women, teens and children.
#8 Beyond Yoga Zodiac Collection
Beyond Yoga's Zodiac Collection offers super soft leggings made from space dye fabric. From this round-up, BY is the only brand to offer activewear pieces for your particular Zodiac sign. They also offer celestial jewelry by Maya Brenner to complete your look.
Get 15% off your first purchase with code GYPHOV.
#9 Beach Riot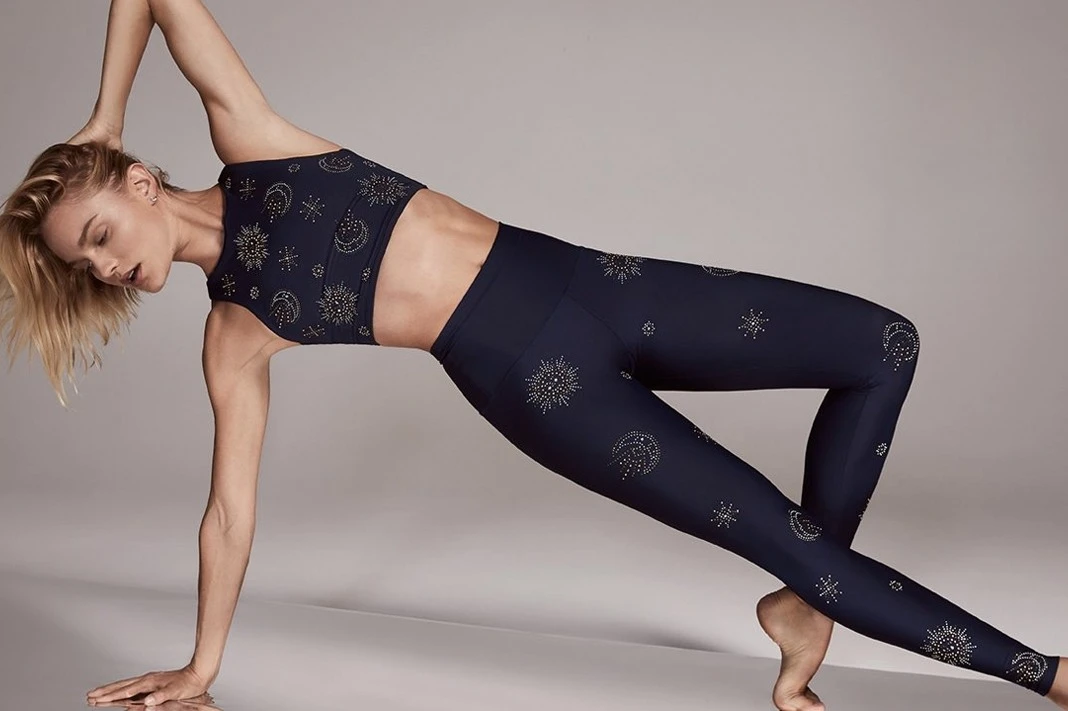 Beach Riot's activewear line offers stars and moons as part of their Celestial collection. Their fabrics are buttery soft and fit like a glove.
Buy Beach Riot on Carbon38, REVOLVE, and Beach Riot.
#10 Carbon38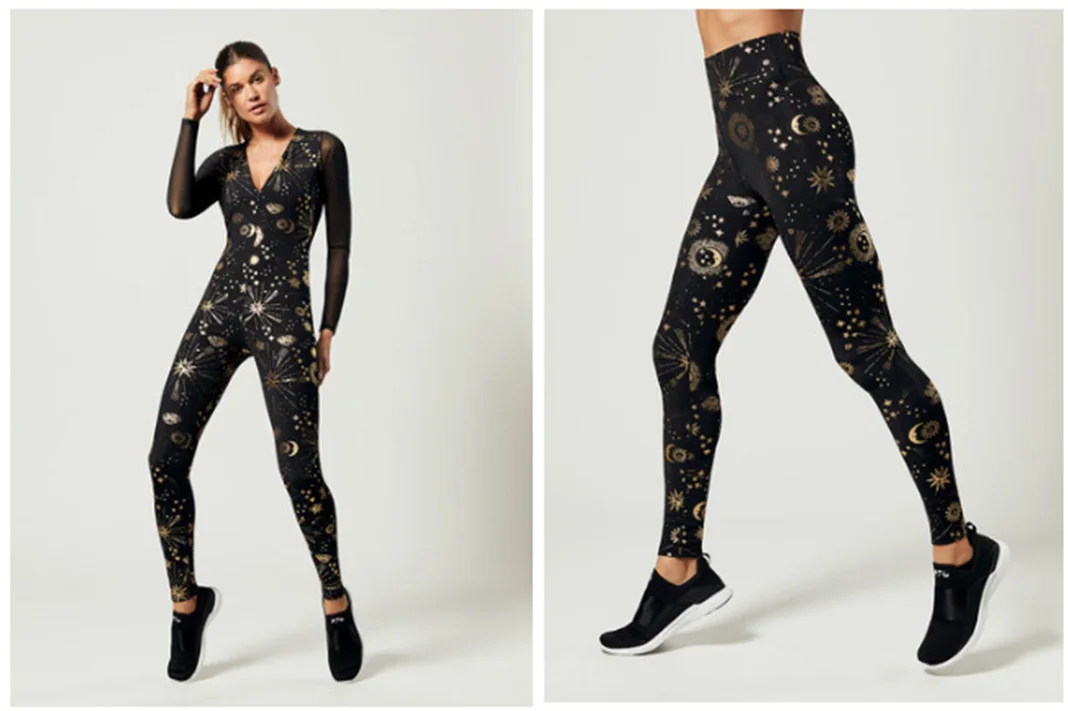 Carbon38's In the Bold holiday collection offers celestial prints in gold on black. I love the catsuit and high waist leggings. The sports bra also looks super comfortable. Many of the pieces can be worn formally or for working out.
Get 15% off your first two orders at Carbon38 when you use this link.
Read our Carbon38 reviews here.>>
#11 Werkshop
Werkshop has a moon phases print that also has subtle constellation designs. It looks absolutely dreamy! It comes in cropped and long length and a dolman sweater style.
Get $10 off at WERKSHOP through this link or with code SCHIMIGGY.
#12 Niyama Sol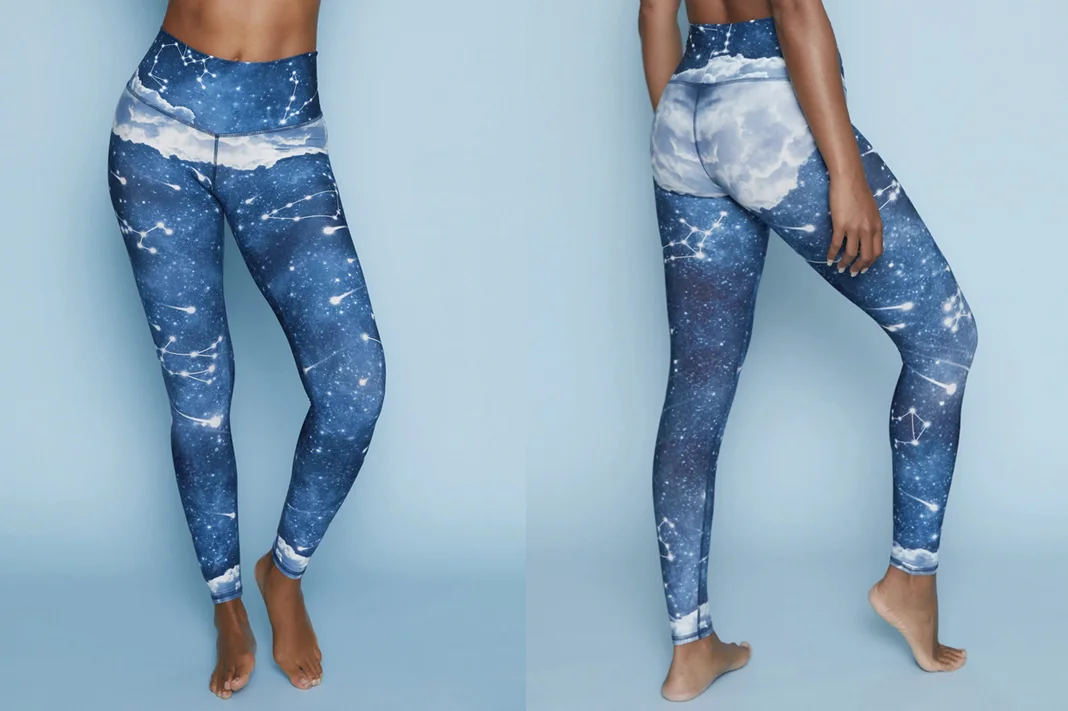 Niyama Sol's Perseus leggings are dreamy! Their fabric is buttery and perfect for low-impact sports and lounging around in.
Use our link to get 20% off your first order at Niyama Sol.
#13 Liquido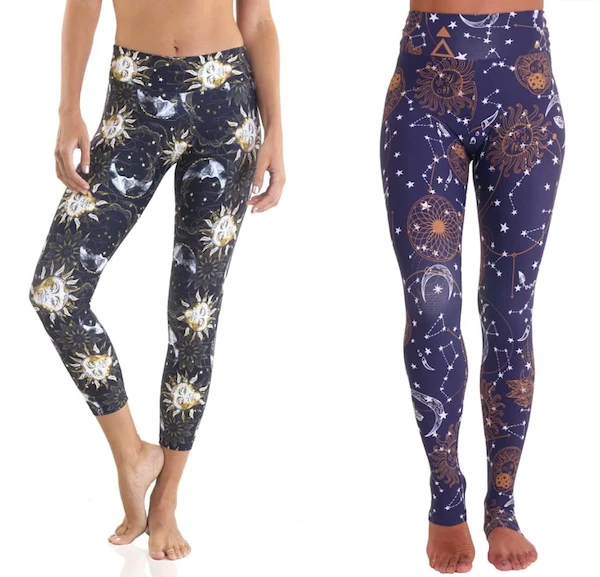 Liquido makes star and celestial leggings. Their buttery soft fabric will hug your legs as your flow and grow.
Read our Liquido reviews here.>>
#14 Avocado

Shop Avocado has seamless leggings with a subtle Zodiac design. The pant comes in many pastel and darker colors.
Thanks for tuning in! If you liked this post, you might like these too:
---
Thank you for visiting today! If you found this encouraging or informative, please connect with us on Instagram, Youtube, Pinterest, Facebook or Twitter. We'd love to meet you!
Sign-up for our monthly newsletter for updates and more. We promise we won't spam you! Feel free to unsubscribe anytime.
For more fitness fashion discounts and offers, please visit our Fitness Instructor Discounts + Brands Directory or favorite brands coupon codes list.
If you're a brand and want to submit a product for us to review, please use this form to get in touch.
This site uses affiliate links. Clicking on or purchasing via an affiliate link may result in commissions for us which help keep the content flowing and lights on at Schimiggy Reviews. You may read more about this in our privacy policy.