Reading Time:
7
minutes
One of our favorite patterns are rainbows. And finding the best rainbow leggings make us happy!
A rainbow is an arch of colors formed in the sky and is caused by the refraction and dispersion of the sun's light by rain or other water droplets in the atmosphere. Rainbows also make appearances in mythology and symbolize powerful concepts such as creation, divinity, good luck, hope and duality.
The colors of the rainbow are also a symbol for the LGBTQ community. In 1978, Gilbert Baker designed a flag for the homosexual community in San Francisco. The original design displayed eight colors.
Baker assigned a meaning to each color: hot pink (sexuality), red (life), orange (healing), yellow (the sun), green (nature), turquoise (art), indigo (harmony), and violet (spirit). Rainbow flags and banners used in the LGBTQ community represent diversity, hope, and social action.
Another reference to the rainbow is found in Hindu and Buddhist Tantra. Apparently, those who have surpassed their earthly ties are in a position to achieve the highest meditative state and experience the "rainbow body" or the "body of light." The rainbow body phenomenon is an ultimate oneness and ascension to our highest, and most god-like being. This typically happens at the time of death.
The Hawaii Ko Aloha Flag has nine colored stripes representing the islands that were inhabited before Western civilization arrived. Read more about the meaning of rainbows.
Regardless of the rainbow's origins, there's no doubt that spectrum of colors will elicit happiness wherever it goes. You can bring the rainbow with you anywhere by wearing them. Here are some highly recommended brands offering rainbow colored leggings for both lounging and exercising.
#1 Goldsheep
Goldsheep is based out of Sunny SoCal and draws their inspiration from retro prints and vibrant colors. You can buy Goldsheep through their online retail store or at Evolve Fitwear (use code SCHIMIGGY for 10% off your orders).
#2 Poprageous
Poprageous is an LA based clothing company that specializes in leggings, dresses, skirts and tops. You'll find Poprageous at all the hot outdoor music festivals.
Use our link for a 20% off Poprageous coupon code of your purchase of $65 or more.
#3 Niyama Sol
Niyama Sol is one of my favorite brands and they have an awesome selection of striped and rainbow colored leggings. Their fabric is very soft and the leggings always look amazing on. Read my Niyama Sol reviews here.
You can buy Niyama Sol leggings on their website and use the following discount codes for some major savings:
UPDATE: Niyama Sol released their PROUD AF leggings (left in image below) in June 2019, just in time for pride!
#4 Haley Elliott (formerly Purusha People)
Haley Elliott/Purusha People is an fantasy activewear brand created by Haley Elliott. She uses unique fabrics and the entire rainbow spectrum to create her boho-hippie inspired pieces. I would size up in Haley Elliott. My favorite is her Ocean Rainbow leggings (first image from the left). Check out her entire rainbow collection here.
Related: Purusha People Review: Ocean Rainbow Leggings
#5 K-Deer
K-Deer makes striped leggings with a purpose. Their Signature Stripes collection supports unique causes. Find a color combination that fits your personality and wear them for yoga, running, hanging out, etc. Make sure to size-up in K-Deer. The leggings are $98 a pair. Signature Stripes never go on sale. Read my K-Deer reviews here.
Related: K-Deer Review: Molly Stripe Leggings
UPDATE: In June 2019, K-Deer released their DANA Rainbow Signature Stripe legging which sold out in a day. The Dana legging proceeds go to support HMI.org, America's oldest LGBTQ organization. I am waiting for their restock and will snag a sneaker length pair.
#6 Bombsheller
Bombsheller (no longer in business) is a Seattle based apparel company that makes geek, grunge, fantasy, and city inspired leggings. They work with local artists to create unique and fun prints.
#7 Coquetry Clothing
Coquetry Clothing offers rainbow striped and rainbow + unicorn leggings. They also offer more than just leggings. Get capes, hoods, skirts, pants and tops to outfit you for the next festival or party. Get 10% off Coquetry Clothing coupon code when you shop through this link.
#8 Beach Riot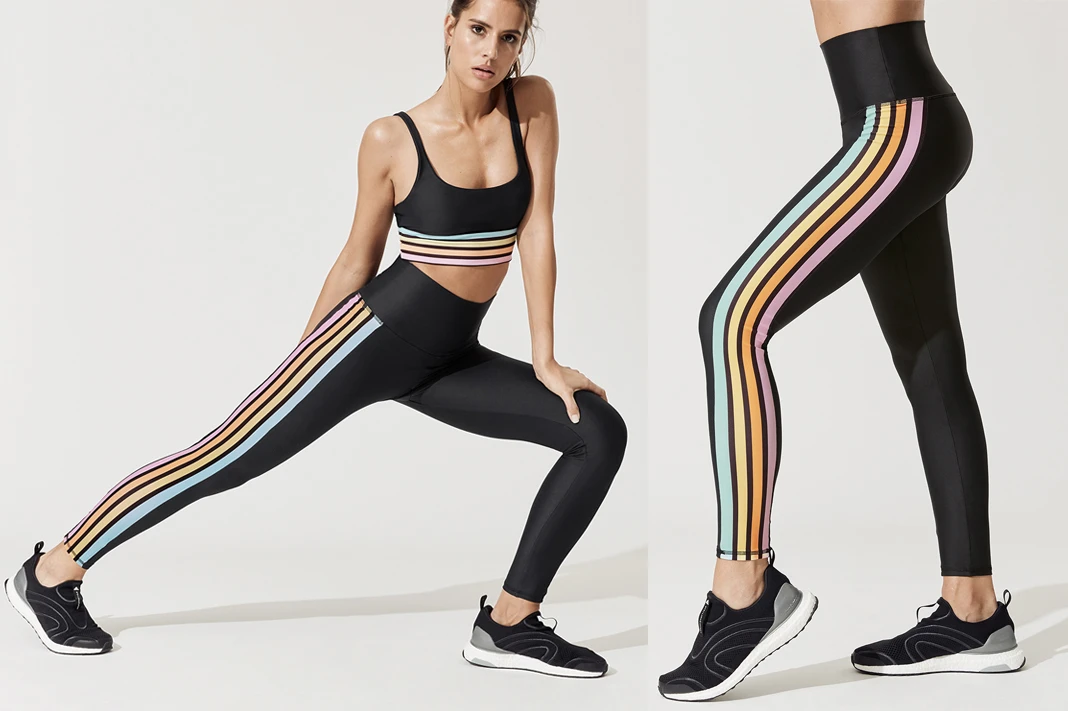 Beach Riot's Jade leggings ($105) come in a rainbow stripe, are high-waisted and super sexy! These leggings run out as soon as they're restocked. Match them with their rainbow striped Leah top ($88).
Buy them directly from Beach Riot, Carbon38, Amazon, and Simply Workout.
Related: Beach Riot Review: Harper Leggings in Rainbow Star
#9 Terez
Terez offerings rainbow inspired leggings for women, girls and kids. The designs and prints are so vibrant and will make you feel good and happy as you go about being your best self. Terez bottoms begin at $76 a pair, making them very affordable.
Buy Terez at the following online retail stores:
Carbon38 – Use code SCHIMIGGY for 25% off purchases of $100+.
Evolve Fitwear – Use code SCHIMIGGY for 10% off.
Related: Terez Review: Night Sparkle Tall Band Pant
#10 Scout Co.
Scout Designs is based out of Colorado and offers a cool vintage rainbow stripe legging. I got an opportunity to try them and I love the fit (see my review below)! Scout bottoms cost $78. You can sign-up for their email list and get a 20% off coupon code.
Related: Scout Designs Review: Vintage Rainbow Stripe Leggings
#11 Body Angel Activewear
Body Angel Activewear makes some beautiful leggings. They currently offer a rainbow poncho legging. I own one of their houndstooth rainbow leggings that I am absolutely obsessed with! Their leggings are $98 but they offer discounts often. Find Body Angel Activewear deals here.
Related: Body Angel Activewear Review: Rainbow Houndstooth Leggings
#12 Splits59
Spilts59's Kinney high-waist Rainbow Tight is everything! Love the high waist design and the fabric won't pill. Buy it at Evolve Fitwear, REVOLVE, and Splits59.
#13 Electric Yoga
Electric Yoga has a rainbow striped leggings. The colors are very Rastafarian. I have not tried this brand yet so can't speak to how the sizing runs. The look is very similar to the striped Spiritual Gangster leggings.
#14 Yoga Democracy
Yoga Democracy offers a rainbow legging in cropped, 28″ and 32″ lengths. Their leggings are affordable at only $75. Use code SCHIMIGGY20 for 20% off your orders at Yoga Democracy. Shop here.
Related: Yoga Democracy Reviews
Thank you for visiting today! If you found this encouraging or informative, please connect with us on Instagram or TikTok.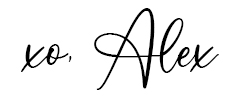 Sign up for our monthly newsletter for updates and more. We promise we won't spam you! Feel free to unsubscribe anytime.
If you're a brand and want to work with us, please visit this page to get in touch.