Reading Time:
6
minutes
A fashion trend I've been obsessed with are SCALLOPED HEMS! They're the contrast to a boring straight hem and add a touch of feminine to my athletic demeanor and physique.
My first scallop crush was the Scallop Chloe Bikini ($260). I was hesitant to spend beyond my means on a bikini so I waited it out. Luckily I was able to snag a bikini set when I worked at Nordstrom. They had a secret designer sale (for employees only) and I bought my Scallop Chloe Bikini for only $46!!! Score!
Years later I discovered Marysia's scallop swimwear and fell even more in love with the trend. Marysia is a high-end swimwear line by Polish-born designer Marysia Dobrzanska Reeve. She created a luxury swimwear brand that launched in 2009 and has then produced trendy silhouettes for poolside lifestyle. Marysia pieces run for about $150 and up.
Although Chloe started the trend with their popular scallop bikinis and slip on shoes, it was Marysia that popularized the scallop bikini trend. Soon many other brands such as H&M, PilyQ, Top Shop and even Old Navy began to make scallop bikini dupes, which is great for those who don't want to fish out hundreds of dollars for a trend that might only last a season or two.
However, I believe in supporting hard-working artists and businesses and try to avoid fast fashion whenever possible…hence my love hate relationship with lululemon.
Now onto the good stuff, AKA the activewear! After seeing cute bikinis with scallop hems, I figured there had to be activewear purveyors adopting this trend. I began my search and found some awesome pieces!
Best Picks for Scallop Hemmed Activewear
#1 L'URV Activewear I'm On Clouds Collection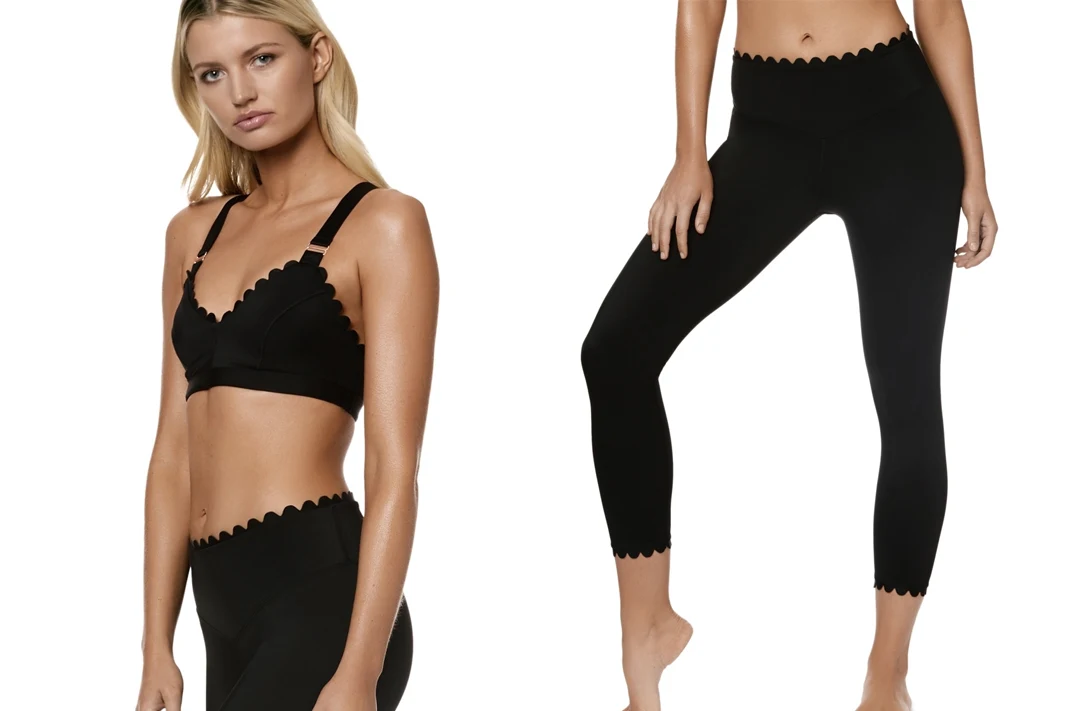 I am obsessed with the I'm On Clouds collection. L'URV offers awesome quality and compression. The fit does run small, so be sure to size up. I am a size 6 in lululemon and wear size medium in L'URV. The collection currently offers bras, leggings and shorts.
Buy L'URV Activewear on Bandier and Carbon38. Use Carbon38 coupon code SCHIMIGGY for 20% off your orders. You can also buy directly from L'URV Activewear but their shipping is a little pricey overseas.
---
#2 Track and Bliss Sweet Escape Sports Bra ($78) and Into the Moonlight Legging ($103)
Track & Bliss is a luxe-activewear line that launched in Spring 2015. T&B merges LA's laid-back attitude with NYC's urban edge. Their scallop pieces are absolutely to die for! It's nearly impossible to find your size online due to its popularity.
---
#3 Titika Ola Light Impact Bra ($68) and Undulation Crop Leggings ($78)
Titika is a Canadian activewear brand that offers three house labels 1) Titika Go To, 2)Titika Active, 3) Titika Couture and 3) Titika Black. I love their scallop hem pieces. Their sizing runs true to size so be sure to refer to their size chart before ordering. Any return shipping is the responsibility of the buyer. Use Titika discount code SCHIMIGGY20 for 20% off your first order.
---
#4 Ted Baker Liveli Scalloped Sports Bra ($60) and Mitzzi Scallop Hem Crop Leggings ($98)
Ted baker makes activewear? I love the designs but have never tried their activewear before. Time to give it a whirl!
---
Australian based company Lorna Jane created cute scallop pieces. They're the Aussie equivalent of lululemon. Too bad the bottoms aren't leggings.
---
#5 Target's JoyLabTM Scallop Hem Activewear ($30-40)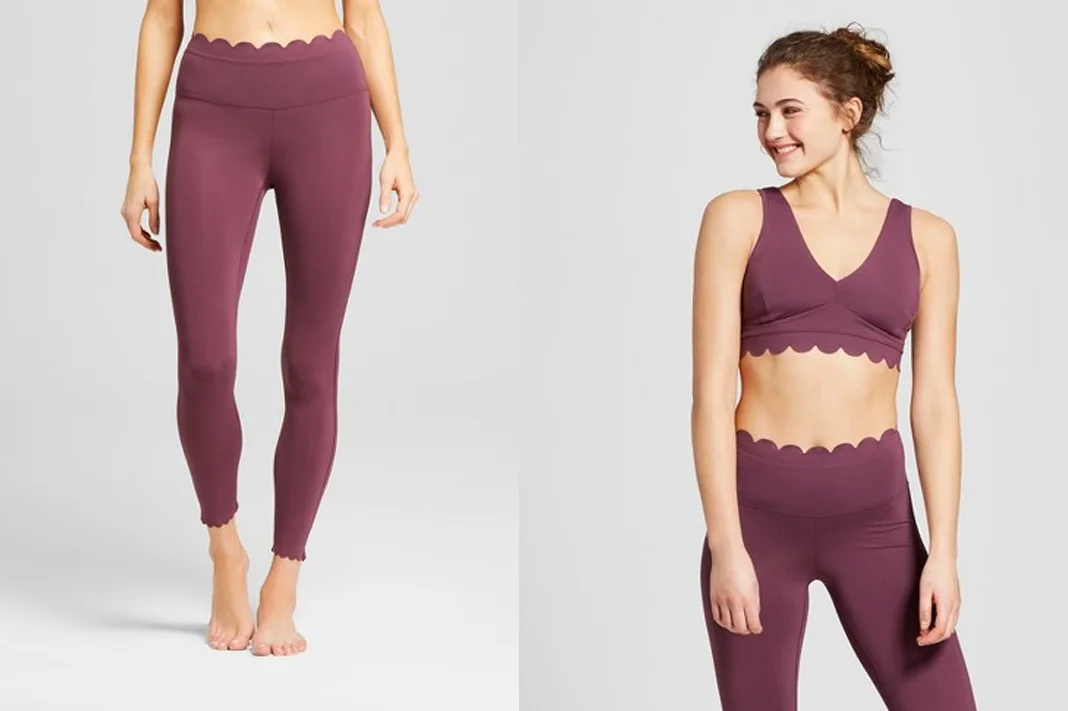 I am in LOVE with what Target is doing. Not only do they give back to the communities they serve, they also make cute activewear through their JoyLabTM line. I am a fan!!!!
---
#6 Kate Spade New York Activewear – Scallop Hem Leggings ($98)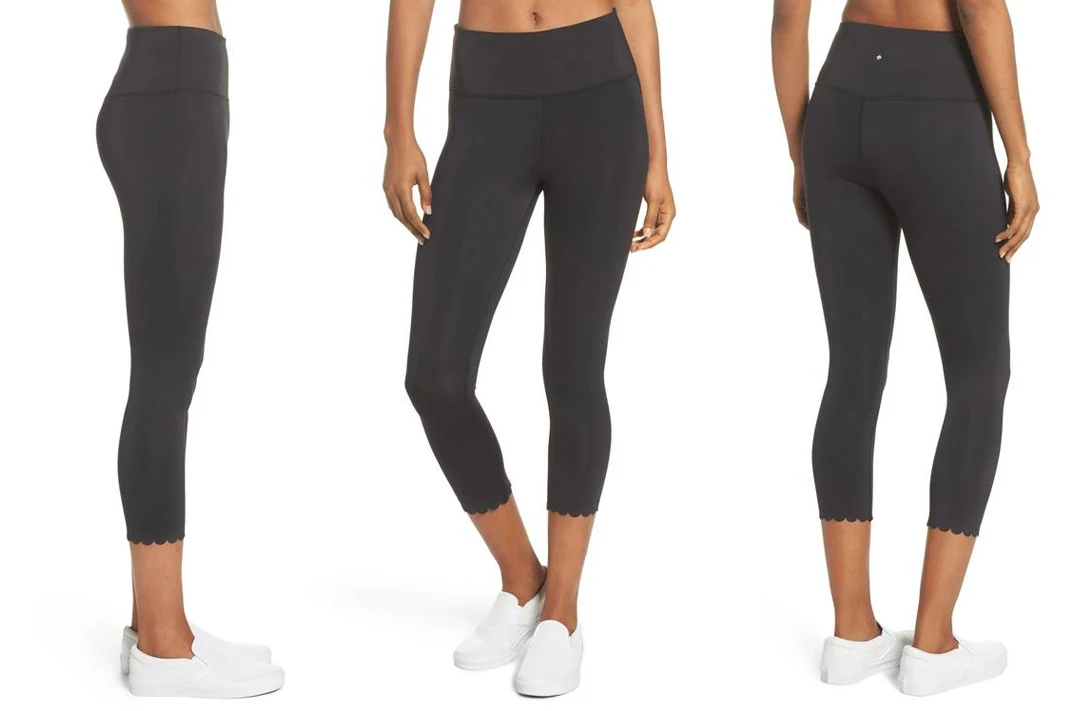 Kate Spade New York's Activewear line thinks polka dots and scallop hems are in season 24/7. And they're right. The pants also come with a matching scallop bra. I am obsessed!!!
Find Kate Spade NY Activewear at the following retailers:
---
#7 Electric Yoga Dale Bra and Elizabeth Tight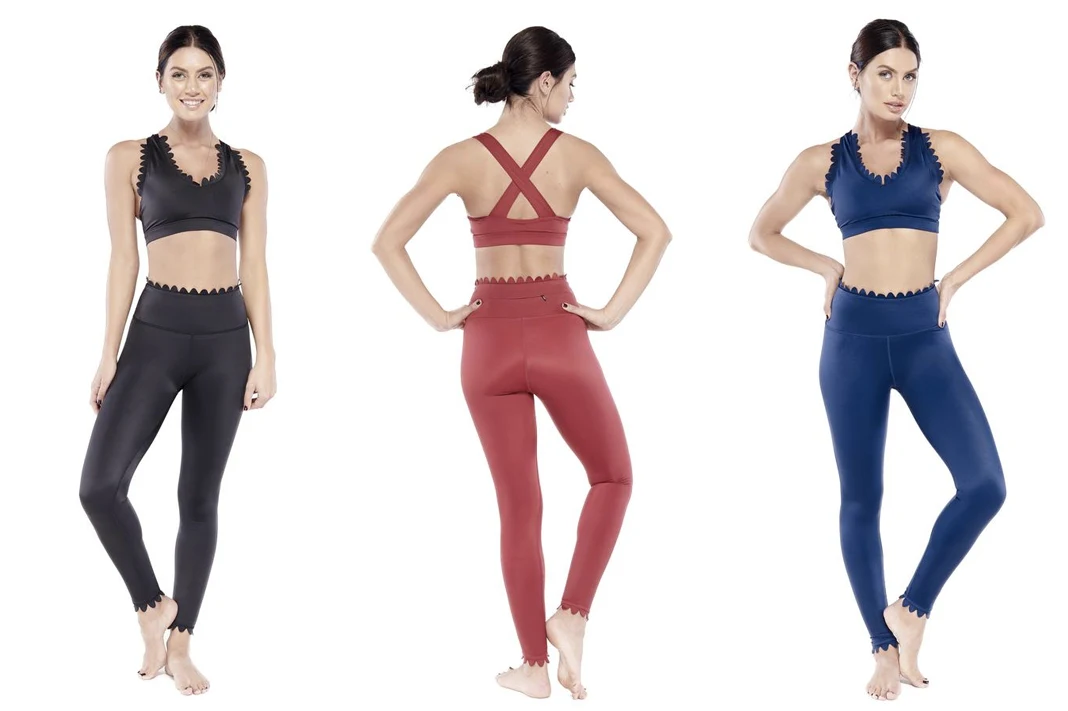 Electric Yoga created this awesome scallop hemmed set. I've never tried this brand but will definitely look into it. The set is just adorable and comes in three colors. Dale bra is $58 and Elizabeth leggings are $88 with FREE shipping on all orders.
---
The price point for the TST is so high for the amount of scallops received. Like any dish with a meager portion of scallops….I'll pass!
---
#9 Monreal Scalloped Hem Shorts ($200)
My only question is why are these shorts so expensive? It's cute but not $200 cute. There was also a neon yellow version on Carbon38.
#10 No Ka'Oi
No Ka'Oi means "the best" in Hawaiian. No Ka'Oi is a high-end activewear brand that offers color block panels and luxe fabrics. Get 25% off No Ka'Oi when you shop at Carbon38.
#11 Carbon38 Birds Collection
Carbon38 released their Birds collection for Spring 2019. The fabric is purple and showcases Carbon38's iconic crane design. If you don't like scallop hems, some pieces of the collection also come with a regular hem. Get 25% off at Carbon38 when you use this link or code SHMGY25.
#12 Beach Riot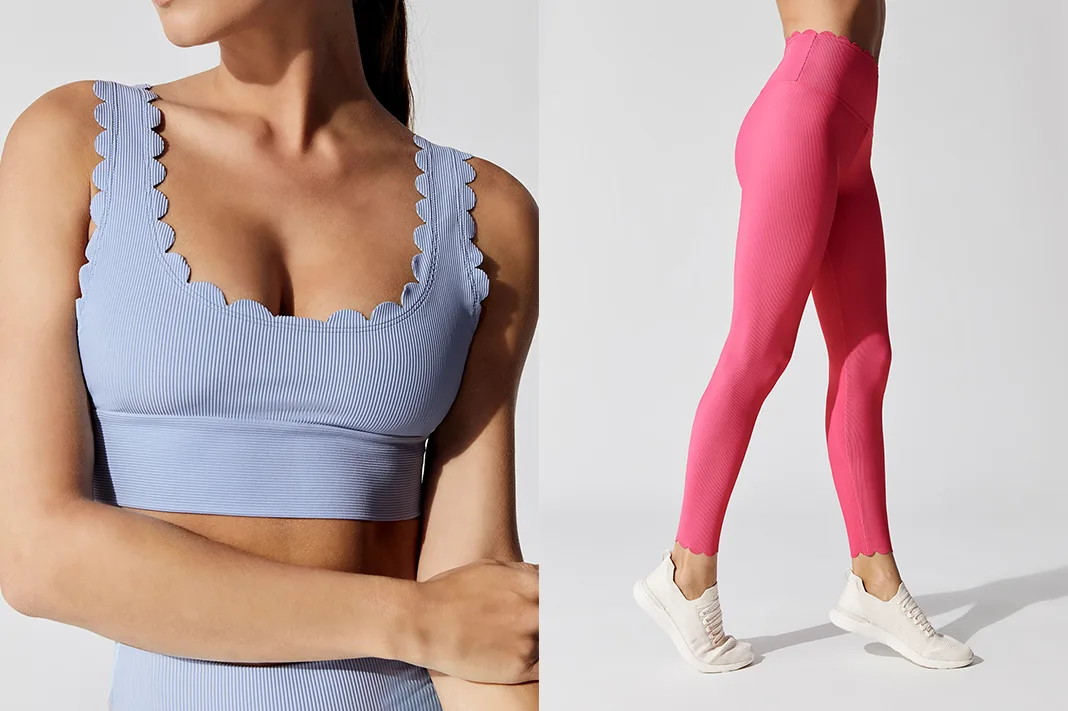 Carbon38 has a limited edition release of Beach Riot's scallop hem activewear! The suit comes in light blue, black and pink. You can shop Beach Riot on Carbon38 and save 25% off when you use this link or code SHMGY25.
#13 FP Movement Genesis Bra and Legging
Free People's activewear line, FP Movement is full of surprises. The Genesis collection offers scalloped hems on black, pink and teal pieces. We recommend sizing up in FP Movement.
Buy FP Movement on Carbon38 and use code SHMGY25 for 25% off your orders.
---
Along the way, I found some other pieces with scallop printed fabrics, but those don't count for this post. So far the trend for scallop hemmed activewear is next to null. I'll keep hoping activewear companies catch onto the trend. I would love to be head to toe in scallop hems! #scalloptuxedo #scallopsuit
I'll keep adding things as I find them or as they are introduced to me. Would love to hear your thoughts! Would you sport the scallop hem?
Want to transform your clothing into something new with a scalloped hem? Check out this DIY Scallop Hem tutorial here.
---
Thank you for visiting today! If you found this encouraging or informative, please connect with us on Instagram, Youtube, Pinterest, Facebook or Twitter. We'd love to meet you!
Sign-up for our monthly newsletter for updates and more. We promise we won't spam you! Feel free to unsubscribe anytime.
For more fitness fashion discounts and offers, please visit our Fitness Instructor Discounts + Brands Directory or favorite brands coupon codes list.
If you're a brand and want to submit a product for us to review, please use this form to get in touch.
This site uses affiliate links. Clicking on or purchasing via an affiliate link may result in commissions for us which help keep the content flowing and lights on at Schimiggy Reviews. You may read more about this in our privacy policy.