Reading Time:
5
minutes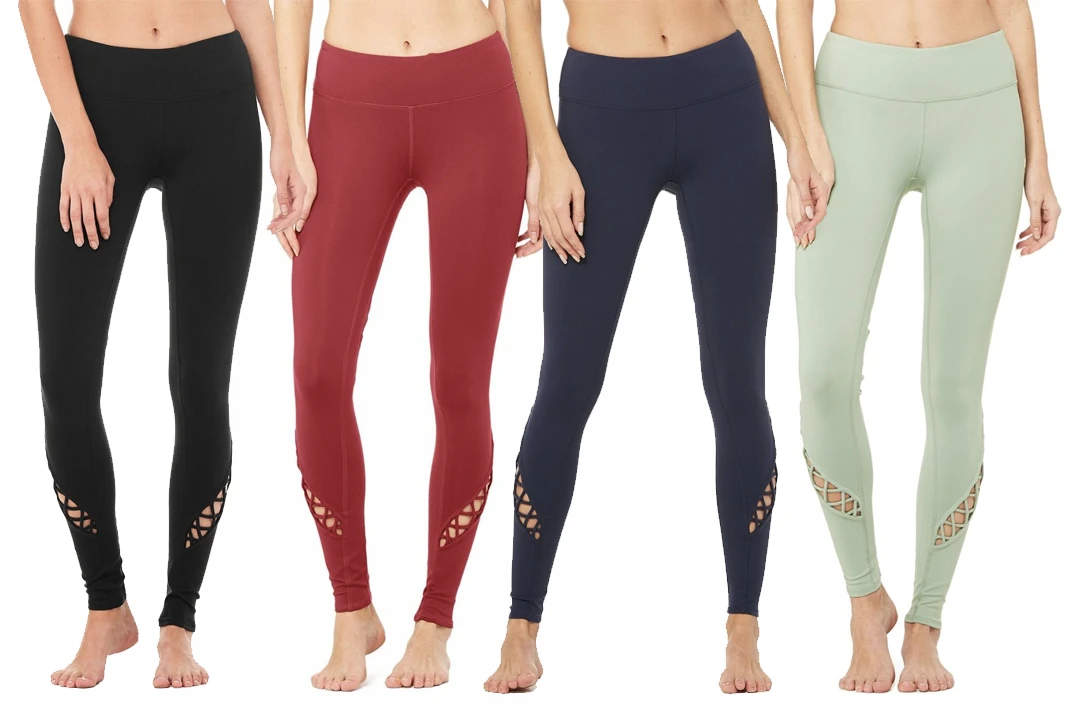 About Alo Yoga
ALO Yoga was created by Danny Harris and Marco DeGeorge. They recognized the rise of athleisure wear and started ALO in 2007.
ALO was created to spread good to anyone who is experiencing the transformative power of yoga, to the world's best yogis like Talia Sutra, Ashley Galvin, and Dylan Werner who wear ALO to practice because it's the only line that actually elevates their practice, to the celebrities and the fashion-forward who wear AL because it's the perfect street brand, comfortable, contemporary and decidedly not just for the mat.
ALO Yoga recently added these lace-up leggings to their latest collection. I definitely wanted to try them out since the detail looked very feminine and sexy at the same time. Check out my ALO Yoga review below!
ALO Yoga Review: Entwine Lace Up Leggings
I reviewed the Entwine lace-up leggings in black. I purchased them from Nordstrom using a gift card. I saw them and thought they were neat because I currently do not have anything with a lace-up design in my wardrobe. I also figured I could wear them both casually and for yoga.
I first tried ALO Yoga back in 2007 when they first came out. They offered their collection at Nordstrom and I was not in love with the fit and fabric. In 2010, I attended a conference in Boston, Mass. and found a cute ALO Yoga crisscross tank top that I fell in love with. I brought it home with me and later discovered that the label had fallen off after two wears and the trim used on the top was not stretchy and felt constricting. I ended up selling the top.
I also attended one of their sample sales in Los Angeles years later that year and found tanks, bras, tops, and bottoms for an excellent deal! I still was not a huge fan of Alo due to the quality, but I couldn't beat the prices! Afterward, I took a long hiatus from ALO Yoga.
Two weeks ago (and 7 years later) I tried on their High-Waist Moto leggings and fell in love. I could see an exponential improvement in their design. The fabric was much softer and the silhouette was very slimming! I could see why there's been such a huge rise in the popularity of Alo Yoga, aside from their Instagram sponsorships and challenges.
Onto the Entwine leggings review!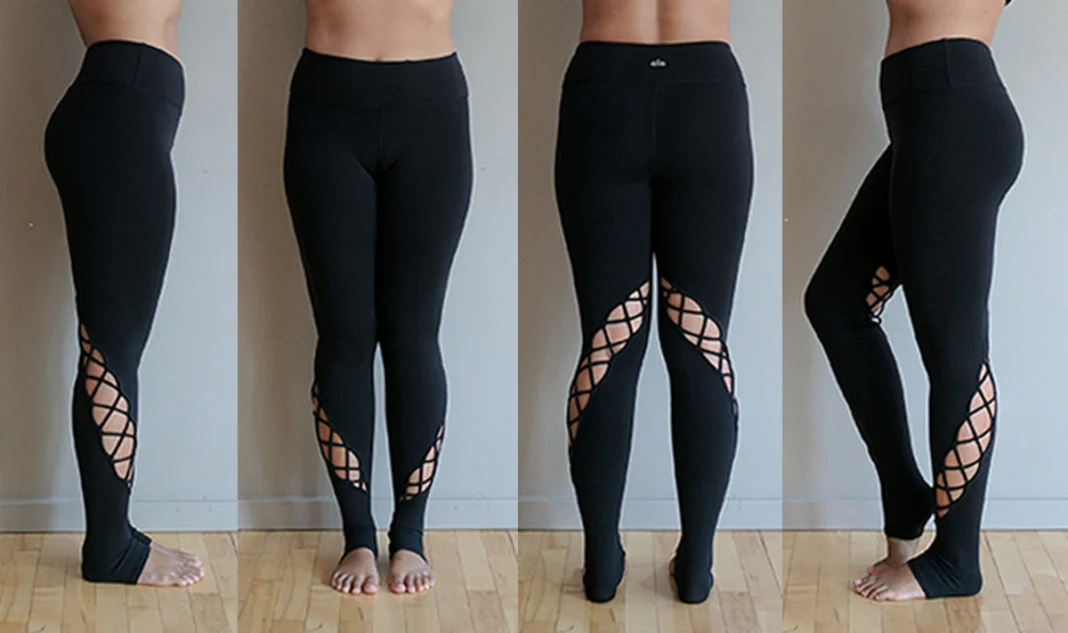 #1 Size: I tried on the black Entwine leggings in a size small. I am a size 6 in lululemon for reference. The fit was excellent! The pants held everything in and looked very slimming. I would advise ordering your actual size in these bottoms as they run true to size (TTS). Even though the leggings fit, I still had see-through issues with my ALO Yoga pants.

#2 Style: The Entwine leggings come in a high rise fit. Alo Yoga also offers other products such as shorts, sport bras, tops, sweaters and outerwear.
#3 Inseam: Entwine leggings have a 29″ long inseam that can be worn over the heel or ankle.
#4 Rise: The leggings have a high rise fit that sits at the navel.
#5 Waistband: The leggings have a tall waistband measuring 3.5″. The waistband comes equipped with a pocket to stow away any small necessities such as a credit card or keys.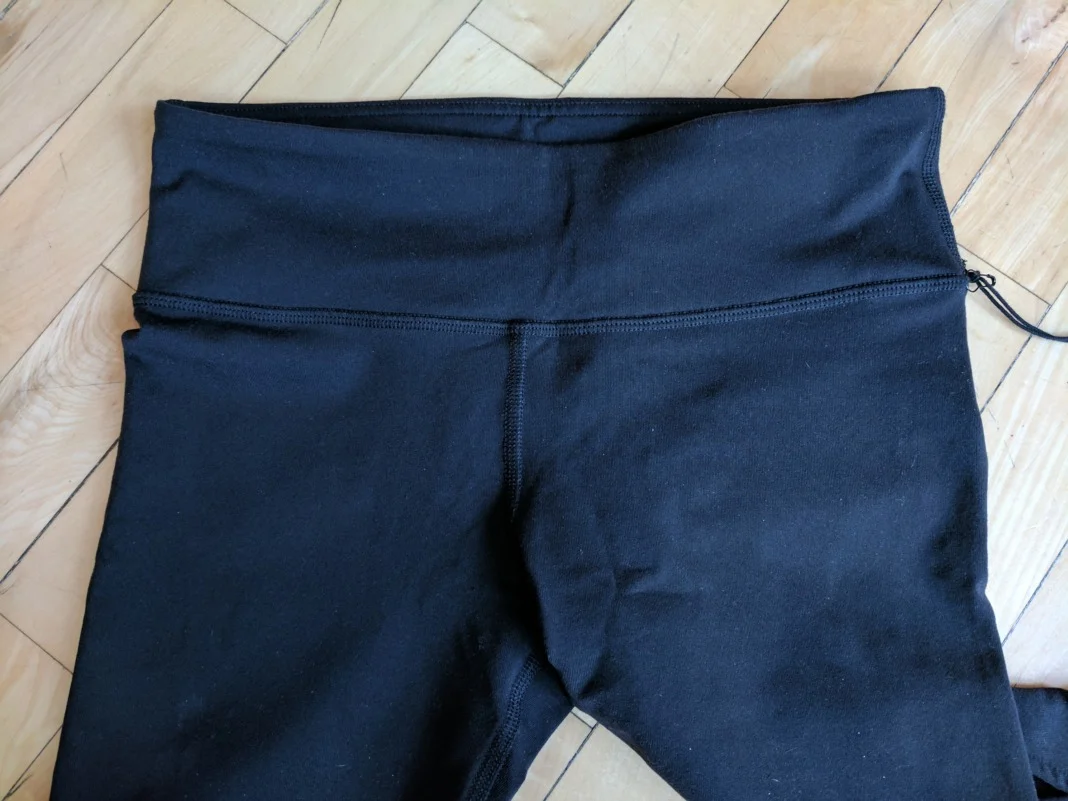 #6 Fabric:
Fabric Content: Entwine leggings are composed of ALO Yoga's Ultimate Performance Nylon Spandex (UPNS).
Fabric Feel: The UPNS fabric feels similar to Lululemon's Luon fabric but a bit thicker and softer. The fabric feels brushed and does wear out easily.
Fabric Performance:

ALO Yoga leggings are dry wicking with anti-microbial properties.
Fabric offers 4-way stretch, allowing the leggings to be form fitting. I did not find the leggings to be overly compressive.
The fabric, unfortunately, DOES PILL. The fabric also gets fuzzy.
The fabric collects dust and debris when washed or worn.

Opacity: My black Entwine leggings were slightly see-through when bending over. I also have the ALO Moto leggings in black, however, they are not see-through.
Features:

Waistband pocket to stow your goods.
Lace detail that curves around the front and back of the bottom half of leggings.
Reflective logo on the back waistband of the pant.
#7 When to Wear: ALO Yoga products are designed for yoga. They're also great for casual wear and other exercises as well. They are not overly compressive.
#8 Cost: ALO's long leggings range from $88 to $129. The Entwine leggings cost $108. Pricing is comparable to Lululemon. I've included some coupon codes below so that you can buy ALO Yoga below retail value.
#9 Gusset: The Entwine leggings have a triangle-shaped, single-layer gusset.
#11 UPF Protection: Not disclosed.
#12 Made in China.
#13 Care Instructions: I recommend washing ALO leggings inside-out and on delicate in the washing machine. Afterward, I hang dry on a foldable drying rack such as this one. They dry quickly overnight. ALO fabric will feel stiff the next day, however, it will soften with wear.
Should I Buy ALO Yoga?
I love the look of the Entwine leggings, however, the see-through issues were very bothersome for me. All in all, I do recommend ALO Yoga if you don't participate in activities that require a lot of bending or squatting (sorry yoga!). The details are unique and with the skin peeking through the lace-up panels, it is definitely eye-catching. I recommend going with your true size in this particular ALO Yoga style pant.
Do I think ALO Yoga is better than Lululemon? It's hard to say. I love ALO Yoga's designs, but Lululemon's fabric feel and quality are much better. I experience little to no see-through issues with Lululemon. Whereas with ALO Yoga I am always concerned that my leggings may be see-through.
To style the leggings, you can pair the legging with a strappy bra (like below) or ALO Yoga's Entwine shirt.
Where to Buy ALO Yoga
If you like this post, you might like these articles too:
---
Thank you for visiting today! If you found this encouraging or informative, please connect with us on Instagram, Youtube, Pinterest, Facebook or Twitter. We'd love to meet you!
Sign-up for our monthly newsletter for updates and more. We promise we won't spam you! Feel free to unsubscribe anytime.
For more fitness fashion discounts and offers, please visit our Fitness Instructor Discounts + Brands Directory or favorite brands coupon codes list.
If you're a brand and want to submit a product for us to review, please use this form to get in touch.
This site uses affiliate links. Clicking on or purchasing via an affiliate link may result in commissions for us which help keep the content flowing and lights on at Schimiggy Reviews. You may read more about this in our privacy policy.