Reading Time:
5
minutes
Updated: 1/10/2021 | Best Pineapple Leggings
Pineapple Leggings You'll Love
My favorite fruits are pineapple, mango and peach. Living in Seattle, I look to my pineapple ornaments and decor to remind me of the sun, sand and beach. Pineapples also remind me to book that damn beach vacation already!
I have been collecting pineapple themed house decor and kitchenware, but oddly, I haven't a single pair of pineapple leggings! How bout dat?!
After scouring the internet for hours, I've compiled a list of pineapple leggings from some of the best activewear brands. I've tried most of these brands and highly recommend them for their fit, fabric, design, and are eco-friendly. I found tons of pineapple leggings that were affordable, however, I choose to support companies that are sustainable and eco-friendly.
Below are pineapple leggings that I think you will LOVE!
#1 Ultracor
Ultracor makes ultra LUXE activewear that is made to perform. Their fabrics are soft and compressive. I recommend sizing up in Ultracor. They recently released pineapple leggings in three designs. They also offer a crop top pineapple bra. Buy Ultracor on Carbon38 (use code SCHIMIGGY for 20% off) and Evolve Fitwear (use code SCHIMIGGY for 10% off).
Goldsheep offers fun printed pineapple leggings with a high waistband. The Goldsheep design is simple and cute. Goldsheep leggings go for $98 a pair. Buy Goldsheep at Sculptique (use coupon code ALEXANDRA for 20% off), Evolve Fitwear and Poshmark (use code POZCU for $5 off your first purchase).
#3 Terez
Terez (aka Zara Terez) is a lifestyle and activewear brand based out of NYC. Their pineapple leggings are pretty darn cute. It comes with a standard waistband. I recommend sizing-up in Terez. Terez leggings are set at a great price point (around $56). Buy Terez on Carbon38, Poshmark, and Yoga Outlet
These are part of their museum (discontinued). I would have definitley bought these if they were available! Love love love the pattern! I know the waistband is thin, but I would have easily forgone that aspect due to the pattern. I've worn black milk before and needed to size up to a size L. And price point isn't bad!
#5 Arthletic Wear
Love love LOVE Arthetlic Wear. The fabric is amazing and the designs are beautiful. They're based out of Serbia but are so worth the investment. Use code YOGANEWS for 20% off your orders! Check out my review of the brand here.
#6 Poprageous
I love Poprageous! They're based in LA and are like the US version of Black Milk. Poprageous makes both standard and tall waistbands. You'll find Poprageous at music festivals and around LA. Get 20% off Poprageous through my link.
DING DING DING! I think we've found a winner! I love the high waistband and the pineapple print reminds me of a Papersource greeting card. The leggings are affordable and run for $56-65 pair. Emily Hsu also makes leggings for teens and girls.
Flexi Lexi is a Singaporean brand that makes excellent leggings. Be sure to size up in Flexi Lexi. The leggings go for $79 and shipping charges originate from Singapore. You can buy Flexi Lexi on Poshmark and Evolve Fitwear. Check out my review of Flexi Lexi here.
#9 Coconut Active
Coconut Active is an activewear brand based out of South Africa. The leggings are made in Brazil and are categorized as Brazilian leggings. Buy them for $71 USD + shipping from South Africa here.
#10 Sun Lovin' Roots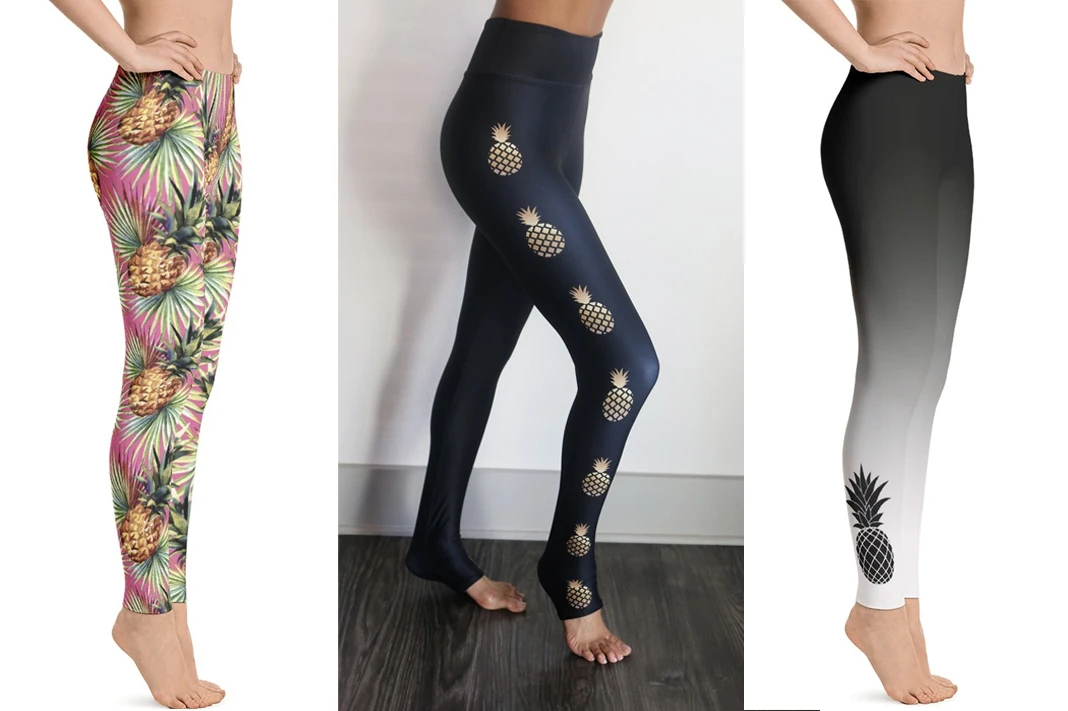 Sun Lovin' Roots offers made to order lifestyle and activewear. Choose from different pineapple inspired prints. Leggings and tops take approximately 2 weeks to make but they will be made with intention and are eco-friendly. Buy Sun Lovin' Roots here.
#11 DiaNoche Designs
DiaNoche Designs works with a network of artists and designers to create a wide range of products that include leggings, yoga mats, bedding and more. Check out their pineapple prints here. I have yet to try this brand but will update when I do!
#12 Beyond Yoga
Beyond Yoga is one of my favorite brands. Their buttery soft fabric is perfect for both working out and lounging around in. If you haven't tried their space dye fabric, you're missing out big time! Get 15% off your orders at Beyond Yoga with this link.
#13 Body Angel Activewear
Body Angel Activewear has a print similar to Ultracor. Their fabric is 100% opaque. I recommend sizing up if you're in between sizes. All leggings are $96 USD.
#14 Love Fitness Apparel
Love Fitness Apparel leggings are made with the aloha spirit! The pineapple leggings come in multiple colors and even a cute running short silhouette. Leggings are affordable at only $60. I love the pocket detail in the back. You can buy Love Fitness Apparel here.
And before I end here, there's a website called Society6 that sells more pineapple leggings than I could ever imagine owning. Has anyone ever tried any of these? Did you love them? Let me know in the comments!
---
Thank you for visiting today! If you found this encouraging or informative, please connect with us on Instagram, Youtube, Pinterest, Facebook or Twitter. We'd love to meet you!
Sign-up for our monthly newsletter for updates and more. We promise we won't spam you! Feel free to unsubscribe anytime.
For more fitness fashion discounts and offers, please visit our Fitness Instructor Discounts + Brands Directory or favorite brands coupon codes list.
If you're a brand and want to submit a product for us to review, please use this form to get in touch.
This site uses affiliate links. Clicking on or purchasing via an affiliate link may result in commissions for us which help keep the content flowing and lights on at Schimiggy Reviews. You may read more about this in our privacy policy.