Reading Time:
9
minutes
Many of us want to avoid the aluminum and preservatives that come with most traditional antiperspirants (these ingredients have been associated with diseases like breast cancer and Alzheimer's—though researchers say there's little evidence proving the correlation).
What Makes Deodorant Natural and Non-Toxic?
Natural deodorant offers the following qualities:
Aluminum free
Paraben free
Baking Soda free
Whatever your motivation, I understand wanting to recognize every ingredient in your skincare products. The problem with natural deodorant, however, is that the process of converting to it can get, well, funky. Take it from me: After about a day of switching to natural deodorant (aka a day of smelling like I'd been camping in the wilderness for six months), I decided it didn't agree with me and switched back.
But according to holistic skincare experts, natural deodorant agrees with everyone—you just have to let your body detox from the other stuff first. Yes, it's true: In order to successfully become a natural deodorant user, you have to go through a "mainstream deodorant detox"—and it's not (quite) as painful as it sounds. Read on to find out how going through a "deodorant detox" is just what you need to make the natural stuff work for you.
What to expect when switching to natural deodorant
The typical story of switching from conventional antiperspirant to natural deodorant goes like this…
Days 1-3: You apply in the morning per usual. No matter which one you start with, you decide that it's the best natural deodorant ever. You don't have a trace of odor, and you smell like real fruit and flowers. You decidedly will never go back to toxic aluminum-based antiperspirants again.
Day 4-6: You catch the first whiff of your own natural odor, which makes you hyper-aware of the smell you're emitting. You sniff check several times per hour. Toward the end of the day, you're convinced you smell like a bag of hot garbage.
Day 7: You've had enough. You're back to the big box store to get the name brand stuff again.
What's actually happening when you quit antiperspirant
What you may not realize is that conventional antiperspirant hangs around for a while. It literally plugs your pores with aluminum every time you apply it, so it may last for a few days after you stop using it. So, the first few days you use natural deodorant, you're applying it on top of the antiperspirant you used a few days ago.
And then, the old antiperspirant finally washes away, and the floodgates open. All the sweat, bacteria, and odor it has been holding back comes out of your pores, seemingly all at once. That's a great thing for your body, not so great for your nose.
After about two weeks, things even out. The accumulation of odor-causing sweat and bacteria has washed away, and since you're not using antiperspirant anymore, you're only dealing with the sweat from the day, not a backlog of it.
So, before you decide that your natural deodorant doesn't work, give it a few weeks for your body to adjust.
It might take a bit of trial and error to find the best natural deodorant for you, but it's worth it in the end. Aluminum is terrible for you, and sweating is there for your benefit. You can sweat and smell terrific if you're willing to try a few different odor control methods along the way.
Are you ready to make the switch to an all-natural deodorant option? Below is our list of brands that have been tried and tested by our team including discounts towards your purchases.
Check out our top picks for natural deodorant sticks and pastes.
Best Natural and Non-Toxic Deodorant Brands
#1 Alvera
Alvera's roll-on natural deodorants are amazing! They keep the stink at bay and do not leave any residue. They're also super affordable at only ~$3 a stick.
#2 Aer Next-Level Deodorant
Aer Next-Level deodorant ($40) is a luxury natural antiperspirant solution. With scents like Palo Santo and Blood Orange, you're bound to feel awaked and confident throughout the day.
Their advanced formula glides on smoothly and dries immediately leaving no sticky residue. It provides uncompromising protection by neutralizing odor at the source and delivering all-day freshness. Cruelty-free and formulated without aluminum, parabens, phthalates, silicones, talc and other known toxic ingredients.
#3 Agent Nateur
Agent Nateur is another luxury all-natural beauty line. Their deodorants glide on smoothly and absorb effortlessly. We love the luxurious scents.
#4 American Provenance
American Provenance makes all-natural, unisex deodorant. Choose from foresty scents to keep your pits dry and smelling fresh.
#5 Rustic Maka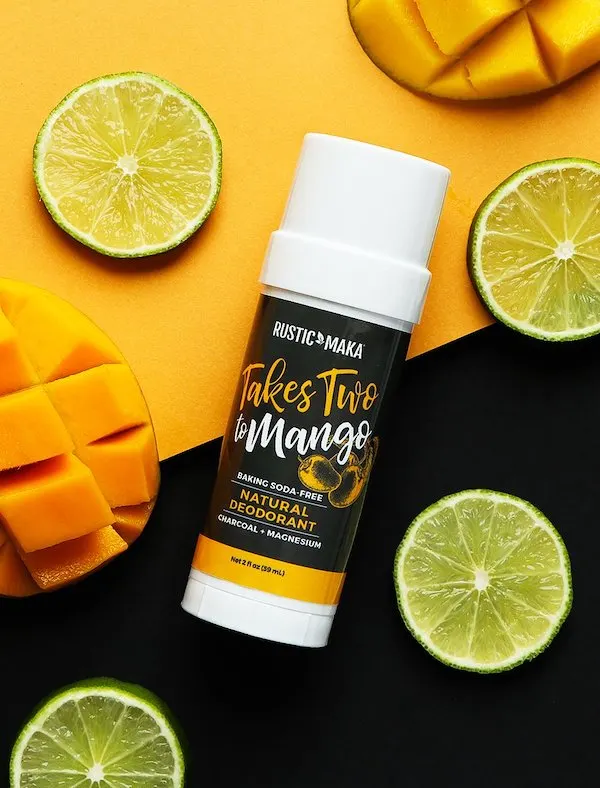 Rustic Maka all-natural deodorants are baking soda and aluminum-free. Their deodorants offer triple odor-neutralizing power of magnesium + charcoal + zinc ricinoleate.
And they're also cruelty-free!
Consider their subscribe and save option for an additional 10% off!
#6 Chagrin Valley

Chagrin Valley makes deodorant pastes and sticks ($13.75). They also offer all-natural body bars, dry shampoo and shampoo bars.
Save $5 off at Chagrin Valley with this link.
#7 Consonant
Consonant makes all natural beauty products for men and women. Choose from scented to non-scented products from their body care line.
Get 10% off your first order when you use this link.
#8 Corpus
Corpus comes in three scents and mini and regular sized sticks. We recommend applying it on completely dry pits for the best results.
Get $5 off at Corpus with this link.
#9 Curie Natural Deodorant
Curie deodorant comes in a spray bottle or stick options. Choose from three scents that include grapefruit cassis, orange neroli or white tea.
You can also sign-up for their subscription and get deodorant delivered straight to your doorstep when you need it.
Get 20% off your orders at Curie with this link.
#10 Crystal Mineral Deodorant Stick
The Crystal mineral deodorant is a great option if you want something natural. You will wet the stick and then rub it across your pits a few times until the salts are deposited throughout the surface of your skin.
The minerals will neutralize any bacteria that may start to stink. We have found that it does not help much with perspiration, but at least you won't stink!
#11 Each and Every
Each & Every has NO aluminum, parabens, synthetic fragrance, baking soda or gluten. It's also cruelty free and vegan.
Enjoy free shipping on all orders. If your deodorant doesn't work for you, take advantage of their money back guarantee to get a refund.
Use this link to get $5 off your orders at Each and Every. Use their subscription option for additional savings!
You can also shop Each and Every on Amazon.
#12 Earth Mama Deodorant
Earth Mama offers scented and non-scented deodorants. Try their mini deodorant package to try out their different options.
#13 Everyone Natural Deodorant Tea Tree + Lavender
Everyone (EO) is a budget brand that often uses natural ingredients in their household and bodycare products. They offer spray-on or stick deodorants.
Everyone products can be found in Whole Foods or online via Amazon.
#14 Farmacy
Farmacy deodorant ($15) is all-natural and comes in a moringa + papaya scent. Their non-toxic formula is also free of aluminum and baking soda.
Get 15% off your first order when you use this link.
#15 Follain
Follain makes a charcoal deodorant that glides on clear.
They also sell other deodorant brands on their website such as Aer and Ursa Major.
#16 by Humankind
by Humankind offers a ZERO-WASTE deodorant option. You simply purchase refills and swap out sticks as you use them up.
They have different colored containers and scents so that you can really personalize your deodorants. The container is free and only needs to be purchased once. Deodorant refills are $12 and can be ordered via subscription service.
#17 Sulina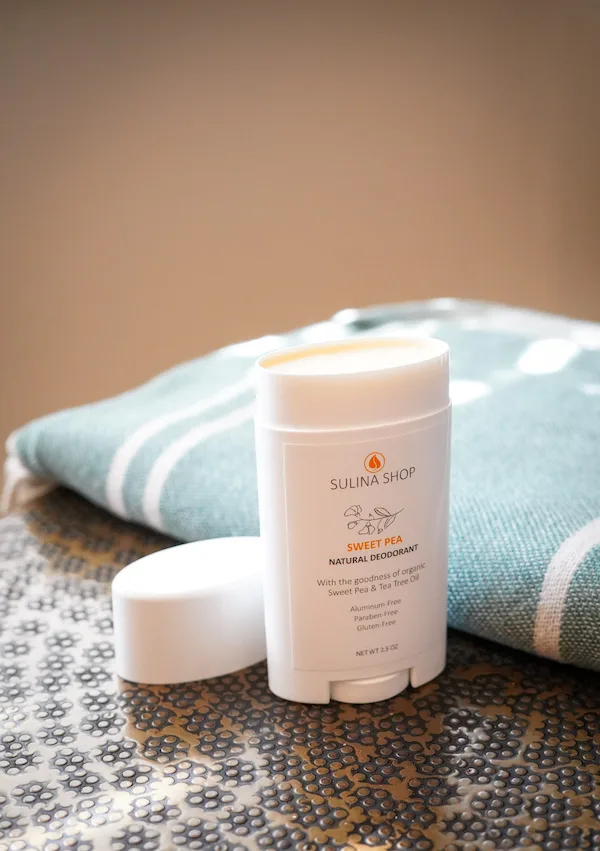 Sulina is a vegan, organic, all natural beauty brand made for men and women. Their chemical-free deodorant ($15) comes in many scents and even comes in a convenient travel size.
#18 Kiss My Face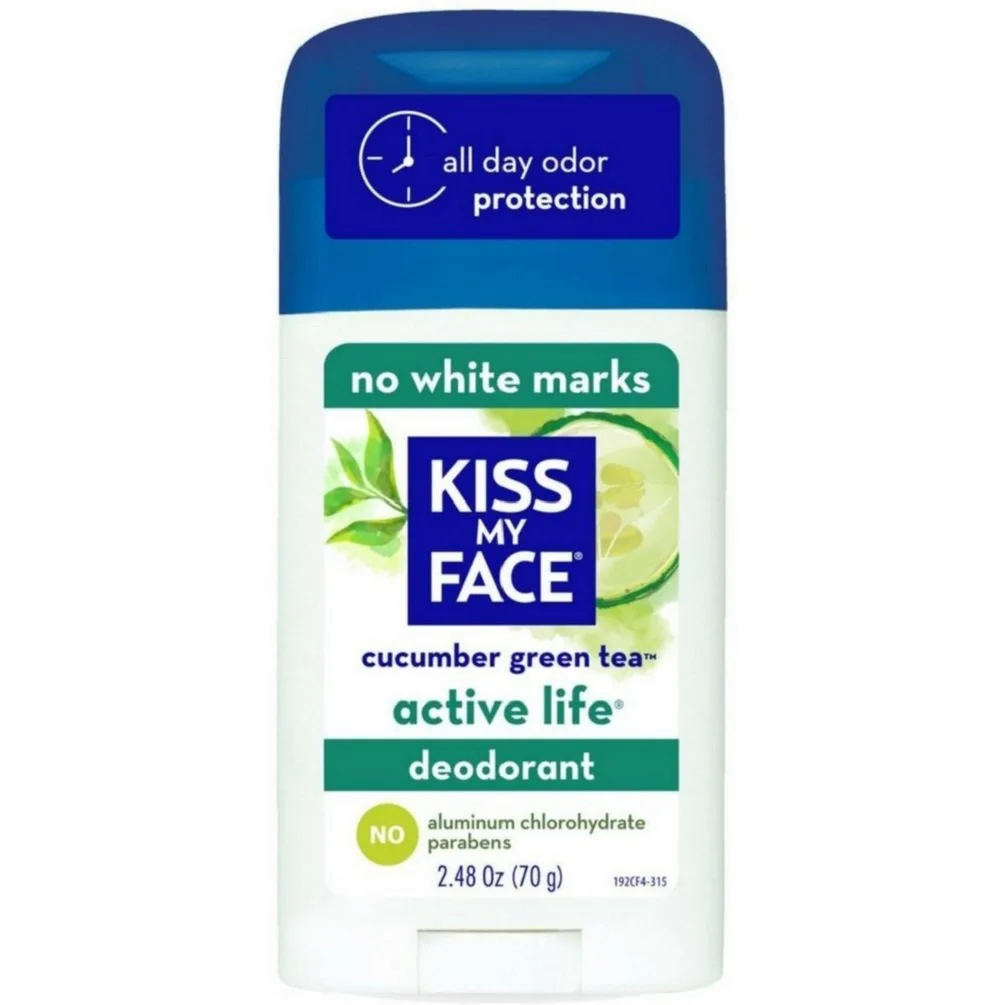 You can also shop Kiss my Face on Amazon.
#19 lolo Body Care
lolo Body Care's Pitty Perfect deodorant is all-natural and comes in three scents and an unscented option. The stick formula glides on and absorbs easily.
Choose from travel ($6) or full size ($13) options. The container is also recyclable.
#20 A La Maison de Provence Deodorant in Honeysuckle
A La Maison deodorants are made with plant extracts and all-natural ingredients. The formula is made to keep you dry and fresh all day long.
#21 MagSol
MagSol deodorant has an ingredient list that is short and reassuringly pronounceable. Ingredients include almond oil, magnesium oxide, beeswax and essential oils. Each ingredient has a purpose and is all natural!
#22 Malin and Goetz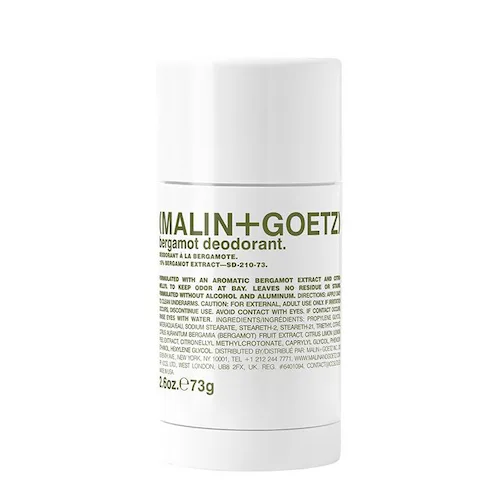 Malin and Goetz make luxurious bath and body products that are sulfate free and all natural. Their deodorants ($22) are made with natural ingredients.
#23 Meow Meow Tweet
Meow Meow Tweet makes a deodorant paste. It rubs in quickly and lasts all day long.
#24 Milk + Honey Baking Soda-Free Deodorant

Milk and Honey makes natural beauty products for both men and women. They have three deodorant options, baking soda free, regular and extra strength.
#25 Native
Native deodorant is aluminum free, provides effective protection, goes on smooth and made with vegan ingredients.
Get a free mini deodorant when you use this link.
You can also shop Native on Amazon.
#26 Oyin Funk Butter
Oyin makes a natural deodorant paste that we love! It glides and absorbs easily and lasts all day.
They also make body and shampoo bars so you can complete your zero waste beauty goals.
Get 25% off at Oyin with this link.
#27 Primal Life
Use this link to save $10 off your first order.
You can also shop Primal Life on Amazon.
#28 Schmidt's
#29 Tarte Cosmetics Clean Queen Vegan Deodorant
Tarte doesn't only make make-up and skincare, they also make an awesome natural deodorant. Choose from a travel and regular-sized sticks.
Get $5 off your first Tarte order using this link.
#30 Ursa Major
Eliminates odor-causing bacteria
Offers long-lasting protection
Silky-smooth texture and glide
Non-staining formula
Absolutely aluminum-free.
Ursa Major can also be purchased on Amazon.
Did you like our post on the best natural deodorants? Please share it on Pinterest!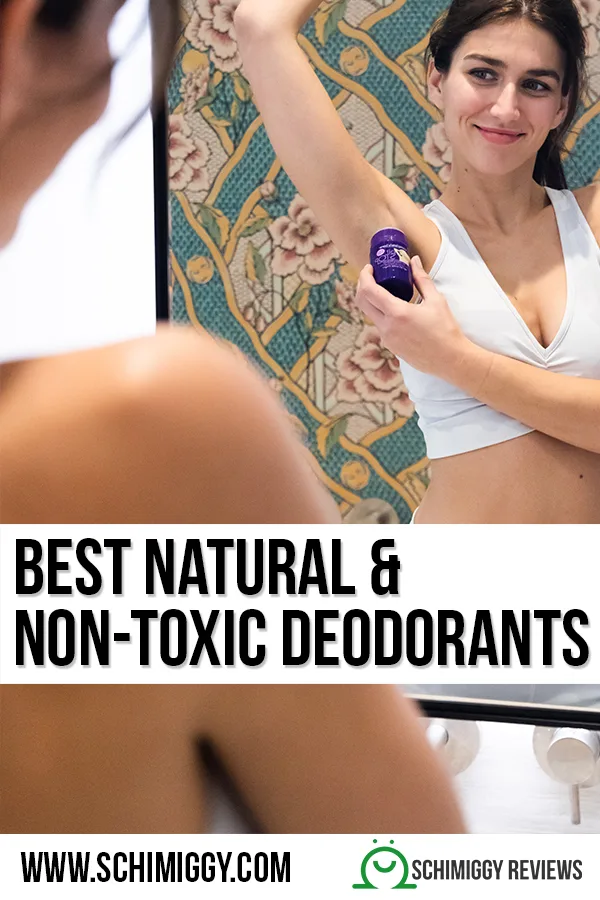 Thank you for visiting today! If you found this encouraging or informative, please connect with us on Instagram or TikTok.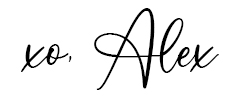 Sign up for our monthly newsletter for updates and more. We promise we won't spam you! Feel free to unsubscribe anytime.
If you're a brand and want to work with us, please visit this page to get in touch.