Reading Time:
7
minutes
Updated: 12/3/2021 | Shampoo Bar Containers
Shampoo bars are a great way to reduce single-use plastic waste in your household. We especially love using non-toxic and sulfate-free shampoo bar options.
One issue that you might run into when switching to shampoo bars is that they have a tendency to turn to mush if not stored properly. Some brands will offer a solution or complement product for storing your shampoo bars.
However, if your favorite brand does not offer a solution, we did some research and found some awesome products you can use to store your shampoo bars inside and outside of the shower.
Here's our roundup of products you can use to store your shampoo bars properly!
Best Shampoo Bar Containers and Trays
#1 Ethique In-Shower Container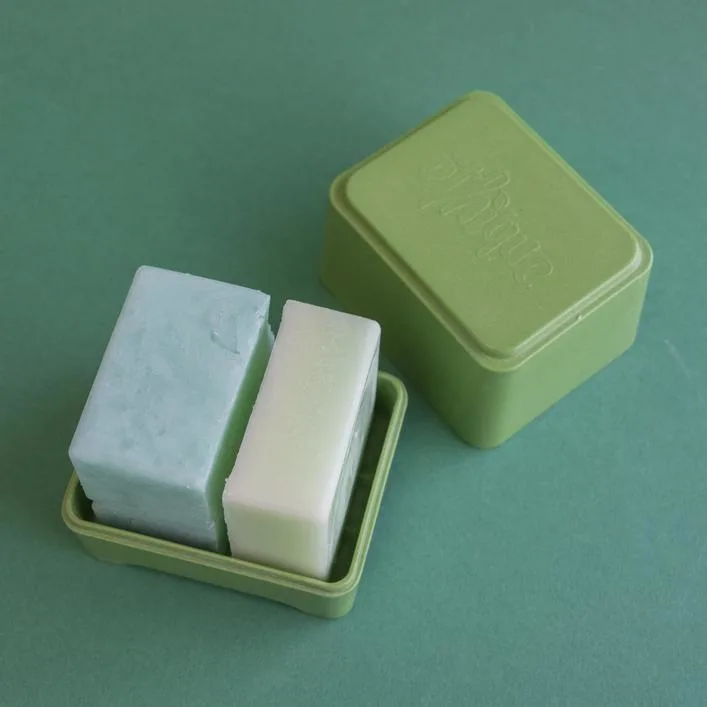 Ethique's In-Shower Container is a dream come true. It has drainage holes and a lid to keep your shampoos dry when not in use.
They also come in a variety of fun vibrant colors AND they're super sustainable (made of bamboo and sugarcane).
You can buy Ethique containers on Amazon or use this link for a coupon code to use on the Ethique website.
#2 J.R. Liggett's eZ-Pouch PLUS 3.5 oz Original Shampoo Bar
J.R Liggett's has an eZ Pouch that keeps your shampoo bar dry at home or while traveling. Make sure the bar is completely dry so that it does not stick to the pouch. Their shampoo bars are also made without palm oil.
#3 Duckish Plastic Free Soap Dish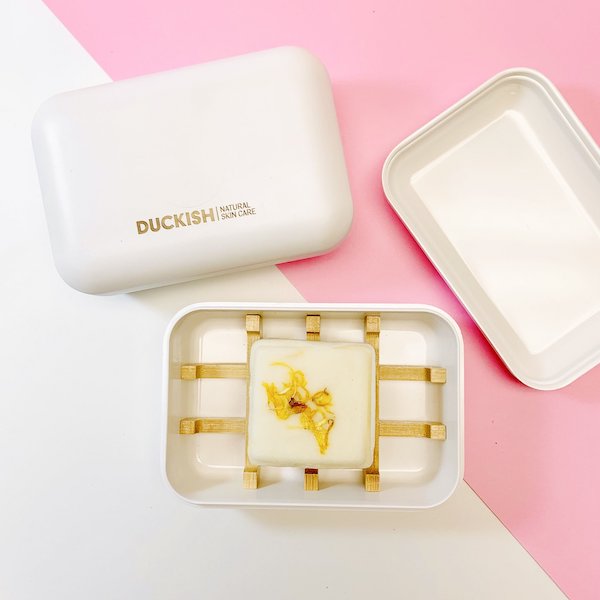 Duckish is a Canadian-based beauty company. They make this awesome plastic-free and biodegradable soap dish. The inner tray prevents shampoo bars from getting soaked after use.
They also have soap bars, shampoo bars, conditioner bars, skin care products, and more.
Use this link to save 15% toward your first order at Duckish.
#4 Jack59 Container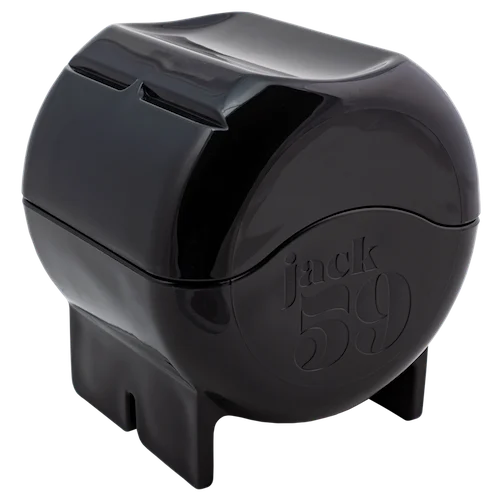 Jack59 is a Canadian-based company that offers shampoo and conditioner bars, body bars and more.
They have a 100% backyard compostable shampoo bar container that looks like a very cute mini compost! It's made from sugars and starch and will break down naturally.
Use this link to save 15% off your first order at Jack59.
#5 LUSH Square or Round Tins
LUSH makes shampoo bar tins ($3.95) in two shapes: square and round. They're compact and great for traveling.
We recommend standing your shampoo up to dry before putting them away in the case. If you leave them in there wet, there's a chance they may get stuck to the tin.
Pro Tip: Cut your bars up into single-use flakes and remove them from the tin as needed. That way your shampoo never gets wet and mushy. I typically let my soap shards soak and soften in water prior to washing. Softening the soap makes it easier to lather.
#6 Unwrapped Life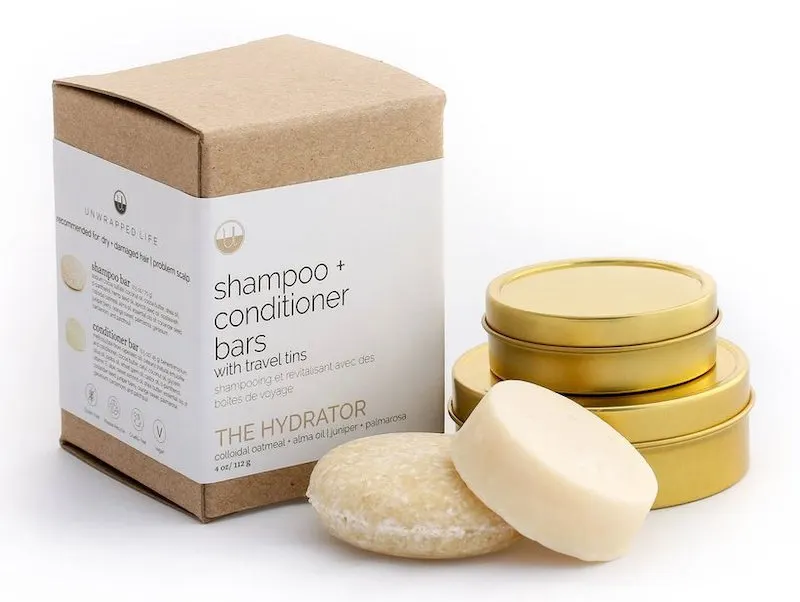 Unwrapped Life is a Canadian based beauty company that creates these awesome travel sets that come with shampoo, conditioner bar and travel tins.
Use this link to save 15% off your first order at Unwrapped Life!
#7 Mesh Bag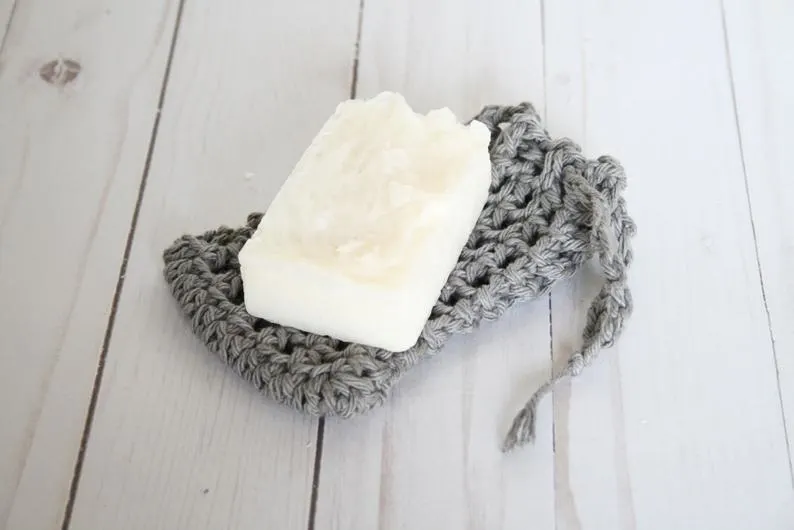 These drawstring mesh bags ($8) are a great way to store and transport your shampoo bars. You can buy them on Etsy and choose from many colors.
For drying, it's recommended that you hang it from your backpack to dry as you're traveling from one place to the next. You can also leave the bar on top of the bag and use it as a drying tray.
Pro Tip: You can also use a small mesh laundry bag to stow your shampoo bars. Simply throw the bag into the washer when it needs a cleaning.
#8 3D Printed Tin for Shampoo Bars with Drainage Tray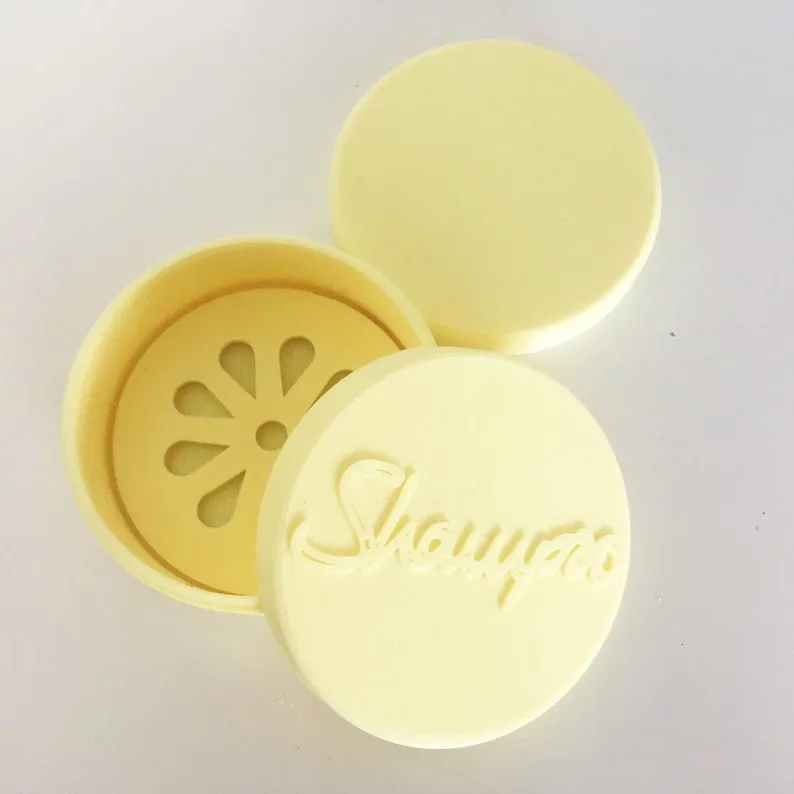 These adorable 3D printed shampoo bar cases ($15) come with a drainage tray and are great for travel.
You can choose from a variety of colors including metallic shiny hues. The cases are made to order and the text above the tin can be customized to any message you want.
#9 3D Printed Shampoo Bar Tray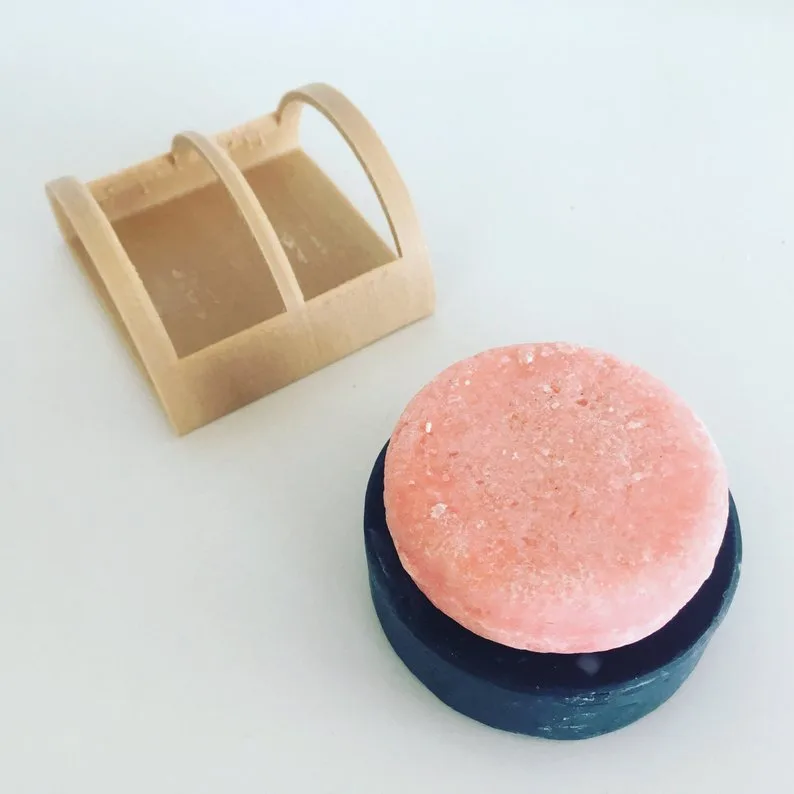 These 3D printed shampoo trays ($10) are great for in-shower storage. They also offer a minimalist look. They prop the bars up as they air dry.
We keep our trays on my window ledge and the shampoo bars dry within minutes. These are most practical for round shaped shampoo bars, however, some square bars will fit in the tray if they're small enough.
Pro Tip: Feel free to cut your shampoo bars so that they fit the tray and use the cut-up sections of your bars while traveling.
#10 Wooden Shampoo Bar Dishes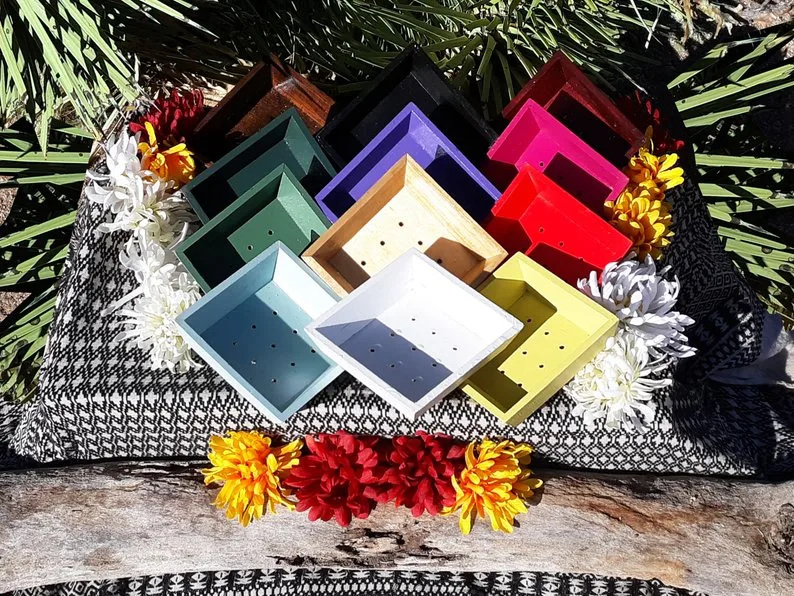 These wooden shampoo bar dishes ($10) come in many colors. The trays are perforated so that your bars dry quickly.
Many people do not like wooden options because they tend to get moldy if not cared for or constructed properly.
#11 Wooden Shampoo Bar Tray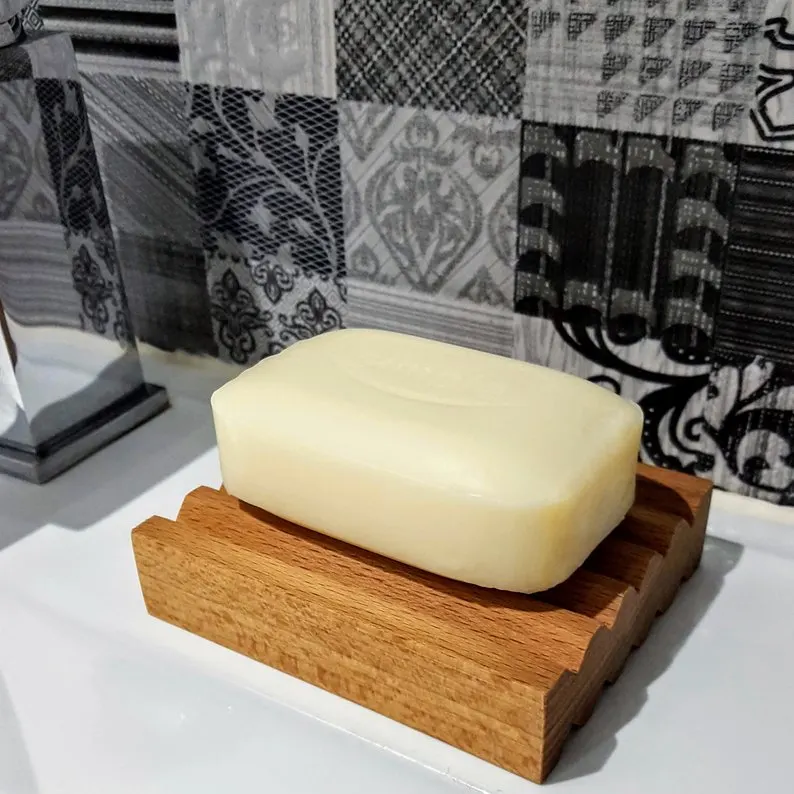 This no-frills handmade wooden shampoo bar tray ($6.86) is great for in-shower or countertop storage. The grooves help to dry out the shampoo bar.
It's also 100% sustainable and compostable.
#12 Honeycomb Shampoo Bar Containers with Drainage Tray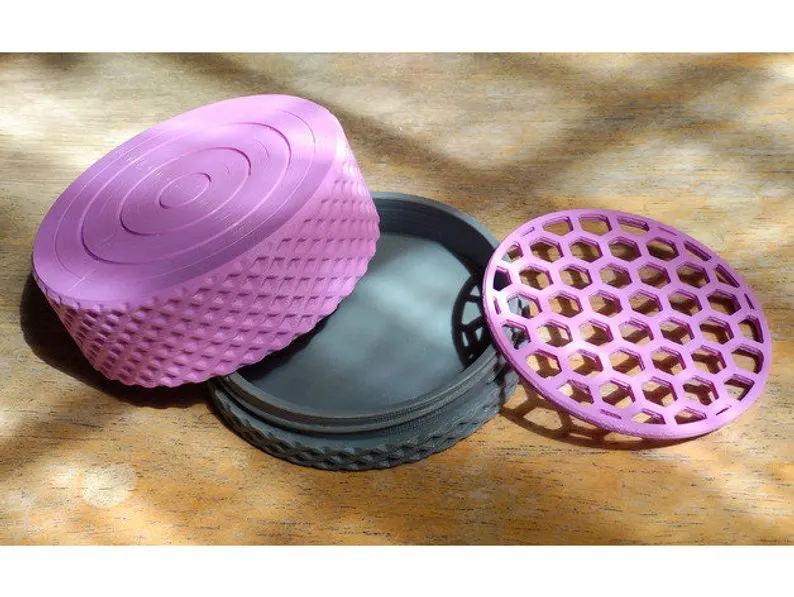 These honeycomb shaped shampoo bar trays ($15+) look so pretty!
They come in various colors (can be customized) and sizes. All the containers are round shaped. The grooves around the container make it super grippy so that you can easily open it when your hands are wet.
#13 Spectrum Soap Saver
Spectrum soap saver is an inconspicuous way to keep your shampoo bars dry and effective. I received a small tray in my MAD Optimist bodycare order. Spectrum also has large and small soap savers.
Buy Spectrum shampoo savers on Amazon and at Bed Bath and Beyond.
Related: MAD Optimist Review – Customizable and All Natural Bodycare
#14 Solid Shampoo Bar Case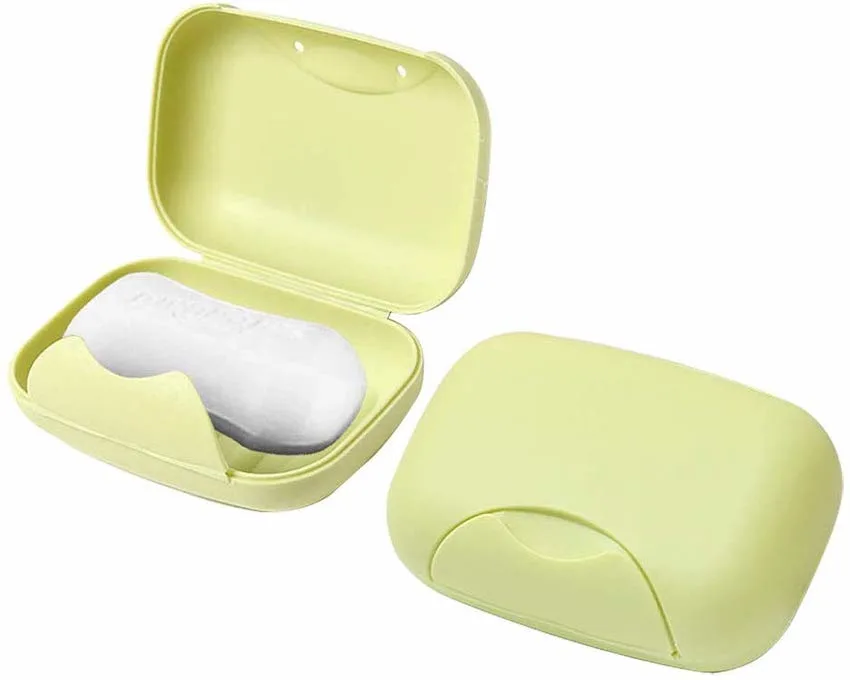 These solid shampoo bar holders are colorful and fun! They fit a regular sized soap bar and are also super affordable. The snap-on closure prevents your bars from getting wet and turning into mush.
#15 Solid Shampoo Bar Travel Case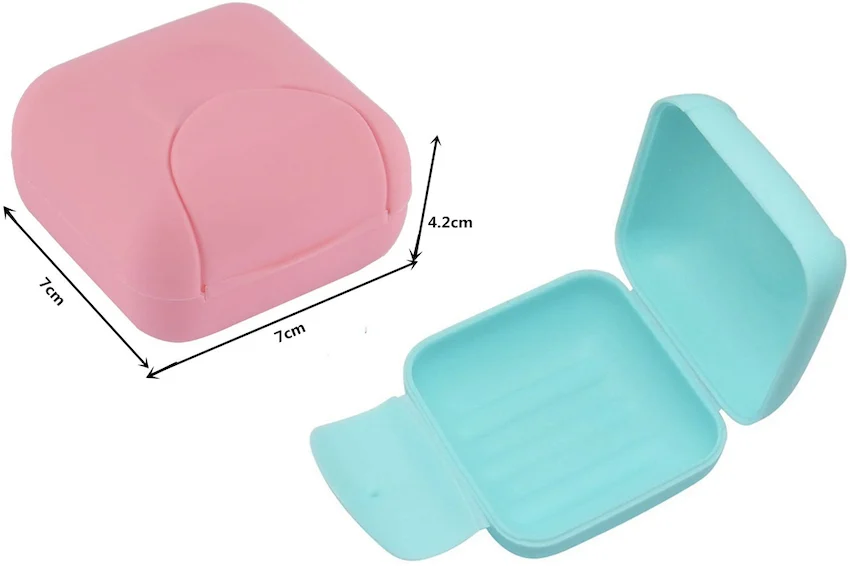 If you're a frequent traveler, consider these small soap and shampoo bar holders. The pastel colors make them look like macaron desserts. They also keep your bars from getting everywhere in your toiletry bag.
#16 Puting Shampoo Bar Containers
Puting sells a set of 4 colorful shampoo bar containers. The containers have a removable bottom tray and lid that snaps the shampoo shut.
Make Your Own with a 3D Printer
If you have a 3D printer, you can follow these shampoo holder designs to make your own.
We recommend searching for "soap holder" or "shampoo bar" to find the best designs.
How Long Will a Shampoo Bar Last?
With the water removed, a shampoo bar can typically last 6-8 months. How long a bar will last depends on the number of people using it and how often you wash your hair.
Tips to make your shampoo bars last longer:
Don't let your shampoo bar sit in a puddle of water. This will turn it to mush.
Use a soap dish or container to drain your shampoo bars after every use.
Give your soap bars plenty of air in between washes.
Leave your bars away from sunlight as the heat from the sun can melt your bars.
If your bar ever gets waterlogged and slimy, simply set it on a draining soap dish for a few days and let it dry out thoroughly.
Final Thoughts
I hope you found a suitable solution for keeping your shampoo bars dry. I would consider getting a separate in-home and travel container just to make it easier to transport your shampoo bars while traveling.
Do you have any creative ways of keeping your shampoo dry? I'd love to hear them! Feel free to e-mail me if you have any questions or recommendations for Shampoo Bar Containers.
If you found our shampoo bar containers post helpful, please consider sharing it on Pinterest!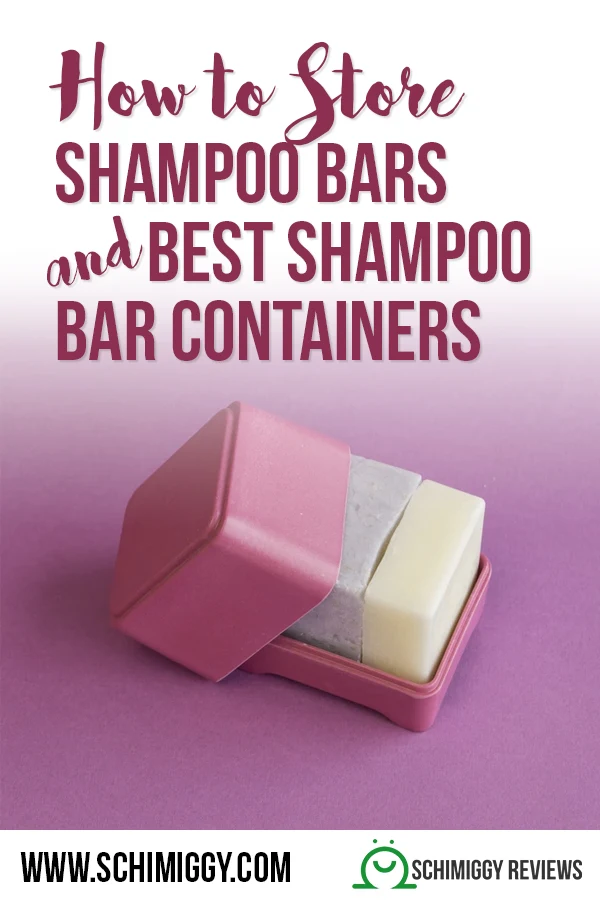 If you liked this post, you may like these too:
Thank you for visiting today! If you found this encouraging or informative, please connect with us on Instagram or TikTok.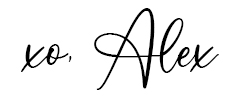 Sign up for our monthly newsletter for updates and more. We promise we won't spam you! Feel free to unsubscribe anytime.
If you're a brand and want to work with us, please visit this page to get in touch.