Reading Time:
6
minutes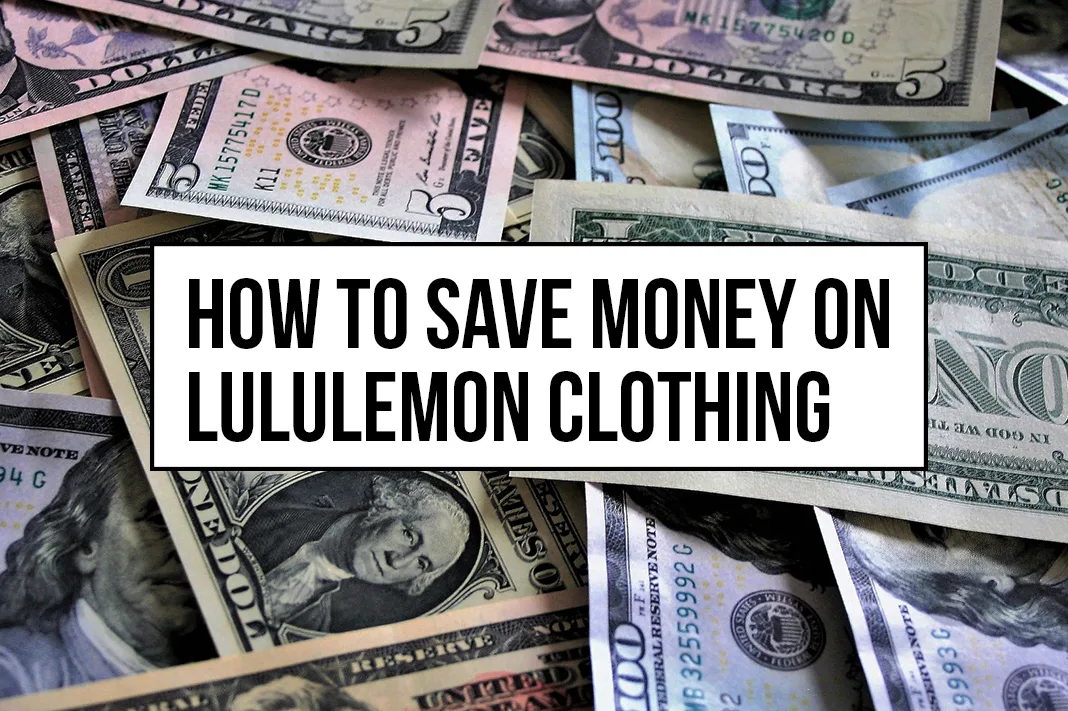 How to Save Money on lululemon Clothing
Over the years lululemon has gotten really expensive. I remember buying Lululemon pants for only $70 bucks. Nowadays, most pairs are anywhere between $98-$128.
For a pair of spandex, I personally think that's way too much. Luckily they will always have more inventory than they can sell for regular MSRP. What that means is there will always be sales on Lululemon product!
Below is a list of ways you can save money while shopping at Lululemon.
#1 Join Sweat Collective
Sweat Collective offers fitness professionals and instructors a generous 25% discount on regular and sale priced merchandise.
Use it online (using a coupon code) or in-store (you will need to provide your ID and/or phone number associated with the account).
You'll have to fill out the application and submit your teaching schedule for verification.
Ready to join Sweat Collective? Apply here.
The instructor discount was formerly known as the R&D (research and development) discount and was only 15% off. It applied to all regular priced merchandise and then on sale items on a case by case basis.
I am glad Lululemon has made it more wallet-friendly for fitness teachers to save on clothing that's needed for work.
Related: lululemon Sweat Collective, Military & First Responder Discount
#2 Shop at a lululemon Outlet
lululemon has over 25 outlets worldwide (and that number is growing. Here is a list of lululemon outlets (you'll have to uncheck all boxes except for the outlets' box). Check out their international outlets located in Australia, Shanghai, Malaysia, and London.
lululemon outlet has become a travel destination for some. If you ever have a chance, I highly recommend you plan a visit to one of their outlets. Sizing is slim, but you can find great deals there.
They also permit Sweat Collective discounts on top of outlet pricing.
Use my guide to hacking the lululemon outlet for additional discounts on already discounted lulu merchandise.
#3 Shop the "We Made Too Much" Section
The We Made Too Much (WMTM) section of lululemon's website is a great place to buy lululemon for less than retail. The discounts are usually 15-70%. Combine your Sweat Collective discount for even more savings!
Keep in mind that lululemon adds new product to their website every Tuesday at 6:15PM EST. This means they'll be marking down product as well. lululemon marks downs sale items on Thursday AM.
Related: How to Check for lululemon Upload Times
#4 Use the lululemon app to scan barcodes and pull up better size availability in other stores.
Down and use the lululemon app to scan barcodes of products that you want but can't find your size in-store. Other stores will ship the item for you for free.
Oftentimes, when you make in-store purchases, you'll also receive a free tote bag.
#5 Shop Used or New lululemon
A great place to buy used Lululemon for less than retail is at thrift and consignment stores. I have found lulu for as low as 90% while thrift shopping!
Here are some stores we recommend:
You can also shop online for used or new lululemon products. People may have purchased something they never wore and decide to sell it NWT (new with tags) or like new.
I've also been able to find some awesome unicorns (rare items) through these outlets for a fraction of the price.
Here are reselling marketplaces that we recommend:
Check out my post on more ways to buy and sell online. Get rid of your old lulu to make room for new gear.
Related: Mercari Review + Best Practices
#6 Join a Facebook Selling/Buying or Angeling Group
Yes, there are people on Facebook who will post deals AND arrange a purchase and shipment for you. This is known as "Angeling."
Here are a few Facebook groups that allow and offer Angeling. Please keep in mind that it is common courtesy to tip your angel. The average tip is around $3-$5 per order.
Here is one group we recommend for Angeling:
Here are a few Lululemon Facebook groups that will allow buying and selling. Some of them have lots of rules, so make sure you read them prior to posting or buying. It's a bit annoying but someone's gotta keep people in line.
Related: lululemon Facebook Groups – Buy lulu for Cheap and Make Friends!
#7 Lookout for lululemon Warehouse Sales!
lululemon Warehouse sales can either be in a large venue or an online event. I've shopped both. I've found better deals at a physical warehouse sale.
Read about my Seattle warehouse haul here. Usually, 20,000-40,000 people attend these sales. You'll see lines of customers (usually women) lined up around buildings waiting for the sale to open. Dressings rooms are communal.
I've also shopped their online warehouse events but they product and pricing are the same or very similar to WMTM–just with more product than usual
Read about my online warehouse experience here. Frankly, I am mostly unimpressed with warehouse sales and prefer to skip forward to the online events.
Follow this link to keep up with warehouse sale dates. They're usually held in May of each year in a major city. Online sales are usually held during Cyber Monday.
lululemon also offers deals on Black Friday and Boxing day.
As with all lulu markdowns, warehouse sales are final. Tags are removed at checkout and sometimes the size tag has a black mark across to prevent store returns.
#8 Take Advantage of their 30 Day Return Policy
lululemon increased their return period from 20 to 30 days, giving you an extra 10 days to make sure you are in LOVE with your purchase.
This has probably been the best way I save money when purchasing lululemon. It requires me to return to the store and see what's been marked on sale. I usually find great deals that were not available prior.
Final sale items include WMTM merchandise, water bottles, and underwear.
Related: lululemon Returns and Warranty Guide
#9 Buy lululemon Gift Cards at a Discount
Check for discounted lululemon gift cards on Card Cash, Cardpool (get $5 toward your first purchase), eBay, Gift Card Granny, and Raise (get $5 off your first purchase).
Snag a discounted gift card for 5%-12% off. Use this on top of other Lululemon saving tips for an even bigger discount.
I usually combine gift cards, my Sweat Collective discount, AND buy only product from WMTM for total discounts as large as 90% off.
#10 Take Advantage of the lululemon Team Discount
The Lululemon team program allows organizations to buy multiples of certain items for 25% off. The required quantity and applicable discounts vary from store to store.
The general corporate rule is 25% off for orders of 12 or more. Some stores will give quantity team discounts for as few as 6 of the same item. Some stores have given 30% off instead of the standard 25%.
One time I was able to get 25 tops for free from our local Seattle Lululemon store for a yoga charity event I coordinated at the park.
#11 Free Hemming and Repairs
Save money on hemming leggings and repairing your activewear. Doesn't matter if you bought it second hand or directly from lululemon. They have an awesome guarantee program.
If they cannot fix your activewear, the educator may replace it with a similar item at no additional cost to you.
#12 Work for lululemon
Want a significant discount? Work at lululemon!
Full-time lululemon employees get a 60% discount. Part-time (working under 25 hour) employees, or what they refer to as "educators," get a 40% discount.
Both discounts apply towards regular priced and sale merchandise. Employees can save up to 75% off the original price.
Entry-level employees reportedly start at $12-15 per hour and earn a store performance commission.
Apply for a lululemon job here.
You can also work at Lululemon warehouse sales and receive priority shopping opportunities and free merchandise or clothing while working there. I worked it in Seattle in 2016 and it was loads of fun!
Want to know more about lululemon?
We have an entire resource page dedicated to everything lululemon related. Please check it out!
If there are any other topics you'd like us to shed some light on, please let us know!
I hope this list was helpful to you. If you enjoyed this post, you may enjoy these other topics below.
---
Thank you for visiting today! If you found this encouraging or informative, please connect with us on Instagram, Youtube, Pinterest, Facebook or Twitter. We'd love to meet you!
Sign-up for our monthly newsletter for updates and more. We promise we won't spam you! Feel free to unsubscribe anytime.
For more fitness fashion discounts and offers, please visit our Fitness Instructor Discounts + Brands Directory or favorite brands coupon codes list.
If you're a brand and want to submit a product for us to review, please use this form to get in touch.
This site uses affiliate links. Clicking on or purchasing via an affiliate link may result in commissions for us which help keep the content flowing and lights on at Schimiggy Reviews. You may read more about this in our privacy policy.