Reading Time:
7
minutes
UPDATED: 10/24/2019 | Mercari Review + Best Practices

I am in a constant process of selling my belongings and sometimes purchasing more. I know…what a vicious cycle!
I was recently introduced to the Mercari App from an eBay seller who was willing to negotiate on a handbag that I was interested in and eventually bought.
Here's what I found out… it works like eBay except the fees are way less than eBay + Paypal's combined ~13% in fees. We call eBay, feeBay for nothing! I've been using Mercari for about 6 months and think it is brilliant!
Here is our Mercari App review plus tips and best practices on how to use Mercari!
Related: Best Sites to Buy and Resell Online
What is Mercari?
Mercari is a Customer to Customer (C2C) online marketplace where buyers and sellers can easily make purchasing and selling transactions. Mercari started in Japan and became such a huge success that they wanted to replicate the platform for US customers.
Want to see what it looks like on desktop? Here is my Mercari account.
How Does Mercari Work?
Sellers list their items on the Mercari App via their smartphones. To date, the app is available on iOS and Android. Mercari requires you to fill out an application form which includes mailing address, credit card information, and account verification. You will need a phone number and e-mail to set up the account.
After your account is verified, you can start selling!
Photos and descriptions are the first things required to create a listing. Make sure you have a decent camera on your smartphone. You'll then have to list the title, description, price, shipping fees, etc. If you do not know the brand name, you can choose "no brand."
Once you have your listing up, you're ready to sell! And here comes a buyer!
When buyers make a purchase, payment is withdrawn from the account via credit from previous sales, credit card, debit card or PayPal.
The seller then ships the item within 1-4 days.
Once the buyer receives the item, the seller and buyer have to rate one another to complete the transaction. Rating is on a scale of 5 stars and buyers and sellers are able to leave comments about the transaction.
After the transaction is complete, funds are released into the seller's account. The seller has the option to use it for future purchases or transfer it to a linked bank account.
If you are linking your bank account in Mercari, a routing and account number is required for the withdrawal. The withdrawals are processed within 48 hours and there is a transfer minimum of $10. You can also expedite your transfer for a 1% fee if you need cash ASAP.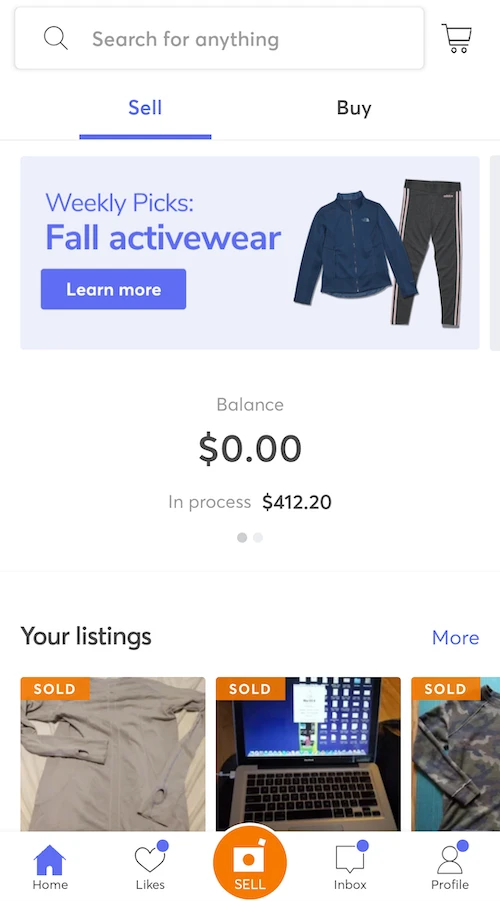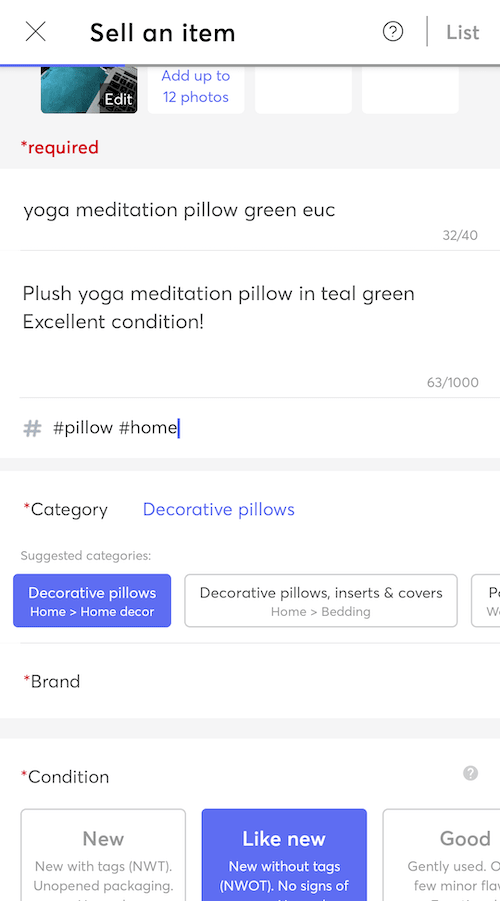 Mercari Review + Best Practices
Pros and Cons of Using the Mercari
Any time we use a product, we have to weigh the cons and pros. The better we understand a product, the better we can use it to its maximum capacity.
PROS of Using Mercari
Low selling fees! Mercari selling fees are only 10%, whereas Poshmark's fees are 20% and eBay is 10% + Paypal fees. During Mercari's beta test run, they offered no fees to sell products (up until November 17th, 2016).
Easy listing format. It's very easy to list your products on Mercari. The App will inform you of what fields are required and make suggestions as to how to price your item.
Make an offer! You can make offers (up to 20% off) on products that you want to buy. Mercari limits the percentage buyers can submit for offers. This prevents buyers from low-balling or making ridiculously low offers.
Excellent shipping rates! Mercari offers shipping as low as $2.99 for items weighing 4 oz or less. See the shipping scale below.
Responsive customer support team. Their customer service is accessible through the App and usually responds within a day or two.
Track great deals! You can "like" the items that you're thinking of purchasing. Sellers have the option to offer discounts to likers. You will also be notified of any price drops on items you like.
Communicate with sellers. You can reach out to sellers via messaging on items that are active. Sellers can only respond to buyers and potential buyers only if they reach out first.
Accepts different forms of payment. Initially, Mercari would only let you use credit from sales or a credit/debit card to make purchases. Now you use PayPal! It's so convenient and I have not had issues with their payment system yet.
Free to list. There is no cost to list your products.
List as many products as you wish! There is no limit to how many items you can list. I have seen accounts list up to 1,000 items! Enjoy unlimited listing via Mercari!
Listings never expire. I am pro this feature because it is painfully annoying to keep re-listing things that don't sell (cough cough eBay).
Modify listings. You have the ability to delete or make listings inactive. This is especially helpful for when you go on vacation. Simply select all and deactivate. Reactivate all when you're ready to sell again.
Auto-rating makes getting paid easier. If a buyer does not rate within 3 days, items are auto-rated with 5 stars and you are PAID! Prior to this implementation, I had to wait WEEKs to get paid. You can also send a reminder for the buyer to rate. If they don't, you will either be auto-rated or you can reach out to their customer service team to get rated.
CONS of Using Mercari
Their customer service team is accessible via messaging only. If you have issues, you'll have to submit a query and wait for them to respond within 24-48 hours. There is not the option to call or email their customer service team. This can be frustrating when you need something to be resolved ASAP.
Mercari is typically on the buyer's side. This can be frustrating when you describe something as is and the buyer says otherwise. I had a buyer state the color of something was not what they anticipated and Mercari approved their return. I think this is RIDICULOUS because I had all other details of the item in the listing per the company's website. This is one reason why I always list the stock photo AND an actual photo so that there is no confusion.
You can't sort by highest to lowest price. You have to set a price range and scroll through all the listings to find the best deal. You can filter by sold and unsold items, which is really helpful.
Forbidden items and activities. Mercari has forbidden certain items from being sold on their marketplace. If you're looking for a black market, this is not the place for you. They will filter certain words (ie. exchange, trade, and derogatory or drug-related terms like pills or vape).
You can get SCAMMED! You can get scammed by buyers AND sellers on Mercari. I've had an experience where a buyer (her name is

Yasmin

Yatzkan…yes I am name dropping because I lost $70 dollars on this sale) swapped the item I sold (new condition) with for a VERY well used bag in the same design. I now record all my purchases during shipping to ensure that no one scams me. You can also join Mercari groups on Facebook to get additional help and see a list of blacklisted buyers.
The desktop version of Mercari is very limited. You can browse products and update shipping information on Mercari's desktop version. However, you cannot list products. Poshmark allows you to list products via desktop, but their fees are also higher.
Must use actual photos in listings. All images must be taken or uploaded from the App in the smartphone. Mercari also requires that you take a photo of the actual item. This can be good or bad. The listings can be accompanied by stock photos as long as an actual photo of the item is present. Mercari will allow you to load images of varying shapes and sizes onto the listing. You can also drag and drop images in the order of your choice when creating or editing a listing.
Mercari Shipping Chart
| Weight | USPS Cost | FedEx Cost |
| --- | --- | --- |
| 0-0.25 Lb | $2.99 | N/A |
| 0.25-0.5 Lb | $4.25 | N/A |
| 0.5-1 Lb | $5.25 | N/A |
| 1-3 Lb | $11 | $9.90 |
| 3-10 Lb | $16 | $11.50 |
| 10-20 Lb | $30 | $17 |
| 20-40 Lb | N/A | $35 |
| 40-70 Lb | N/A | $50 |
| 70-100 Lb | N/A | $65 |
| 100-150 Lb | N/A | $90 |
You can also head over to PayPal.com/shipnow to create your own shipping labels. Sometimes this option is cheaper than Mercari.
Mercari Facebook Groups
Should You Use Mercari?
I highly recommend Mercari for reselling your used and unwanted goods. The fees are reasonable, it's a great way to unload your belongings and earn some extra cash.
If you have a lot of belongings to sell or shop a lot, eventually it can become a nice side hustle. The money I make from my Mercari sales goes towards my vacations.
The Mercari pros definitely outweigh the cons for me. If you'd like to give Mercari a try, download the app for iPhone iOS or Android, and get $10 worth of credit to use towards your first purchase!
And if you make your first $100+ in sales, then you will receive $20 in credit.
Feel free to ask any questions. If you have any feedback or additional tips on how to maximize your sales on Mercari, please let us know in the comments know!
If you found our Mercari review and best practices post helpful, please share it on Pinterest. Thanks for your support!
---
Thank you for visiting today! If you found this encouraging or informative, please connect with us on Instagram, Youtube, Pinterest, Facebook or Twitter. We'd love to meet you!
Sign-up for our monthly newsletter for updates and more. We promise we won't spam you! Feel free to unsubscribe anytime.
For more fitness fashion discounts and offers, please visit our Fitness Instructor Discounts + Brands Directory or favorite brands coupon codes list.
If you're a brand and want to submit a product for us to review, please use this form to get in touch.
This site uses affiliate links. Clicking on or purchasing via an affiliate link may result in commissions for us which help keep the content flowing and lights on at Schimiggy Reviews. You may read more about this in our privacy policy.