Reading Time:
6
minutes
Amsterdam is full of exciting activities, delicious restaurants, and interesting sites. There are so many things to do in Amsterdam that choosing what to do and planning your visit can be difficult. From the rich history to the picturesque streets to the amazing architecture, you can easily get lost in the city.
And that is one of the reasons why we love Amsterdam!
Making an itinerary is important for staying on track so that you can see and do everything on your list.
One good thing about Amsterdam is its size. It is a very small city so getting around and seeing a lot of it is very easy. The more difficult part is sticking to your itinerary because you can easily get caught up and lost in the city.
If it's your first visit to Amsterdam, use this travel guide to help you plan your visit. Treat it as only a suggestion. Just make sure no matter what you are doing, be on the watch for bikes (there are lots of them) and have fun!
Amsterdam Travel Guide
Day 1
Start the day with a Coffee & Pastry
Start the day off with a delicious coffee and pastry from one of Amsterdam's many cafes. Starting the day with a coffee and a small pastry is a great way to begin your adventures!
Note: Do not confuse cafes with coffee shops! These two are very different things in Amsterdam. Coffee shops are actually weed shops that also sell coffee. Now if you're into that kind of thing, by all means, go for it!
Rent a Bike
When visiting Amsterdam, renting bikes is essential. It is the quickest and most fun way to explore the city. It will also save you a ton of money on transportation.
Renting bikes is a great way to also feel a part of Dutch culture and really experience what it is like living in the city.
There are a ton of rental companies in Amsterdam. Google one that is near your accommodation and rent a bike by the hour or day.
It's very important to familiarize yourself with Amsterdam's biking laws and customs before you take off. It can be dangerous if you do not know the rules.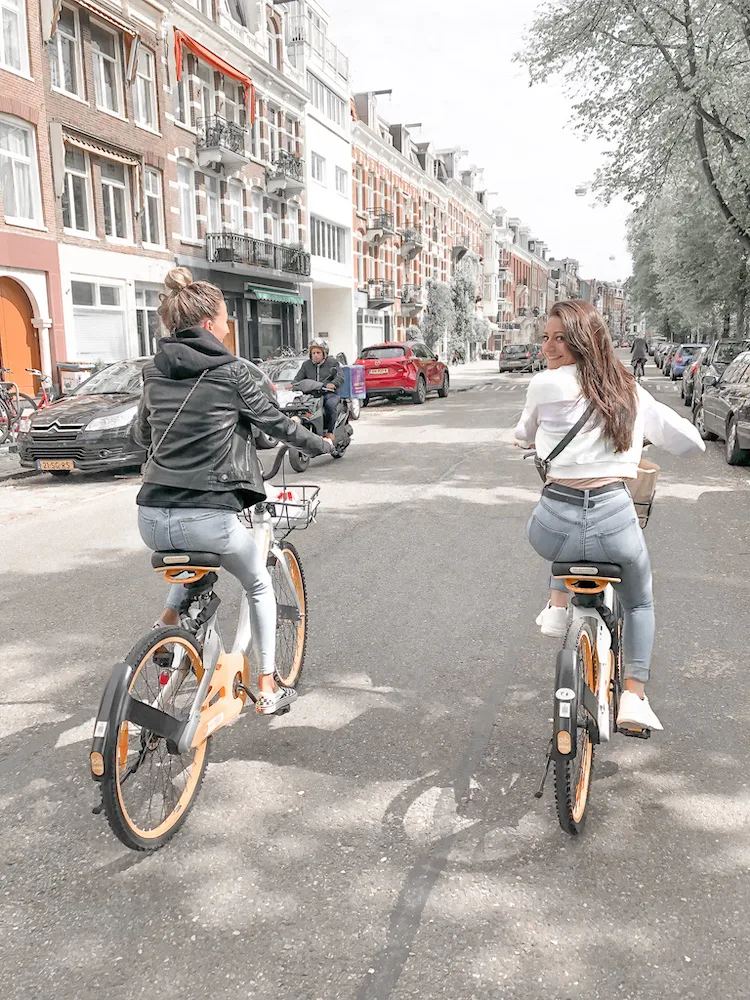 Take a Break with an Afternoon Dessert
When in Amsterdam you must try a Stroopwafel. This classic Dutch dessert was invented in Amsterdam and they are delicious.
You can pick one up at a souvenir shop, a grocery store or a specialty shop such as Van Wonderen.
Now explore a Museum
Amsterdam is absolutely packed with culture and history. A great way to experience it is by heading to one of the many museums in the city.
Some of the best Museums in Amsterdam are:
Choose Your Own Adventure Dinner
For dinner, go to De Foodhallen. Here you'll find different food trucks all in one large food hall. There are a ton of different options to choose from including cocktails, burgers, dim sum, pizzas, desserts and more!
It may take several visits before you can try everything in the food hall.
End the Day with a Walk Around the Joordan
The Joordan is the most beautiful and picturesque neighborhood in Amsterdam. Spend the evening walking around this area to see the city lights reflect off the canals. This is very magical.
The evening doesn't have to end there. There are a ton of other things to do at night.
Day 2
Head to Brunch
If you are a brunch lover, get ready for what Amsterdam has to offer. This city has some of the best brunch spots I've ever been too. On your first day, head to Dignita for a super unique and delicious meal to start your day.
If you want something more ethnic, we recommend visiting Podium Mozaiek, a Turkish cultural center that also has its own restaurant.
Visit the Albert Cuyp Market
Amsterdam is packed with street markets that are super fun to explore. They are a great place to look at flower stands, clothing, and food stands! The best ones in Amsterdam are Albert Cuyp Market and Westerstraat.
See the City from a Canal Cruise
Taking a boat around the canals is the best way to see the city! There are a ton of canal cruise companies that will bring you all around the city and show you the most famous attractions. Canal cruises are also a great way to just sit down and relax after constantly walking the city streets.
You can easily find a canal cruise operator near the Amsterdam Centraal Station.
Have a Dutch Lunch
A classic Dutch favorite food here in Amsterdam is Vlaamse Fries. These are really thick French fries serves with mayo for dipping sauce! There are quite a few stands in the city center who sell these fries and they come in huge portions!
Go Shopping in Rokin
Rokin is the best shopping area in Amsterdam. Here you will find a narrow street packed with shops! Also, this heads to Dam Square where you can watch some street performances in-between stores.
Dinner
Head to one of the best Italian Restaurants in Amsterdam, Fuco Vivo! This is a local favorite and has authentic Italian dishes and specialty ones, including sourdough pizza!
Head to the Red Light District
The Red Light district (near De Wallen) is a must-see, especially if it's your first time visiting Amsterdam. Spend some time walking the neon-red lit streets to see what it's all about. You'll see the crowds come out over the weekends and most workers will try to get your attention by tapping on the windows.
You can usually identify the Red Light District by the illuminated red neon windows.
Just be sure to not go after midnight and DO NOT TAKE ANY PHOTOS of the workers! Their pimps will demand money from you and this behavior will upset the workers.
Day 3
Start with Breakfast
Go for breakfast at The Breakfast Club and treat yourself on your last day in the city. This is a super cute and yummy breakfast joint that is really popular throughout the city.
If you can't get reservations, we highly recommend trying out Moak Pancakes. It's a hip hop and pancake lovers dream come true!
https://www.instagram.com/p/ByE-OqChEYY/
Explore Amsterdam-Oost
Amsterdam Oost is a less known area of Amsterdam that is rarely frequented by tourists. As a result, it is not nearly as busy as the other areas of the city and you can actually relax and enjoy this neighborhood. This is also a great place to take some photos because no one will be in the background ruining them.
Have Lunch
Amsterdam is home to some crazy unique restaurants. Bulls and Dogs is one of them. This place serves some of the craziest and most delicious milkshakes and hot dogs you will ever try! You must go here on your last day and enjoy a meal here.
Stroll through Vondelpark
Right in the middle of Amsterdam is one of the biggest and most popular parks in the city known as Vondelpark. It is huge and has large biking paths, plenty of green space, 3 restaurants and even a rose garden. You won't be remiss spending some time walking around this stunning park!
We recommend packing a blanket and sitting on the green space and spending some time taking in the city.
A Dutch farewell Dinner
Head to Brouwerij 'T IJ for some classic Dutch beers and snacks, located under a huge windmill!
One last look at the Magere Brug
This is the most famous bridge in Amsterdam and seeing it at night all lit up is a must!
Final Thoughts
We hope this Amsterdam travel guide as helpful! If you have things that were not mentioned but you highly recommend please let us know in the comments. We want to check it out! Thanks for reading!
---
Thank you for visiting today! If you found this encouraging or informative, please connect with us on Instagram or TikTok.

Sign up for our monthly newsletter for updates and more. We promise we won't spam you! Feel free to unsubscribe anytime.

If you're a brand and want to work with us, please visit this page to get in touch.