Reading Time:
4
minutes
I had the awesome opportunity to work and shop at the lululemon warehouse sale in Seattle, Wash. The sale runs from January 15-17, 2016 and there were tons of deals! I took my time shopping and did not purchase anything until the 2nd day of the sale. We had the opportunity to shop 2 days prior to the sale so I found some rare goodies that I've been eyeing at full price in stores.
Haul Report – 2016 lululemon Warehouse Sale
Here is my haul! (item descriptions and prices listed below from left to right along with the price I paid) Click on the images to enlarge the photos.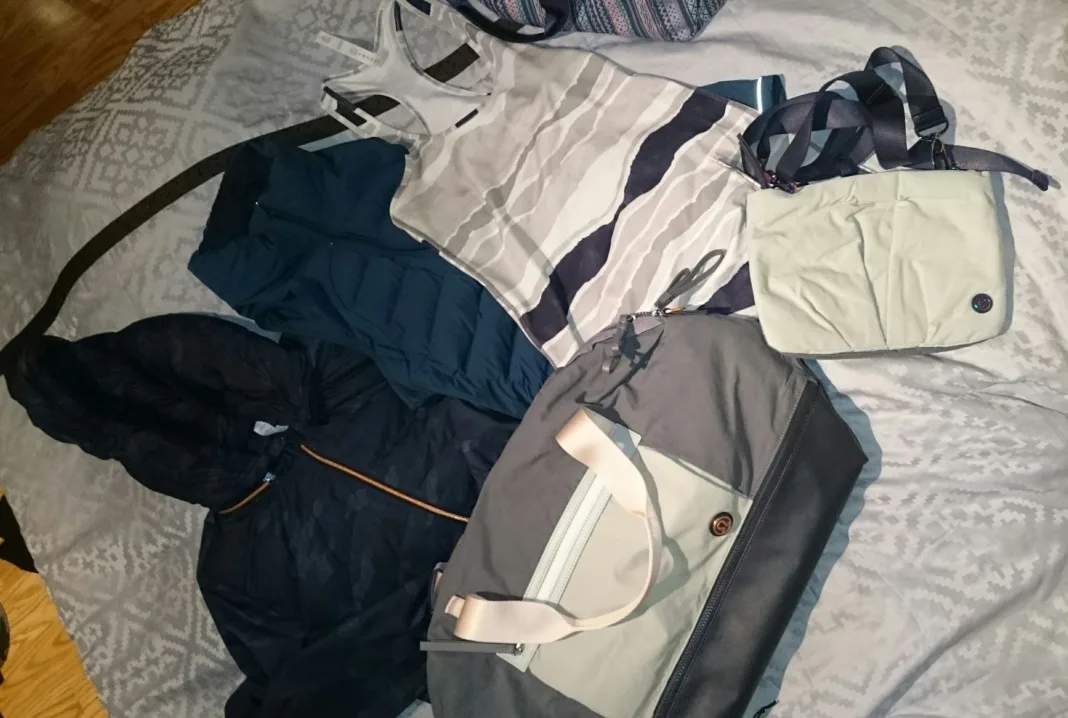 Haul Part 1: Spring Fling Windbreaker ($39), 2. Runaway Retreat Duffle ($39), 3. Fluffed Up Vest in Alberta Lake ($29), 4. CRB Tank ($Free), 5. Hip to be Free Bag Canadian edition with iridescent hardware ($19)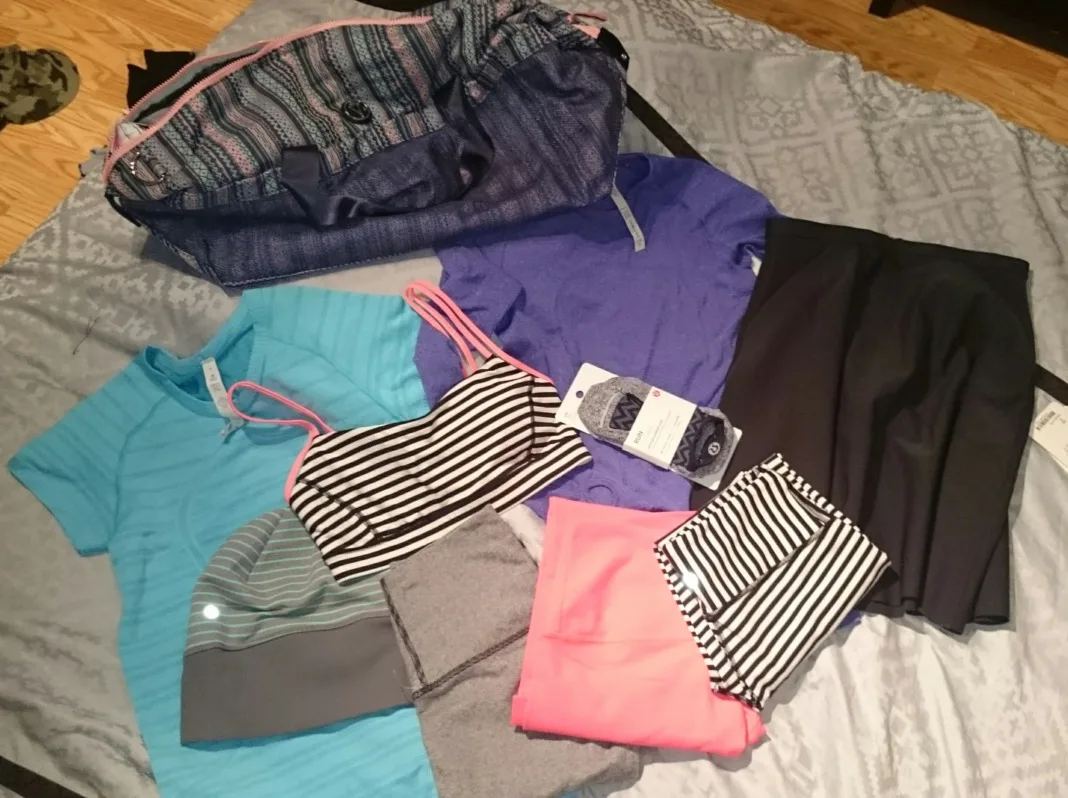 Haul Part 2: Swiftly SS ($19), 2. Run With Me Toque ($4), 3. Ivivva Duffle ($29), 4. Straight Up Bra in classic stripe and grapefruit ($19), 5. Wunder Under Roll Down grey wee stripe ($39), 6. Swiftly LS in Purple ($29), 7. Wunder Under Roll Down Crop Electric Coral ($29), 8. Groove Socks ($4), 9. Wunder Under Crop Striped ($29), 10. Good to Go Skirt ($19)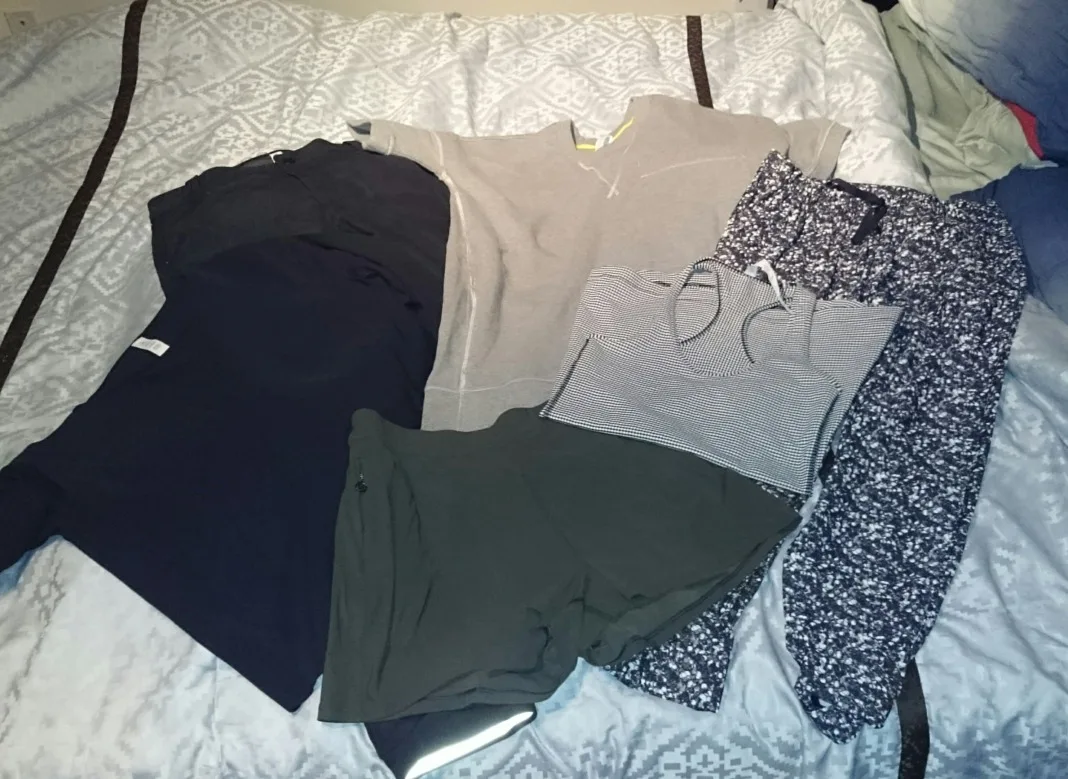 Haul Part 3: Black Vneck mesh top ($19), 2. Day Trip Boyfriend Pants in Camo ($39), 3. &go City Skort in Green ($19), 4. Mudra SS Sweater ($19), 5. CRB Gingham ($19), 6. Jet City Crop in Sequin ($29)
Haul Part 4: Happy Yin Year Hoodie in Fresh Teal ($29), 2. Summer Lovin Tote in Purple ($4), 3. Just Breathe Pant in Alberta Lake ($39), 4. Dance to Yoga Pant ($29), 5. Spring Fling Windbreaker in Silver Spoon ($FREE), 6. Party Om Bag ($4)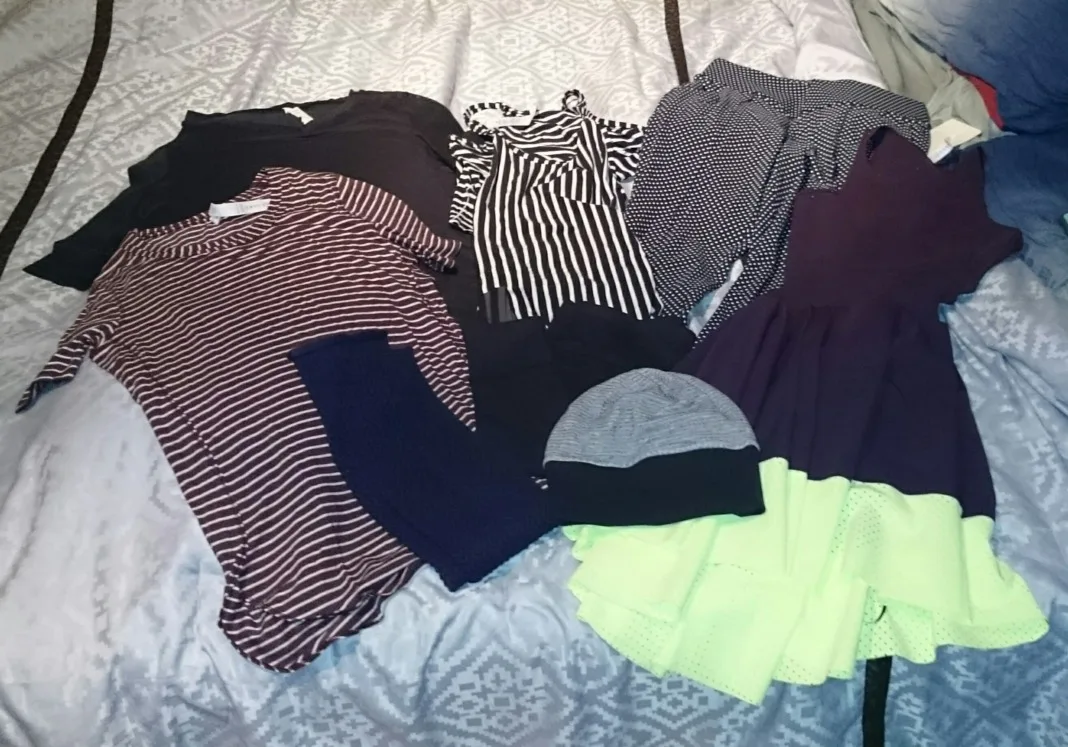 Haul Part 5: Find Your Zen SS ($19), 2. Falling Freely Leg Warmers ($4), 3. Unknown ($19), 4. Run Vite Tank Parallel stripe ($19), 4. Studio Leg Warmers in Black ($4), 5. Run With Me Toque in Pique grey ($4), 6. Departure Pant in Polka Dot ($29), 7. Away Dress in Black Cherry and Mint ($39)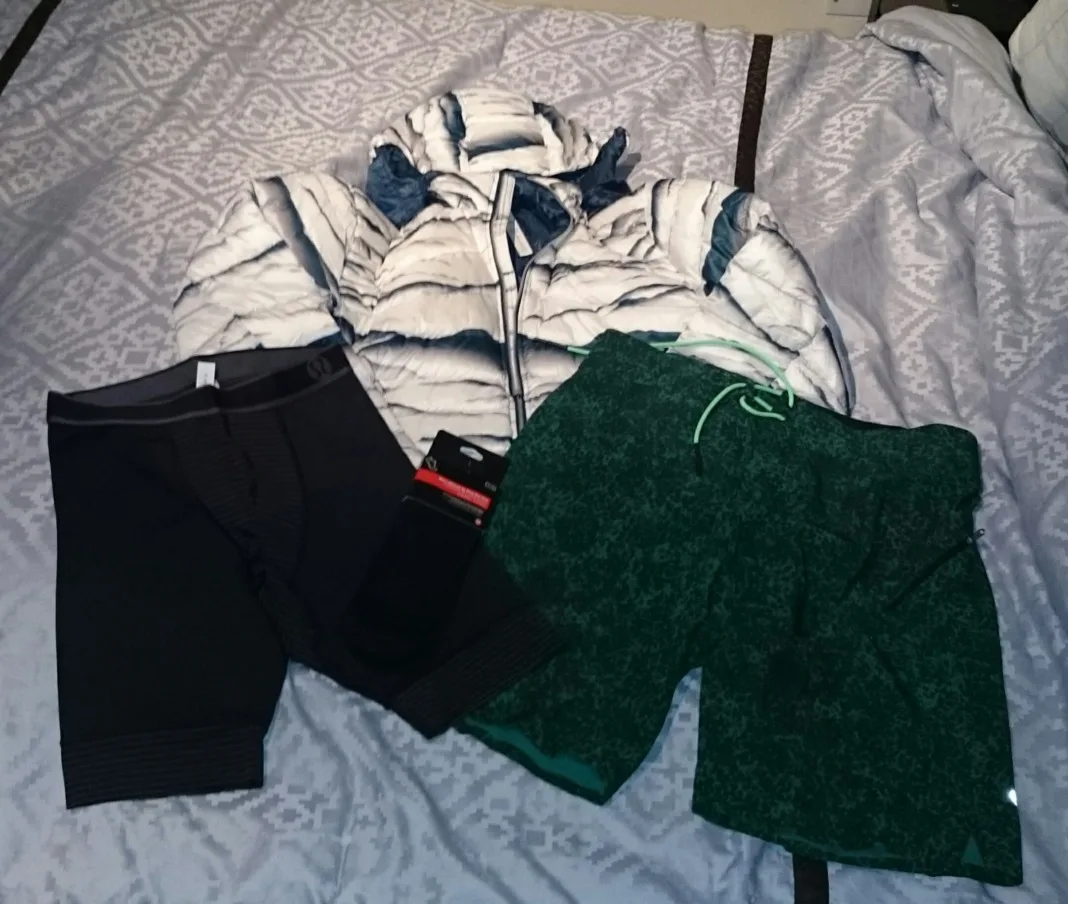 Haul Part 6: Tech Boxers ($4), 2. Get Up Get Down Hoodie ($12!!!), 3. No Show Socks ($4), 4. Swim Shorts ($9)
Not pictured above are: 1. Vinyasa Rulu Scarf in Black and Angel Stripe ($4 each), 2. Air underwear ($4 each), 3. Headband ($4), and 4. Both Ways Bomber in black ($29)
In total I spent about $650 but I got a lot of goodies that I would have paid over $1,700 if it were not for the great deals! When I averaged out my spoils, I really only spend approximately $13 per item and that is not a bad deal. And with that, I'm done Christmas shopping for the rest of the year!
Towards the end of the event on the final day (I did not stay or else I'd have spent all my money), everything Lululemon was priced at ONLY $12 a piece and Ivivva was only $9. I bet it was nuts!
I would definitely work the event the next time the opportunity arises. However it is physically demanding and requires lots of energy, but on the plus side – you get awesome deals and better yet, you get to meet awesome people!
The next time a sale is in your town, I recommend that you work the event to get first pick of the product or come on the 2nd and last day of the sale for deeply discounted deals on lululemon.
I have an entire resource page dedicated to everything Lululemon related. Please check it out. If there are any topics you'd like me to shed some light on, please let me know.
Want to know more about lululemon?
We have an entire resource page dedicated to everything lululemon related. Please check it out!
If there are any other topics you'd like us to shed some light on, please let us know!
---
Thank you for visiting today! If you found this encouraging or informative, please connect with us on Instagram, Youtube, Pinterest, Facebook or Twitter. We'd love to meet you!
Sign-up for our monthly newsletter for updates and more. We promise we won't spam you! Feel free to unsubscribe anytime.
For more fitness fashion discounts and offers, please visit our Fitness Instructor Discounts + Brands Directory or favorite brands coupon codes list.
If you're a brand and want to submit a product for us to review, please use this form to get in touch.
This site uses affiliate links. Clicking on or purchasing via an affiliate link may result in commissions for us which help keep the content flowing and lights on at Schimiggy Reviews. You may read more about this in our privacy policy.