Reading Time:
4
minutes
My last few trips involved ways to include travel and map-printed pieces as part of my outfits. What better way to manifest your travels than by wearing travel-inspired leggings adorned with maps, souvenirs, and wanderlust-inspiring destinations and landmarks. It is also a great way to break up a closet full of solid leggings.
Check out these travel-inspired leggings.
#1 WERKSHOP
Werkshop's Triathlon Italian fabric is great for land and water activities. Based out of Los Angeles, Calif., they draw inspiration from fantasy, travel, wanderlust, and puppies! WERKSHOP leggings cost $78-88 but will last a very long time. WERKSHOP Triathlon fabric runs small, so size up! Buy WERKSHOP leggings here and get $10 off when you sign-up for their e-mails. You can also read my WERKSHOP reviews here.
#2 CajuBrasil
CajuBrasil is a Brazilian activewear brand that makes stretchy, form fitting leggings that are perfect for life and working out. I LOVE their watercolor leggings in pink and green. The leggings and sports bra are REALLY hard to find. CajuBrasil runs small, so be sure to size up. Buy CajuBrasil online through their retail shop, Top Rio Shop and Bad Girl Fitness.
#3 Sun Lovin' Roots
Sun Lovin' Roots makes activewear to order. It takes approximately 1 week to cut and sew the leggings. This process reduces waste and keeps product fresh. Their map print is colorful and fun. Buy Sun Lovin' Roots here.
#4 Bombsheller
Bombsheller's (business now closed) Maps Collection is perfect for the traveler in all of us. The leggings are only $75 a pop. Bombsheller is based out of Seattle and their designs are fun fun fun!
#5 Mountain Legs Boutique
Mountain Legs Boutique is a store on Etsy that offers ski and snow sports related leggings. They have printed maps of Vail, Breckenridge, Heavenly and even Park City on both crops and full length leggings. Leggings are $75 + shipping.
#6 Niyama Sol
Niyama Sol dedicates their leggings to far off destinations that the owners and creators have visited or wish to one day. I love their soft buttery fabric. The designs are so unique and beautiful that you can't help but want to pack your Niyama Sols when traveling. Niyama Sol leggings run from $88-$92. Check out my Niyama Sol reviews here.
You can buy Niyama Sol leggings on their website. Use the following discount codes for some major savings.
#7 Goldsheep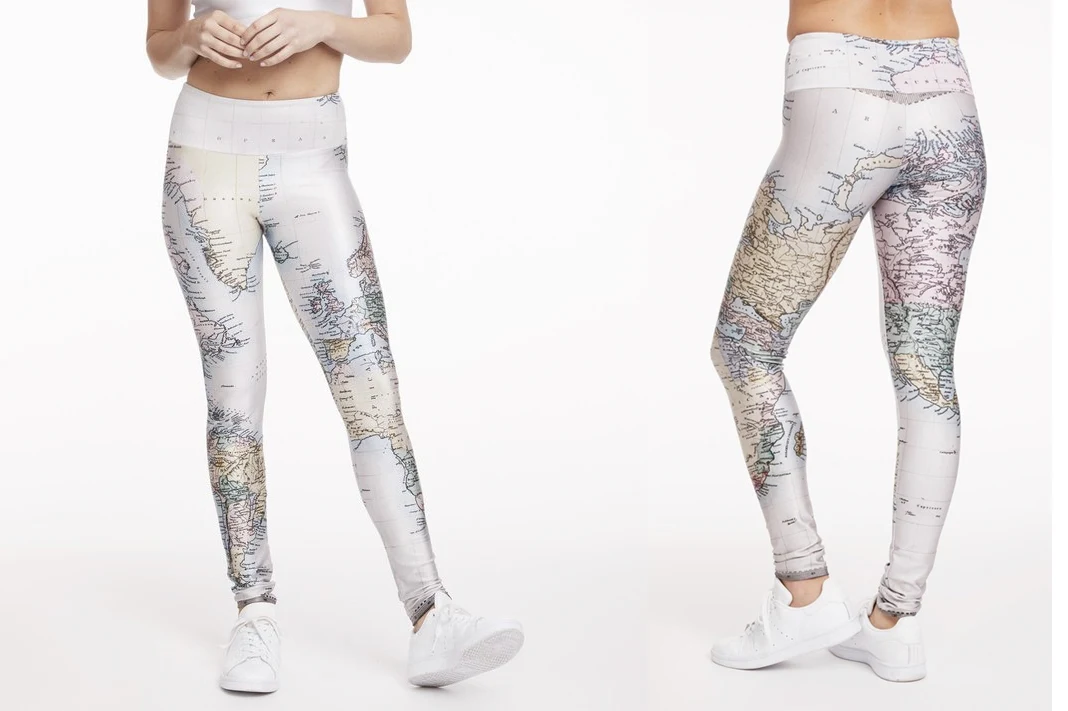 Goldsheep has a Vintage World Map legging for $89. I love the white printed design. It would make a great white yoga party pant at Wanderlust yoga festivals.
#8 Black Milk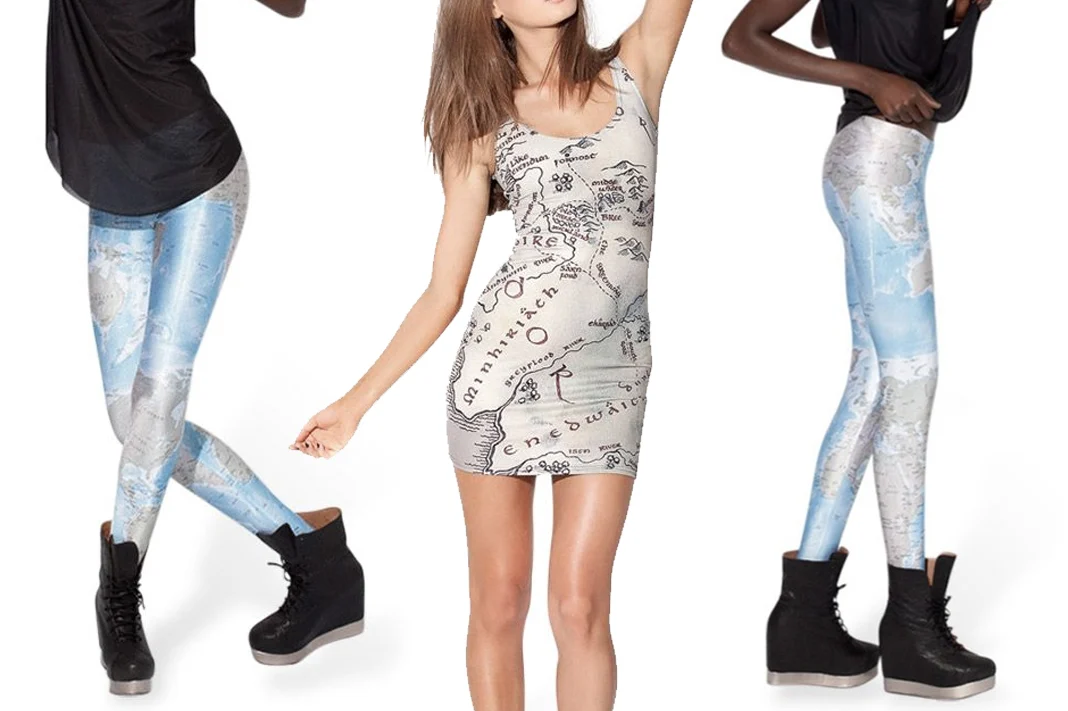 Black Milk is an Australian brand that creates nerd-tastic and fantasy printed clothing for women. They make their world map print into leggings, swimwear, and dresses (currently sold out print). Their designs run out quickly so check them out and snag a pair while you still can.
#9 DiaNoche Designs
DiaNoche Designs works with artists to create products for every facet of your life. Check out their City-Scapes, Coastal, Landscapes, Seascapes, World Map and Places. My favorite are the "Adventure Awaits" leggings. You can also buy DiaNoche on Amazon and on their online retail store.
---
Thank you for visiting today! If you found this encouraging or informative, please connect with us on Instagram, Youtube, Pinterest, Facebook or Twitter. We'd love to meet you!
Sign-up for our monthly newsletter for updates and more. We promise we won't spam you! Feel free to unsubscribe anytime.
For more fitness fashion discounts and offers, please visit our Fitness Instructor Discounts + Brands Directory or favorite brands coupon codes list.
If you're a brand and want to submit a product for us to review, please use this form to get in touch.
This site uses affiliate links. Clicking on or purchasing via an affiliate link may result in commissions for us which help keep the content flowing and lights on at Schimiggy Reviews. You may read more about this in our privacy policy.