Reading Time:
6
minutes

About K-Deer?
K-Deer is a New Jersey based athletic wear company started by Kristine Deer. The name of the company is derived from her name. Kristine worked in the city after graduating Syracuse University's fashion design program. At the peak of the recession, Kristine was out of a job. Instead of finding a new job, Kristine found yoga.
Kristine launched her line sewing bumbum shorts out of her childhood home. Positive feedback fueled her with confidence to delve into fashion design. She began to brand and market K-DEER, (originally named K.Deer Haute Yoga Wear). Within two years she launched her own line of long leggings, crops and tops.
K-Deer epitomizes confidence, comfort and femininity. The original flat front, high waisted bottoms quickly became a topic of conversation (what? no camel toe?). I believe that K-Deer pioneered the crazy leggings scene and women were for it!
K-Deer now offers various lengths and an entire collection of Signature Stripe leggings that each support their unique cause. To date, K-Deer has donated over $100K to amazing causes around the USA.
K-Deer Leggings Review: Molly Signature Stripe Sneaker Length Leggings
I now own 10 pairs of K-Deer leggings since their release of the Weekender Collection. I thought to myself, "Do I need another pair of striped K-Deer leggings?" And my inner self said, "HECK YES!" I decided to go with the sneaker length this time. I have mostly long length and a few crops so figured this might warrant a purchase and review on the blog, and it sure did!
I love that K-Deer decided to bring back Pantone 2016 colors of year to raise awareness and support mental health programs. The rose quartz and serenity ombre into a royal blue is a perfect color combination. It is no surprise that this print keeps selling out. Let's move on with the K-Deer leggings review!
#1 Size: I recommend sizing up. I am a size 6 in lululemon and wear a size MEDIUM in K-Deer bottoms. The sneaker length sits at at my ankle without bunching. I am 5'5″ for reference. You can refer to the size chart below to determine your fit. I think it's awesome that K-Deer offers plus sizing to make their brand more body inclusive. If you're still unsure about what size to buy, you can always get in touch with their dedicated Fit Guru to determine the perfect fit!
#2 Style: K-Deer bottoms come in crop, sneaker (ankle) and long length. They also offer shorts, crop tops, bras and kids leggings.
https://www.instagram.com/p/BoAdt4EgmAO/
#3 Inseam: The sneaker length leggings have a 26″ inseam. The long leggings have a 30″ inseam that can stretch to 34″ or worn scrunched at the ankle
#4 Rise: High rise waist sitting just over the navel. Front rise is replaced with the signature K-DEER original flat front seam and a single overlock stitch in the bum rise area. The flat front seam offers a design that prevents camel toe. Can we say camel no?
#5 Waistband: All leggings have a tall waistband measuring 4.5." The waistband can be folded over and has the K-Deer logo stitched into the back of the waistband. There is no waistband seam at the top of the waistband.
#6 Fabric:
Fabric Content: 74% Nylon and 26% Spandex blend
Fabric Feel: K-Deer fabric is soft, cool to the touch and lightweight. Brands with similar fabric feel include Lineagewear.
Fabric Performance:

The K-DEER Original flat front seam is engineered to prevent camel toe.
Meant to fit snug, size up if you are between sizes. I am a size 6 in lululemon and ordered a MEDIUM.
All bottoms are single layer and unlined for a 'second skin' feel.
American knit and printed 4-way stretch spandex/nylon fabric that contours to the body
The fabric is quick drying and moisture wicking, making it perfect for any sweaty practice!
K-Deer fabric is very sensitive to snagging on rough surfaces. Avoid velcro and sitting on concrete/brick.

Opacity: Fabric is truly 100% opaque, making undergarments optional.
Fabric Features:

Lining up striped leggings can be tricky. Luckily my lines measured up. If there is ever a line issue with your pants, just contact customer service and they'll be happy to resolve your concerns.
One embroidered logo sewn into the back of the waistband.
Printe
No pockets.
#7 When to Wear: K-Deer is made for sweating in. Wear it to your hot yoga classes, paddle boarding, SUP, running, barre, spin, hiking and much more! I also wear mine casually all the time. They provide lots of traction during sweaty wear.
#8 Cost: K-Deers range from $88-$98. The sneaker and long length are the same price as the long length leggings and cost $98. Check out their sales section for discounted leggings.
#9 Gusset: H-shaped gusset for a comfortable fit. Do all the squats and forward folds your heart desires!
#10 Stitch Seam: K-Deer pants use both overlock and flat-fell seams throughout the pant. There is no outer leg seam (outseam), giving you a smooth and chafe-free experience.
#11 UPF Protection: UPF 50+ protection
#12 Made in USA. K-Deer carefully manufactures their apparel locally in New Jersey and in the Garment Center of New York City. Even the fabrics are designed and made in the USA.
#13 Care Instructions: K-Deer advises us to cold wash and hang dry for lasting elasticity and color vibrancy. I usually wash mine in the machine on cold with gentle detergent. Afterwards I hang dry on a foldable drying rack such as this one.
Should I buy K-Deer?
YES! K-Deer pants are so lightweight, fit great and are very comfortable. They're made for all sports and activities and can be dressed up or work to the gym. I absolutely love that their striped collection prints are for a good cause. The Molly Stripes benefit Bring Change to Mind, a non-profit that educates, supports and fights against the stigmas of mental health. Kristine Deer also had her own encounter with anxiety and depression. You can read more about her journey here. I'm definitely for investing in a company that invests back into the community.
If stripes aren't your thing, K-Deer has many other many designs to choose from. I cycle through my designs constantly. I do admit that these leggings can be a bit loud and sexy sometimes, but for the days where I want to shine – they are perfect and will make you feel extra. I look forward to wearing K-Deer for many years to come and think you would enjoy them too!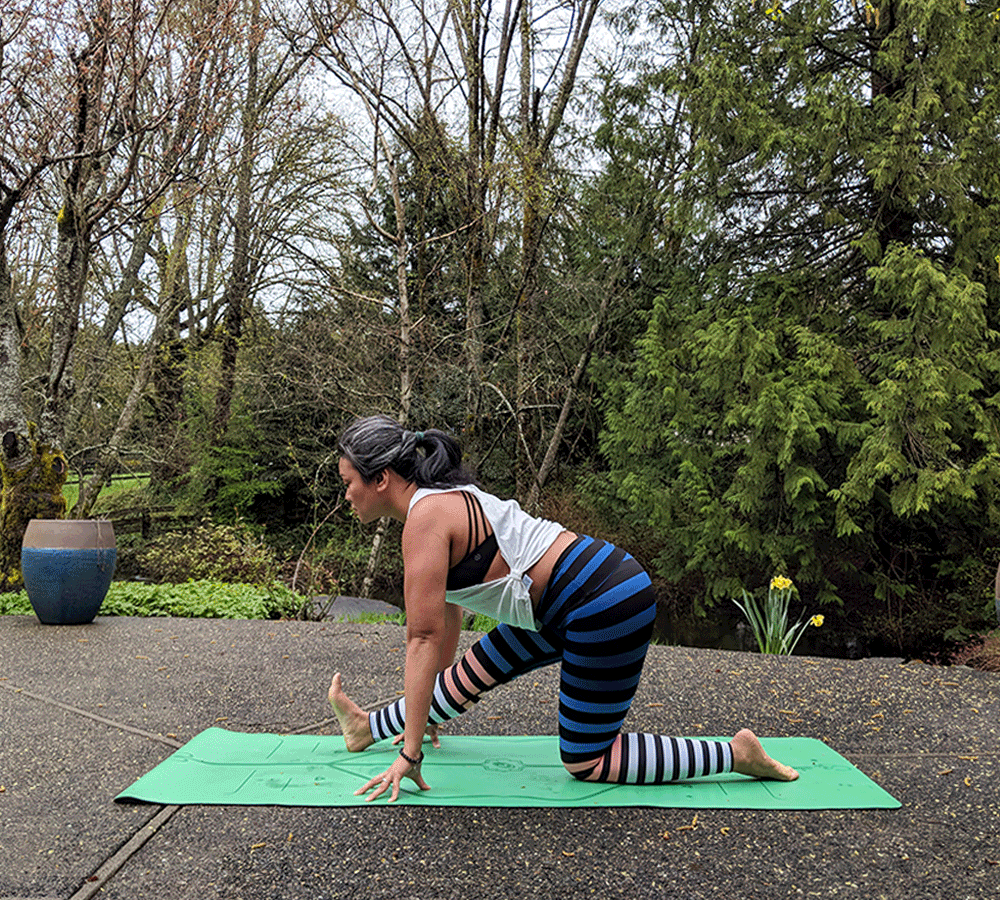 Wearing K-Deer Molly Stripe Sneaker Length leggings, lululemon Free to Be Wild Bra and Niyama Sol Hollywood Tank Top.
I am practicing on my green Liforme yoga mat. Read my Liforme review here.
Where to Buy K-Deer?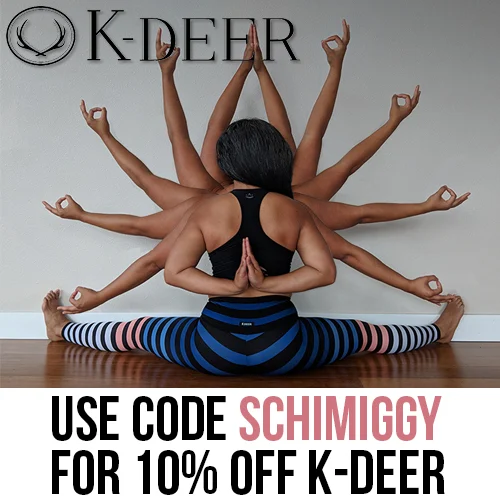 Below are the places where you can buy K-Deer activewear.
https://www.instagram.com/p/Bn4tedZBWPA/
Thank you for visiting today! If you found this encouraging or informative, please connect with us on Instagram or TikTok.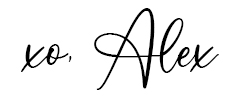 Sign up for our monthly newsletter for updates and more. We promise we won't spam you! Feel free to unsubscribe anytime.
If you're a brand and want to work with us, please visit this page to get in touch.