Reading Time:
5
minutes


About Purusha People
Purusha People was founded in 2009 by Hayley Elliott with the belief that what you wear next to your skin is sacred, and that its process of art and creativity is transferred to the customer. The term purusha is a Sanskrit term meaning "cosmic being." Hayley creates alluring and comfortable yoga clothing in all silhouette, colors, and prints to ignite your inner purusha! All of the pieces are handmade, not sewn in a factory, so every piece of clothing is assembled with care and love and made uniquely for you!
All Purusha People pieces are handmade using locally sourced fabrics and low impact inks and dyes. Their products are sustainably created in small batches by Hayley (printing and dyeing) and Nadya (sewing). It takes approximately 4-6 weeks for orders to be received. If you need it sooner, feel free to let the team know and they'll expedite your order!
Purusha People Review: Ocean Rainbow Leggings
When I first saw the Ocean Rainbow leggings I knew I had to own them. The iridescence of the leggings is beautiful and reminds me of unicorn or Lisa Frank colors. I wanted leggings for that special occasion, whenever it arises. And also, who doesn't need a pair of sparkly leggings in their wardrobe?
This isn't my first Purusha encounter. I've owned a pair of cotton mermaid Purushas but did not like them. I bought them second hand and the fabric felt stiff, not soft as advertised. It's possible that the previous owner did not care for them per the instructions. I ended up selling them on eBay.
My second Purusha People experience proved to be rather successful. I love the print and the fit was comfortable. Let's dive into the review!
#1 Size: I've tried both a size small and medium. I prefer the medium fit in sparkly leggings and a size small in cotton/organic leggings. The shinier fabric is more compressive and has less give than their cotton products. I definitely would SIZE UP in this brand.
Perusha People Bottoms Size Chart:
XS = size 0, 30 inch inseam, 24-25 inch waist.
S = size 2-4, 31 inch inseam, 26-27 inch waist.
M = size 6-8, 32 inch inseam, 27- 28 inch waist.
L = size 10-12, 33.5 inch inseam, 28-30 inch waist.
XL = size 14-16, 35 inch inseam, 30-32 inch waist.
#2 Style: Purusha People makes leggings, tops, sweaters and bell bottom pants.
#3 Inseam: Inseam is dependent on size. For the size medium Ocean Rainbow leggings, the inseam is 32″ which sits bunched at the ankles and can be worn under the arch/over the heel.
#4 Rise: Purusha People leggings are high rise with the waistband sitting above the navel.
#5 Waistband: Purusha People leggings have tall waistbands measuring 4″. Because the leggings are made to order, I did experience some slight sewing errors in my waistband. One side was shorter than the other. The waistband fit tight so that there was no pulling or tugging during practice.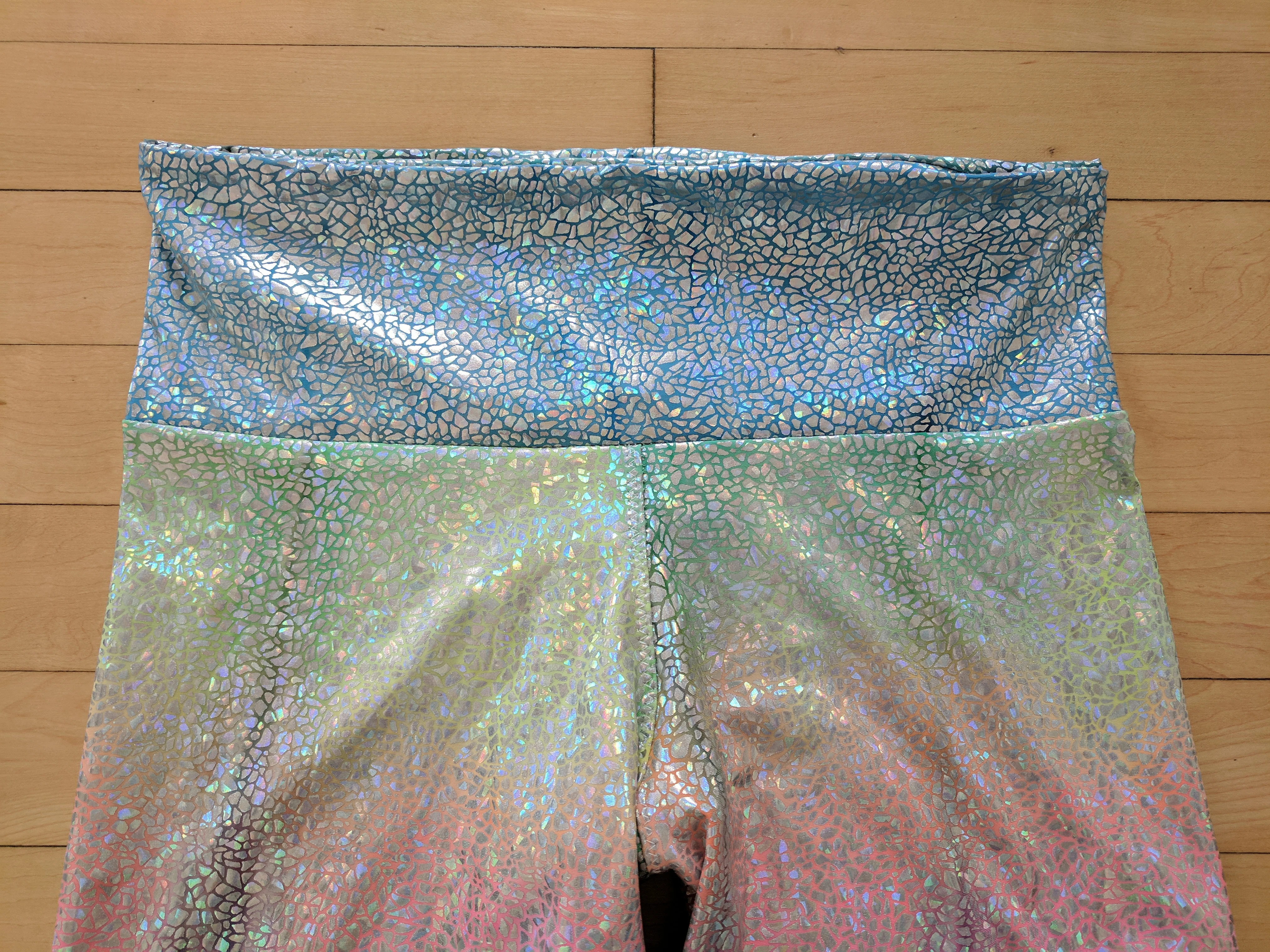 #6 Fabric
Fabric Content: 80% Nylon 20% Lycra. All Purusha People pieces are handmade using locally sourced fabrics and low impact inks and dyes. Their products are sustainably created in small batches.
Fabric Feel: The fabric feels sleek and smooth. The pants are also very compressive due to the thick nature of the fabric and the metallic finish. The metallic finish creates compression in the fabric and I imagine it may trap in heat during practice or in a heated environment.
Fabric Performance: The fabric is finished with a metallic foil finish. It's best to avoid abrasive surfaces and clean according to instructions to preserve the color of the pant. The fabric is thick and compressive. I would imagine they would be even more compressive once sweat combines with the fabric fibers. These leggings will not shift during practice or wear. The leggings claim to be dry wicking, but they do take a bit of time to dry after a wash.
Opacity: Leggings were 100% opaque (not see-through)
Fabric Features: The tall waistband houses a front pocket. The white Purusha People logo is sewn onto the right leg opening of the pant. The logo placement may be dependent on the style and color of the pant. I have a green pair of leggings and the logo is on the left leg opening.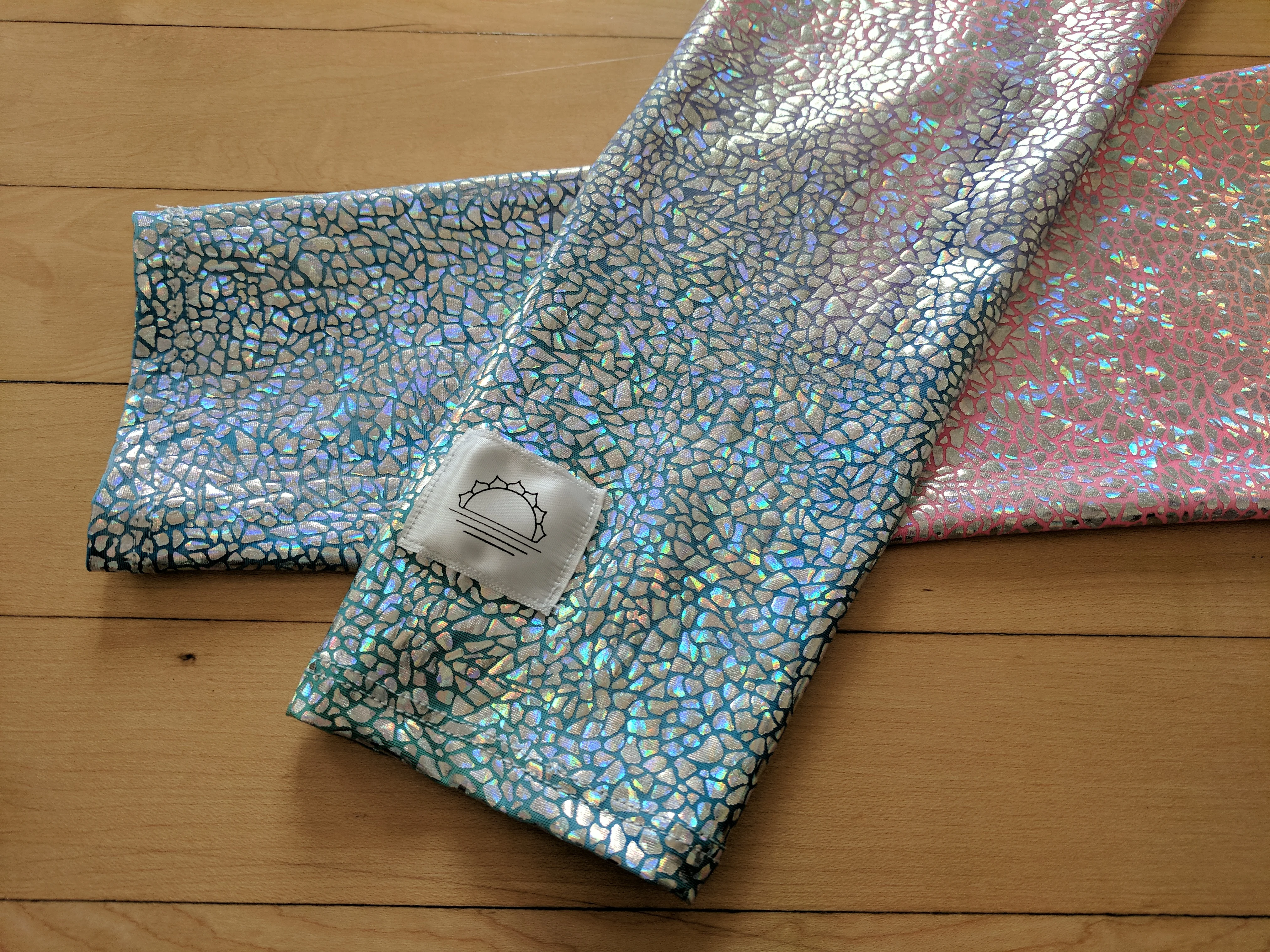 #7 When to Wear: Purusha People leggings are made for yoga, lounge wear and are great for festivals such as Burning Man or Lightning in a Bottle (LIB). Their sparkly leggings are made to stand out in a crowd. They promote every day wear but I would not recommend it due to the delicate nature of the metallic finish. It will eventually crack and peel.
#8 Cost: Purusha People leggings are $98. They are made to order and took about 3-4 weeks to arrive. If you can't wait, the do have some ready to order leggings sold at Evolve Fitwear and Amazon.
#9 Gusset: Purusha People leggings are made with a diamond shaped, single layer gusset.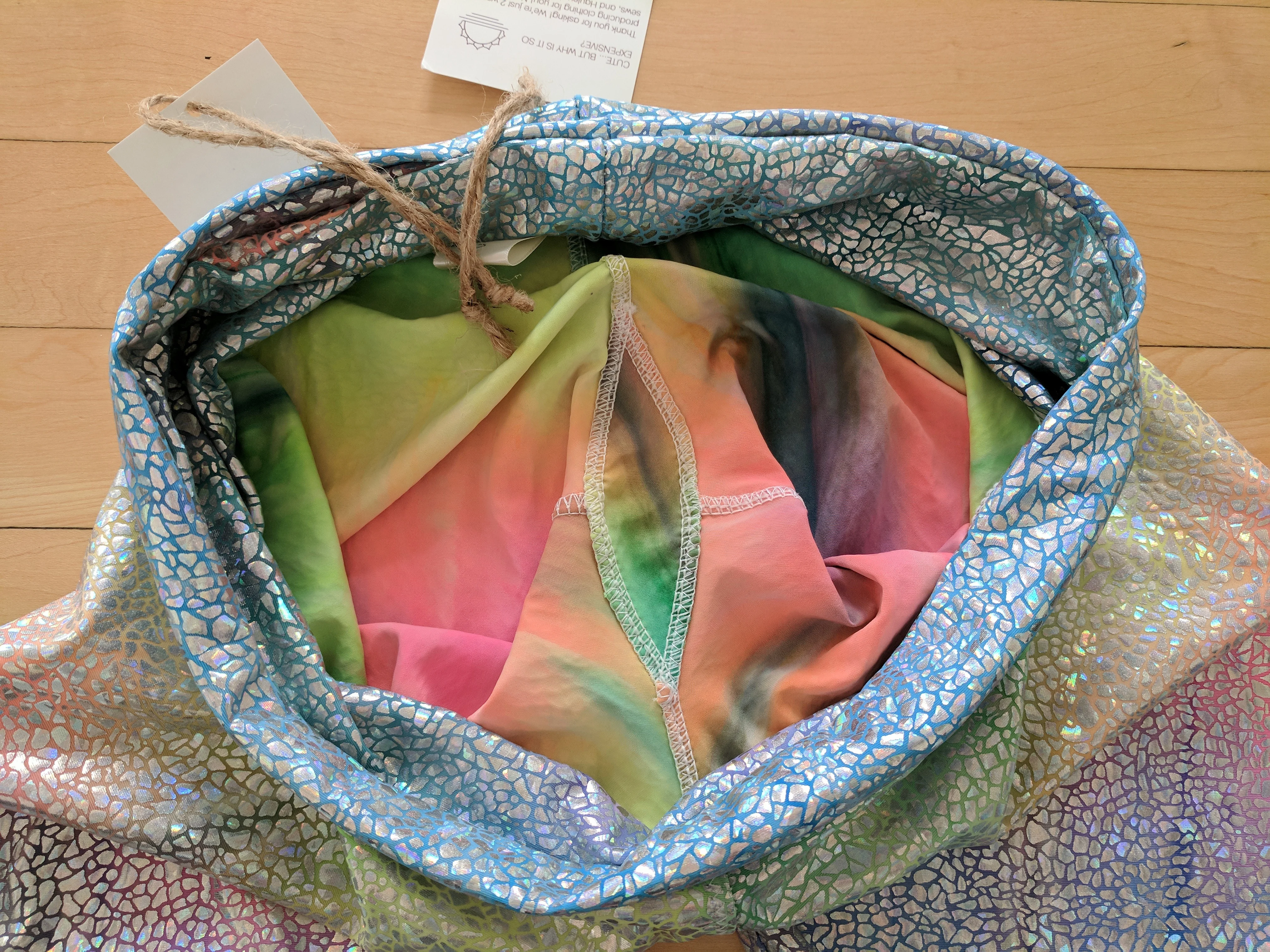 #10 Stitch Seam: Flat seams are used throughout the leggings for a chafe free and smooth fit.
#11 UPF Protection: Not disclosed. I am sure there is some protection.
#12 Made in USA.
#13 Care Instructions: To prevent the sparkle from fading, I wash my leggings in cold water with gentle detergent INSIDE OUT. I hang to dry on a foldable drying rack such as this one. I avoid sunlight so that the metallic foil does not warp.
Should I Buy Purusha People?
You should totally invest in pair of Purusha People! The leggings are made to order and are absolutely amazing. I love the ombre color combos in both organic cotton and spandex materials. Be sure to size up when you're ready.
The leggings do come with a high price point, however you can wait for their deals or buy second hand so that they're more affordable. I have some coupon codes below for you to ignite your purusha!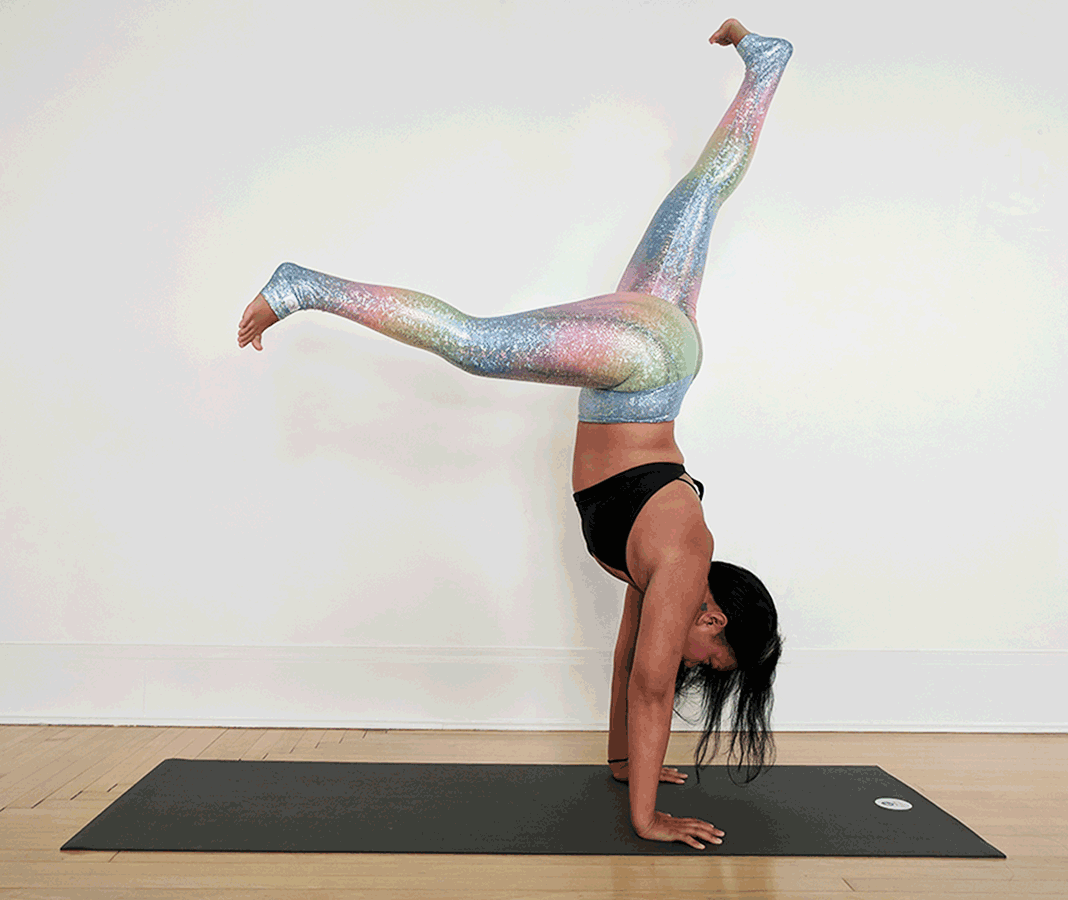 Where to Buy Purusha People
Shop Purusha People directly on their website and use code SCHIMIGGY for 10% off.
If you found our Purusha People review helpful, please share it on Pinterest! Thanks for your support!
---
Thank you for visiting today! If you found this encouraging or informative, please connect with us on Instagram, Youtube, Pinterest, Facebook or Twitter. We'd love to meet you!
Sign-up for our monthly newsletter for updates and more. We promise we won't spam you! Feel free to unsubscribe anytime.
For more fitness fashion discounts and offers, please visit our Fitness Instructor Discounts + Brands Directory or favorite brands coupon codes list.
If you're a brand and want to submit a product for us to review, please use this form to get in touch.
This site uses affiliate links. Clicking on or purchasing via an affiliate link may result in commissions for us which help keep the content flowing and lights on at Schimiggy Reviews. You may read more about this in our privacy policy.