Reading Time:
10
minutes
I did it. I ordered some clothes from Amazon Fashion.
What inspired me? I have a friend who always orders clothing on Amazon and makes the pieces look stunning. The piece that inspired me to explore Amazon Fashion was this floral maxi dress. She wore it to a forest wedding in and I fell in love!
I always thought Amazon Fashion brands were cheaply made because they most likely came from China. I also believe that they would look nothing like the stock photos you see in the listings.
Just for research, I opted to try everything under the Amazon Fashion sun and review it on my blog. Summer is just around the corner, so I tried on several Summer dresses that I felt might be perfect for when it gets hot in here.
Below are dresses that I tested and my short review of each. I included the stock image next to my try on to show how the pieces actually fit and look on a "regular" body.
Review of Clothes from Amazon Fashion
#1 Avoir Aime Sequin Dress
I was disappointed with the Avoir Aime sequin dress. It was one of the first dresses I purchased from Amazon. The dress looks decent on, however, It ran a little short for my 5'5″ frame.
The loop that closes the dress in the back also broke even before I could wear it out. The navy is also a bit off compared to the dark navy pictured on the model. The color difference didn't really bother me, but the quality did.
With the broken loop I ended up returning it and checking it as a LOSS.
#2 Hersife Striped Long Sleeve Dress
I was happy with the Hersife striped dress! I saw photo reviews prior to purchasing and thought the dress looked great. When I received it, it fit perfectly. Like most Amazon Fashion items, the medium ran small and would fit a size 6-8 US best.
This dress was a WIN!
#3 Belle Poque V-Neck A Line Dress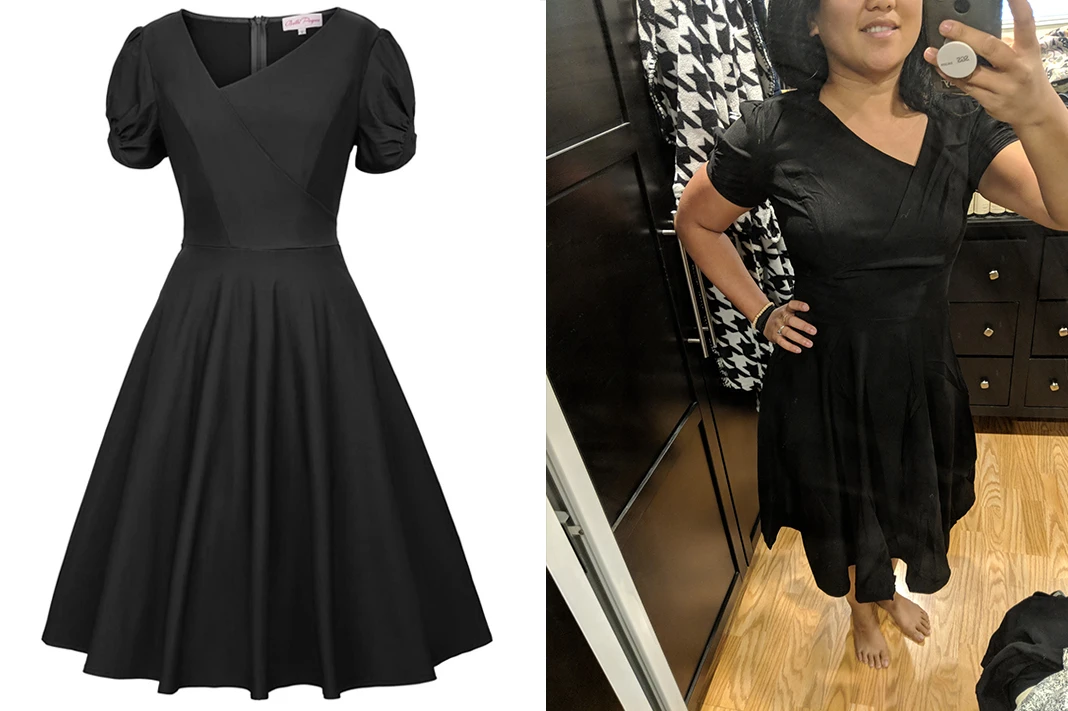 This Belle Poque dress was a candidate for my brother's fairy tale wedding at Disney World. I ended up keeping it because it fit me really well and I loved the asymmetrical detail. The fabric is also very stretchy and soft! I've worn this dress on dates and get plenty of compliments.
This dress was a WIN!
#4 Grace Karin Red Asymmetrical Dress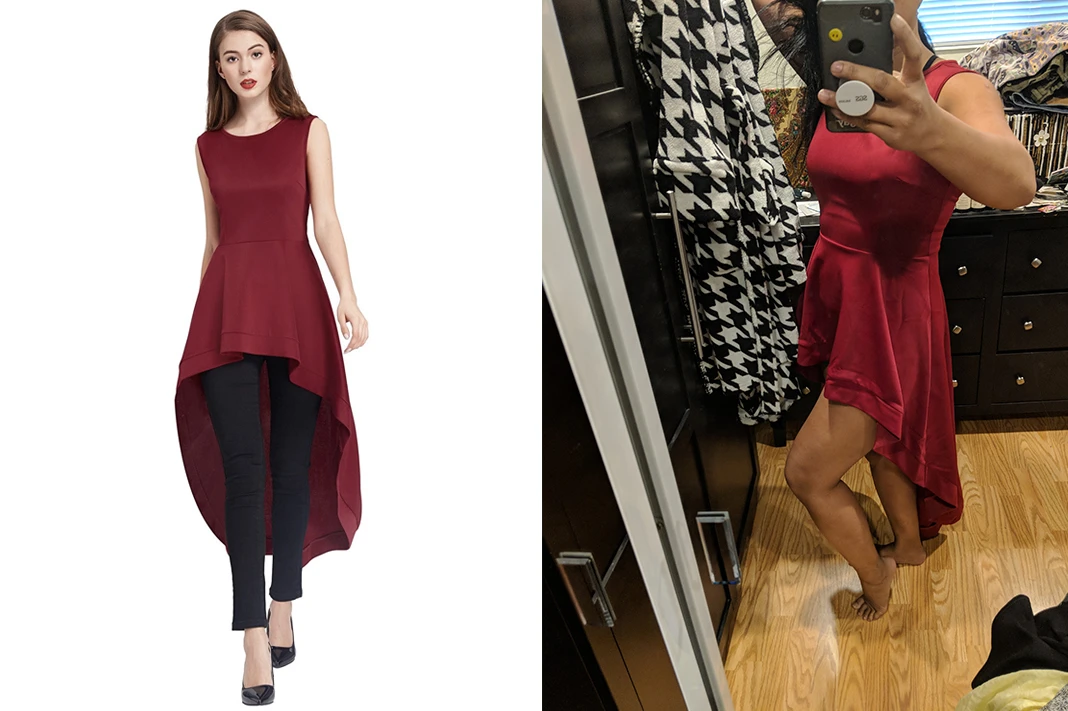 This Grace Karin "dress" fit more like a tunic. It was very short in front. I would highly recommend wearing pants so that your hoohah doesn't get exposed. For reference, I am 5'5″ and my crotch was making an appearance. If you're shorter than 5'3, you can definitely wear this as a dress sans pants. However, you would probably end up with a long train.
I ended up returning this because it showed everything and the fabric was very heavy.
This dress unfortunately counted as a LOSS!
#5 Kidsform Asymmetrical Shouder Maxi Striped Dress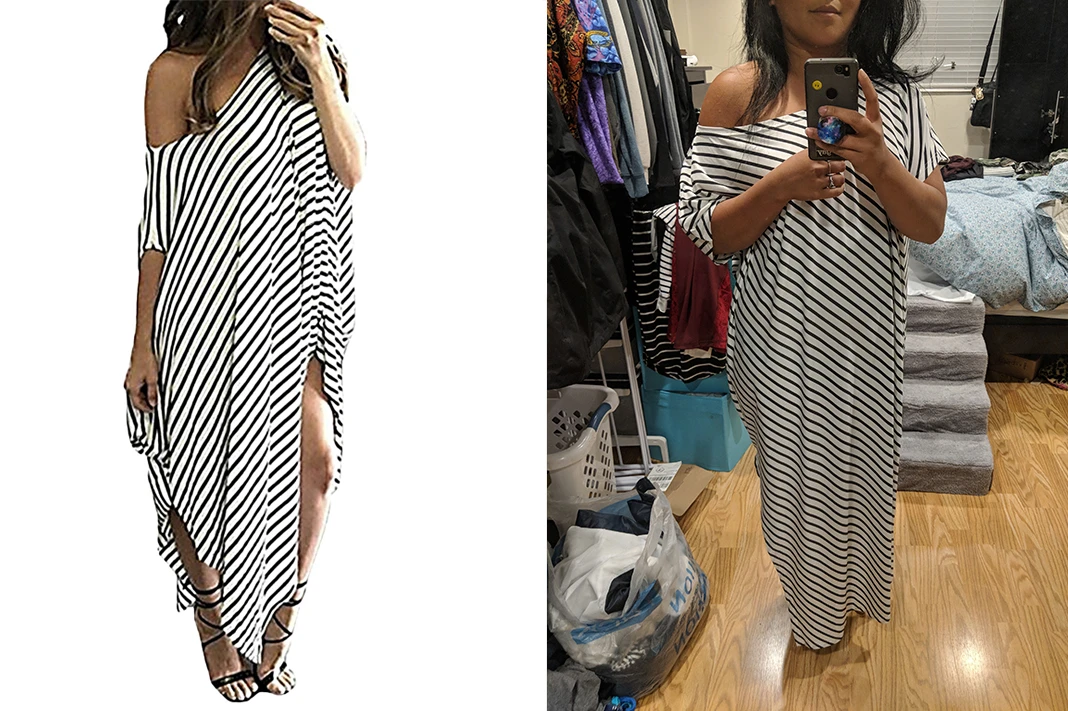 I found the striped dress that I have been seeing on Poshmark but for 1/2 the price on Amazon. The brand is Kidsform and have an awesome of dresses. The striped maxi dress (featured here) feels soft and stretchy like swimwear material. I ordered this dress in a medium and wear a size 6 US.
I love how lightweight the dress is. It works as a coverup or dress. It also looked stunning or date night or GNO. This dress was definitely worthy of wearing in Summer.
This dress was a WIN!
#6 Kidsform Floral Short Tunic Dress with Flowy Sleeves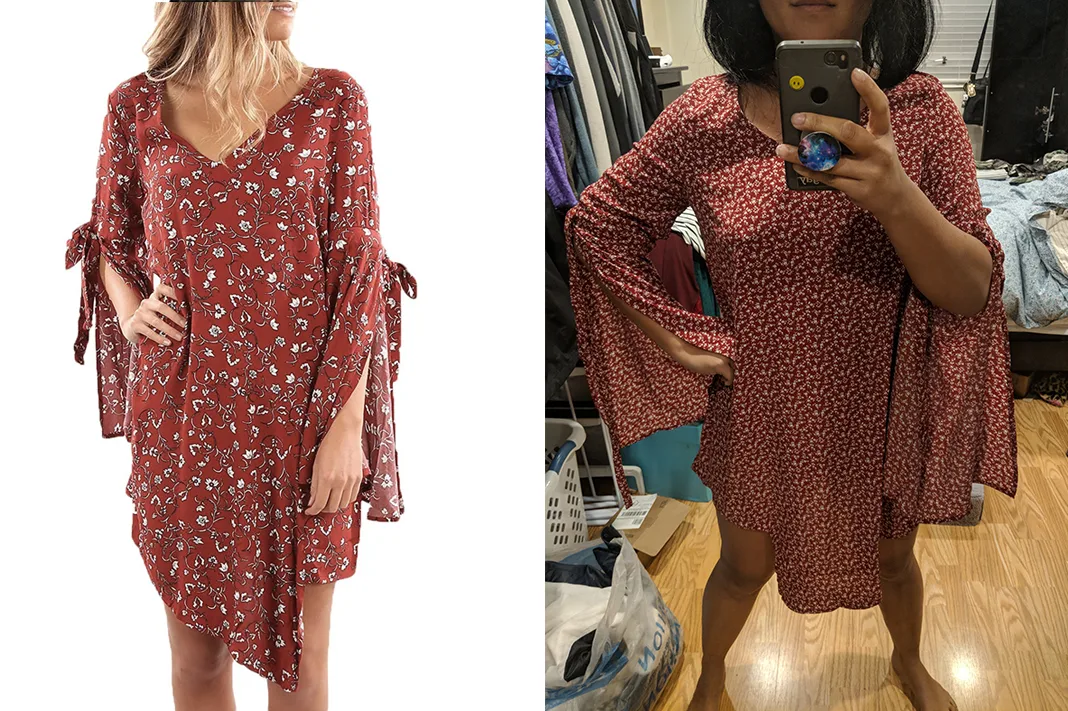 I received this floral dress and saw the pattern was totally different. However, the fit was on point. The medium would fit a size 6-8 US best. I love how lightweight and flowy the dress was. The tie sleeves were my favorite detail.
This was a WIN!
#7 ZAFUL Strawberry Retro Dress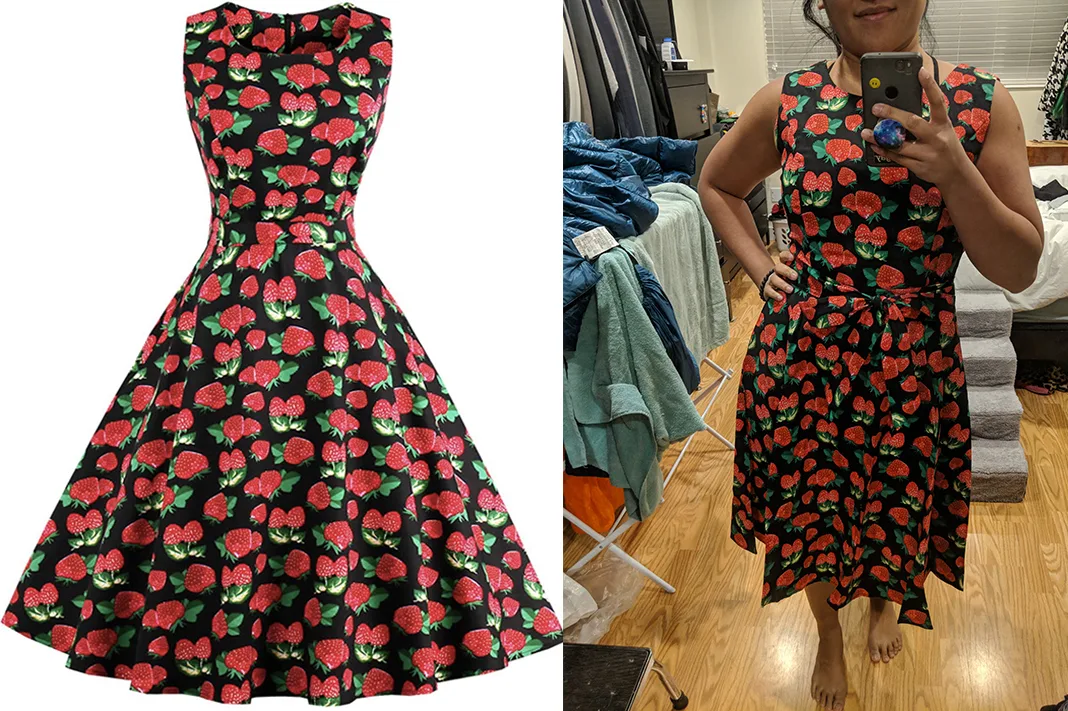 This was the winning dress for my brother's Disney wedding! This strawberry printed retro dress by Zaful was inexpensive and looked amazing on. I usually don't wear these Rockabilly type dresses but I am so glad I got it! It would also look best with a red colored petticoat underneath.
Another definite WIN!
#8 Vansha Summer Strappy Sunflower Dress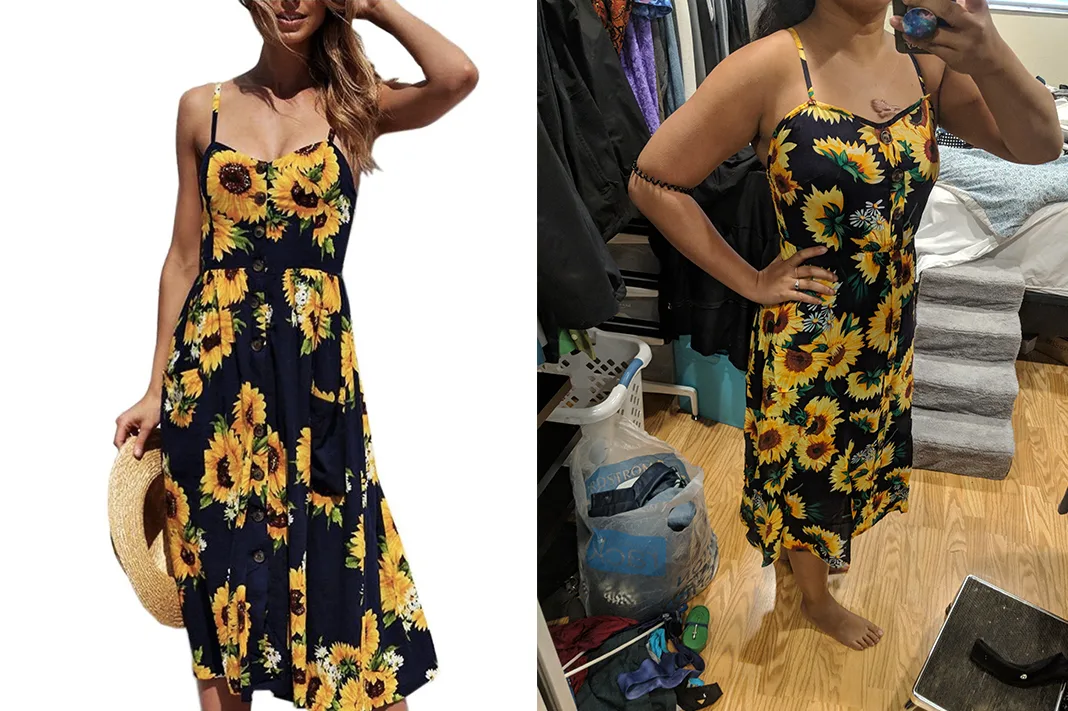 This sunflower dress looks amazing on the model. I felt it was just OK on my body. I kept it because the fabric is very soft and flowy. I would definitely wear it around the home and while headed to the farmers market.
The straps are not adjustable and I wish they were longer. I am 5'5″ and 150 pounds and the dress looked short on my torso. The buttons in front are non-functional.
I am on the fence about whether I want would say this is a solid WIN or LOSS.
#9 Angashion Polka Dot Tie Front Dress

This polka dot dress is so cute. I had high hopes for it. The peek a boo cutout in front was too big for my preference. Luckily my roommate loved it and purchased it off of me. *whew*
The material is breathable but unfortunately doesn't drape well and is somewhat stiff. The buttons were also brown instead of silver like in the stock photo.
Unfortunately, this was a LOSS for me but a WIN for my roommate.
#10 SUNNYME Stripe Shirt Dress
I thought this striped t-shirt dress would be simple and boring but out of this entire list, I wear this dress the most. It's simple yet comfortable. I wear it mostly to bed and while running errands. It also looks great with my J.Crew denim jacket and mini Baggu backpack. The dress also comes in a variety of colors and patterns.
I would consider this a definite WIN!
#11 FUNPOR Off Shoulder Floral Dress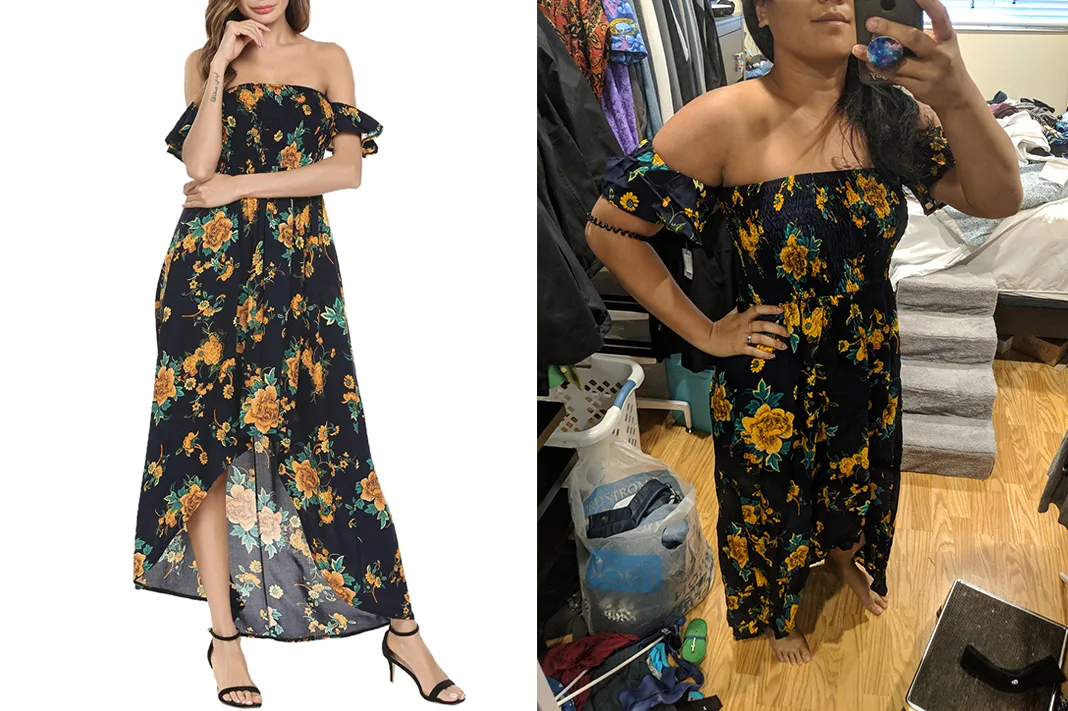 This floral dress is something I would expect being sold on REVOLVE, a high-end online retail store for women. I love that it was affordable and easily drapes over my body. The off the shoulder design looks attractive. I ended up wearing this on a trip to Kauai, Hawaii.
It was a definite WIN!
#12 Jorlyen Homecoming Dress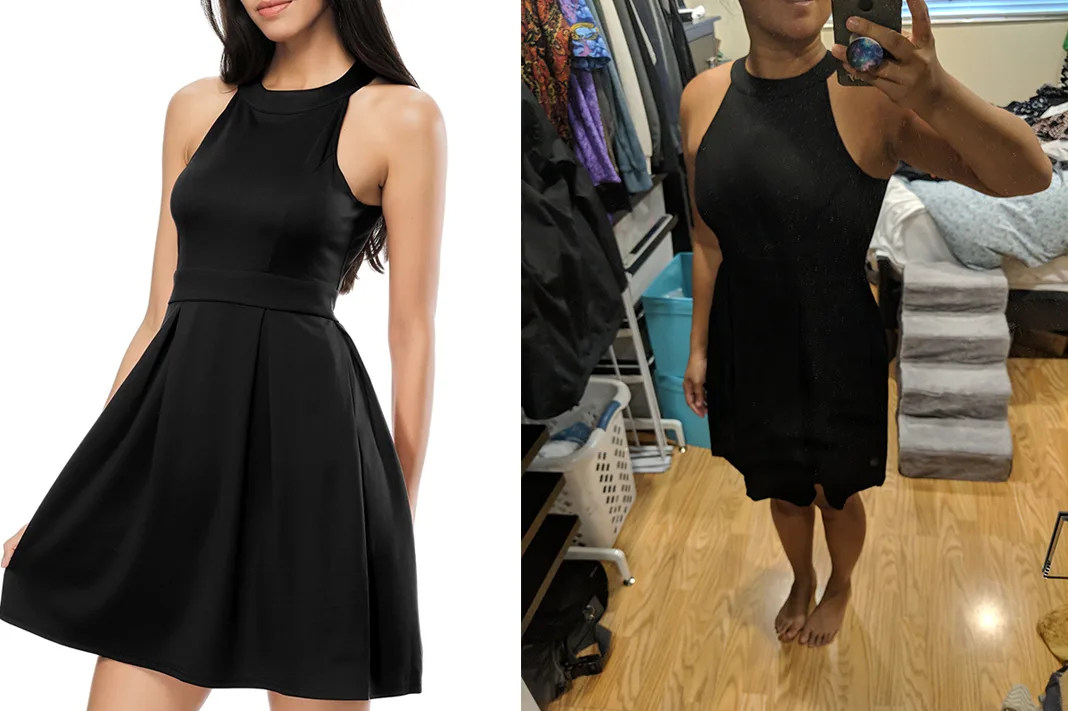 This cute mini dress has an open back and looks amazing. I purchased it in a medium and it fits perfectly! It was very slimming and made me appear youthful. The material is soft and drapes well. I wore it without a bra and didn't feel exposed.
This was a definite WIN!
#13 Pasttry Floral Wrap Dress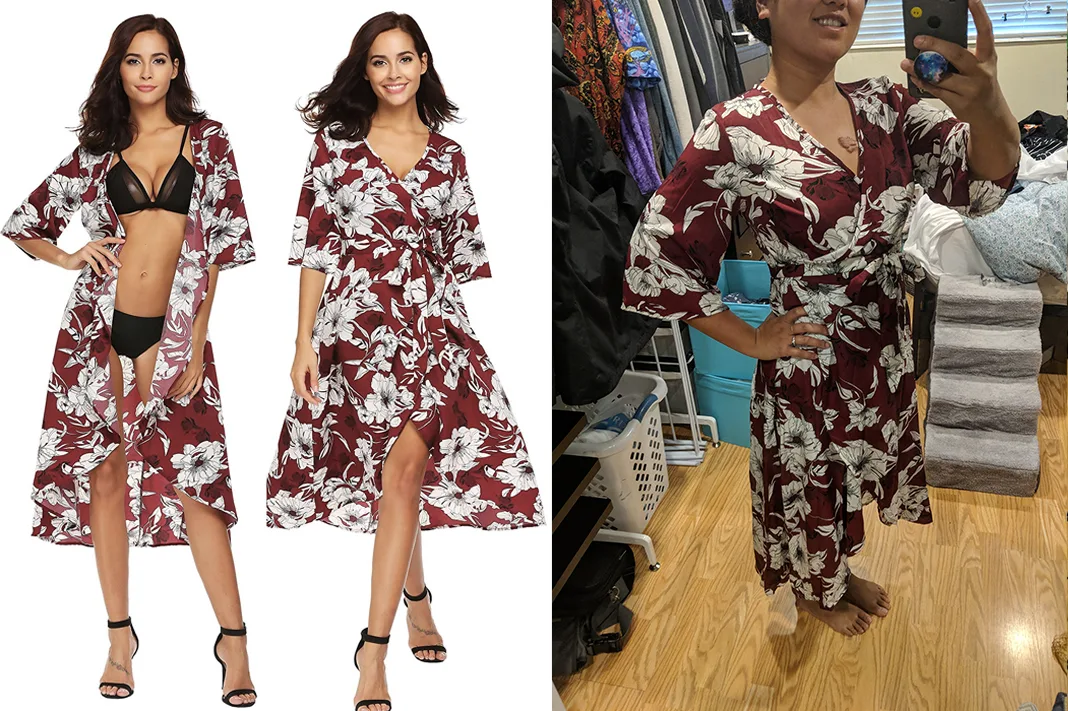 This convertible floral dress can be worn as a cover-up or dress. The fabric does not have any stretch. I ended up getting it in medium and wearing it with booties. The dress has a belt which wraps around your waistline. I prefer to wear it as a dress than a cover-up but I am glad I have that as an option.
This dress was a definite WIN overall.
#14 Miss Moly Striped Off Shoulder Romper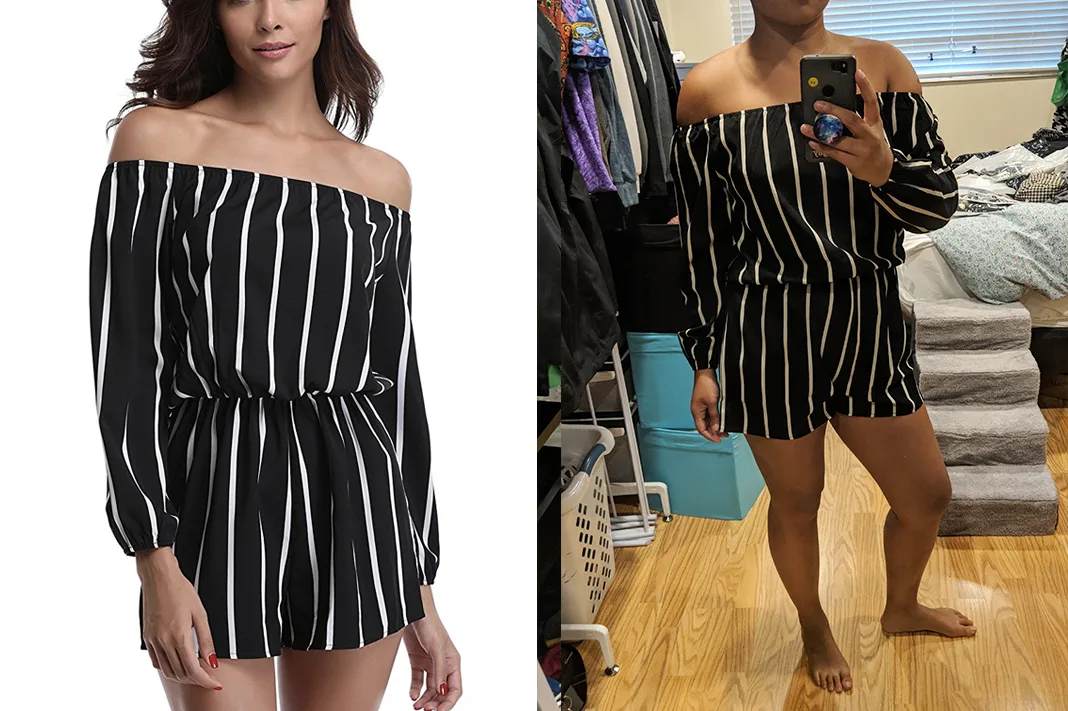 I saw this striped romper and knew I NEEDED it. It came with a belt (not pictured). I wore it braless without any problems. It was super affordable yet looks high quality and very well made. I paired it with my Rothy's ballet flats when traveling abroad to Europe.
It's a perfect Spring piece and a definite WIN for me.
Related: Rothys' Review: Washable and Travel Friendly Ballet Flats
#15 Murimia Pink Summer Dress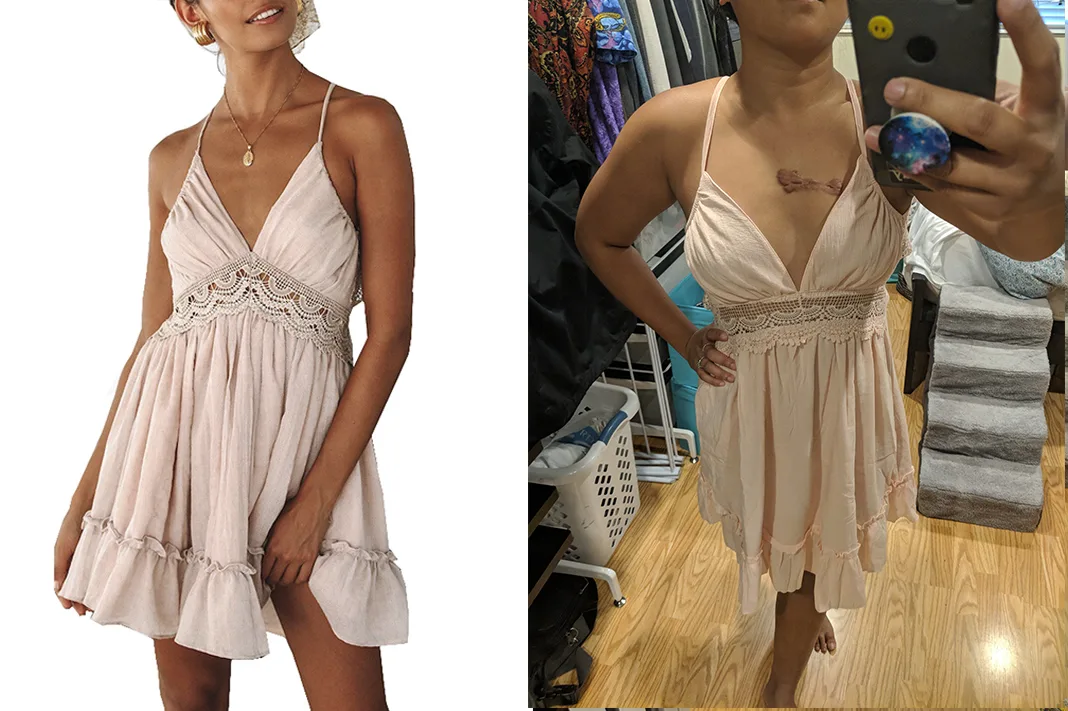 This pink lacey dress reminds me of Free People dresses – light, fun, lacy and always perfect for a date. I love the lace details in the front and back. The fabric is gauze-like and very breathable. The dress ties at the back of the neck. This will be a piece I'll wear all Summer long.
It was a definite WIN for me.
#16 SOHUNE Little Black Dress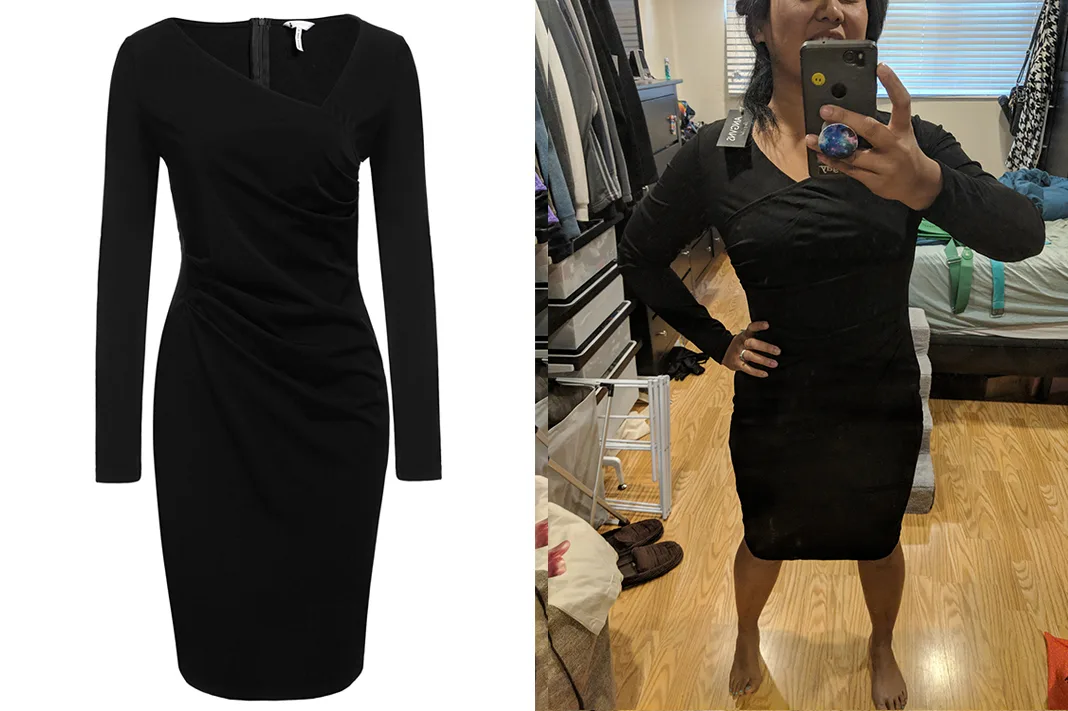 I was impressed with this Little Black Dress (LBD) by Sohune. It was inexpensive and the quality is amazing. I ordered a medium and it fits a size 6-8 best. I had accidentally bought a L and luckily my friend wanted to buy it from me after seeing how the medium looked on me. It's great for cocktail parties and business events.
It was a WIN for both of us.
#17 AL'OFA Sparkly Brown Dress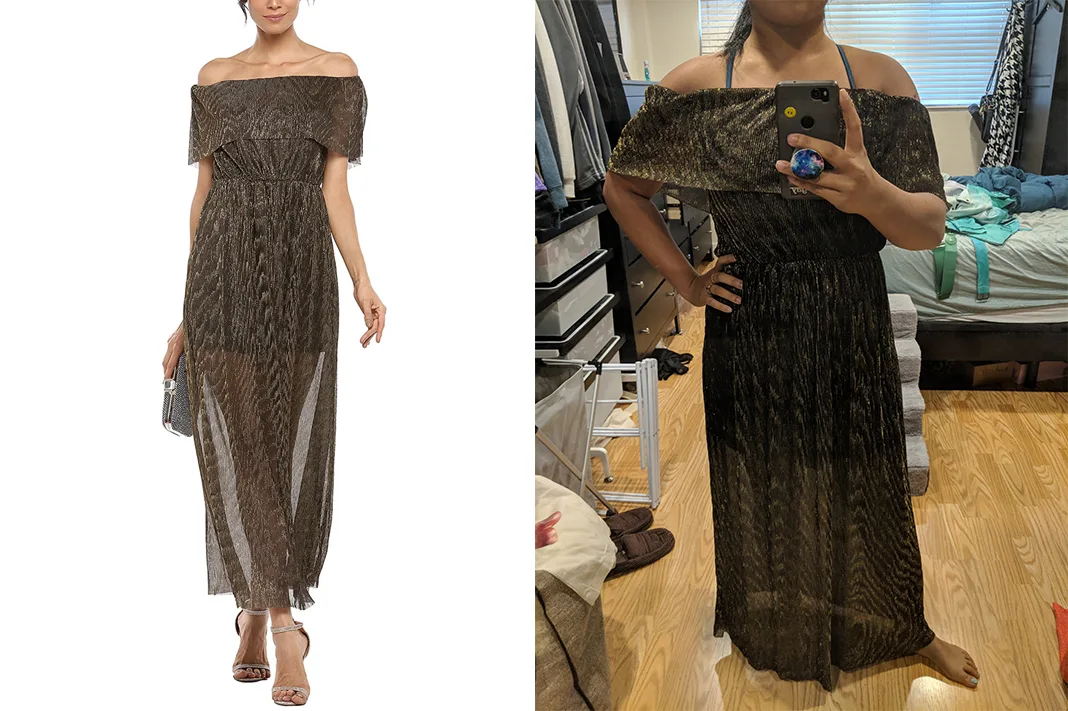 This AL'OFA dress is an exact copy-cat of Dress the Population's Athena off-shoulder pleated dress. The price difference is under $30 versus $231! The fit was great. It zips up the back and looks amazing on.
This was a definite WIN!
#18 AROLINA V-Neck Maxi Dress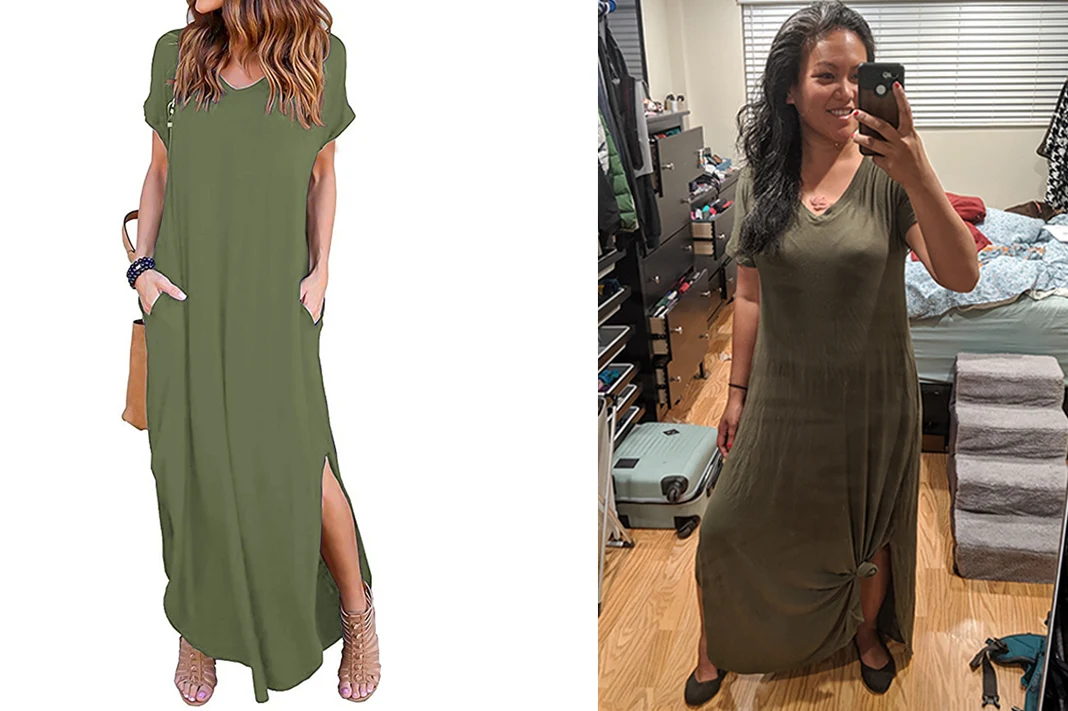 This cottony soft maxi dress comes in many colors. The side slit makes my legs look super long! It's a great casual dress that I wear over the weekend or while running errands. I tied a knot at the end of my dress for a gathered look.
This was a WIN for me!
#19 IWOLLENCE Waffle Knit Henley Top w/Tie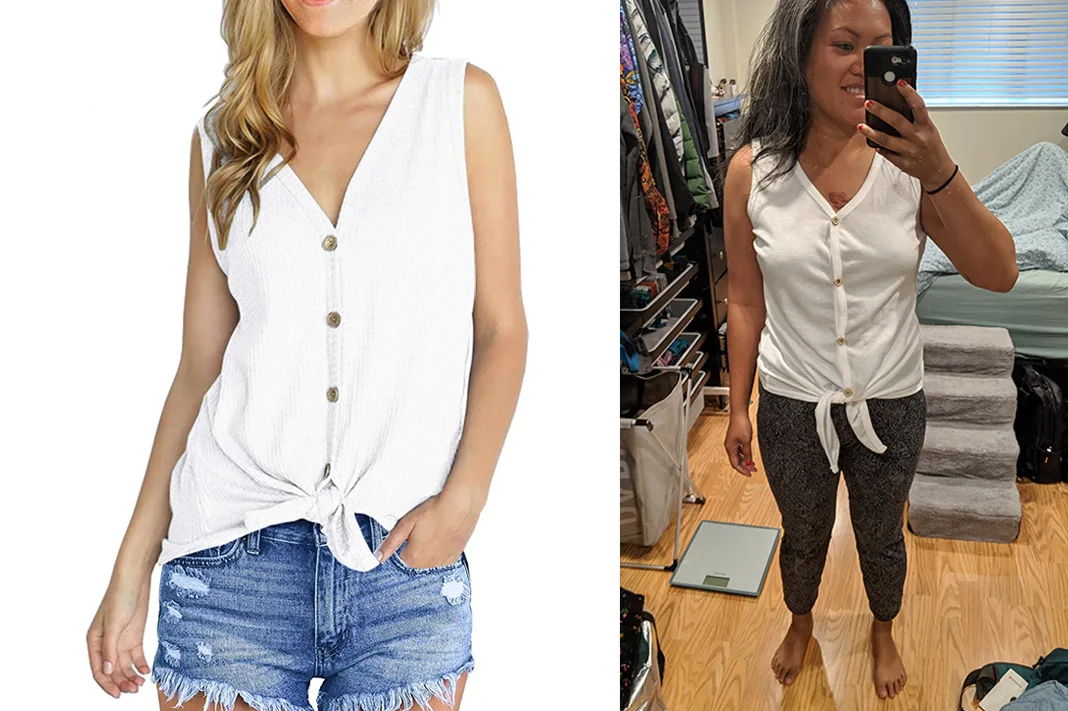 This waffle knit top is great for Summer! It's modeled after the Madewell version that is much more expensive. The front button sits higher than the stock image and the armpits were constructed very high and sit close to my armpit. I wear it to work with my lululemon On the Fly pants!

I still kept it and consider it a WIN!
#20 FLORHO Loose Kaftan Cotton Maxi Dress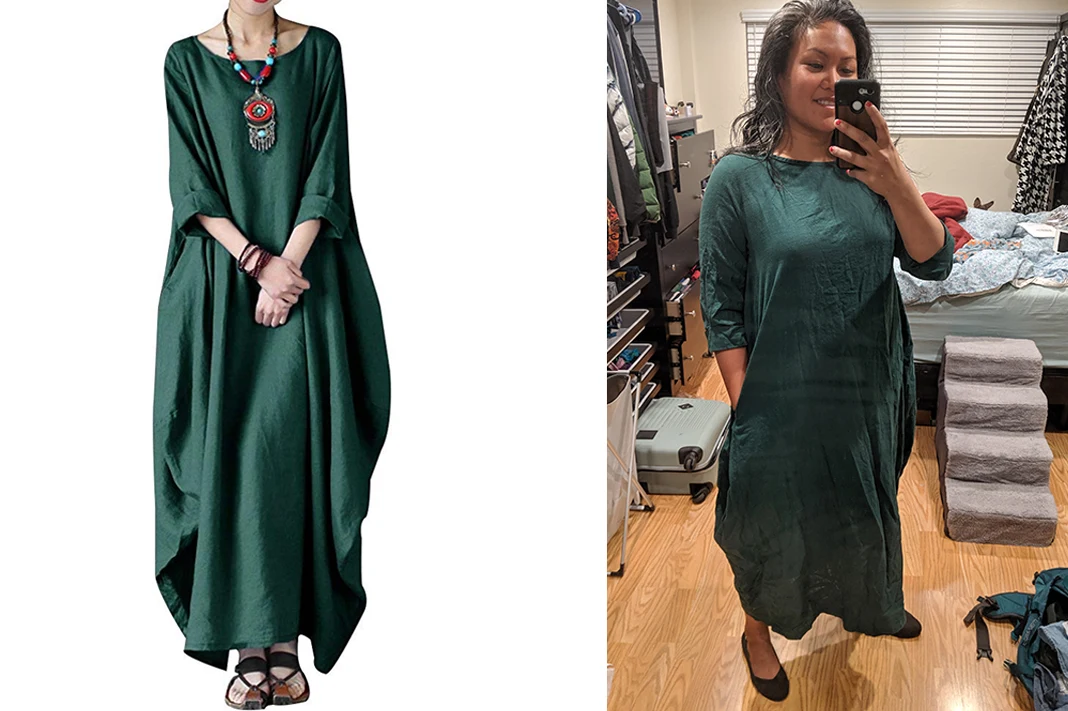 This long cotton kaftan dress is another favorite. After 4 wears, the back seam tore but I was able sew it up. It's lightweight and does need to be ironed or steamed prior to wearing. It's a great costume piece. I've seen similar dresses like this by Eileen Fisher and in boutique stores for over $100+.
This was overall a WIN for me!
#21 Yidarton Animal Print T-Shirt
https://www.instagram.com/p/B1SN8HyB58R/
I love this Yidarton leopard print shirt! It goes perfect with my Rothy's Big Cat points. This Amazon purchase was a definite win for me!
I am wearing the top with Celestine pocketed shorts from Carbon38. Use code SHMGY25 to save 15% off your orders at Carbon38.
What I Learned from Shopping for Fashion on Amazon
Vendors buy from the same factories. A lot of stores use the same models in their stock photos. It's common for vendors to buy from the same manufacturers and just add their own labels to products. That's pretty much the nature of fast fashion.
You get what you pay for. The quality is not the best and thus you get a lower price. I would compare their quality to shopping at Ross or TJ Maxx. Amazon also offers name brands. This makes Amazon a great place for both high to low-end brands. Just make sure you do a price comparison before buying. You might be able to get a better deal directly through the brand's website.
Sizing runs small. I wore a medium in most brands. I normally wear a small in tops and bottoms. In some Amazon brands, I needed to size up to a large and had to exchange a few times.
Shop around prior to buying. Do not stop searching after the first results page. Sometimes you can find the best deals on page 7 or even 20. Find and compare listings from different vendors who are selling the same product.
Buyer reviews are IMPORTANT. My decision to buy a product was more likely influenced when I saw written, photo or video reviews. I love being able to see photo and video reviews to see how products perform and fit on a real person prior to purchasing.
PRIME Wardrobe (launched 2017) also allows you to try on items for free. Pick at least three items (and up to 15) from more than a million Amazon Fashion options. This includes clothing, shoes and accessories for kids and adults. Fill your Prime Wardrobe box with no upfront cost. If it doesn't fit, return what you don't like and keep what you LOVE!
Should I Buy Clothing on Amazon?
So far I've had more wins than losses. I would recommend buying on Amazon, however, I strongly urge you to shop around and do product comparisons prior to buying. The products were not always 100% the same as the stock photo. Always look for reviews and find photos to see how close the actual product is to what is pictured in the listing. That will help you make your decision.
One gripe I have about Amazon Fashion is that it's not sustainable. Majority of the affordable fashion found on Amazon is considered fast fashion and not great for our environment. I make an effort to buy secondhand via Mercari or Poshmark when possible. There are lots of app and platforms you can use to ensure your fashion is sustainable.
Related: Best Sites to Buy and Resell Used and Unwanted Items Online
Overall the shopping experience was fun and it was a learning experience for me in terms of how I approach online shopping. I am glad I was able to share my review of Amazon Fashion products with you all!
If you have any good or bad experiences about clothes shopping online, I'd love to hear them in the comments section below.
Thanks for stopping by!
***People have been complimenting me for showing the keloid scar on my chest. I've learned to embrace it and will have a post up soon about how I processed through this acceptance of my body regardless of all its faults.***
**I will continue to update this post as I buy more things from Amazon.**
---
Thank you for visiting today! If you found this encouraging or informative, please connect with us on Instagram, Youtube, Pinterest, Facebook or Twitter. We'd love to meet you!
Sign-up for our monthly newsletter for updates and more. We promise we won't spam you! Feel free to unsubscribe anytime.
For more fitness fashion discounts and offers, please visit our Fitness Instructor Discounts + Brands Directory or favorite brands coupon codes list.
If you're a brand and want to submit a product for us to review, please use this form to get in touch.
This site uses affiliate links. Clicking on or purchasing via an affiliate link may result in commissions for us which help keep the content flowing and lights on at Schimiggy Reviews. You may read more about this in our privacy policy.