Reading Time:
22
minutes
The amount of plastic humans produce is harmful to ourselves and the environment in which we live. Every year more than 8 million tons of plastic trash goes into the world's oceans. Most of this plastic trash comes from discarded single-use disposable plastic products such as straws, cups, utensils and more.
When I mean zero waste, I actually mean as little waste as possible. It's impossible to be human without creating no waste. What we can do is curtail our use of single use products and reduce the amount of trash we produce as we go about day to day, when we travel and even in our business transactions.
Nowadays, there are zero waste alternatives for practically everything that can allow us be more conscious about our consumption.
By switching to these zero waste products, you'll be one step closer to living a sustainable lifestyle.
Zero Waste Alternatives for Common Household Products
We've broken down zero waste alternatives in the following departments. Just click on the department below and jump to that section of the page.
Zero Waste Alternatives for the Kitchen
#1 Reusable Produce Bags
You can choose between cotton and plastic mesh grocery bags.
I personally use these awesome 100% organic cotton mesh bags by Emmazing Family. They're washable and because it does not contain plastic, won't leak microplastic particles into the ocean. Even the drawstring closure is made of bamboo and is 100% biodegradable.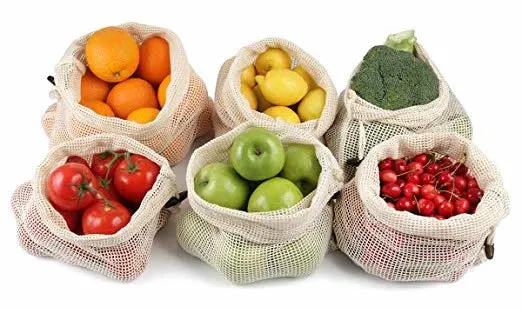 For smaller items such as grains, dried fruit, etc., I use Purify You's reusable bulk bin bags. It comes in a set of 9 and the handles make it easy to carry.
#2 Reusable Grocery Bags
Everyone needs reusable grocery bags as well. There are styles that compact nicely and some that are super durable and made out of all-natural products (think cotton tote bags).
I personally love Baggu and Chico bags (made by Repreve) which compact into little squares and can be neatly tucked away in my backpack or purse when not in use. Their prints are also super fun and bright!
Pro Tip: If you still have grocery bags that you need to offload, your local grocery or Home Depot store may have receptacles for you to recycle them. Just call them and ask.
#3 Reusable Bread Bag
This reusable bread bag helps me eliminate single-use plastics when buying grocery store carbs. It also allows me to make healthy decisions when it comes to consuming carbs. If I cannot easily purchase bread that fits in my bread bag, I will most likely not buy it.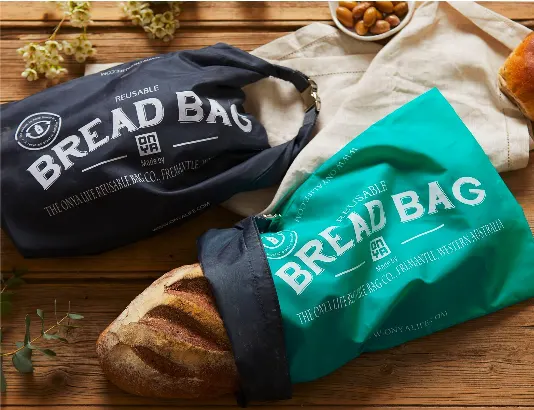 #4 Utensils
I use metal utensils at home and carry plastic reusable utensils with me in my backpack or purse. I use a foldable fork and spoon by Primus. When dining on street food, I use my own utensils and prevent my personal use of single-use plastics.
If you don't want to use plastic as a portable utensil, here are some foldable metal fork and spoon options you can also choose from. You can also opt for bamboo utensils which is the most sustainable!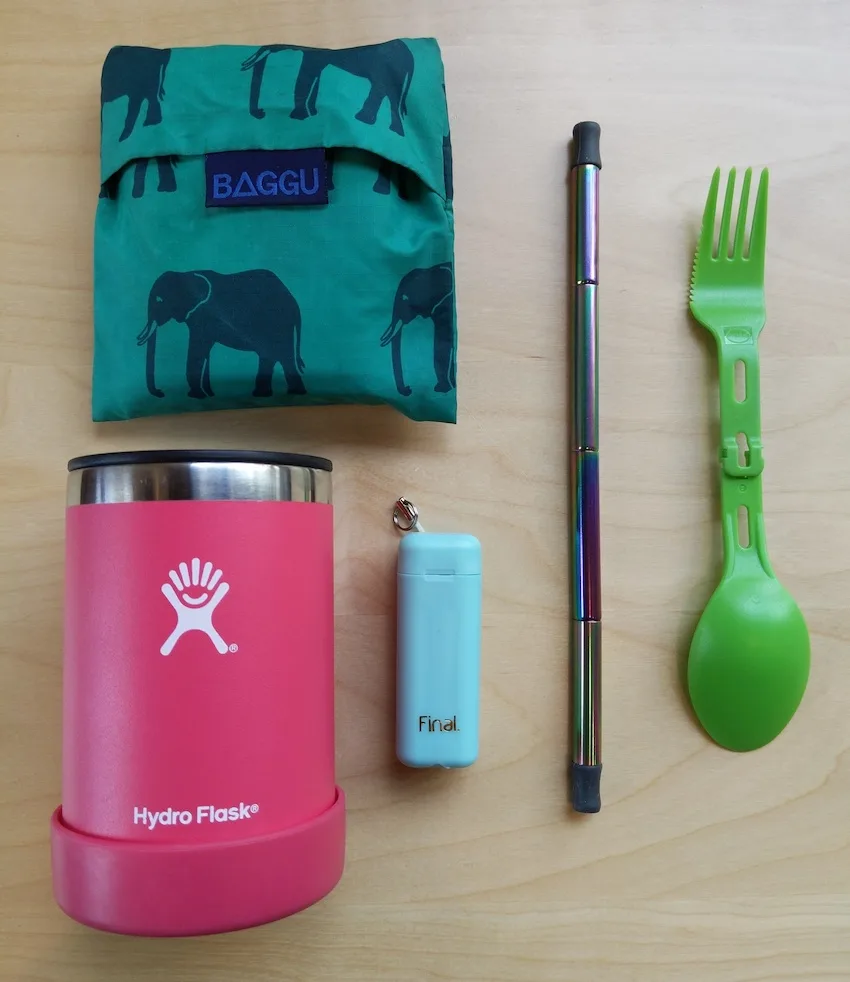 #5 Reusable Ziplock and Mesh Bags for Grains and Snacks
Before they made reusable Ziplock plastic bags, I would reuse my bags at least 10 times. No lie. I would use it until it was moldy or had holes in them.
Then I found out about Blue Avocado's reusable (re)zip bags which I use for everything! They come in a variety of sizes, small to extra large. The possibilities are endless! The bags can also be frozen and easily washed by hand.
I use them to buy AND store my bulk items in my pantry. I typically store dry products in my bags and wet products in glass or porcelain containers.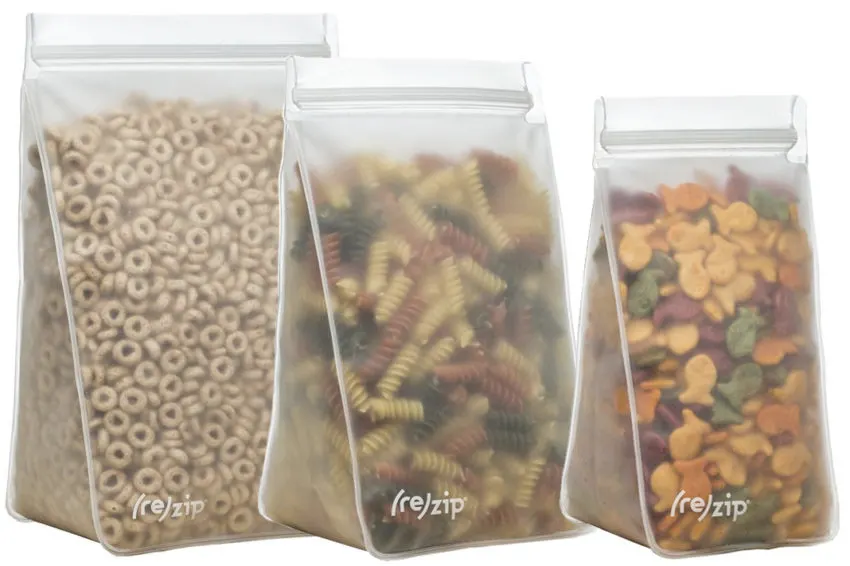 You can also use these mesh bags by Lotus as bulk bags for just about any food product! I use the zip bags to ensure products stay fresh for longer periods of time and use the mesh bags while shopping for grains, grain products and nuts at bulk stores.
#6 Silicone Stretch Lids or Bee's Wax Food Wraps
I have not used saran wrap in years becuase it's wasteful. I purchased these silicone stretch lids and have never looked back. They can be cleaned in the washing machine and rolled up for easy storage. Obsessed is an understatement when it comes to these lids.
Another alternative to saran wrap is Bee's Wax Food Wraps. These wax from these food wraps cling to your dishes. If the film starts to get less sticky, use an iron and place the wrap between parchment paper to redistribute the wax. I personally do not use this method because of the maintenance factor.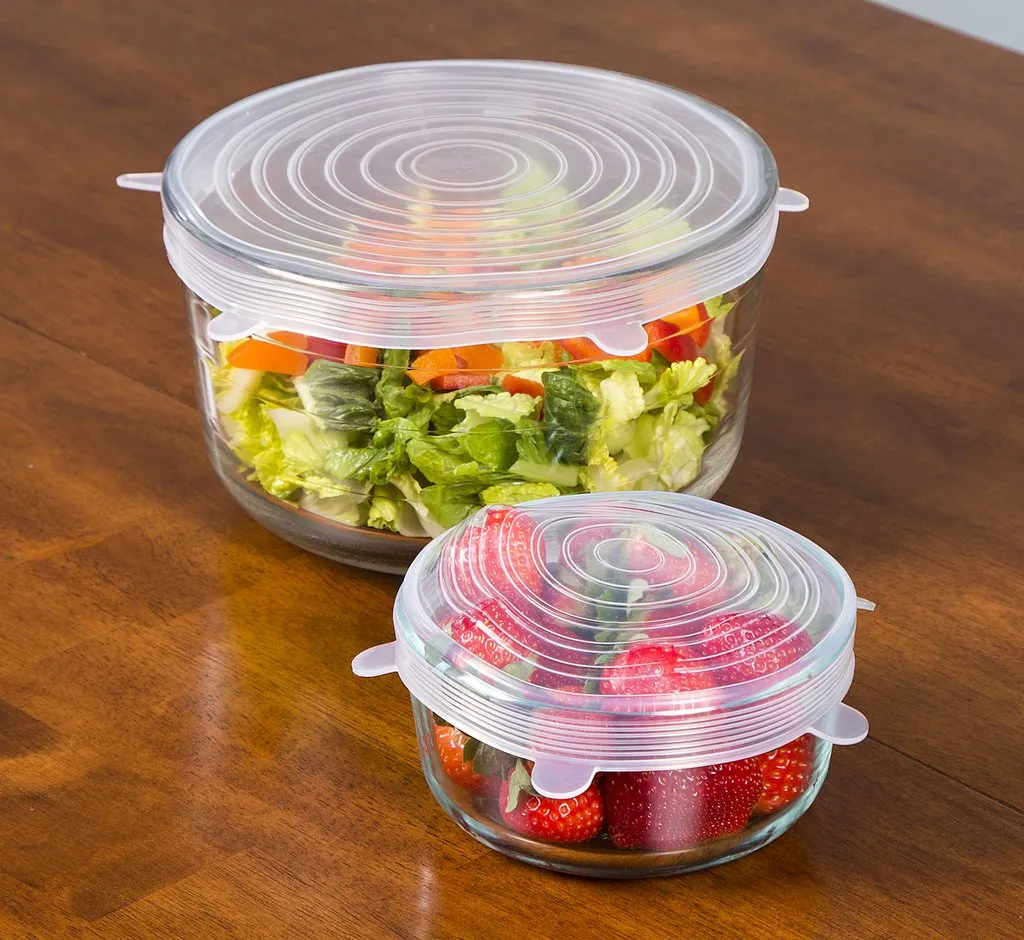 #7 Reusable Straw
I recommend stainless steel, glass or silicone straws. I have silicone and stainless steel ones at home. They will usually come with a pipe cleaner so that you can easily clean the straw. I recommend rinsing thoroughly prior to each use.
When traveling, I use a collapsible straw. When I order a beverage, I also make it a habit to request no straws even if they don't offer them. It's just a good practice to adopt.
There are also bamboo straw options which are the most sustainable. However, they are a bit more difficult to maintain and can break easily.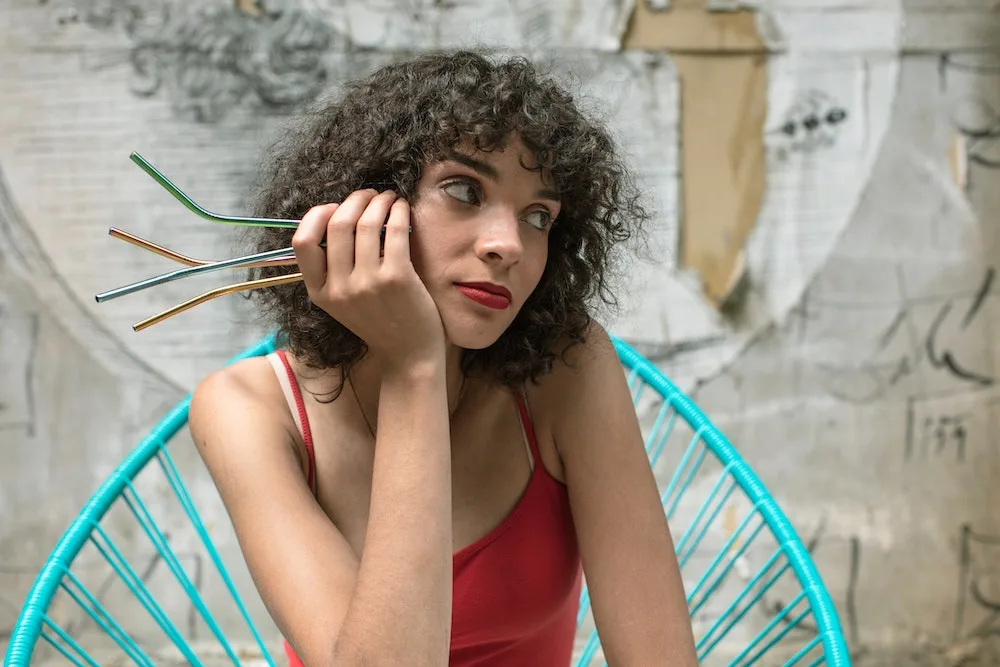 #8 Reusable Bottle or Cup
I love my Hydro Flask cooler cup and bottle. I store my drinks, food, snacks, and etc. in my Hydro Flask containers. They also come with a lifetime warranty!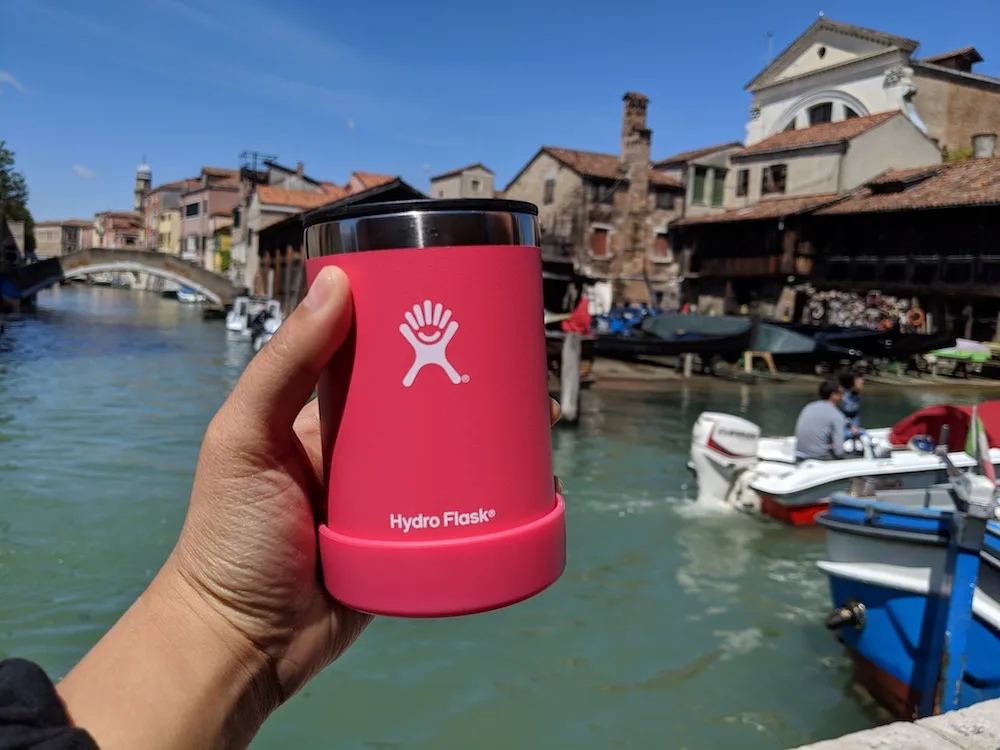 #9 Fabric Napkins and Reusable Towels
Instead of consuming paper towels, opt for reusable cotton napkins and towels. You can buy them new or cut up old sheets and cotton clothing to create napkin squares. I have a separate laundry basket for all my towels and napkins that I wash every 2-3 weeks.
If you want something more luxurious, consider bamboo eco-towels by Mioeco, Turkish hand towels, or EcoLocal towels that dry within minutes.
Pro Tip: Consider using the same towel multiple times prior to washing it. Unless you're eating greasy or sauce-covered food, you can use a single towel at least three times before throwing it into the hamper.
#10 Silicone Cupcake Liners
I love to bake! Silicone cupcake liners have been a lifesaver as I usually make 12-24 cupcakes at a time!
To clean them, just soak them in water to get any cake off the surface and pop them into the dishwasher afterward.
Pro Tip: You can also use the liners to hold portions of spices and ingredients when cooking. I've also used them as a dog water bowl while traveling with my pup. When you think out the box, the possibilities are endless!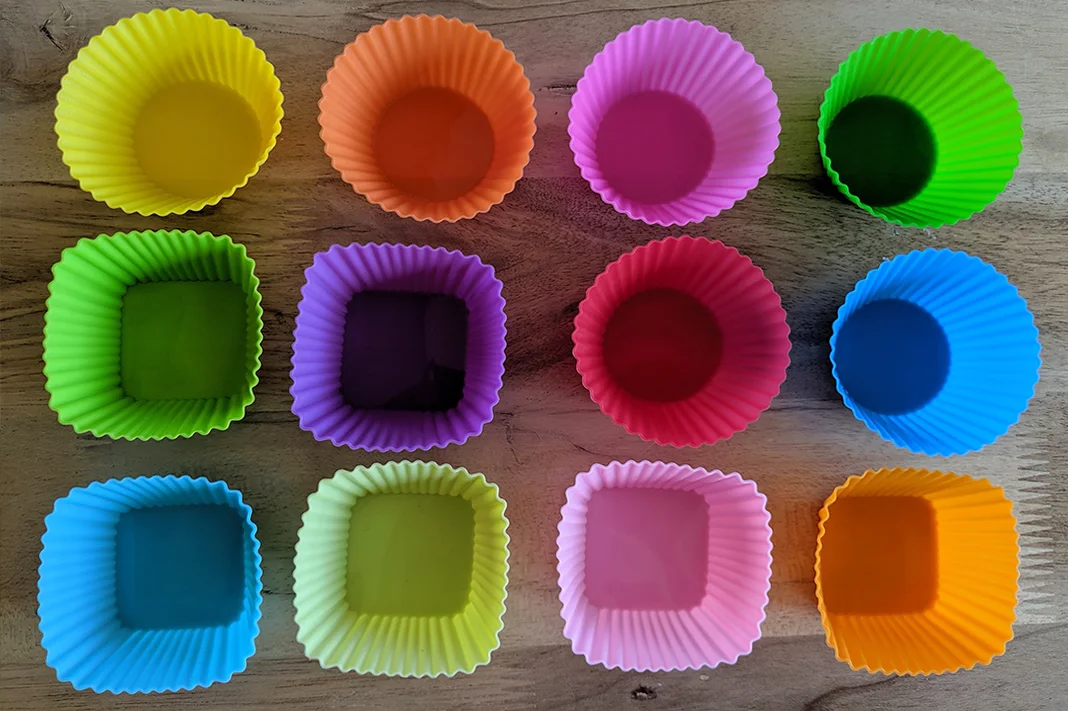 #11 Castile Soap
Castile soap is a great cleanser for just about anything. It also comes in unscented or a variety of scents. I've bought unscented castile soap and added some essential oils to create my own scented blends of hand and body soaps.
We buy Dr. Bronner's and bulk castile soap from a local grocery store. Many eco-friendly grocery stores and co-ops will have their generic branded Castile soaps that you can fill in your own containers.
Here are some popular uses for castile soap:
Dishwashing Liquid
Hand soap
Body Wash
Shampoo
You can buy castile soap on Amazon or through Fillgood. Use code SCHIMIGGY at Fillgood to save $10 off your first order of $30 or more.
#12 No Tox Life Dish Washing Block
No Tox Life makes a solid dishwashing soap. Just simply wet the bar and rub it against your reusable scrub or brush and wash all your dishes as you would normally.
Buy the No Tox Life dishwashing soap at Fillgood. Use code SCHIMIGGY to save $10 off your first order of $30 or more at Fillgood.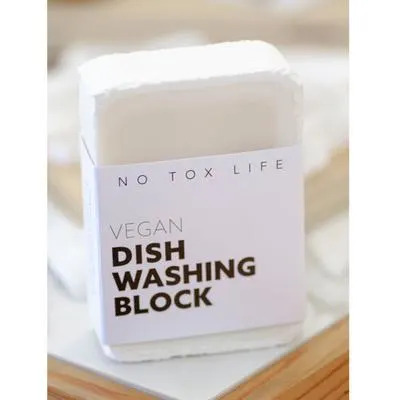 #13 Reusable Dishwashing Scrubs
SKOY scrubs are reusable and last forever. They come in pretty colorful and monochrome designs. Each package comes with two pads and will last for years! You can pretty much clean ANY surface with a SKOY scrub. I've used it on granite, tile, stainless steel, cast iron and even glass!
To wash the scrubs, just pop them into the top rack of your dishwasher and voila, just like new!
SKOY also makes a magnetic holder for the scrubs that allows the scrubs to hang dry inside your sink.
#14 Glassware
Mason jars and Pyrex glass containers are the norm in our home.
We use Pyrex glass containers to store raw meat that we get from the butcher and to store our leftovers and lunches. We also use mason jars for mixing, pickling, jams and more.
We also use glass beer cups to drink water and beer that we get in our Hydro Flask growler from the breweries.
#15 Cast Iron or Stainless Steel Pans
Many pans and pots are coated in chemicals. They slowly chip away and enter your food with regular use. Ditch them!
Instead, use cast iron or stainless steel pans that won't leak chemicals into your food.
We use stainless steel pots and pans on our induction oven. The induction oven also keeps our home cool and uses less energy than gas or electric stoves.
#16 Reusable Towels
SKOY makes reusable and super absorbent cloths. Just wet the cloths before use and wipe away stains from any surface.
To wash the cloths, throw them in the dishwasher and hang dry. To disinfect the towels, just pop them into the microwave for 45 seconds then hang dry.
Each towel is equivalent to 15 rolls of paper towels, however, I have been able to use them for way longer than the recommended usage. When you're ready to throw them out, cut it up and throw them into the compost because they are 100% biodegradable!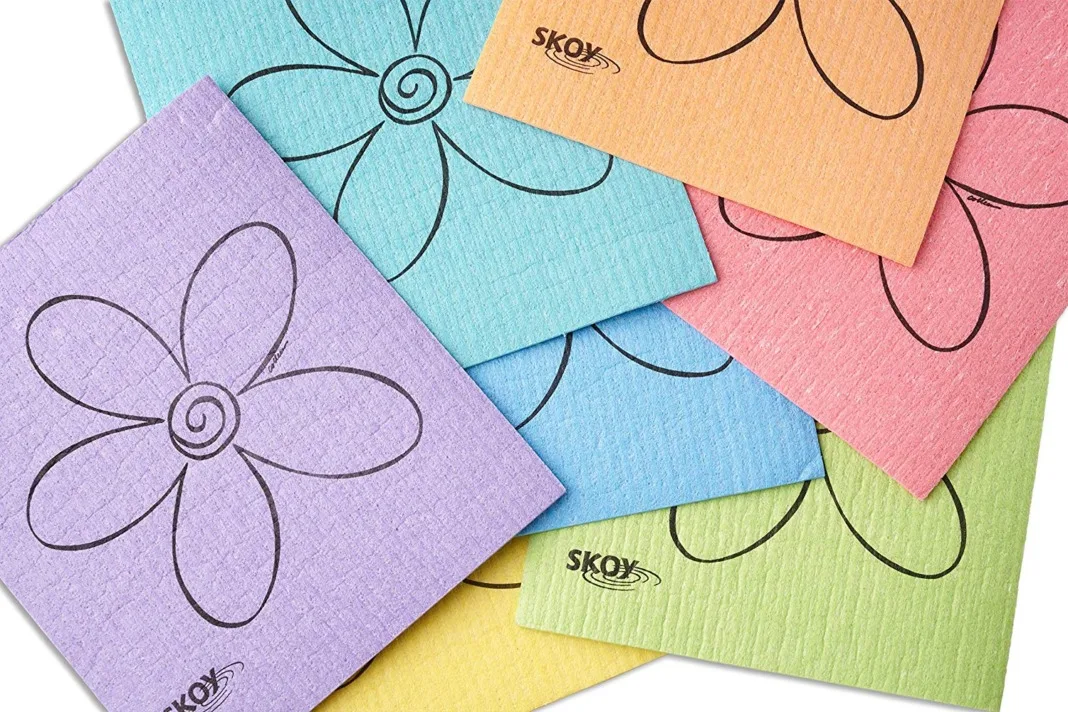 #17 Glass Spice Jars
Use these glass spice jars and buy your spices in bulk. Whole Foods has a great selection of bulk spices.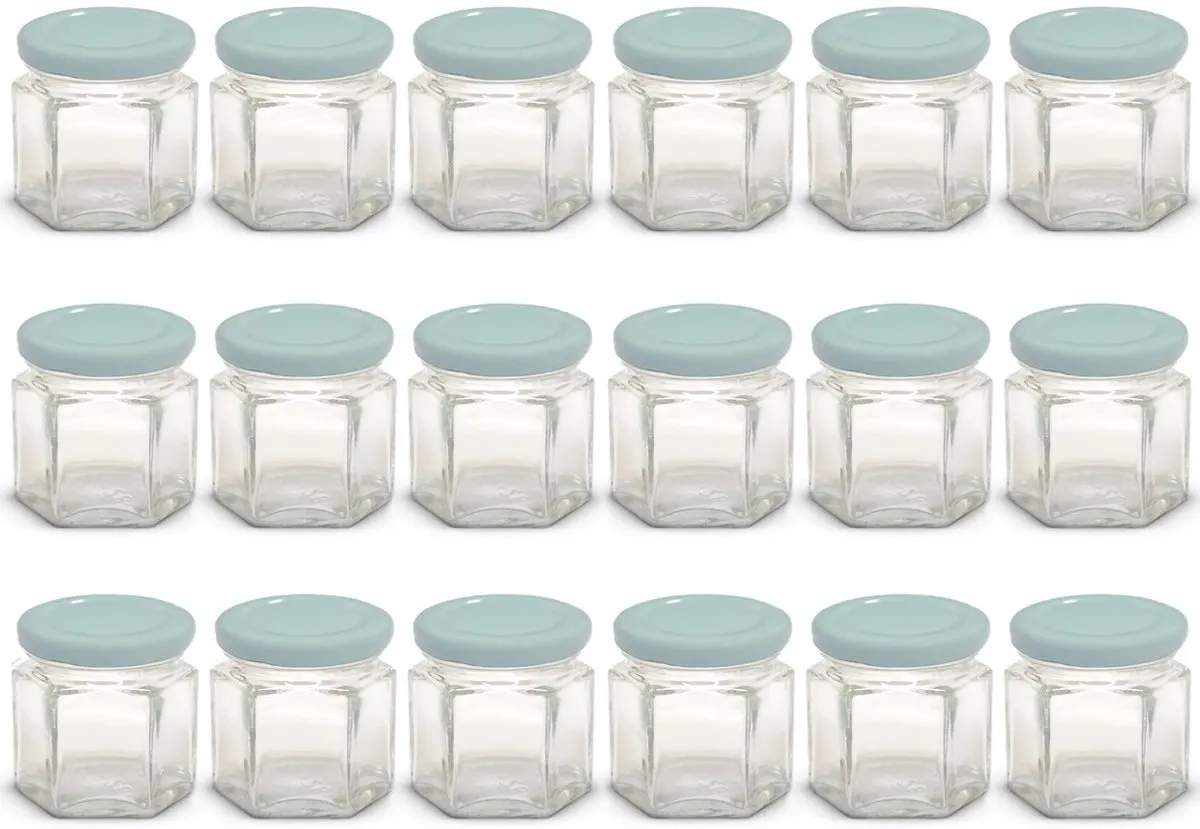 Hexagon Refillable Spice Jars
#18 Wooden Dish Washing Brush
To deep clean drinking bottles and pans, I like to use a wooden dishwashing brush. The wood is biodegradable and works amazingly well! I've had mine for over 4 years.
#19 Stainless Steel Ice Tray or Metal Ice Cubes
Ditch plastic ice cube trays for a levered metal variation or metal ice cubes that can be reused over and over again.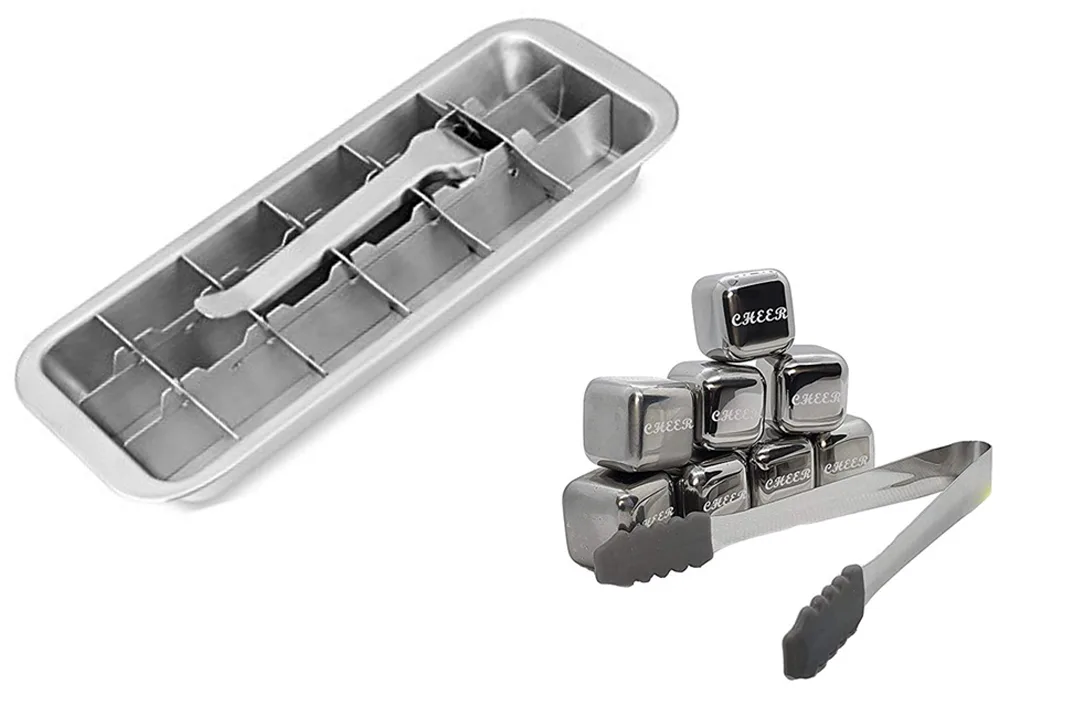 #20 Charcoal Water Filter
The Kishu charcoal stick is a great way to filter water in your own container. I place a Kishu stick in my water bottle, fill it with water from the skin and voila, I've got potable H2O. The Kishu stick is especially helpful for when I am traveling to places where the water is not as clean such as India and Vietnam.
Pro Tip: Wash your Kishu stick after every use and replace your stick every 4 months. The Kishu stick also comes in different sizes for different sized containers.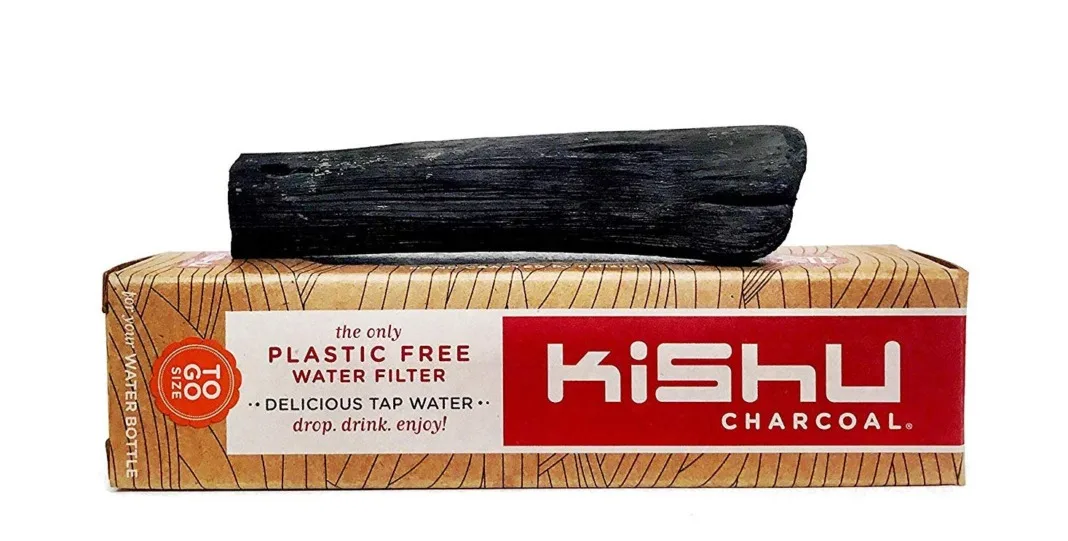 #21 French Press or Blue Bottle
If you love coffee, consider making your coffee in a French press. It's made of glass and steel and plastic free. If you don't mind reusable plastic, you can opt for the Aeropress.
If you're a cold brew lover (like me!), opt for a Blue (or brown) Bottle. Steep your cold brew in the bottle for 8 hours and voila, you got enough coffee for 3-5 days. It was such a big hit in my office that we had to purchase another one. We end up saving a lot of money in the long run too!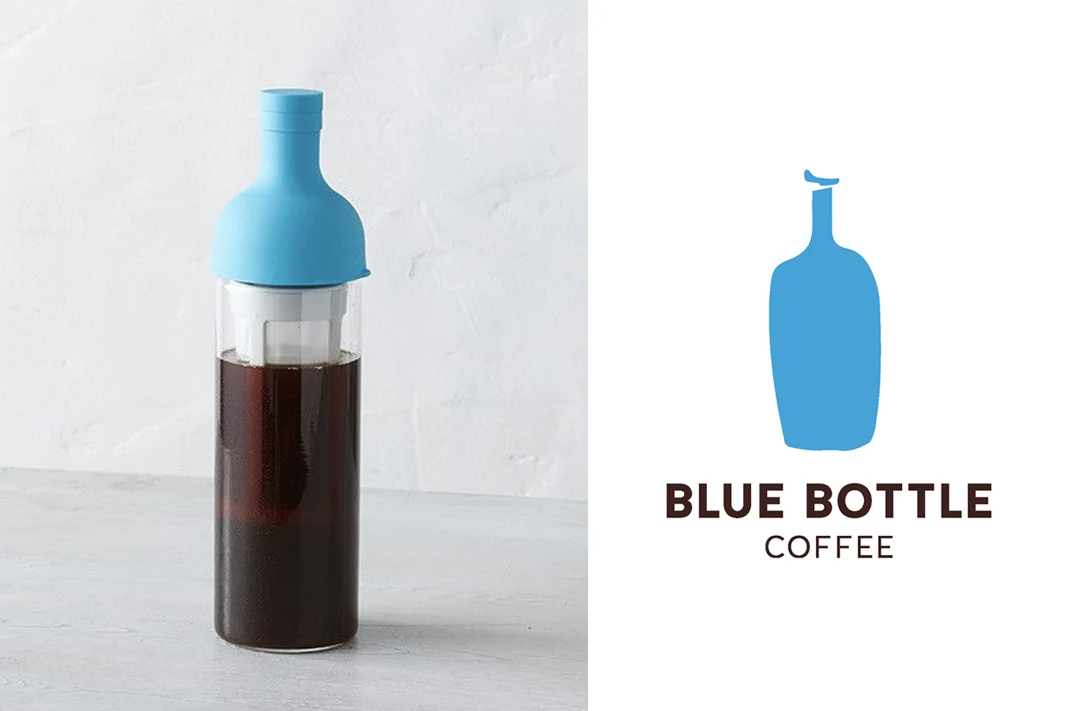 #22 Compost Bin
If you live in the city (in small unit) and can't have your own worm decomposer, you can still separate your compost. We use a metal compost bin in our home to collect food scraps. Our compost is then taken to a bigger worm farm and composted there.
We made sure we could easily wash our compost bin because it does tend to get icky. We also wanted one that did not require the use of bags. Here's the one we use by Abakoo. It looks sleek and attractive on our countertop too!
#23 Silicone Baking Mat
This is a great alternative to using parchment paper or aluminum. The silicone baking mat is reusable and can even be washed in the dishwasher. The same mat is made in a slew of shapes and sizes, including one for pizza!
#24 Metal Skewers for BBQ
If you love to BBQ (like we do), metal skewers are a must. The alternative is to use bamboo skewers, but even then, those are still creating some waste and cannot be reused.
Pro Tip: Use your metal skewers to make s'mores and fruit kababs too!

#25 Reusable Trash Bags
Planet Wise makes reusable pail liners in various sizes. You can throw the pail liners in the washer to clean them and they're leakproof. Say goodbye to plastic trash bags!
If you need to donate your plastic bags, contact your local grocery store and inquire if they have plastic bag receptacles.
#26 Dishwasher Soap Tablets
Ecover Automatic Dishwasher Soap Tablets are fragrance-free and come in a compostable cardboard box. The formula itself is biodegradable and phosphate-free.
#27 Stainless Steel Containers
You can get stainless steel containers in a variety of sizes and shapes! Stainless steel containers are a great alternative for people who want to avoid plastics leaking into their foods. We replaced all our plastic Tupperware with stainless steel containers.
Stainless steel containers come with a snap-on lid, steel caps, or silcone lids. These metal tins are often referred to as tiffins.
Pro Tip: When buying meat at the butcher, opt to carry your meat in a steel container instead of buying the plastic and styrofoam wrapped meats.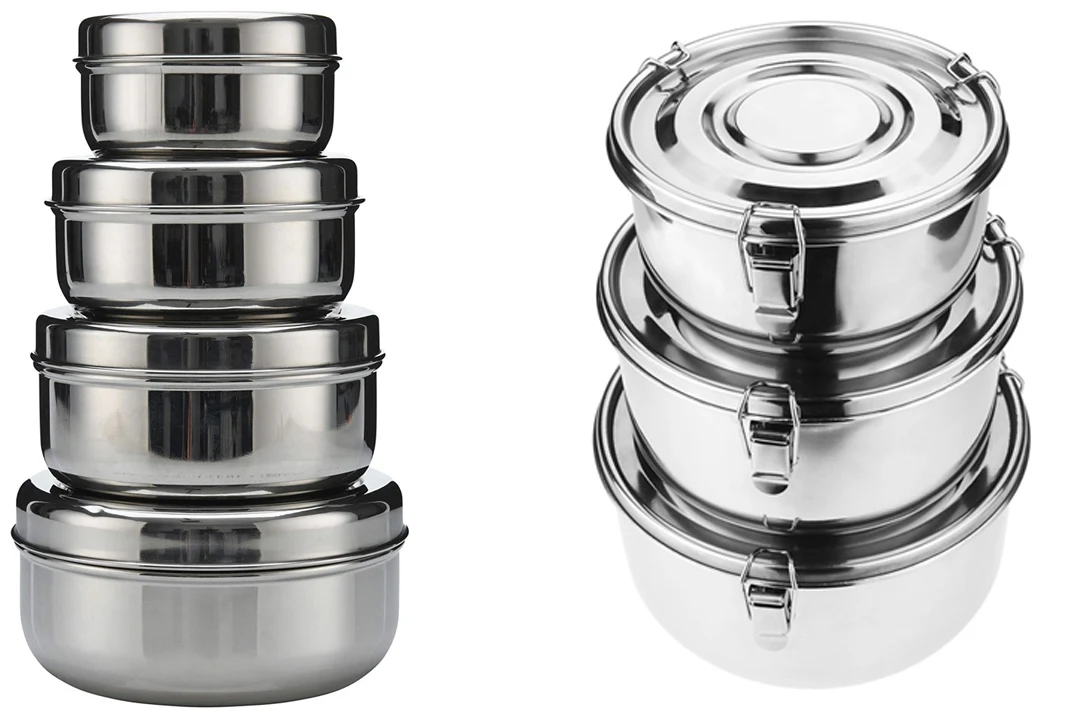 #28 Bamboo Plateware
Opt for plate ware made from bamboo. The products are entirely compostable and dishwasher friendly.
Bamboozle makes an assortment of bamboo plates and bowls in various colors and sizes. We especially love their nesting bowls.
You'll want to avoid microwaving your bamboo goods!
#29 Ugly Fruits and Veggies
Imperfect Produce is a great alternative to shopping at grocery stores. The produce box is delivered straight to your home and in little to no plastic packaging. You have the option of choosing produce not wrapped in plastic.
Use code RAF501 to get $10 off your first box at Imperfect Produce.
Zero Waste Alternatives for the Bathroom
#1 Epilator
I've been using an epilator for over 10 years! An epilator is an electric barrel of tweezers that spins to remove hairs from the follicle. Just plug it in, turn it on and brush it against your skin. The epilator will quickly extract hair from the follicle, leaving you hairless for longer. I recommend using a corded epilator or a rechargeable one.
Epilators might hurt at first, but you'll get used to it the more you use it. I can't ever imagine going back to razors.
We recommend epilators by Epilady.
Pro Tip: When epilating, sit on a towel and run the epilator multiple times over an area until the hair is gone. Hair will typically grow back 3-4 weeks later! To prevent ingrown hairs, use a loofah to or sugar scrub to exfoliate dead skin cells. Dead skin can trap hair and cause ingrown hairs.
If you're not keen on using an epilator, consider a safety razor. You will need to buy replacement blades, but it's more eco-friendly than disposable plastic razors.
Related: Epilator Guide: Zero Waste Hair Removal
#2 Curettes or LastSwab
Have you ever seen the image of a seahorse clinging to a q-tip in the ocean? That's when I decided to ditch plastic q-tips forever.
You can opt for paper q-tips and for a more sustainable option, consider using a curette or Last Swab. Curettes should be used with caution as they can scrape the surface of your skin.
Last Swab is an awesome company creating a single swab that should last you 15 years.
Another great solution is the Be Bird ear wax cleaning tool. This tool syncs with your mobile phone and has a camera that will show you what your ear looks like from the inside so that you can clean it thoroughly. We recommend the N3 as it comes with 3 tools and a charging dock.
#3 Shampoo, Condition and Body Wash Bars
I'll take body care bars over liquids anytime. Bars are typically wrapped in paper or compostable packaging and made with all-natural ingredients.
Some bars contain sulfates (SLS or SCS). If you're sensitive to both, we recommend going with non-toxic and sulfate-free bars.
Here are some brands we recommend:
Related: Non-Toxic and Sulfate Free Shampoo Bars
#4 Toothpaste Powder and Tablets
Where do your toothpaste tubes go after you're done with them? INTO THE LANDFILLS. Good thing there are alternatives like toothpaste powder or tablets.
Just pop them in your mouth, add some water and brush your teeth with a bamboo toothbrush. Below are the toothpaste types and brands we recommend.
Toothpaste Powder
Toothpaste Tablets
Pro Tip: If you have mason jars lying around at home, I recommend buying powder or tablet refills and just storing them in containers you already own.
I've also read people recommend brushing with soap. I licked my soap one day and was like NO WAY. Gag! More power to you if this is your jam.
Some people even brush with just water. The agitation of the brush should be enough to clean your teeth. Have you tried this method?
#5 Bamboo Bandaids
Bamboo bandaids are made from bamboo fibers and are 100% compostable and non-toxic. They're a plastic-free alternative to regular Band-Aids.
#6 Hand Washing Solution
If you're not one to use soap bars, you can mix 1/4 castile soap and 3/4 water into a soap dispenser, shake it up and use the solution to clean your hands. Add the water prior to adding the castile soap. When adding castile soap, do it slowly so that it doesn't foam up and get all over the place.
#7 Menstrual Cup or Reusable Pads or Period Underwear
We have an entire article related to this topic. Read it.
Our favorite products are the DivaCup menstrual cup and period underwear by Dear Kate.
#8 Bamboo or Recycled Toilet Paper
We use Who Gives a Crap 100% recycled toilet paper. 50% of profits also go towards building toilets in low-income communities.
Opt for 100% bamboo if you want the premium stuff.
The packaging is made from pretty recycled paper, and can be reused for gift wrapping paper too!
If you're up for it, consider getting a bidet. A bidet will shoot a stream up towards your crotch and behind and clean it using just water. It's a great way to clean without using toilet paper at all.
You should look into getting a bidet attachment like a Brondell, TUSHY, or OMIGO bidet.
I would also recommend showering afterward so that you feel extra clean!
Related: TUSHY Review | Get a Bidet and Wash Your Butt Clean
#9 Water Pik or Dental Lace
Many tooth flosses contain plastic which also includes the case that holds the lace. As many as 700 million plastic floss containers are discarded each year. Good thing there are multiple solutions to keep the space between your teeth clean.
We recommend using a rechargeable waterpik by Poseidon as a tooth floss replacement. I use my waterpik in the shower and refill the water reservoir twice with each use. It is a game changer!
Rechargeable Waterpik by Poseidon
If you prefer to use floss, we recommend Eco-Dent or Dental Lace.
Eco Dent is 100% vegan, plastic free and comes in a bio-degradable paper packaging.
Dental Lace comes in a glass tube and replacement floss can be purchased to refill your container. Dental Lace is 100% silk lace gathered from silkworms. Sorry vegans!
#10 Deodorant Stone or Make Your Own!
I use an alum stone deodorant to keep my pits from stinking. The stone comes in a block or sphere. Just wet the stone and rub it across your armpit for 15-20 seconds per armpit. You may sweat throughout the day, but you won't stink.
You can also consider making your own. In a small 4 oz. mason jar, mix the following ingredient using a wooden spoon:
#11 Natural Bath Sponge
Loofahs are all-natural and can be used as bath sponges. An alternative is to use a cotton towel to wash your body. I love exfoliating so I am team loofah all the way.
Buy loofahs on Amazon or at Fillgood. Use code SCHIMIGGY to get $10 off your first order of $30+ at Fillgood.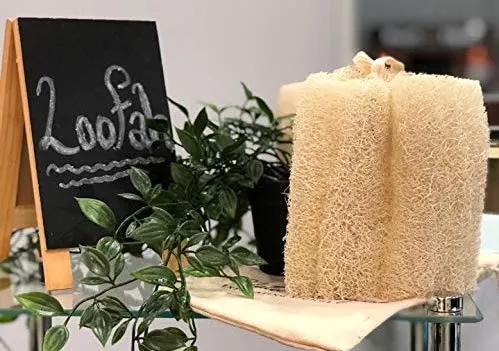 #12 Facial Rounds
You can either make your own or buy them. Reusable facial rounds are made with cotton or bamboo fabric.
To make your own, just cut up small circles or squares and sew the edges together by hand or with a sewing machine.
To wash them, just throw them into the washer with your regular laundry and tumble dry on low. They'll come out just like new!
Unwrapped Life makes bamboo rounds in black so that they'll never look "dirty!"
Save 15% off at Unwrapped Life when you use this link.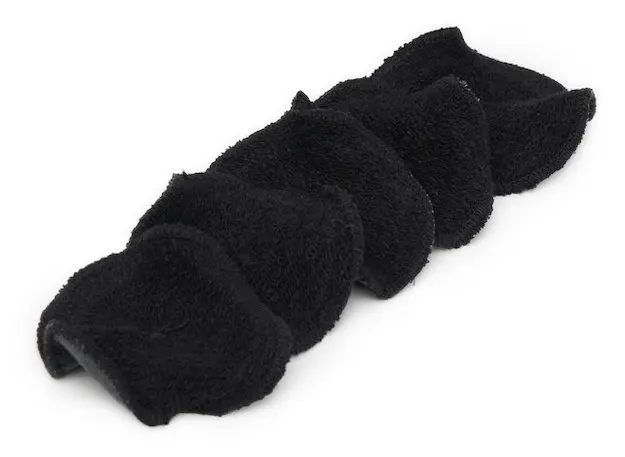 #13 Organic Plastic-Free Hair Ties
These organic Kooshoo hair ties are so cool! They come in natural and neutral colors and do not break easily.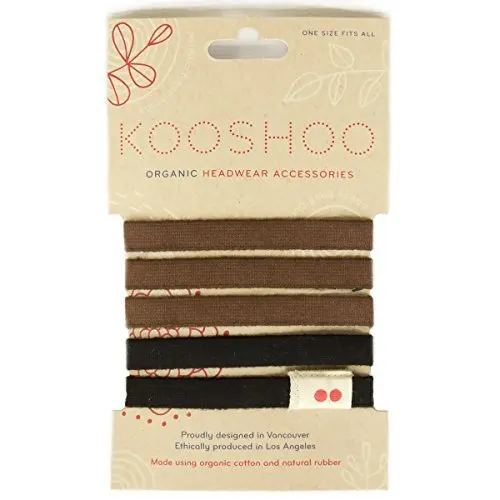 #14 Mouthwash Tablets
Mouthwash tablets are a space saver! These little potent tablets are easy to use. Just pop a tablet into your mouth, take a sip of water and dissolve it in your mouth for 30 seconds and up to a minute.
I use mouthwash tablets by Humankind. They send their tablets sans plastic container if you have your own jar to refill. Otherwise, you have the option to purchase a refillable container directly from by Humankind.
#15 Refillable Shampoo and Conditioner
Another great option if a shampoo bar isn't your jam, or you really enjoy a liquid shampoo and conditioner, Plaine Products shampoo and conditioner are an amazing option. They use the highest quality ingredients in their products, they smell amazing, but the coolest part is that they come in 100% recyclable aluminum bottles, and they're also refillable!
You send back your empty bottles and they refill them for you. It's an amazing closed-loop system that helps eliminate unnecessary waste from common hair care products.
Use code TRYIT to get 40% off your first order of Plein Products.
#16 Coconut Oil as Moisturizer
Coconut oil is a lifesaver. I use it to tame my dry and frizzy hair. I also use it to prevent seasonal eczema. I have a huge bucket that has lasted me years. I scoop a little out using a spoon, emulsify it in the palm of my hands and apply it throughout my body immediately after I shower.
I also have psoriasis on my scalp and massaging coconut oil into my hair prevents irritation, flare-ups and removes psoriasis scales.
And lastly, I wanted to disclose that my skin is super super super dry. Coconut oil may work for many but not everyone. Test it out before you commit to a bulk order.
Zero Waste Alternatives for the Laundry Room
#1 Soapberries Laundry Detergent
Also known as eco-nuts or soap nuts, soapberries are an all-natural way to clean your laundry. Just place the soapberries in a cotton drawstring bag and pop them into the washing machine along with your clothing. Agitation from the water will create suds and begin to wash your laundry.
Soapberries are dried and de-seeded from plants that grow in the Himalayas. The soapberries also act as a natural fabric softener. It's a 2-in-1 laundry solution!
#2 All-Natural Laundry Detergent
We use Stoneworks all-natural laundry detergent. The dryer sheets, box and bag are all compostable. This makes me super happy because detergent can be harmful to the environment and your family. Most detergent packaging is typically plastic and not reusable due to the chemicals.
Stoneworks makes their laundry detergent in natural scented pods that include; Olive Leaf, Rose Petal, Birch Branch, Rain and Oak Tree.
Order one of their sample packs to find a scent you'll love!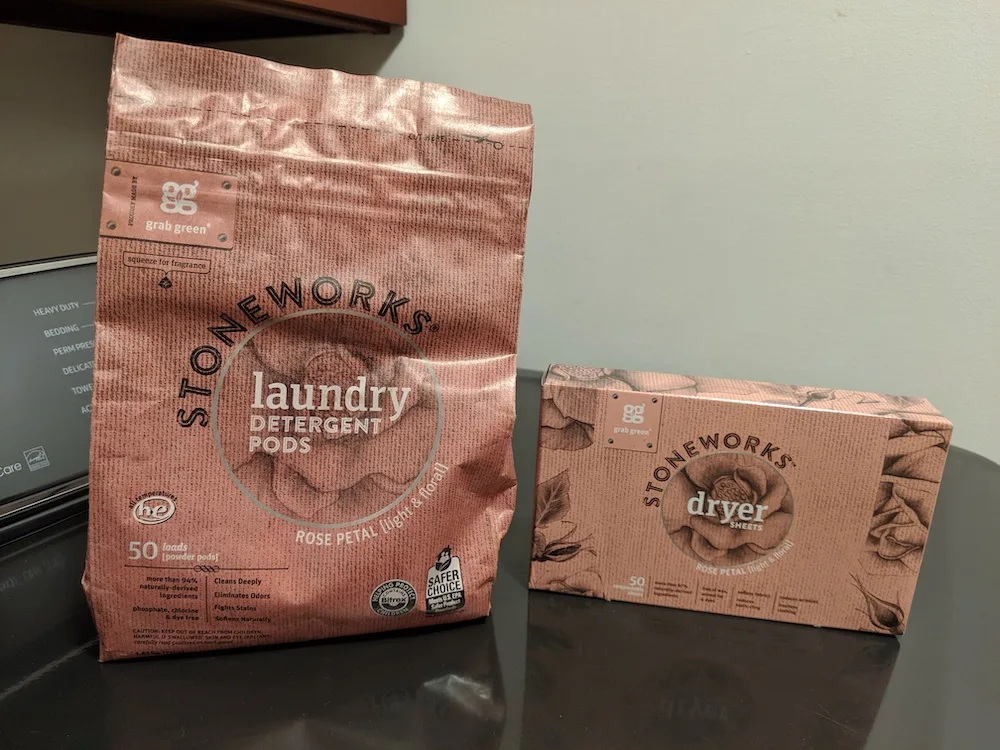 #3 Laundry Strips by Tru Earth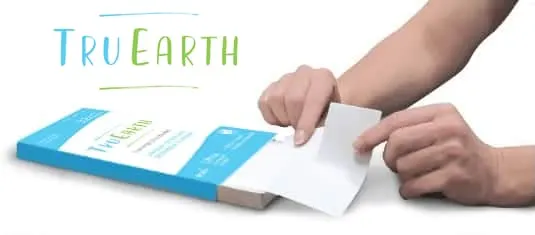 Tru Earth makes laundry strips that are safe for your family and dissolve in each wash. It comes in a cardboard envelope that is totally recyclable.
#4 Felt Dryer Balls
Dryer balls cut drying time and prevent static. Opt for sustainable dryer balls made from sheep wool. Add a few drops of your favorite essential oils into the balls to give your clothing a nice fresh scent.
#4 Microfiber Filter
If you love wearing yoga pants (like me!), you might know that they also leak microplastics into the ocean with each wash. Fish consume these plastics and if you eat fish, you'll eventually end up eating these microplastics. Yuck!
Girlfriend Collective sells a microfiber filter ($45) that you can easily attach (and detach) to your washing machine. It captures all microplastics before they enter the ocean.
Another alternative to preventing microplastic leaks is to use Guppy Friend laundry bag. It collects 90% of the microplastics produced by synthetic fibers. 90% is better than 0%.
Zero Waste Alternatives for Cleaning
#1 Vinegar All-Purpose Cleanser
Vinegar cleanser is super easy to make and lasts a long time.
In a glass spray bottle, add 1/2 amounts of water and 1/2 distilled vinegar. Shake it to mix it well and clean all the surfaces to your heart's desire. No, we really mean it. Use the mixture to clean your counters, toilet, bathtub, etc.
You can also add 15-20 drops of organic essential oils for a refreshing scent.
Pro Tip: Always use reusable and washable towels when cleaning your home. Designate a towel basket in your home. Towels can also be made with old shirts and sheets.
#2 Castile Soap or Dissolvable Pods to Clean Your Toilet
Simply add 1/6 cup of castile soap into your toilet bowl and use a toilet brush to lather and clean. Leave the suds in there for 5-10 minutes and then flush. Easy peezy! Repeat it bi-weekly.
Pro Tip: Never mix castile soap and vinegar, as vinegar will de-saponify (or return castile soap to its original form) and render the cleanser useless.
Fillgood sells toilet bombs by LA Miss Apple that dissolve and clean your toilet. You can store the toilet bombs in a mason jar and get plastic-free refills when you need them.
Use code SCHIMIGGY to save $10 off your first purchase of $30 at Fillgood.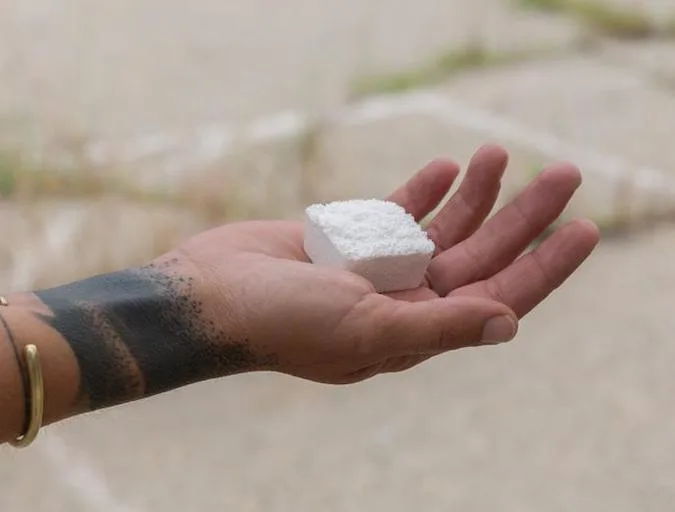 #3 Sal Suds to Clean Your Floors
You can mop almost any type of floor with a solution of 1/4 cup liquid Sal Suds soap and 2 gallons warm water. If the floors are greasy, mop the floor using 2 cups vinegar and 2 gallons of water cleanser to break down the oils.
We use a self-wringing mop and make cleansing solutions in our plugged sink. No bucket needed!
#4 Truman's Starter Kit ($22)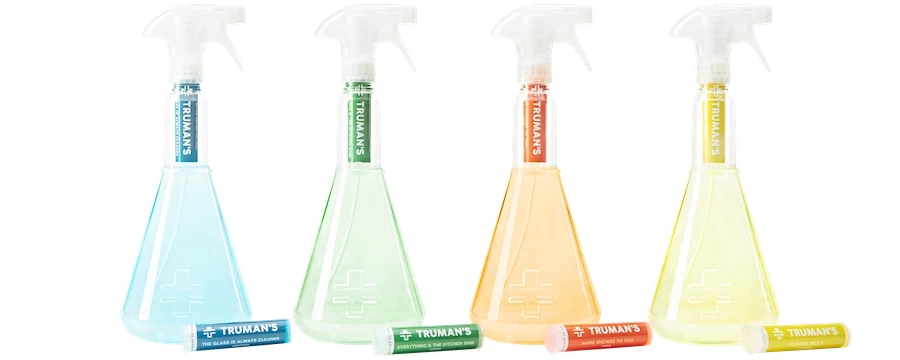 Truman's makes non-toxic cleaning solutions for your home. Bottles and tubes of cleanser are sent to your home. Just add water to the solution to create a low waste cleanser. Keep the bottles and refill them with water and the cleaning solution when you're out.
Use our link to get 50% off your Truman's starter kit ($22).
Zero Waste Alternatives for Tech
Tech is probably the most wasteful of all the departments in our home. We go through countless cables, phones, etc. Here are products that can curtail your use of single-use plastics and more.
#1 Phone Cases
Pela Case is the world's first biodegradable, non-plastic, 100% compostable phone case…how cool is that? Not only is it eco-friendly, it is also one of the best phone cases I've ever had and comes in cute designs too.
#2 Read E-Books
Read books from your Kindle or phone. I download books to read on planes and while on vacation.
Zero Waste Tips
Going Zero Waste is a conscious decision you'll have to make. Here are some tips to help you start and continue your zero waste life.
#1 Shop Your Home First. Then Buy Used…When You Can
Shop your home first and then always consider buying used before you buy new. Oftentimes you can find what you need in your home.
#2 Learn how to Search for Zero Waste Products
Tips for finding more Zero Waste Products
Type in the name of the product you are looking for into the search bar (ie. toothbrush, comb, shampoo, body wash, etc.)
And then add one of the following words into your search:

zero waste
natural
biodegradable
compostable
organic
eco
eco-friendly
plastic-free
recyclable
Read through all the reviews prior to buying. Oftentimes if something is a good deal, doesn't always mean it's the best quality.
We also recommend searching blogs for reviews. Bloggers vouch for products that they love. It's the main reason why most bloggers blog!
#3 Buy From Sustainable Brands
Follow companies such as B Corporation, Healthy Seas and Repreve and support the brands they work with to create a more sustainable future.
These companies work with big brand name retailers to create eco-friendly products made from truly recycled materials. You'll recognize brands such as Patagonia, Vitamin A, Girlfriend Collective and more.
#4 Shop at Bulk Stores
Many of the products on this list, especially consumables, can be purchased at stores that specialize in zero waste products.
We also recommend that you use the containers that you currently have laying around the home.
Here are some bulk and zero waste stores we recommend:
CleanCult sends products in recyclable paper milk cartons! They operate on a subscription model in increments of 2 or 3 months. You can skip your subscription anytime.
Common Good – Offers refillable stations and fully recyclable refill options. Use this link for 20% off your first order.
Fillgood -. Based in SF with bulk stores you can visit. They also ship direct tor you home. First-time customers can save $10 with this link.
Life Without Plastic is an online store that offers a wide variety of zero waste goods.
Package Free shop ships zero waste products directly to your home. Use this link to get $10 off your first purchase.
Refill Revolution sells bulk refills and raw materials so that you can make your own products.
#5 Don't Throw Things Away!
Consider donating things to your local thrift store or joining a Buy Nothing Facebook group and offering your items to your neighbors. You never know what you have might be what someone else needs. I've given away some weird stuff before, such as a bundle of single socks and very very used bras.
Remember that someone's trash may be another person's treasure!
Find a Buy Nothing Facebook group by searching "Buy Nothing [YOUR CITY]" in the search bar on Facebook.com. You can only join the Buy Nothing group in the city in which you live. Admins will typically ask for your address or cross streets and coordinate membership with Admins in other nearby cities.
Zero Waste Books
Aside from this blog post, if you want to delve deeper into a sustainable home, we recommend getting books (electronic or not) to help you on your zero waste journey.
Here are books about zero waste that you should definitely check out.
Ready to start your zero waste journey? We hope this post helped you find creative ways to reduce and eventually eliminate the use of single-use plastics. If you have any tips for us, we'd love to hear them! Leave your tips and questions in the comments section below.
If you liked this post, please share it on Pinterest!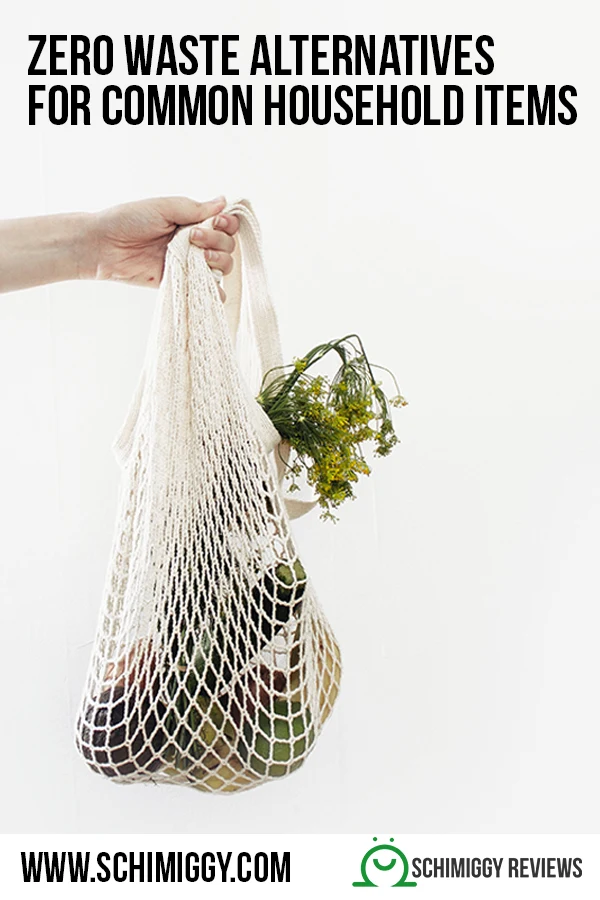 Thank you for visiting today! If you found this encouraging or informative, please connect with us on Instagram or TikTok.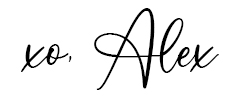 Sign up for our monthly newsletter for updates and more. We promise we won't spam you! Feel free to unsubscribe anytime.
If you're a brand and want to work with us, please visit this page to get in touch.