Reading Time:
4
minutes

About TUSHY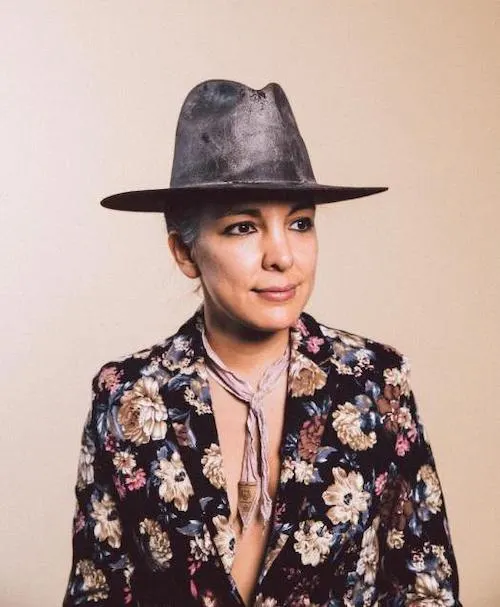 TUSHY was founded by Miki Agrawal in 2015. Prior to TUSHY, Miki co-founded THINX, a period underwear brand that eliminates the need for single use period products.
She continues her sustainable entrepreneurship with TUSHY and now makes a living helping keep butts clean all over the world.
In a single week, your TUSHY will use 1.3 gallons of water to clean your behind. Compared to the 55.5 gallons that you'll consume when using toilet paper. This comes from the amount of water required to create a toilet paper roll.
With TUSHY, you'll be able to keep your behind squeaky clean while keeping pachamama happy.
Let's delve into our review!
TUSHY Review
I received a TUSHY kit which included one (1) Classic bidet, one (1) set of five bamboo towels, two (2) bamboo toilet paper rolls and one (1) portable TUSHY travel bidet!
The TUSHY was very easy to install. It took us maybe 14 minutes total to install and we were cleaning our tushies within an hour of installation.
We used the 100% sustainable and unbleached bamboo toilet paper to dry our bums and only had to use 3 sheets instead of the usual 6-8 that we typically use.
Eventually, we ran out of TP and ended up using the bamboo towels which were super soft. I used my towels about 3-4 times before throwing it in the hamper.
After using the bidet, we could find no trace of poop on our bums. It does take about 15-20 seconds for a thorough cleanse. Afterward, we just used towels to wipe dry and go about our day.
What I was REALLY stoked about was the hot pink portable bidet. The travel bidet is collapsible and comes with a carabiner and drawstring bag for storage. When it's not on my tush, it doubles as a water bottle…because why not? And it's BPA free.
After this review, my life changed and the bidet-bilities were endless.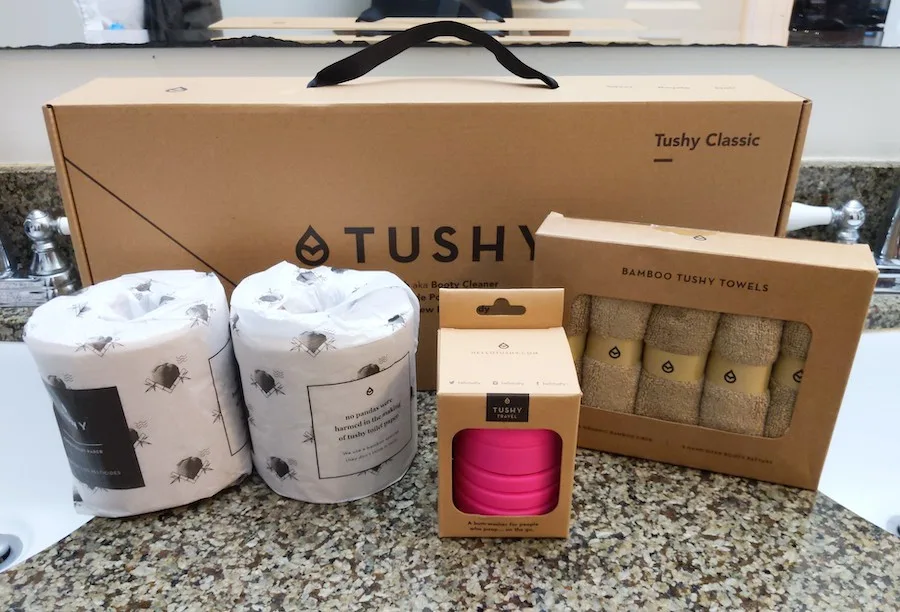 Tushy Pros and Cons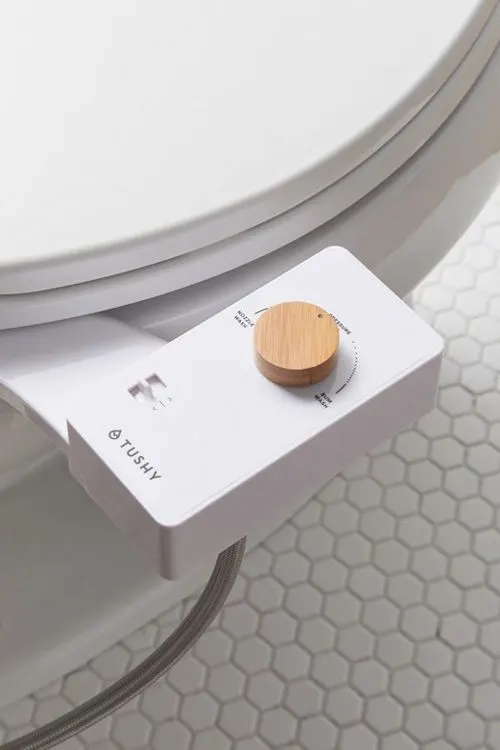 So have we convinced you yet? Here are more details to help you decide.
Pros – Bidet with Benefits

Fast and easy to install. Takes no more than 10 minutes.
It does not require electricity. Clean your tush without using any energy.
Less waste. You use less, or sometimes even no toilet paper, thus you create less waste. The only waste you have is coming from your butt.
Great for that time of the month ladies. Sometimes wiping just doesn't doo. Give your hoohah a good wash and stay super clean.
Very affordable! The cheapest model is only $99! The long-term benefit of a bidet also means that you save money from toilet paper and water you would have used.
It comes in different models for different butts.

Classic TUSHY ($69-$79) – Cheapest and gets the job done. Comes with one temperature setting and different pressures.
TUSHY Spa ($99) – Most popular model with different pressures and temperature options.
Derrier Collection ($89-$109) – The derrier collection comes with metal knobs for your fancy @$$ tush.

Comes with a nozzle adjuster so that you can feel clean from front to back.
Choose from different color buttons and bidets. You can swap out buttons to different colors. You can also buy the bidet in blue, pink, white or black. Some styles are limited to a white bidet.
60 Day Risk-Free Trial – Don't like it? Send it back.
Free shipping on all orders.
Get free merch when you shop often. Shop now!>>
The TUSHY gives back when you clean your butt. Each bidet purchase will help provide clean community toilets built by Samagra in India.
Cons
The bidet is entirely made of plastic. It's not the most sustainable but at least it's not single use.
Prices are going up! When I first researched TUSHY, it was only $69. Now it's up to $79. Buy it ASAP before the next price increase.
Should I Buy a TUSHY?
YES! What are you waiting for? A TUSHY will revolutionize how you clean your nether regions. It's definitely changed ours and made us wonder why we had not done this sooner.
A bidet is not only more sanitary, but it's also cheaper and more environmentally friendly. That's a no-brainer. Investing in a temperature controlled bidet will also make the experience better.
Where to Buy TUSHY
Ready for a TUSHY takeover? JOIN US!
You can buy one of their awesome bidets online. Use this link to save $5 off your orders. Enjoy FREE shipping too!
If you have an Amazon Prime account, you can also buy the TUSHY on Amazon and get free shipping. Shop now.>>
Here's a video on how to install a TUSHY bidet. It's so easy!
We received these products to test out on Schimiggy Reviews. As always, all thoughts and opinions are 100% honest and our own.
Thank you for visiting today! If you found this encouraging or informative, please connect with us on Instagram or TikTok.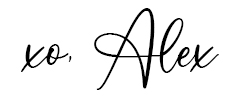 Sign up for our monthly newsletter for updates and more. We promise we won't spam you! Feel free to unsubscribe anytime.
If you're a brand and want to work with us, please visit this page to get in touch.