Reading Time:
8
minutes
It's important that we should consider alternatives to single use pads and tampons for the sake of our environment.
The average woman will throw away between 10,000-15,000 pads and tampons in her life. That equates to over 300 lbs of waste! Plastic products typically require about 500-800 years to decompose, which means they will exist for generations after ours.
Here is a short history of how disposable pads and tampons entered the market:
In 1888, the first disposable pads were invented. These were known as Lister's Towels and were developed by Johnson & Johnson. Around the same time, women started using wood pulp bandages found in hospitals as disposable pads. It was a highly absorbent material generally used to bandage wounded soldiers, so it was cheap and worked well for menstrual flow. Eventually, this same material was used in the first Kotex pads.
Then in 1929, the first tampon was invented by Dr. Earle Haas. He developed a plug of cotton inserted using two cardboard tubes, removed with a cord that extended outside the vagina. He got the idea from a friend of his who would tuck a sponge inside her vagina to absorb menstrual blood.
In the 1970s, pads became self-adhesive and could attach to women's underwear. This also meant they were made of plastics.
Resource: The History of Periods
So What Are Our Alternatives?
Many of these alternatives to single-use pads and tampons have existed long before women began having their periods. Women used fabrics (hence the term "rag"), paper, wood and more to collect their periods.
I've ditched single-use sanitary products when I first found out about the Diva Cup. This was back in 2014.
Related: DivaCup Review – Is It Worth It?
In today's market, we are seeing the devastating effects of single-use plastics and how they are destroying our Earth and especially our marine life.
Here is our list of menstrual products you can use to ditch the need for single-use pads and tampons.
Alternatives to Single Use Pads and Tampons
#1 Menstrual Cups
A menstrual cup is a little funnel-shaped container with a tail on the end that's used to remove the cup, similar to a tampon string. The cup is folded and then inserted into the vagina to catch the flow from your period.
Menstrual cups can be made out of either latex or silicone. Depending on the brand and materials, you can use the same one from 3 to 10 years. The longer, the better.
How to Use:
After washing your hands, fold the cup in half (it's flexible) with your pointer and thumb fingers and insert it into your vaginal canal.
Relax your vaginal muscles as you push the cup up into the canal.
Once the cup is inserted, release the cup. It will cause a suction sound and feeling, which is a good thing! The suction will prevent blood from flowing out of your cup.
Pinching the base of the cup, gently turn the cup 1-2 full rotations to get it settled in your vagina.
To remove, sit comfortably on the toilet and pinch the base of the cup.
Begin to gently pull the cup out and dump its contents into the toilet.
If your cycle is not over, rinse out the cup or wipe it with toilet paper before reinserting it. You can wash it with soap but I've found that to be not necessary.
How to Wash:
When your period is over, wash the cup with gentle soap. You can also boil the cup for 5 minutes.
Dry the cup with a towel and place the cup back in its pouch or container.
Once you understand how to insert and use a menstrual cup, you'll appreciate the freedom and cost-efficacy of a cup. Unlike a tampon, which needs to be changed regularly, you can leave in the cup for longer periods of time. I've often left my cup in for over 1/2 a day!
Recommended Products:
#2 Reusable Pads
A reusable pad is very similar to a disposable one. They offer the same shapes as disposable ones and are made with cotton, fleece or canvas. They can be used for periods, during the post-partum healing process and for incontinence.
How to Use:
Place the reusable pad with the pretty pattern side visible.
Instead of adhesive strips, reusable pads stay in place with snap buttons or velcro. Snap them into your underwear.
Wear them for 3-6 hours. I've found that each pad holds 2-3 oz of blood.
How to Wash:
Rinse the blood from the pads in your sink.
You can wash by hand with gentle soap or machine wash with like fabrics.
If hand-washed, wring out excess water.
Air dry your pads on a towel.
Recommended Products:
#3 Period Underwear
Period underwear allows your period to collect directly into the underwear lining. No pads, tampons, cups, nada! Buy a few pairs so that you can swap them out throughout your cycle.
I recommend starting with 3 pairs. Thongs usually hold 1 oz while fuller coverage styles can hold up to 3 oz per panty.
How to use:
Wear your period thong, bikini brief, boy short, or hipster as you would normally.
Depending on your cycle, you can wear it up to an entire day. On heavier days, use the panties as a backup while wearing a tampon or menstrual cup.
Change your underwear at night. I recommend doing so after dinner and before bed.
How to Wash:
Handwash your underwear immediately after use.
Wring out excess water.
Place your panties on a drying rack or over a towel and allow it to air-dry overnight. The panties should dry within half a day.
Recommended Products:
#4 Reusable Tampons
You can buy these reusable knit tampons on Etsy or make them yourself. DIY queens where y'all at?
The tampons can be different lengths so that you can alternate between your heaviest and lightest days. Heavy day reusable tampons will have a longer length.
How to use:
Roll the rectangle area into a tube shape.
Using your fingers, push the tampon up into your vaginal canal.
Each tampon holds up to 2 oz of blood.
How to Wash Your Reusable Tampons:
Unroll the tampon and run it under running water to remove the blood.
Use castile soap, or a gentle soap alternative, to clean the tampon.
Place the tampon on a towel to air dry.
Recommended Products:
Most reusable tampons are made by independent sellers on Etsy. Below are some styles we recommend.
Feelin' crafty? Try to
DIY your tampons

!
#5 Sea Sponge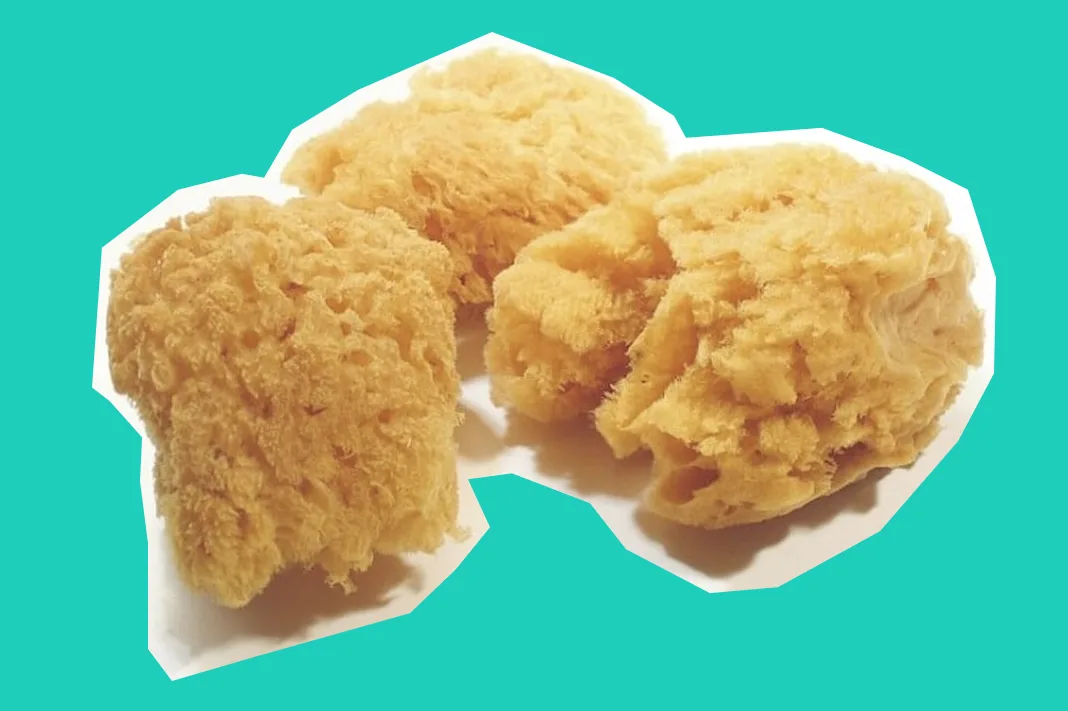 A sea sponge is another good alternative to traditional menstrual products. Sea sponges grow in the ocean, which means they're a natural resource, renewable and biodegradable. Just insert them into the vagina and let them absorb the flow. A single sponge lasts for about six months.
How to use:
First, using regular household scissors, cut the sponge into a comfortable size.
Then, with clean hands, insert the sponge into your vagina. If your flow is heavy, you may want to use a panty liner, too.
To remove the sponge, squeeze it between the thumb and forefinger and gently pull it out.
How to Wash:
Rinse out the sponge in cold water to remove blood.
Leave the sponge on a towel to dry. It should dry within half a day.
At the end of your cycle, boil the sponge for approximately ten minutes to sanitize it.
Store the sponge in a canvas or mesh bag when not in use.
Available Products:
Jade and Pearl sea sponges, about $15 at Glad Rags
Amazon sells a variety of sea sponges.
Etsy sellers also sell sea sponges in various sizes that you can cut to fit the shape of your body.
#6 Plastic-free and 100% Compostable Tampons and Pads
No matter how many period tracking apps we have on our phones, sometimes we get caught off-guard. So if you're looking for a few disposable pads to leave at work or keep in your bag for emergencies, you can still go as eco-friendly as possible by choosing brands that use more natural ingredients and fewer environmentally harmful manufacturing processes than major pad manufacturers.
They're also typically made with 100% organic and chlorine-free cotton.
Available Products:
Need help with using your cotton tampons? Considering using this reusable tampon applicator by Thinx. Simply wash it after every use and give it a thorough cleaning in boiling water once a week.
Buy it on Thinx for $60. Use this link for $10 off your first order!
#7 Period Clothing
And finally, we get to period clothing. Period clothing is made with special liners that collect your period. They're meant to be worn in conjunction with other menstrual products to collect overflow. I typically wear my period clothing on my light days and sometimes under dresses to prevent chafing.
Here are period clothing brands that we recommend:
Final Thoughts
Periods are just a normal part of life for a woman. We can decide how we want to approach the delicate practice of keeping it discreet when it happens. There are so many options and alternatives to single use pads and tampons.
Hopefully, you found a method that best resonates with you and how you treat your body and the environment!
Disclosure: I received sample items for review on Schimiggy Reviews. All opinions expressed are 100% honest and based on my personal experience. Your experience with the recommended products may be different.
If you liked this post, please consider sharing it on Pinterest!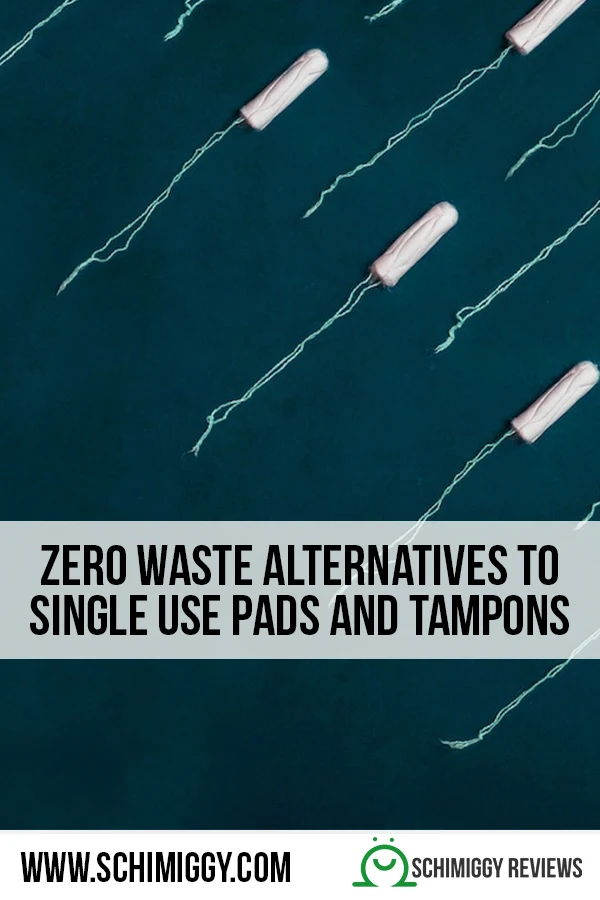 Resources:
https://www.medicaldaily.com/menstrual-period-time-month-history-387252
https://theecoguide.org/menstrual-cup-what-sounds-gross
https://www.thechicecologist.com/green-living/the-environmental-impact-of-everyday-things/
Thank you for visiting today! If you found this encouraging or informative, please connect with us on Instagram or TikTok.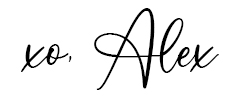 Sign up for our monthly newsletter for updates and more. We promise we won't spam you! Feel free to unsubscribe anytime.
If you're a brand and want to work with us, please visit this page to get in touch.