Reading Time:
9
minutes
Updated: 10/8/2020 | lululemon Sizing Guide
Since 1998, lululemon has been creating high-end activewear for men and women. They started as a yoga brand but have since created fabrics and activewear for all types of sports, activities and even travel.
With that in mind, lululemon togs may fit differently depending on the garment's purpose, fabric, and silhouette. In this post, we'll discuss sizing information for women's lululemon apparel.
lululemon's sizes range from 2-14. I recommend heading over to check out lululemon's official size chart. Keep in mind that measurements and size charts are a good starting point, but may or may not accurately predict your perfect size.
Here is our lululemon sizing guide to help you find your perfect size. Use this as a resource to help you find your perfect fit in lululemon apparel.
lululemon Sizing Guide
In this guide, we'll discuss how to find your sizing in the following apparel:
lululemon Bottoms

What do right-sized bottoms look like?
I. How to Find Your Perfect Size in lululemon Bottoms
lululemon bottoms typically run true to size. However, some people have reported that their bottoms ran larger due to a particular fabric or style. It's safe to stay that you can usually order Lululemon bottoms in your true size and expect a decent, if not, perfect fit.
lululemon Wunder Under Pants typically fit true to size.
Aligns and Fast & Frees are usually a size down item. You can wear them in your true size if possible.
The In Movement tights are a size up item becuase of how compressive the Everlux fabric fits.
lululemon sizes range from size 2-14 for women. In September 2018, lululemon introduced plus size options in select styles for women.
When shopping in a lululemon store, displays will usually be organized by length and then by compression (tight fitting to loose).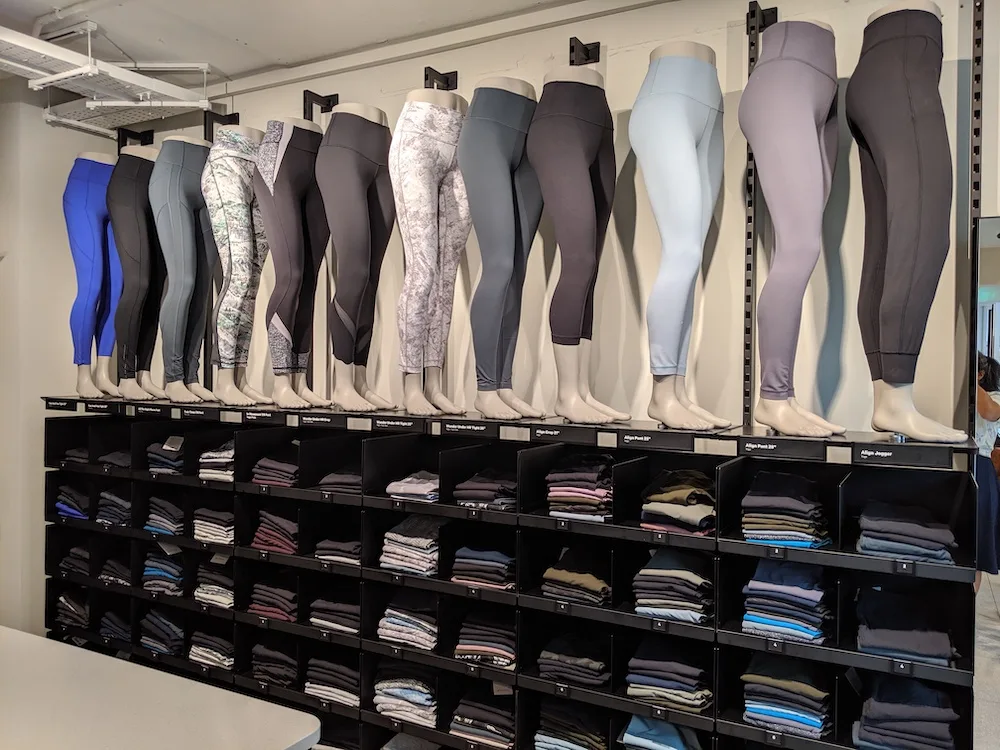 lululemon Bottoms Size Chart
| | | | | |
| --- | --- | --- | --- | --- |
| Size | Waist | Hip | Standard Inseam | Tall Inseam |
| 0 (XXXS) | 21 inches | 32 inches | 31 inches | |
| 2 (XXS) | 23 inches | 33 inches | 32 inches | 35 inches |
| 4 (XS) | 25 inches | 35 inches | 32 inches | 35 inches |
| 6 (S) | 27 inches | 37 inches | 32 inches | 35 inches |
| 8 (M) | 29 inches | 39 inches | 32 inches | 35 inches |
| 10 (L) | 31 inches | 41 inches | 32 inches | 35 inches |
| 12 (XL) | 33 inches | 42 inches | 32 inches | 35 inches |
| 14 (XXL) | 35 inches | 45 inches | 32 inches | 35 inches |
a. What Does the Right Size lululemon Pant Look Like?
I tried on three different Align Legging sizes to show how one of their most popular leggings should fit.
I tried on a size 2 and it was too tight. Some good indicators of the pant being too tight are:
Cinching at the waist. The cinching can be uncomfortable and roll down when you fold forward or bend at the waist.
Camel toe (see above image) – A lot of the time it's a simple sizing issue in which you'll need to size up.
Related: How to Prevent and Remove Camel Toe While Wearing Leggings
I also tried on a size 10. It was definitely too loose. Good indicators of a legging being too big for you are:
Waistband slippage. A loose waistband will cause leggings to slip down and you'll constantly find yourself pulling your leggings up throughout the day or during a workout session.
Fabric bunching. Extra fabric causes creases and fabric bunching at the hip flexor (front of the hips), crotch area, back of knees and bottom of the buttocks.
I am a size 6, so the middle photo is the best size for my body. Here's how you can tell if a pair of leggings is your perfect fit:
I did not experience any fabric wrinkling or pinching at my waistband or ankles.
The leggings fit snug but not uncomfortable.
I also did not experience tugging at the waist throughout the day.
No camel toe!
As you can probably tell, I could have gone one size up or down, but the differences in fit would not have been significantly visible. I can usually wear a size 4 in certain fabrics, but it will feel more snug than usual. I can usually size up to an 8 but I can definitely feel it's loose in some areas.
Ultimately, it's really up to you how you want to feel and look in your leggings. Always give your lululemon a test run before popping the tags!
II. How to Find Your Perfect Size in lululemon Tops
lululemon tops without a built-in bra typically run true to size. I wear a size 6 in lululemon tops, which is my true street size.
Tops with a built-in bra tend to run true to size or smaller. I typically go for a size 8 in built-in bra tops. My true size typically feels very tight and uncomfortable.
Note: The only exception that I've found to lululemon tops is the fit of the Swiftly styles. I recommend sizing up in Swiftly short and long sleeve tops because the material and cut tend to run a little smaller. Your true size in Swiftly material may also cause some bulging around the waist and hips.
III. How to Find Your Perfect Size in lululemon Dresses
lululemon dresses typically run small. I definitely recommend sizing-up in their dresses and evening wear.
If you are on the smaller end of the lululemon's size spectrum (sizes 4 and under), your lululemon dress size will fit much smaller than your true size. You may need to size up significantly.
IV. How to Find Your Perfect Size in lululemon Bras
lululemon offers low, medium, and high support sports bras. Most lululemon bras are not sized by band or cup size (similar to Victorias Secret) and instead are marked with the same sizes as their other items. In my experience, and as explained by lululemon Educators, lululemon bras tend to run small.
I've found that I needed to get my true size in strappy Free to be styles such as the Free to Be Wild and Free to be Zen bras.
The Educators recommend sizing up one size for a more comfortable fit. Women with a bigger chest but small band should size up. If you like a more compressive fit, you can choose to go with your exact size.
lululemon Sports Bra Size Chart
| | | |
| --- | --- | --- |
| Size | Bust | Regular Bra Range |
| 2 (XXS) | 30 inches | 28A-D |
| 4 (XS) | 32 inches | 30A-D |
| 6 (S) | 34 inches | 32A-D, 32DD, 32E |
| 8 (M) | 36 inches | 34A-D, 34DD, 34E |
| 10 (L) | 38 inches | 36A-D, 36DD, 36E |
| 12 (XL) | 40 inches | 38A-D, 38DD, 38E |
lululemon sorts their bras by the level of support both in-stores and online. The best practice is to read the product details to ensure that the fit is what you are expecting. Have an idea of how you want your bra to fit and shop accordingly.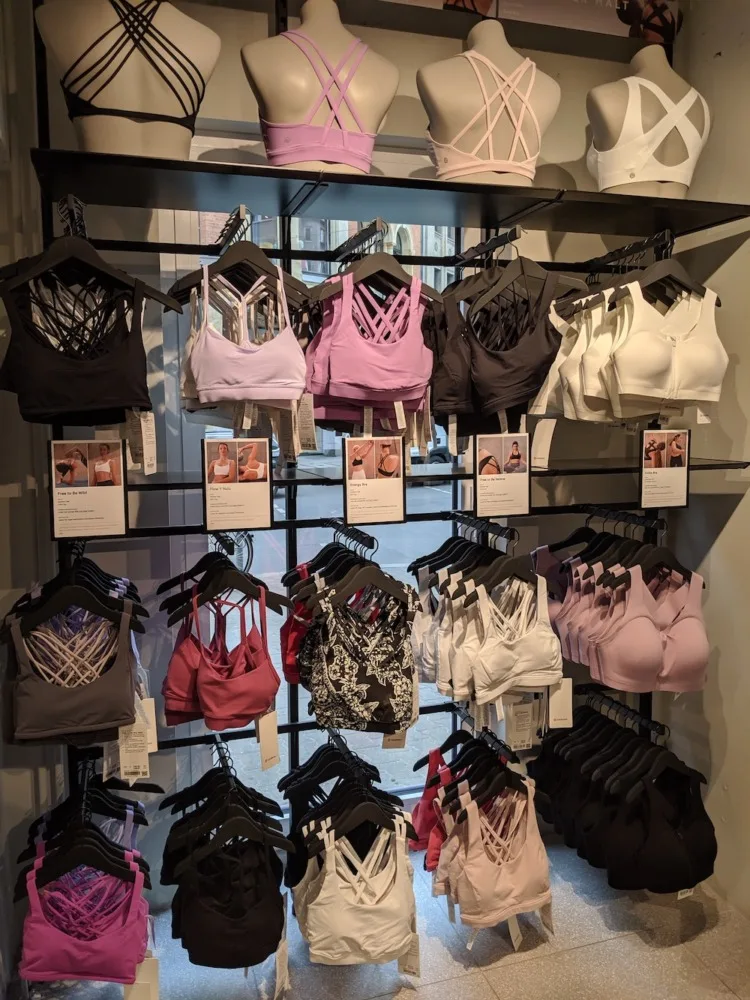 Do you need something with low, medium or high support? Determine your desired fit then go after the bras that offer what you need and you won't be disappointed.
For example, I prefer my sports bras to fit on the looser side, making my bra of choice the Free to Be or Free to be Wild sports bras. In the Free to be Wild/Zen styles, I size down so that the bras fit comfortably. The strappy styles do tend to stretch out over time.
V. How to Find Your Perfect Size in lululemon Swimwear
lululemon swimwear runs VERY SMALL. I tried on a one-piece in size 8 and it was too tight. I sized up to a size 10 and it fit comfortably.
We recommend sizing up one or even two sizes in their swimwear.
lululemon swimwear is made with their Esca™ fabric, which is very compressive and quick drying. I would love to see them make tights in this fabric.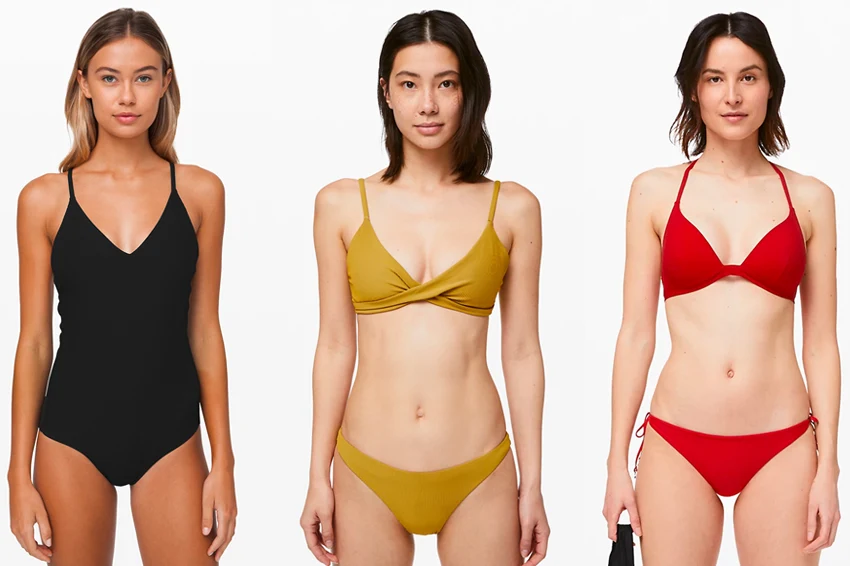 VI. How to Tell if You're Wearing the Right Size in lululemon?
Are they comfortable?

Can you move around without feeling like the item is going to shift and need readjusting?
Can you move around without feeling like you're going to rip a seam? Is a part of the pant/bra/top cutting into your body?
Pay close attention to areas that may bulge such as the waistband, bra band, and underarms. If something is pinching or squeezing uncomfortably, I recommend sizing up.

Fabric appearance is a good indicator for fit. There are a few things to be aware of:

Wrinkling –

If the fabric is too loose, there will be fabric wrinkling or gathering around the crotch area and thigh crease. In this case, size down for a better fit.

Overstretched – If your leggings are too small, the front hip and crotch area will appear overstretched and the fabric may look very shiny and possibly see-through. This means the fabric is being strained and you would need to size up.
Perfect – Fabric will lie comfortably across the body and you will be able to move while wearing the garment. Your range of movement should feel normal or enhanced. This means it fits like it is intended to.
Pro Tip: We recommend taking your activewear for a test run. Do a few deep squats, jumps, jog around, etc., and notice how your clothes feel when you're done. Did everything stay put, or did your leggings slide down? Did you feel like you needed to adjust anything? If anything shifts around significantly, we recommend going for a smaller size.
Use our sizing cheatsheet (below) as a reference when shopping for lululemon. As always, there are exceptions for certain products. But in general, this cheatsheet will steer you toward the appropriate sizing.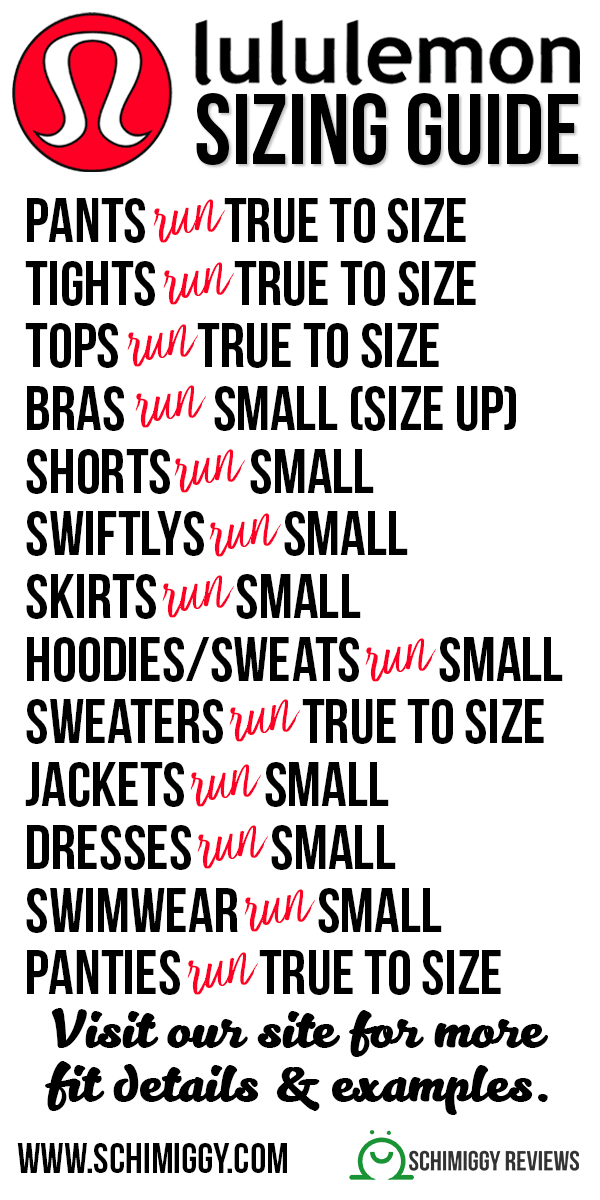 VII. lululemon Fabrics + How They Feel
Luon® – Brushed feel and will pill with wear. Pilling may cause itching.

Full On® Luon™
Light Luon®
Seriously Light™ Luon

Nulux™ – Naked sensation and very soft and stretchy. The fabric also feels smooth and slick. What Fast and Free leggings are made of.
Nulu™ – Brushed naked sensation. This is what Align pants are made of. Fabric will pill and cause itching.
Luxtreme® – Fabric feels somewhere between Luon and Nulux. Luxtreme has a lot of stretch and contours the body very well.
Everlux™ – Lightweight, double layered, and durable. Thicker than Align and Luon fabrics and is highly compressive. I tried on the In Movement tights but was not impressed. The silhouette seemed to create more of a muffin top than hiding it.
Silverescent® – Soft knit fabric that doesn't stink. The X-STATIC® technology in the Silverescent fabric bonds 99.9% pure silver to the surface of every fiber, which prevents the fabric from stinking. 105F tank tops and Swiftly tops are made of this material.
Pima Cotton – Super soft matte fabric. Most of the lululemon men's and women's tees are made from this lightweight and comfy material. The Love Tee of made of Pima Cotton.
Swift

Swift – 2-way stretch and is lightweight. What Speed shorts and Dance Studio pants are made of.
Swift Ultra – Mesh woven, lightweight, and comes with 4-way stretch.
Swift Ultra Light – Mesh woven, lightweight, and comes with 4-way stretch.
Related: lululemon Fabric Guide + Cheatsheet
VIII. Does lululemon Offer Plus Sizing?
The answer is yes!
lululemon offers an inclusive size range from 0 to 20 in women's apparel in their most popular styles.
Sizes are limited and run out quickly. The majority of plus-sizing can be found online.
Use our guide to learn how you can search for plus size clothing on their website or App.
Related: lululemon Now Offers Plus Sizing
IX. Asia Fit
lululemon introduced their Asia Fit options in 2018. Asia Fit is intended to fit petite-sized bodies and reduce the amount of sagging around the knees and ankles.
Asia Fit products can be found on Asian and Australian websites and are offered in lululemon's most popular styles such as Align Pants, Fast & Free Tights, Cool Racerback Tanks and more.
Shop their entire range of Asia Fit styles.
Related: lululemon Asia Fit Versus Normal Fit
Final Thoughts
Did you enjoy our lululemon Sizing Guide? We hope you found it helpful when determining what size to buy in lulu products. If you have any questions or comments, feel free to leave them in the comments section below!
Please consider sharing our lululemon Sizing Guide to Pinterest! Thank you!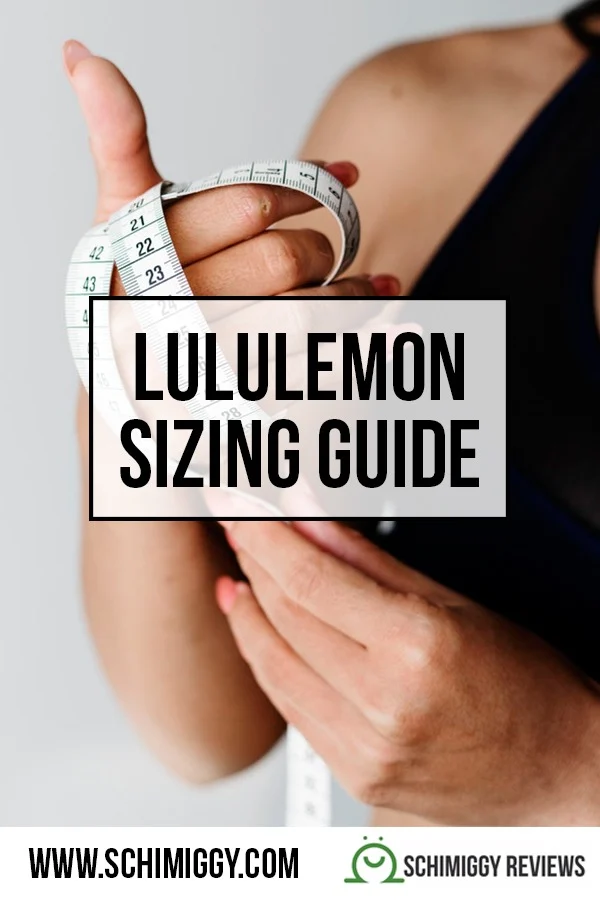 If you liked our lululemon Sizing Guide, you may be interested in these other lululemon topics:
Want to know more about lululemon?
We have an entire resource page dedicated to everything lululemon related. Please check it out!
If there are any other topics you'd like us to shed some light on, please let us know!
---
Thank you for visiting today! If you found this encouraging or informative, please connect with us on Instagram, Youtube, Pinterest, Facebook or Twitter. We'd love to meet you!
Sign-up for our monthly newsletter for updates and more. We promise we won't spam you! Feel free to unsubscribe anytime.
For more fitness fashion discounts and offers, please visit our Fitness Instructor Discounts + Brands Directory or favorite brands coupon codes list.
If you're a brand and want to submit a product for us to review, please use this form to get in touch.
This site uses affiliate links. Clicking on or purchasing via an affiliate link may result in commissions for us which help keep the content flowing and lights on at Schimiggy Reviews. You may read more about this in our privacy policy.