Reading Time:
6
minutes
Updated: 4/5/2020 | Glyder Review
Current Glyder Deals:
Enjoy up to 40% OFF everything with code BF40. Shop now.>>

What is Glyder?
Glyder is an activewear brand based out of Southern California. Glyder set out to offer women a fitness collection that wouldn't sacrifice great quality, unique designs, or affordability. Their collections are super fashionable and functional.
They are also made to be the best fitting, highest quality, performance garments anyone has ever sweat in. Glyder hopes to inspire others to live by their mantra: WORK. SWEAT. PLAY.
I remember back in 2012 when they were just starting out, I saw them on Instagram and bought a pair of Ninja Crops in black. They were so simple looking yet the cutout detail on the leg opening was very appealing and unique.
Nowadays you can find cutouts in many activewear designer collections. I would say Glyder even pioneered the cutout trend in activewear. I also tried their bras. They were cute but never fit me comfortably (they run small).
Glyder Review: High Power Striped Leggings
I saw Glyder's High Power striped leggings and knew I had to get them. They're an exact dupe of lululemon's Quiet Stripe QS Wunder Under Crop leggings, which are currently going for $300+ on the reseller market.
I love how they look but I would never spend that much money on used white clothing.
Luckily there's this alternative copy-cat by Glyder.
I missed out on purchasing Glyder's Elongate Striped leggings in my size during the first release in 2016.
In April 2017, I noticed the pants on a for sale board and decided to purchase them in a size medium to try.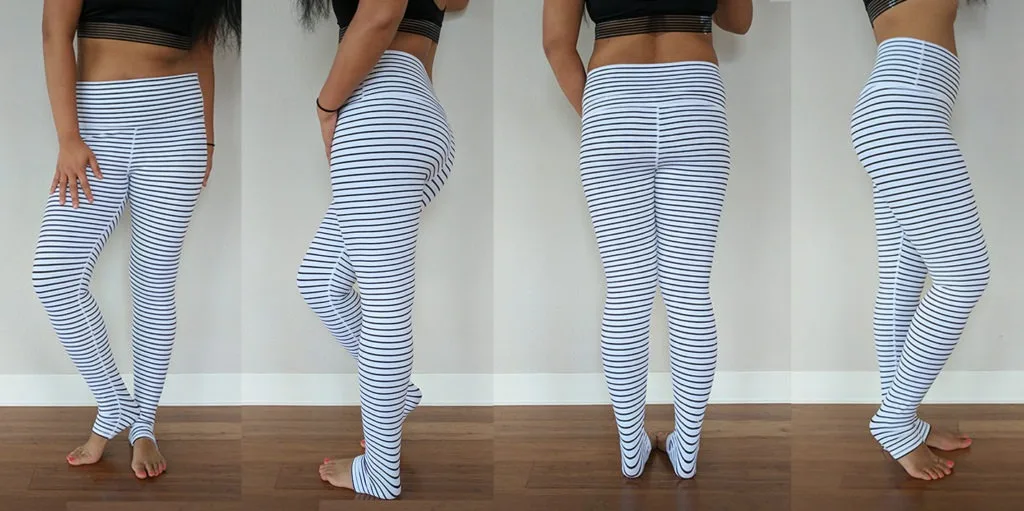 #1 How Does Glyder Sizing Run?
Glyder FORMA101 fabric runs big. I've previously worn a size small in Glyder's crops and experienced stretching. I bought the Elongate crops and leggings in size small and they kept sliding down. I had to size down to an Extra Small in their bottoms.
For reference, I wear a lululemon size 6 bottoms. I would suggest sizing down for a more compressive fit. I would definitely refer to their size chart when purchasing.
In my initial review, I tried the medium and it was definitely too big for me. It would be a better fit someone sized 8-12 in Lululemon. The waist kept folding over and it also felt loose in the thigh area.
UPDATE: I tried the Sculpt leggings from their Blind Date Mystery Box and the EXOFLEX™ fabric is not as stretchy. I recommend getting your true size in all other fabrics except for Glyder Apparel made with FORMA101.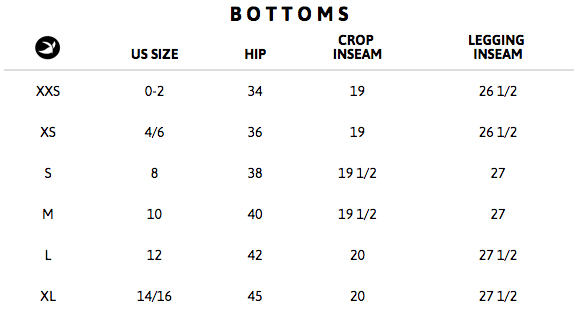 #2 What Styles Does Glyder Make?
Glyder makes long, capri and short length bottoms. They also make jackets, tops and bras.
#3 What is the Inseam of Glyder Leggings?
Glyder long leggings have a 27″ inseam. The leg opening lands in the middle of my foot arch. I am 5'5″ for reference. The inseam is long and great for tall gals.
#4 How High is the Rise on Glyder Leggings?
Glyder bottoms are created with a high rise fit. Combined with the tall waistband, the top of the pants sit at the navel.
#5 How Tall is the Waistband on Glyder Leggings?
Glyder bottoms are made with a tall waistband measuring 3″ tall with the top of the band sitting at the navel.
https://www.instagram.com/p/BTjvPbcBPzG/
#6 Fabric Content and Performance
Fabric Content: Glyder pieces are made with their signature FORMA101 Nylon Polyester Spandex blend.
Fabric Feel: Their FORMA101 fabric is super soft with a brushed feel. It's similar to Lululemon luon, JALA fabrics, and Athleta's Lycra fabric blend (the fabric that is used in Chaturanga leggings and crops).
Fabric Performance:

Glyder definitely feels less compressive than their competitor brands. It will stretch over time so definitely size down.
The fabric has 4-way stretch allowing it to be form fitting on the body.
The fabric is brushed and after 10 wears I finally noticed some pilling in between my thighs. I use a fabric shaver to remove the pilling.

Opacity: The leggings are not opaque and you will experience see-through issues. Wearing a long shirt, nude underwear, or an oversized sweater can hide see-through issues.
Fabric Features:

My lines did not match up in the front nor back, however, this is not a big deal for me. It's hard to notice it when I am moving around on my mat.
The long and crop leggings have a hidden waistband pocket.
#7 When Should I Wear Glyder?
Glyder is designed for yoga, running, pilates, cross-training and many other activities. I wear mine both casually and during my workouts/yoga sessions. I get tons of compliments when I wear my Glyders.
#8 How Much Does Glyder Cost?
Glyder leggings are very affordable! They have an MSRP of $74 and retailers are constantly offering coupons and discount codes.
Glyder is also offering 25% off your first order when you use this link.
#9 Do Glyder Pants Have a Gusset?
Glyder bottoms come with a double-layered, diamond shaped gusset for a comfortable and secure fit.
#10 What Seams Are Used on Glyder Pants?
Flat fell seams are used throughout the leggings, giving it a chafe-free fit and seamless performance.
#11 Do Glyder Fabrics Have UPF Protection?
Not disclosed.
#12 Where is Glyder Made?
Made in China.
#13 Glyder Care Instructions
Being that these are white leggings, I'd make sure to wash these babies with utmost care. I'd wash it with gentle laundry detergent, inside out, on gentle cycle and ALWAYS wash with like colors.
I wash my striped Glyders separately and hang to dry on a foldable drying rack such as this one. Avoid bleach, fabric softener, and ironing. The chemicals and heat could damage and warp the elasticity within the fabric. Additional care instructions can be found here.
Should I Buy Glyder Leggings?
You should definitely buy Glyder leggings!
I love the quality of their fabric and they have classic and slimming designs. I wear my Glyders all the time.
Glyder has really expanded their offerings with various proprietary fabrics, colors and prints (cue more stripes and camo).
I haven't experienced pilling with my pair yet, but I'm also very careful about how I care for my leggings. It's time to accept the fact that I would be missing out on lots of cute clothing if I let the pilling really get to me.
Overall, Glyder is a definite win for me!
Where to Buy Glyder Leggings
Buy activewear directly from Glyder and use this link to get 25% off your first order.
You can also buy Glyder from these other retailers:
If you enjoyed our Glyder Review, please share it on Pinterest. Thank you!
If you enjoyed our Glyder review, you might like these articles too:
Thank you for visiting today! If you found this encouraging or informative, please connect with us on Instagram or TikTok.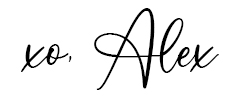 Sign up for our monthly newsletter for updates and more. We promise we won't spam you! Feel free to unsubscribe anytime.
If you're a brand and want to work with us, please visit this page to get in touch.