Reading Time:
5
minutes

About Scorpio Sol
Scorpio Sol is a TJ Maxx activewear brand. Their price points are very affordable and there seems to be lots of styles and silhouettes offered to the average active wear consumer. I would compare their fabric feel to Champion and Mondetta Performance Gear (MPG).
I found out about Scorpio Sol after a friend posted their lululemon Quiet Stripe (QS) dupes in a Facebook group. I asked her to ship me a pair so that I could analyze them and see if it's worth keeping.
lululemon's Quiet Stripe Wunder under crops are highly coveted and can cost upwards of $350+ on the reseller market. I would never pay that much so they have never appealed to me. If you want a close second to lululemon's Luon fabric, check out Glyder or Athleta.
Scorpio Sol Review: Quiet Stripe Inspired Crop Leggings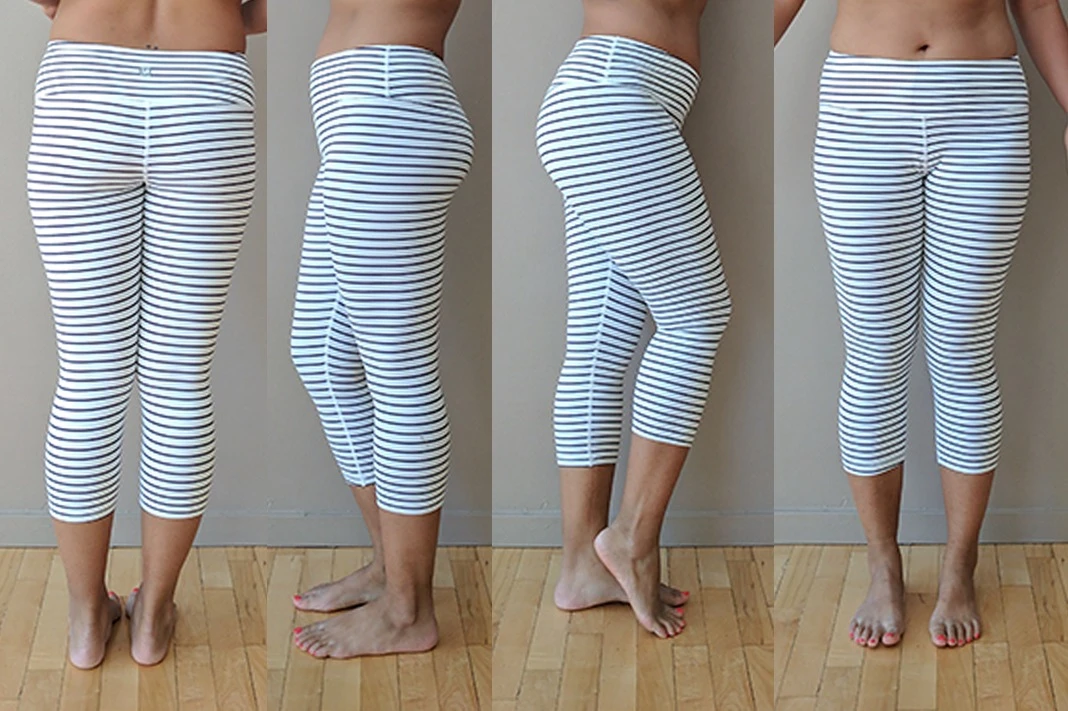 #1 Size: I tested a size SMALL in Scorpio Sol. I wear a size 6 in lululemon for reference. The fit was initially comfortable and after a heated yoga class, the pants immediately stretched. I was tugging at the waist to keep it on.
I would definitely size down in Scorpio Sol to an XS if you're the same size as me. I also tried the pants in a medium in the dressing room and they were too big. I also own a pair of black striped high waist shorts (in size medium) which eventually tore at the seam in the bum area.
UPDATE: I just found out they have a high waist version of these same pants. I have not been able to find any in-store to try, but a high waist usually helps with slippage.
#2 Style: Scorpio Sol makes crops and long leggings. The quiet stripe dupe comes in both long and crop lengths.
#3 Inseam: The inseam measures 21″ and sits at my mid-calf. The legging opening does ride up my leg from time to time due to the thin and slippery fabric.
#4 Rise: The leggings come with a standard rise and sits just about .5″ under my navel. The rise on the bum is shorter. If you have a larger backside, the leggings may run down as you do forward folding positions. If you don't mind or have a smaller backside these will be perfect for you.
#5 Waistband: Tall waistband measuring 3.25″. The waistband felt loose and unsupported around the waist. Every time I bent over, I could feel a breeze enter the back of my pants. I could go a size down and it would fit much better.
#6 Fabric:
Fabric Content: Spandex Blend
Fabric Feel: Fabric feels slippery yet soft. The fabric feels similar to Z by Zella, Onzie, Champion, and Mondetta Performance Gear (MPG) fabrics.
Fabric Performance:

The fabric is very durable and abrasion resistant.
Fabric WILL stretch with wear. I recommend sizing down.
The fabric will not pill or fade. The colors are knit into the fabric.
The fabric is dry-wicking and dried quickly after a sweaty practice.

Opacity: Fabric is not white backed nor printed. The stripes are knit into the fabric. The fabric is thin and see-through. I wore bright red underwear underneath to prove this point (please see the photo below). I would recommend wearing nude underwear to solve this issue.
Fabric Features:

Lines match up in the front and back.
There is one pocket in the front side of the waistband.
The Scorpio Sol logo is printed on the middle back of the waistband.
#7 When to Wear: Scorpio Sol is great for all workouts (high or low impact). I wear mine around town with a cute sweater. In summer I wear it with a mint green or light grey ribbed tank. It looks super casual and trendy. I get tons of compliments.
#8 Cost: Scorpio Sol bottoms are only $19.99. Some women on the boards and reselling markets have even purchased entire stocks of the stripe leggings to resell at a higher cost ($40-50). I personally do not believe they're worth the secondary market mark-up cost.
#9 Gusset: Scorpio Sol has a diamond shaped, double-layered gusset.
#10 Stitch Seam: Flat stitch seams are used throughout the legging. Stitching is white.
#11 UPF Protection: UPF 15+
#12 Made in China.
#13 Care Instructions: Wash with gentle detergent and hang dry on a foldable drying rack such as this one. You can also tumble dry low but remember that the fabric does stretch with wear.
Do not use fabric softeners. Wash with like colors because the leggings are white and can easily be stained by other fabrics.
Should I Buy Scorpio Sol?
I do recommend Scorpio Sol leggings only because of their cost and look. The fabric is slippery and tends to slide off unless you have a high waist version of the pant. Be aware that the fabric of Scorpio Sol leggings is very different than lululemon's Luon fabric or Athleta's lycra. Those fabrics are thick with a brushed feel. Those fabrics also pill.
I am stoked that my Scorpio Sols won't pill, but bummed that they will stretch with wear. The price point is far below their competitor brands making them very affordable at only $19.99. If you're a budget fashionista, definitely invest in some Scorpio Sol leggings. However, definitely size down or get a high waisted version of this legging!
Here's a list of striped leggings that I DO recommend. Glyder and Athleta are currently my favorite brands that make striped leggings.
Update: I ended up selling my Scorpio Sols. The brand does not work for me, but it does for a lot of other women. Please let me know if they worked for you in the comments below.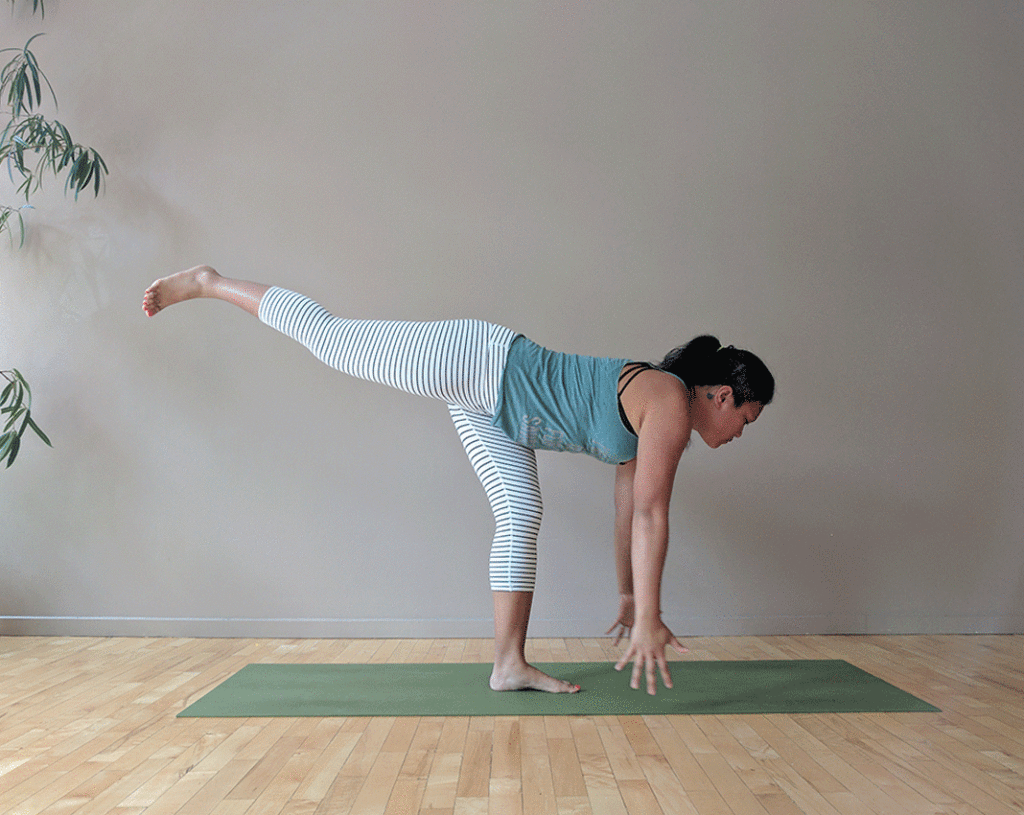 Where to Buy Scorpio Sol
If you liked this post, you might also like these articles:
---
Thank you for visiting today! If you found this encouraging or informative, please connect with us on Instagram, Youtube, Pinterest, Facebook or Twitter. We'd love to meet you!
Sign-up for our monthly newsletter for updates and more. We promise we won't spam you! Feel free to unsubscribe anytime.
For more fitness fashion discounts and offers, please visit our Fitness Instructor Discounts + Brands Directory or favorite brands coupon codes list.
If you're a brand and want to submit a product for us to review, please use this form to get in touch.
This site uses affiliate links. Clicking on or purchasing via an affiliate link may result in commissions for us which help keep the content flowing and lights on at Schimiggy Reviews. You may read more about this in our privacy policy.