Reading Time:
18
minutes
Updated: 9/6/2023 | Best Photo Spots in Seattle
As a photographer and lifestyle blogger, I am always on the lookout for beautiful travel destinations to take photos of.
Here are my favorite places to take photos in and around Seattle, Washington. Hope these spots inspire you to get out of the home and explore our beautiful city.
Related: The Complete Seattle Travel Guide
Best Photo Spots in Seattle
#1 Pike Place Market
The Pike Place Market is a GREAT place to take photos. There is the iconic Pike Place Market sign, the Farmer's Market, the Seattle Gum Wall, Post Alley Sign, and so much more!
You'll want to set aside a few hours to explore all that the market has to offer.
Address: 85 Pike St, Seattle, WA 98101
#2 Seattle Waterfront
The waterfront is part of Pike Place Market. From the Old Stove Brewery & restaurant, there is a great view of the Seattle Great Ferris Wheel and waterfront.
The waterfront is under construction right now. We can't wait until they're done so we can have a beautiful waterfront to explore.
Address: 1901 Western Ave, Seattle, WA 98101
#3 Seattle Great Wheel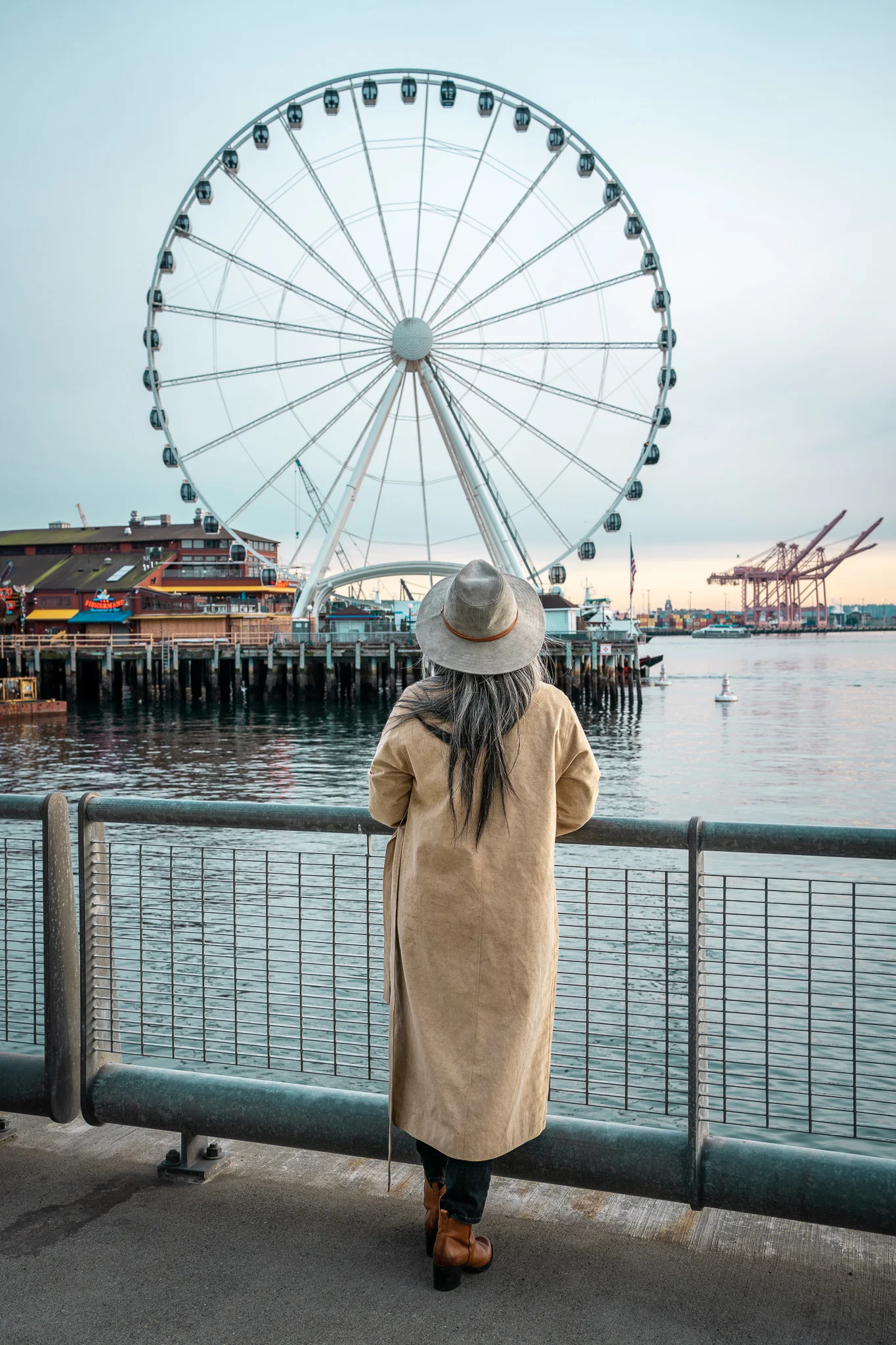 The Seattle Great Wheel is one of the best places to take photos in Seattle and one of the most accessible. You can take pictures from far away or go closer to it and get right underneath the wheel. I highly recommend visiting at night when it lights up for unique photos.
While it does cost money to ride, from the top of the ferris wheel, you'll get incredible views of Downtown Seattle, Puget Sound, and West Seattle. You can get even more Seattle photo location ideas while you're viewing the city from up above!
We also love getting ferris wheel photos from Pier 57 (near Miner's Landing), or while returning to Downtown Seattle on the water taxi and Bainbridge ferry.
Related: Ferris Wheels from Around the World
#4 University of Washington
The University of Washington has plenty of unique and amazing buildings. There are buildings, rooms, and stairwells that are reminiscent of Hogwarts School of Witchcraft and Wizardry from the Harry Potter movie and book series.
Our favorite buildings include:
The Quad – Come during Spring during cherry blossoms season to see pink flowers bloom and cover this picturesque courtyard.
Suzzallo and Allen Library
Smith Hall
Raitt Hall
Miller Halland
Drumheller Fountain
Parking in the Central Garage is free on Sundays! Not all the buildings may be open, but you can enjoy the campus and exterior of the buildings.
View this post on Instagram
View this post on Instagram
#5 Green Lake
The docks at Green Lake are fun to explore and take photos of. it offers a backdrop of both water and greenery. We try to take a weekly walk around Green Lake with our dogs. It's also a great place to paddle board and kayak.
The parking lot is small, but you can park across in the residential areas and walk over to the park. It's also a great place to put up your hammocks and chill.
View this post on Instagram
View this post on Instagram
#6 A Secret (Nude) Beach
Hidden away at the end of 39th Ave E. and E. Harrison (near Denny Blaine Park), this oasis offers up one of the few soft-sand beaches around, views of Mount Rainier and the Cascades and waters warm enough to take a dip in, on a hot, sunny day.
Nudity is also legal in Washington State. Expect to see some naked bodies if you decide to do a shoot here.
#7 Seattle Center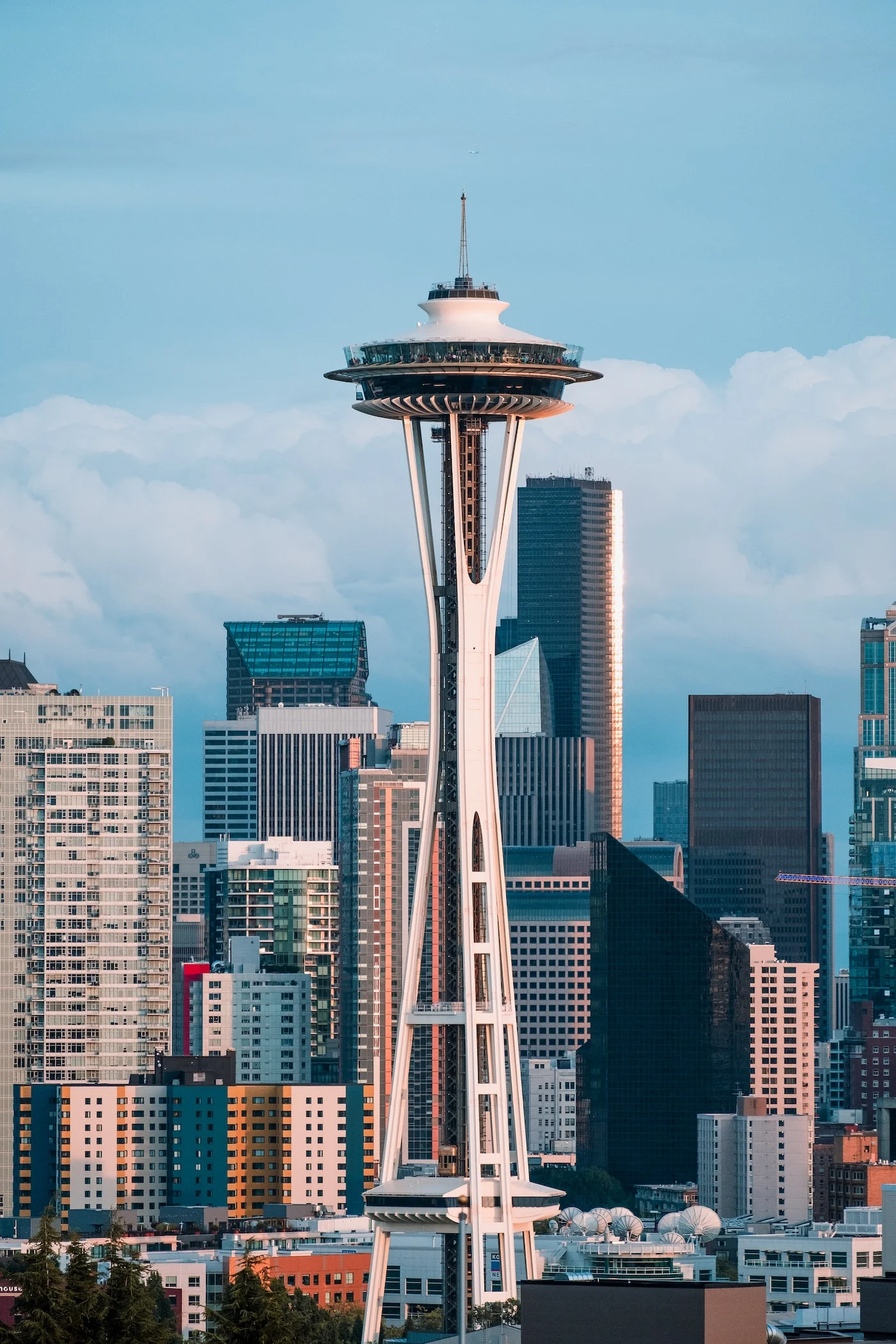 The Seattle Center is where the iconic Seattle Space Needle lives!
There is so much to do at the center. There are many attractions, sculptures, and artwork you can explore.
We recommend checking out the following attractions:
It's also a great place to attend events such as Bumbershoot and the Northwest Folklife Festival.
Address: 305 Harrison St, Seattle, WA 98109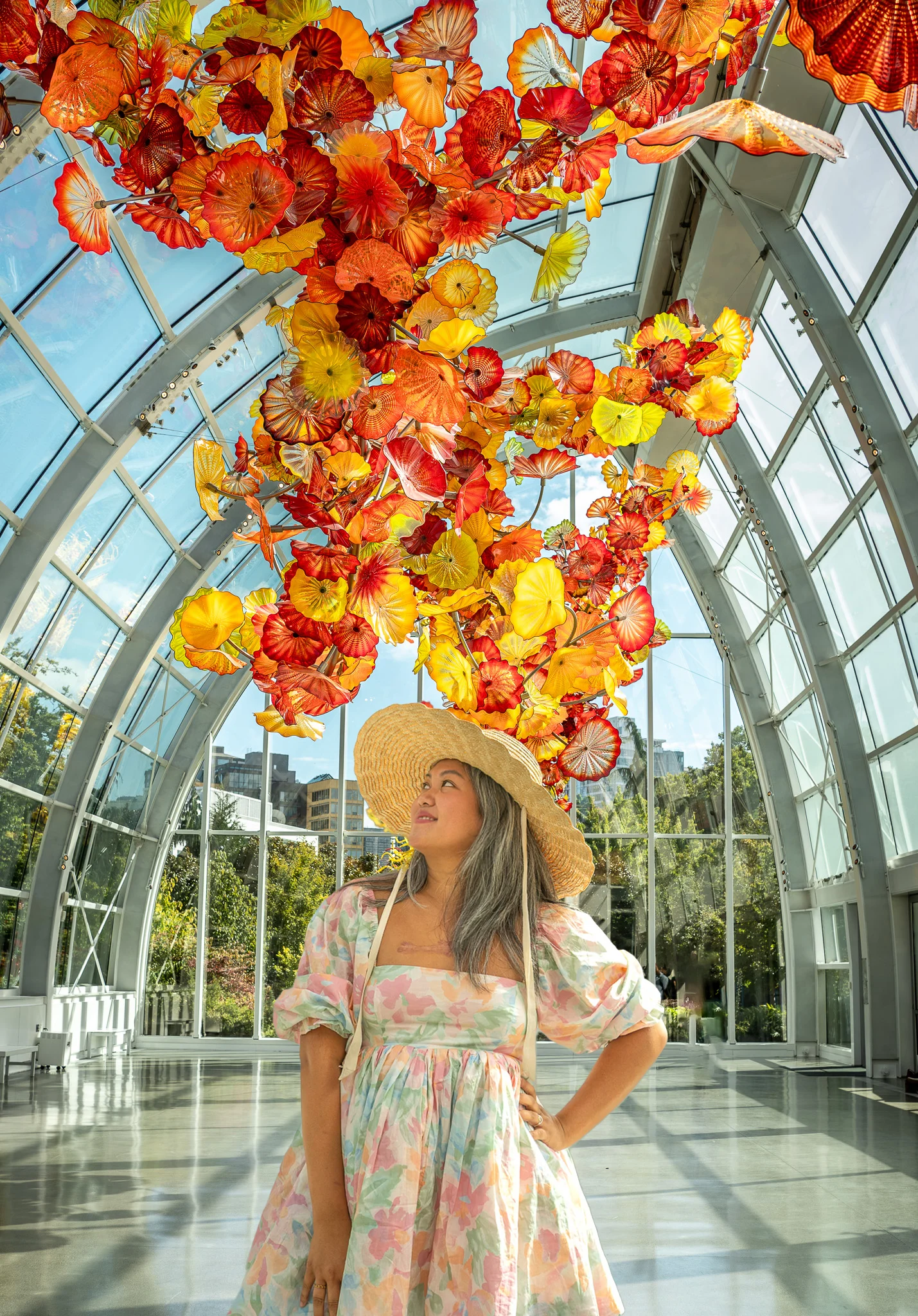 View this post on Instagram
#8 The MoPOP Museum
Also known as MoPOP, the Museum of Pop Culture is full of spots to take photos of. The building was designed by famous architect Frank Ghery and the outside is super photo-worthy.
The colors look particularly cool during sunrise and sunset as the sun reflects off the building, so I recommend coming then if possible. The building looks great when sunlight is reflected on it. Make sure to walk around the whole building to get some unique angles.
Also, make sure you stop inside the museum as well to see a collection of music history and special rotating exhibits. They have everything from guitars, song lyrics from Nirvana, to Sci-Fi and Fantasy costumes and exhibits.
The cost to enter is around $35 but is totally worth it.
Address: 325 5th Ave N, Seattle, WA 98109
#9 King Street Station
If you're taking a train into Seattle, it will drop you off at King Street Station. The exterior of the building is just gorgeous!
Address: 303 S Jackson St, Seattle, WA 98104
#10 Lula Coffee Co.
Lula Coffee Co. is Seattle's new pink destination located in SoDo! Their pink cafe is the perfect Barbie setting.
#11 Amazon Spheres
The Amazon Spheres houses exotic rainforest plants and more. It's a meeting and relaxation area for Amazon employees. You can also go on a guided weekend tour of the Spheres but will need to make reservations ahead of time.
If you know someone who works at Amazon, ask if they can take you on a private tour of the Spheres! Employees get free access to the Spheres.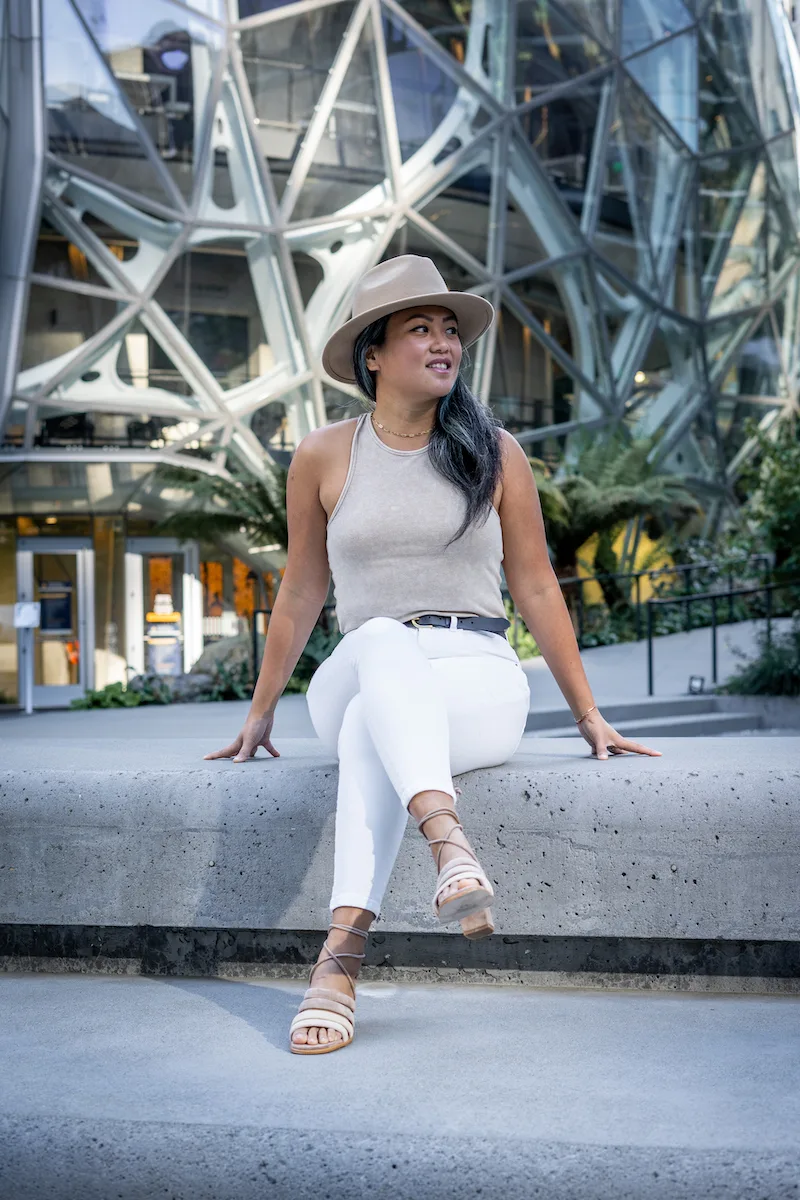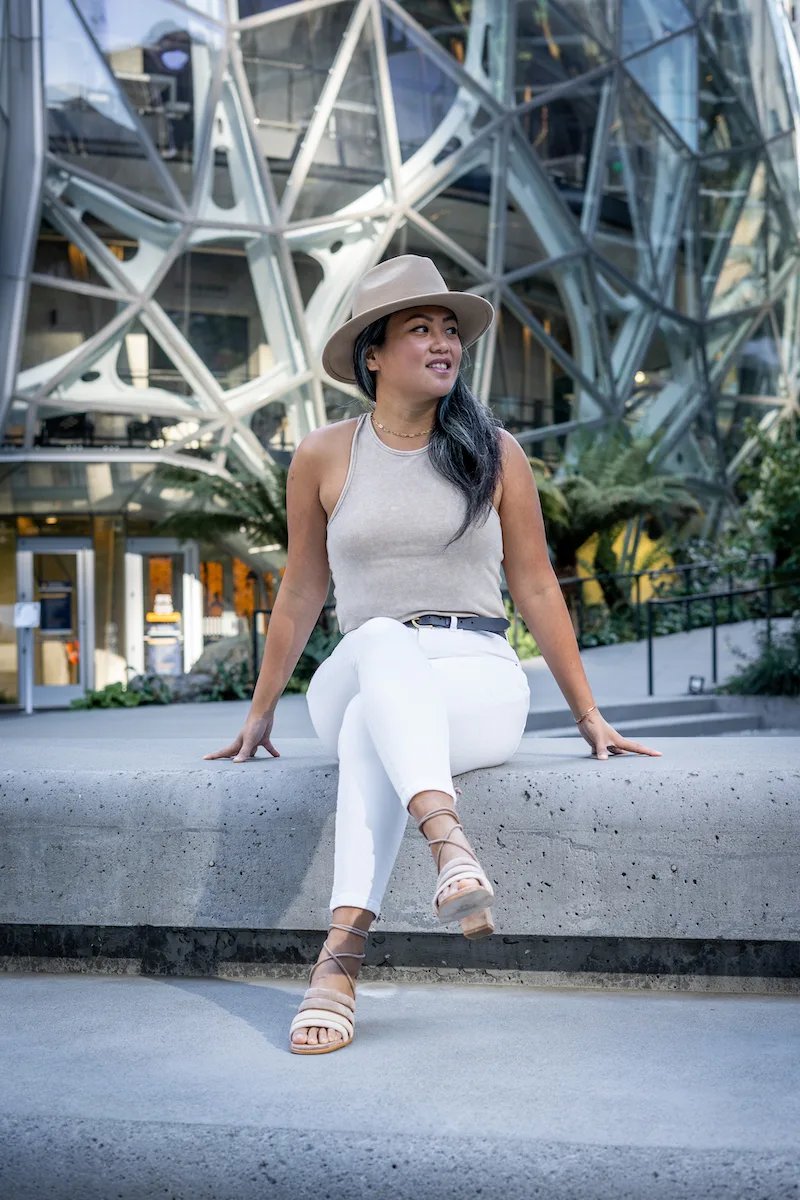 #12 Volunteer Park
Volunteer Park is a 48.3-acre park in the Capitol Hill neighborhood of Seattle. It's a great place to have a picnic and hang out. They also have events here.
Recommended attractions to see at Volunteer Park include:
Volunteer Park Conservatory
Water Tower Observation Deck
Bruce and Brandon Lee's Gravesite
Seattle Asian Art Museum
The Black Hole Sun by Isamu Noguchi
Thomas Burke Memorial
Wading Pool
Address: 1247 15th Ave E, Seattle, WA 98112
View this post on Instagram
#13 Go Skiing or Snowboarding!
Get up into the mountains during winter to snowboard or ski. The snow-capped mountains look beautiful from above. We love visiting Mount Baker, Stevens Pass, and Crystal Mountain.
View this post on Instagram
#14 Georgetown Hat and Boots
Located in Oxbow Park, the Georgetown Hat and Boots are remnants of what was part of a cowboy-themed gas station. The boots were restrooms and the Stetson hat was where to gas attendant worked.
#15 Jose Rizal Bridge
The Jose Rizal Bridge just minutes from downtown provides another iconic spot to capture the city skyline. Come here for the sunset over Elliot Bay and stay to capture light trails from the freeway below after the sun goes down. The bridge can be a bit windy, so dress in layers and definitely bring a tripod.
#16 Kerry Park
Kerry Park is by far one of the most Instagrammable places in Seattle and one of the best places to see in Washington State.
From this viewpoint, you can see the Space Needle, much of downtown, and Puget Sound. Many shots you see of the city are taken from this tiny park in Queen Anne.
If you're good at night photography, I recommend coming here to capture the city lights. This is one of the most popular Instagrammable spots in Seattle and has even been featured in many movies, postcards, and posters.
On a sunny day, you'll find crowds here and may get lucky and spot a wedding photoshoot.
Address: 211 W Highland Dr, Seattle, WA 98119
Another great spot for photos in Queen Anne is at 5th and Lynn Park. From here you can catch a beautiful view of Gas Works Park and Lake Union.
View this post on Instagram
#17 Pioneer Square
Pioneer Square is Seattle's "first neighborhood." The area is known for its First Thursday art walks, nightlife, street art, delicious restaurants, and funky boutiques.
While you're here, we recommend stopping by the Merchant's Cafe. It's a restaurant and bar that is supposedly haunted! You can dine upstairs or downstairs where ghosts (yes, multiple ghosts) have been sighted. Watch our video to see the inside of Merchant's Cafe and visit if you dare!
#18 Olympic Sculpture Park
The Olympic Sculpture Park is a huge 9-acre outdoor sculpture museum created and operated by the Seattle Art Museum (SAM). It has huge towering sculptures, indoor pavilions, a beach, and amazing views of the Puget Sound.
And the best part is it's FREE!
Address: 2901 Western Ave, Seattle, WA 98121
#19 The Seattle Green House
The Seattle Green House is a privately owned studio that can be rented out by photographers to take some dreamy photos.
View this post on Instagram
#19 Gas Works Park
Gas Works Park is a 19.1-acre public park on the site of the former Seattle Gas Light Company gasification plant, located on the north shore of Lake Union at the south end of the Wallingford neighborhood.
It's the perfect place to have a picnic and check out the amazing skyline view of Downtown Seattle.
Address: 2101 N Northlake Way, Seattle, WA 98103
#20 Washington Park Arboretum
The Washington Park Arboretum is a joint project of the University of Washington, the Seattle Parks and Recreation, and the nonprofit Arboretum Foundation.
The Arboretum is known for its lush landscapes and is a great place to view cherry blossoms.
View this post on Instagram
#21 Historic Buildings Throughout Downtown Seattle
Downtown is filled with gorgeous buildings that make great photography backdrops.
Here are just some that we highly recommend:
Seattle Municipal Court
Smith Tower
Rainier Tower – A dreidel-shaped building that defies the laws of physics.
Columbia Center
Interurban Building
Coliseum Theater
Eagles Auditorium
Old Federal Building
Safeco Plaza
F5 Tower
St. James Cathedral
The Arctic Club
Union Station
MOHAI
Bullitt Center
Edith Macefield House (The House from UP the movie)
View this post on Instagram
View this post on Instagram
#22 On a Boat!
Boating is a huge part of Seattle life. Many people own boats, can drive or sail boats and when it's summer out, everyone is on the water.
We love taking boat photos from Lake Union, Lake Washington, and Shilshole Bay.
And if you're not able to get on a boat, we recommend taking a ferry or renting a paddle board or kayak to get onto the water.
View this post on Instagram
View this post on Instagram
#23 Kubota Gardens
The Kubota Gardens is a free public park located south of Downtown Seattle. It has beautiful Japanese architecture and sculptures including a bell, bridges, a pagoda, and more.
Address: 9817 55th Ave S, Seattle, WA 98118
View this post on Instagram
#24 Seattle Street Art
We love seeking out street art while traveling! If you're like us, you should check out some of our most famous street art:
Greetings from Seattle Mural
Room for Change (near Zig Zag Bar) by Caroline Silva
Tetris (8th Ave and Pine) by Will Schlough and youth from Urban ArtWorks
Denny Dog Park by Cern
Until Next Time by Glynn Rosenberg
Power to the Patients by Shepard Fairey (Yesler Way and 2nd Ave.)
Sunlight Over First Hill, I-5 overpass between James and Cherry Streets | By Nathan Watkins
Spanning 68 pillars on First Hill, this piece was painted by more than 100 Urban Artworks volunteers. The design was chosen through a 2017 competition.
Terrestrial Memory, 2233 Sixth Ave. S. | By David Rice and Ola Volo
The artist duo mixes their individual talents for a piece blending multicultural folk figures with real-world counterparts.
The Whale Wins, 3506 Stone Way N. | By Kyler Martz
James Beard Award-winning chef Renee Erickson's restaurant of the same name sits just on the other side of this nautical work.
Martin Luther King, Jr., 2726 E. Cherry St. | By James Crespinel
The mural's original artist flew back to Seattle last year to re-touch the portrait after it was defaced in February 2022. It's located next to Fat's Chicken and Waffles.
Untitled, 4300 University Way | By Stevie Shao
Stevie is another one of Seattle's most easily recognizable muralists, with her bright-coloring and folkloric themes. You can find her other works tucked away in Belltown alleys or streaking across entire building faces — like this spot in the U District.
Abbey Road, 201 NE 45th Street | By David Heck
It only makes sense that a record store would honor one of rock n' roll history's most iconic albums.
Seattle Doesn't Settle, 620 Stewart Street | Artist unlisted
Hidden in the alleyway next to Hotel Max, this piece regularly uplifts a number of downtown's dumpsters.
The Wallingford Seat Turtlegiant mural on the street in Wallingford and now we finally know what it is – an awesome giant sea turtle! Learn more how this mural came to be HERE.Location: North 41st St and Interlake Avenue N
We noticed a new Star Wars mural along 34th Ave and the Burke Gilman Trail across the street from Brooks Running. Sounds like the building the art is on is marked for demolition, so make sure to check out this mural soon.Location: 34th Ave
Muralists Zahyr and Mari Shibuya recently completed the new Seattle Storm Mural in Uptown. The Storm's mural features Jewell Loyd, Sue Bird, and Breanna Stewart in the "Black Lives Matter" and "Say Her Name" t-shirts from the 2020 WNBA Bubble season.Location: Queen Anne Avenue and Mercer
You have arrived in SODO and will be greeted by this mural. After that then head to the other murals in the area listed below.Location: 6th Ave S & S Lander St.
Wyland
Ten Hundred
Seattle, Washington
118 Pine Street in Downtown Seattle
Olivia Knapp
Seattle, Washington
720 East Pike Street in Capitol Hill
Kristen Ramirez
Seattle, Washington
400 South Hanford Street in SoDo
Broken Fingaz
Seattle, Washington
2928 4th Avenue South in SoDo
Fin Dac
Seattle, Washington
1312 East Pike Street in Capitol Hill
John Sarkis
Seattle, Washington
1516 Summit Avenue in Capitol Hill
1st & Lenora Doodle Mural
Cruise on by the Sounder train station and take in the 4Culture art project spanning 32 different buildings along the tracks. You can also park nearby and get a glimpse of some of these amazing murals. Like the smiling Mount Rainier above.Location: SODO Busway
Across from Bartell Drugs in Lower Queen Anne is a kinda new public art piece by local artists John Osgood and Zach Bohnenkamp. Some of the emblematic identifiers of the state are on display in this one like the Goldfinches and Pacific Rhododendrons, the state's bird and flower. (Roy St and 1st Ave)
Careless Whisper Mural (1st Ave and Lenora)
Wayne Tunnel (16900 W Riverside Dr, Bothell, WA 98011)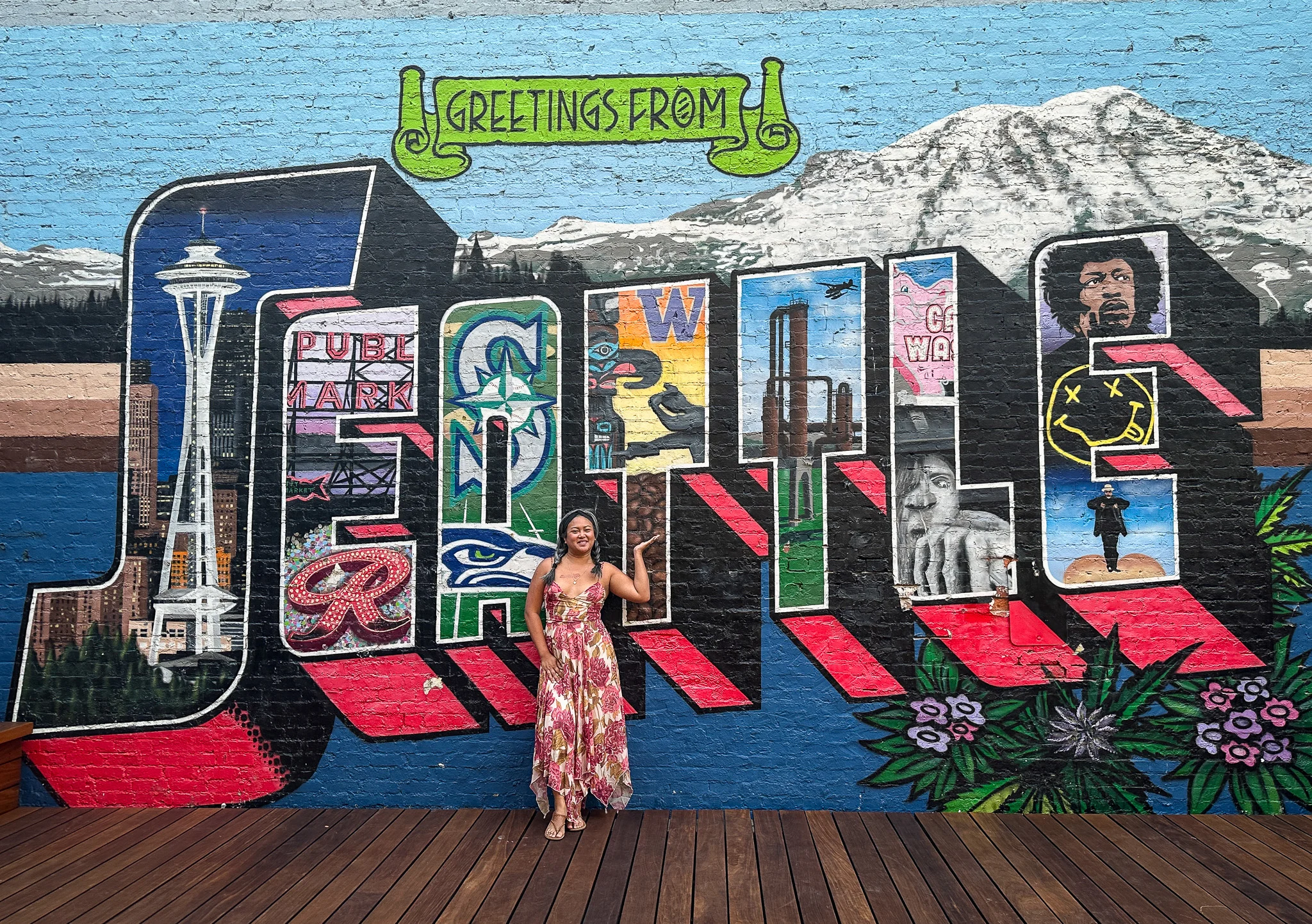 Greetings from Seattle Mural
View this post on Instagram
#25 Seattle Central Library
The Seattle Central Library is a gorgeous work of architecture designed by renowned architects Rem Koolhaas and Joshua Prince-Ramus. The 11-story building features a striking glass and steel exterior and a visually stunning, light-filled interior.
Photograph the library's dramatic, angular lines and innovative design elements.
Or explore the building's unique interior spaces, which include a soaring atrium, colorful escalators, and an intricate book spiral.
Stop by the reading room on the 10th floor to see the excellent views of Elliott Bay.
#26 Visit the Skagit Valley Tulip Farms
Visit the Skagit Valley Tulip Farms! Just about an hour away from Downtown Seattle are the Skagit Valley Tulip Farms. Come around late March through April during tulip season to see the fields in full bloom!
You can check out our Skagit Valley tulip guide to see which are the best farms to visit.
View this post on Instagram
#27 Go Hiking!
The best thing about Seattle is how close the city is to amazing hikes. We recommend renting a car or taking a bus to a hiking destination.
Hikes we recommend checking out include:
Wallace Falls
Poo Poo Point
Rattlesnake Ridge
Discovery Park
Franklin Falls
Heybrook Outlook
Mount Si
Little Si
Lake Serene and Bridal Veil Falls
Lake 22
Twin Falls
Cherry Creek Falls
Mailbox Peak
Heather Lake
Barclay Lake
Golden Lake (Stevens Pass)
Marymere Falls
Heather Maple Pass Loop
Mount Pilchuck
Colchuck Lake
Summit Lake
Sage Hills
Snow Lake
Mailbox Peak
Lighthouse Point Loop (Deception Pass)
Gold Creek Pond Loop
Coal Creek Falls
View this post on Instagram
View this post on Instagram
#28 Mount Rainier
View this post on Instagram
#29 Chihuly Garden and Glass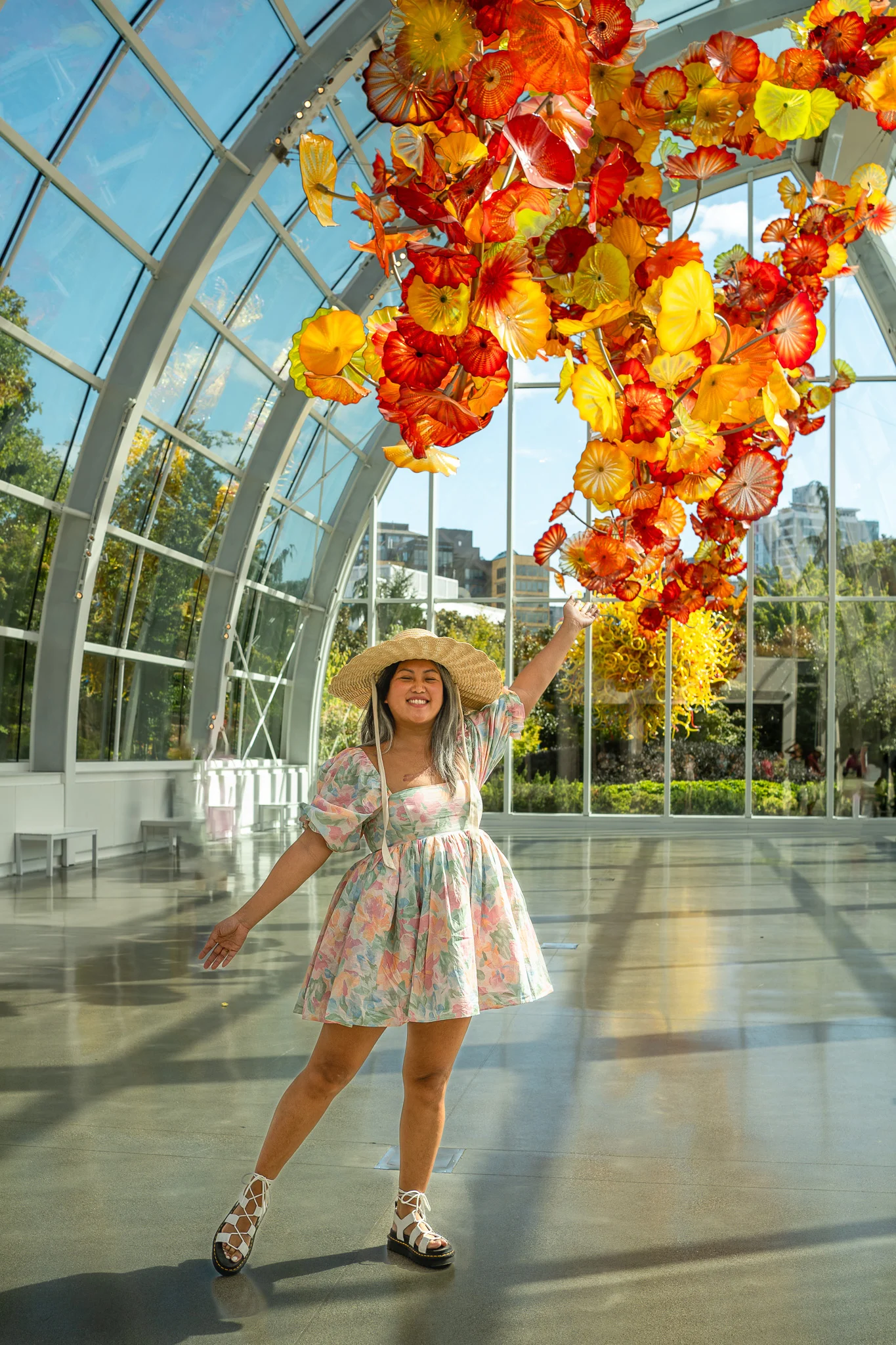 Even if you're not a museum person, you'll appreciate Chihuly's collection of beautiful glass-blown art. It's one of the more popular Instagrammable spots in Seattle because of all the bright colors used in Chihuly's glass artwork.
Our favorite exhibit is the glass garden room. It's well lit and you can even get a snap of the Space Needle through the glass windows.
If you plan on visiting Chihuly Garden and Glass, visit their website first to look for any fun events they might be throwing. You can take classes such as photography and even yoga throughout the year.
The museum is also great for Seattle winter activities since you can stay warm and dry the entire time.
Related: Honest Selkie Review – Should I Buy Selkie?
View this post on Instagram
#30 Discovery Park
Seattle is so lucky to have a dog-friendly recreational park! We come here multiple times a year to hike out to the West Point Lighthouse. We take several different paths and there are so many things to see along the way.
If you're lucky, you might be able to spot whales breaching in Puget Sound.
#31 Freeway Park
Freeway Park, officially known as Jim Ellis Freeway Park, is an urban park with sculptures and a very interesting columned design. The park connects the city's downtown to the Washington State Convention Center and First Hill neighborhood.
#32 UPS Waterfall Garden Park
To find this, look for Occidental Square Park, and you'll find it right behind the park. This site used to be where the United Parcel Service's first headquarters were in 1907.
#33 Smith Tower
The Smith Tower (circa 1914) is an iconic office tower featuring a speakeasy-style cocktail bar & a 35th-floor observatory. At the top, you can get amazing views of Downtown Seattle, West Seattle, Mount Rainier, and the Puget Sound.
You'll walk through a museum as you enter and learn about the Smith Tower's significance during the Prohibition Era. Elevators will then take you up into the cocktail bar and observation deck.
#34 Golden Gardens
If you want to capture a majestic sunset, then this is probably the best spot for that in the entire city. Golden Gardens Park is a significantly large place, and it's filled with natural beauty. The beach is one of the most popular Seattle Instagram spots and it never ceases to amaze.
Here you'll be able to easily capture both people and stunning nature in one go. With the boats lazily floating in the water, it's easy to see why this is one of the most Instagrammable spots in Seattle.
Golden Gardens is a popular day trip during the summer in Seattle as people celebrate the sun and warmth we experience.
View this post on Instagram
#35 Ferry to Bainbridge
Take a day trip to Bainbridge via Ferry. You can drive your vehicle onto the ferry and explore what Bainbridge island has to offer. There are plenty of bars, restaurants and even wineries.
View this post on Instagram
#36 Fremont Troll
The Fremont Troll is a public sculpture in the Fremont neighborhood of Seattle, Washington in the United States. It's a mixed-media sculpture that thousands come to visit each year.
Address: North 36th Street, Troll Ave N, Seattle, WA 98103
#37 Alki Beach
For an opposite view of Seattle, head west of the city to reach West Seattle's Alki Beach. It's one of the only true sand beaches in the area, so it's packed during the warm weather.
You can see how the city looks from across Puget Sound, which is especially fun as the sun is going down. Alki Beach is a great Instagrammable spot in Seattle during both the day and night.
You'll head away from the city across the West Seattle bridge to reach this Instagrammable spot in Seattle. Take the Harbor Avenue exit to turn right on Alki Avenue and drive about three miles until you see the sandy beaches and shops.
Parking can be tight here in the summer, so it might take you a bit to circle around until you find a spot.
There are many different photo-ops you can take at this Seattle Instagram spot. During the summer, beach volleyball is popular, so you can get an action shot on the beach.
#38 Starbucks Reserve
You can't come to Seattle without stepping by the Starbucks Reserve! Seattle is home of Starbucks.
#39 Union Station
#40 Jack Block Park
#41 Snoqualmie Falls
Snoqualmie Falls is approximately a 35-minute drive from Downtown Seattle. Parking and viewing the waterfall is free from dusk to dawn. Over 1.5 million visitors come to see the falls each year.
This 268-foot waterfall is one of Washington's most popular scenic attractions and is known internationally for its appearance in the TV show Twin Peaks.
#42 Chateau St Michelle Winery
#43 Occidental Square
#44 Lincoln Park
#45 Luna Park
#46 Woodland Park and Rose Garden
#47 Rainbow Crosswalks of Capital Hill
View this post on Instagram
#48 Visit a Rooftop Bars
Seattle has rooftop bars that you can visit! Our favorite rooftop bars include The Nest, Frolik Rooftop Bar, Smith Tower, Ascend (in Bellevue) and the Fog Room.
#49 Seacrest Park
After your Salty's photoshoot, stroll down the beach until you reach Seacrest Park. This park is an intimate location for a couples' photo session at sunset and an awesome park to bring the kids to play at during the day.
Take a walk down the pier and lean against the wooden railing for some photos with the skyline behind you, or jump onto the next water taxi to Pioneer Square in downtown Seattle.
There are plenty of things to see and do at this West Seattle hotspot.
#50 Coal Creek Falls
#51 Rattlesnake Lake
#52 Amgen Helix Pedestrian Bridge
#53 Ursula Judkins Viewpoint
#54 Woodland Park and Rose Garden
Woodland Park is a 90-acre park offering lush greenery, walking trails, and recreational facilities.
One of the park's most photogenic attractions is the Woodland Park Rose Garden, a beautifully landscaped garden featuring over 200 varieties of roses.
While exploring the garden's winding paths, charming gazebos, and tranquil water features, be sure to shoot the roses themselves. Flowers are always a great subject, from the elaborate details to the vibrant colors.
#55 Alki Point Lighthouse
If you found our article on the best photo spots in Seattle helpful, please share it. Thanks for your support!
---
Thank you for visiting today! If you found this encouraging or informative, please connect with us on Instagram, Youtube, Pinterest, Facebook or Twitter. We'd love to meet you!
Sign-up for our monthly newsletter for updates and more. We promise we won't spam you! Feel free to unsubscribe anytime.
For more fitness fashion discounts and offers, please visit our Fitness Instructor Discounts + Brands Directory or favorite brands coupon codes list.
If you're a brand and want to submit a product for us to review, please use this form to get in touch.
This site uses affiliate links. Clicking on or purchasing via an affiliate link may result in commissions for us which help keep the content flowing and lights on at Schimiggy Reviews. You may read more about this in our privacy policy.