Reading Time:
5
minutes
Updated: 8/1/2023 | Thigh Society Review

Disclaimer: This post was sponsored by Thigh Society. As always, all thoughts and opinions are mine and 100% honest.
About Thigh Society
Thigh Society was created to help women feel great wearing whatever they want.
Marnie Rabinovitch Consky created the Canadian-based brand in 2009 and has since then created various shorts and redefined "chafewear" for the modern woman.
They are best known for their anti-chafe shorts that allow you to move freely without worrying about rashes and other uncomfortable experiences that can happen in between the thighs on a hot day.
Thigh Society offers 5 short options. All are great to wear as anti-chafe shorts. It's hard to pick one so we tested all the styles and found that each short is perfect for a particular outfit based on the activity of the day.
Below I'll review Thigh Society and their pros and cons to give you a better idea as to why I am such a fan!
Thigh Society Review
I've dealt with chub rub my entire life. Even when I was at my lightest at 130 pounds, I was experiencing uncomfortable chafing in between my thighs. Some people are just built this way. Sometimes there is no diet or trick you can do to prevent chub rub.
In the past, I've discussed thigh chafing prevention techniques on my blog and one of the best ways to avoid chafing is by wearing shorts underneath my dresses and skirts.
Related: Best Brands with Thigh Saver Shorts
I was excited to finally try Thigh Society because these are made specifically for wearing under other garments. They are also made to be breathable and easily layer-able.
I received the following chafing shorts from Thigh Society:
Thigh Society Pros
Seamless Design – The seamless design is what makes the shorts so comfortable! They can be worn underneath dresses or alone as shorts. We love wearing them around the house and while working out.
Second Skin Feel – The materials are thin and make you feel like you're wearing next to nothing.
Flat Panel Construction – The flat panel construction prevents camel toe. All the shorts are made with a flat panel design.
Durable – Their shorts are super durable! We have worn our shorts multiple times and they continue looking like new.
Pocket Option – Their Cargo shorts come with a pocket! We love shorts with pockets.
Size Inclusive – Thigh Society offers their shorts in sizes XS–6XL. Use their size chart to find your perfect size.
Fits True to Size (TTS) – We found that their size chart is accurate.
Many Colors to Choose From – Thigh Society offers a wide range of colors for you to choose from. While we gravitate more toward neutral tones, there are some bright and fun color options to choose from.
Affordable – At $39 per short, you can purchase multiple pairs to cycle through your wardrobe.
Easy to Care For – I machine wash and air dry all my shorts. They typically dry within a day.
Thigh Society Cons
Not Compressive – Thigh Society shorts are designed to be comfortable and stretchy. If you're looking for compression, we recommend checking out other brands such as lululemon or CRZ Yoga.
Most Shorts Are See Through – Their shorts are designed to be worn underneath other garments. The majority of the fabrics are see-through. If you want something with more coverage, opt for the Original or Cargo shorts.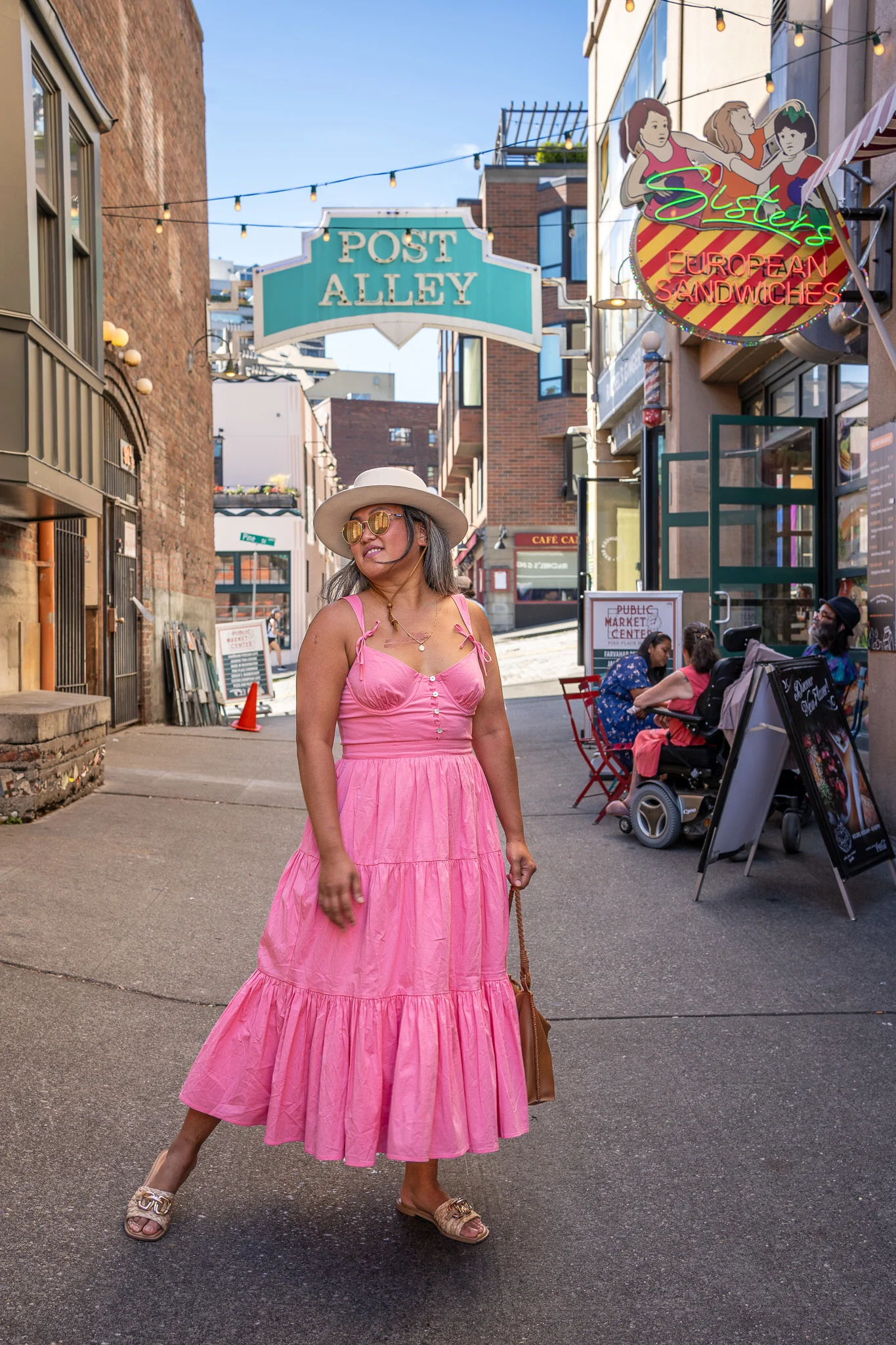 Should I Buy Thigh Society Shorts?
While there are many brands of anti-chafe shorts on the market, my brand of choice is Thigh Society.
They sell only one product and are able to focus and specialize in their craft. Their shorts are affordable, come in various colors, and are so comfortable to wear. I cannot recommend them enough!
Where to Buy Thigh Society
Shop for Thigh Society products directly on their website.
If you found our Thigh Society review helpful, please share it. Thanks for your support!
---
Thank you for visiting today! If you found this encouraging or informative, please connect with us on Instagram, Youtube, Pinterest, Facebook or Twitter. We'd love to meet you!
Sign-up for our monthly newsletter for updates and more. We promise we won't spam you! Feel free to unsubscribe anytime.
For more fitness fashion discounts and offers, please visit our Fitness Instructor Discounts + Brands Directory or favorite brands coupon codes list.
If you're a brand and want to submit a product for us to review, please use this form to get in touch.
This site uses affiliate links. Clicking on or purchasing via an affiliate link may result in commissions for us which help keep the content flowing and lights on at Schimiggy Reviews. You may read more about this in our privacy policy.