Reading Time:
10
minutes
Updated: 9/6/2023 | Selkie Review

About Selkie
Selkie is a women's apparel brand created by former WILDFOX co-founder, Kimberley Gordon.
The name of the brand "Selkie" comes from Scottish, Icelandic, and Irish folklore. A selkie is a woman of the ocean who lives inside a seal's skin.
When she comes up to the rocks she slips out of her skin to bask in the sun. If a man can steal her skin while she sleeps, she is forced to become his wife and live on land. But, if the selkie finds her skin again, she transforms back into her true form and immediately returns to the sea where she is free.
Selkie's aesthetic is fanciful, nostalgic, and ultra-romantic. Selkie offers a range of stand-out party dresses, ethereal summer dresses, and glamourous gowns. With timeless pieces and inclusive sizing (ranging from XXS-5X), their dresses are made to last forever.
Selkie Review
I went a little crazy with buying Selkie and purchased a few styles to see which one I would love most. Below is my review of the dresses in this review.
We purchased the following Selkie dresses to review in this post:
Sunflowers Tea Rose Dress ($295) – My Vietnamese name is Hướng Dương which translates to Sunflower in English. My parents gave me this name to hope that I always rise with and face in the direction of the sun. The Vietnamese language can be super poetic. I ordered a size medium but it was too small. I typically wear a size small to medium in women's US sizing. The dress is super lightweight and has pockets! I have since sold this dress.
Pastel Bouquet Tea Rose Dress ($295) – I purchased this dress new with tags on Mercari for only $225! I purchased it in a size large and it fit perfectly! I rarely ever wear a large in any brand, so it's safe for me to say that you should size up in Selkie apparel. The dress is super lightweight and has pockets!
Electric Lady Marie Dress ($299) – The colors and pattern on this dress are just amazing! I love the bowties and ruffles. It's like a modern-day princess dress. I ordered this in a large and it fit comfortably. A medium would have definitely been a little tight. The material itself is SUPER HEAVY so it's not ideal for traveling light, but I may bring it on short-haul trips. The dress does not come with pockets so I wear pocketed shorts underneath.
Macaron Dress in Summer Field – I purchased this dress on Poshmark for a steal and I absolutely love it! I love shorter dresses because they're easy to pack and are easy to wear around town.
Summer Field French Puff Dress ($325) – I purchased this dress in a large and actually need a medium. The dress feels loose but looks like it fits comfortably. The green color is GORGEOUS and the print makes me so happy. I feel like I am wearing an outfit that screams "spring is here to stay." This dress does not have pockets so I wear shorts with pockets underneath.
Chocolate Lace Puff Dress ($295) – I purchased this used from another Selkie lover for only $200! The dress is super cute. I am 5'5″ and it offers enough coverage for my bottom. I wear pocket shorts underneath for added coverage. This dress does not have pockets. It looks great with chunky boots.
Garden Party Dress in Honeymoon ($310) – I purchased this dress on Mercari and I LOVE IT! I got a size medium and it fits a size 6-8. The circle skirt is super flowy and the ruching details are so flattering.
View this post on Instagram
Related: I also own a few Selkie collaboration items that I received through their mystery bag sale. Read my mystery bag review and reveal.
I made an inventory of my current 25+ item Selkie collection. Some items are up for sale!
Below we'll go over the pros and cons of Selkie dresses.
Selkie Pros
Very pretty statement pieces! The dresses are super poofy and are definitely eye-catching. They're made for special events or for modern day, real life princesses.
Inclusive sizing – Their size ranges from XXS-5X and RUNS SMALL. I highly recommend sizing up in Selkie. Each dress is listed with measurements but I find the actual garment is smaller than what is listed in the product description and size chart.
Lightweight – The dresses are surprisingly very lightweight depending on the material you choose. The Puff dresses are made with tulle and are much lighter than cotton dresses.
Free returns and exchanges. If your Selkie doesn't fit, you can easily return or exchange their dresses via Returnly.
Low waste practices – Selkie produces small inventories to test the success of items, then uses pre-sale to predict how much to buy on popular styles for future rounds. This ensures that the company does not partake in dangerous dumping or contribute to landfills.
Great Resale Value – You can resell your Selkie for pretty much how much you paid for it. I've purchased Selkie dresses for $225 and sold them for $200. It's like renting a dress!
Easy to care for. You can easily wash your Selkie at home. There is no need to go to the dry cleaners every time. Read our step-by-step guide on how to wash your Selkie dresses.
Selkie's rewards program allows loyal customers to accrue points for discounts on future purchases. Each $1 spent is equivalent to 1 point earned. Every 100 points are equal to $1 off. While the program is not very generous, it does give you a tiny discount if you're a loyal shopper.
View this post on Instagram

View this post on Instagram
Selkie Cons
Expensive – Their dresses are very expensive! Dresses can range anywhere between $250 to $500+. You can find a secondhand one on Mercari or Poshmark.
Cheaply Made – This is really dependent on the style of dress. The organza dresses are excellent quality, but the cotton material of the Tea Rose dresses feels thin and cheap. While I appreciate the lightweight and thin cotton fabric, the price was not commensurate with the quality of the dress I received. I highly recommend checking out these Selkie dupes on Amazon if authentic Selkie is not within your budget. Organza or heavy cotton (like the Marie dress) is probably the best bang for your buck.
RUNS SMALL – While Selkie offers inclusive sizing, their dresses tend to run small. I ordered a medium Tea Rose dress and it was more like a size small (US 4). I would have needed a size Large in this dress. By the time I went back to exchange my dress, the size large was sold out. The puff dresses run small too but not two sizes small like their Tea Rose silhouette. We recommend following their size charts to determine your size and sizing up if you're in between measurements. I wear a medium in their French Puff style and a large in the Tea Rose style.
Sizing is wildly inconsistent. I'm medium in French puff dresses and large in tea rose dresses. It's really frustrating that a company this big can't get their sizing right.
Low Stock – Their products sell out quickly and regularly. If you want a Selkie dress, buy it immediately. Their stock volumes change daily.
Long delivery times. Their production has been slowed down by the pandemic tremendously. We recommend ordering months ahead to ensure your dress arrives on time. Their dresses typically ship from China.
Exorbitant Custom Fees – Custom fees suck. Some people report paying as much as $100 USD to claim their items from customs. If you can, I recommend buying locally to avoid paying customs fees.
Made in China. While this doesn't mean a bad thing, it does lend a hand to long shipping times and sustainability, and fast fashion concerns.
Not 100% sustainable due to their use of polyester and plastic packaging.
Tulle dresses are see-through. Depending on the dress and materials you choose, some of their dresses may be see-through in the chest area. We recommend wearing a nude slip, bandeau, or silicone nipple covers underneath for added coverage. We like this nude bandeau by Skims.
Should I Buy Selkie?
I recommend Selkie organza puff dresses. They feel full and look amazing when worn.
I do not recommend Selkie's Tea Rose dresses at their current price point. The material feels cheap and doesn't have the princess poofiness that comes with the organza dresses. Tea Rose dresses also run really small. You can easily find a decent dupe on Amazon for less than $30.
It was a huge letdown in terms of cost, material, and sizing.
I also highly recommend cottage puff dresses. These run true to size, so I typically wear a size medium in this style and large in other Selkie styles.
I highly recommend finding your favorite print that you can wear to many destinations and events. After all, you want to get the most out of your Selkie dress.
We highly recommend buying secondhand Selkie because they are expensive. We have found some great deals on Selkie dresses through reselling websites such as Poshmark, eBay, and Mercari.
I wore my Amazon Selkie dupe to Oaxaca. It's made of polyester but I still received tons of compliments. Check out how the dress looks here.
Selkie dresses are also very easy to wash, which makes them very appealing. Read our step-by-step guide on how to wash your Selkie dresses to learn more.
Where to Buy Selkie
Shop Selkie directly on their website.
Selkie also offers a loyalty rewards program so you can earn points and apply discounts towards your future purchases.
We also love to shop for Selkie products at REVOLVE and Anthropologie.
You can also try to buy new or used Selkie on Poshmark, eBay, Depop, or Mercari (get $10 off your first purchase here), websites that allow you to resell new and used goods on the secondary marketplace.
And once you have your Selkie piece, check out our article on the best accessories to complement your Selkie.
Selkie Retailers and Stockists
View this post on Instagram
Similar Brands to Selkie
And if you want to buy Selkie competitors and dupes, there are plenty on the market. You might find that most dupes are not as full. Head over to any of these sites and check out what they have to offer.
Related: Most Instagrammable Photo Spots in Seattle
Buy Selkie Secondhand
And if you're interested in buying used Selkie, I highly recommend checking out the following sites and groups:
I am also selling pieces from MY PERSONAL SELKIE COLLECTION. Visit this inventory sheet to see what I have available to buy!
If you found our Selkie review helpful, please share it on Pinterest. Thanks for your support!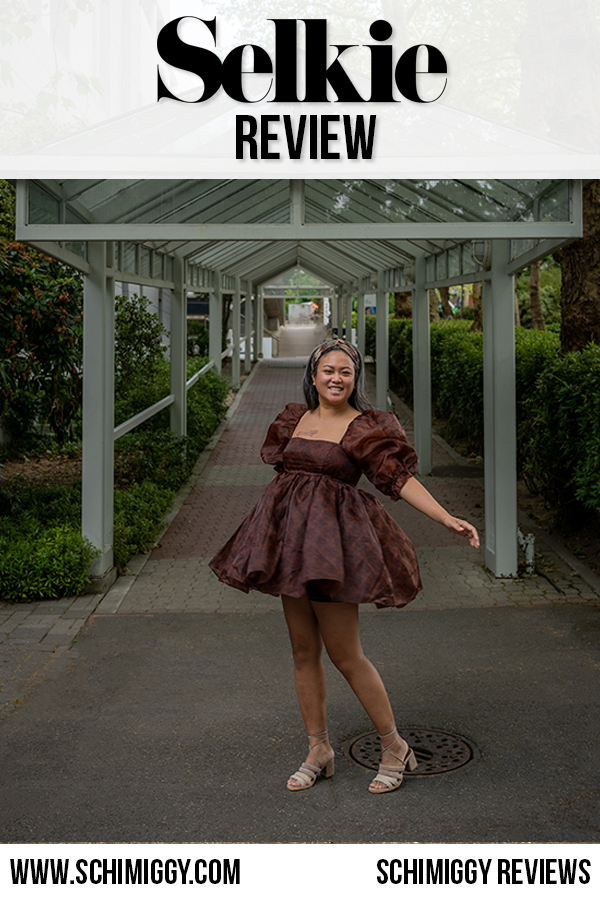 ---
Thank you for visiting today! If you found this encouraging or informative, please connect with us on Instagram, Youtube, Pinterest, Facebook or Twitter. We'd love to meet you!
Sign-up for our monthly newsletter for updates and more. We promise we won't spam you! Feel free to unsubscribe anytime.
For more fitness fashion discounts and offers, please visit our Fitness Instructor Discounts + Brands Directory or favorite brands coupon codes list.
If you're a brand and want to submit a product for us to review, please use this form to get in touch.
This site uses affiliate links. Clicking on or purchasing via an affiliate link may result in commissions for us which help keep the content flowing and lights on at Schimiggy Reviews. You may read more about this in our privacy policy.