Reading Time:
25
minutes
Updated: 8/16/2023 | Complete Seattle Travel Guide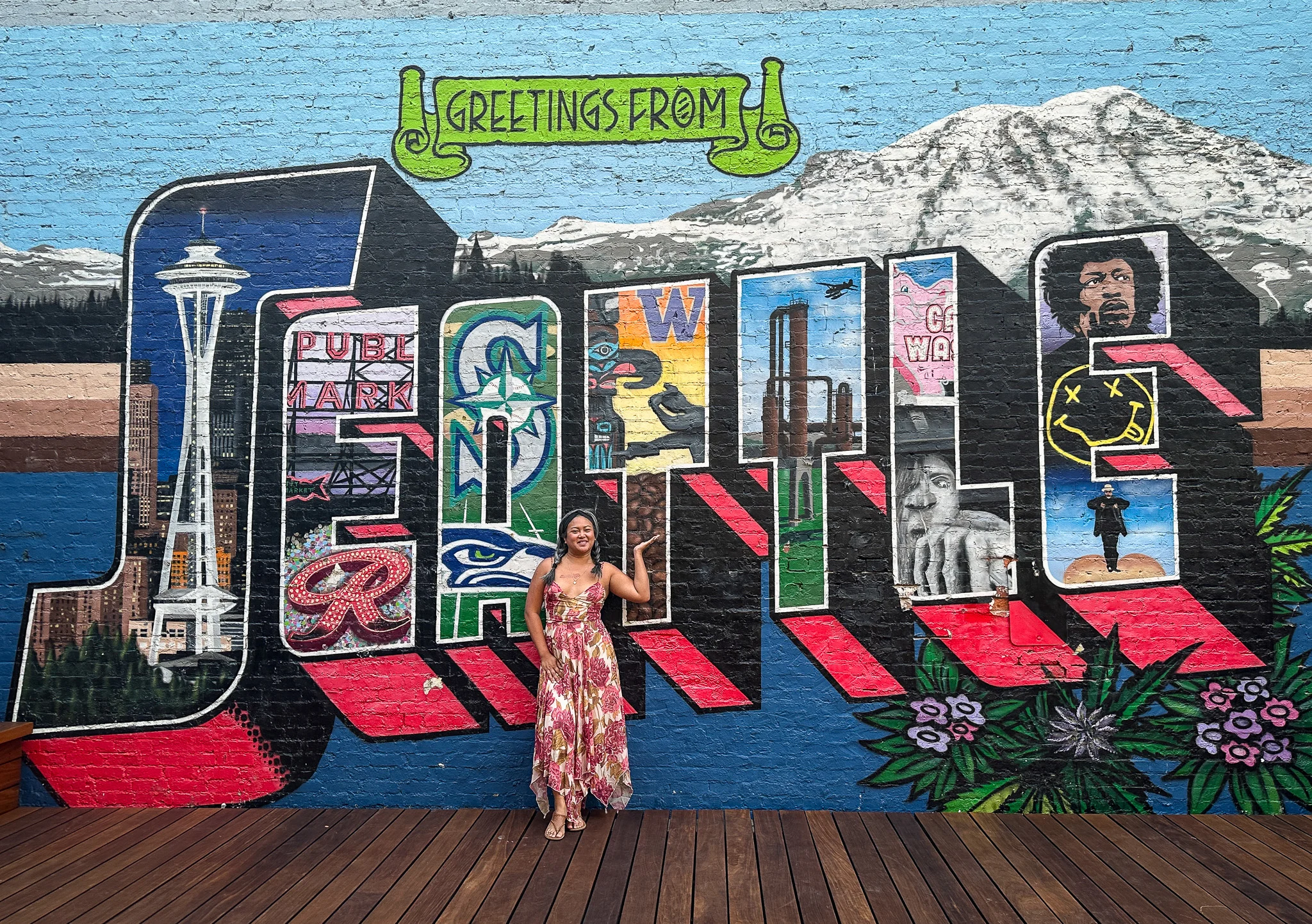 Seattle, Washington is located in the upper northwest corner of the United States. We endearingly call this area the PNW (or Pacific Northwest) which also includes Vancouver BC, Idaho, and Portland.
We're notoriously known for rainy weather, coffee consumption, and a huge presence of software/ tech industries (Microsoft, Amazon, Nintendo, Expedia, Google, and Boeing are all based here).
One thing they don't mention is how stinkingly beautiful our Summers are and why we're known as the Emerald City (think bright green). The best time to visit Seattle is between June and September. I recommend a 5-7 day trip to fully experience what Seattle has to offer.
Seattle is one of the fastest-growing cities in the US. To date, we have about 800,000 residents. You can tell just by counting the number of construction cranes up we are still growing. Amidst the rapid change, businesses are thriving and new businesses are popping up constantly.
However, as with any developing city, things are getting more expensive, especially with our $15 minimum wage implementation. Below are some great ways to get the most out of the Emerald City without breaking the bank.
Related: Best Photo Spots in Seattle
Best Things To Do in Seattle
#1 Take a Hike!
We highly recommend you rent a car for a day or two and go on a hike. Our best hiking seasons are from May through September. It is also worth taking a hike during Fall to see the leaves change from green to red, yellow, and orange. Visit the Washington Trails Association for a list of hikes ranging from easy to difficult. Below is a list of my favorite easy hikes:
Discovery Park – We love taking the North Beach Trail to the lighthouse. It's also dog friendly.
Cherry Creek Falls – Located in Duvall and is dog-friendly.
Lake 22 – Dog-friendly hike with a challenging sprawl that leads to an alpine lake.
Rainier Mountain – We recommend camping here for a day or 2 and exploring parts of the Wonderland trail.
Poo Poo Point – This moderately easy hike takes you to a launch pad where (on a sunny day) you can see paragliders launch into the sky.
Rattlesnake Ledge – Easy day hike with views of the lake below. Also dog-friendly.
See our complete list of recommended hikes in and near Seattle for more.
View this post on Instagram

#2 Go Up the Space Needle
Seattle was the destination for the 1962 World's Fair, which is when the Seattle Center was created. Along with the center came the iconic Space Needle and the Monorail train which takes you from Westlake Center downtown to Seattle Center.
Prices to go up the Space Needle vary by time of day. Go earlier in the morning to get a better rate.
#3 Visit the Center for Wooden Boats
The Center for Wooden Boats is located on Lake Union. On Sundays, volunteer skippers take visitors out for free. It's a great way to see the Seattle skyline from the lake.
#4 Visit the Chihuly Garden and Glass
If you've been to the Bellagio lobby in Las Vegas, you've seen Chihuly's glass art. Chihuly is a Washington native and a master in the art of glass blowing. We recommend taking a glass-blowing workshop while you're in town!
Washington residents get a discounted ticket to enter the Chihuly exhibit.
#5 See Seattle from the Top at Columbia Center
Take the elevator up Columbia Center, Seattle's tallest building, to see the 360-degree view of Seattle from the 73rd floor.
The Sky View Observatory is affordable and even offers student discounts.
#6 Visit the Fremont Troll
This quirky statue is situated underneath the Fremont Bridge at the north end of Troll Ave. It is an art installation of a huge troll with his hand over a Volkswagon bug. The troll is often decorated during the holidays.
#7 See the Seattle Gum Wall
The Gum Wall is one of the weirdest attractions Seattle has to offer. Some might find this disgusting while others think it's a sight to see.
It's located downstairs from the Pike Place fish market next to Alibi Room. Get ready for all the fresh bubblegum smells! Yum!
#8 Visit the Ballard Farmers Market
Every Sunday, you can visit the Ballard Farmers Market to see what the local vendors have to offer. It's held year-round and has over 120 vendors.
Ballard is also a super cute place with tons of al fresco (outdoor) dining and hipster bars and restaurants. You can easily spend an entire day here.
#10 Take the Theo Chocolate Factory Tour
Theo's is a gourmet chocolate company and it is fun to go through the tour and see how chocolate is made and sample all the different flavors.
#11 Fremont Fremonster
There is a lot of amazing art in Fremont including a giant Rocket and Lenin statues, a signpost that is reminiscent of Dr. Seuss, and our favorite, the giant topiary of a Dinosaur (the Fre-Monster). You can grab a map and do a walking tour of Fremont from the Fre-Monster.
#12 See the Downtown Seattle Skyline from Gas Works Park
Gas Works is a public park that has an amazing skyline view of downtown Seattle. The park is located on the site of the former Seattle Gas Light Company gasification plant. The plant itself is closed off, but there is plenty to do around the park.
In the summer, they host outdoor yoga every Thursday in the evenings. It's also a great place to enjoy the sunset.
#13 Visit the Hiram M. Chittenden Locks
Here you can see the water level can change up to 26 feet as kayaks and big ships alike make the transition. During spawning season, you can see the salmon make their way up the ladders to mate. Oohlala!
The Hiram M. Chittenden Locks are located in the Ballard neighborhood.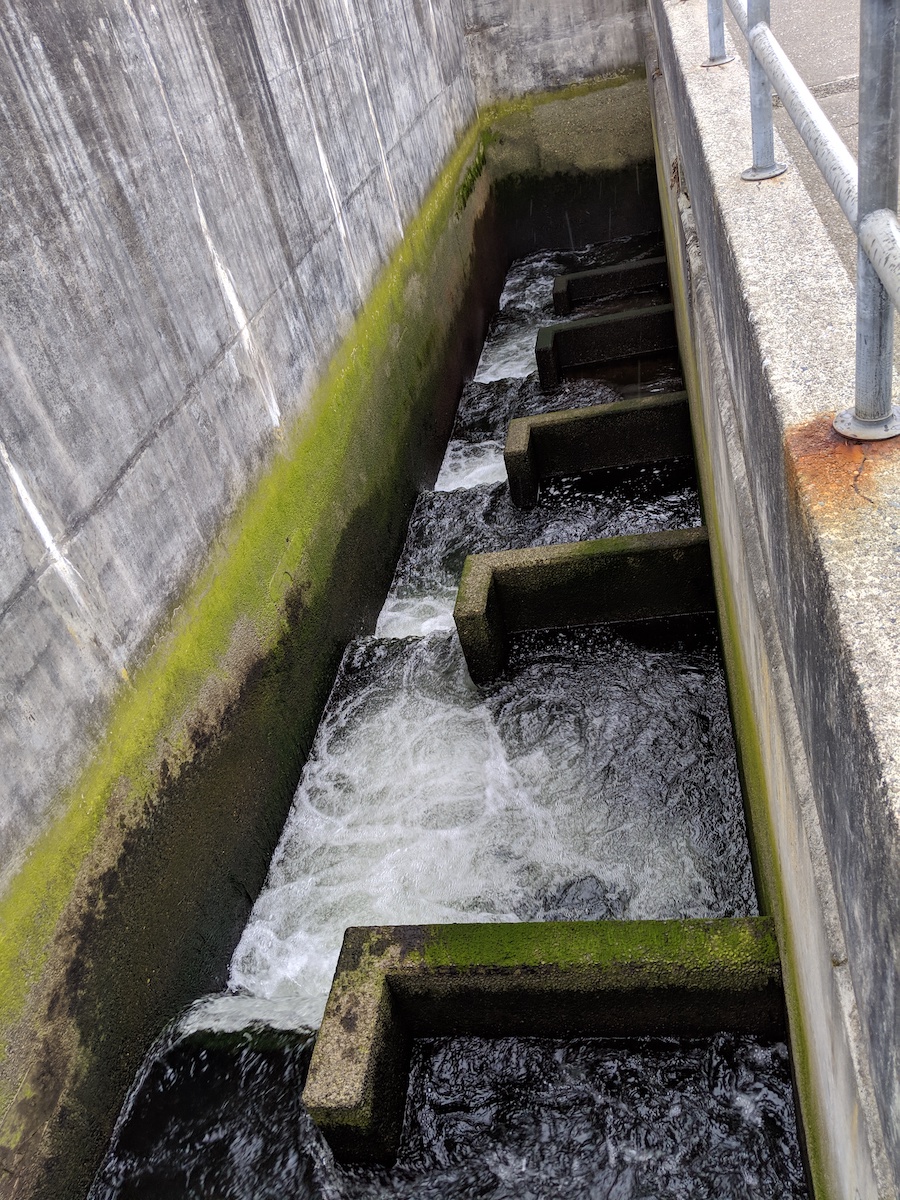 #14 Bill Spidel's Underground Tour
Did you know that present-day Seattle is actually built on top of the original Seattle? The underground tour is packed with comedy and knowledge about the old and new Seattle.
#15 Kerry Park
Head to Kerry Park for great skyline views of Downtown, Alki, West Seattle, and the Puget Sound.
You may catch a wedding shoot while you're here. It's a popular place for photographers and dog lovers.
#16 Take a Ride on the Seattle Great Wheel
The Seattle Great Wheel is located on the pier and was featured in the live-action remake of the Notebook anime series.
While you're at it, take a walk down the pier to visit all the stores and restaurants. For a great sunset view, head to Pier 66.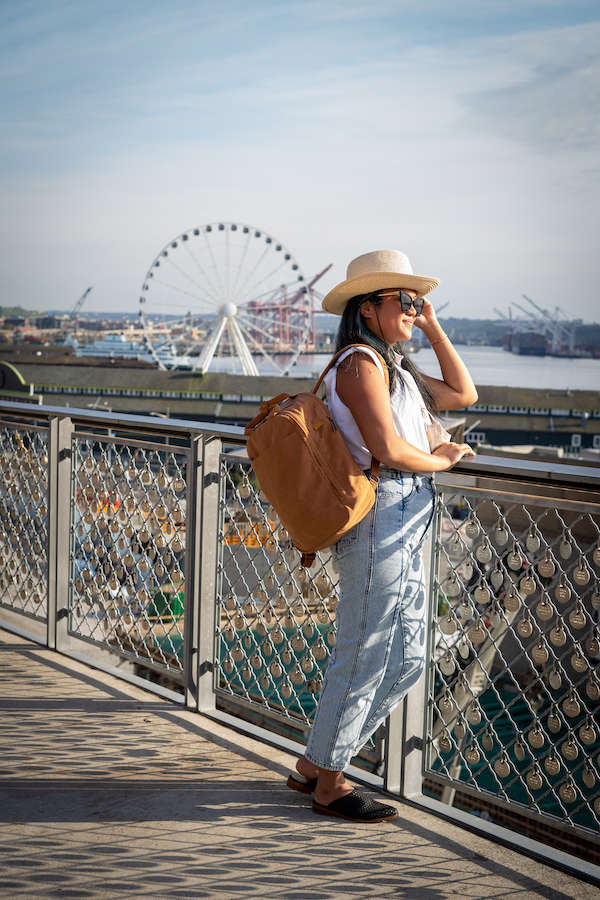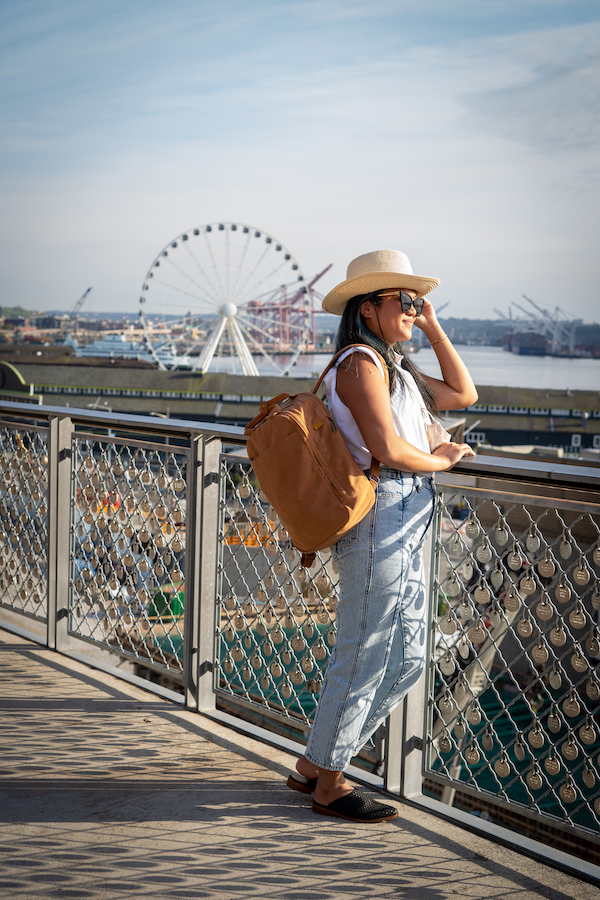 #17 Museum of History and Industry
The Museum of History and Industry, better known as MOHAI, tells you everything you need to know about Seattle's origins and influence. Learn about the Great Seattle Fire and the rise of local grunge bands.
#18 MoPOP Museum
Formerly known as the EMP Museum, the MoPOP, or Museum of Pop Culture, houses Sci-Fi, Star Trek, Fantasy, Horror, and music exhibits. They have a rotating exhibit that costs extra but is worth it.
What is most attractive about the MoPOP is its undulating and colorful exterior design by the famous architect, Frank Ghery.
#19 Seattle Public Library (SPL)
The Seattle Public Library boasts a harlequin glass exterior that is just a beautiful work of architecture. Come inside and relax on their sofa chairs, use computers, or read some books.
#20 The Original Starbucks
You'll find the "original" Starbucks is located in Pike Place Market. Every day, there is a line of people wrapped around the outside of the store. I prefer to go during the off-season when there are fewer tourists and the lines are much shorter.
The actual original Starbucks used to be at the corner where the Seatown Rub Shack & FishFry currently is.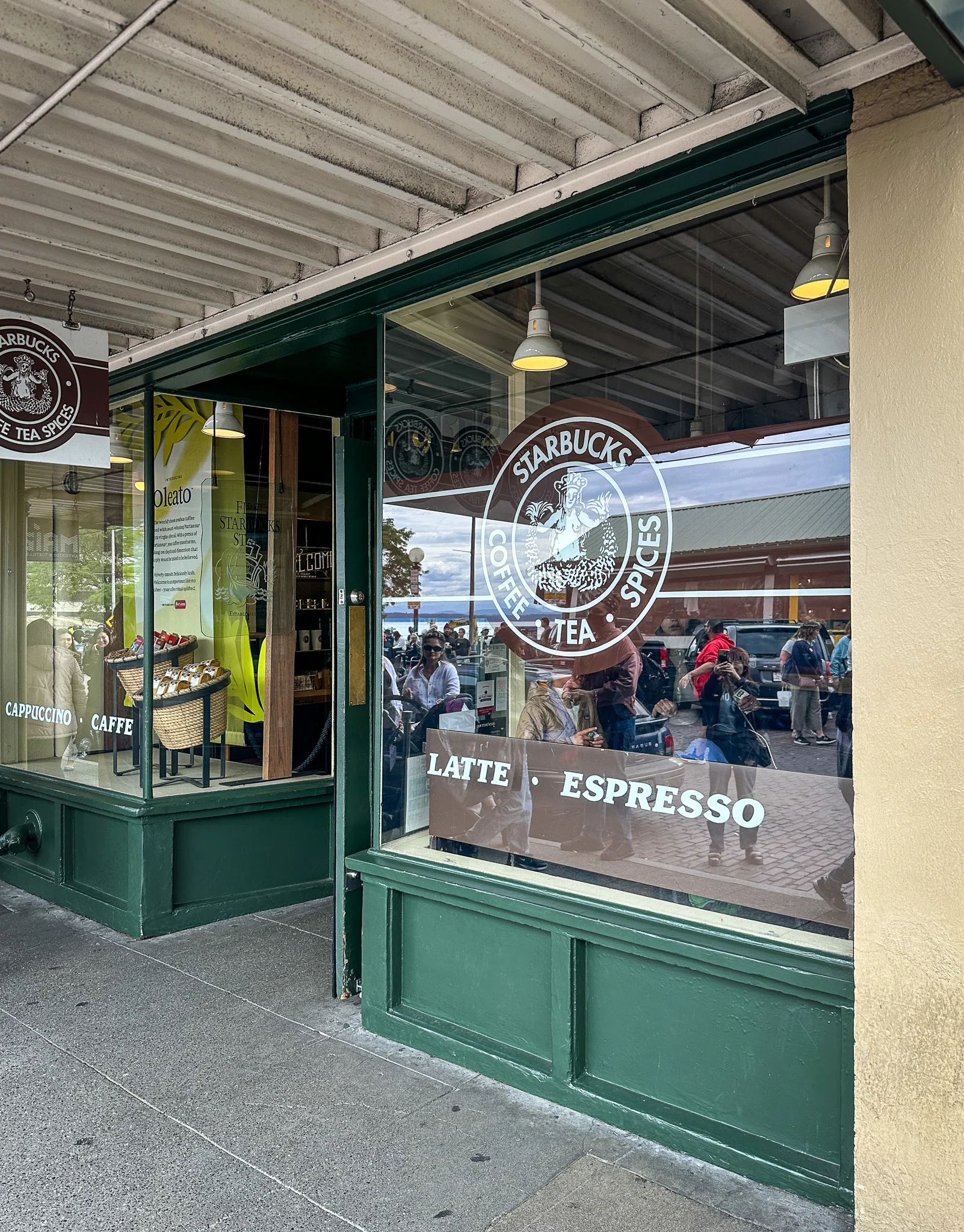 #21 Olympic Sculpture Park
Take a walk around the Olympic Sculpture Park. You'll meet tons of dogs (they say in Seattle there are more dogs than children), enjoy an unobstructed view of the Puget Sound, and have an amazing sunset view along the Olympic mountain ridge.
#22 Smith Tower
The Smith Tower was once the tallest building in Seattle. From their open-air observatory deck, you can enjoy 360 views of Seattle. Inside, you can sip on craft cocktails and small bites in their China room restaurant. There is also a private residence located at the top of the tower.
#23 Watch the Sunset at Golden Gardens Beach
Take a short car ride to the Golden Gardens to enjoy an actual sandy beach in Seattle. I love coming here to watch sunsets. It's located just northwest of Ballard.
View this post on Instagram
#24 View the Seattle Skyline from Alki Beach
Alki Beach is a peninsula located across from Downtown Seattle. From there, you'll be able to take in the Skyline view of Downtown Seattle. It's a great spot for photographers and visitors to enjoy.
To get to Alki Beach, you can drive there or take the water taxi which costs around $5 USD each way.
#25 Visit the Bustling Pike Place Market
Shop from over 100 vendors offering handmade products at the Pike Place Market. You'll find a lot of produce and floral vendors here.
Grab a bouquet and have fun taking photos around the market.
#26 Visit Bruce Lee and Brandon Lee's Grave
For Kung Fu movie fans, located near the bustling neighborhood of Capital Hill and Volunteer Park, you'll find Bruce Lee and Brandon Lee's gravesites.
If you have time, try to visit Tai Tung, a Chinse restaurant that Bruce Lee frequented so often that they named one of the nooks, the Bruce Lee Room.
Address: 1554 15th Ave E, Seattle, WA 98112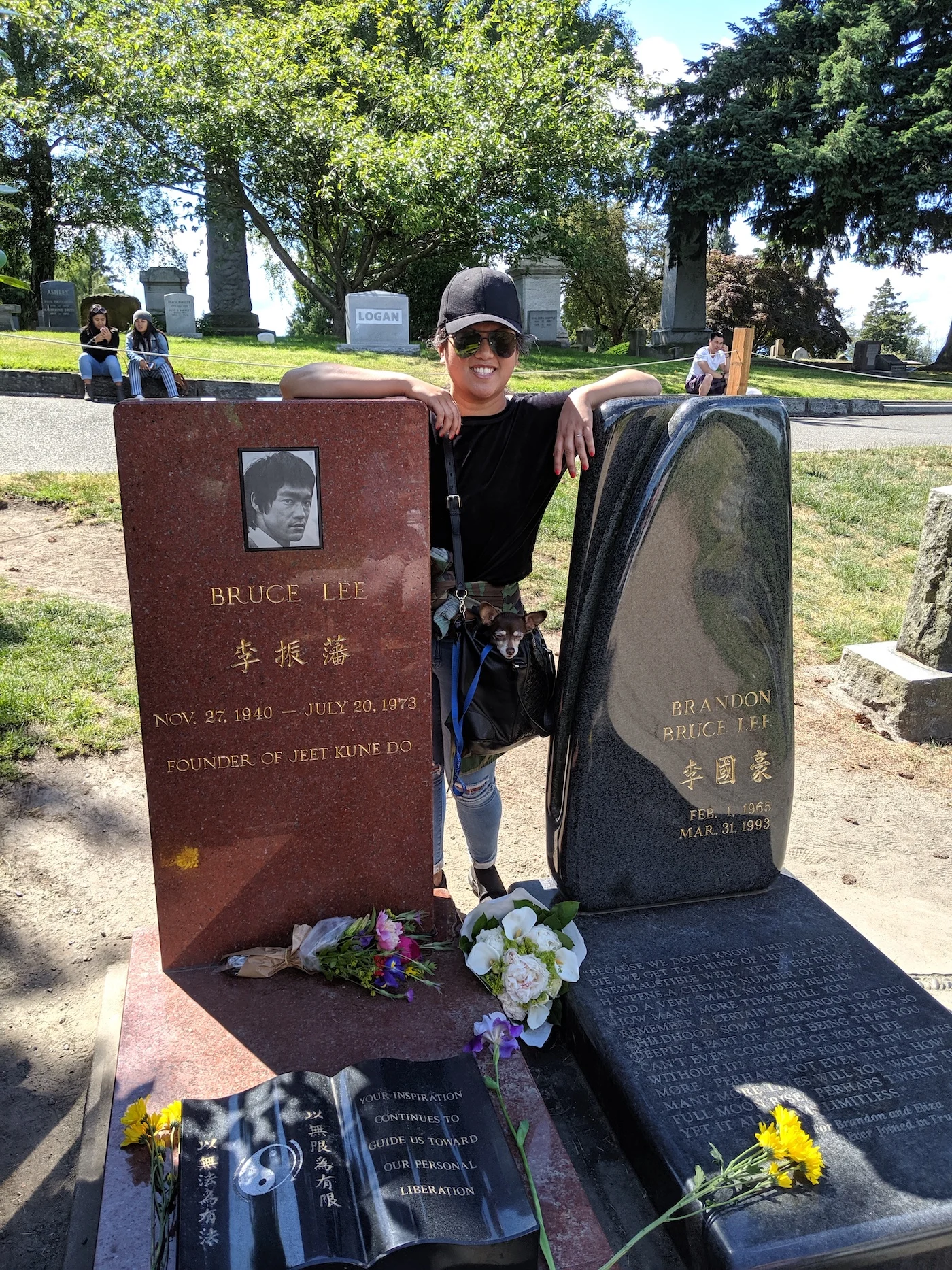 #27 Visit the Harry Potter-esque University of Washington Campus
I wish I knew about the University of Washington (also referred to colloquially U-Dub) while growing up. I would have spent my college years here.
The campus is filled with gorgeous Gothic buildings that will make you feel like you've been transported to the wonderful wizarding world of Harry Potter. The best thing to see here is the Suzallo and Allen Library, which looks like the dining hall from Hogwarts. Spend about 2-3 hours here to see most of what the campus has to offer.
#28 Visit Seattle's Oldest Bar and Restaurant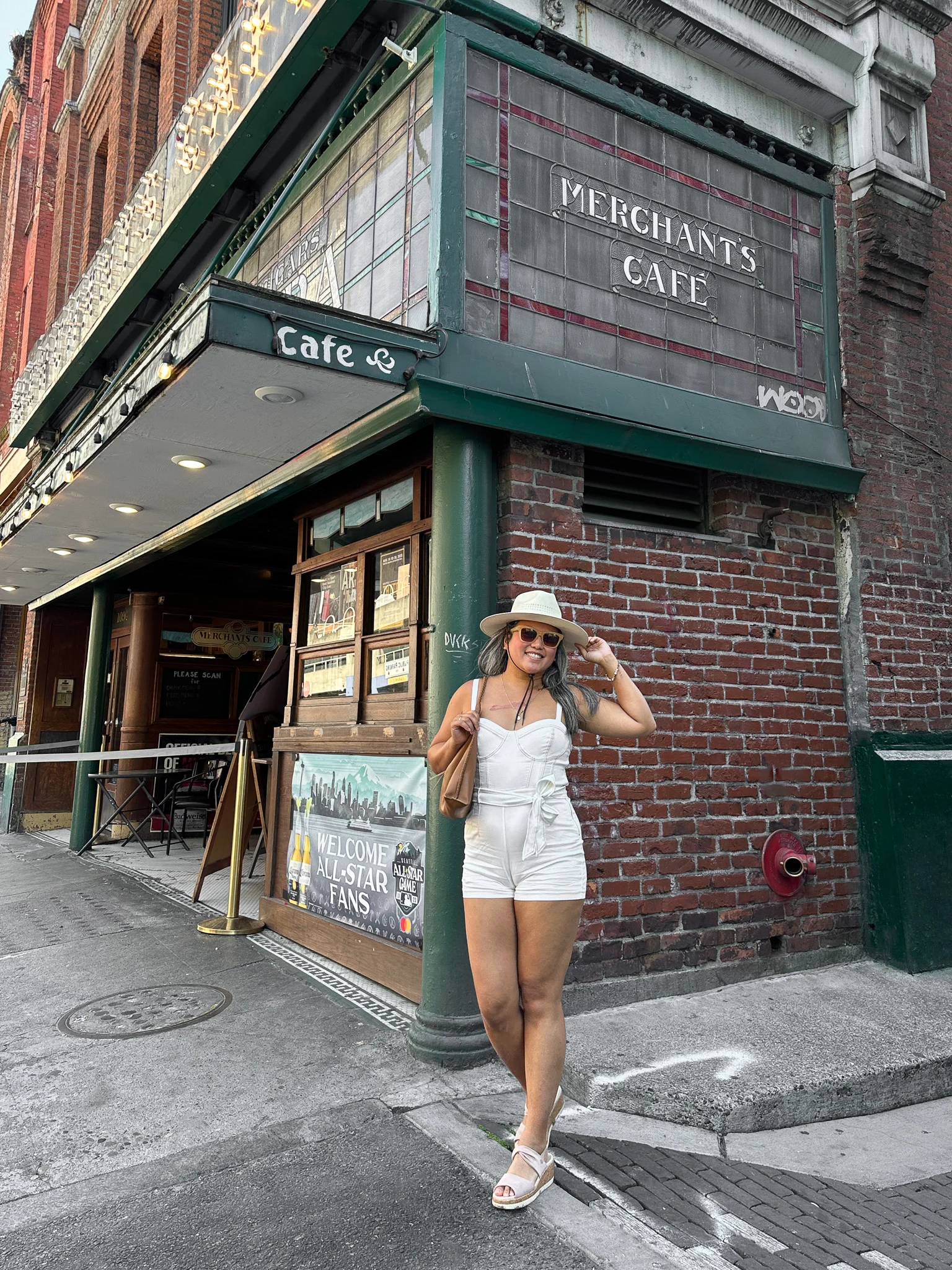 Merchant's Cafe and Saloon is Seattle's oldest restaurant and bar. It's also haunted by multiple ghosts!
You can visit the location on your own (for free) or as part of a tour.
View this post on Instagram
#29 See a Sports Event
Watch a Mariners (baseball), Seahawks (football), Kraken (hockey), or Sounders (football) game. We're all about sports in Seattle! Make sure to bring some green and blue to wear to the game.
The only thing we don't have, but probably desperately need is a men's basketball team.
What to Do on the East Side
Wait, there's another side to Seattle? Yes! The east side offers great luxury shopping experiences and delicious restaurants.
Bellevue Square – Enjoy this massive upscale mall with every store you can think of. It also has Beecher's Cheese and Top Pot doughnuts if you missed those stops. There is a Starbucks restaurant with smoothies and organic salads and such, a mini Whole Foods coming soon and did I mention the shopping?
Kirkland – Wander along the beautiful waterfront and explore the cute little shops. We love brunch at Anthony's Homeport and for a tasting menu dinner you won't forget, check out Cafe Juanita.
Woodinville – If you're an oenophile (wine enthusiast), you'll definitely have to add this one to your list. Woodinville is home to notable wineries like Chateau Ste Michelle and Columbia Winery. Chateau Ste Michelle is a gorgeous winery and they feature Summer concerts with big acts such as John Legend and Gypsy Kings. Down the street, you will find Red Hook Brewery for a more casual vibe and the super fancy and super awesome Herb Farm restaurant.
Snoqualmie- Snoqualmie Falls is a gorgeous spot to hike a bit and check out the spectacular 268 foot waterfall. The hike down is fairly easy but the trek back up is no joke. There is an observation deck right off the parking lot if you aren't in the mood to hike. It is an easy drive from the Eastside or about 30 miles from downtown Seattle. If you're lucky, you'll see a rainbow in the waterfall.
Issaquah- Issaquah is another small community on the Eastside, probably not a major destination point except for the little farm we discovered called Fox Hollow Farms. Don't miss it if you have children. You'll get to see chicken, pigs, horses, sheep, cows, bunnies, cats, and a few peacocks. The farm is beautifully maintained and great for the entire family.
Day Trips from Seattle
Leavenworth
Head to this little Bavarian village that is especially charming during Christmas season. We also recommend visiting during Oktoberfest through the months of October through November for beers, bratwurst, and a party. We've also gone during the Spring and enjoyed bratwurst and beers at Rhein Haus. It's also the perfect time to hike the nearby trails.
Attend the Tulip Festival
If you happen to visit in April, head to the Tulip Festival in Skagit Valley. It is only an hour away by car but the drive is worth it to see the millions of tulips blooming throughout the month of April.
Farms that we highly recommend are Tulip Town and Roozengaarde. Check out our article on the Best Tulip farms in Washington State for more info.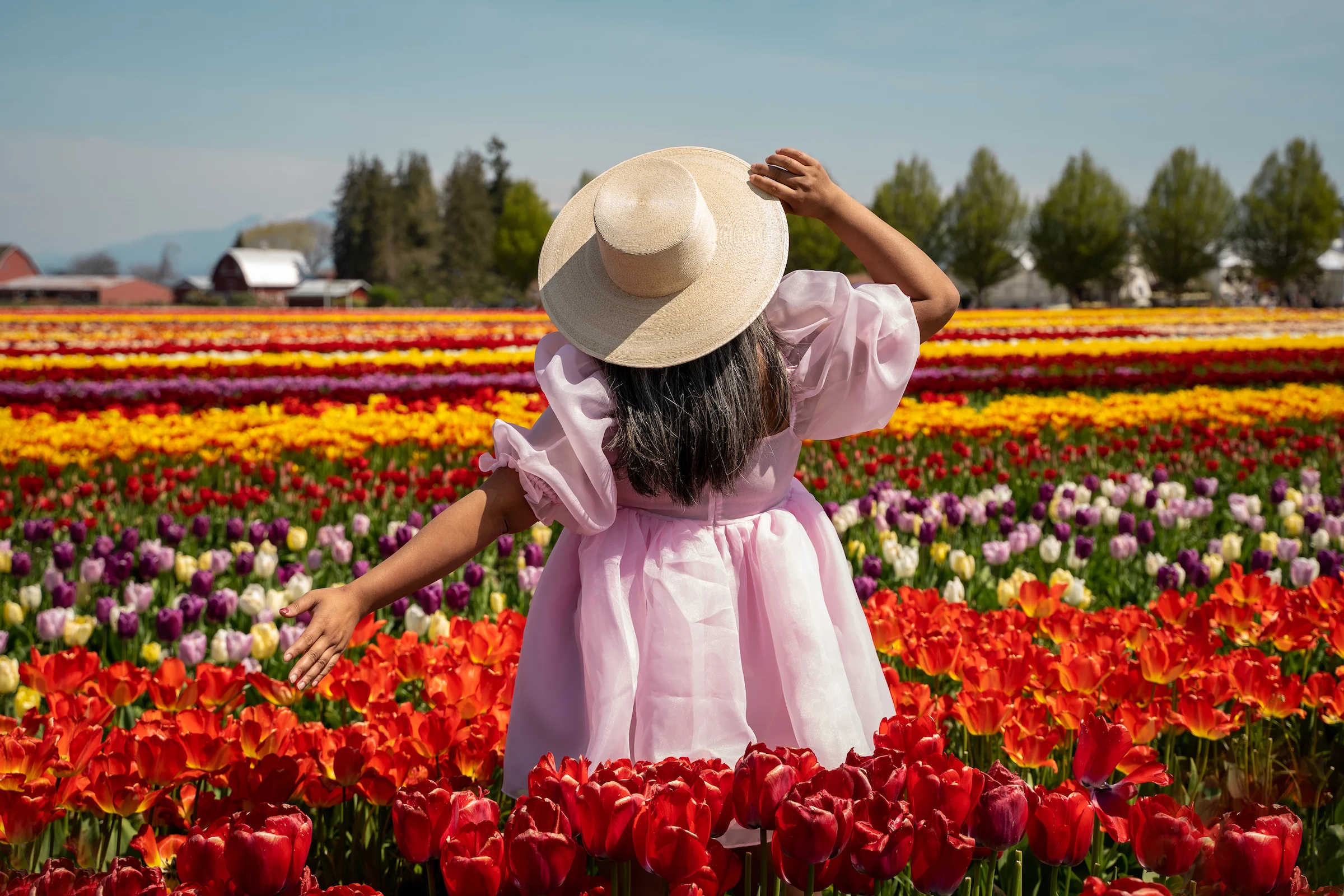 View this post on Instagram
Suncadia
A bit of a drive in Eastern Washington but I am well worth it. It is a breathtaking resort surrounded by nature. You'll find trees, rivers, and lakes. It was a very quiet and relaxing stay. There are many activities which include swimming, hiking, biking, stand-up paddle-boarding (SUP), canoes/kayaks, and scooter rentals.
This is 80 miles from Seattle and a sleepy place so don't expect a roaring nightlife but the views will truly take your breath away. We also took a quick hike to a tiny, tiny town called Roslyn.
Take a Ferry
There are several islands that are a quick ferry hop over from Seattle including Vashon Island, Bainbridge Island, and Whidbey Island (not to mention the San Juan Islands which are spectacular).
Whidbey is known for their Farmer's Market, little shops and restaurants, and an extensive dog beach. Visit Bainbridge for the beautiful scenery that's a quick hop away from Downtown Seattle.
Be sure to check the ferry schedule before you go! The ferry line can take up to 2 hours during holidays and peak hours. You will definitely need a car for Whidbey Island.
From Whidbey, you can hop over to the Olympic National Park and visit the Ho Rainforest or 1st, 2nd and 3rd beaches where you can see a legitimate sunset in the horizon.
View this post on Instagram
Best Places to Eat in Seattle
Here is my pricing legend:
$=$20 or below
$$=$20-$50
$$$=$50-$100
$$$$=$100 and above
2120 ($$)– Located next to the Amazon Spheres, 2120 serves awesome cocktails and contemporary American fare. My favorite is their mac and cheese with duck fat croutons. C'est what? Their happy hour menu is plenty to satisfy your taste buds.
5 Point Cafe ($$)– Open since 1929, the 5 Point Cafe is divey and the quintessential grunge Seattle restaurant and bar. In the men's restrooms, there's a periscope where you can view the Space Needle while you relieve yourself. My favorite dishes are their poutine (sub for tater tots) and country fried steak and eggs. From Sunday-Thursday you can enjoy one of their 5 Point Specials for only $6 (it used to be $3.50!). What is it? A 2 oz shot of whiskey and a can of local cheap beer.
5 Spot ($$)– Located at the top of Queen Anne hill, the 5 Spot offers American fare and is known for their breakfast and lunch dishes. This is a must for anyone visiting Seattle. We love their country fried steak and eggs, burgers, and cinnamon buns!
View this post on Instagram
Where to Get Dessert in Seattle
Best Coffee in Seattle
Where to Drink in Seattle
Bar Sabine – This bar is located in the back of Café Sabine in the Ballard neighborhood. They have an uber-cute menu of Anime themed cocktails. Opens from 4pm-2am and is worth visiting.
Bathtub Gin – One of our favorite cocktail bars. It's speakeasy-style and located in an alley in the boiler room of an old converted hotel building. Bathtub Gin is located in Belltown very close to Have a Heart.
Belltown Provisions – Erected in 2022, this bar has quickly become a new mainstay in Belltown's drinking scene. We love the Busan Star, which is a cocktail made with matcha and cold brew.
Canon – Canon offers craft cocktails that are theatrical and a whiskey list with selections dating as far back as the 1800s for $1,000 a pour. It's a fancy place. Dress up and bring a date with you. During busy hours, you may have to wait for your turn.
Chuck's Hop Shop – If you love craft beer, you will love Chuck's!
Doctor's Office – This cozy little bar offers classic cocktails and creative concoctions for whatever ails you. We did a side by side tasting of Cynar from the present day and against a bottle from the 1960s! Reservations are highly recommended.
The Fog Room – This bar is located on the rooftop of The Charter Hotel by Hilton. The rooftop is on the 16th floor and has a cocktail menu with strong drinks and a noteworthy list of craft beers.
Foreign National – Love this cocktail haven located in the Capitol Hill neighborhood. Reservations are required. Groups of 6 max.
Fremont Brewery – Fremont has a large outdoor area and is worth a visit if you're here any time of the year. It's very close to Gas Works Park. Dogs are welcome.
The Hideout – Since 2005, the Hideout has been offering craft cocktails and an opportunity to buy artwork from local artists. Their walls are covered in artwork that is stimulating and sometimes controversial.
Holy Mountain – We are so lucky to live next to a brewery that makes every style of beer very well. Come in for a sour or stout beer. My favorite sour beer of theirs is Sacrament.
Inside Passage – A bar hidden inside another bar. This nautical-themed speakeasy is worth visiting. Their drinks are definitely a sight to see. Arr matey!
Full Throttle – A craft beer bottle shop located in Georgetown. Tell our friend, John we referred you!
Jarrbar – A tiny and adorable Spanish bar serving tin canned meats and Iberico ham (jamon). It's located just below Pike Place Market. Their cocktails are strong and delicious. Come in for happy hour!
Outlander Brewery – A Fremont brewery built in a Victorian-style home. Explore the ground and top floors. In the Summer they have outdoor shows and sometimes a DJ on top of a bus. Dogs are always welcome!
Percy's & Co. – Enjoy a variety of cocktails and comfort food items at this Ballard bar. Our favorite is the Spicy Tomatillo.
Pine Box – A former funeral home converted into a craft beer tavern. Bruce Lee had his funeral here.
Roquette – A dimly lit art deco bar that serves some strong and creative beverages. It's great for date night or an intimate evening with friends. Reservations are required.
Schilling Cider House – Located in Fremont very close to Cafe Turko and The Fremont Troll is a cider house worth visiting. Try their seasonal flavors that sometimes use jalapenos, pineapples, roses, and other interesting ingredients.
Suite 410 – This bar has amazing craft cocktails with creative antonym names. They also have a food menu that's prepared by the Mayflower Hotel kitchen. Come for happy hour to enjoy drinks and cheap bites!
Tavern Law – Here you'll be able to find a speakeasy upstairs called Needle and Thread. You'll have to use the phone to call your way in. It gets busy at night so come early if you want a chance to go up.
Unicorn Bar – A fun and funky bar located in Capitol Hill Neighborhood. Temporarily trade your ID in to rent the bejeweled Unicorn helmet from the bartenders. If you're hungry, order the potato balls. They're unbelievable.
Urban Family Brewing – Craft brewery located in the Magnolia neighborhood that produces a variety of styles including sour beer and IPAs. Dogs are welcome!
Whiskey Bar – Another great cocktail bar that offers bar food and local art for sale.
Zig Zag Cafe – Located south of Pike Place Market, Zig Zag offers delicious cocktails with an option for Dealer's Choice. They also offer Mediterranean fare.
Related: Best Craft Cocktails Bars in Seattle
What to Smoke
Did you know consuming cannabis is legal in Seattle? All the stores offer flower, distillate/vape, topical and edible options. Here are some of our favorite picks for recreational weed. Keep in mind that cannabis cannot be consumed in public.
Uncle Ike's – You gotta get the yummy pineapple gummy edibles here. They're AMAZING.
Transportation
By Train: The best way to get downtown is to take the Link Light Rail from SeaTac Airport (SEA) to Downtown Seattle. It's only $3.75 each way and takes 45 minutes from the airport to get to City Center. You can buy a card (which costs $1) or use the Transit Go Ticket App to purchase and redeem tickets via your mobile phone.
By Bus: Once you are Downtown, you can take the bus pretty much anywhere, including to the east side/Bellevue. It costs $2.75 per person during peak hours and $2.50 during non-peak. Tickets are valid for multiple transfers during a 90-minute period. You can pay cash (must have exact change) or get an ORCA card and refill it throughout your trip. There are kiosks you can use to buy an ORCA card. Multiple people can use one ORCA card at once. You just need to let your bus driver know. For bus times and directions, we recommend using Google Maps to get around.
Rideshare: You can download a shared car service called Uber or Lyft. A ride from the airport will cost $30-40 USD each way. A ride around town will be no more than $12-15 USD one way. Most rides average $4-7 USD around downtown.
Rent a Car: With a car, you can easily explore the East Side (Bellevue, Renton, Kirkland), visit Mount Rainier, or go on one of the many beautiful hikes in the Seattle area.
Bike: Certain parts of Seattle can be a little hilly. Seattle recently installed designated bike lanes throughout the city. Please enjoy them!
Accommodation
Lodging in Seattle is especially expensive during Summer because everyone wants to visit when the weather is great. Here are some options if you don't want to stay at a hotel.
AirBnB – Find affordable accommodation within various Seattle neighborhoods. I recommend staying Downtown (Belltown, South Lake Union, Pioneer Square), or in Queen Anne, Ballard, Interbay, Capitol Hill, and Greenlake. I know a great place close to downtown that's affordable. E-mail us for more information.
Use Booking.com or Agoda.com to find cheap hotel deals. Both sites have real reviews and photos of accommodations so that you know exactly where you'll be staying.
Seattle Travel Guide MAP
Use our Seattle travel guide map to plan your trip.
And with that, I welcome you to Seattle! That's it for our Complete Seattle Guide. I hope you enjoy my city as much as we do. Please let us know what your favorites are in the comments section of this post.
Enjoy our wonderful AQI of 30!
Enjoyed our Seattle Travel guide? Please share it. Thanks for your support!
---
Thank you for visiting today! If you found this encouraging or informative, please connect with us on Instagram, Youtube, Pinterest, Facebook or Twitter. We'd love to meet you!
Sign-up for our monthly newsletter for updates and more. We promise we won't spam you! Feel free to unsubscribe anytime.
For more fitness fashion discounts and offers, please visit our Fitness Instructor Discounts + Brands Directory or favorite brands coupon codes list.
If you're a brand and want to submit a product for us to review, please use this form to get in touch.
This site uses affiliate links. Clicking on or purchasing via an affiliate link may result in commissions for us which help keep the content flowing and lights on at Schimiggy Reviews. You may read more about this in our privacy policy.