Reading Time:
7
minutes
Updated: 1/30/2022 | Travel Packing Hacks to Help You Pack Lighter
Packing light has many benefits. By keeping your luggage light, you may be able to enjoy all the following benefits:
No excess baggage fees. Most airlines in Europe allow for a personal item plus one carry-on that is 10kg/22 lbs or less. Some baggage fees can cost as much as 36 Euros!
No checked baggage fees too! Avoid paying checked baggage fees when you can utilize the free carry-on benefit.
No need to tip porters. You won't need anyone to tote your large luggage to your room.
No more airport trolley fees. You can just easily carry what you got from departure to arrival.
Quicker to pack at home and at your destination. Faster packing means more time to sightsee and experience.
Makes it easy to traverse across multi-destination trips. The old adage, "less is more" is applicable in so many ways.
You can go somewhere en route to your destination without all the bulk. I stopped to have lunch as I was en route to Greece and my carry-on made it super easy to make this stop on the way to the airport.
Less risk of bodily injury or exhaustion when you can avoid moving around with a lot of weight.
Travel Packing Hacks to Help you Pack Lighter
#1 Pack a Carry-On
I bring everything in a backpack and carry-on when I travel. This is for both short and long-haul trips domestically or internationally. I have traveled internationally for one month with just a carry-on.
And you can do it too!
I find that if I have more bags, the more I am inclined to fill them with things. Especially things I may not need. Try to limit the number of things you bring by packing using only a carry-on. You'll find that you pack more efficiently and lighter.
Carry on luggage that I recommend are from Away and Monos. They have lifetime guarantees on their bags and a regular carry-on size plus a larger carry-on model.
#2 Fold Using the Marie Kondo Method
Honestly, when those packing cubes became a thing, I didn't think they were necessary. I used them once and was so annoyed at how much space they took up in my bag that I abandoned them. That is like 2 additional outfits right there!
Instead, I use the Marie Kondo folding method to pack my bags. I pack my belongings in rectangles that stack upright in my carry-on suitcase. I can see everything I've brought with me and I can fit so much more than if I were to use packing cubes.
And if you want to take it a little further, do like Marie Kondo and toss what does not spark joy in your carry-on. This is applicable even during travel. If something no longer serves you on your trip, toss or donate it.
#3 Choose Lightweight Clothing
Synthetic fabrics are great for traveling because they're not heavy (super lightweight), typically dry quickly, and do not wrinkle easily.
Fabrics like polyester or nylon pack well and do not retain moisture, making them perfect for traveling!
Try to avoid heavy fabrics like cotton, denim (unless they're shorts), or wool. These fabrics retain moisture, are heavy, and take forever to dry.
We typically only bring denim shorts, but if we bring denim jeans, we will wear them while flying on planes between destinations.
Related: Where to Buy Pretty Dresses for Traveling
#4 Bring multi-Functional Clothing
I love clothing that can be worn in multiple ways!
For example, we love wearing reversible one-piece swimsuits (like this one from Cupshe – see below) that also doubles as bodysuits! Wear the bodysuits with pants, jeans, a skirt, or shorts for a new look every time.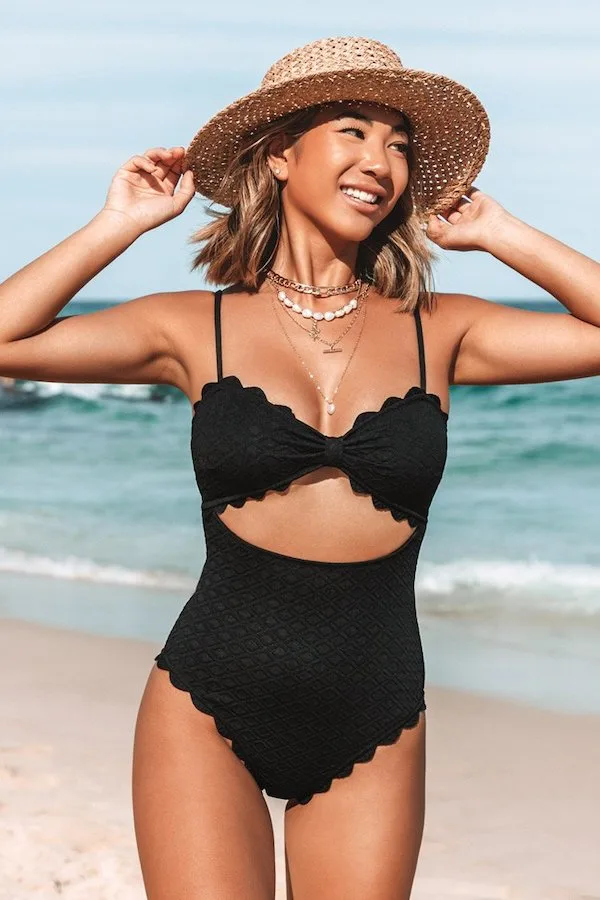 Related: Best Sustainable Swimsuit Brands
Another example is to wear a T-shirt dress (like the Mika dress by Leafd) as both a dress or top. You can wear it as a sleeping dress or under a skirt over the dress for an entirely different look!
It's super versatile, lightweight, super breathable, and comes in different colors.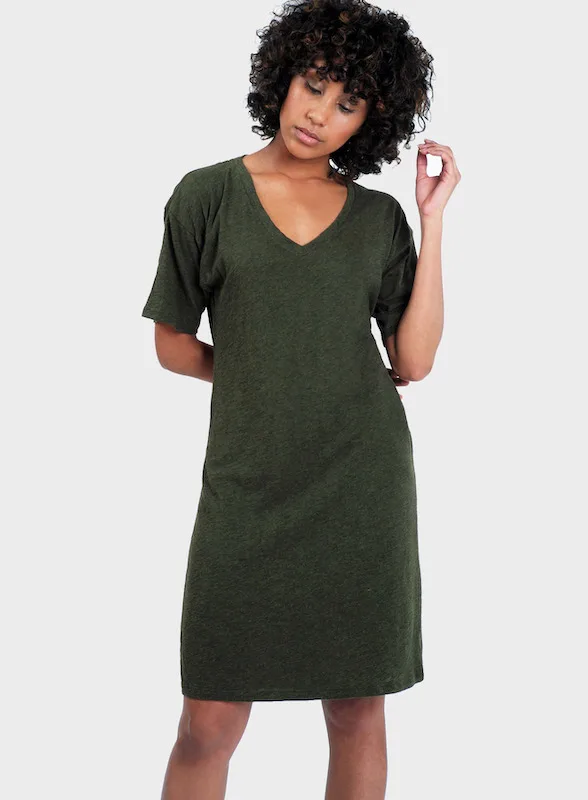 We also love layering bodycon sweater dresses like this one by J.ing underneath a pretty skirt by Chicwish.
#5 Buy Things At Your Destination
Instead of bringing liquids with you, opt for buying them at your destination. This also goes for clothing items that you have been shopping for but haven't found yet. Maybe you'll find what you're looking for abroad!
You can shop for these items at your destination and may even find unique clothing and accessories that you can't find back home. They also make great souvenirs from your trip.
#6 Plan out YOur Outfits
Plan out your outfits for each day. Determine which outfits can be repeated or mix and matched so that you don't overpack.
Some people like to pack similar colors so they can mix and match outfits. Some like to have multiple colors so that you can create even more outfit combinations! It's really up to you and your style.
#7 Opt for Packable Clothing
I LOVE packable anything and everything. We typically bring a packable fanny pack, backpack, rain jacket, and even packable dresses.
Here are some packable things we highly recommend:
Packable Lannie Fanny Pack by Trendhim – Seriously, this is one of the best things I've invested in.
Packable City Rain Jacket by Athleta – I've had this jacket for 5 years and never letting it go.
Packable hats by Furtalk -Invest in a good quality hat that you don't mind smashing into your luggage.
Relate: Best Hat Brands for People with Big Heads
#8 Mix and Match Your Outfits
Choose tops and bottoms that can be mixed and matched with one another. That way you have tons of outfit combinations to choose from.
It's also super fun to see what outfits you come up with that maybe you had not considered before.
It's also OK to repeat outfits. If I am traveling to multiple countries, I will repeat an outfit in an entirely different destination! Trust me, no one really cares (or knows) that you're wearing something again.
#9 Share Toiletries + Other Items
Traveling with friends? Then delegate who is bringing what.
When I travel with my girlfriends, I'll typically bring a hair straightener and ask my friend to bring a curling iron. We are share toiletries such as toothpaste, hair pomade, hair oil, hair spray, and even make-up.
There is no need to bring multiples of something if you can share it.
#10 Pack No More Than 3 Pairs of Shoes
You don't need more than 3 pairs of shoes. We typically pack sandals (water-friendly is best), sneakers, and a pair of cute flats or heels.
We find that shoes that pack flatter are better for creating space and lessening weight. We love packable shoes by Rothy's, a sustainable shoe company that makes shoes from used water bottles!
If your destination is cold, then bring boots but wear them onto the plane. Do not pack them.
Related: Rothy's Sandals Review – Are They Worth It?
#11 Wear Your Bulkiest Items
When I am in transit between cities, I typically wear the heaviest items on my person. I will wear heavier items like boots, coats, denim jeans, scarves, hats, and more onto the plane.
#12 Plan to Do Laundry
We typically do laundry once every 2 weeks while traveling. Laundry allows us to re-wear what we have instead of bringing too much or having to buy things we may not need at our destination.
Many hotels will have laundering services. You can also save money by doing your own laundry at a nearby laundromat.
#13 Ditch Just In Case Items
Don't bring things that you might need. Make sure you NEED this item before placing it into your luggage.
Items I typically leave behind are unnecessary electronic cords and makeup.
#14 Don't Wait Until the Last Minute
Last-minute packing might only take a minute, but it's also super stressful! You may forget to bring things that you need and you may be scrambling last minute to find and buy things that you need for your trip.
Making a packing list is a good idea if you're one of these types of travelers.
#15 Buy Travel-Sized Products
Buy small versions of all the things you need. Leave your full-sized products and things at home.
For example, we like to pack a small flat iron (for hair) with us while traveling. Searching for "travel-size" anything will yield results that you didn't even know existed!
---
Did you find our travel packing hacks for packing light helpful? Please share it on Pinterest. Thanks for your support!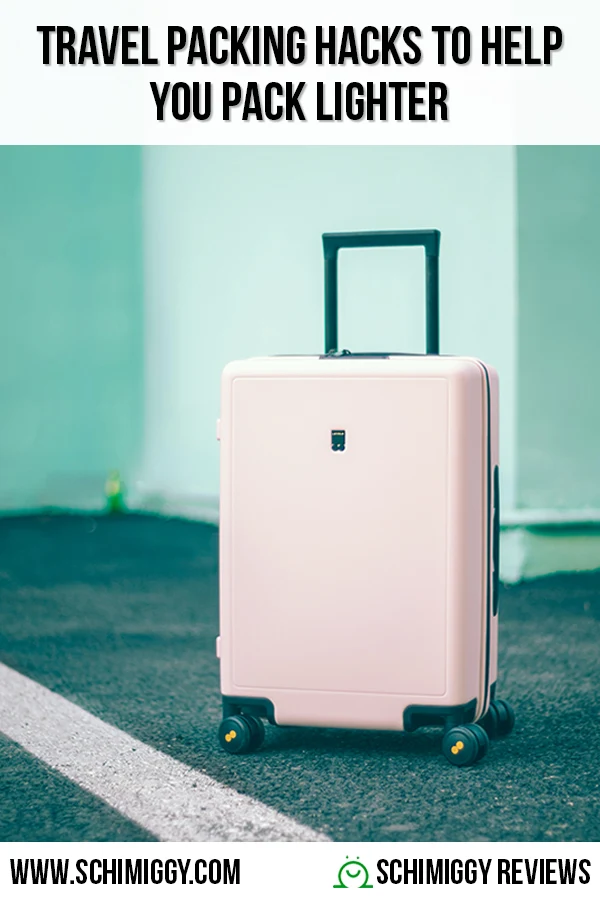 Thank you for visiting today! If you found this encouraging or informative, please connect with us on Instagram or TikTok.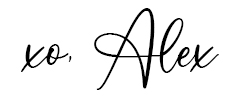 Sign up for our monthly newsletter for updates and more. We promise we won't spam you! Feel free to unsubscribe anytime.
If you're a brand and want to work with us, please visit this page to get in touch.