Reading Time:
9
minutes
Updated: 7/24/2023 | Pretty Dresses for Travel
Choosing a good travel dress can really make your trip. You may be wondering what's the difference between a regular dress and a travel dress.
A travel dress is going to be one that you can wear in multiple situations and climates. Travel dresses are often made from durable materials that won't wrinkle, are odor-free, lightweight, and dry quickly.
While you might be able to find something that looks cute on the 'gram for your vacation in Cozumel via a fast-fashion brand, it might get rumpled, stinky, or stretched out quickly. A dress that truly travels well has the following traits.
What We NEED in a Pretty Travel Dress
Comfortable: This is the most important thing we look for when packing our bags. We want our clothes to be comfortable. When you're traveling, you'll be moving around a lot. Pack pieces that will help you move and flow through your travels easily.
Material matters! And lastly, you'll do well with anything synthetic! The brand doesn't matter. You might want to look up materials that repel water like nylon or polyester. Look for key terms like quick-drying and lightweight when choosing your clothing. Polyester is easily the most widely used synthetic fabric, and it's especially great for travel clothing because it's extremely hydrophobic, which means that the fibers don't absorb much water and are quick drying.
Wrinkle-resistant: Some fabrics are better for travel clothes than others. If your dress is made of a synthetic material like polyester, it most likely won't wrinkle. Natural fabrics like cotton and linen are also good for travel but may need some light ironing. Also look for something with a small percentage of spandex or elastane, which adds extra comfort and stretch and is not likely to wrinkle.
Pockets! Pockets are great for storing things that you need at a moment's notice, such as a cellphone, wallet, or keys.
Lightweight: You do not want your dresses to weigh you down. When traveling, we like to pack what we need in a single carry-on. While on our trips we will also do laundry and try to mix and match pieces to create new outfits.
Packable: Your travel dress should be packable. We use the Marie Kondo folding method to pack our bags. We like to ensure that the dresses we bring can be folded into a little rectangle and packed into your suitcase.
Dresses you can layer: Midi and mini dresses lend themselves better to layering, as do short-sleeve or sleeveless dresses. While maxi dresses are fun, I find that I can make more outfit combinations with shorter cuts.
Versatile: As a rule of thumb, we choose dresses that can be worn for many occasions. We like to wear a dress that can be worn from a day at the museum to a fancy dinner at the beach. A great way to make your wardrobe versatile is to stick to neutral colors such as white, black, gray, or beige.
Durable: We love dresses that are super durable and made from high-quality materials. Dresses that are cheap will often stretch out and won't last for years. Do not waste your time and money on dresses made from fast fashion brands.
Avoid thick materials. The thicker the fabric the longer you have to wait for the garment to dry.
Where to Buy Pretty Dresses for Travel
Here are our top places to shop for pretty travel dresses.
#1 Fortunate One Store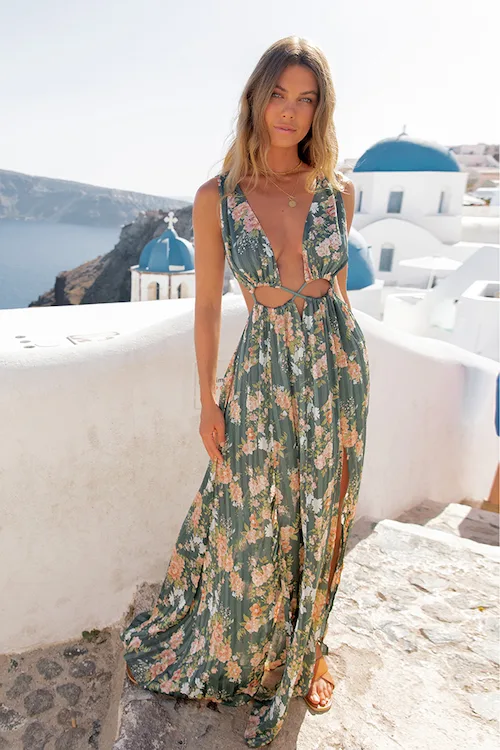 The Fortunate One Store sells tons of pretty dresses that are on-trend and affordable.
#2 Beyond Yoga
Beyond Yoga has this AMAZING Space Dye fabric that feels like silky butter! They also make flowy dresses in this amazing fabric.
We love their Featherweight At The Ready Square Neck Dress because it has a super flattering square neckline, flowy a-line silhouette, and pockets!
Get your true size when shopping for Beyond Yoga dresses.
#3 Largo Drive
Largo Drive sells a variety of dresses from sustainable and ethical brands such as Faithfull the Brand, For Love and Lemons, Capello, and more.
#4 Lait Collection
Lait Collection offers a great selection of lightweight and small-batch dresses. They're also women and minority owned.
Use code ALEX15 for 15% off all your orders.
#5 Morning Lavender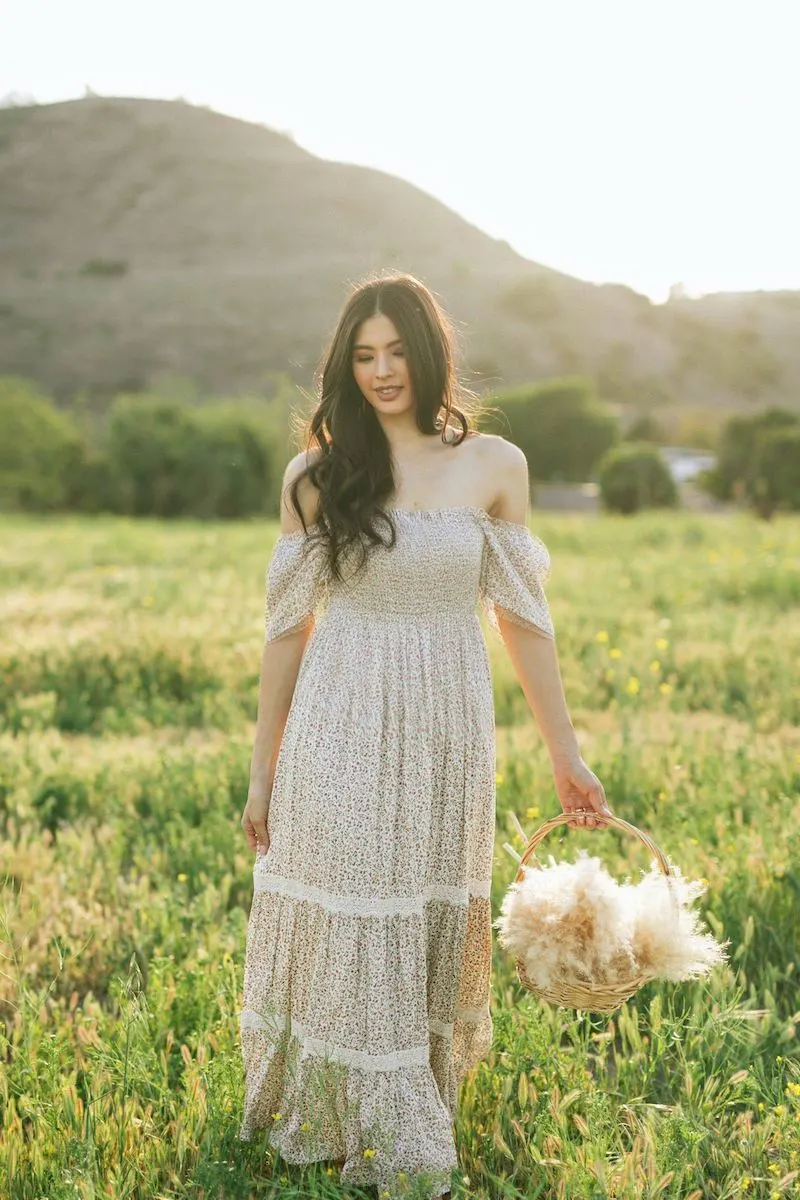 Morning Lavender makes gorgeous, dreamy, and romantic apparel for women. You'll love their flowy dresses, tops, and skirts.
Their pieces are also very affordable and many pieces are maternity friendly and perfect for bridal parties.
Use code SCHIMIGGY to save 10% off all your orders at Morning Lavender.
#6 Silk and Salt
Silk and Salt is an online women's boutique. They sell super cute dresses, pants, tops, outerwear, accessories, and more. We love their Cancun and Go With the Flow maxi dresses, which are packable, flowy, lightweight, and come in many colors.
Use this link to save 20% off your orders at Silk and Salt. You can also use code SCHIMIGGY to save 20% off all your orders.
Read our Silk & Salt review here.
#7 Pact
PACT is a sustainable apparel and home goods company. Their products are made in fair trade factories and with only organic materials.
We love their fit and flare midi dresses which come in many colors and prints and have pockets!
We recommend going with your true size in PACT apparel. If you wear a size 8, we recommend going with a size medium.
Read our PACT reviews here.
#8 Tamga Designs
TAMGA Designs is a conscious and sustainable women's fashion brand based in Canada.
They make gorgeous flowing dresses in many patterns and colors. They're perfect for travel because they're easy to care for and are lightweight.
Their apparel runs true to size. I wear a size 6 to 8 in women's and got a size medium in TAMGA.
Read our TAMGA Designs review here.
#9 Kate Fairchild Designs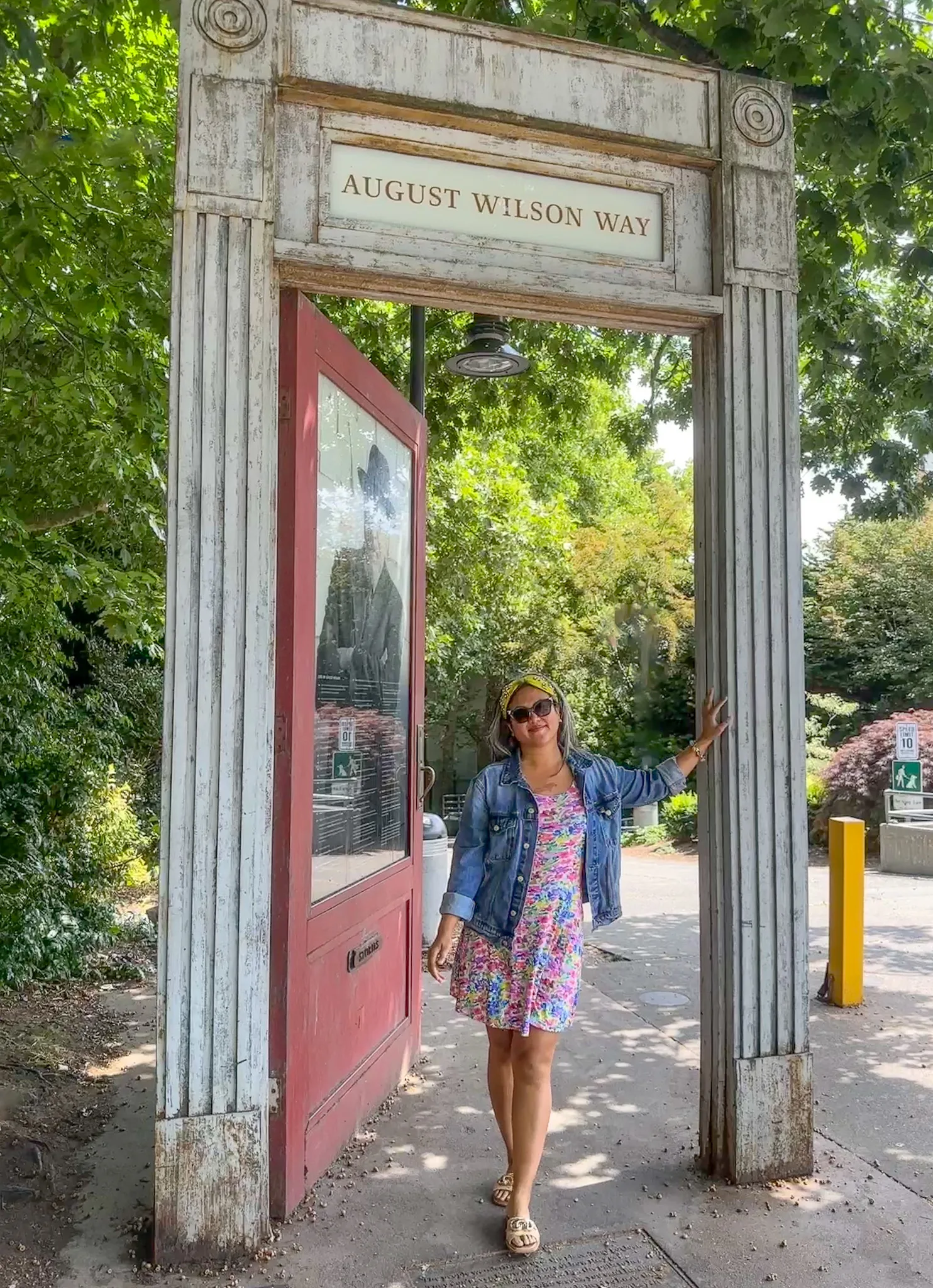 Kate Fairchild makes fun and bright printed dresses from very soft and lightweight materials. You'll want to wear these all day long.
They also offer printed headbands in fun prints. Our favorite is the avocado print!
#10 Veronica M
Veronica M makes super cute clothing that is both durable and lightweight for traveling.
We love the Madrid Crepe Rayon Maxi Dress that will match just about any accessories you own.
#11 Grass Fields
Grass Fields is a UK-based fashion boutique owned and operated by twin POC sisters, Michelle and Christelle. They wanted to create a fashion brand that was ethical, affordable, size-inclusive, and fashionable. They also create apparel for men and kids.
Their dresses are made with high-quality fabrics and African-inspired prints that are great against lots amazing travel destinations.
#12 Carbon38
Carbon38 is a women's online activewear store, but they also sell dresses from brands like Alix NYC, Range, Jonathan Simkhai, and event their own house label.
Use code SHMGY25 to save 15% off your first two orders at Carbon38.
Read all our Carbon38 reviews here.
#13 Few Moda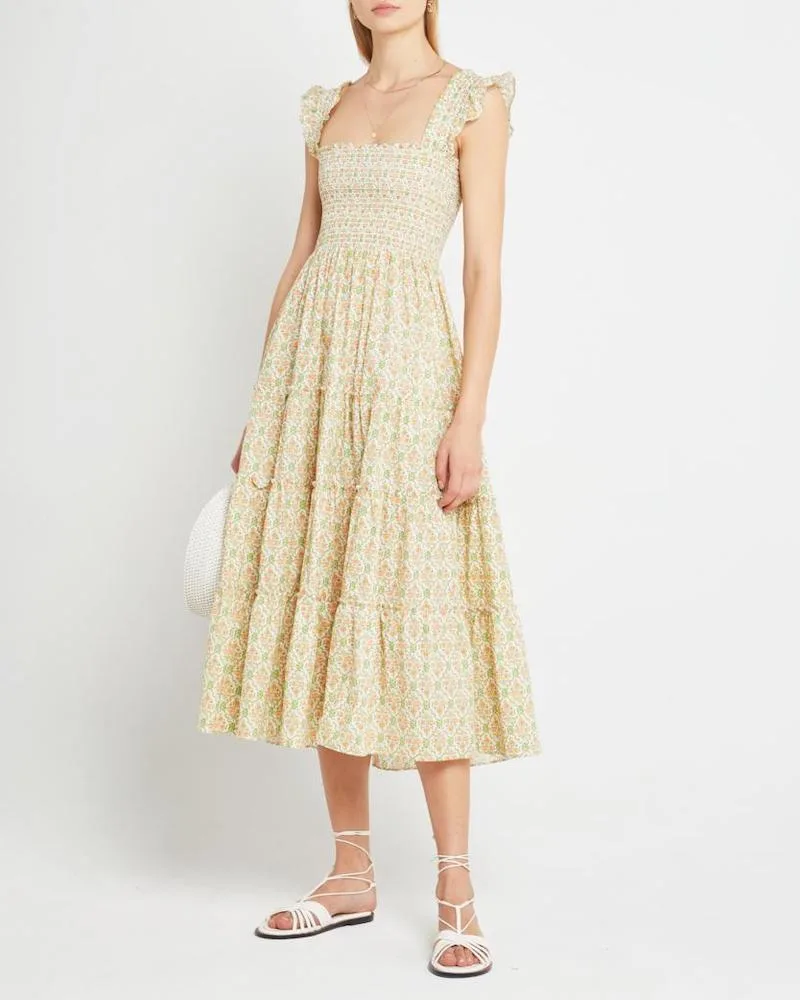 Few Moda is an online fashion boutique that offers high-quality apparel at member prices. We love the Calypso dress which typically costs $160+ but is only $69 for members of Few Moda.
Use this link to save 10% off your first order at Few Moda.
#14 Outerknown
Outerknown is known for making truly sustainable apparel for men and women. They have a great selection of long dresses that are high-quality and super comfortable to wear. We also recommend sizing up in Outerknown.
We love the following Outerknown dresses:
Read our Outerknown review here.
#15 VICI Collection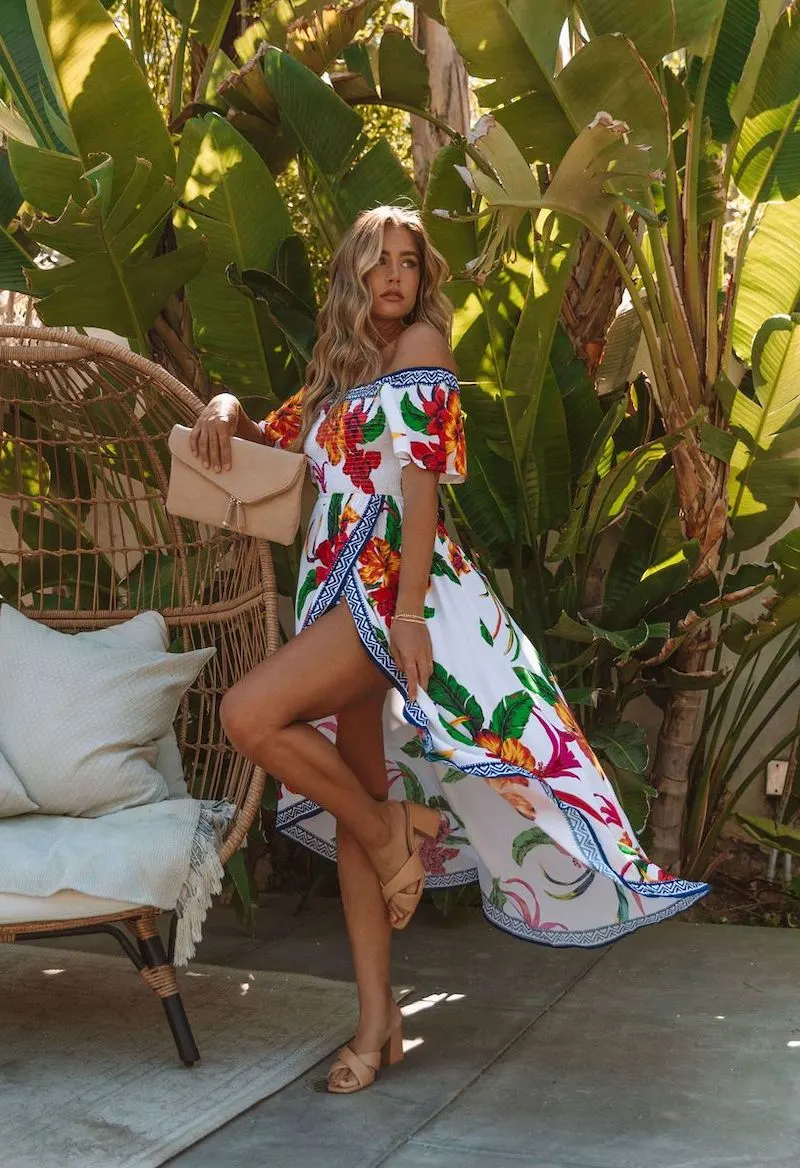 Vici Collection makes affordable on-trend dresses. Their selection sells out quickly, so buy it as soon as you see something you want!
Use this link to save $25 off your first $100+ order at VICI.
Read our VICI Collection review here.
#16 Baltic Born
Baltic Born is a women's fashion boutique with flowy dresses that can double as maternity dresses. They also have swimwear, tops, and accessories. Most dresses come in multiple colors and inclusive sizing.
Use this link to save 15% off your first order at Baltic Born.
#17 Lattelier Store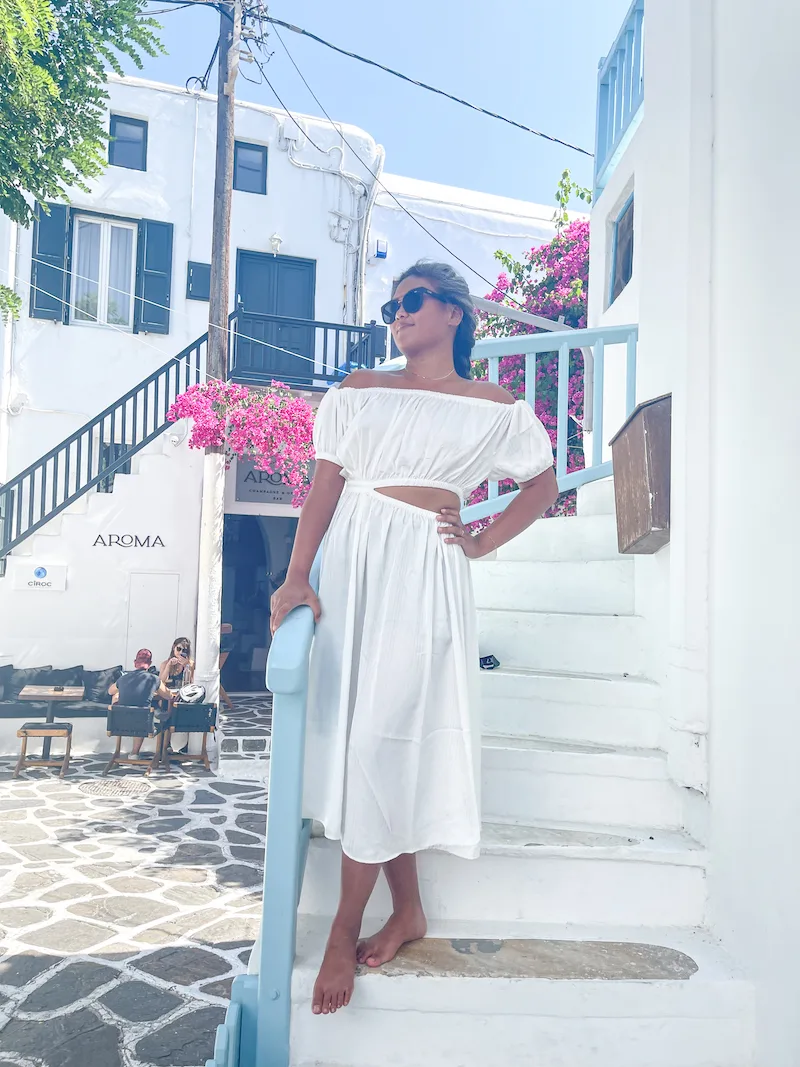 Lattelier Store has amazing dresses that are very sleek and glamorous looking. If you purchase over $200, you receive free items in your cart.
We love the Criss cross straps dress ($88), Cross back maxi dress ($60), Floral Tie Shoulder Dress ($65) and Asymmetric Cut-Out Waist Dress ($78).
Use code SCHIMIGGY15 to save 15% off on your orders at Lattelier Store.
#18 ASTR The Label
ASTR the Label sells a great selection of apparel for women.
#19 ShowPo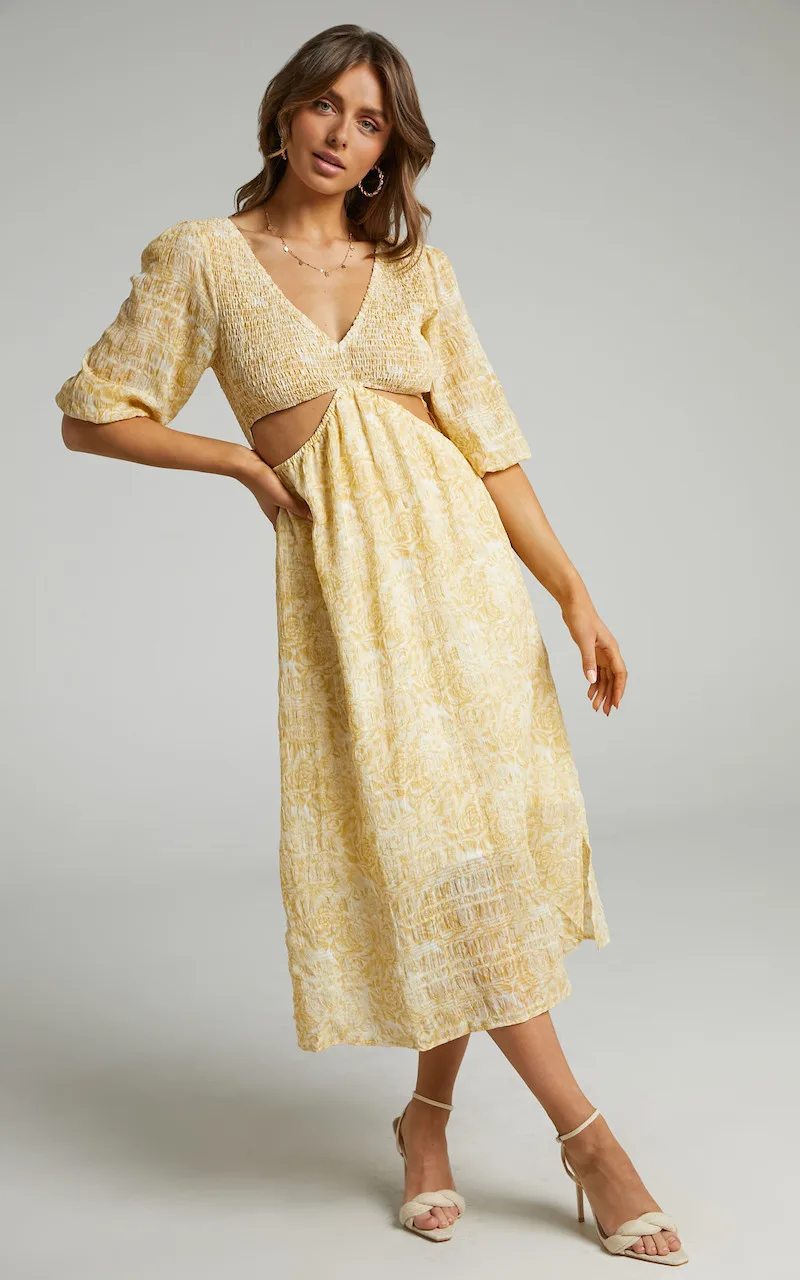 Showpo is a women's fashion brand and they sell man yon-trend dresses at affordable prices. We love their flowy Revolve Around Me Dress and Abigail Midi Dress with cutouts.
#20 Amazon

Amazon sells tons of dresses at affordable prices. Brands with travel dresses that we like include Zesica, Floerns, Exlura, Relipop, the Vintage Store, and Milumia.
Read our Zesica review here.
#21 Cupshe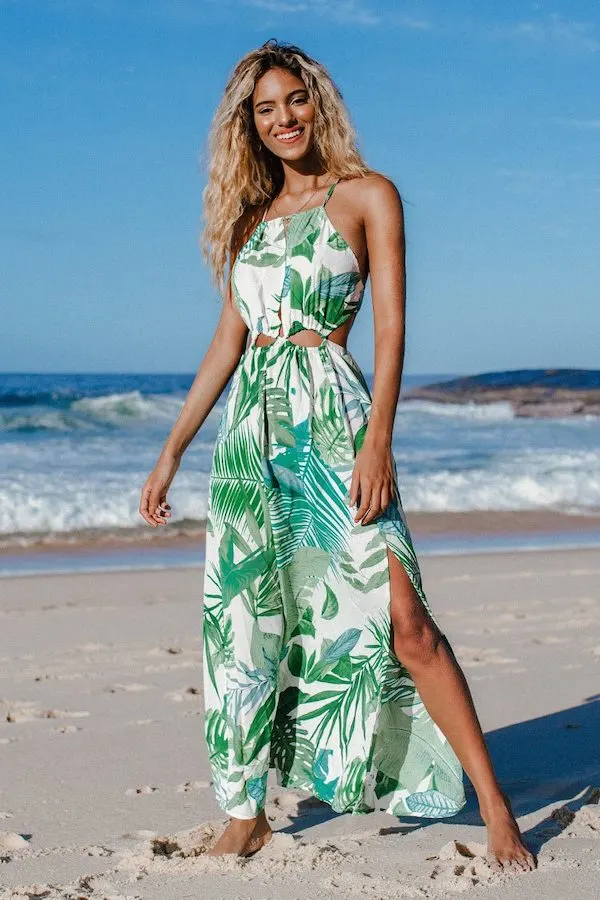 Cupshe is known for selling size-inclusive swimwear and women's apparel. They also have a huge assortment of on-trend dresses.
We love this Noa Leafy Dress ($32) and the Selena Yellow Floral Dress.
Use this link to save $10 off your first purchase at Cupshe.
#22 Jluxlabel
Jluxlabel makes luxurious co-ord sets and dresses that are super affordable. Their stuff runs out quickly, so buy it as soon as you know you want it.
#23 Shopbop
Shopbop has a huge selection of cute dresses that are great for travel! We love brands such as Sundress.
#24 lululemon
lululemon's technical fabrics make it a great place to shop for travel clothing. Their fabrics are wrinkle-free, quick-drying, and lightweight.
#25 World market
World Market makes surprisingly flattering and affordable women's apparel! Their styles are bohemian chic and dresses run true to size (TTS).
You can find Anthropologie like styles for a fraction of the cost.
#26 Nordstrom
Nordstrom sells a huge selection of dresses of varying price ranges. They also have a generous return policy.
#26 REVOLVE
REVOLVE is a great place to shop for on-trend women's clothing. They offer tons of brands with varying price ranges. There is literally something for everyone here.
If you found our places to buy pretty travel dresses helpful, please share our post. Thanks for your support!
---
Thank you for visiting today! If you found this encouraging or informative, please connect with us on Instagram, Youtube, Pinterest, Facebook or Twitter. We'd love to meet you!
Sign-up for our monthly newsletter for updates and more. We promise we won't spam you! Feel free to unsubscribe anytime.
For more fitness fashion discounts and offers, please visit our Fitness Instructor Discounts + Brands Directory or favorite brands coupon codes list.
If you're a brand and want to submit a product for us to review, please use this form to get in touch.
This site uses affiliate links. Clicking on or purchasing via an affiliate link may result in commissions for us which help keep the content flowing and lights on at Schimiggy Reviews. You may read more about this in our privacy policy.