Reading Time:
3
minutes
Updated: 5/20/2021 | Rothy's Sandals Review

Soooo many of y'all are probably here because you want to know if these $65 dollar flip flop sandals from Rothy's are worth it. We bought a pair to test out.
Below we'll list the pros and cons of the Rothy's flip flop sandal to help you decide if it's worth buying or not.
Rothy's Sandals Review
Rothy's Sandals Pros
Made with recycled materials. As far as sustainable sandal options go, Rothy's has you covered. Feel good about diverting plastic waste from landfills when you wear your Rothy's.
Comfortable. Surprisingly the sandals are super comfortable to wear. The straps don't rub and tug at your feet.
Lightweight. These sandals are so compact and lightweight. They lay flat and are easy to pack away.
Durable. These sandals are super durable. They don't dent easily and the sole takes forever to disintegrate.
Easy to clean. We run our sandals under running water until they're clean. No need to throw them into the washer. We leave them out to dry on our balcony or patio.
Runs true to size. Get your street size in Rothy's flip flops. We went with a size 7 and typically size up to 7.5 in Rothy's points.
Rothy's Sandals Cons
Expensive – I was hesitant about spending $65 on a pair of Rothy's flip flops, but decided to give them a try. The worst thing that could happen is that I don't like them and can return them for free. I ended up loving them and will buy them again and again.
No arch support. Like most Rothy's shoes, arch support is non-existent.
Not offered in half sizes. We recommend going with your street size. If you're in between sizes, size up. I am a size 6.5 and went with a 7 and they fit great! Their website recommends sizing up in sandals if you're in between sizes.
Related: How to Find the Perfect Rothy's Fit | Size Guide
Should I Buy Rothy's Flip Flops?
The answer is YES! I've replaced all my other flip flops with Rothy's flip flops.
I wear my Rothy's flip flop sandals more than any other Rothy's shoe I own. My sandals have gone with me to 6 different countries and served me well while on the treacherous Road to Hana in Maui, Hawaii.
And I am convinced they'll never wear out.
Also, buy a black pair, because they go with every outfit.
We recently purchased the Rothy's Wrap sandals in Cosmo and are OBSESSED. If you decide to buy the Wrap sandals, definitely get them in your street size.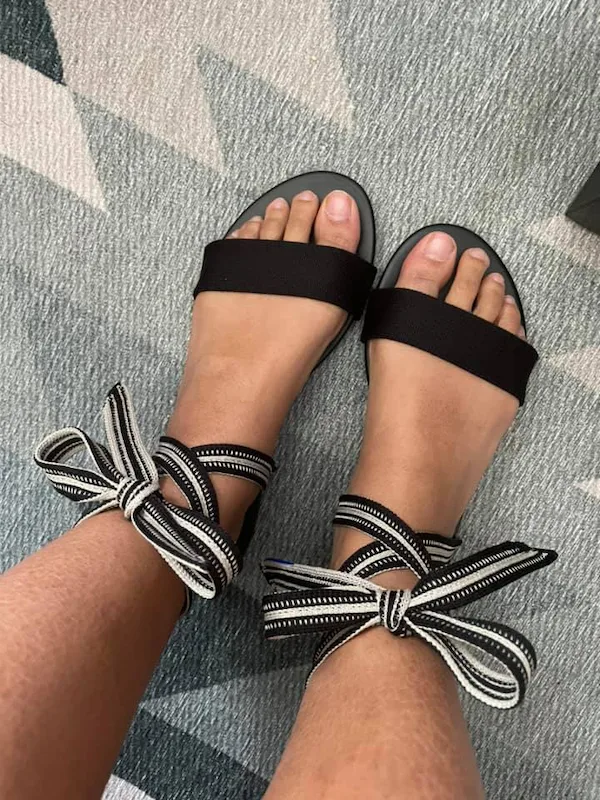 Related: The Best Maui Tour Guide
https://www.instagram.com/p/CKdQskyhYkZ/
Where to Buy Rothy's
We recommend buying Rothy's directly from their website. They have free shipping and returns so that you can find your perfect fit.
Use this link to save $20 off your first pair of Rothy's. We hope you decide to give the flip-flops a try.
If you found our Rothy's sandals review helpful, please share it on Pinterest. Thanks for your support!
---
Thank you for visiting today! If you found this encouraging or informative, please connect with us on Instagram, Youtube, Pinterest, Facebook or Twitter. We'd love to meet you!
Sign-up for our monthly newsletter for updates and more. We promise we won't spam you! Feel free to unsubscribe anytime.
For more fitness fashion discounts and offers, please visit our Fitness Instructor Discounts + Brands Directory or favorite brands coupon codes list.
If you're a brand and want to submit a product for us to review, please use this form to get in touch.
This site uses affiliate links. Clicking on or purchasing via an affiliate link may result in commissions for us which help keep the content flowing and lights on at Schimiggy Reviews. You may read more about this in our privacy policy.