Reading Time:
16
minutes
I love wearing rainbow colors because they symbolize happiness and new opportunities. They also symbolize inclusivity and is the official symbol for Pride Month. The entire month of June is dedicated to Pride celebrations all over the world and here are the brands that give back to support our brothers and sisters.
Many people think that making rainbow and Pride products is a marketing gimmick employed by retailers. I think it's a great way to raise awareness. Some brands even donate 100% of proceeds to their chosen organizations.
For some brands, it's a great place to start and continue to support LGBTQ populations beyond Pride month.
Below is a list of brands that have created limited edition collections to support LGBTQ initiatives. Check out these awesome rainbow-colored apparel and gear from brands that give back to LGBTQ organizations when you do (and when you don't) buy from them.
Just a heads up, this list contains a whopping 70 participating retailers! Happy shopping!
#1 Rothy's Rainbow Sneakers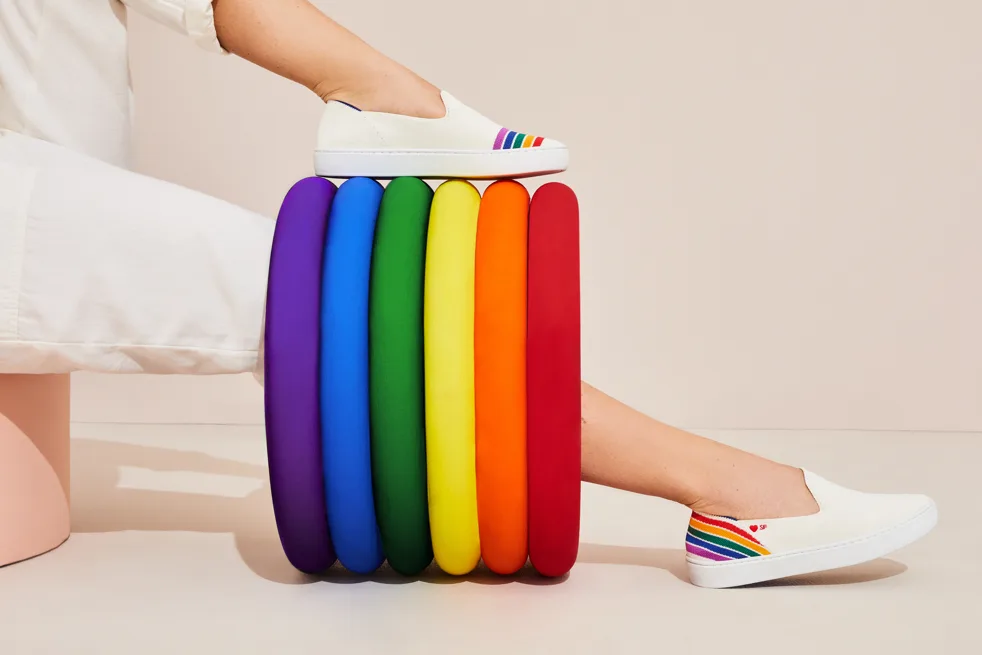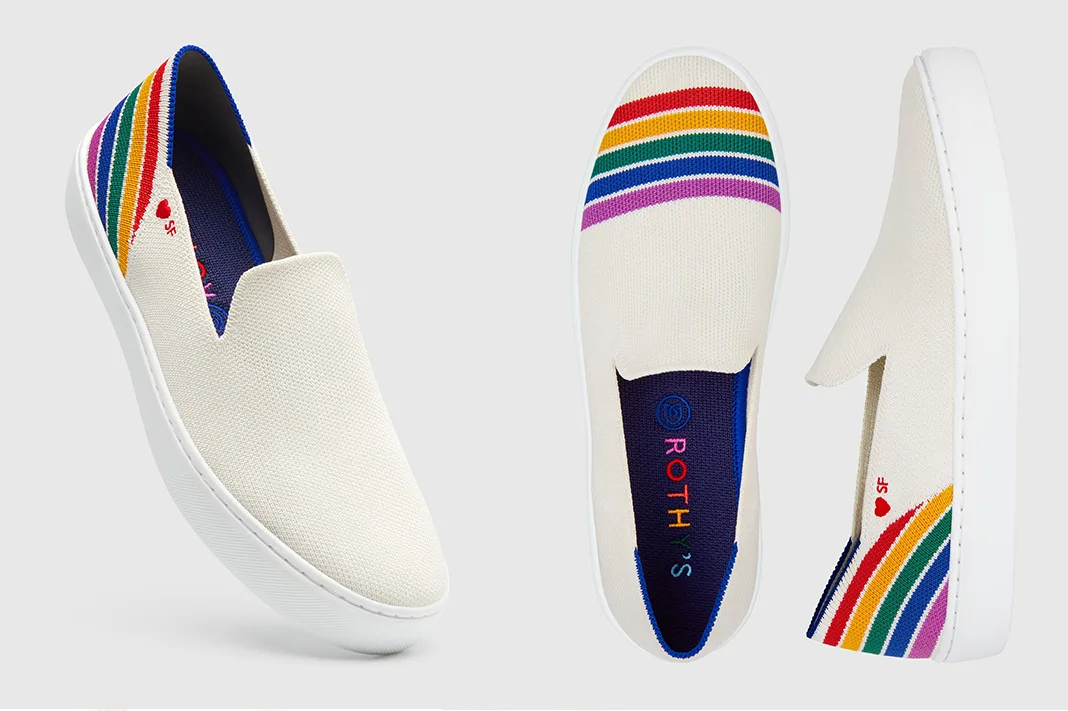 Rothy's is a San Francisco based women and children's footwear brand. Their shoes range from $125 to $145 a pair. They're vegan, sustainable and come in all the colors and prints you could imagine. These cute rainbow SF sneakers are $125. Use this link for $20 off your first pair.
To celebrate Pride, Rothy's is donating $10,000 to StartOut, a non-profit that connects and educates LGBTQ+ entrepreneurs to empower great leaders and businesses.
#2 K-Deer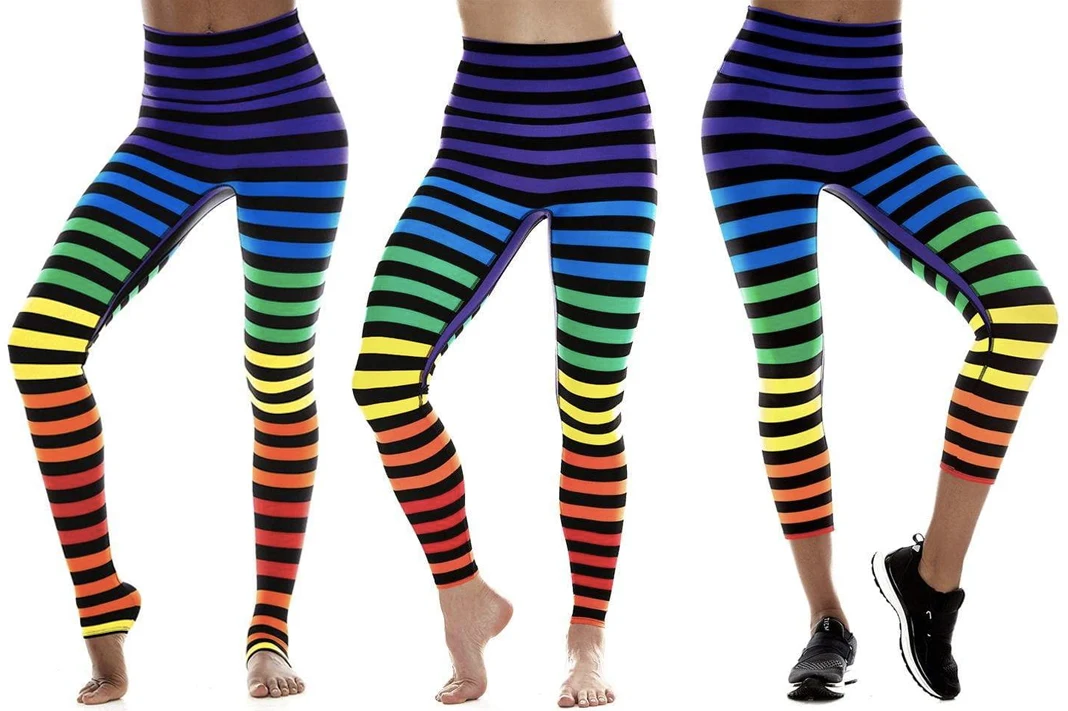 Kristine Deer, the creator of K-Deer, released these rainbow leggings named after Dana Trixie Flynn, who is recognized throughout the yoga community as a true "teacher's teacher." Dana brings an inspiring expression of movement, music, and community to her practice and her students.
With each purchase, 5% of sales are donated to the Hetrick Martin Institute (HMI), the nation's oldest and largest LGBTQ youth-serving organization. In 2019, HMI celebrates 40 years of providing a safe and supportive environment in which all young people, regardless of sexual orientation or gender identity, can achieve their full potential.
#3 Bagnet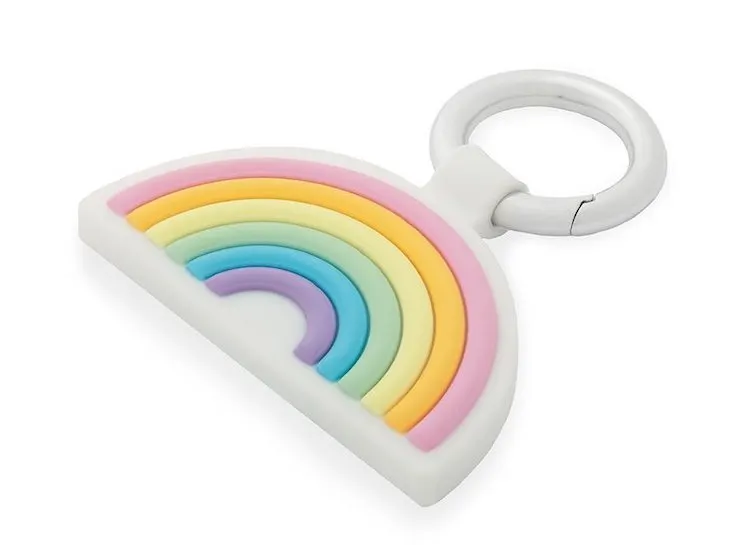 Bagnets are a great tool you can use to keep your bags from ever touching the ground. Bagnets use a magnet to hook your belongings on walls, tables, gates, chairs and more.
5% of every Spectrum Bagnet rainbow hook sold will benefit the Sacramento LGBT Center.
#4 American Eagle AE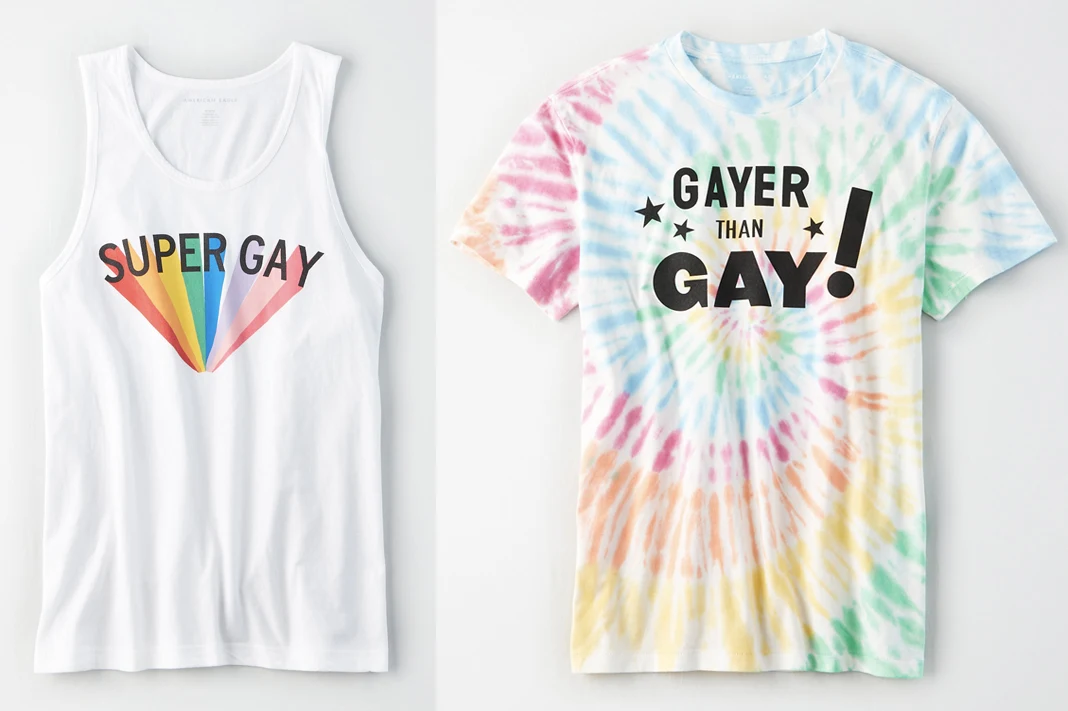 American Eagle or AE has pride tees and tanks. 100% of the proceeds from their 2019 Pride Collection will benefit the It Gets Better Project.
#5 Levi's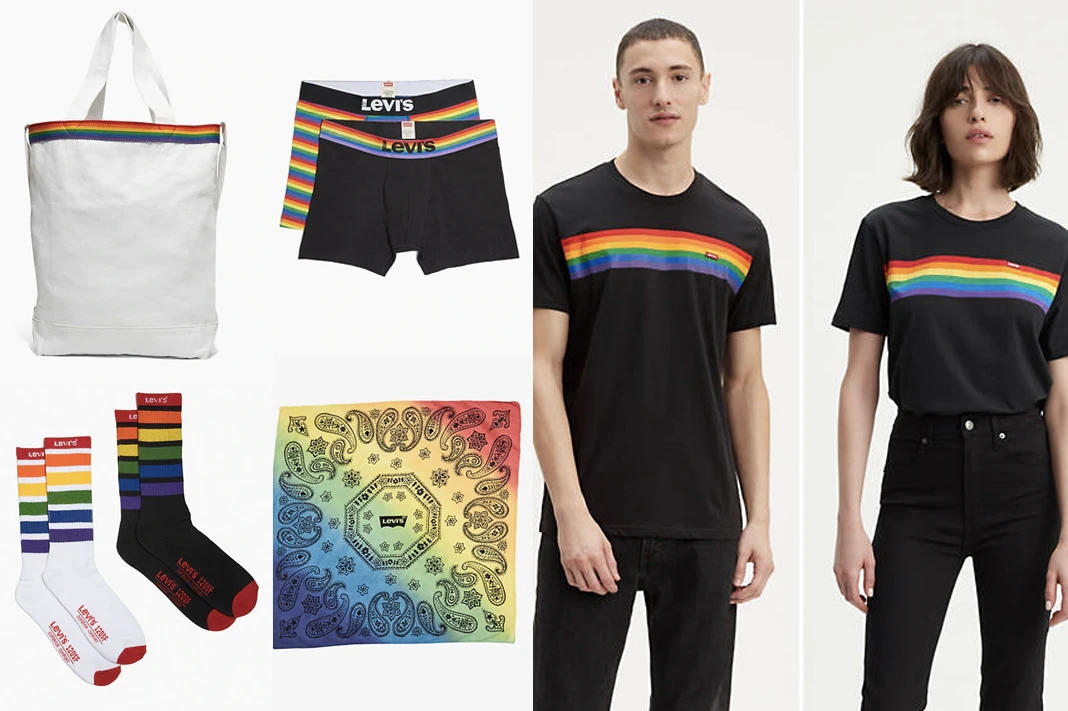 The 2019 Levi's® Pride Collection continues their long-time tradition of supporting the LGBTQ+ community. A portion of proceeds will benefit various LGBTQ+ organizations.
I am really digging their Pride Trucker Vest ($78).
#6 Harry's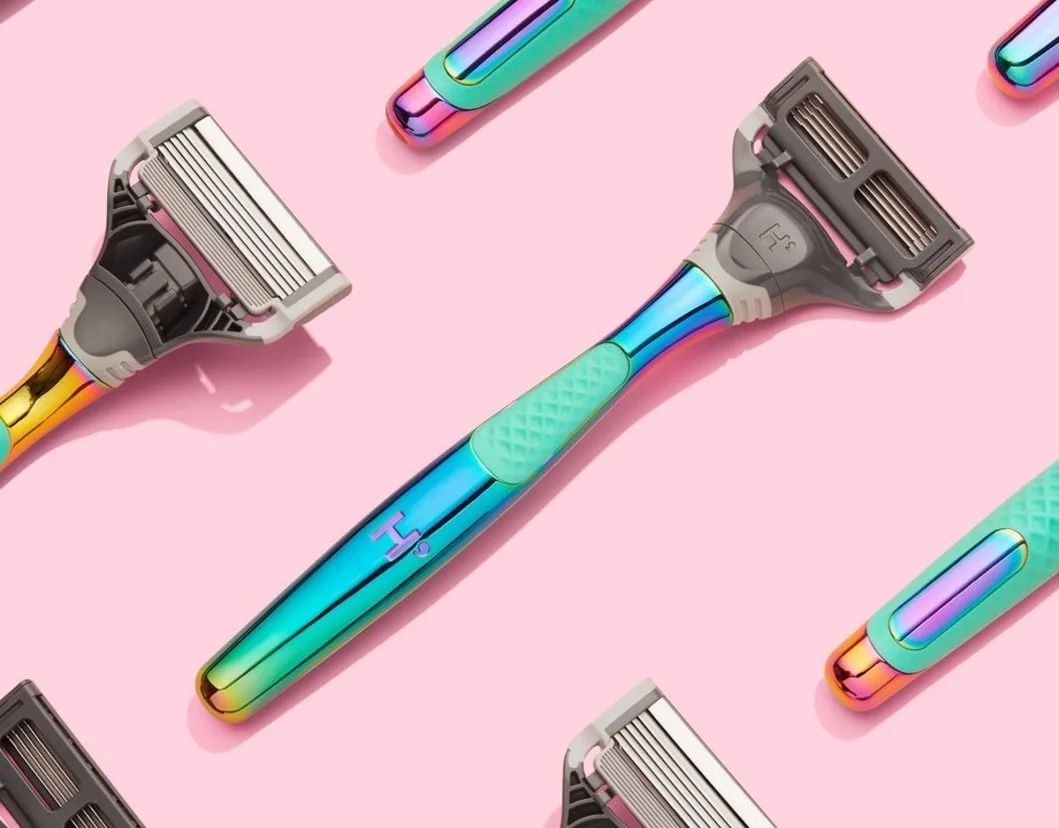 Harry's iridescent razor showcases the colors of the rainbow and no two razors are alike! The razor is designed by artist José Roda and 100% of profits are donated to The Trevor Project, the world's largest suicide prevention and crisis intervention organization for the youth of the community.
Also included in the box is foaming shave gel and travel cover for the razor.
#7 Under Armour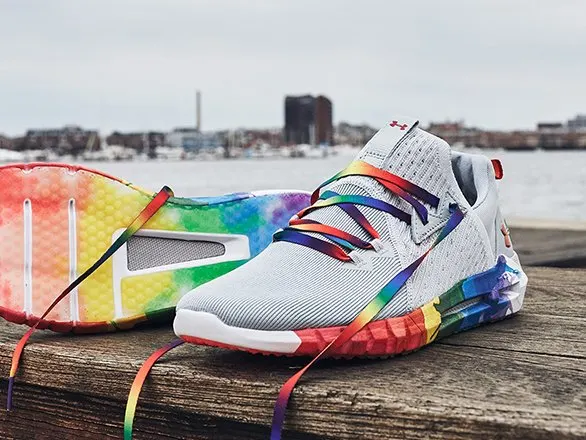 The Under Armour pride collection supports Athlete Ally, an organization dedicated to creating fairness and inclusivity in sports and athletics.
#8 Abercrombie & Fitch
A portion of the proceeds from Abercrombie & Fitch's Pride collection benefits The Trevor Project.
#9 Converse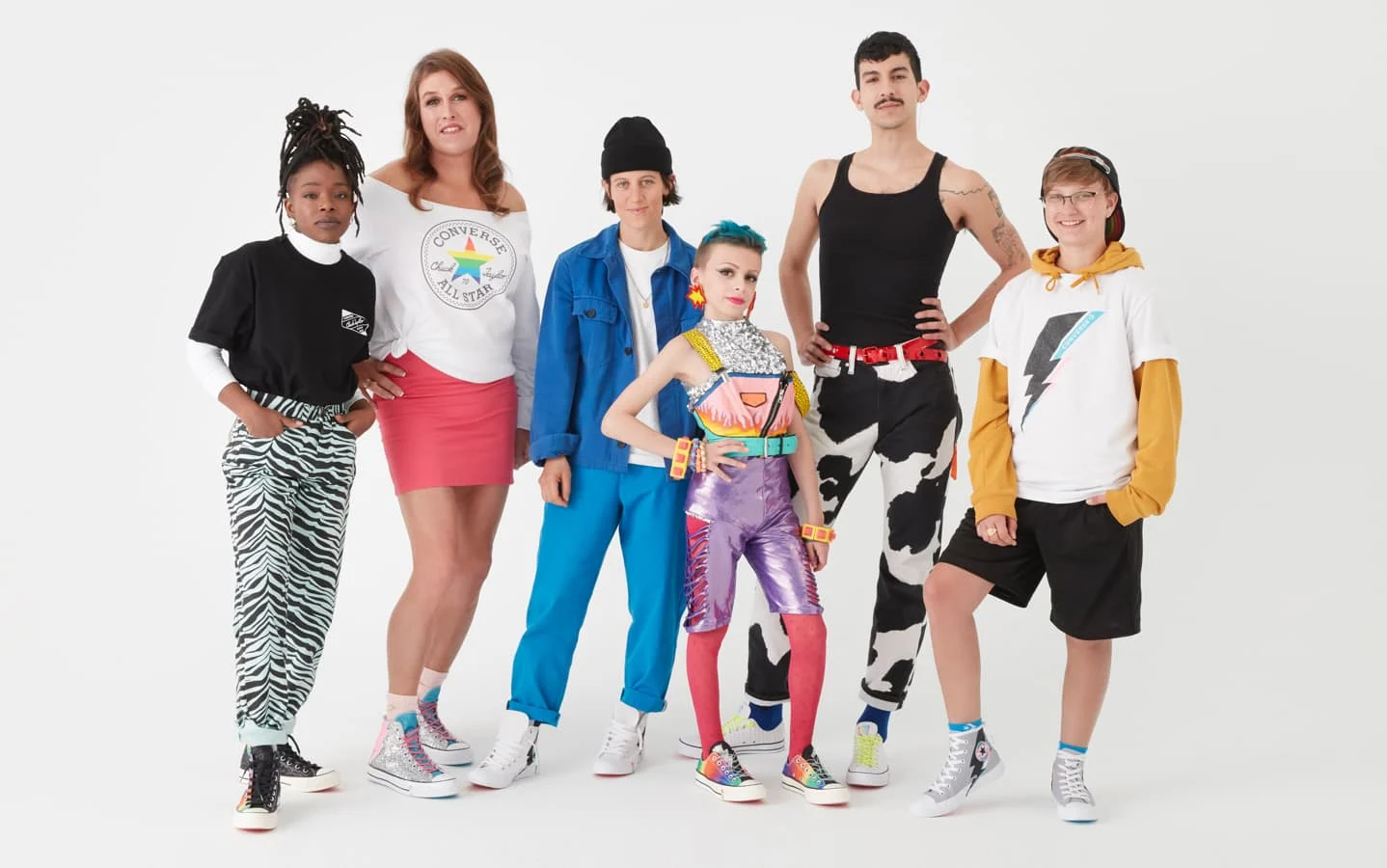 The Converse Pride Collection offers shoes and apparel for everybody! Their collection supports the It Gets Better Project and OUT MetroWest.
#10 Toms
Tom's comfy slip on shoes come in two Pride styles in their Unity Collection. They also have matching pride sunglasses.
Get $20 when you use this link to shop at Tom's.
#11 Dr. Marten's
Not only does Dr. Marten's products come with a lifetime warranty, they also make awesome Pride shoes! I love their 1460 Pride Boot ($145). A portion of the proceeds will benefit The Trevor Project.
#12 Adidas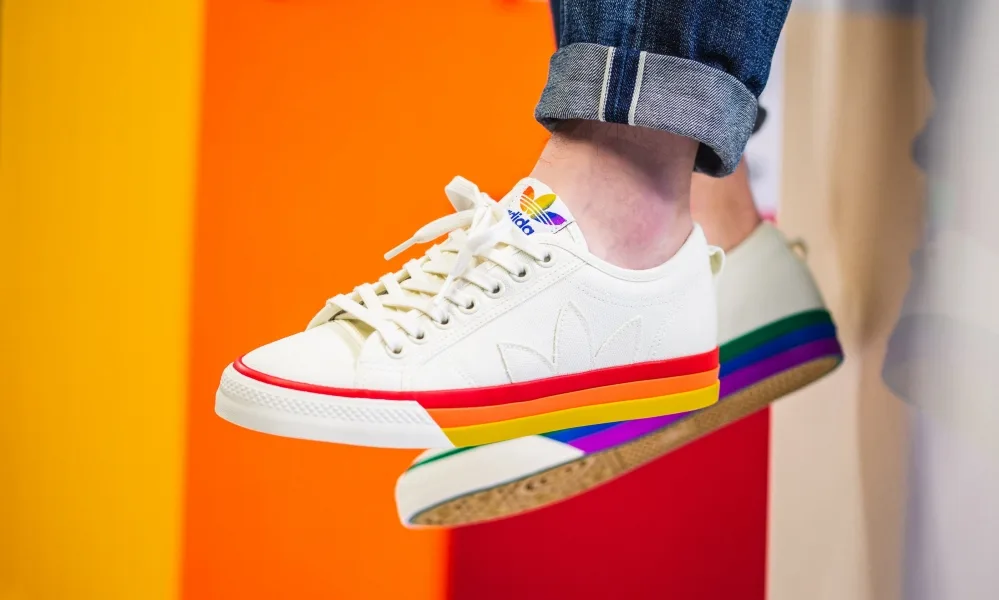 The Adidas Love Unites collection is everything rainbow and stripes. Adidas is releasing a Pride collection consisting of footwear — including colorful designs of its Ultraboost 19, Nizza and Continental 80 sneakers, among others — apparel and accessories featuring the brand's logo reimagined in rainbow colors, which will be available starting June 1.
Though not tied to product sales, Adidas will be donating $250K to The Trevor Project.
#13 Bombas
The Bombas Pride collection socks are only $12 a pair and through the month of June (and while supplies last), 40% of their proceeds go to benefit the Ally Coalition, an organization supporting homeless LGBTQIA+ youth in need.
Get 20% off at Bombas when you use this link.
#14 DIESEL
The Diesel 2019 pride collection benefits the Stonewall Inn Gives Back Initiative. The amount is undisclosed.
#15 Docker's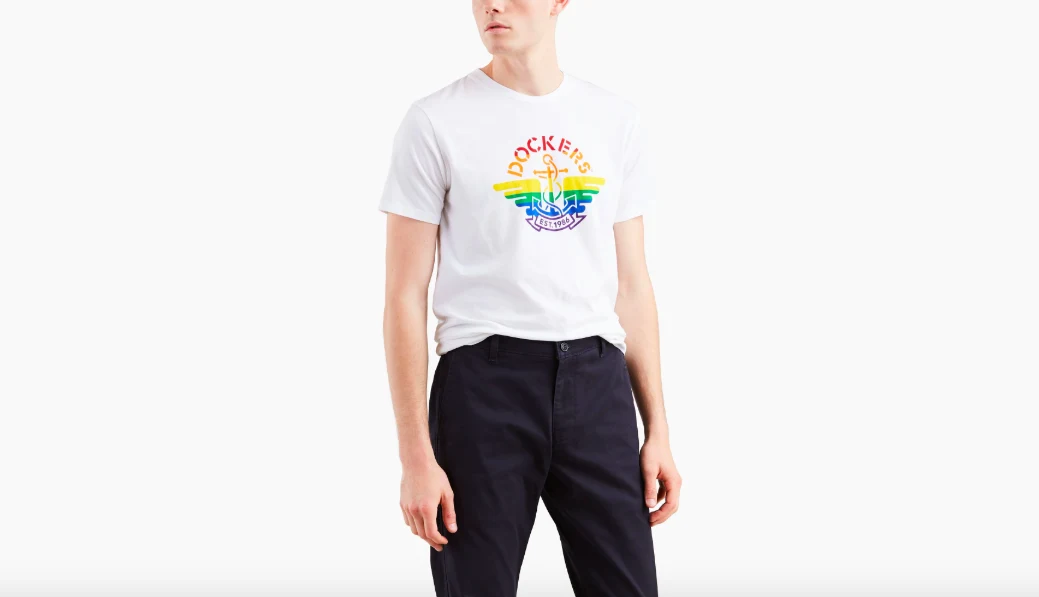 Dockers has men and women's Pride gear. In honor of Pride, Dockers® is making a donation to support the Harvey Milk Foundation™.
#16 Gap
Through July 6, Gap will donate 15% of sales from the Gap + Pride Collection to the United Nations Foundation in support of the UN Free & Equal Campaign for LGBTI equality.
#17 Happy Socks
Happy Socks has Pride socks that are available year round (and sells out constantly). Proceeds from the socks benefit the Stonewall Community Foundation.
#18 H&M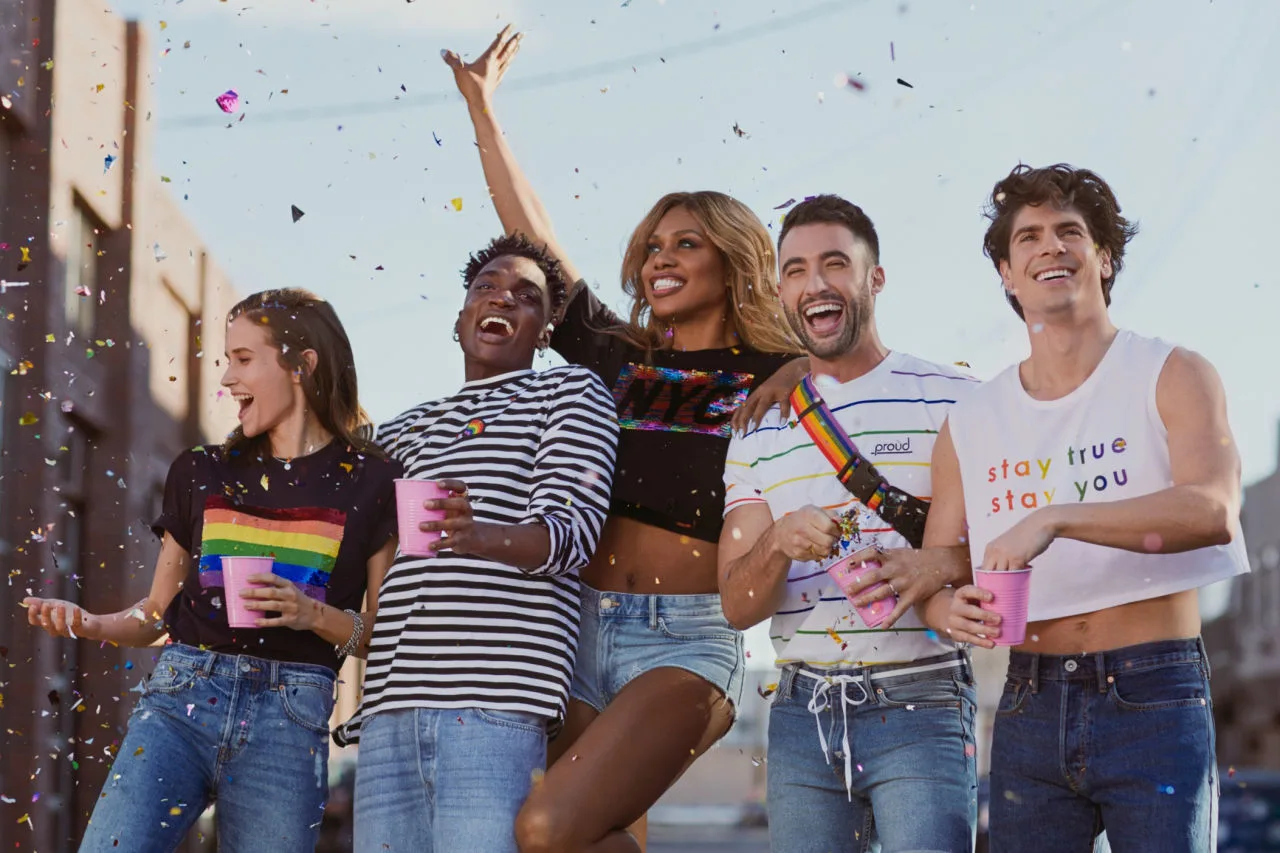 For the 2019 Pride celebration, 10% of the global sales price from H&M's "Stay True, Stay You" collection will support the work of the UN's Free And Equal campaign.
#19 ASOS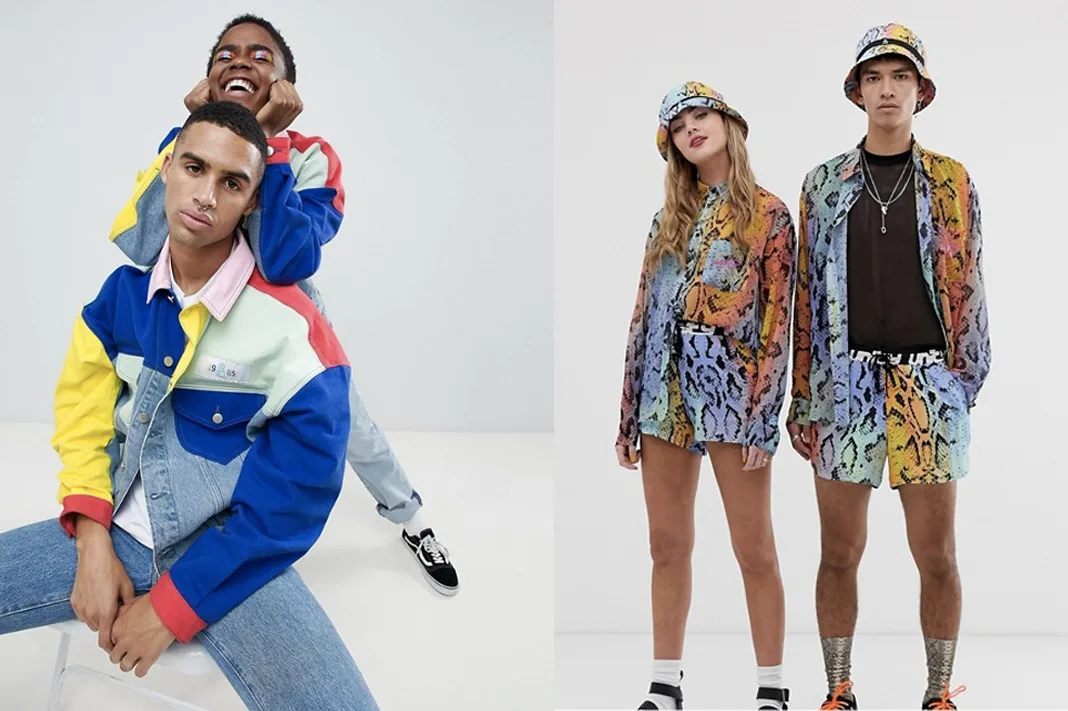 The ASOS DESIGN x glaad& collection donates 100% of the proceeds to GLAAD, a non-profit LGBTQ+ advocacy organization. The entire collection is unisex and even offered in plus sizing.
#20 Hunter
Hunter's Original Pride Play Heeled Rain Boots ($100) is dedicated to raising awareness and supporting equality. Hunter has chosen six chosen charities in conjunction with the new Pride boot. Working to advance services and support for the LGBTQI+ community, these organizations include akt, The Outside Project, NAZ, MindOut, Mermaids and Trust Judy Blame.
You can also purchase the boots at Nordstrom.
#21 Kenneth Cole
The Kenneth Cole Pride Collection offers shoes, apparel, sunglasses and fragrances.
Since the 1980s, Kenneth Cole has helped raise funds and awareness on many social causes, including HIV/AIDS, homelessness and same-sex marriage. To celebrate, Kenneth Cole has donated $40,000 to support the United Nations Foundation's UN Free & Equal, an organization dedicated to fair treatment and equal rights of the LGBTQ community globally.
#22 Macy's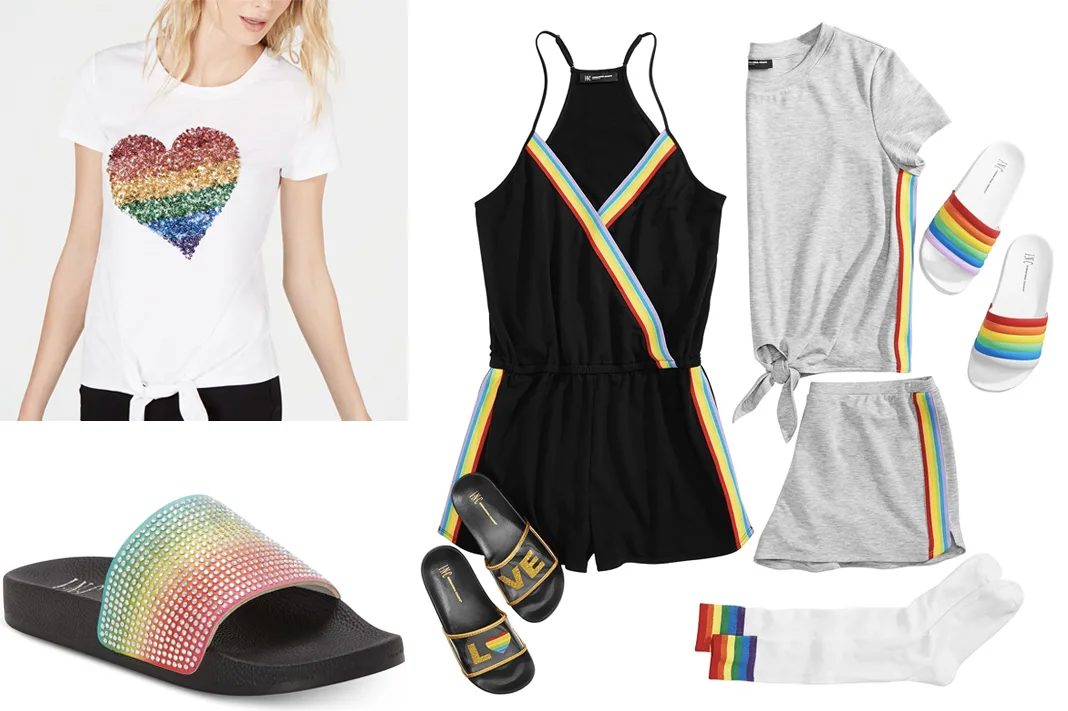 Macy's is giving back to the LGBT community through their Pride + Joy collection of INC International Concepts. The collection includes tees, tanks, pajamas and socks. Twenty percent (or more) of the sale price from every Pride + Joy item will be donated to The Trevor Project.
Macy's is also participating in 24 Pride parades nationwide and hosting special Pride events at select stores. From June 1-17 at all Macy's stores nationwide. Shoppers can round up their purchase to the nearest dollar (up to $.99) and donate the change to The Trevor Project.
#23 Michael Kors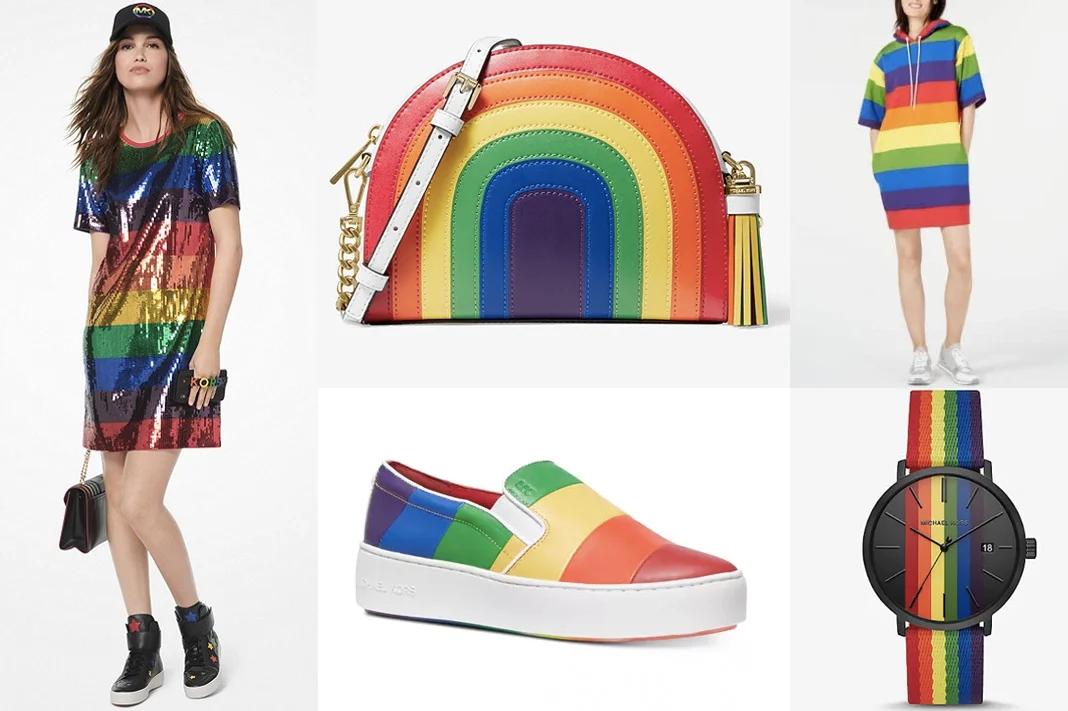 Michael Kors rainbow collection is inspired by Pride month. Until December 31, 2019 100% of the purchase of a #MKGO Rainbow Pride Cotton T-Shirt will benefit God's Love We Deliver, a non-profit organization that is a longstanding pillar of the LGBTQ community.
#24 Nike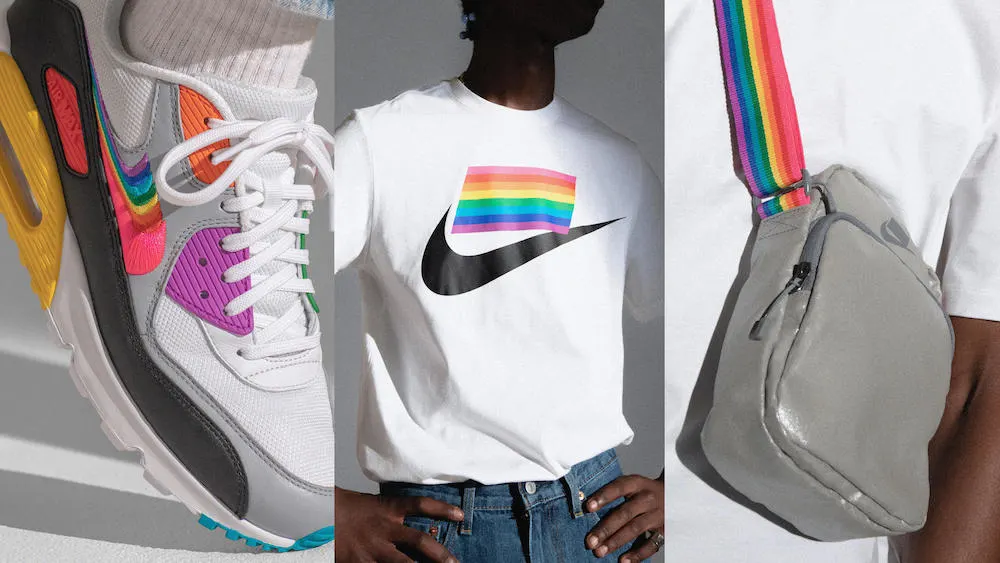 Nike's BETRUE collection began in 2012 and is a grassroots effort led by Nike employees in the PRIDE Network seeking to build a community diverse in orientation, identity and expression focused on community initiatives to advance equality in sport.
This year, Nike will support 20+ LGBTQIA+ organizations through grants administered by the Charities Aid Foundation of America.
#25 Polo Ralph Lauren
Ralph Lauren's Pride collection is gender neutral and can even be embroidered and personalized.
This year, Ralph Lauren is partnering with the Stonewall Community Foundation. When you shop their gender-neutral Pride capsule collection for adults and kids, a percentage of each item's purchase price will be donated to the foundation, benefitting an international network of LGBTQIA+ organizations.
#26 Reebok
Reebok and Fenway Health, a non-profit that supports the wellbeing of over 28,000 LGBTQ patients, partnered up for Pride Month. Reebok is donating a portion of the proceeds from the collection and up to $50,000 to Fenway Health, who provides healthcare to Boston's LGBTQ+ community.
#27 Teva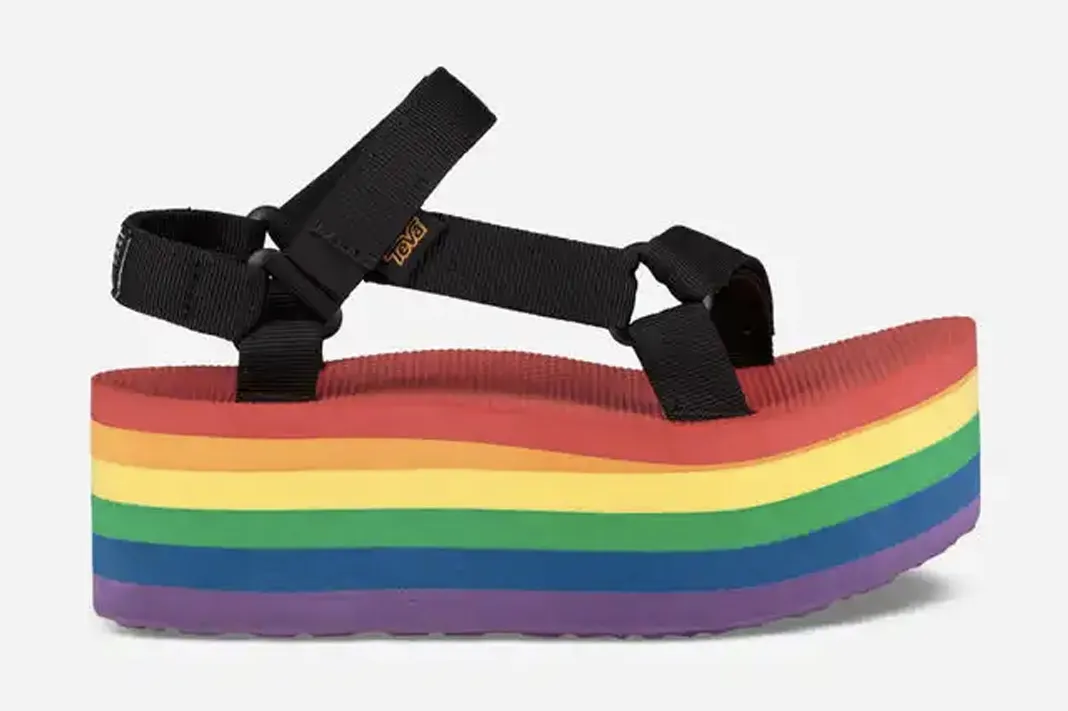 Teva's Pride Flatform Sandals donates a portion of their proceeds to the Tegan and Sara Foundation.
#28 Reef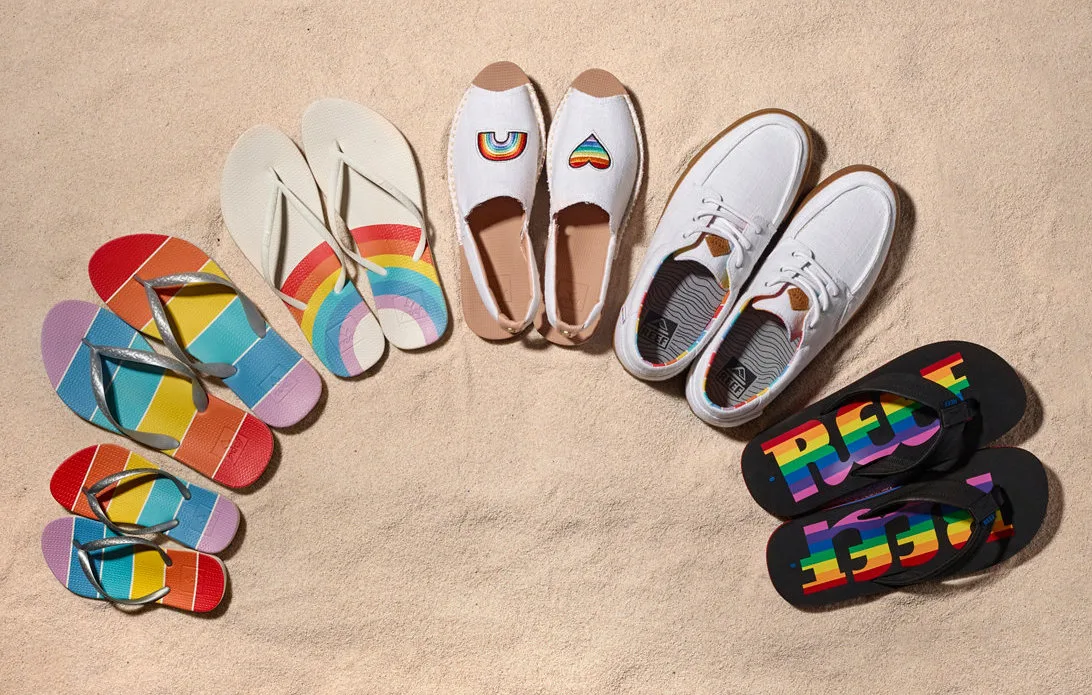 Reef is supporting PFLAG National, the first and largest non-profit organization for LGBTQ+ people. Every pair of sandals purchased affects change, as Reef pledges to donate 100% of profits from the collection to PFLAG National.
#29 Disney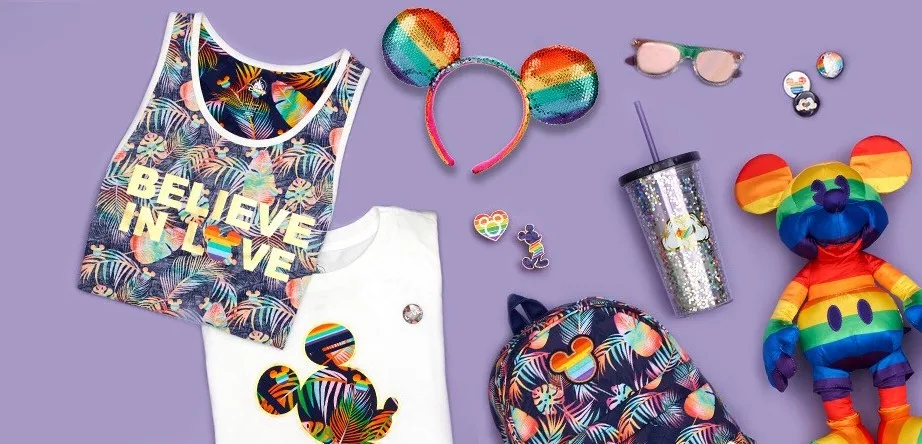 For the entire month of June, Disney is donating 10% of the proceeds from their Rainbow Disney Collection to GLSEN, a leading education organization working to create safe and inclusive K-12 schools for LGBTQ students.
#30 MAC
The makeup brand is donating $500,000 to GLAAD over the next two years in honor of Viva Glam's 25th anniversary and supporting more than 20 local Pride events.
#31 John Varvatos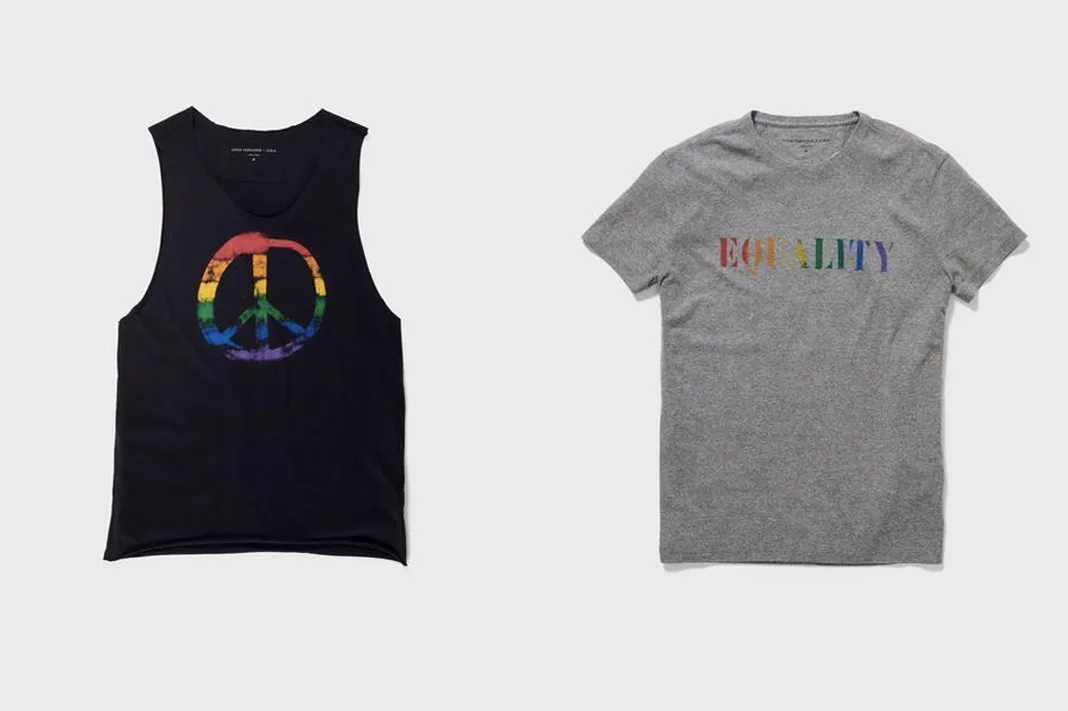 John Varvatos is celebrating 2019 WorldPride and Stonewall 50, with a special edition signature "Equality Tee."
As part of their JVPRIDE capsule collection, 30% of proceeds from this tee will be donated to amfAR, The Foundation for AIDS Research.
#32 Todd Snyder x Champion
The Todd Snyder X Champion 2019 Pride Collection offers rainbow sport clothing for men. 20% of sales will be donated to the National Park Foundation to support Stonewall National Monument.
#33 Express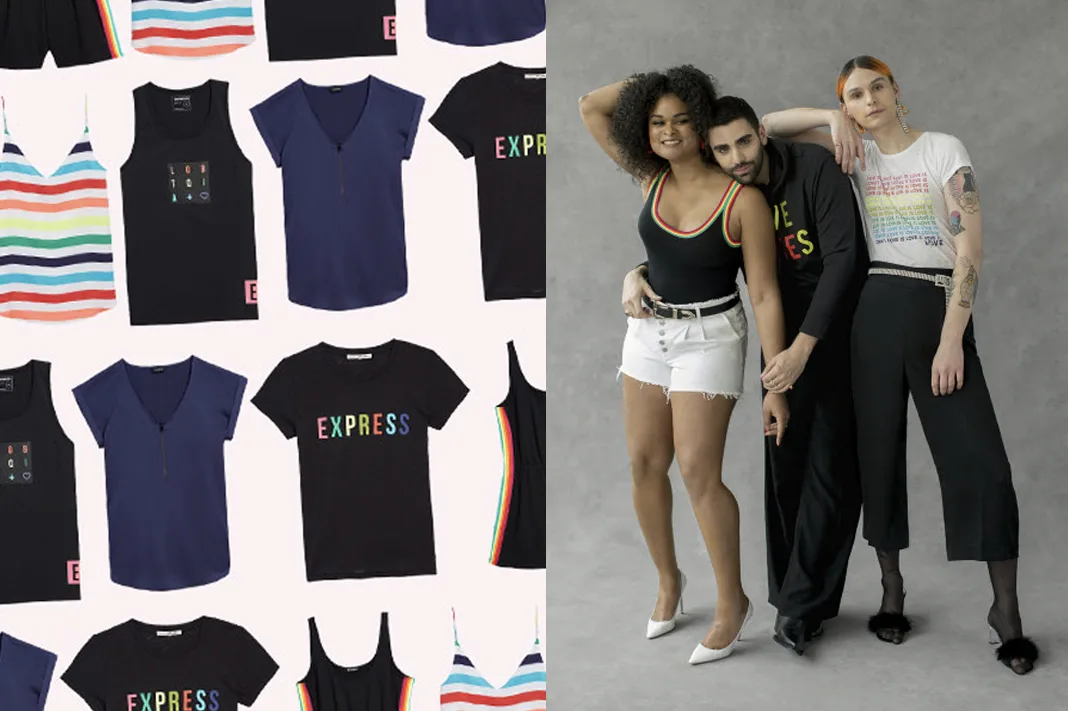 Express's Love Unites collection donates 25% of the net income to GLAAD to accelerate acceptance for the LGBTQ+ community. The promotion is valid until July 15th. #ExpressPRIDE
#34 Kind Bars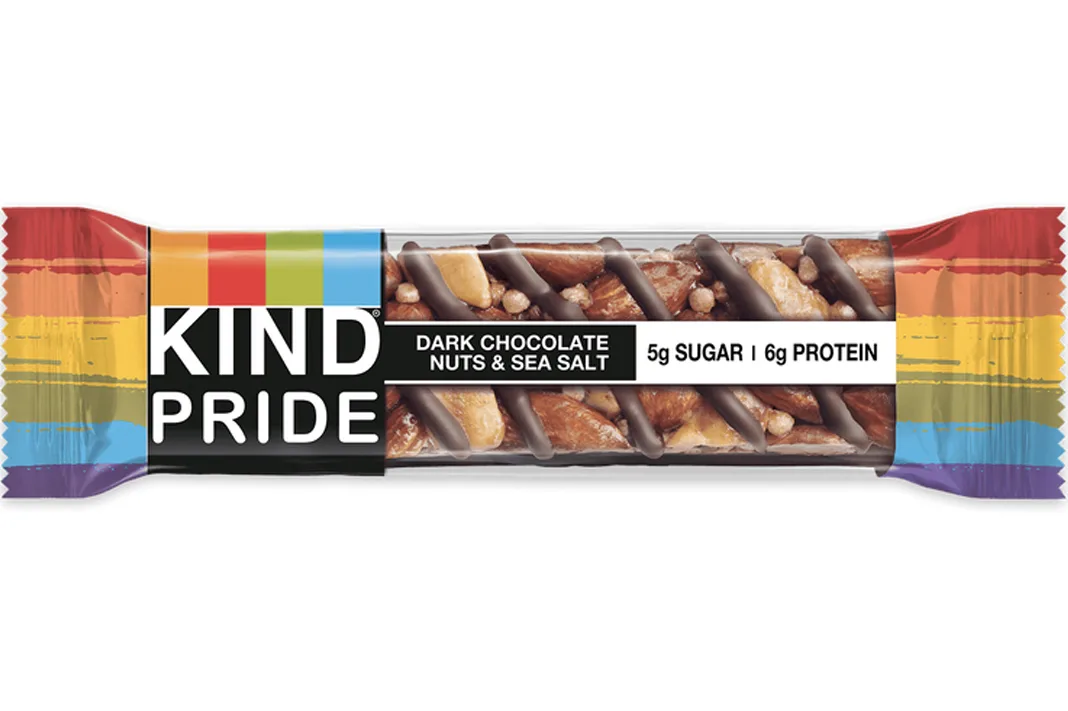 For the first time in its 15-year history of celebrating and inspiring kindness, KIND is transforming its iconic wrapper to launch the KIND Snack & Give Back Project™, a multi-year program to inspire kindness and empathy.
Through the project, KIND will wear its heart on its wrapper by showcasing custom designs in support of communities that haven't received their fair share of kindness. KIND is continuing its partnership with the Ali Forney Center (AFC).
The KIND Pride bar is exclusively sold on www.kindsnacks.com and from June 4 through July 31, 2019, 100% of the proceeds will be donated to AFC with a pledged a minimum donation of $10,000 to assist in their efforts to protect and empower homeless LGBTQIA+ youth across the country.
#35 Calvin Klein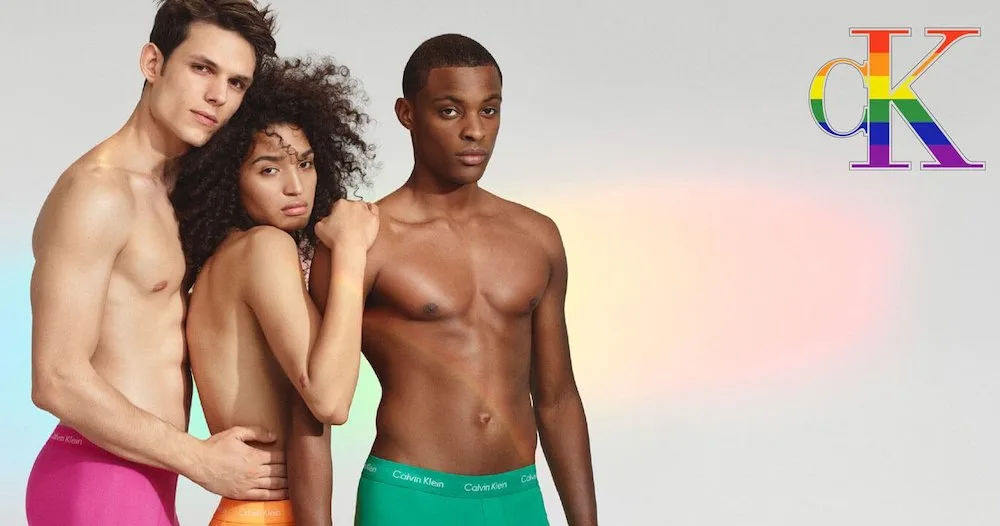 Trans actress Indya Moore (from Netflix's Pose) is one of the faces of Calvin Klein's Pride capsule collection, which includes jeans, swimsuits, underwear and accessories in the ultra-vivid colors of Pride.
As part of the campaign, Calvin Klein will donate an undisclosed amount to the Human Rights Campaign.
#36 Urban Decay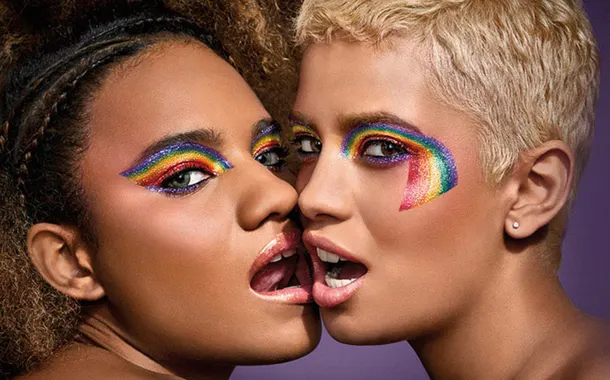 Urban Decay's Sparkle Out Loud collection 25% of the purchase price from our limited-edition Stonewall* shade will benefit Stonewall Community Foundation—an organization that strengthens the LGBTQIA+ community through grantmaking and scholarship programs.
#37 Target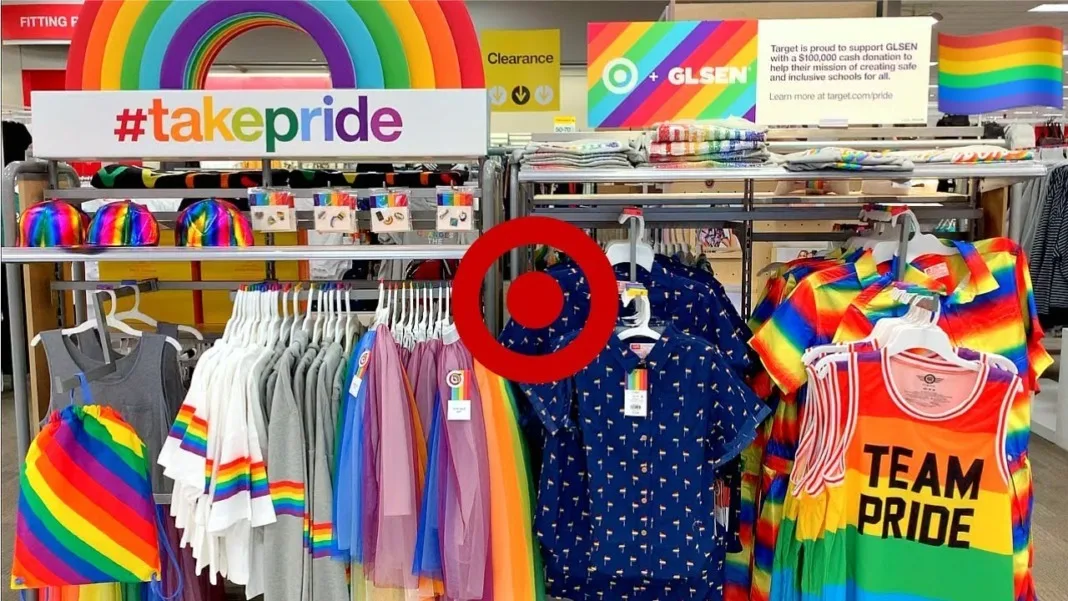 Target partners with organizations that support the LGBTQ+ community, including financial contributions and team member volunteerism, throughout the year. In celebration of Pride month, Target will contribute $100,000 to support GLSEN.
Target also removed gender signs labeling their products as male or female. There's been some controversy that Target Pride items are not sold in all stores throughout the US. However, all products are available online.
#38 Penguin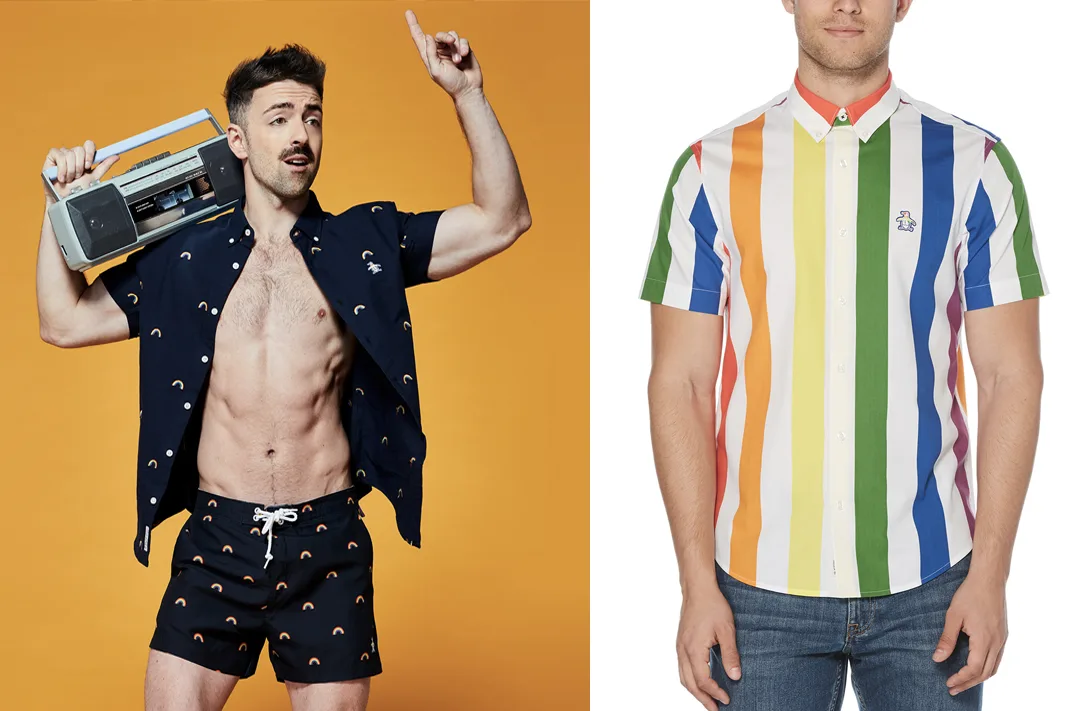 Penguin's 2019 PRIDE collection for men is promoted by New York based comedian Mateo Lane is the spokesmodel for Penguin's new Pride collection. The collection, featuring designs by two notable LGBTQ illustrators Paul Tuller and Peens, features an array of tasteful Pride-themed polos, tank tops, button-down shirts, ringers and swim trunks.
While not tied to sales, Penguin will be donating to All Out, a nonprofit advocating for LGBT equality around the globe.
#39 Sperry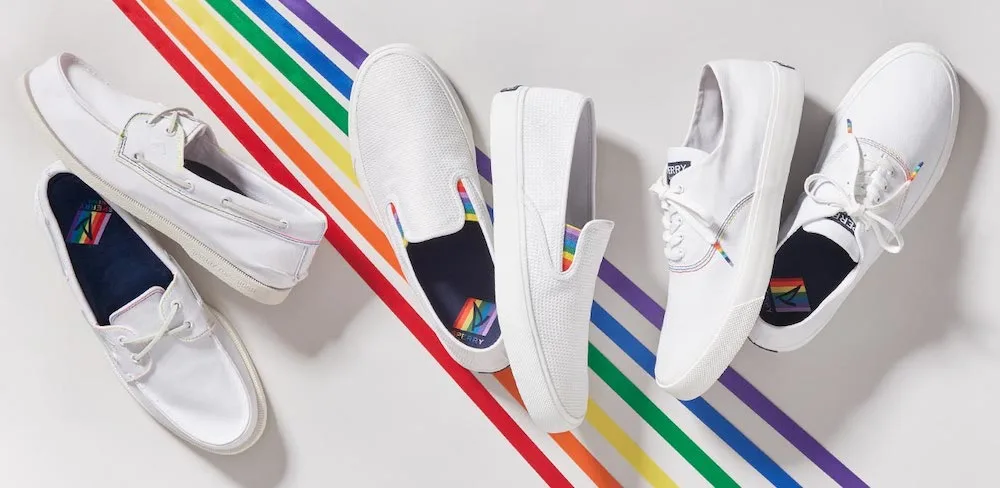 Sperry makes boat inspired mens and womens shoes. Their 2019 Pride collection will benefit the LGBT community as a sponsor of the 2019 Boston Pride parade.
#66 Tomboy X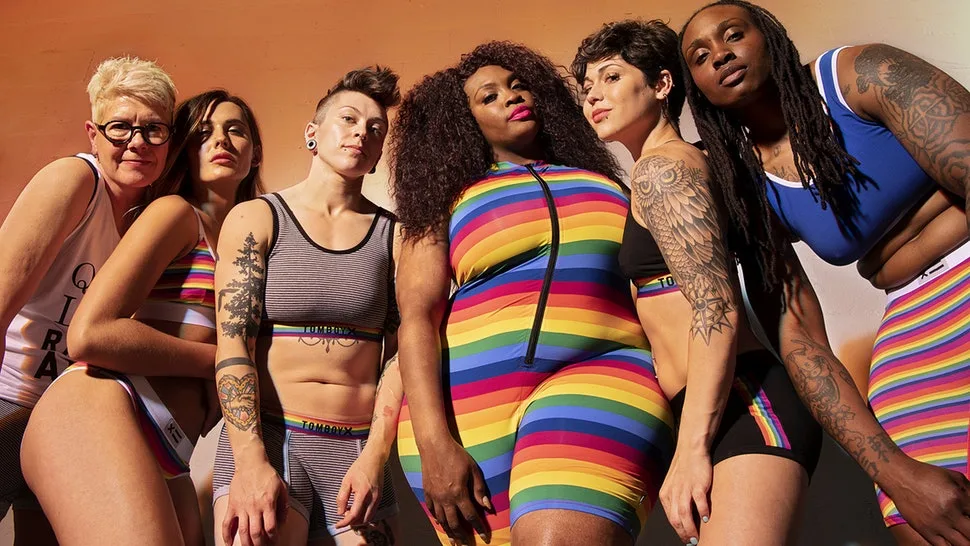 Tomboy X is a Seattle based underwear brand for women. They offer a size-inclusive product range from size XS-4X. 10% of proceeds from their 2019 Pride collection will benefit True Colors, a non-profit organization dedicated to supporting homeless LGBTQ youth.
Get $20 off your first TomboyX order with this link.
#41 J. Crew
J. Crew has collaborated with HRC to create Pride pieces to benefit the advocacy organization.
#42 Milk Makeup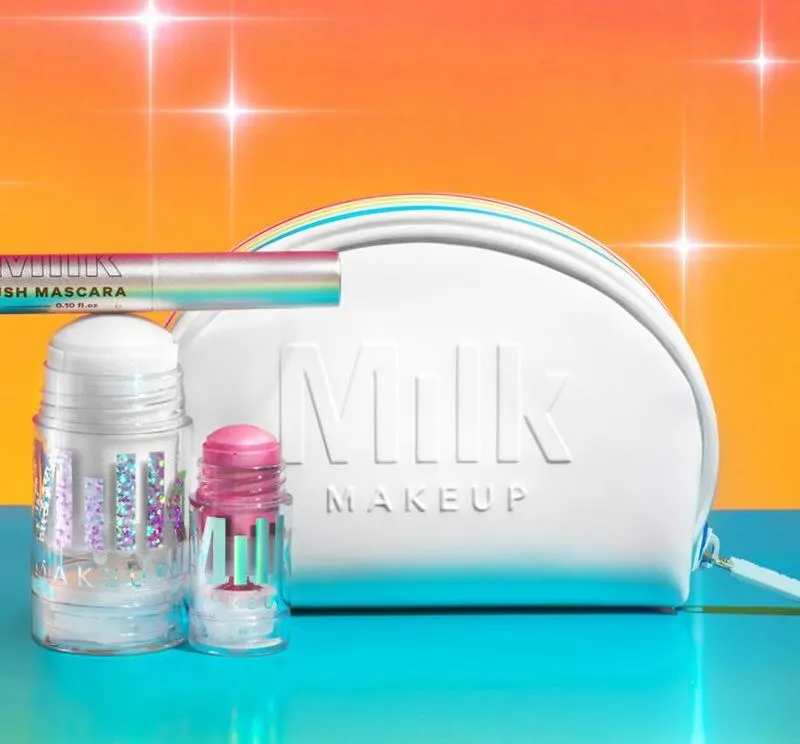 Milk Makeup's Wear Your Pride Collection is sparkly and fun. The set includes 3 items: 1) Glitter Stick in Techno, 2) Deluxe KUSH Mascara and 3) Mini Holographic Stick in Stardust.
100% of proceeds from the Wear Your Pride Set will go directly to The Center.
#43 Urban Outfitters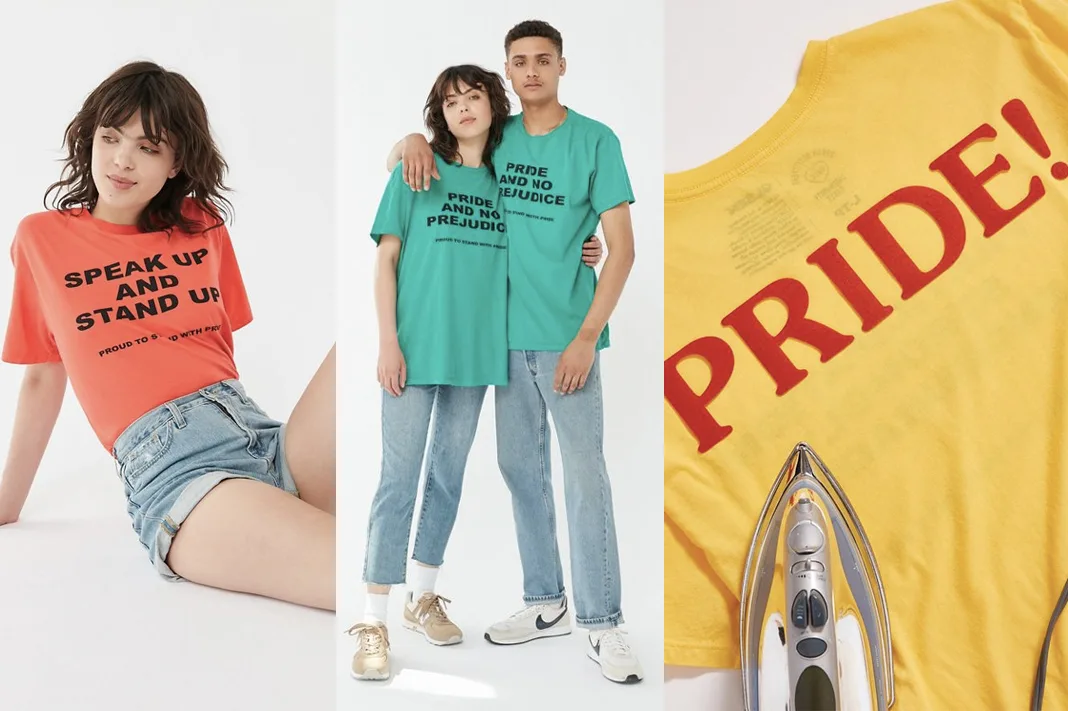 Urban Outfitters exclusive t-shirt celebrating Pride 2019. Printed with a graphic at the front, each tee is ready for you to customize with included iron-on letters.
For every item sold, UO Community Cares has donated $10 to GLSEN, the leading education organization focused on creating LGBTQ-inclusive schools.
#44 Everlane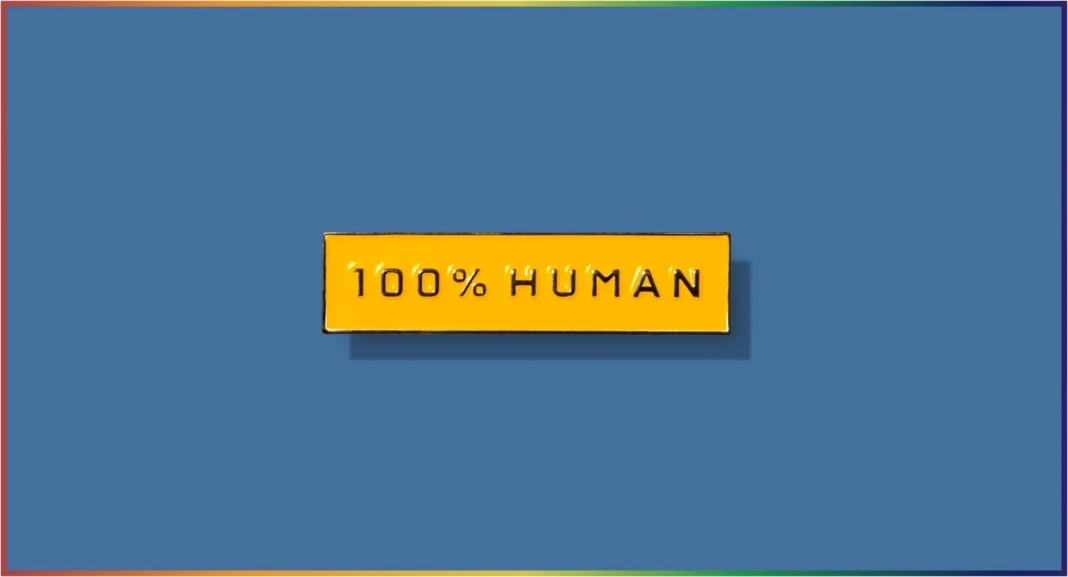 Everlane's 100% human collection donates $5 for each item sold. Everlane has set a goal of $100,000 to benefit The Human Rights Campaign. All 100% human collection purchases will receive a free 100% human pin while supplies last.
#45 Soul Cycle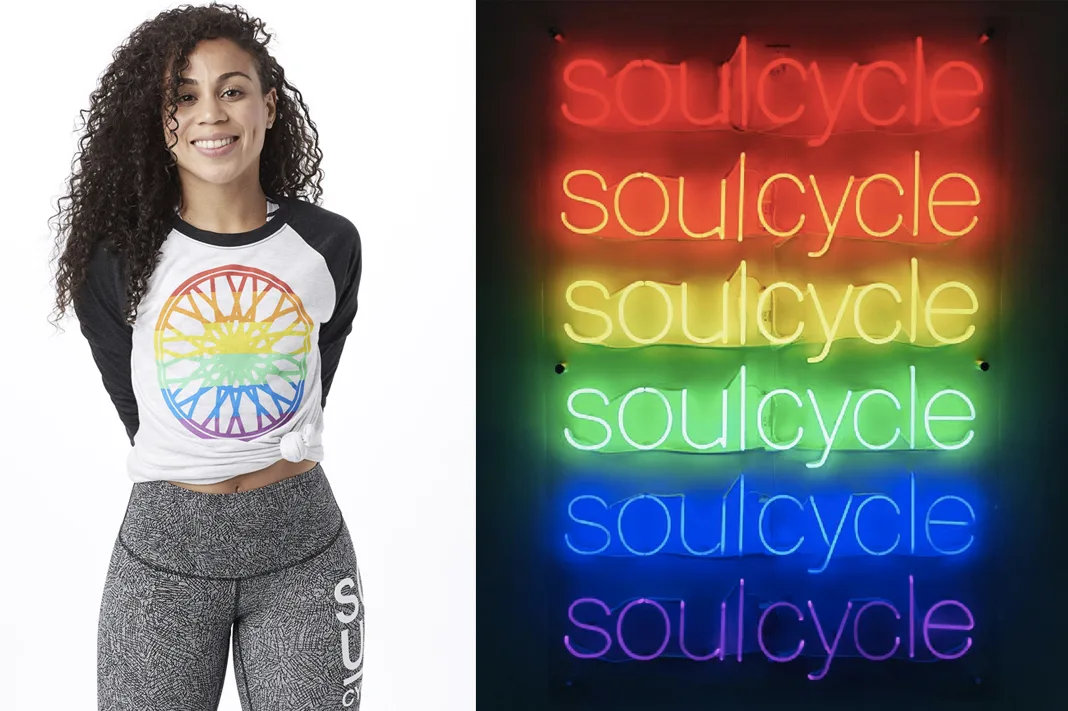 Soul Cycle met their charitable goal of donating $100,000 to the Trevor Project in 2019! A portion of proceeds from their Pride Packs went to support the NPO. It's a great way to ride and give back!
Soul Cycle also offered limited edition Pride apparel in-stores.
#50 Warby Parker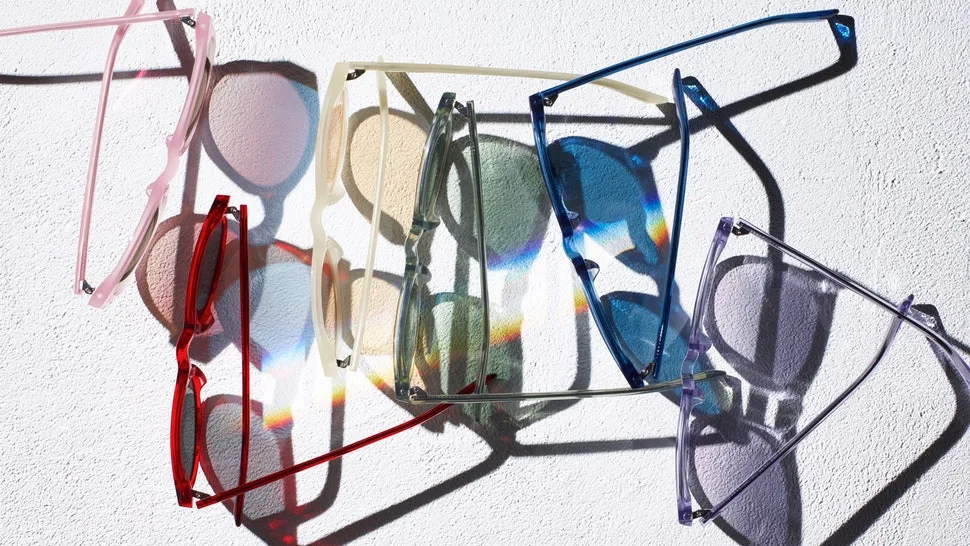 Warby Parker is making special donations to both The Trevor Project and Lambda Legal, two organizations that strive and advocate for equality. Their Haskell Prism collection offers a range of colors from the rainbow that promotes inclusivity and acceptance. They also offer a rainbow eyeglass case to protect your frames.
The Trevor Project is the leading organization in crisis intervention and suicide prevention services for the LGBTQ+ community. Lambda Legal's mission is to achieve full recognition of the civil rights of all LGBT people and those living with HIV. They work towards this goal through impact litigation, education, and public policy.
#51 Zennis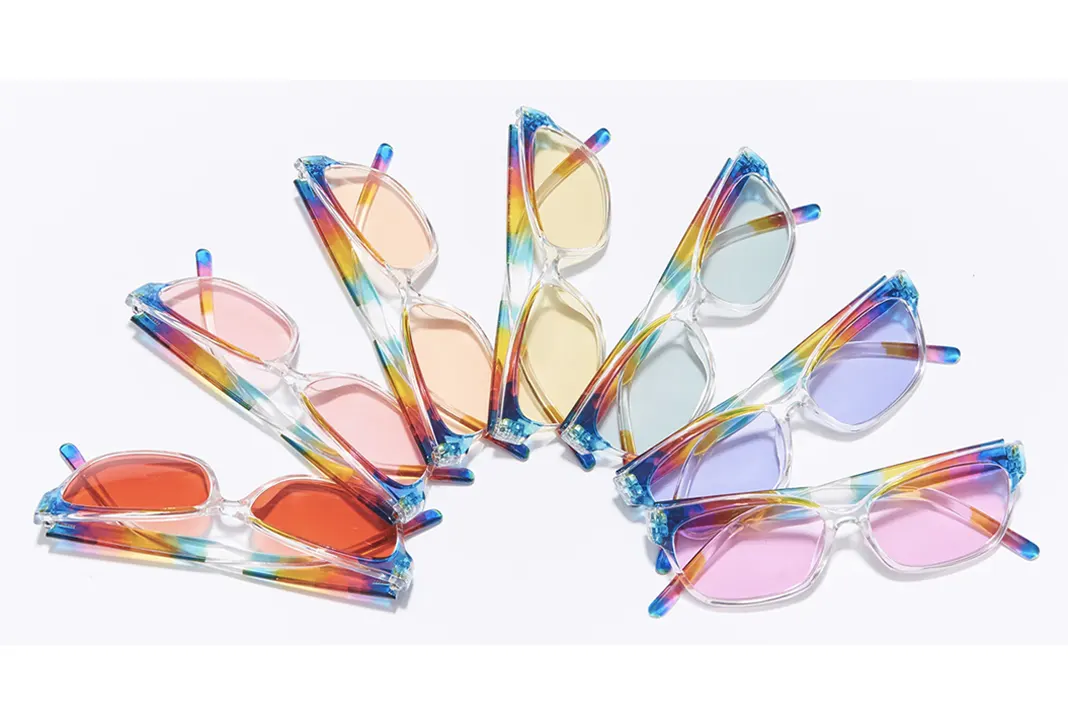 During the month of June, all proceeds from Zennis limited-edition Pride frames will go to the It Gets Better Project to support LGBTQ+ youth.
#52 2XIST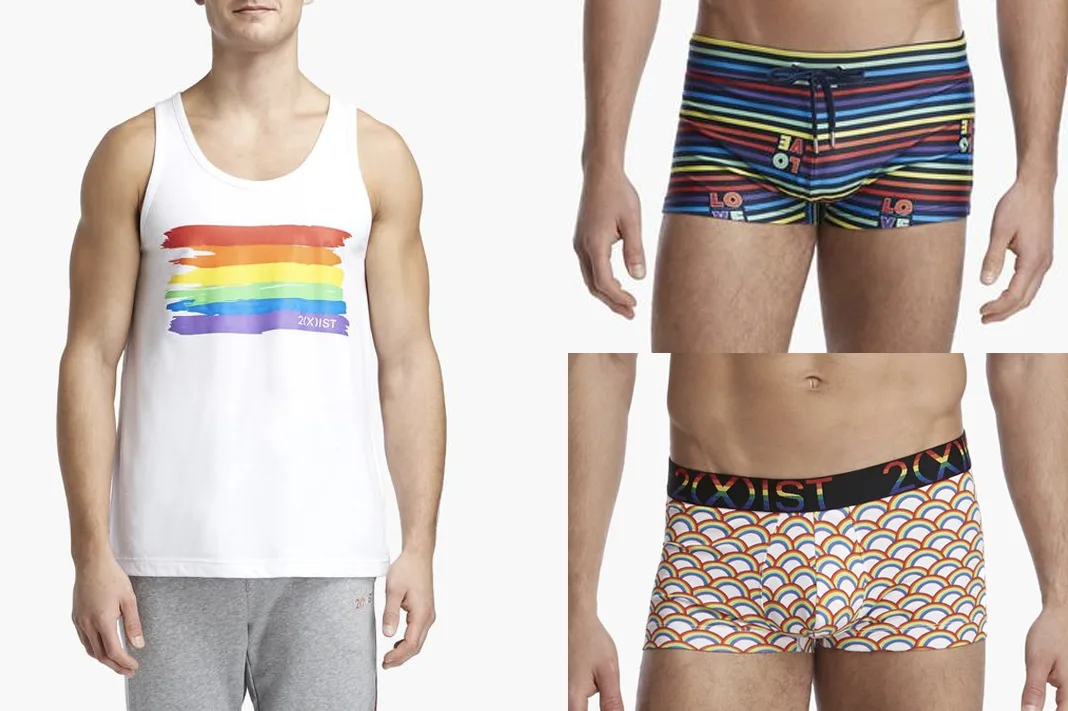 This Pride Month and in honor of 50 years of Stonewall, 2XIST is supporting three selected foundations in their efforts to support the LGBTQQ community. These foundations were chosen by three supporting advocates featured in our 2019 Pride campaign: The Audre Lorde Project, TGI Justice Project and Montana Two Spirit Society.
We will be donating $2,000 to each of these foundations to support their work. In addition, $1 from each 2(X)IST Pride Product sold during the month of June will also go towards the selected organizations.
#53 Apple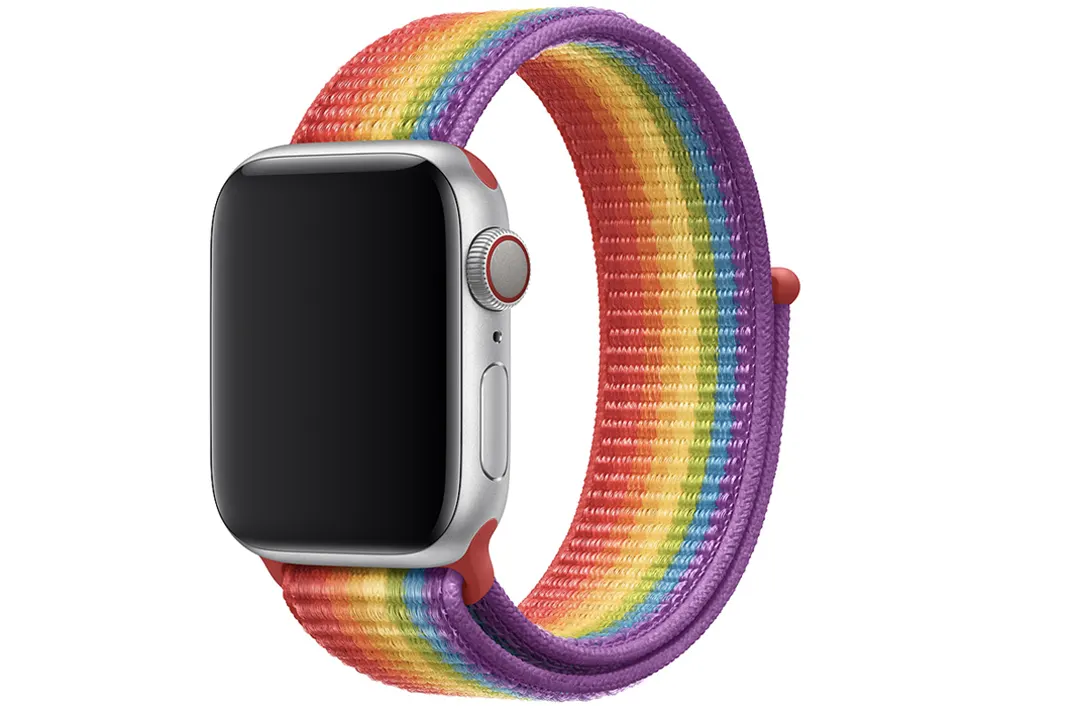 Apple is proud to support LGBTQ advocacy organizations working to bring about positive change, including GLSEN, PFLAG, The Trevor Project, Gender Spectrum, The National Center for Transgender Equality, and Encircle in the U.S., and ILGA internationally. A portion of the proceeds from Pride Edition band sales will benefit their important efforts.
#54 MeUndies
MeUndies is partnering with artist and producer GRiZ to celebrate Pride. Proceeds from their Pride collection will benefit the True Colors Fund.
#55 Nordstrom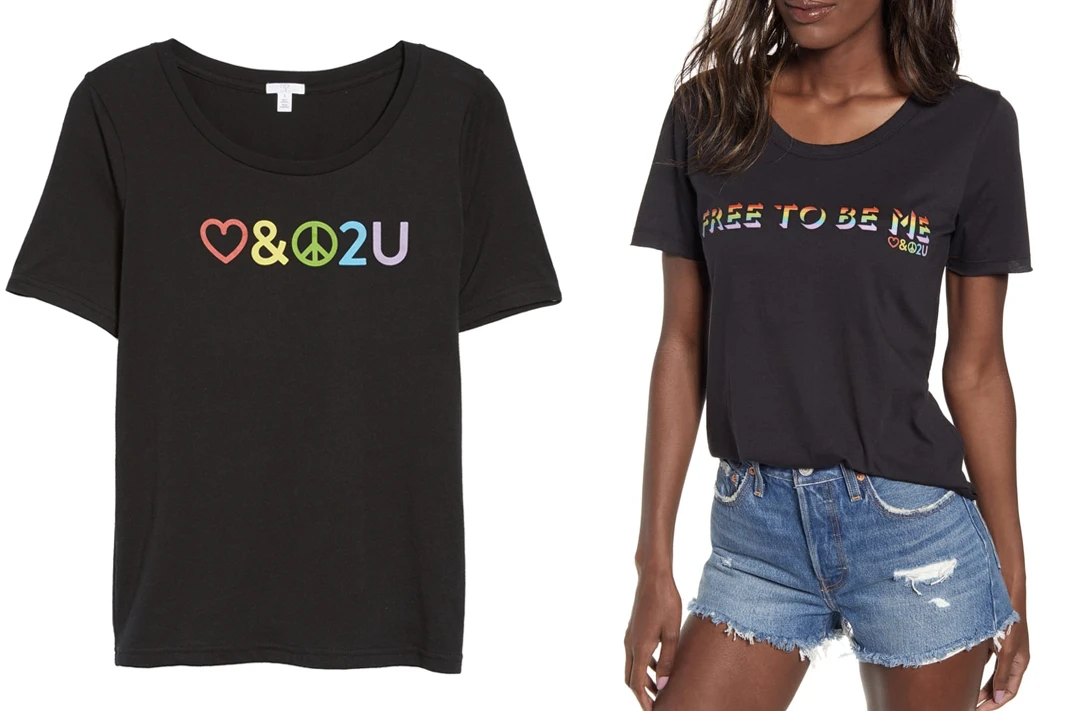 Nordstrom will donate 100% of net sales from the purchase of their "Free to be Me" T-shirt to the Human Rights Campaign.
#56 DKNY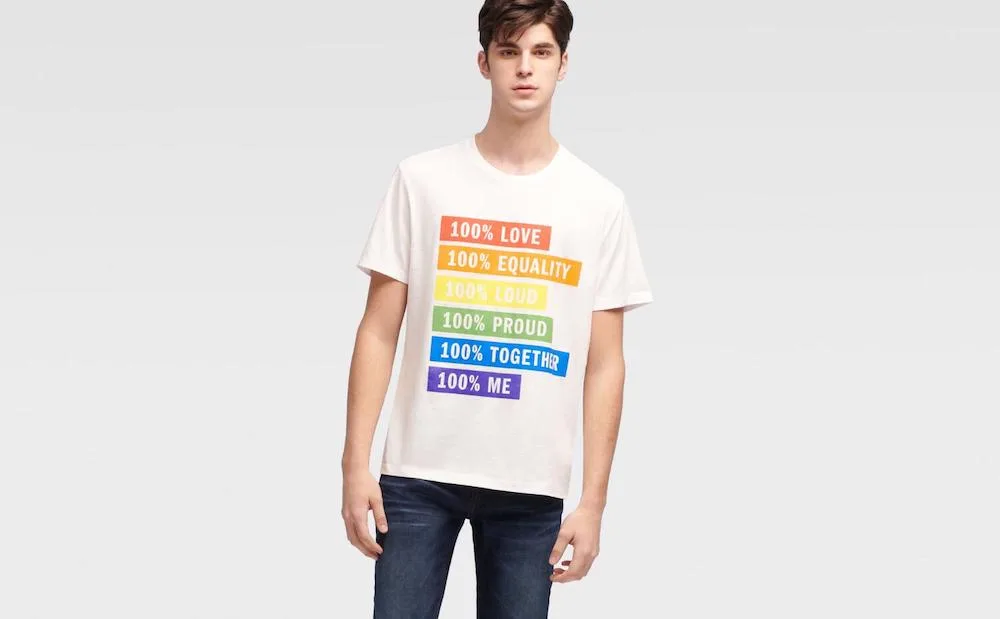 The DKNY Pride Collection was created to celebrate Pride 2019 in partnership with the Hetrick-Martin Institute (HMI). HMI provides empowerment, education, and advocacy for LGBTQ youth in the NYC area and beyond.
The DKNY pride collection offers hoodies, t-shirts, backpacks, belt bags and watches.
#57 Kiehl's
Kiehl's collaborated with Australian illustrator Daniel Gray-Barnett to design their Pride packaging. His joyful, whimsical style and vibrant palette brought our Limited Editions to life while highlighting Kiehl's dedication to and support for the LGBTQ+ community.
Kiehl's has been a proud sponsor of the NYC Pride parade for over 9 years.
#58 Banana Republic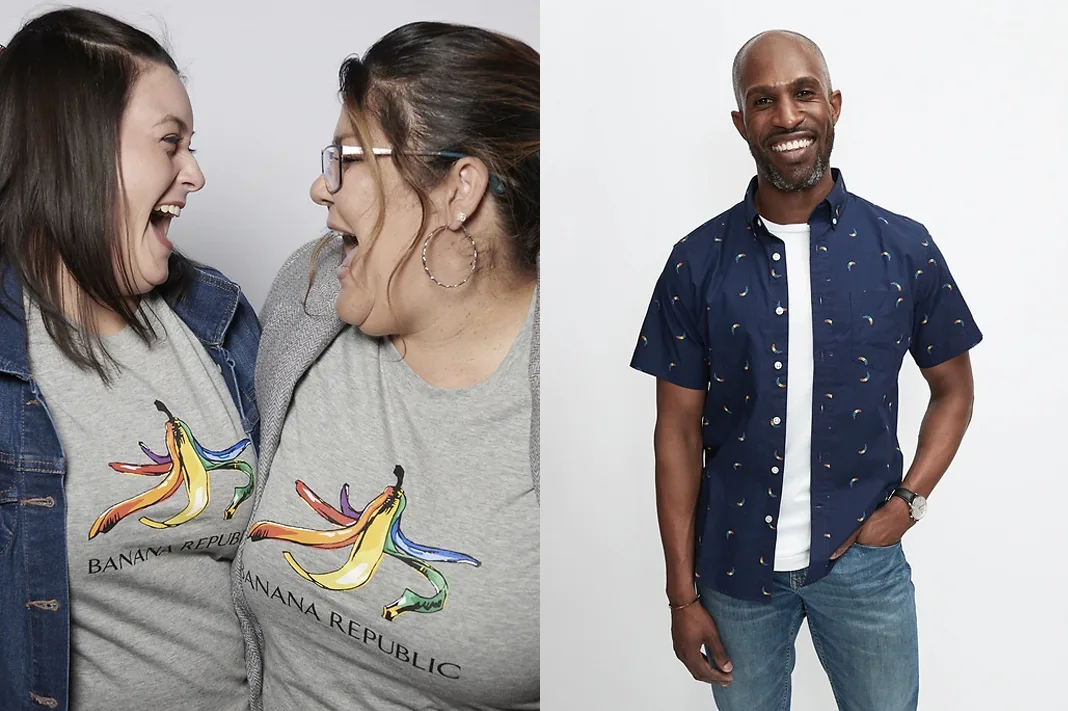 Banana Republic's Equality Collection donates 50% of proceeds to the United Nations Foundation. #BRLoveisLove
#59 Eastpak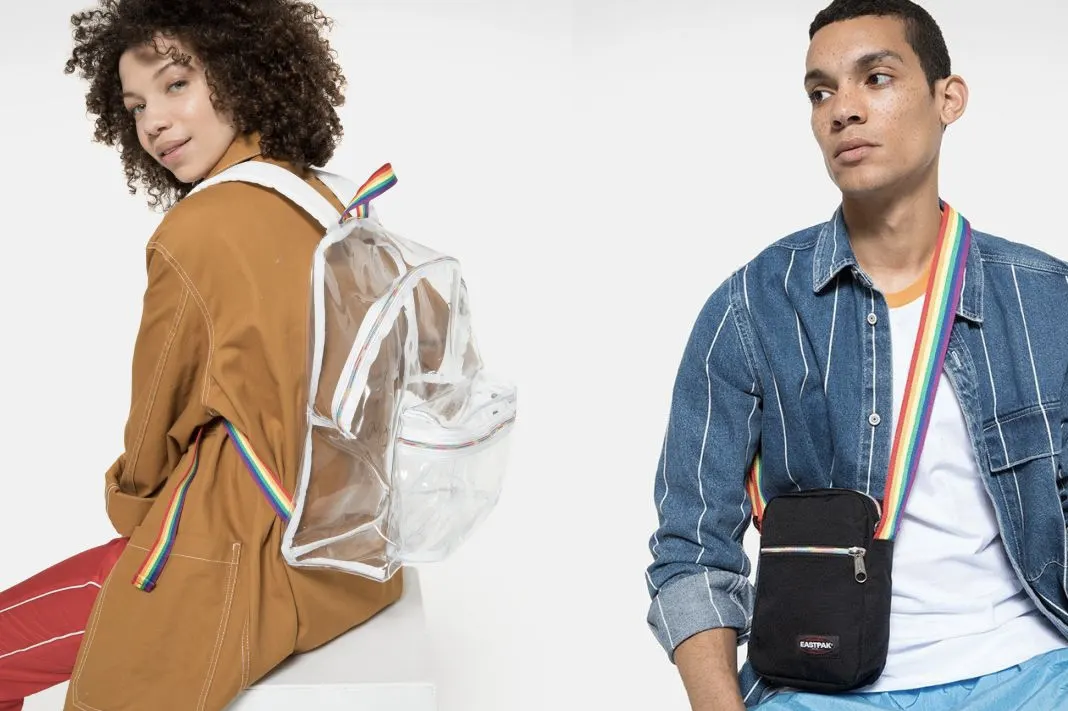 A portion of proceeds from every purchase of Eastpak's Pride collection will go to ILGA, to fund LGBTQI rights organizations and to educate the world on equality for all.
#60 Rag & Bone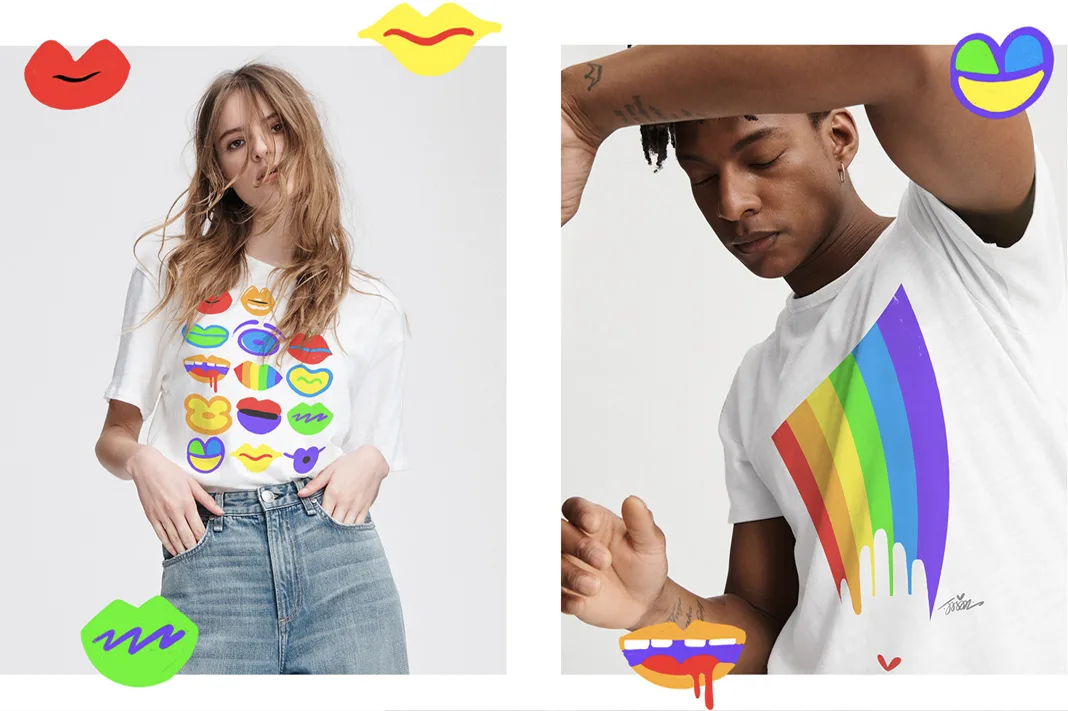 Rag & Bone collaborated with NYC artist Jason Naylor to create two limited edition t-shirts that celebrate being true to yourself. The lips speak to individuality and the hand symbolizes togetherness.
20% of Pride t-shirt proceeds benefit The Trevor Project.
#61 Alexis Bittar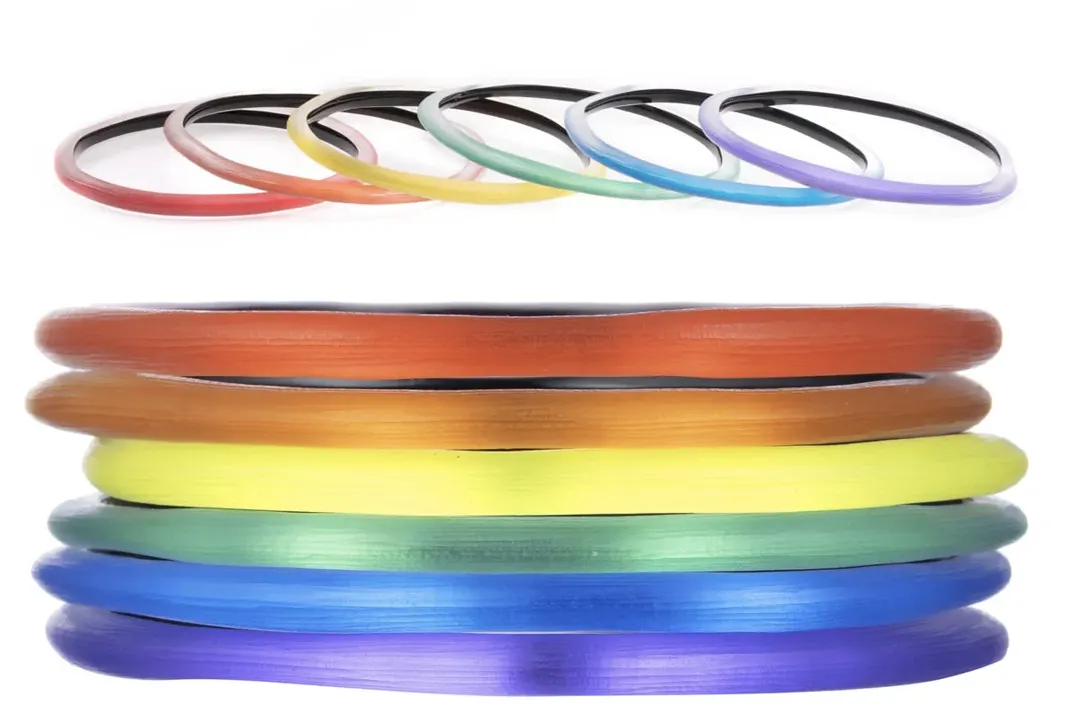 Alexis Bittar's Pride Bangle Bracelet Stack ($255) is a perfect way to add color to any outfit. 10% of the sales from their bracelets will benefit SMYAL.
#62 American Apparel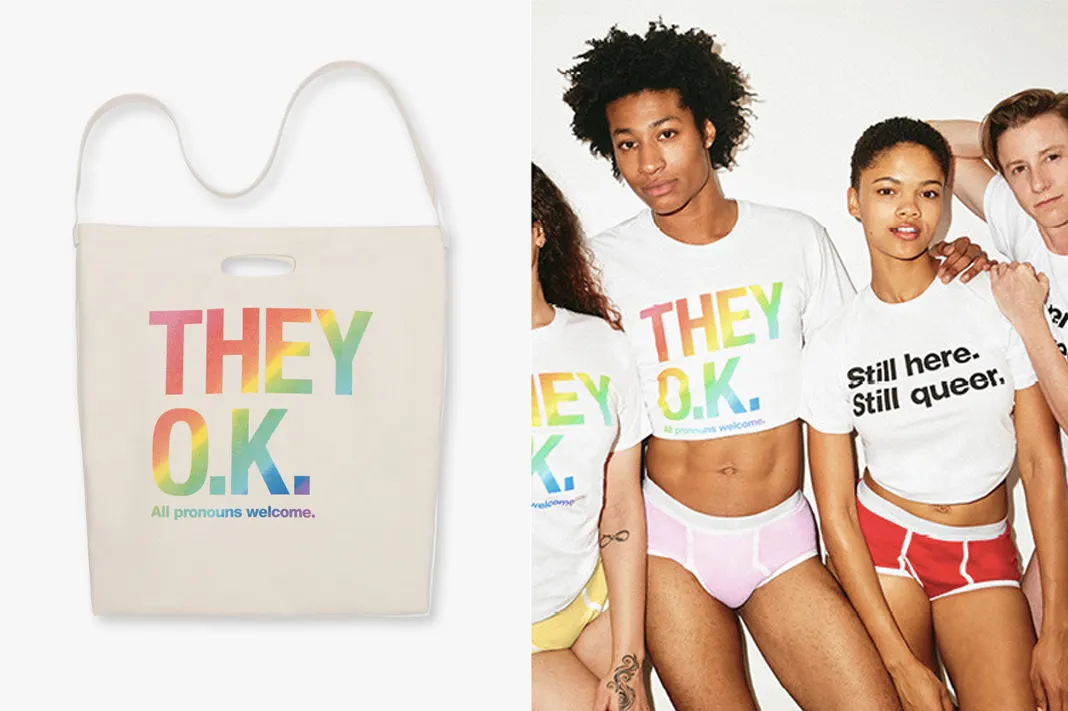 American Apparel has always been an outspoken advocate for the LGBTQ+ community. This year they continued to elevate this tradition with the launch of their "They O.K." campaign. "They O.K." pays homage to – and is an evolution of – their bestselling "Gay O.K." T-shirts, updated to include everyone across the gender spectrum, with a playful (but pointed) subhead in our messaging: "They O.K.: All pronouns welcome."
#63 Marc Jacobs Beauty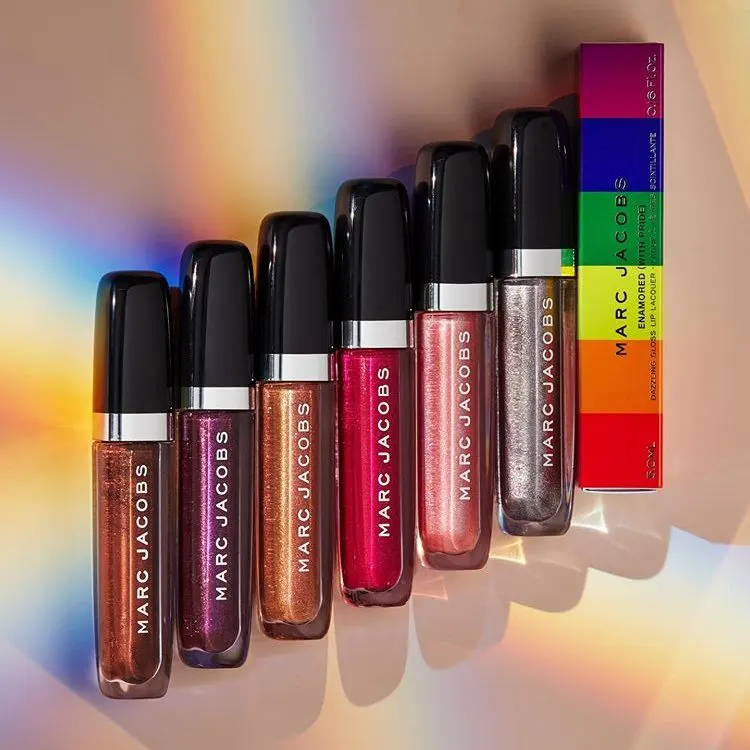 Marc Jacobs Beauty is adding six shades of Pride-themed lip gloss to its best-selling Enamored Lip Lacquer collection. Available in June, the $28 lip gloss will be sold in limited-edition rainbow packaging and 10 percent of sales will be donated to Sage, an organization that supports older members of the LGBTQ community.
#64 Ugg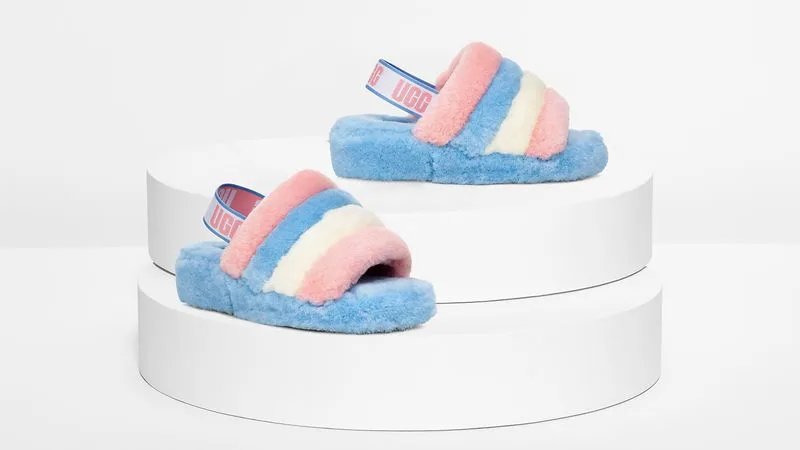 Ugg's Pride Fluff Yeah Slide ($100) donates $25 from each sale of the slide to the Born This Way Foundation. The slide also comes in 3 colorways.
#65 Youth to the People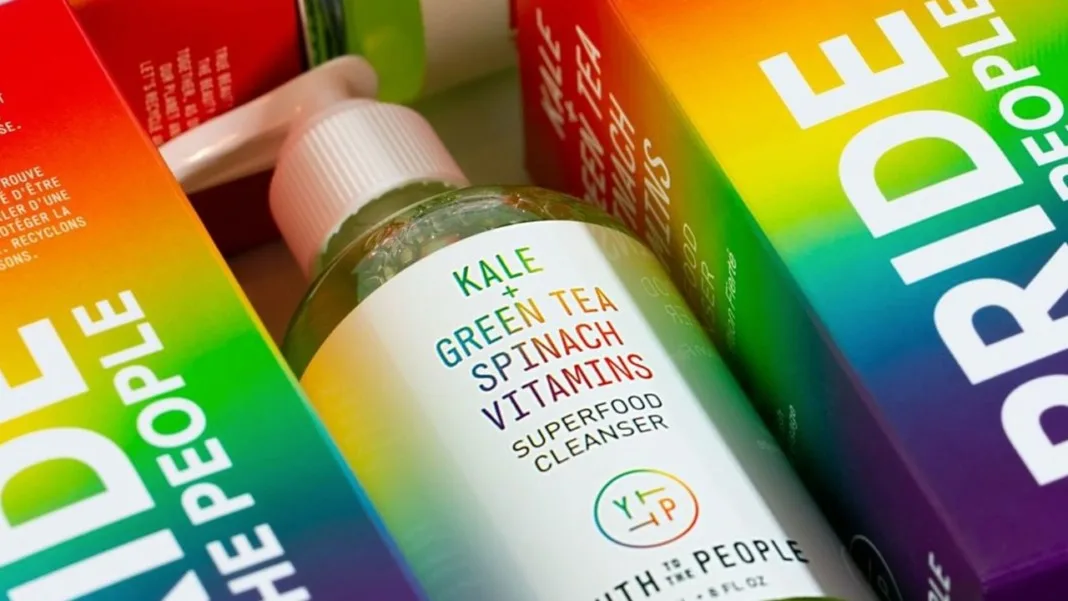 Youth to the People makes organic and cruelty-free skincare.
They asked Wednesday, the UK-based queer artist and illustrator, to create a sticker pack to celebrate Pride. A pack is included with every Superfood Cleanser Pride Edition.
Wednesday says, "The stickers were all about being proud as a queer person. Often queer narratives are heavily based in victimization and ostracism. These stickers reach beyond this. Transgender happiness is real; non-binary excellence is real; queer power is real. I wanted people to see our wonderful, innate truth: we make the world more magical."
#66 Otherwild X Herstory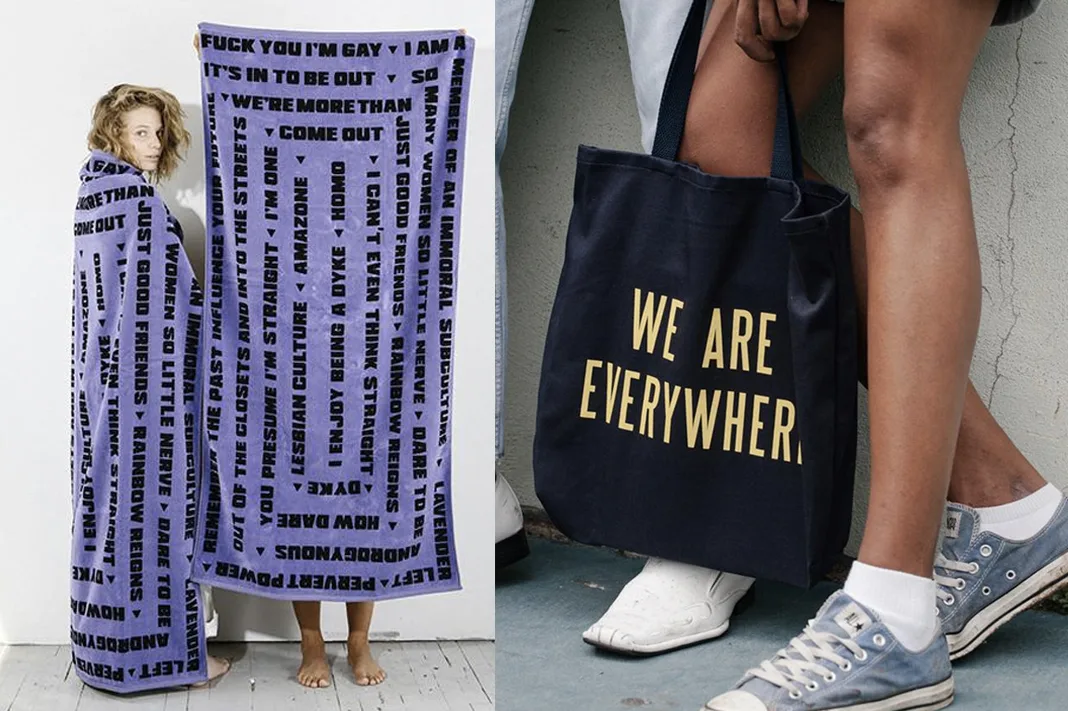 Otherwild is a gender-neutral company that supports Pride 24/7 and year round. They are advocates for LGBTQ initiatives and donate to many organizations year round.
#67 Hollister
Hollister's Pride Collection will donate up to $25,000 to GLSEN.
#68 Aeropostale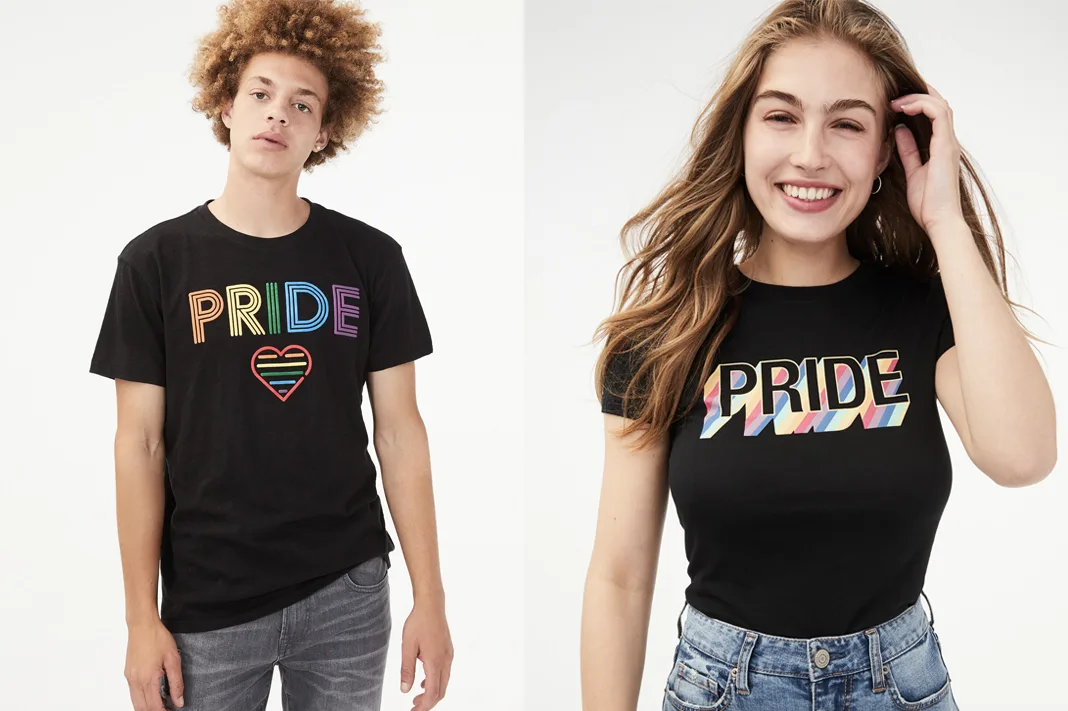 Aeropostale's inclusive AERO ONE collection offers unisex pieces. A percentage of U.S. sales from both will be donated to the Ali Forney Center to support meal programs for homeless LGBTQ youth.
#69 Hip Dot
HipDot's Legendary Pressed Glitter rainbow palette ($30) was made in collaboration with queer artist Hey Rooney. Proceeds of sales will be going to the Anti-Violence Project Organization.
#70

Fossil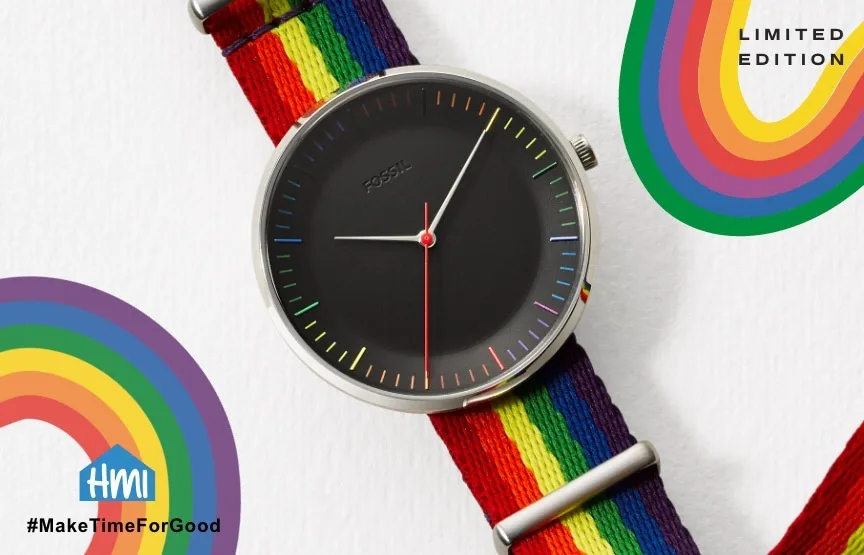 Fossil's rainbow watch completes any outfit. 100% of the proceeds of the PRIDE watch will benefit HMI.
#71 Human Rights Campaign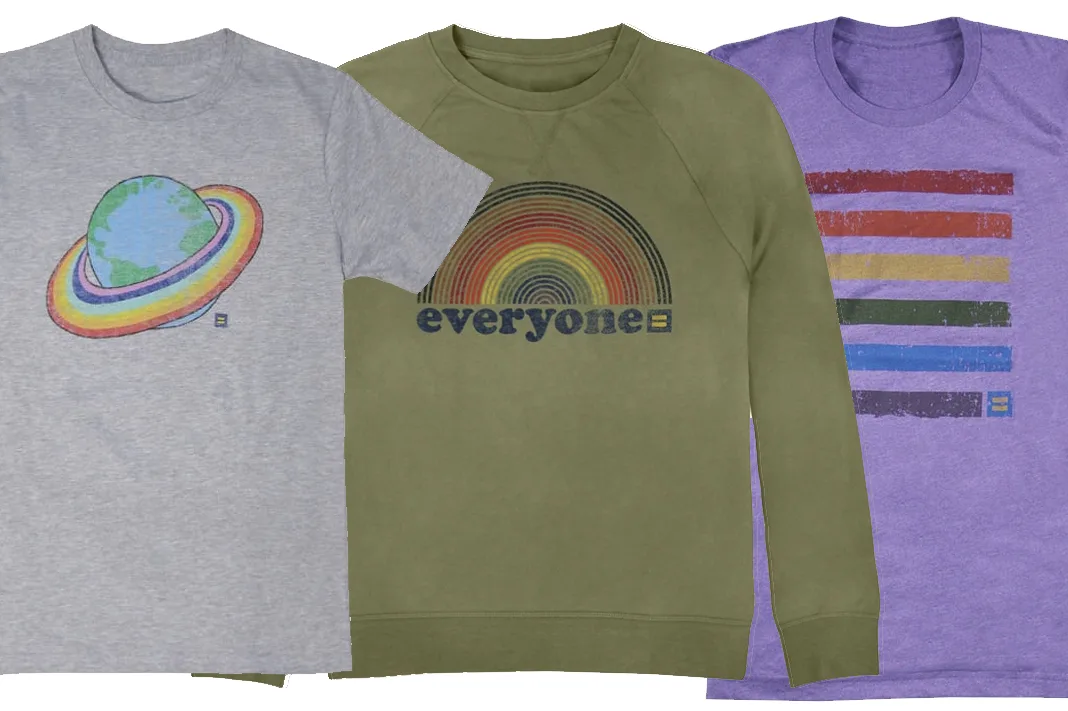 Last but not least! The Human Rights Campaign (HRC) advocates for LGBTQ rights. They also have an online shop and collaborate with major brands that give back such as J. Crew, Abercrombie, Crewcuts and more. All store proceeds benefit HRC initiatives.
That completes our list of brands that give back to LBGTQ+ causes and more. What brands do you support? Please let us know in the comments.
Thank you for visiting today! If you found this encouraging or informative, please connect with us on Instagram or TikTok.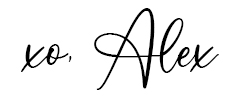 Sign up for our monthly newsletter for updates and more. We promise we won't spam you! Feel free to unsubscribe anytime.
If you're a brand and want to work with us, please visit this page to get in touch.