Reading Time:
4
minutes
Some of the best gifts are the ones that will last forever.
Many retailers are offering warranties for their products. Lifetime guarantees are intended to ensure customer satisfaction, loyalty and increase conference in their merchandise and brand.
I've had items tear or break on me within months of owning the item. By then, the return date has already passed and I'm left with a bad investment and broken item. Many of the times, retailers will allow me to exchange for a new item or to send it in and get it fixed.
Brands offering lifetime guarantees allow you to decrease your carbon footprint and contribute less to the growing amount of trash that gets sent to landfills.
When shopping, we should look at what companies are doing to ensure both customer satisfaction as well as improving the environments in which we live.
Brands with Lifetime Guarantees
Here is our list of 100+ brands that offer a lifetime or limited lifetime warranty.
Carhartt – Has an unofficial lifetime warranty.
Herschel Supply Co. (limited lifetime)
iCracked
Jostens – Also offers a lost and found program.
Ka-Bar
Kobalt
Koss Headphones – Become an Insider (free to join) and get 15% off your first purchase.
lululemon (limited lifetime warranty)
Manduka – PRO and PRO Lite yoga mats come with a lifetime warranty.
Monos – Use code ALEX5 to save 5% off your orders. Shop now.>>
Nordstrom – Offers a limited lifetime guarantee and is at the employee's discretion.
Rainbow Sandals – They use to have a lifetime warranty. Now it's been reduced to 6 months.
Sea to Summit – Get $20 off when you shop here.
Whew! That's a lot of retailers.
Let's get into the details of how warranties actually work.
How Do Warranties Work?
Warranties can work in a variety of ways. It's up to the retailer to determine how they process their warranties. For example, some companies will require you to ship the original item back to them to fix or replace. Almost all companies will require proof of payment, so make sure you have a copy of your receipt saved in your e-mail or cloud for all your purchases with lifetime guarantees.
Some companies will also let you register your items so that if and when a warranty needs to be honored, they have your purchase registered.
Some companies will even replace an item if they cannot fix it.
It's important to read the terms and conditions of their warranty programs prior to purchasing.
Final Thoughts
Buy once and have for life is a great model for retailers. This often implies that a product is high-quality and that the brands stand behind their products…for life.
Brands with lifetime guarantees are no gimmick and can oftentimes save you money in the long run. It's a good idea to buy from brands offering a lifetime warranty so that you can have peace of mind when something does not work the way it's intended to.
Many products with lifetime guarantees will be expensive, but it will be worth it.
If you liked this post, please consider pinning it to Pinterest!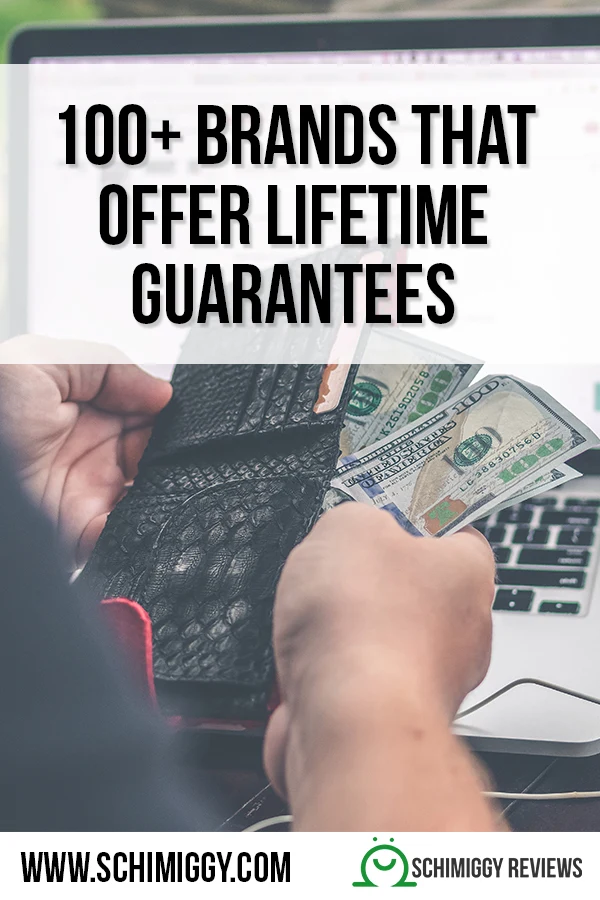 ---
Thank you for visiting today! If you found this encouraging or informative, please connect with us on Instagram, Youtube, Pinterest, Facebook or Twitter. We'd love to meet you!
Sign-up for our monthly newsletter for updates and more. We promise we won't spam you! Feel free to unsubscribe anytime.
For more fitness fashion discounts and offers, please visit our Fitness Instructor Discounts + Brands Directory or favorite brands coupon codes list.
If you're a brand and want to submit a product for us to review, please use this form to get in touch.
This site uses affiliate links. Clicking on or purchasing via an affiliate link may result in commissions for us which help keep the content flowing and lights on at Schimiggy Reviews. You may read more about this in our privacy policy.