Reading Time:
7
minutes
Updated: 1/13/2020 | Pet Shampoo Bars
Did you know that our pets can go zero waste too?
After I switched over to shampoo bars, I wanted to see if I could find a zero waste shampoo alternative for Bebot, my chihuahua. I'm impressed with how long my all-natural shampoo bars have lasted and how well they performed on my thick and wavy hair.
I knew that switching my dog over would be cost-effective and eco-friendly way to keep my puppers squeaky clean.
I considered scents and essential oils that my dog might be allergic to, but luckily we checked with the vet to make sure she had no allergies. My vet recommended that I spot test the shampoo bar to see if it might irritate my dog.
I tried 3 different brands and she seemed pretty content with the results of her shampoo bars! She was definitely ready to ditch single-use plastics and your pet might be too!
Tips on How to Use a Shampoo Bar on Your Dog
Using shampoo bars on your dog is similar to applying it to yourself. Here are some tips you can use to properly wash your dog using shampoo bars.
Always spot test a new shampoo bar on your dog. Wait 24 hours to see if there's a negative reaction. I tested the area behind my dog's neck so that she would not be able to lick the shampoo off. I also cut off a tiny piece of the shampoo bar with a knife so that I would not get the entire bar soaked.
Wet your dog thoroughly before apply the shampoo bar. When applying the shampoo bar, lather it on your hand first and then massage it into your dog's wet fur. If you need more soap, swipe the bar 1-2 more times onto your dog's fur or into your hand to add to the lather.
Cut up your soap bars for smaller sized dogs. I cut my dog's shampoo bar into little flakes and use one flake each time I wash her. It may feel uncomfortable for a small dog when you rub a large bar of soap against their small body. Big dogs will usually not feel the hard edges of a bar of soap against their body.
Rinse your dog THOROUGHLY. Some bars that contain essential oils can be lapped up by your pup and may irritate their digestive tracks.
Don't use a hairdryer to dry your pup. I recommend drying your dog with a towel and then allowing them to continue air drying afterward. Bar shampoos tend to dry out hair and a hairdryer may cause further drying of the hair AND skin, which can irritate your dog!
Don't wash your dog too often. Allow your dog's sebum (oils) to build up to protect their coat and skin. I wash my 6 lb chihuahua twice a month and usually when she is really dirty. This tends to happen after we go on hikes or spend an extended period of time outdoors.
If your dog is anxious, we recommend getting this slow treater by Aquapaws that will distract your dog as you give it a bath. Just spread peanut butter in the treater and stick it on the wall and watch your doggy's bathtime fears become eliminated.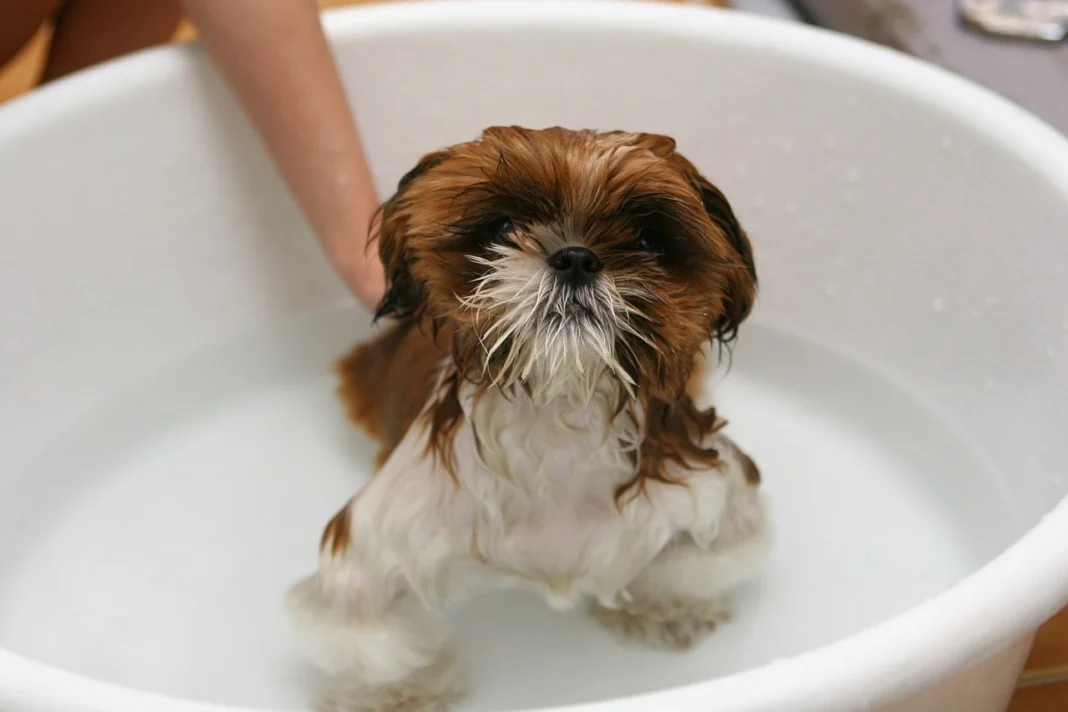 Best Dog Shampoo Bar Brands
We reached out to companies and tested them out. Here is a list of our favorite natural and non-toxic pet shampoo brands for you to choose from. We've also indicated when a shampoo can be used for your cat.
#1 Chagrin Valley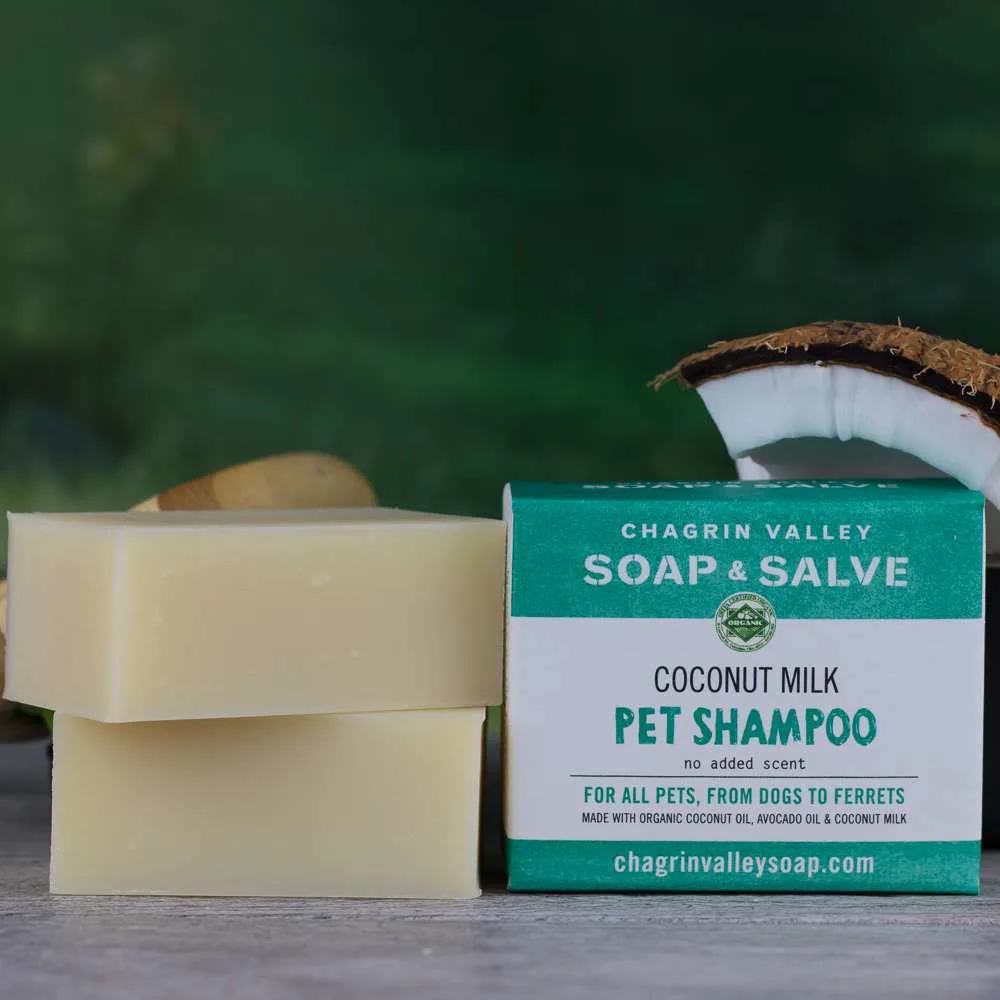 Chagrin Valley Soap makes human and pet shampoo bars. Their bars are pet inclusive, so go ahead and use it on your rabbits and cats too! Buy Chagrin Valley on Amazon and directly from their website. Get a $5 off coupon code with this link.
#2 DERMagic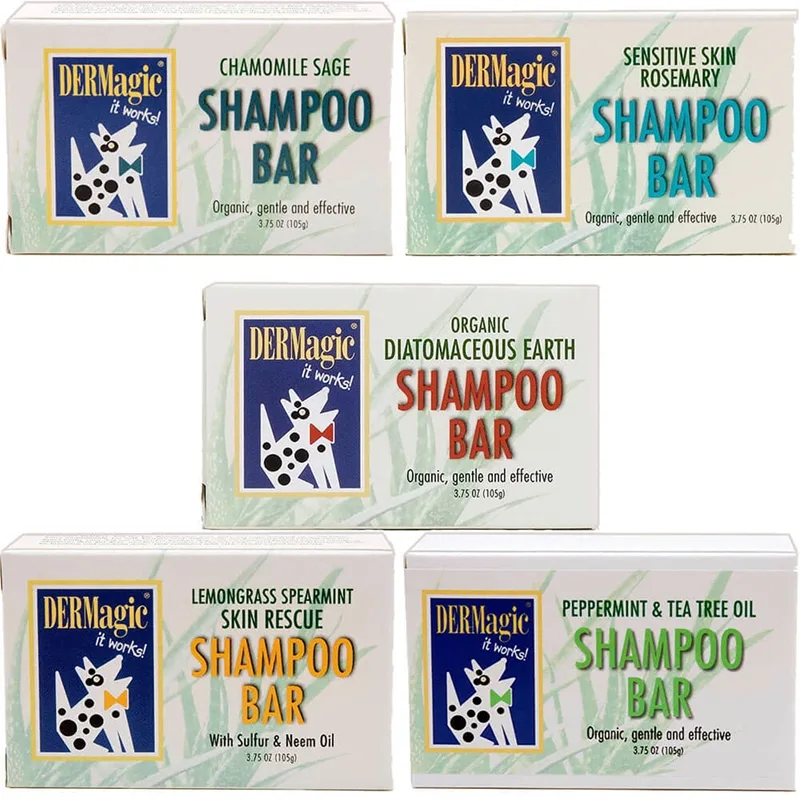 DERMagic makes dog shampoo bars ($11.95 for 3.75 oz) for different skin conditions. Buy DERMagic on Amazon.
#3 Mountain Madness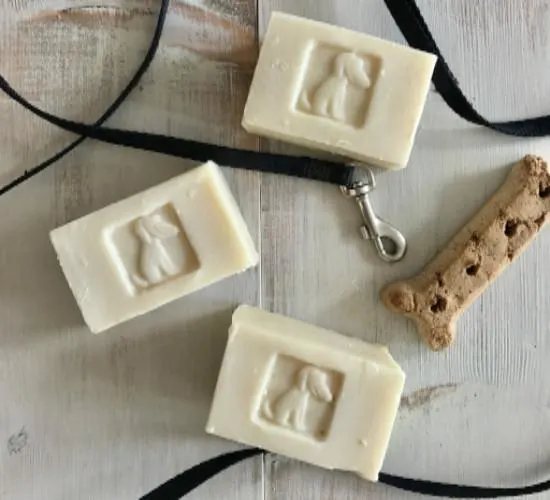 Mountain Madness make natural dog soaps ($6 for 2.5 oz) that are made with ethically sourced palm oil. Mountain Madness does require a minimum order of 3 bars, so get some soap bars for yourself while you're at it. Buy Mountain Madness directly on their website.
#4 Good Dog Shampoo Bar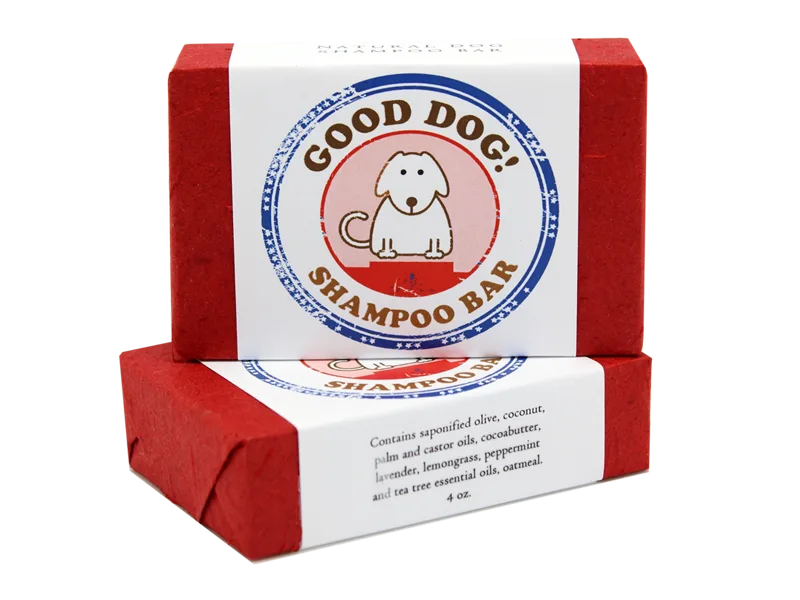 Summer House Soaps' Good Dog! shampoo bar ($7.95) is all natural and smells great. However, this bar is not recommended for cats.
#5 Bee Beauty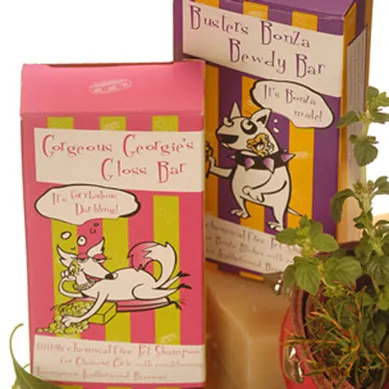 Bee Beauty's dog shampoo bar ($12.50) has neem and tea tree oils which are great for thwarting off pests. Bee Beauty is based out of Australia and is something to consider if you're looking to reduce your carbon footprint.
#6 Wondercide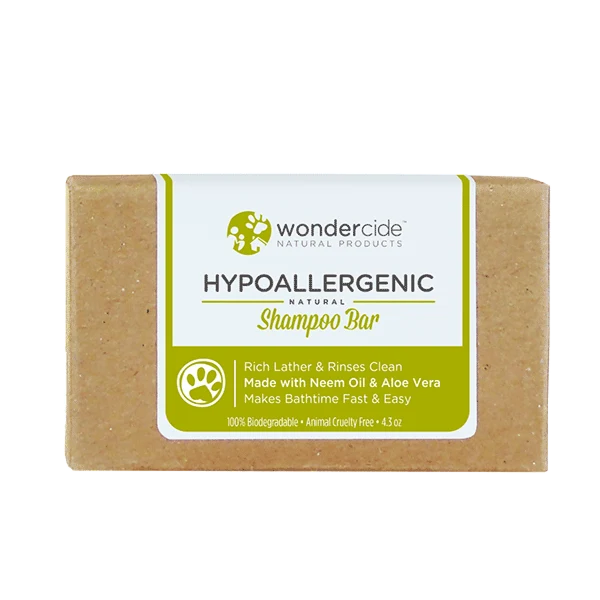 Wondercide makes shampoo bars for a variety of conditions and made for all animals. They also offer various sizes, including travel sized bars. Buy Wondercide on Amazon and on their website. Use this link for $5 off your first order at Wondercide.
#7 Sit Stay Forever
https://www.instagram.com/p/BwYYXZDhygI/
Sit. Stay. Forever. makes a whole range of products for your pets. I love that they're small scale. Their shampoo bar is huge and will last your pup a long time.
I ended up using this brand the most because it had a light scent and lathered really well. They also sent me a paw salve that I massage into my dog's paws after we go on a walk. She falls asleep as I am applying it. I guess she likes it!
You can buy their dog shampoo bars and other pet products on Amazon.
#8 Chubb's Bars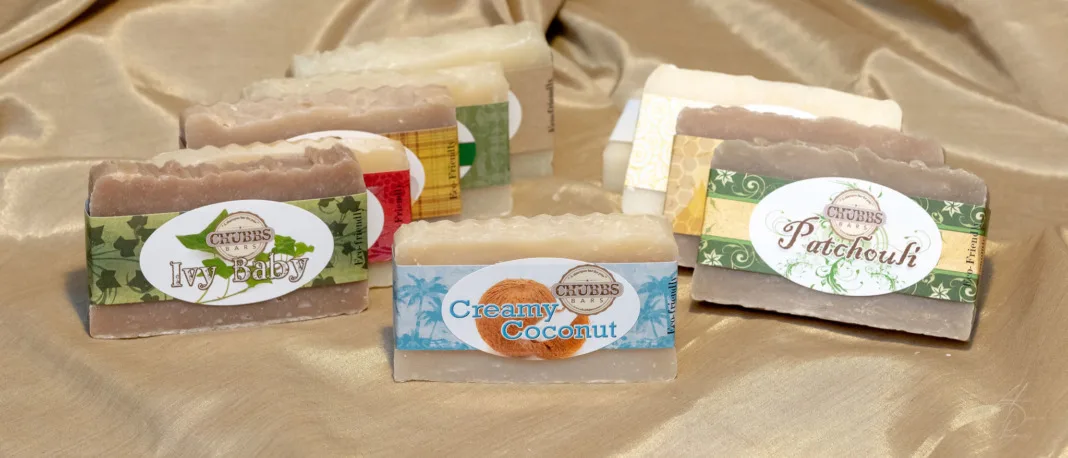 Chubb's Bars makes seasonal and year-round scents. Their dog shampoo bars are large and will last your pet a long time! The shampoo is gentle and comes in lots of scents to choose from. Buy Chubb's Bars on Amazon and on their website ($10.97 for 4 oz).
#9 Ethique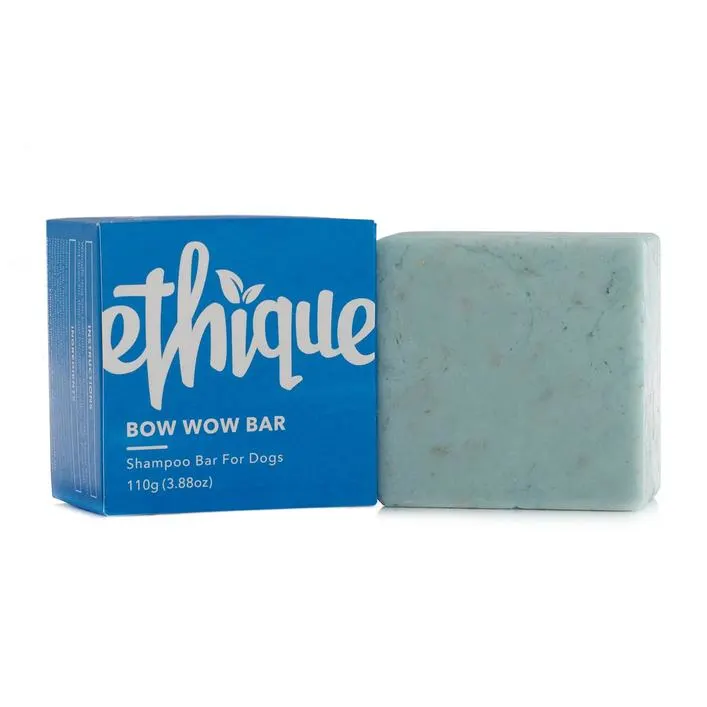 Ethique makes human and dog shampoo bars ($14.50 for 3.88 oz). Their Bow Wow Bar is gentle for dogs. Join their rewards program to earn points and coupons towards your purchases.
Caution: This bar does contain sulfates.
#10 Falls River Soap Company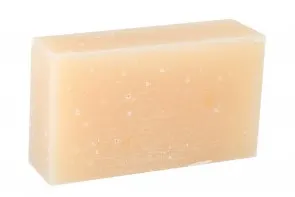 Falls River Soap company makes both human and ALL pet shampoo bars. Their bars are all natural, handmade, organic, vegan, and cruelty-free. It also comes with antimicrobial properties and the Aloe Vera Butter has wonderful benefits for your pet's skin and fur. It's anti-inflammatory to help heal dry, scratched skin.
The essential oils added help the eternal battle against fleas, ticks and any insect determined to take a ride.
#11 Goat Milk Soap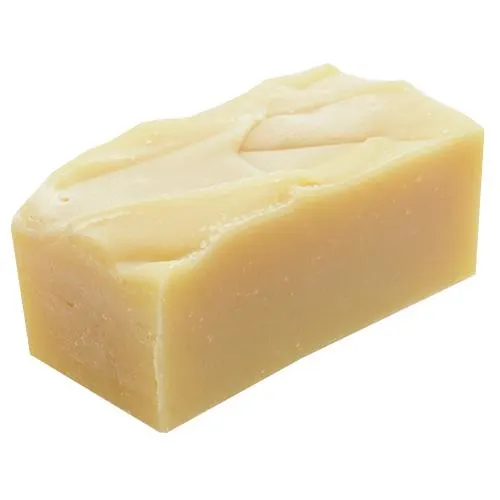 Goat Milk Soap makes an all natural shampoo bar ($8) for dogs! The bars come in scented and non-scented options. They also have various sizes to choose from including travel sized, perfect for the world traveling pup!
#12 A Wild Soap Bar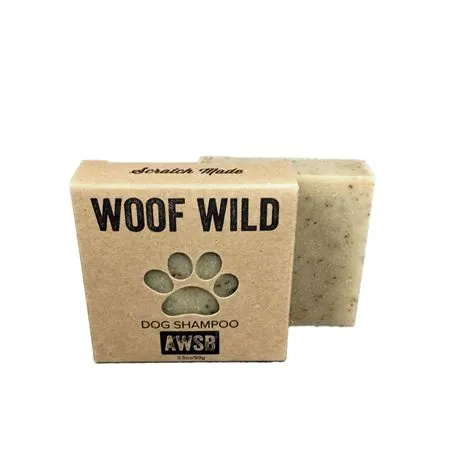 A Wild Soap Bar offers a dog shampoo ($8.50 for 3.5 oz). Their pure & natural dog shampoo bars are enriched with organic aloe and oats to soothe the skin, essential oils to freshen the coat & help repel insects. Included is calcium bentonite clay for deep down cleansing, leaving the coat soft, shiny, and deodorized. Great for dogs with sensitive skin too. Buy Woof Wild on Amazon and directly from their website.
#13 Soapy Tails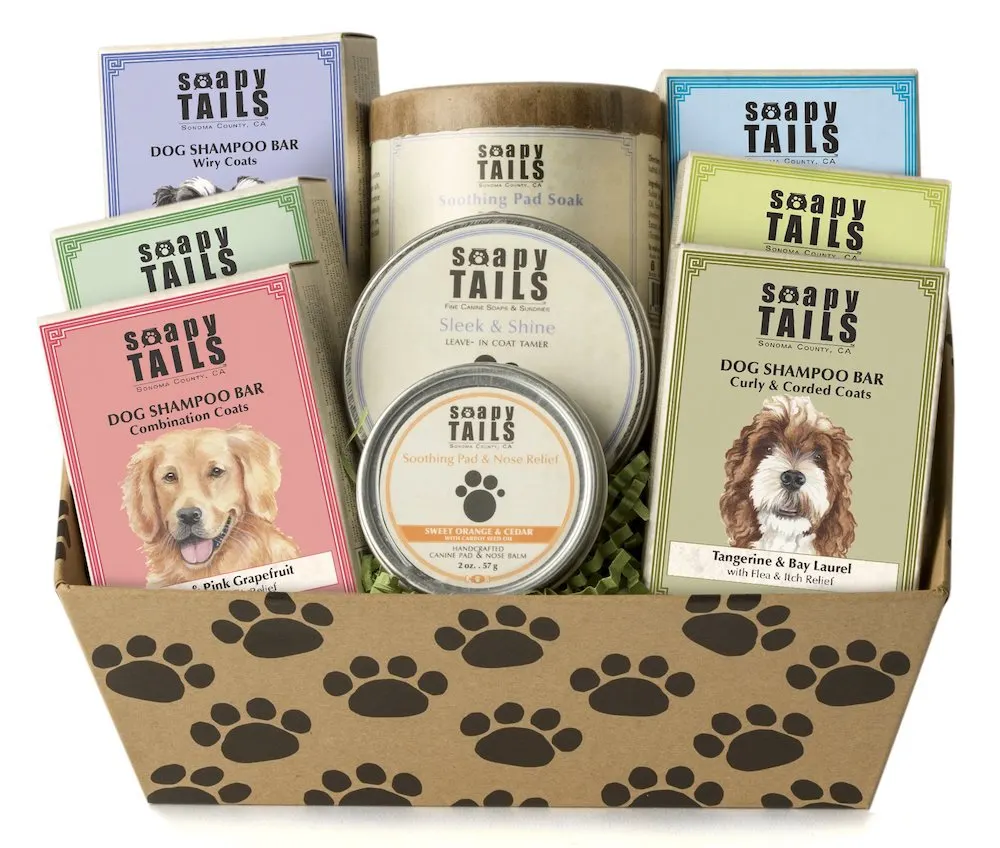 Soapy Tails makes shampoo bars for different types of furs. Each bar has a different scent. Their packaging is also compostable.
Buy Soapy Tails on Amazon or at Fillgood. Use code SCHIMIGGY at Fillgood to save $10 off your first order of $30 or more!
Final Thoughts
Shampoo bars are an excellent way to introduce your dog to a zero waste lifestyle. There are many brands, so we highly recommend consulting with your vet prior to purchasing shampoo bars for dogs and cats.
We hope you found a brand that works with your pup! If you have positive feedback about any of the mentioned brands, we'd love to know!
You can also buy handmade dog shampoo products on Etsy or make your own so that you know exactly what's in it.
If you liked our pet shampoo bars post, please pin this post on Pinterest!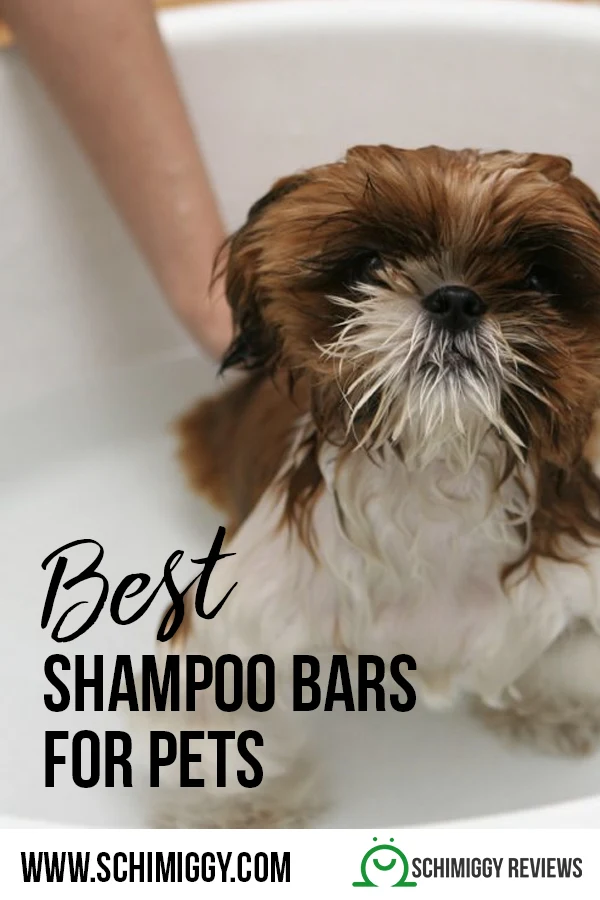 If you liked this post, you might like these articles too:
---
Thank you for visiting today! If you found this encouraging or informative, please connect with us on Instagram, Youtube, Pinterest, Facebook or Twitter. We'd love to meet you!
Sign-up for our monthly newsletter for updates and more. We promise we won't spam you! Feel free to unsubscribe anytime.
For more fitness fashion discounts and offers, please visit our Fitness Instructor Discounts + Brands Directory or favorite brands coupon codes list.
If you're a brand and want to submit a product for us to review, please use this form to get in touch.
This site uses affiliate links. Clicking on or purchasing via an affiliate link may result in commissions for us which help keep the content flowing and lights on at Schimiggy Reviews. You may read more about this in our privacy policy.