Reading Time:
8
minutes
Updated: 12/30/2021 | Best lululemon Align Legging Dupe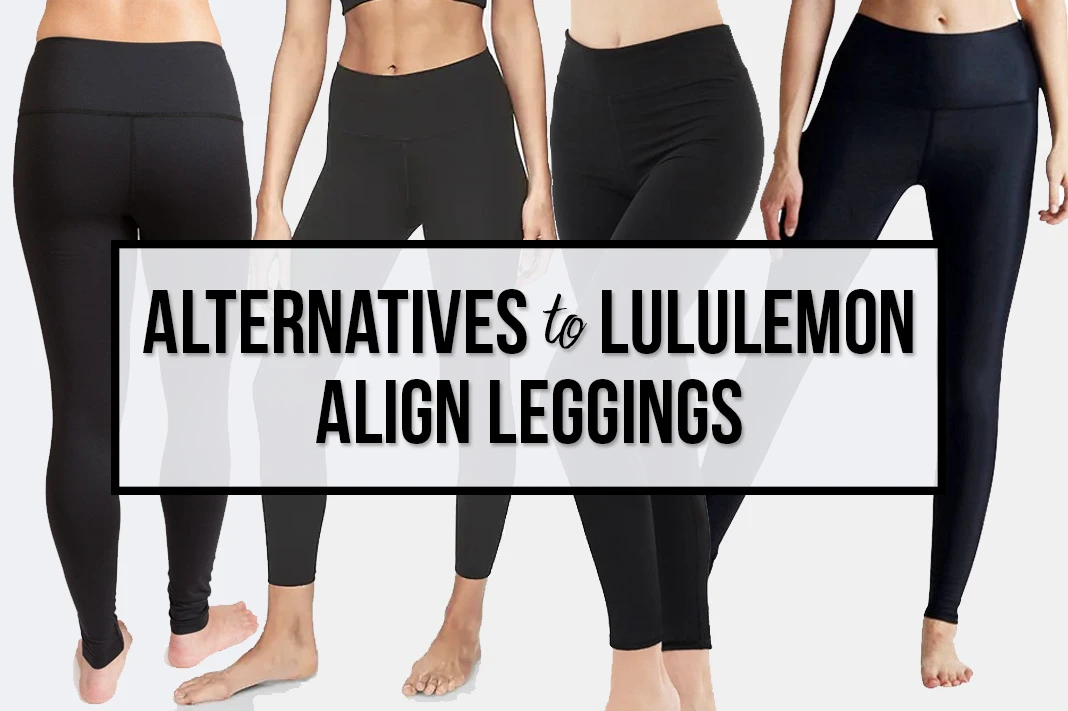 Working with various brands on my blog, I reached out to my network and sought out the perfect little black leggings (LBL) that I consider comparable alternatives to the famous lululemon Align leggings.
I was able to find several brands that offer high-quality leggings at a competitive price point.
As much as I love how great lululemon makes my bum look, I can't get over how expensive they are and the extent to how much they pill. Luckily, lululemon is not the end all be all of our activewear selections.
I've had my Aligns for the past two years and this will be my last pair due to the lackluster quality.
With the high price point, I expected my Align leggings to last for a minimum of 5 years. You can read my Align leggings review and notice a lot of pilling and itchiness.
Below are our black legging picks that stand on their own merit and, IMHO, perform even better than lululemon. A majority of these leggings will also be cheaper and longer-lasting than lululemon Align pants.
Best Align Legging Dupe Roundup
#1 Girlfriend Collective FLOAT Leggings
We just recently reviewed Girlfriend Collective FLOAT leggings ($68) and swapping out ALL our Aligns for these babies. They come in long and 7/8 length. The fabric is lightweight, silky, buttery soft and fits like a second skin.
While the leggings have compression, if you want it to be a little more fitted, you can size down.
Use our link to save $10 off your first order of $95 at Girlfriend Collective.
Related: Girlfriend Collective FLOAT Leggings Review
#2 EVCR (Evolution and Creation)
EVCR is a women's activewear brand. Their leggings are designed in LA and made in Mexico. As of now EVCR only comes in a cropped length with a medium to high waistband.
Their fabric is super soft, durable and won't pill. You can buy EVCR on Amazon, TJ Maxx and the EVCR website. The leggings cost $14.99 to $24.99 and are super affordable.
Read my EVCR review for more information on fit, sizing and more.
#3 CRZ Yoga Naked Feel Leggings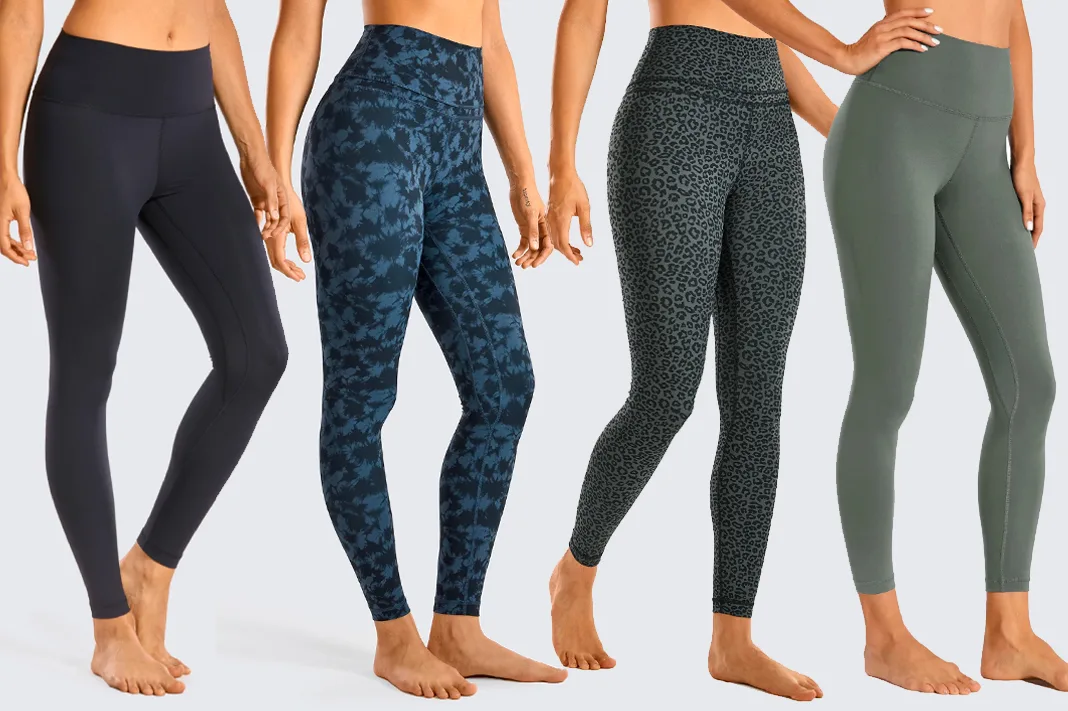 CRZ Yoga is a very popular lululemon Align dupe. Their buttery Butterluxe fabric offers a silky and naked feel that is exactly like the Align pants. They're also super affordable at only $30 a pair. This makes them a very formidable Align legging dupe.
Choose from different prints, lengths, and even styles with side pockets.
Read our CRZ Yoga review here.
Use code SCHIMIGGY to save 10% off your orders at CRZ Yoga. You can also shop for CRZ Yoga on Amazon.
#4 Athleta Elation 7/8 Tight
Athleta released their Elation leggings in the Summer of 2018 and I am OBSESSED! They're buttery soft, hug the body and are, dare I say, the best Align legging dupe I've worn to date. I have been wearing them for weeks and have yet to experience pilling.
The silhouette is very similar to lululemon Align leggings and the fabric feels a smidge thicker. I have the leggings in both green and black. Elation tights are here to stay. Buy all the Elation Tights on Athleta for $89. Use this link for 20% off your first purchase at Athleta.
Read my Athleta reviews for information on fit, sizing and more.
#5 Zella Live In Legging
Out of all my black leggings, I wear my Zella Live In pants the most. They come in varying inseams and waistband lengths and extended sizing.
I opted for the tall waistband because it hugs everything in and creates a slimming effect. Also, Zella fabric does not pill. Yay!
Buy Zella at Nordstrom, eBay, Poshmark, and Mercari.
Read my Zella review for the information on fit, sizing and more.
#6 Girlfriend Collective LITE Legging
Girlfriend Collective is all about eco-friendly practices and "slow fashion." Their commitment to the environment makes them worthy of being featured.
They created a Lite version of their leggings that offers a less compressive fit and is made out of discarded ocean fishnets in Italy. Are you in love yet?
Buy Girlfriend Collective and use this link for $10 off your first order of $95 or more.
Read my Girlfriend Collective review here and a comparison of their Compressive VS LITE leggings.
#7 Yoga Democracy Basically Perfect Legging
Yoga Democracy leggings are eco-friendly and made out of used water bottles. Their price point is great too at only $65 a pair. Their Basically Perfect leggings are soft and come in a capri and long length.
Buy the leggings on Amazon and through the Yoga Democracy website. Use code SCHIMIGGY20 for 20% off your orders at Yoga Democracy.
Read my Yoga Democracy reviews for information on fit, sizing and more.
#8 WERKSHOP Athleisure Leggings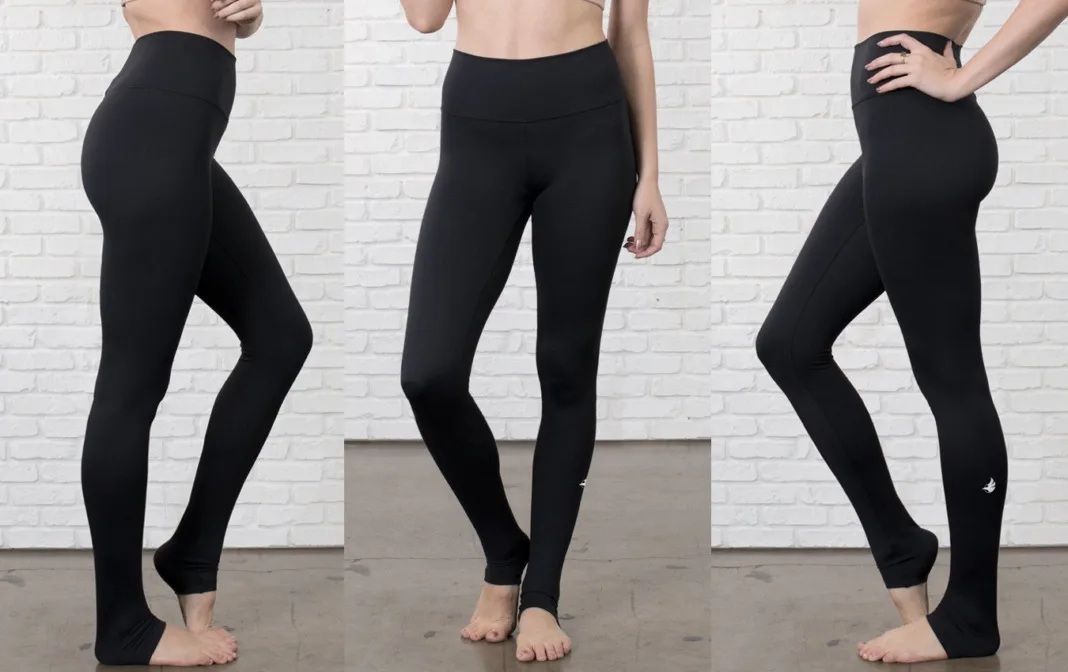 WERKSHOP has their own black legging that feels buttery soft yet durable.
Werkshop leggings are cheaper than Lululemon and they're eco-friendly and made in small batches. Their designs sell out quickly, so get them while they last.
Get $10 off with this link or when you apply coupon code: SCHIMIGGY.
#9 Glyder High Waist Pure Legging
Glyder Apparel came out with a SUPER soft fabric called GLYDERONE™. It is super lightweight and has a naked feel. Size down in Glyder because they run big. Their Pure leggings color palette is to die for.
Use this link to get 25% off your first order at Glyder Apparel.
**Most of the colors are usually out of stock because these leggings are so popular.
#10 Zella Ultrasoft Legging
I read mixed reviews about Zella's Ultrasoft legging so I decided to go in and try them myself. I tried them in-store and fell in love with the soft fabric and comfortable fit.
If you decide to go for this style, make sure you size down.
They also have lighter colors in this fabric, so I recommend wearing nude underwear to help with see-through issues. The fit is very similar to Beyond Yoga's Spacedye fabric which is buttery soft and one of my favorites!
#11 Beyond Yoga Caught in the Midi Spacedye Leggings
Beyond Yoga's Spacedye fabric is lightweight and perfect for any activity. Their Spacedye pants come in various lengths and colors. You can read my review of their Spacedye fabric here.
Buy Beyond Yoga using this link and get 15% off.
You can also buy Beyond Yoga on Carbon38 (use code SHMGY25 for 15% off your first and second orders) and Bandier.
#12 EQNX MVMT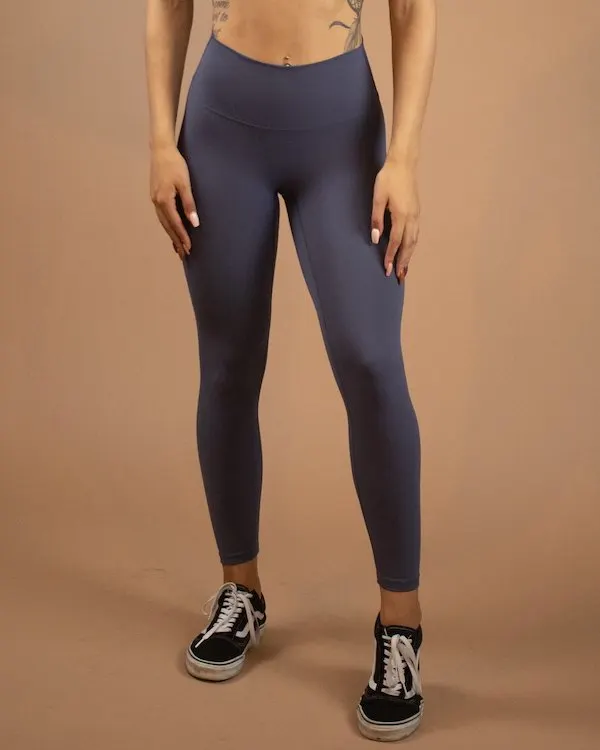 EQNX MVMT makes high-rise no seam leggings that give Align leggings a run for their money. Their leggings have a flat front panel that prevents camel toe, the fabric is super soft a buttery, and you can choose from tons of colors.
We recommend going with your true size in EQNX MVMT leggings. I wear a size 6 in lululemon and got a size small in EQNX.
Use code SCHIMIGGY to save 15% off all your orders at EQNX.
#13 Scorpio Sol AirLux Leggings
I saved the best for last. Scorpio Sol is an in-house TJ Maxx activewear brand that's gaining traction in the activewear world.
They keep getting better with age (and technology). In the Summer of 2018, Scorpio Sol released an AirLux fabric legging that feels super soft against the skin.
Imagine kittens covering your legs #whileyouyoga.
It comes with a high waist and feels like brushed lululemon Nulux fabric. Isn't that what we've been waiting for?
You will want to grab your keys and get over to TJ Maxx now. Leggings are only $23.
You can also buy Scorpio Sol on eBay (currently going for $50+), Mercari ($10 off with code SYVFUT) and Poshmark ($5 off with code SCHIMIGGY).
Read my Scorpio Sol review for information on fit, sizing, and more.
#14 Yogalicious High Waist Ultra Soft Leggings
Yogalicious is a popular and affordable women's activewear brand. They offer an ultra soft fabric option for their pants and shorts.
You'll often find Yogalicious at Ross, TJ Maxx and even Amazon.
#15 K-Deer Legging in Solid Black
K-Deer has the same price point as Lululemon ($88-$98). K-Deer offers their stretchy soft leggings in a solid black color and three lengths; capri, sneaker and long.
Leggings are created with a flat front seam and come with a high waistband so your leggings stay put. Buy the leggings on Carbon38 and K-Deer.
Read my K-Deer reviews for information on fit, sizing, and more.
Final Thoughts
lululemon is not the end-all for comfortable and dependable leggings. We hope you were able to find a good Align legging dupe to try out.
If you have any recommendations, please let us know in the comments section. We'd love to give them a try!
Want to know more about lululemon?
We have an entire resource page dedicated to everything lululemon related. Please check it out!
If there are any other topics you'd like us to shed some light on, please let us know!
If you found our best lululemon Align legging dupe article helpful, please share it on Pinterest! Thank you for your support!
---
Thank you for visiting today! If you found this encouraging or informative, please connect with us on Instagram, Youtube, Pinterest, Facebook or Twitter. We'd love to meet you!
Sign-up for our monthly newsletter for updates and more. We promise we won't spam you! Feel free to unsubscribe anytime.
For more fitness fashion discounts and offers, please visit our Fitness Instructor Discounts + Brands Directory or favorite brands coupon codes list.
If you're a brand and want to submit a product for us to review, please use this form to get in touch.
This site uses affiliate links. Clicking on or purchasing via an affiliate link may result in commissions for us which help keep the content flowing and lights on at Schimiggy Reviews. You may read more about this in our privacy policy.