Reading Time:
7
minutes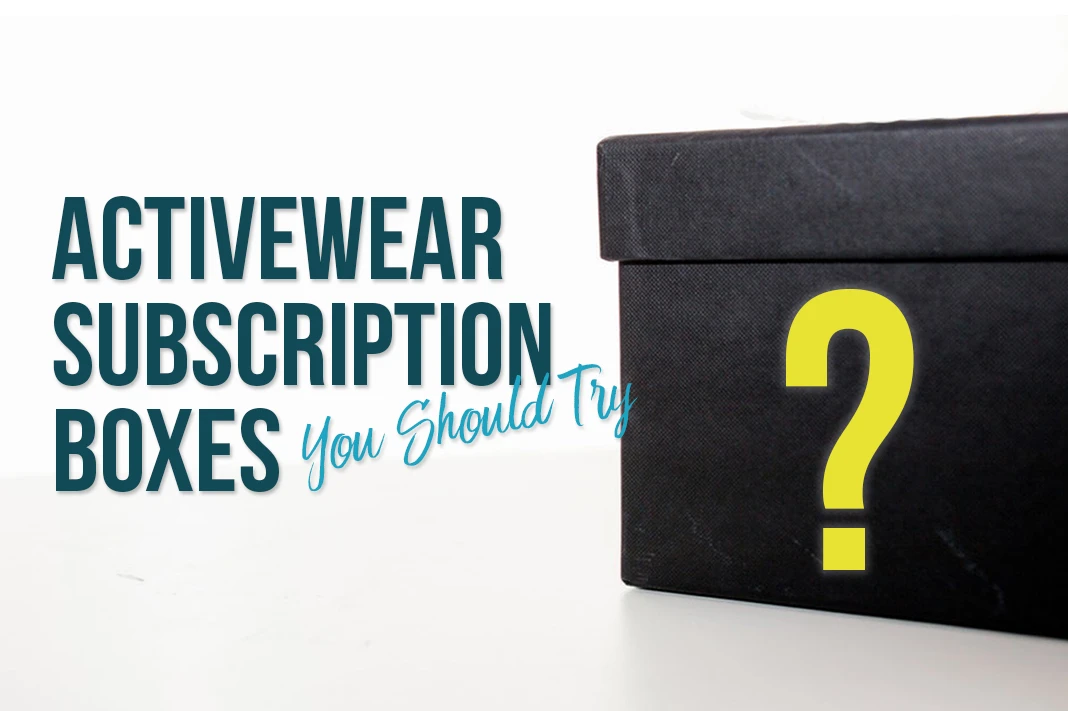 Being stylish while working out has become a motivator for a lot of people. We want to look as great as we feel. Some activewear has the power to make you feel like you can run faster, go further and do more chaturangas. I love wearing activewear and tend to wear out my spandex rather quickly. When I am too busy to shop, I look to subscription services to discover new brands and activewear pieces that I normally would not shop for.
These boxes are expertly curated by in-house stylists that know how to pick the perfect leggings, sports bras, and sneakers. Because you are buying a bundle of products, you get major discounts on activewear that otherwise would have cost $300 per outfit. Many of these boxes will let you return and exchange for what you will love so that you're not stuck with someone you won't wear.
Some boxes give you choices from one specific brand, like Under Armour and Niyama Sol, while others pull together options based on a variety of trusted activewear brands. This is a great way to curate an activewear closet of brands that you love and an opportunity to discover brands you've never tried before.
The below subscription boxes offer the best activewear for women. With your personal preference and performance needs in mind, these boxes will help you achieve your fitness goals while keeping you stylish.
10+ Best Activewear Subscription Boxes
#1 YogaClub
The YogaClub subscription box works with notable brands to bring you activewear that is great for on and off the mat. You begin the process by taking a style quiz and choosing your membership package (either a monthly or quarterly subscription). Within days you receive an outfit curated by their in-house stylists according to your specific needs. You can keep the items you like and exchange the ones you don't. There is a nominal fee to make exchanges. You also have the option of skipping subscriptions and making referrals so that you can get your box for as little as $19! I am a YogaClub member and I LOVE IT! Brands include Niyama Sol, Vie Active, Manduka, Free People Movement, and more. Read my YogaClub review here.
Cost: $79 per month or $89 every three months. You save up to 60% off the regular price. Use this link to get $50 off your first box (Expires 1/31/2019). You can skip your subscriptions anytime.
2. Niyama Sol Sol Box
Niyama Sol is an activewear brand based out of Las Vegas, Nevada. They have three box options (one, two, or three pieces) that can be sent to your home on a monthly or quarterly basis. Their leggings are by far some of the best and most unique designs I've worn. You do not get to choose what comes in your box. You do get to set a preference (You can read my Niyama Sol Box review here.
Cost: 1 item for $45, 2 items for $65, and 3 items for $95. You save up to 55% off regular price! You can use this link for an additional 10% off your first Niyama Sol Box subscription. Feel free to cancel or pause your subscription anytime.
Wantable has options for every age, gender, lifestyle, etc. Wantable offers activewear for both men and women. When signing up, take a quiz to determine what activewear you need for your lifestyle. Their expert curators will select a wardrobe that you will love. An edit costs $20 and includes 7 pieces sent to your doorstep. Try on for 5 days. Styling fee is applied toward your purchase. Pieces are usually $30-$70 per piece. Keep and pay for only the items you love. Available in sizes XS to 3X.
Cost: Pay $20 for an edit (or curated selection) of 7 items sent to your home for 5 days. Items are $30-$70 per piece and cost is of the items that you decide to keep. All orders come with free shipping and returns.
The ArmourBox offers specific apparel for athletes of every kind. With the ArmourBox, you receive four to six activewear pieces based on the needs of your workout. When you sign up for the box, you'll have to answer questions about your fitness goals, activities you enjoy, and style preferences. Once a box is received, you have up to seven days to decide what you want to keep. You can get an ArmourBox delivered every month, two months, or quarterly. There's also an option to keep everything in the box and receive 20% your entire order.
Cost: FREE to try for seven days. The price is dependent on what items you decide to keep. Get 20% off if you decide to keep all items in the box.
HPE offers three different subscription box options: one-off, 6 months, and 12 month. Each tier comes with more items and discounts. The longer you are a member, the bigger the discounts are your subscriptions. Each women's box contains a top, sports bra, and pair of leggings. All pieces are curated from the following categories; "The Best Of," "Essentials," or "Street Style" collections. Men are offered a "Tech" box filled with HPE essentials and only costs $38! You pay for the entire cost the box when signing-up and HPE guarantees that you will like your items or you can exchange for the best fit possible.
Cost: $210 for a one-time box; $150 for the first box + $50 per month for 6-month or 12-month memberships. Tech box is only $38.
#6 SweatStyle
Much like YogaClub, SweatStyle subscribers answer a survey to determine their workouts, style, and size preferences. SweatStyle then sends hand-picked pieces from a team of SweatStyle experts. You have five days to try on the pieces and are only responsible for paying for the items you want to keep. SweatStyle offers activewear from a variety of high-end brands such as Alala, HPE, and Koral, Nux, and Vimmia. Lending to the flexibility of the program, you can decide on the amount of clothing you want to receive, and how often you want your subscription box to arrive each month.
Cost: FREE to try for five days. The ultimate cost is dependent on the number of items you keep. Tops and bras average $60 each, bottoms and outerwear average $90 each.
Dia & Co. is a personal styling and clothing delivery service that caters to plus-sized women sizes 14 and up. Featured brands in the Active subscription boxes include Day/Won by Candice Huffine, EleVen by Venus Williams, and many more. When you sign up for Dia & Co, you will complete a survey for your activewear preferences which include silhouettes, sizes, and activities. You also get to select how much you want to spend. What makes Dia & Co's program unique is that you don't actually have to sign up for a regular subscription. You get to determine when you want a box sent to you home when you need it. Stylists send a box of five curated items to your home and you are free to decide what you want to keep and return what you don't like. Returns and exchanges are free and unlimited. If you buy everything in your box, you'll get 25% off all items!
Cost: There is a styling fee of $20. The $20 goes toward the price of the items you decide to keep. Get 25% off when you decide to keep the entire box.
The Ellie box is one of the first activewear subscription services every. Ellie works similar to Fabletics. They offers shoppers clothing options from its pre-curated activewear collections. You can choose three or five items from the brand for your box. The brand changes up its collections every month, so you'll always have a new look to try out. You can skip months, cancel anytime and return or exchange your items for something you'll love. Sizes are available in XS to XL.
Cost: $39.95 for three items; $49.95 for five items that you pick from their monthly collections.
Fabletics is Kate Hudson's activewear line. Their VIP subscription services gives you a monthly credit of $49.95 towards a complete outfit. New styles are announced on the first of each month via email to VIPs, and you can choose to either purchase an outfit or skip the month. If you skip by the fifth, you don't have to pay the fee. If you forget to skip, you'll be charged, but can use the money as credit toward a future outfit. Fabletics offers VIP members up to 50% off retail prices, plus free shipping on orders over $49.95. You can also earn rewards points toward free gear every time you shop. Fabletics offers sizes from XS to 3X. As an added bonus, when you sign up to become a VIP member you can receive two pairs of leggings for $24. Read my Fabletics review here.
Cost: $49.95 per month (gets you one full outfit). Skip your subscription between the 1-5th of each month and you don't have to pay anything.
OK, so this isn't subscription-based per se, but it gets an honorable mention because I'm a huge fan of Universal Standard's clothing, and finding out about their activewear kit was music to my ears. The kit, which you can order at any time and doesn't need to be a regular subscription, lets you load up on pieces (four at a time) like leggings, tanks, and tees for one flat rate. Plus, you can choose the colors of the pieces you wear, as well as the length of your leggings. If you try the brand's activewear kit and like it, Universal Standard also has a variety of other apparel kits—like workwear or summer dresses. The brand is also really size-inclusive, carrying sizes from 6 through 32.
Cost: $140 for an activewear kit of four items. This is up to 30% off regular prices.
Gwynnie Bee is another clothing subscription service for women sizes 10 to 32 and includes activewear as well as casual and professional wear. Each month, depending on your subscription package, choose as many items as you want, wear it, and return it. Only pay a fraction of the cost for items that you do wish to keep. They have subscription plans for every budget. If you like fashion but don't want to clutter your home, Gwynnie Bee is a great option for you!
Cost: $49 to $199 per month ranging from 1 to 10 items out at a time. Choose from an unlimited selection of attire to wear. Free returns when you want. Pay only a fraction of the cost for the items that you want to keep.

---
Thank you for visiting today! If you found this encouraging or informative, please connect with us on Instagram, Youtube, Pinterest, Facebook or Twitter. We'd love to meet you!
Sign-up for our monthly newsletter for updates and more. We promise we won't spam you! Feel free to unsubscribe anytime.
For more fitness fashion discounts and offers, please visit our Fitness Instructor Discounts + Brands Directory or favorite brands coupon codes list.
If you're a brand and want to submit a product for us to review, please use this form to get in touch.
This site uses affiliate links. Clicking on or purchasing via an affiliate link may result in commissions for us which help keep the content flowing and lights on at Schimiggy Reviews. You may read more about this in our privacy policy.