Reading Time:
9
minutes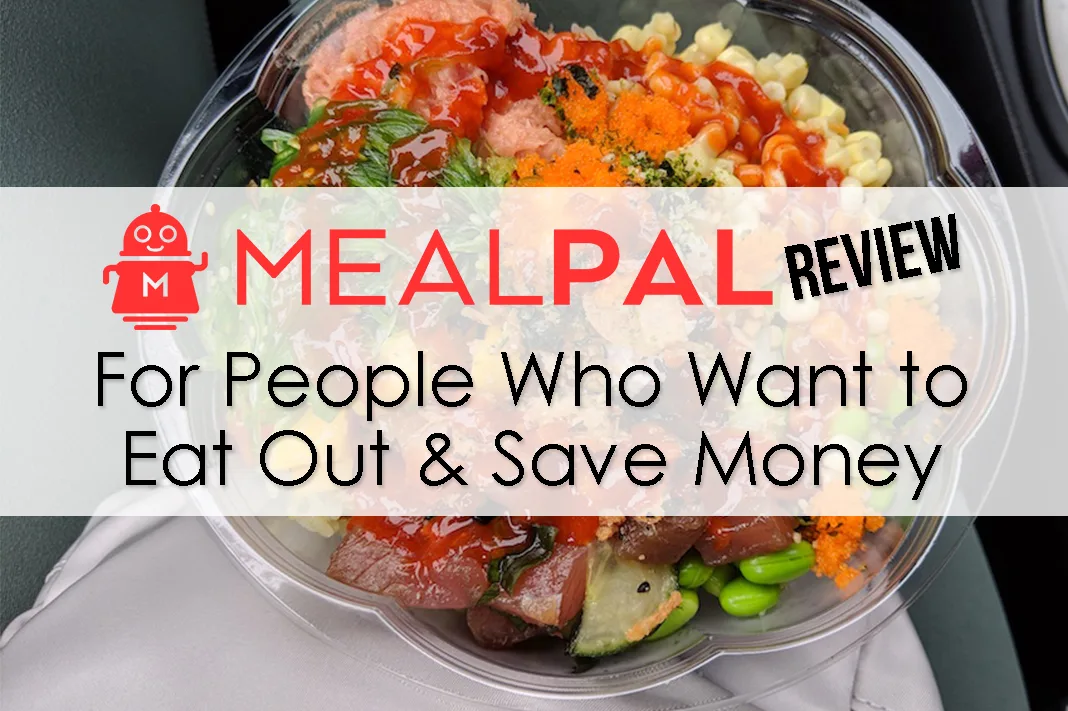 What is MealPal?
MealPal is a prepared meal subscription service to some of your favorite restaurants located right in your neighborhood! As of now, MealPal is offered in major cities such as New York City, Los Angeles, Seattle, and even Paris.
They are expanding quickly so it might come to your city soon. MealPal was created as a way to offer people prepared meals at a fraction of the cost. MealPal partners with restaurants to offer delicious food and to help you discover new restaurants in your area.
MealPal was started by the same creators of ClassPass. The MealPal model is almost identical to ClassPass. You pay a monthly subscription for reduced fee services and products that would have otherwise broken your bank.
Is MealPal in My City?
MealPal is currently in 15+ major cities worldwide! Below I included current cities and the number of participating restaurants. The number of cities and restaurants are constantly growing, so check the website to see the most up to date options being offered on MealPal.
I've included some screenshots below as to how you can navigate the website to see what their subscription covers.
| City, Country | # Participating Restaurants |
| --- | --- |
| Boston | 80+ |
| Brooklyn | 28 |
| Chicago | 150+ |
| Denver | 50+ |
| Los Angeles | 200+ |
| London | 300+ |
| Manchester | 25+ |
| Melbourne | 130+ |
| Miami | 22+ |
| New York City | 800+ |
| Paris | 150+ |
| Philadelphia | 40+ |
| San Francisco | 350+ |
| Seattle | 200+ |
| Singapore | 325+ |
| Sydney | 350+ |
| Toronto | 90+ |
| Washington D.C. | 70+ |
Below are some screenshots of what's being offered in Seattle, Washington.
How Does MealPal Work?
My friend posted about MealPal on Facebook and I decided to give it a try.
I received a $30 off code towards my first month. This reduced my $6.49 meals down to $3.89. In Seattle, the cost of living is constantly rising and eating out is becoming more of a luxury. It's currently not as high as San Francisco or New York City yet, but we are slowly making our way up there.
Lunches in Seattle range from $10-$15. Dinner time is even more expensive and goes upwards to $20 per person. I saw MealPal as a great way to save money while trying out new restaurants.
The MealPal process is pretty straightforward (see image below). You pay a monthly subscription that provides you 12 or 20 lunches each month. Download the app and reserve a meal between the hours of 5 pm-9:30 am the next day. Cancel anytime before 9:30 am and you can save your meal for another day.

You can sort restaurants using their map or list format. When the designated pick-up time arrives, you can
hop over to the restaurant, open the app, scan the QR code (usually near the cash wrap) and retrieve your meal within 3 minutes.
You get to skip the line and dine at the establishment, take your meal back to the office, or opt for a picnic nearby. Most restaurants will not let you dine-in since the meal is already heavily discounted.
The next time you open the app, there will be an optional customer satisfaction survey you can complete.
You will forfeit any meals that are not used within the 30 day subscription period. You have the option of freezing or canceling your plan if you email hello@mealpal.com.
How Much Does MealPal Cost?
MealPal offers two 30-day subscription plans within most major cities. The plan is valid during lunch. Some cities offer dinner subscriptions such as New York and Singapore. Below is the standard cost for Seattle Lunch subscriptions. The 20 lunch meal is cheaper than the 12 lunch meal by 6.6%.
Did I End Up Saving Money With MealPal?
I sure did! I ended up saving a lot of money, especially with the introductory discount code.
Below is a comparison of the MealPal cost, the actual cost of the meal without the subscription, and discount. (I will continue adding to this list as I use it for the next month).
| Restaurant – Meal | MealPal Cost | Actual Cost | % Discount |
| --- | --- | --- | --- |
| FOB Poke Bar – Double Ahi Tuna | $3.89 | $9.99 | 61% |
| FOB Poke Bar – Salmon Bowl | $3.89 | $9.99 | 61% |
| Roll Pod – Chicken Roll & Paneer Rice Bowl | $3.89 | $14.99 | 74% |
| FOB Poke Bar – Double Ahi Tuna | $3.89 | $9.99 | 61% |
| Eggs and Plants – Shakshuka Sandwich | $3.89 | $10.75 | 64% |
| Eggs and Plants – Sabich Sandwich | $3.89 | $10.75 | 64% |
| Pluto Organic Cafe – Acai Bowl | $3.89 | $8 | 48% |
| Poke Alice – Aloha Crunch Bowl | $3.89 | $9.49 | 59% |
| Hurry Curry of Tokyo – Braised Chicken Curry Bowl | $3.89 | $10.50 | 63% |
| Pasta Casalinga – Pasta Al Pomodoro | $3.89 | $12 | 67.5% |
| TBD | $3.89 | TBD | TBD |
| TBD | $3.89 | TBD | TBD |
Was MealPal Worth It?
I personally think so.
I was unable to modify my meal, but the stock photo looked very close to my actual meal. I also loved that FOB Poke Bar uses compostable plastic containers and utensils. The food was very flavorful and filling. I was also able to save 1/2 of my meal for dinner.
For $3.89, this was a great deal! I normally pay $9.99 plus tax and tip, or $12.09 per meal. I can't wait to try my next MealPal lunch!
Below are images of the meal in the app versus in real life.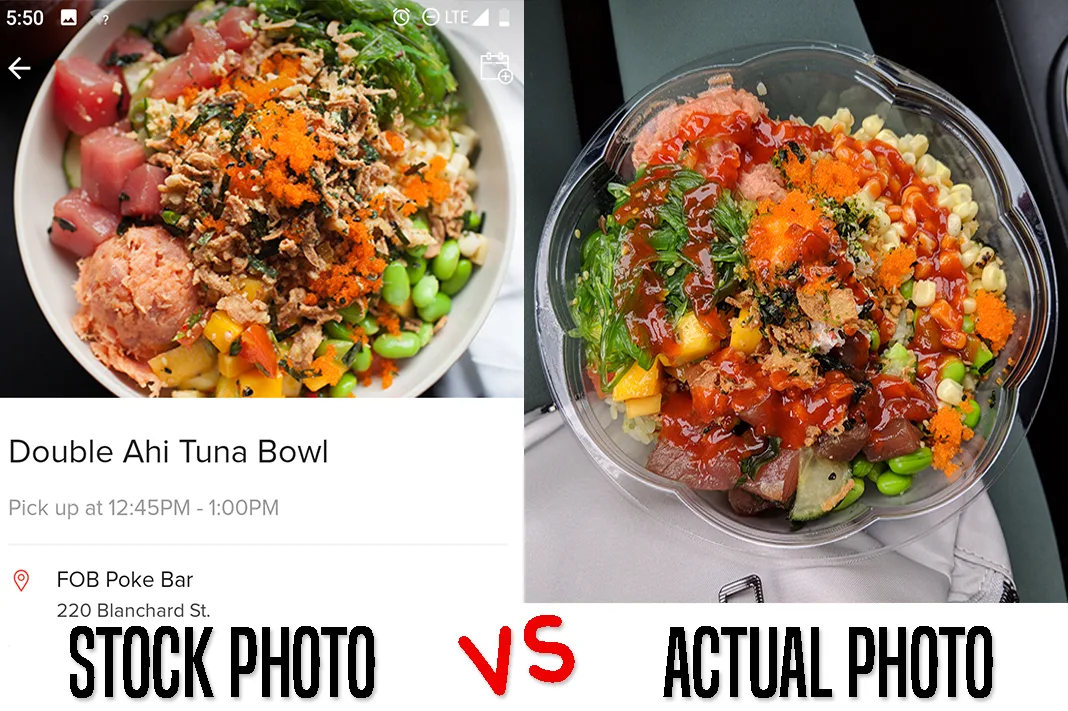 Pros and Cons of MealPal
With any program, comes the good and bad. Luckily I did not experience anything significantly terrible that would cause me to terminate my subscription or convince you to not use it. Here is a summary of the pros and cons of MealPal.
Pros
You can get your meals at up to 60% off! This equates to huge savings, especially if you live somewhere with a high cost of living. That's a huge discount when compared to other meal outlets such as Groupon or Restaurant.com.
You don't have to wait in line. When you arrive at the restaurant, open your app, scan it on the MealPal QR board located near the cash wrap, and show an employee your confirmation code to retrieve your meal. It's super easy!
Eat with friends! Add friends via the app and eat together at participating restaurants. This makes meal dates with your friends pretty easy.
Discover new restaurants in your area! With a growing network of restaurants, it's possible to try something new each time you use MealPal.
The food options can be healthy! Opt for a salad on days you want to eat light.
You can filter restaurants by diet preferences in the app. With this being said, it does limit meals for certain diets.
Restaurant owners have had great experiences with MealPal. This increases their foot traffic, sales and brand awareness.
Having to pick up my meal gets me out of the home/office.
If a work meeting comes up, you have the option of canceling your meal pick-up anytime before 9:30 am. Save your MealPal credit for another day.
Cons
You may have to travel quite a bit to retrieve your meal. I drove downtown from lower Queen Anne to pick up my meal. This was a 6-minute drive. It would have been 12 minutes on the bus. Without the bus, a 30-minute walk. In other cities, such as NYC, I've read that some people travel 20 minutes to retrieve their food. In Downtown Seattle, MealPal locations seem to be within no more than 10 blocks from me (whew!).
You cannot see the examples of meals until AFTER you sign-up and download the app onto your phone. I can see how this can be frustrating. It's like buying before you get to see the actual product. I recommend looking through a friends app to see what their offerings are. Blogs are another great place to see the types of meals offered.
You cannot make modifications to your meals. No asking for additional sauce, or less rice, etc.
Popular restaurants will run out of food very quickly. It's best to add a timer to your calendar to login at exactly 5 to reserve next day's lunch selections. You have from 5 pm-9:30 am to make or cancel your meal selections.
They only have lunch options in Downtown Seattle for now. They have dinner options in other major cities such as Singapore and New York.
You cannot combine perks with MealPal service. The meals are discounted and thus do not qualify for restaurant loyalty programs (ie. buy 10 get a free meal).
Does not operate on the weekends. You're on your own on the weekends.
Changes to your plan cannot be done through the app. I cannot make modifications on my account unless I am on a desktop or when I email hello@mealpal.com. This sound counterintuitive but I am hoping that eventually, members will be able to make plan changes via the app.
Final Thoughts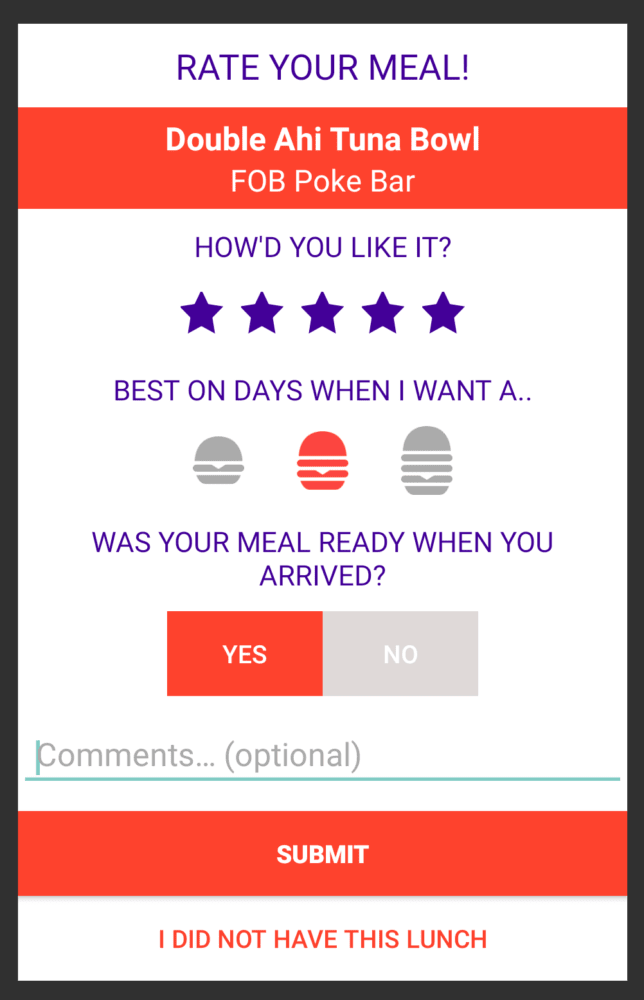 Mealpal is totally worth it if you want to save money when eating out. For $6 you really can't go wrong. They have quite an impressive variety of meals fit for all types of diets (meat eater, pescatarian, vegetarian, vegan, etc.).
Eventually, I hope they bring dinners to Seattle. I would definitely take advantage of that option because my evenings are more flexible and I can try out more restaurants that are further to travel to.
My favorite things about MealPal is that I am saving money and trying out new restaurants that I would not have even heard about if it weren't for the program.
Because it is a prepaid service you really need to use all your meals to get the value out of it. Skip a few meals and it's like you've not saved any money at all.
If you're going to sign up for it, I'd recommend starting off with a smaller meal plan (12 lunches) and then increase your allowance if you find yourself using it often.
Ultimately, I'm very happy with MealPal. As someone who works from home, it gets me out of the house and I get fed a delicious meal.
How Do I Sign Up for MealPal?
Are you ready to take the plunge and start saving money on food? MealPal has offered our readers 30% off your first month. After the first month, the deals will revert to originally priced plans with meals for $6.39/lunch.
Try it out and let us know what you think!
Get 30% off your first month with this link. Your meals will be under $5 for the first month!
12 meal plan/month = $4.47
20 meal plan/month = $4.19
My Favorite Seattle-Based MealPal Restaurants
If you're looking for some recommendations in Downtown Seattle, try these places out:
Cafe Yumm! – The Spicy Jazzy Bowl is savory, tangy, healthy, and delicious at the same time.
Eggs and Plants – Delicious vegetarian fare. Try the eggplant sandwich (sabich) or Shakshouka.
Evergreens – Great selection of salads.
FOB Poke Bar – This is like the Chipotle of poké restaurants. Get as many toppings as you want. I am dead serious.
Halal Guys – If you can't go to NYC anytime soon, you can try it in Seattle or Southern California.
Juicy Cafe – Nourishing smoothies and protein balls.
Mamnoon Street
Maslow's by Fare Start – Non-profit restaurant that provides job and learning opportunities to the disabled and low-income community.
Meat & Bread
Nirmal's
Pane Pane – Delicious sandwiches. They even have a Vietnamese Banh Mi sandwich.
Pike Place Chowder – A popular travel destination. Visit the Pike Place or Pacific Place mall locations.
Piroshki – Another popular travel destination. They have sweet and savory Polish baked goods.
Sushi Kudasai
---
Thank you for visiting today! If you found this encouraging or informative, please connect with us on Instagram, Youtube, Pinterest, Facebook or Twitter. We'd love to meet you!
Sign-up for our monthly newsletter for updates and more. We promise we won't spam you! Feel free to unsubscribe anytime.
For more fitness fashion discounts and offers, please visit our Fitness Instructor Discounts + Brands Directory or favorite brands coupon codes list.
If you're a brand and want to submit a product for us to review, please use this form to get in touch.
This site uses affiliate links. Clicking on or purchasing via an affiliate link may result in commissions for us which help keep the content flowing and lights on at Schimiggy Reviews. You may read more about this in our privacy policy.