Reading Time:
4
minutes
Updated: 3/31/2023 | Accessories for Gray Hair

Staring your gray hair journey can be very scary but with the right tools, it can become an easy transition.
Related: My Gray Hair Transition Journey
Oftentimes, gray hair has a wiry texure and can look very uneven. For many people this is embarrassing.
Luckily, gray hair doesn't have to be challenging to manage. Especially when you have the right products to help you fully transition.
Here are our top gray hair products you can use to manage your hair and keep it stylish while and after your gray hair transition.
See our complete list of recommended gray hair products here.
Best Accessories for Gray Hair
#1 Braided Milano
Braided Milano came into my life and changed my world!
They make cute braided hair headbands, ponytails, and buns that come in full grey and transitional gray. I am wearing the Gia Headband in Transitional Gray. It looks super natural and makes getting ready easier and faster.
Use code SCHIMIGGY to save 20% off all your orders at Braided Milano.
Etsy has some similar gray hair headbands but they are double the price!
#2 Gimme Beauty Hairbands
Gimme Beauty makes gray color hairbands! They also make a ton of other hair products that help you create any hair do and style you desire.
#3 Clear Coil Hair Ties
I love clear hair accessories because they camouflage against gray hair and don't look obvious or contrast against gray hair when worn. There is no need to color match your accessories when wearing clear accessories.
We love hair coils from the following brands:
Invisibobble – Use code ALEX15 to save 15% off all your orders at Invisibobble.
Kitsch – Use code SCHIMIGGY15 for 15% off your orders at Kitsch.
#4 Cyndi Bands
Cyndi Bands offer an entire assortment of hair accessories for silver sisters. They offer hair ties, pins, clips, headbands, and more.
#5 Grey Hair Buns
Braided Milano makes these awesome hair buns that are super fun and easy to wear. They also look pretty natural.
#6 Silver Hair Clips and Pins
Hair accessory brands with silver hair clips:
#6 Silver Hair Barrettes
Silver hair barrettes can be used to keep hair back and out of your face.
Here are barrettes that we think work best with gray hair:
#7 Silver Bobby Pins
Silver bobby pins are great for keeping your stray hairs neatly tucked away. They're also great for styling and putting gray hair into an updo.
#8 Grey Hair Ponytails
Faux ponytails are great for people with thin or thinning hair.
Braided Milano has an assortment of grey hair ponytails that can be worn to give your hair a fuller look that looks very natural.
Another brand that makes great braided hair headbands is Diguan and sold on Amazon.
#9 Grey Scrunchies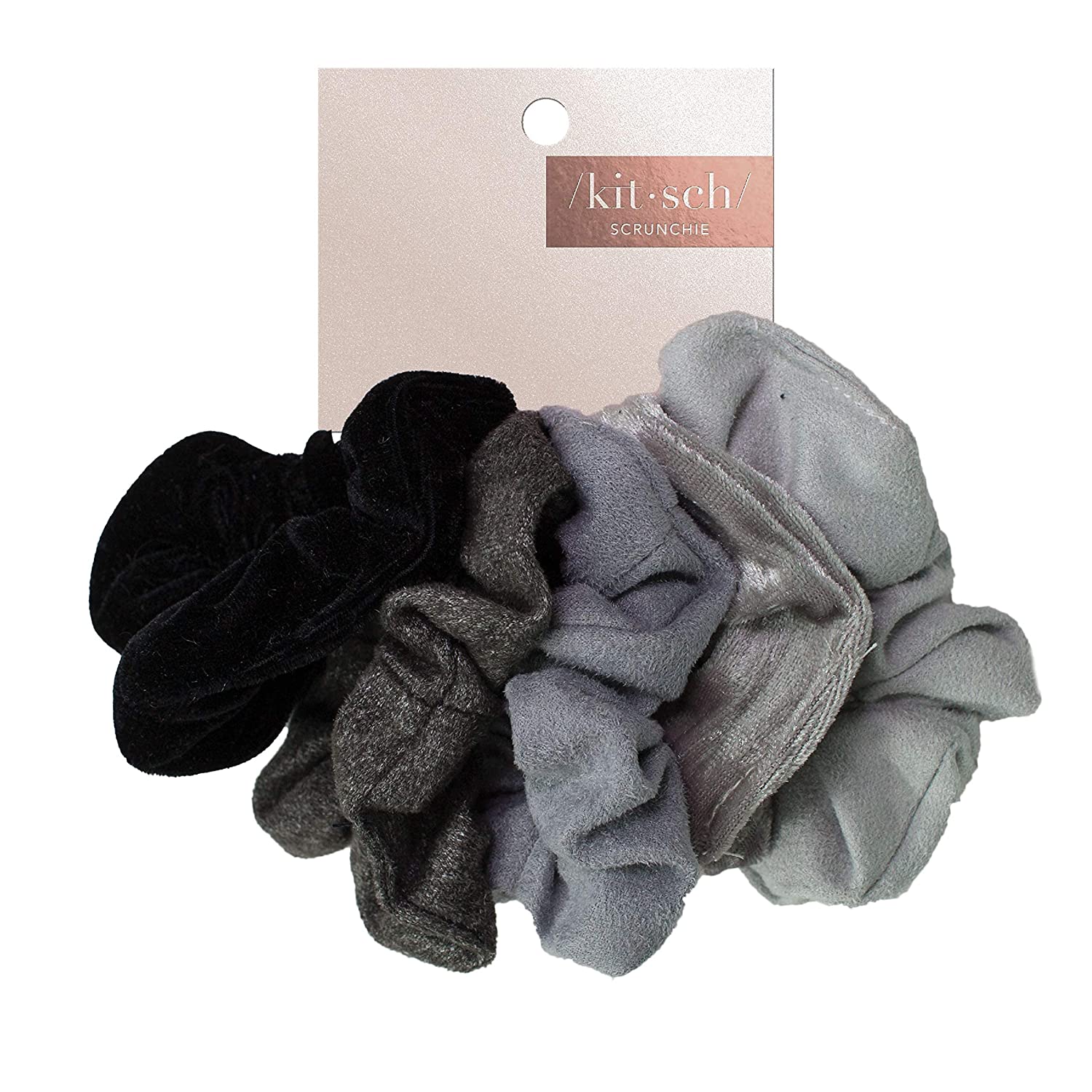 For updos and messy buns, we love using scrunchies that match the color of our gray hair. We always have one in our wrist and handbag, just in case. They're so convenient.
We love scrunchies from the following brands:
If you enjoyed this article on gray hair, you might like these as well:
If you found our article on gray hair accessories helpful, please share it on Pinterest. Thanks for your support!
---
Thank you for visiting today! If you found this encouraging or informative, please connect with us on Instagram, Youtube, Pinterest, Facebook or Twitter. We'd love to meet you!
Sign-up for our monthly newsletter for updates and more. We promise we won't spam you! Feel free to unsubscribe anytime.
For more fitness fashion discounts and offers, please visit our Fitness Instructor Discounts + Brands Directory or favorite brands coupon codes list.
If you're a brand and want to submit a product for us to review, please use this form to get in touch.
This site uses affiliate links. Clicking on or purchasing via an affiliate link may result in commissions for us which help keep the content flowing and lights on at Schimiggy Reviews. You may read more about this in our privacy policy.