Reading Time:
6
minutes
Updated: 12/26/2019 | Starter Guide to Zero-Waste Travel
Zero waste is an environmental movement that has become increasingly popular in recent years. Along with devastating discoveries regarding climate change and human impact on it, many people have turned to living "zero-waste" lives in order to make a difference.
Zero waste is an all-encompassing philosophy and lifestyle which is supposed to be practiced through all life circumstances and surroundings. It starts at home, spans through the workplace and free time, and implies travel and vacationing as well.
Related: Zero Waste Alternatives for Common Household Products
Any experienced zero-waste enthusiast will tell you that traveling is actually among the most demanding environments where you can practice it. So, if you're a beginner zero-waster who's packing for a trip, we'll show you how to do it hassle-free!
Is It Even Possible To Travel Zero-Waste?
Many environmentalists are concerned about carbon emissions from different transportation modes that make traveling possible, specifically airplanes.
It seems counter-intuitive to go zero-waste while traveling and taking care of every single detail, and then hopping on a plane. So, before you start, during the planning stage of your trip, try to go with an environment-friendly transportation mode.
Using this calculator, you can see the carbon miles on each of the transportation modes you're considering.
This will help you determine your carbon footprint and whether it is worth traveling to a particular destination if it creates a lot of waste.
And in all honesty, we may never be able to travel zero waste, but we can definitely try to travel as low waste as possible.
How to Pack for a Zero-Waste Trip?
If this is your first vacation where you're going zero-waste – get ready – it's definitely gonna be a bumpy ride.
Imagine every difficulty you know about zero-waste living and multiply it by ten, and you'll get the impression on what it's like to travel this way.
As you will see, during your travels, it will seem like waste is around every corner and that it's downright impossible to avoid creating it.
The first piece of advice is to pack lightly – the less you bring, the less you'll have to throw out. You want to preferably throw nothing out. The key to having a successful zero-waste trip is careful and smart planning, which starts with packing efficiently and purposely.
Here are some things to think about while you are packing:
Separate your wants versus needs. Leave your wants at home.
Consider creating a capsule wardrobe and mix and matching pieces to create different outfits.
Pack as little plastic as possible. Use reusable containers or products wrapped in compostable paper.
Create a sustainability kit so that you do not have to consumer single-use plastic such as spoon or straws. We've included an example of our sustainability kit below.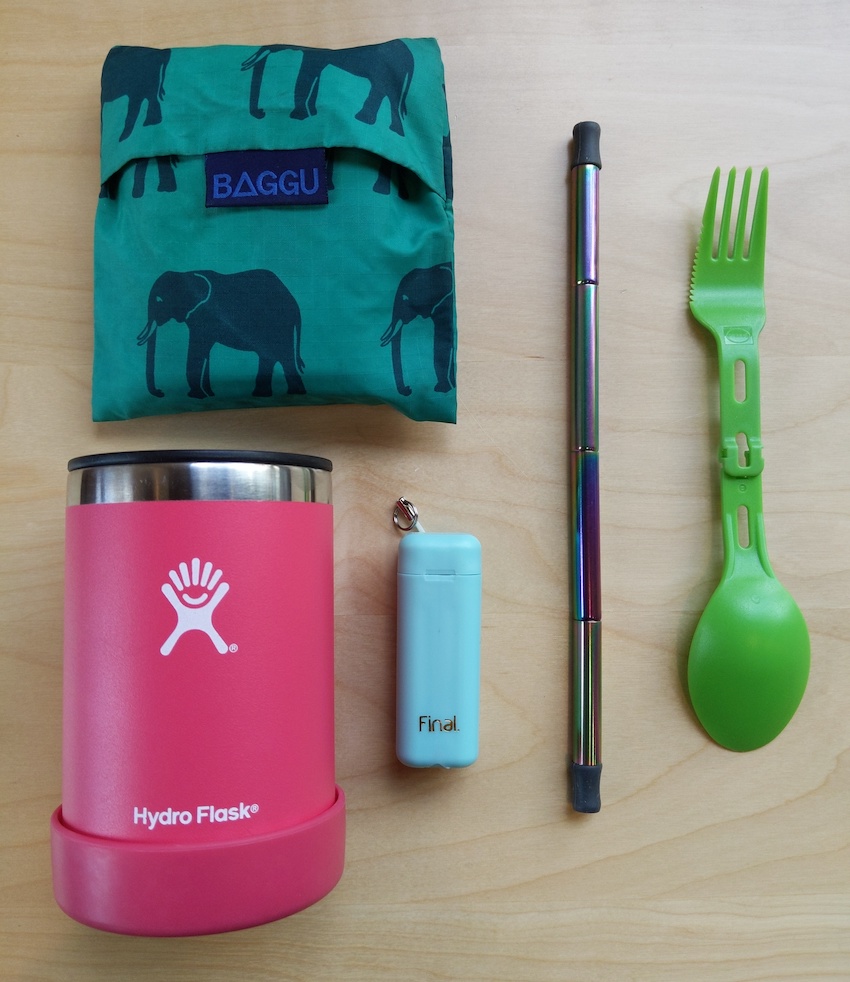 Here's what's in our sustainable travel kit:
What Other Sustainable Products Do I Need?
Here are some of additional essentials and life-savers that will make your zero-waste vacation dream a reality:
#1 Reusable Water Bottle
A non-plastic water bottle is an absolute must for zero-waste travelers. While you're sightseeing, walking and exploring your destination, it's important to keep hydrated, especially in a hot climate.
Being dehydrated in a crowded place with no zero-waste options might urge you to purchase a plastic bottle from a nearby shop. It's one of the main traps and temptations for travelers who go zero-waste and forget to bring a reusable water bottle.
If you do happen to forget yours, make sure you buy (or even borrow) a reusable water bottle in the early days of the trip so that you won't have to resort to plastic bottles in emergencies.
Related: How to Stay Healthy and Hydrated while Traveling
#2 Bamboo Toothbrush and Toothpaste Tablets
You probably have this one at home, so take this one to your travels as well. If you happen to forget your toothbrush, just like with the water bottle, buy a bamboo toothbrush at your destination. That way, you can continue using it at home with zero-waste.
"Bamboo is a real game-changer for those who want to take effort into preserving the environment. Nowadays, there are many bamboo products, but the toothbrush has proven to be one of the most convenient ones.
It's much more durable than a regular toothbrush and it's simple to take it anywhere, even when you travel", says Marie Fincher, a writer and blogger at TrustMyPaper.
#3 Reusable Shopping Bag
Whatever shopping you may do at your vacation destination, there's no waste to worry about if you bring a reusable bag. Of course, it can be the same bag that you're using back home.
As you very well know, markets and shops offer mostly plastic bags and single-use bags exclusively. In smaller shops and in non-urban destinations, it's pretty hard to find linen or reusable shopping bags to use for the remaining part of your trip.
A linen bag is also a great asset for traveling because it can also come in handy for other situations where you might need it. While traveling, we often forget about all those scenarios when a bag might be useful and resort to buying new ones.
#4 Handkerchiefs or Collapsible Bowl
During your vacation, you will be faced with tons of situations where waste packaging is a part of a product you're buying. For example, you're waiting in line for the tasty burger that locals recommended. Of course, the cook will not hand it to you ready and cooked, but wrapped in a paper or foil.
Ask ahead of time if the burger can be wrapped in your handkerchief or in a collapsible silicone bowl.
We love traveling with reusable plates and bowls so that we avoid using plastic or styrofoam plate ware.
Also, while you're purchasing fruits and veggies in a market, you can use a cloth handkerchief or a linen bag to store and organize products without having to use the market's plastic or paper bag.
#5 An Insulated Thermos
A thermos is useful in many situations. When you're traveling, you can offer restaurants and cafes your thermos bottle to avoid single-use plastics and paper cups.
"For me, there's no traveling without a thermos, even if it's a day trip to a destination that's 50 miles away. It's a lifesaver in so many circumstances, and especially if you're zero-waste. If you're trying to eliminate waste from your life and surroundings, a thermos bottle will take care of all possible beverages", says Neightan White, a travel blogger at Studicus.
We recommend Hydro Flask products because they keep cold beverages cold for 24 hours and hot items hot for up to 12 hours.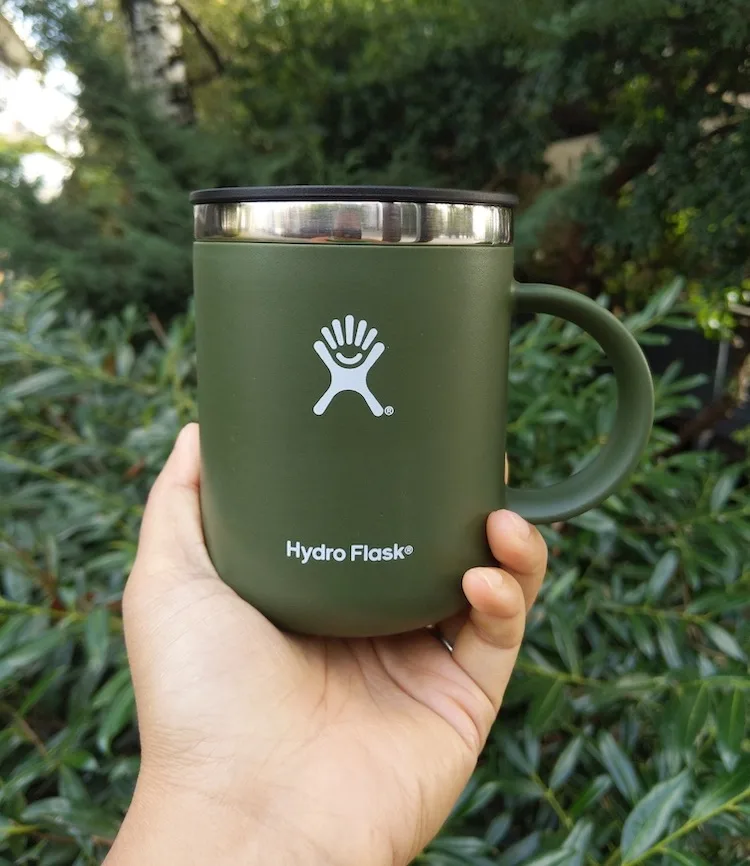 #6 Toiletries
Be mindful of where your toiletries are coming from. We love using bar toiletries because they're typically wrapped in biodegradable paper and do not leave plastic waste when used up.
They're also great for traveling with because they're compact and lightweight.
Related: Best Non-Toxic and Sulfate Free Shampoo Bars + Tips
Final Thoughts
Zero-waste travel can be quite hard if you are unprepared. On the other hand, if you fast forward in your head to all those events that will create waste and find solutions on how to handle them, you can prepare for everything that comes your way.
Traveling with zero-waste takes real effort and focus, so make sure you're ready to be in much trickier situations than back home.
However, if you prepare well, you can enjoy your vacation and help save the planet at the same time!
Author Bio: Kristin Savage nourishes, sparks and empowers using the magic of a word. Along with pursuing her degree in Creative Writing, Kristin was gaining experience in the publishing industry, with expertise in marketing strategy for publishers and authors. Now she works as a freelance writer at GrabMyEssay.
Thank you for visiting today! If you found this encouraging or informative, please connect with us on Instagram or TikTok.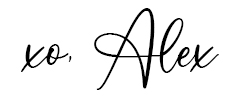 Sign up for our monthly newsletter for updates and more. We promise we won't spam you! Feel free to unsubscribe anytime.
If you're a brand and want to work with us, please visit this page to get in touch.