Reading Time:
< 1
minute
Updated: 4/15/2022 | Easy Lasagna Recipe
I grew up eating a ton of Stouffer's frozen lasagna. It was an easy meal to prepare and enjoy with the whole family.
Coming from a Vietnamese household, I never really thought to make my own pasta until I moved out during my college years.
It started with a box of Kraft Mac and Cheese and eventually to me making my sauces from scratch!
One day, my neighbor William invited me over for some lasagna and I was blown away by his version! We bonded over food and he knew how to prepare so many dishes.
What I loved about his lasagna was that it did not use any ricotta. Instead, his variation used cream cheese, cottage cheese and sour cream.
AND that it tasted like Stouffer's lasagna! I was reliving my childhood!
So without further ado, here is my neighbor William's lasagna recipe.
Bon provecho!
Easy Lasagna Recipe
Yield: 16-20 servings or 2 large pans of lasagna
Easy Lasagna Recipe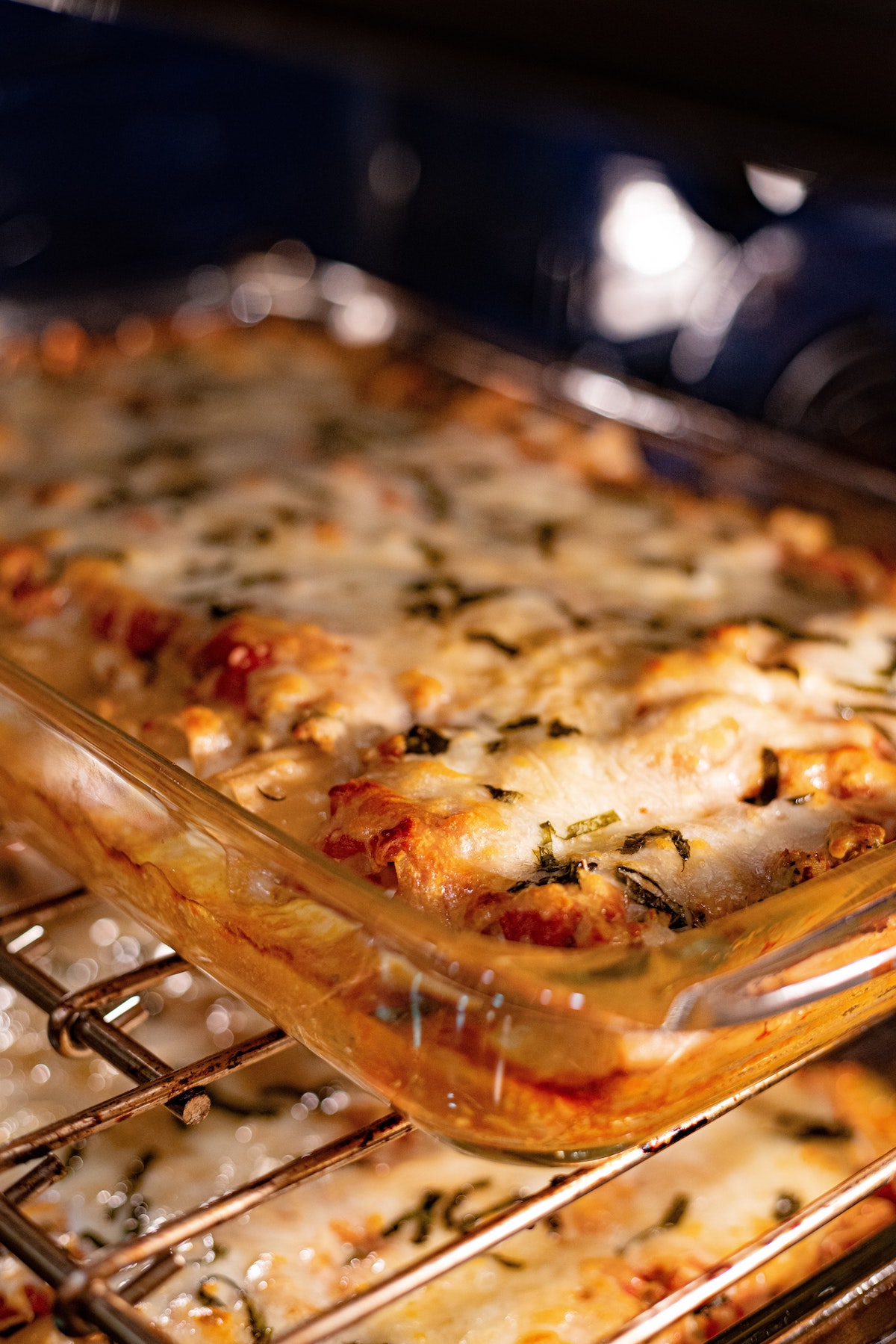 My neighbor taught me this recipe that his mom taught him. I absolutely LOVE this lasagna dish and eat it all the time. What's really unique about this dish is that it does not contain ricotta but still tastes rich and creamy. This recipe yields a lot of pasta and is enough for 16-20 people. I recommend cutting up the lasagna into smaller portions and freezing them for later.
Additional Time
15 minutes
Total Time
1 hour
40 minutes
Ingredients
Pasta Sauce
3 pounds of ground turkey/chicken/beef
1 whole onion chopped
12 oz and big can tomato sauce
2 tbs of garlic salt
a little pepper and Italian seasoning to the sauce
salt to taste
2 cups sliced mushrooms (optional)
Cheese Sauce
Other
Instructions
How to Make the Pasta Sauce:
Cook the ground meat and onions on medium on the stove. Brown together and drain the fat into the sink.
Set the pan of meat back onto the stove and add the tomato sauce along with salt, pepper, garlic powder and Italian seasoning to taste. If you are adding mushrooms to your sauce, do it here and then let the sauce simmer on low.
Cook the Lasagna Noodles
In a large pot, fill it with water and salt and olive oil and begin to boil it on the stove. Once boiling, add and cook the lasagna noodles per the instructions on the box. Once done, drain noodles and set them aside.
How to Make the Cheese Sauce:
In a large bowl, mix the cream cheese, sour cream and cottage cheese with a large mixing spoon. Make sure all the dairy is room temperature so that it blends easier. Your arm may feel achy after this section.
Assembling the Lasagna
Once you have everything prepared, it's time to assemble the lasagna!
Set the oven on to 350 Farenheit.
Clean the lasagna pans and wipe them dry.
Add a layer of cooked lasagna noodles.
Layer on sauce.
Then layer on the cheese.
Add a second layer of noodles after the cheese and pasta sauce. Repeat until you are out of ingredients. The last layer should be sauce.
Repeat on the second tray.
Cover the trays with foil and then put both trays into the oven for 45 minutes.
At the 45 minute mark, remove the trays and the foil covering the lasagna. Cover the top with parmesan and then bake for another 15 minutes until the parmesan is brown.
Let it set and rest for 30 minutes. Cut into squares and serve on your favorite plates! Bon apetit!
Notes
Tips:
While the noodles are cooking, prepare the cheese sauce.
You can also blend the cheese sauce with an electric blending machine or Kitchen Aid. I unfortunately only have manual tools in my kitchen.
If you have leftovers, cut them into little squares and freeze them. You can later thaw and reheat them in the over and they'll still taste fresh!
VEGETARIAN OPTION: If you want to make this dish vegetarian, consider using tofu or adding veggies such as 1 whole bell pepper, 2 sliced carrots and 2 cups of mushrooms into your pasta sauce.
---
Thank you for visiting today! If you found this encouraging or informative, please connect with us on Instagram, Youtube, Pinterest, Facebook or Twitter. We'd love to meet you!
Sign-up for our monthly newsletter for updates and more. We promise we won't spam you! Feel free to unsubscribe anytime.
For more fitness fashion discounts and offers, please visit our Fitness Instructor Discounts + Brands Directory or favorite brands coupon codes list.
If you're a brand and want to submit a product for us to review, please use this form to get in touch.
This site uses affiliate links. Clicking on or purchasing via an affiliate link may result in commissions for us which help keep the content flowing and lights on at Schimiggy Reviews. You may read more about this in our privacy policy.