Reading Time:
6
minutes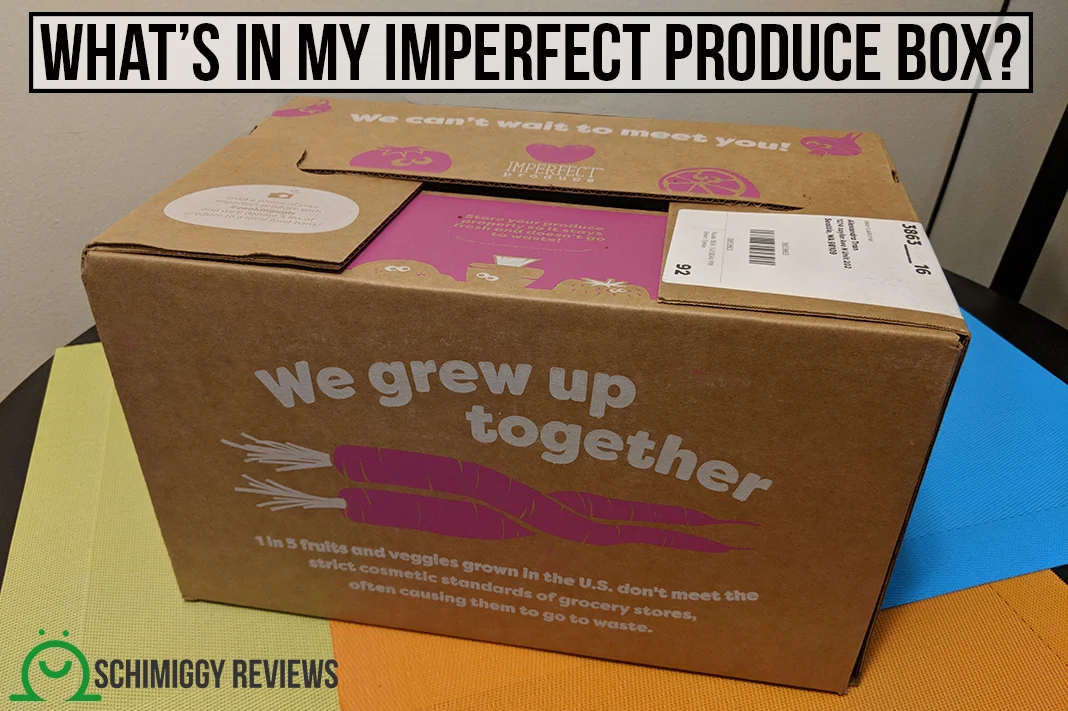 About Imperfect Foods
Imperfect Foods (formerly known as Imperfect Produce) began in 2015 as tech company using technology to improve nutrition and food business outcomes. More than 20% of the fruits and vegetables grown in America never make it off the farm because they aren't perfect enough for grocery store standards. Imperfect Foods promises that subscribers will receive a box of produce for up to 50% off normal grocery store prices.
I live in Seattle and produce here is not cheap. Most of what we receive in grocery stores is imported from far away, and especially during the Winter seasons. I recently had to find peaches and nectarines and was able to find them at Fred Meyers. They came from Chile and were not as sweet compared to when they're in season in the US.
Imperfect Foods PRINCIPLES
Committed to reducing food waste.
Committed to quality.
Committed to supporting farmers financially.
Committed to transparency and honesty.
I decided to try out Imperfect Foods in an effort to add more fruits and veggies to my diet without breaking the bank.
How does Imperfect Foods Work?
When you sign-up for an Imperfect Foods box, you get to customize your box so that your imperfect box is perfect for you! Customization options include 1) Box Type, 2) Box Size and 3) Frequency. Below are ways you can customize your box.
Box Types
Green Box – Organic Produce
Regular Box – Conventional Produce

Box Size (conventional pricing)
Small (1-2 persons/~$16)
Medium (2-3 persons/~$20)
Large (3-4 persons/~$24)
Extra-Large (4-5 persons/~$28)
Frequency
Every Week – GrIt also allows e to save money on shipping costs.eat option if you cook or eat at home often.
Every Other Week – I chose this option because I travel often and don't like my produce to go to waste.
Imperfect Foods also allows you to skip during customization if the produce does not fit your needs for that delivery period.
If you're going on vacation you can pause or set a future delivery date. No boxes will be sent to your home during this period.
Imperfect Foods offers an additional opportunity to customize your box contents. Each Friday before my delivery date, I get an email informing me that I have 32 hours to customize my box. My default box is a blend of conventional fruits and veggies. When you log in, you can view information about where the produce is coming from and reasons whey they are imperfect.
Reasons produce might be imperfect might be due to size (too big or small), shape/asymmetry, discoloration, scarring (scars are cool!), or simply because it is surplus product. Once logged in, you can add to or subtract from your box from a variety of organic and conventional produce.
I signed up for a bi-weekly MEDIUM sized subscription box. My delivery schedule is Tuesday between 3PM-10PM. Shipping is a flat $4.99.
The box was delivered to my home within the scheduled time frame. The produce came loose in the box without any plastic or packaging, further committing to their mission in reducing unnecessary waste. Check out the next section to see what I received.
What I received in my March 2018 Box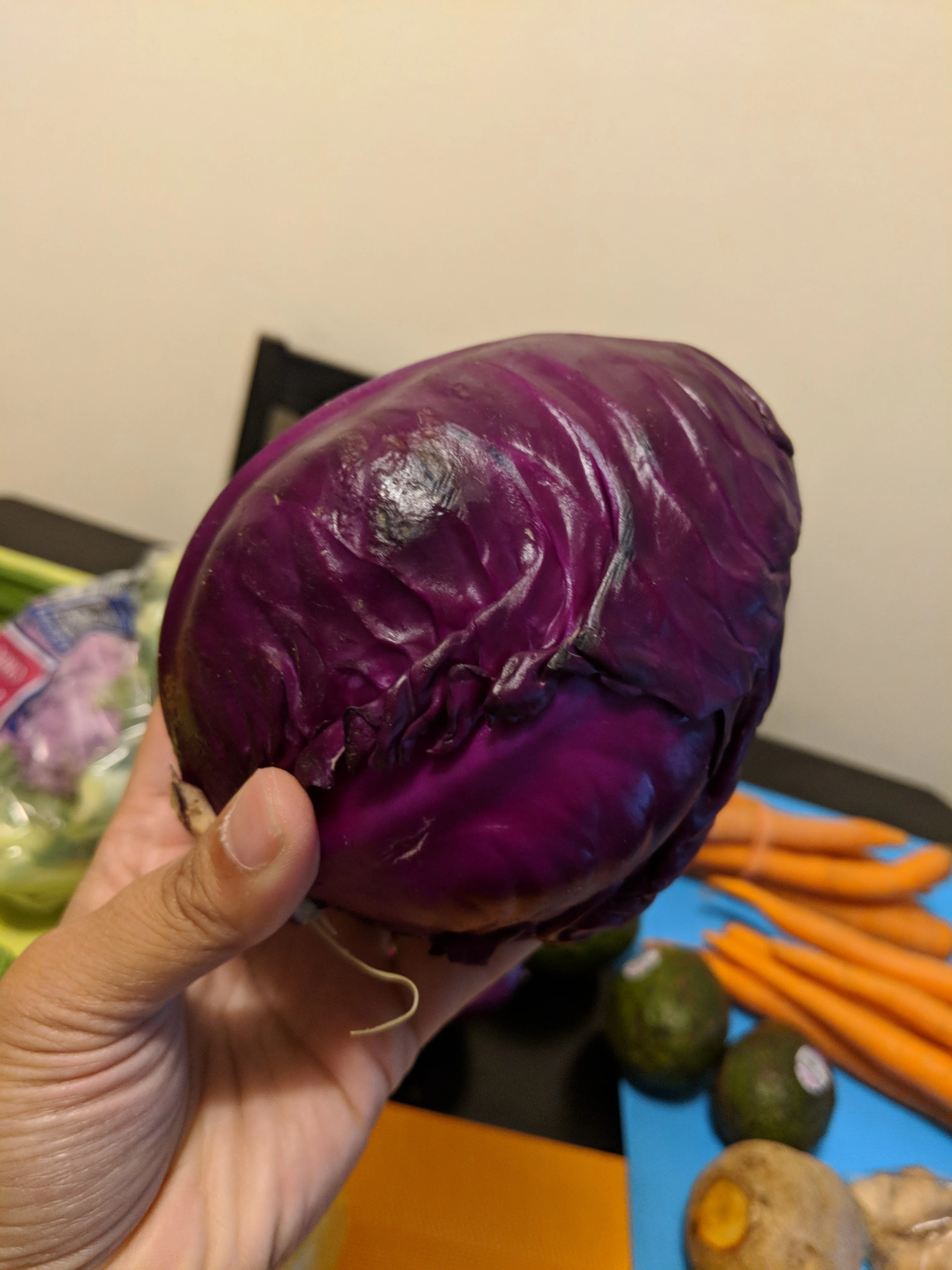 Below is my invoice for my Imperfect Foods box. It lists everything I received in my box.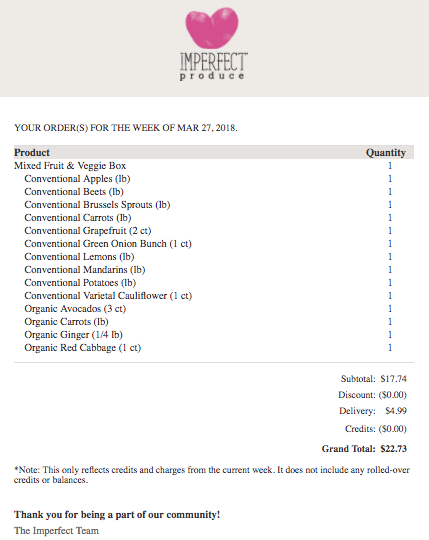 Price Comparison – Am I Saving Money When I Buy Imperfect Foods?
People ask me this question ALL THE TIME. I decided to compare Imperfect Food's pricing with a grocery store nearest to my home (Trader Joe's). Even with Imperfect's service and delivery fee, it was still 28.6% cheaper than regular grocery store pricing. Below is a side by side price comparison. This is a typical two-week order for our two (2) person household.
Produce
Trader Joe's
Imperfect
Foods
Conventional Yellow Onions 1 lb
$0.69
$0.35
Conventional Potatoes 1 lb
$1.47
$0.35
Conventional Grapefruit
$0.99
$0.50
Conventional Corn
$0.58
$0.50
Carrots 1 bunch
$0.79
$0.69
Conventional Green Onions 1 bunch
$1.29
$0.75
Conventional Celery 1 bunch
$1.59
$0.75
Organic Sweet Potatoes 1 ct
$0.89
$0.89
Conventional Navel Oranges (1 lb)
$1.38
$0.89
Conventional Spinach
$1.99
$1.09
Conventional Green Bellpeppers 2 ct
$1.19
$1.19
Conventional Limes 5 ct
$1.45
$1.19
Conventional Lemons (1 lb)
$2.45
$1.19
Conventional Brussel Sprouts 1 bag
$2.49
$1.39
Organic Purple Garlic (2 ct vs 4 ct)
$1.39
$1.49
Conventional Fennel
$2.49
$1.50
Conventional Avocados 3 ct
$2.69
$1.50
Conventional Broccoli 1 bunch
$2.49
$1.75
Organic Cherry Tomatoes 1 box
$2.49
$1.89
Organic Avocado
$4.49
$1.89
Conventional Strawberries (1 Clamshell)
$5.99
$2.09
Organic Mandarins 1 lb
$2.99
$2.19
Conventional Grapes
$3.99
$2.19
Organic Canteloupe 1 ct
$2.79
$2.49
750ml Bottle Olive Oil
$10.99
$6.99
Organic Mini Watermelon 1 ct
$3.49
$3.25
Gas to drive to the grocery store
$3.00
Delivery Charge
$4.99
Service Fee
$3.00
TOTAL
$68.52
$48.93
Sign-Up for Imperfect Foods!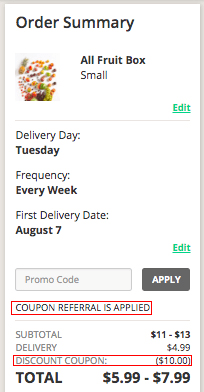 I am extremely satisfied with my Imperfect Foods box and highly recommend it. Not only am I adding more veggies and fruits to my diet, but I am also able to save money while doing so. I've been getting creative with my meal planning.
Because I know what is coming, I can plan recipes around my produce. This has also been a creative challenge for me in the kitchen! I have been eating dishes that I never thought I would make (i.e. coleslaw, borscht, and cauliflower pizza to name a few).
Many of the "problems" with the produce are cosmetic and don't affect the taste of the product. I am glad to be a part of this effort in reducing food waste, and I hope that you will be too!
You can sign-up using this link and enter code RAF501 to enjoy $10 off your first Imperfect Foods box. The discount will be applied to your first order when you check out (see image to right).
Use Imperfect Foods coupon code RAF501 for $10 off your first box!
Alternatively, you can also use this link to get $10 off your first Imperfect Foods box.
Imperfect Foods also offers an additional 33% discount to low-income households who qualify for SNAP/EBT Food Benefits. When signing up, check the low-income box and get a survey sent to your inbox. Complete it and a customer associate will apply the discount to all your current and future orders. This deal is also great for seniors and college students.
In the comments section, let me know if you've tried the Imperfect Foods box. I would love to hear about your experience with this awesome program!
If you liked this post, you might like these too:
Thank you for visiting today! If you found this encouraging or informative, please connect with us on Instagram or TikTok.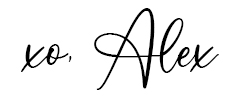 Sign up for our monthly newsletter for updates and more. We promise we won't spam you! Feel free to unsubscribe anytime.
If you're a brand and want to work with us, please visit this page to get in touch.