Reading Time:
9
minutes
Updated: 7/2/2019 | Imperfect Foods Recipes
Since subscribing to Imperfect Foods (formerly known as Imperfect Produce), I have been eating 180% more fruits and veggies than I normally do. I feel better inside and out.
I highly recommend it if you're looking for a way to save money while eating healthy. The only things I have to purchase to complement my boxes are proteins and certain seasonings which I have listed below in the recipes.
Related: Imperfect Foods Review – What Did I Get in my Box?
Imperfect Foods Recipes
#1 Shish Kebabs
Shish Kebabs made with Imperfect Foods are quick and delicious. It's an easy way to prepare and get veggies into your diet and is a great Spring/Summer dish.
Ingredients:
1 lb of meat (any protein you prefer)
1 onion
2 bell peppers
2 large tomatoes
Instructions: Turn the oven on to 375 degrees. Quarter the onions, bell peppers and tomatoes and meat. Throw everything into a bowl and toss to season with salt, pepper, olive oil and any other seasonings you like. I love adding cumin. Skewer the meat and veggies and place them onto a metal sheet pan. Throw it onto a grill or into the oven at 375 degrees for 20 minutes. The skewers can be eaten with a side of Imperfect Foods brown rice.
#2 Easy Guacamole Recipe
100% of my Imperfect Foods boxes have offered avocados, onions, tomatoes and lemons. When I made this realization, I was stoked to have guacamole every week!
Ingredients:
3 avocados
1/3 diced onion
1/4 cup chopped cilantro
1/2 diced tomato/chopped cherry tomatoes
1/2 lemon/lime juice
Optional 1/2 chopped jalapeno to add some heat
Salt and pepper to taste
Instructions: Chop the onion, cilantro, tomato and jalapeno. Pit the avocados and scoop out the meat. Add everything to a medium sized bowl along with the juice of the lemon and salt and pepper (to taste). Serve with chips (I prefer Juanitas) or cut spears of celery, carrots or bell peppers for a healthier option.
#3 Kale Apple Garlic Lemon Salad Recipe

This salad is perfect for summer parties. Use fresh apples for a nice crunchy sweetness that complements the bitterness of kale leaves.
Ingredients:
1 apple
1/2 bunch of kale
1 lemon
2 garlic cloves
2 tbs apple cider vinegar
2 tbs Imperfect Foods Olive Oil
Salt and pepper to taste
Option for dairy – shaved Beecher's Flagship Cheese (a Seattle favorite)
Instructions: Chop the kale into 1/2″ slices. Cube or thinly slice the apples.
How to make the dressing: Squeeze the lemon juice into a small bowl. Roughly mince the garlic and add to bowl. Add olive oil and apple cider vinegar. Mix and add salt and pepper to taste.
Mix salad and dressing in a large mixing bowl and then serve onto plates. Top with shredded cheese for some protein. This recipe is delicious and simple. It makes a great summer salad.
#4 Simple Kim Chi Recipe
I made kimchi for the first time! It was much easier than I anticipated. Kimchi is a Korean side dish made by lacto-fermentation, the same process that creates sauerkraut and traditional dill pickles. This recipe is simple, however it does take some time to complete. Traditionally the recipe calls for napa cabbage but I made substitutions based on what was offered in my Imperfect Foods box. I offered links to the specific products that I used in my recipe down below. All veggies are from my Imperfect Foods box.
Ingredients:
1 head of cannonball cabbage (substitute for napa cabbage)
1 crown of broccoli
1 cup of salt
Water
1 bulb of garlic
1 small onion
1/4 cup of fish sauce
1/6 cup of dried shrimp (salted is better)
2″ of fresh ginger root
1/2 ripened pear (use as sugar substitute)
1 cup of Korean chili powder (gochugaru)
4 stalks of green onions
5 sliced turnips
Instructions:
Chop the cabbage into quarters and broccoli into small bite sized pieces. Mix salt with 3/5 gallon of water. Submerge the cabbage and broccoli and brine for 3-4 hours. I usually flip the cabbage and mix the broccoli after 2 hours and pickle for 2 more. After 3-4 hours, rinse the veggies 2-3 times. Squeeze out all moisture from the veggies. Chop the cabbage quarters into 1″ slices. Leave the veggies in a strainer to the side while you mix the sauce.
In a food processor or blender, mince the garlic, onion, fish sauce, dried shrimp, ginger root and ripened pear until it is smooth. In a large bowl and while wearing gloves (to prevent stinging and pungent smells) begin to blend the garlic mixture, Korean chili powder and brined vegetables until it is thoroughly mixed. Separate the cabbage leaves and get the sauce onto the entire surface of the veggies.
Chop the green onions and slice the turnips. Using gloves, blend in the green onions and turnips until it is covered by the sauce mixture.
You can taste the kim chi at this point and add any additional flavor to your liking. I usually add more fish sauce if needed.
Place kimchi into a large container (can be plastic or glass) and leave out for 1-3 days. Taste a bit each day and when it is to your liking, transfer it to the refrigerator. The kimchi will get better with time. I prefer my kimchi crunchy so I only let it ferment for 1-2 days at most.
#5 Lettuce Wraps
I received butter lettuce and turned them into a vessel for a healthy meal.
Ingredients:
1 pound ground turkey or chicken
1 small onion
1 carrot
1 zucchini
1 head of butter lettuce (or any other lettuce variant will do)
Olive oil
Salt and pepper to taste
Instructions:
Dice the onions, carrots and zucchini. Cook the ground meat and drain the juice. Season the meat with salt and pepper and anything else you wish. Add olive oil to the pant and cook the veggies on a pan and then add the meat. Add salt and pepper to taste. Afterward, serve the meat in the lettuce cups with any sauces of your choosing. I love using hot sauce purchased at the local farmer's market.
#6 Healthy Breakfast Scramble
This is one of my favorite dishes. It's simple, tasty and healthy! The zucchini gives the dish a nice bite. It's also vegetarian. You can make a scramble with anything you like. It's a great way to get rid of all the produce you have before the next box arrives.
Ingredients:
2 eggs
1 zucchini
1 onion
2 garlic cloves
Imperfect Foods Olive oil
Salt and pepper
Avocado (optional)
Instructions: Chop the onion and zucchini. Mince the garlic cloves. Add olive oil to a pan and toss the onions and zucchini in. Cook until softened and slightly brown. Add garlic and eggs. Scramble the eggs with a wooden spoon until cooked. Add salt and pepper to taste.
Serve onto plates with avocado slices for some creamy goodness. Add hot sauce for more flavor.
#7 Plum or Pluot Salsa

Looking for a refreshing salsa to complement all your Summer dishes? Try this plum/pluot salsa. It's great on salads, tacos, or with tortilla chips.
Ingredients
15 ripe plums/pluots
1/2 lime for juice
1 bunch cilantro
1/4 cup chopped green onion
1/2 jalapeno (optional)
Salt and pepper to taste
Instructions: Dice the plums/pluots. Chop the cilantro and green onion. Mix the plums/pluots, cilantro and onions. Squeeze lime juice into the salsa. Chop the jalapeno and add enough to your desired spiciness level. Add salt and pepper to taste. Refrigerate before serving.
#8 Avocado Jicama "Toast" Bread
You ready to change your life?! This vegan AND gluten free recipe will have you wanting avocado "toast" all the time. (Serves 2)

Ingredients:
1 jicama
olive oil or coconut oil spray
2 ripe avocados
2 cloves garlic
1/4 sliced onion
1/4 cup chopped cilantro/parsley
Salt and pepper to taste
Directions:
Preheat oven to 425 degrees. Line pan with baking sheet and cover with oil.
Cut the jicama into thin slices width-wise (so that they look like large, thin circles). Place all of the slices on the baking sheet and cover with oil. Sprinkle with salt and pepper. Flip them over and cover the other sides with oil and sprinkle with more salt & pepper.
Place in oven and roast for about 15-20 minutes, or until desired crispy texture.
In a mixing bowl, mix the rest of the ingredients together until well combined.
To serve, grab a roasted jicama slice and spoon a large amount of avocado onto each slice.
Eat like you would toast!
#9 Soba Noodles + Artichoke Tea

This is my favorite dish to date! It's vegan and is super easy to make. If you love soba noodles, you'll love this recipe. (Serves 2)
Ingredients:
2 servings of Soba Noodles (my favorite brand is linked)
2 Artichokes
2 Persian Cucumbers
1/4 cup chopped Green Onion
Grated fresh Ginger (to taste)
1 tbs Soy Sauce
3 tbs Sesame Oil
2 tbs Rice Vinegar
1 tbs Shiro Dashi (Japanese broth)
Instructions:
Cut the stems off the artichokes and boil them in a large pot of water for 12 minutes.
Slice the cucumber into small discs and place in a bowl.
Chop the green onions and place to the side.
Peel the skin off and grate the ginger. I use a lot of ginger. I recommend doing it to taste.
In a separate bowl, begin to mix the soy sauce, rice vinegar, dashi, ginger, green onions and sesame oil. Taste and adjust flavor with more sauce if necessary.
Take out the artichokes and set it aside to cool down. Pour some of the artichoke broth into two small mugs–this is your artichoke tea!
Continue to boil the rest of the artichoke tea and add the soba noodles. Cook for four minutes or according to your package.
Remove and drain the noodles. Run under cold water and set inside fridge to cool down. I leave int he fridge for about 15 minutes. You can leave for longer or eat immediately.
In a large mixing bowl, combine and mix the cucumbers, sauce, and noodles.
Serve into bowls and sprinkle with sesame seeds. Enjoy it with your artichoke heart (peel off leaves and eat the bottom soft portion of the leaf) and tea.
#10 Kim Chi Fried Rice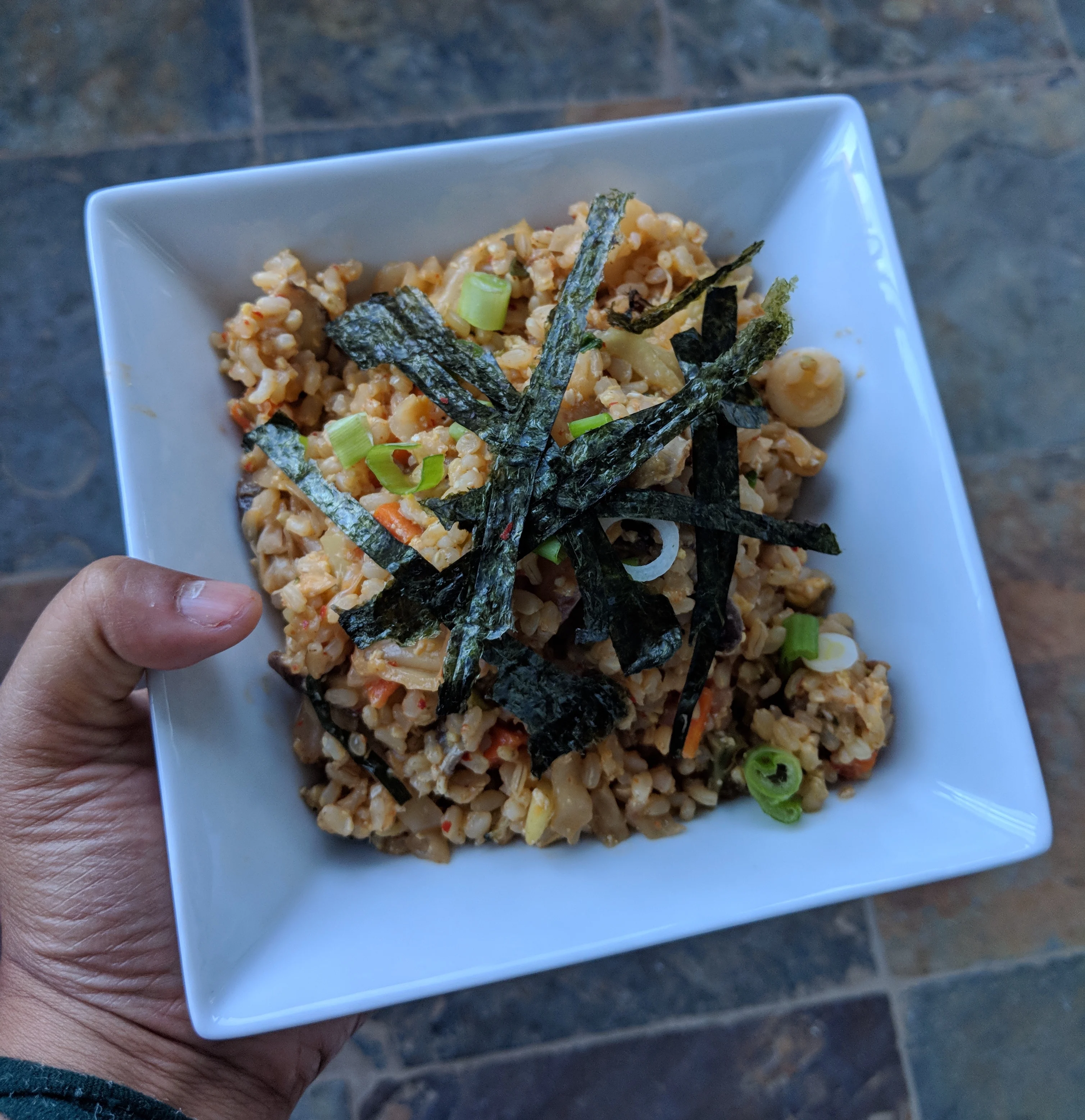 This is an easy kimchi fried rice recipe. I made the kimchi from scratch (see recipe here). All veggies are from my Imperfect Foods box.
Ingredients
2 cups chopped Kimchi
3 Tablespoon kimchi juice (I use a little more because I love the vinegar taste)
1/4 cup chopped carrots
1/2 cup chopped celery
1 cup sliced shitake mushrooms
4 chopped cloves of garlic
2 cups Imperfect Foods brown rice
2 green onions chopped
2 eggs (optional)
1 can of chopped SPAM (optional)
Dash of Seasame seeds (optional)
Seaweed (nori) paper (optional)
Instructions
Wash and cook the rice. Rinse the brown rice. Then put in large pot with 3 cups of water. If you want to do unofficial measuring like I do, use your length of the tip of your index finger to gauge that rice is submerged 3/4″ below water line. Bring rice to a boil and mix with a spoon. Turn down heat and let cook for 20 more minutes. Stir every 5 minutes and add water as needed.
While rice is cooking, chop garlic, celery, carrots, kim chi, green onions and slice shitake mushrooms.
Heat up a large pan and add some sesame oil. Throw in the garlic to cook.
Add the celery and carrots to the pan and cook until soft.
Add the shitake mushrooms and cook until wilted.
Add the eggs and began to break the yolk and mix in the pan. Add more sesame oil if needed.
Add the rice and spam and mix.
Add the kimchi, juice and green onions and mix.
Stir in soy sauce, salt and pepper to taste.
Serve with sliced seaweed paper and sprinkle sesame seeds on top.
Tip: You can also add a fried egg to the top of the rice.
Sign Up for Imperfect Foods
Use my link to sign-up for Imperfect Foods and get 20% off your first order with code RAF501. That's an additional discount off the 30-50% discount that's already offered through the service.
If you'd like to read up more on what you actually get in a box, head over and read our Imperfect Foods review.
Eating healthy IS POSSIBLE and Imperfect Foods is the perfect program for making that happen! We hope you enjoyed our Imperfect Foods recipes.
What are some of your favorite recipes? Let us know in the comments section. We'd love to check them out!
Thank you for visiting today! If you found this encouraging or informative, please connect with us on Instagram or TikTok.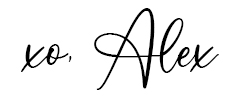 Sign up for our monthly newsletter for updates and more. We promise we won't spam you! Feel free to unsubscribe anytime.
If you're a brand and want to work with us, please visit this page to get in touch.