Reading Time:
3
minutes
Updated: 10/30/2019 | Corporate Yoga Event in Seattle
We spend a lot of time working — and that oftentimes means that our health takes the backseat. Whether you just don't have time to exercise and eat well or sitting at your computer all day is taking a toll on your body, working too much comes with serious health risks.
One of the best ways to counteract these risks is to exercise, and one of the best types of exercise for both physical and mental health is yoga. With this in mind, it's no surprise that many companies are turning to corporate yoga to help keep employees healthy, energized, and productive.
Planning a corporate yoga event in Seattle for your company may sound like one more thing to worry about, but it doesn't have to be complicated. Here are my tips to make the event a success.
Consider Providing Equipment
Start by polling your employees or coworkers to see how many people already have the equipment they'll need for your corporate yoga classes. Yoga mats are a must, but your class might also incorporate bands and/or blocks.
Consider providing equipment for anyone who doesn't already have it. While this will add to your event costs, it could also greatly boost attendance. After all, if you want to encourage wellness in your office, you should provide the tools necessary to achieve it.
One of my personal favorites is the Manduka PRO yoga mat, but you could also purchase yoga mats in bulk on sites such as Wholesale Yoga Mats or even Amazon.
A fun idea to encourage attendance is to offer giveaways such as yoga accessories to anyone with perfect yoga class attendance during a certain amount of time!
Related: Yoga Props You Need and Want
Book a Yoga Instructor
Your next step is to find the right yoga instructor for your class or classes. Lots of yoga instructors in metropolitan areas specialize in corporate yoga (including me, Alex!), so it shouldn't be too hard to find the right teacher.
LoDo Chair Massage and We Yoga Co are great Seattle-area options that provide teachers who can teach at your site for both single events and a series of events.
If you are planning a series of yoga classes instead of a single yoga workshop, try to find a teacher that can handle all or most of the events. People often feel more comfortable with a consistent teacher who they can get to know over the weeks.
You may also want to find an instructor who is able to teach more than one kind of yoga, such as vinyasa yoga and power yoga, to mix things up over a series of classes. Of course, all classes should include modifications for participants at different ability levels.
Find the Right Space
Finding the right space for your corporate yoga class is crucial. You'll want to hold your class in a room that doesn't have too many distractions or work reminders so participants can take their minds off their to-dos.
Having enough space is just as important: Participants should have room for their mats and space to move around comfortably without bumping into each other. A crowded space won't help anyone relax! Make sure you have at least 21 square feet per participant, which ensures room for a two-by-six foot mat and two extra feet of space for each person.
Hosting your yoga classes on-site is ideal for the convenience it provides, but a corporate event space is a great alternative for companies that don't have a space that meets the above requirements. There are plenty of ways to save money when booking a corporate event space, such as getting an accurate headcount ahead of time and booking during off-peak days and times, so you can stay within budget with the right planning.
Holding your corporate yoga classes at an off-site venue may be beneficial anyway, since employees may feel the need to physically leave the workspace in order to mentally leave the workday behind. Plus, off-site spaces give you more room for creativity: Consider holding rooftop yoga classes or yoga in the park! Parks will require you to get a permit, so make sure you inquire and plan for that.
Get Your Yoga On
With your equipment, yoga instructor, and event space nailed down, nothing is stopping you and your coworkers from rolling out your mats. Be sure to check in with everyone after the classes are finished to see what could be improved for next time!
Ready to book your corporate yoga event in Seattle? Contact Alex for more details and how you can help your employees stay healthy inside and out.
Thank you for visiting today! If you found this encouraging or informative, please connect with us on Instagram or TikTok.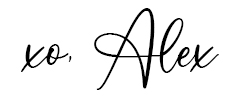 Sign up for our monthly newsletter for updates and more. We promise we won't spam you! Feel free to unsubscribe anytime.
If you're a brand and want to work with us, please visit this page to get in touch.