Reading Time:
5
minutes
Update: 12/7/2019 | How to Keep Your Hair Up While Working Out
If you've got thick and heavy mane like mine, you've probably experienced hair ties breaking mid-way through practice.
You might have also experienced your hair falling out of its ponytail and into your face during down dog.
I'm glad to announce that you've come to the right place!
We have tried and tested a ton of hair accessories and narrowed them down to a few tips and products that you will LOVE.
Qualities that we looked for are affordability and the ability to control a thick mane during practice.
Basically, all these have worked for me and I hope they will for you!
How to Keep Your Hair Up While Working Out
Here are some tried and trusted ways and products you can use to keep your mane up and out of your face during workouts. Some require skill and many require just finding the right product. Here's to keeping our mane's in control!
#1 Use a Scrunchie
I recently fell in love again with scrunchies thanks to ALO Yoga. ALO Yoga has an awesome scrunchie that does not break. I've wrapped my scrunchie four times around my hair and it still holds like a champ. I've used other brands and the inner elastic always snaps after a few weeks.
The elastic has not stretched and it looks super cute and youthful when worn at the top of my head. It's also made from the same fabric ALO Yoga uses on their yoga pants, so it's brushed and stays put.
You can buy the scrunchie here and get 10% off with this link!
#2 Use a Headband Made With Velvet Backing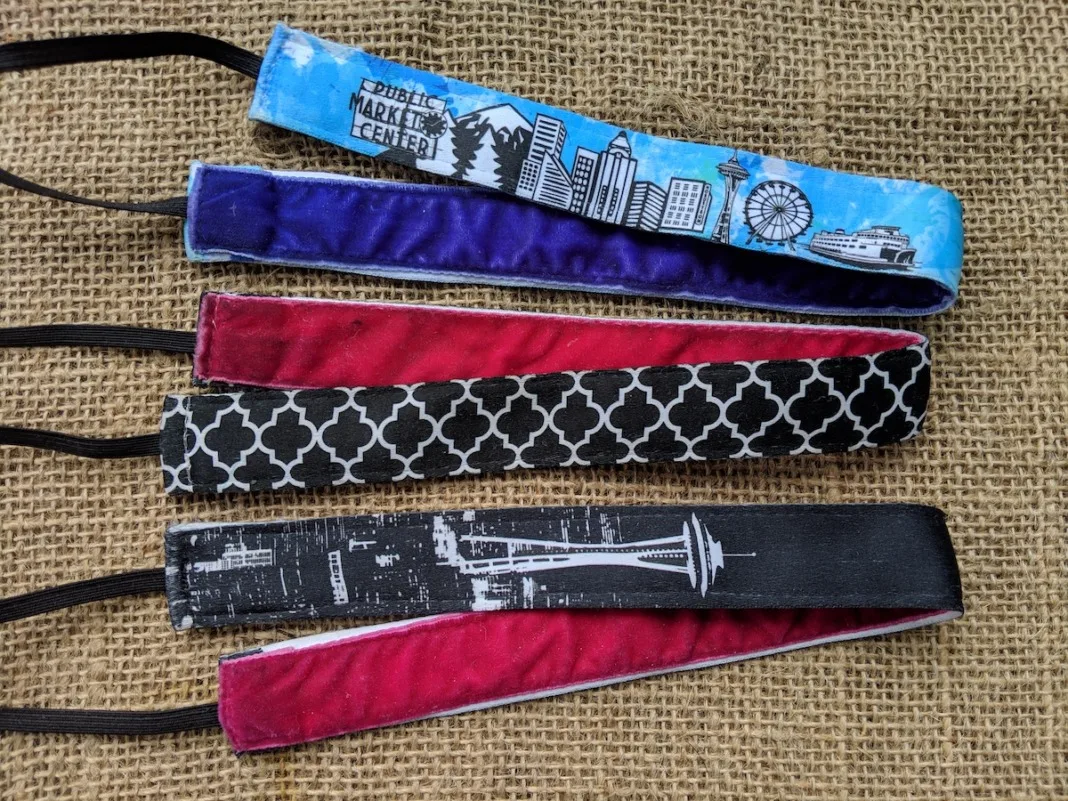 I've tried headbands with rubber backing and those always slide down when in contact with sebum (or hair oils). We won't even discuss how plain fabric ones work….because they just don't for thick manes.
The only product that has ever worked for me are headbands with a velvet backing (pictured above).
The velvet acts like a velcro when worn against your hair. These have been the only style of headband that has stayed put during my workouts. Combine it with one of the recommended hair ties on this post and your ponytail will only come undone when you want it to.
You can buy these awesome velvet backed headbands from Sweaty Bands. Use code SCHIMIGGY for 15% off!
#3 Use a Hair Coil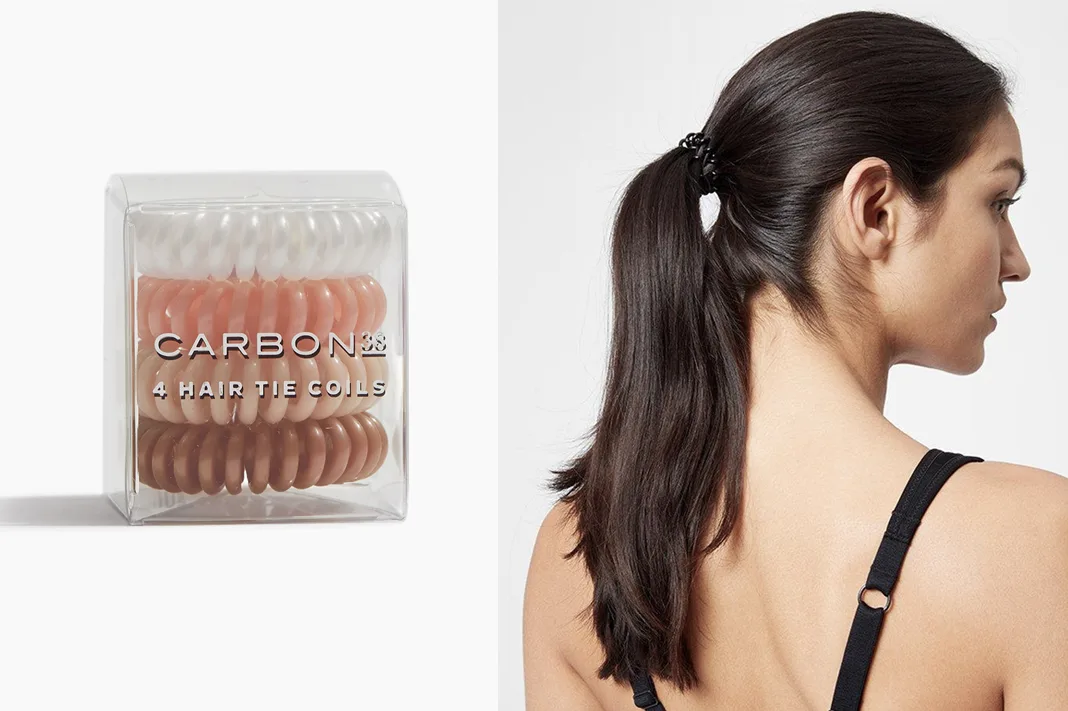 A hair coil or spiral hair toggle looks like a rotary phone cord wrapped into a loop. The coils come in various colors and are pretty indestructible.
What I love most about the coils is that it holds your hair up and does not create a crease in your hair from prolonged wear. They're also guaranteed to not pull and tangle your hair like most other ties.
Brands with awesome coils (that actually work!) include Carbon38 (use code SHMGY25 for 15% off your first order), Sweaty Betty and Invisibobble.
#4 Wear a French Braid
Wearing a pretty French braid is one of my favorite ways to keep it all together. It does take some learning and practice to eventually be able to do it on your own.
After I learned how French braid (in my early 30's), it became pretty easy to do a few minutes before every class. I sometimes sleep with my French braid and when I undo it in the morning, I get an all-natural wavy look.
Combine it with a Sweaty Band and you're set for the day!
#5 Use Seamless Hair Bands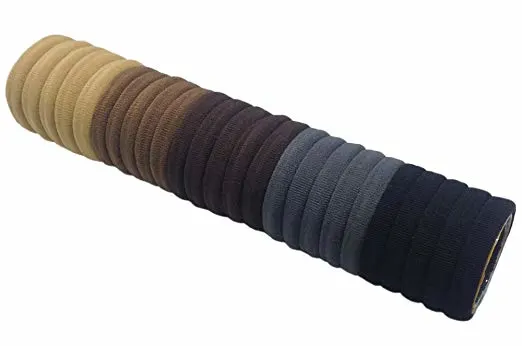 Seamless hair ties are indestructible and almost never ever break. At least they haven't for me.
They do tear and stretch with use, but will less likely break in half like other hair ties that are typically glued or heat sealed together.
Sephora used to make ombre hair ties that they've since discontinued (boo!). You can still find them on Amazon for an affordable price and with plenty to share.
And if your hair is REALLY heavy, we recommend using two ties to hold everything up. Stacking up on ties will also prolong their life.
#6 Try Pro Hair Ties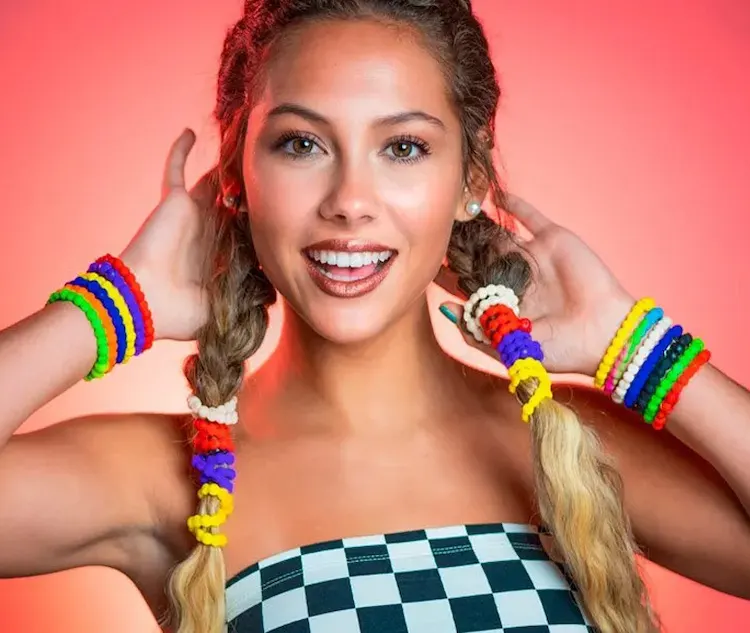 I recently discovered Pro Hair Ties. These ties NEVER break and come in a slew of bright and neutral colors.
The rubber hair ties have a quick release mechanism that prevents your hair from getting tangled and pulled.
The ties are great for tying up thick hair and keeping it up throughout the day.
#7 Get a Haircut to Remove Some Volume and Weight
My final tip is to get a haircut that will make your head feel and look thinner. When you have less to work with, it's more likely that your hair will hold up in an ponytail. I get my hair layered every 3-5 months and I feel like half of my hair is gone.
You can even keep your length by layering your mane. It's also a great opportunity to snip off those split ends so that your hair looks healthy and fresh.
When my hair starts to fall down during class, I know it's time to schedule a haircut.
I hope these tips were helpful for you! If you have any tricks or tips to keep your hairdo up, I'd love to hear them! Share your thoughts with us in the comments or send us a message. Thanks for reading!
If you liked this post, please consider sharing it on Pinterest!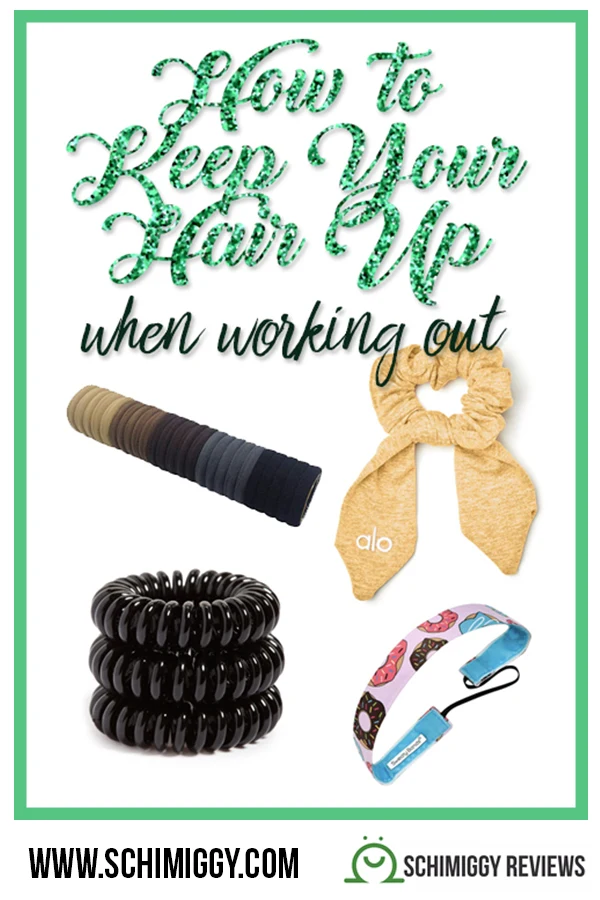 Thank you for visiting today! If you found this encouraging or informative, please connect with us on Instagram or TikTok.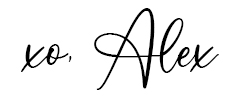 Sign up for our monthly newsletter for updates and more. We promise we won't spam you! Feel free to unsubscribe anytime.
If you're a brand and want to work with us, please visit this page to get in touch.