Reading Time:
5
minutes
Updated: 4/30/2021 | Everlane Review

Disclaimer: I received products from Everlane to review. As always, my thoughts and opinions are 100% honest and my own.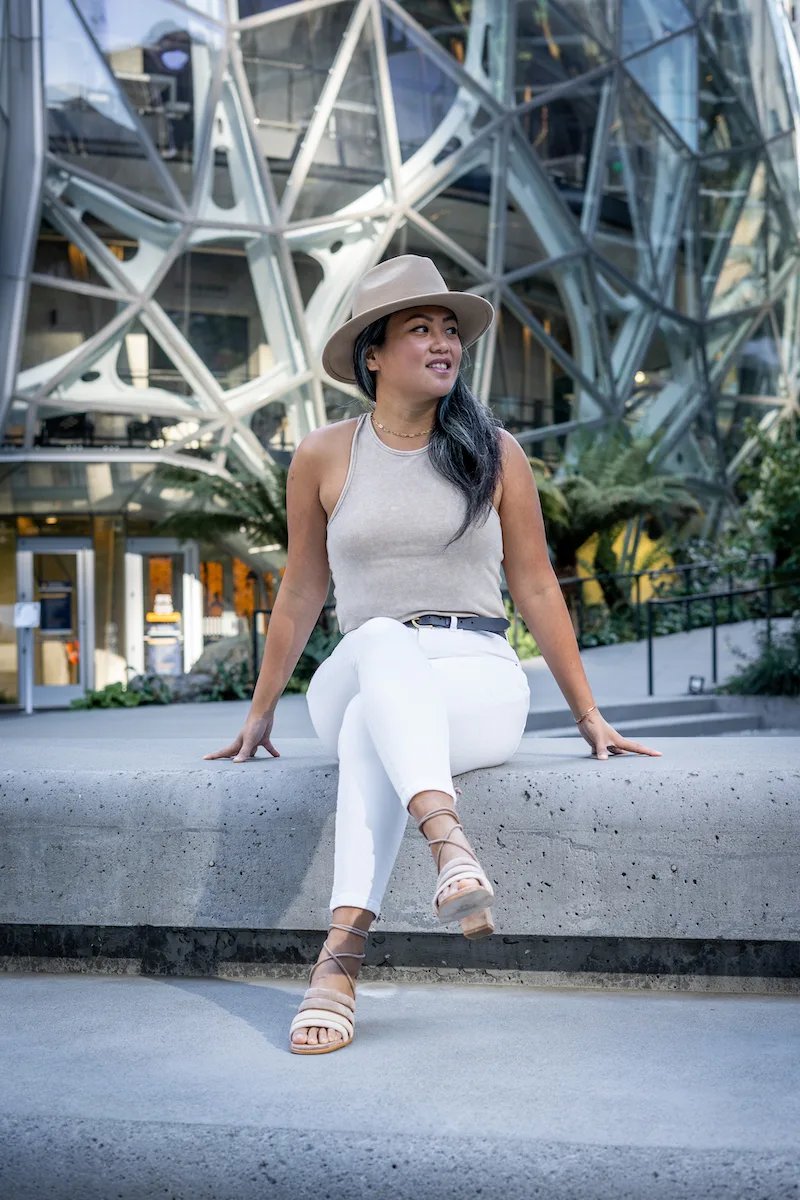 About Everlane
Everlane is a sustainable and practical apparel and accessory company for men and women.
At only 25 years old, Michael Preysman created Everlane in 2010 with the aim of providing high-quality apparel while keeping costs low. They're known for creating sleek and minimal basics that you'll want to wear all the time.
The brand has an almost cultish following. This is due to their sustainable practices and transparency in pricing.
Each of Everlane's products has three prices listed:
Everlane's cost to make the item
Everlane's cost to the consumer, and
The estimated retail price. This includes various traditional markups that the D2C brand avoids.
They sell their products direct to consumers (D2C) and bypass the middle man to keep costs low and quality and satisfaction high.
Everlane Review
I was drawn to Everlane after seeing the launch of their women's swimwear line in April 2021. They offered me a chance to their review some of their most popular products.
I received the following products to review: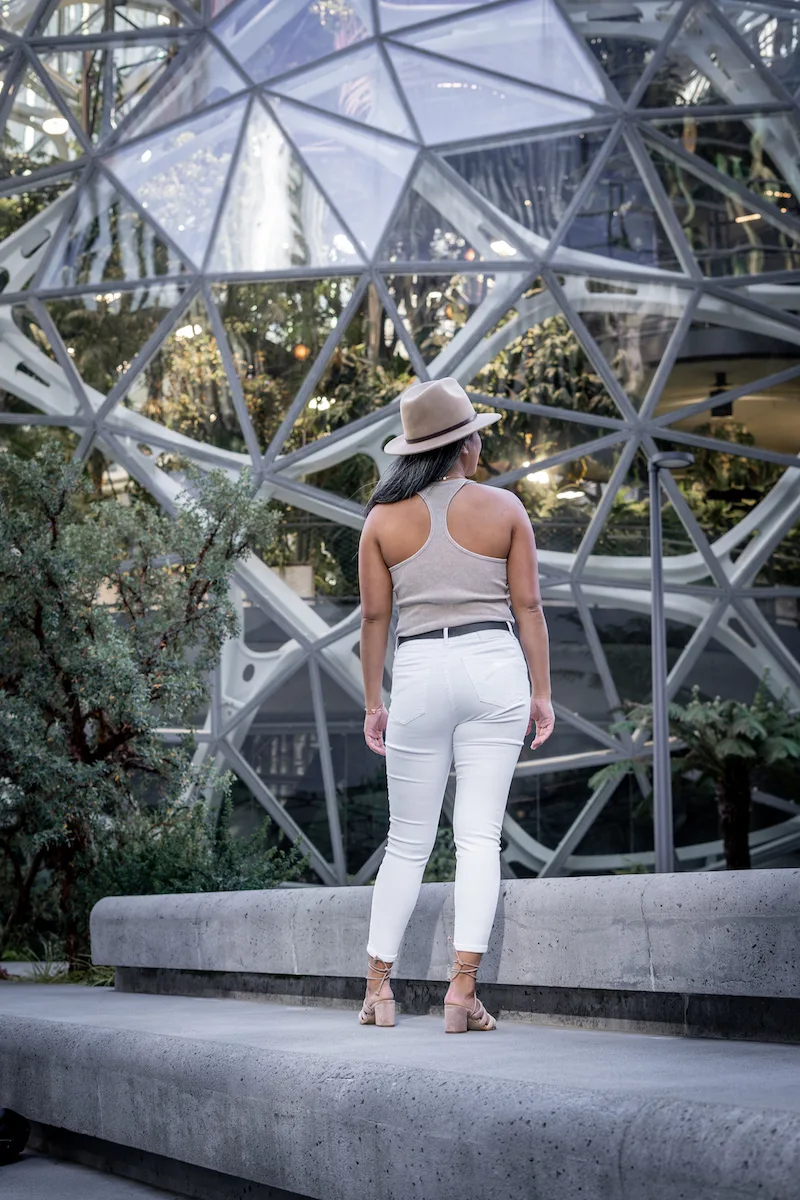 I received my package within 2 days of ordering. The sweater is super soft and cozy and the skinny jeans fit like a glove! I am 5'5″ for height reference and ordered the ankle-length jeans.
Let's delve into how sustainable they actually are and the pros and cons of the brand.
Everlane Pros
Wide variety of products for both men and women. Products include shirts, sweaters, shoes, and pants at a variety of price points.
High-quality products made from sustainably sourced materials.
Ethically sourced materials and factories.
Sustainable and simple packaging. My items came in a large paper envelope. The products themselves were wrapped in recycled plastic. They try to avoid using virgin plastics as much as possible and claim that only 90% of plastics used in their production process were virgin.
Installment payment options are available via Afterpay.
Free shipping on US orders over $75. They offer international shipping to most countries.
30 day return policy from date of purchase. They also partner with Happy Returns so that you can return in person.
Their 100% Human collection donates 10% of sales to ACLU. To date, they've donated over $1 million!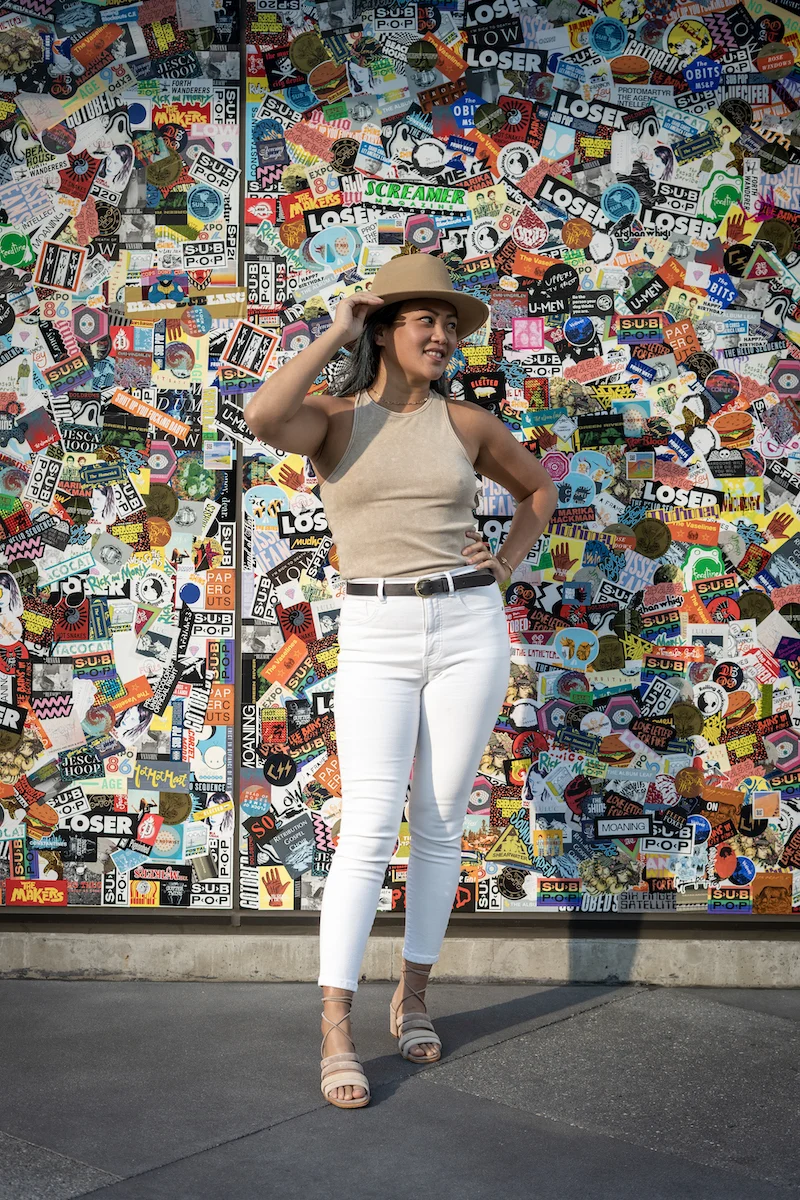 Everlane Cons
Apparel runs large. We recommend going with your true size or even sizing down on certain styles. The jeans fit me perfectly. I read that the 90's Cheeky Jeans run large, so it's best to size down one full size.
Mid to higher than average pricing.
Low stock. Their items sell out fast. Luckily they offer a counter for low-stock products which encourages consumers to purchase ASAP.
A fast fashion brand. While they have production levels lower than most traditional fast fashion brands, Everlane is still not considered "slow fashion."
Definite greenwashing practices. This refers to the act of brands claiming to be sustainable so that you'll purchase their products. According to the eco-stylist, Everlane scored a 5/33 for sustainability, which is considered a failure.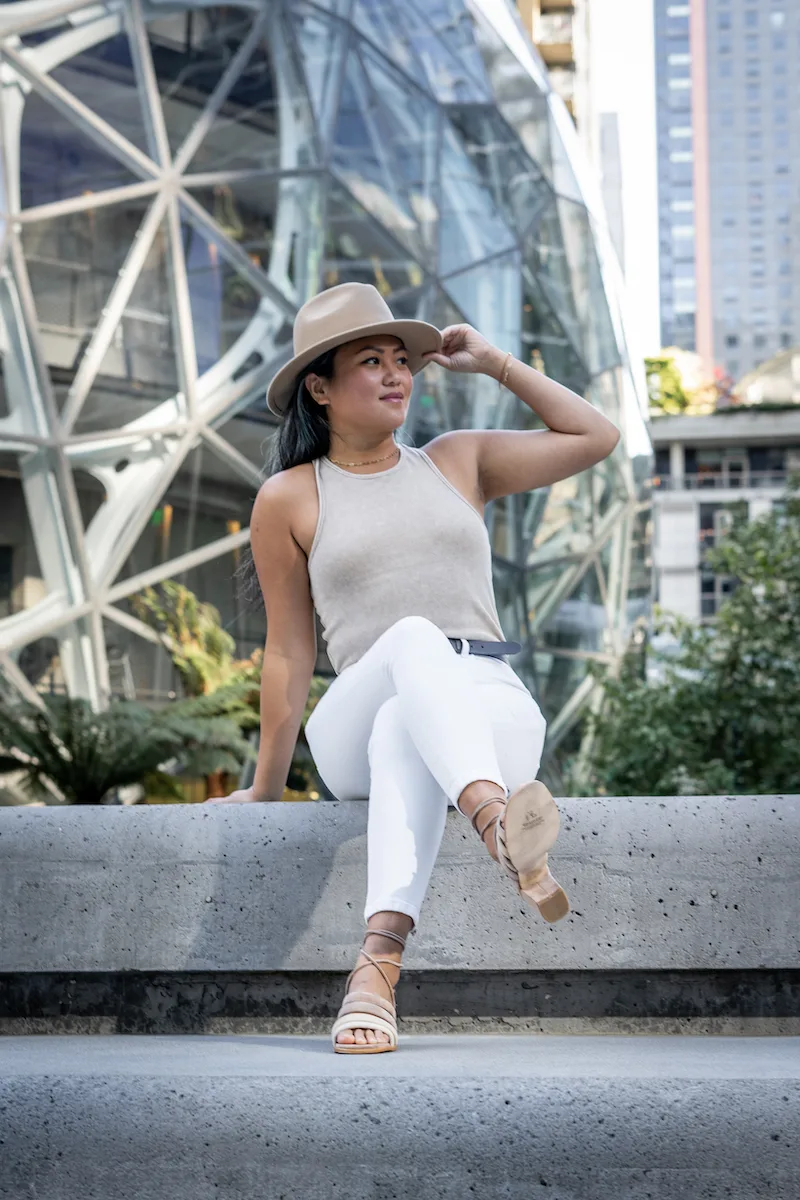 How Sustainable is Everlane?
When Everlane debuted its most sustainable denim campaign, it announced partnerships with a LEED-certified factory that recycles 98% of its water, relies on alternative energy sources and repurposes any byproduct.
Since 2021, the company has also started shipping orders in 100% post-consumer recycled poly bags and launched their No New Plastic campaign and ReNew collection which offers apparel and accessories made from recycled fibers such as water bottles.
This year, the company claims to have replaced all existing yarns, fabrics, and raw materials containing virgin plastic with renewed equivalents.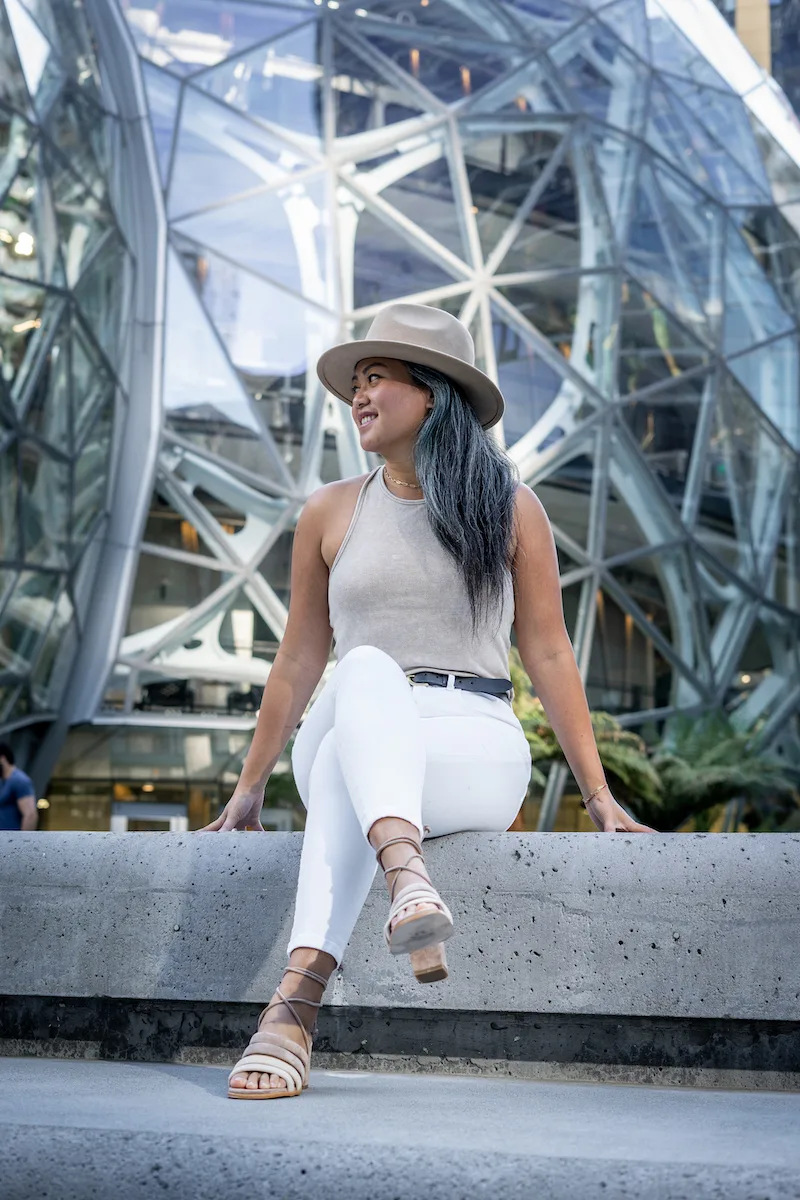 I paired my jeans with the following items:
Everlane Authentic Skinny Jeans ($78) – Use this link to save 10% off your first order.
VICI Collection Cactus washed tank top ($34) – Use this link to save $25 off your first order of $125.
Nisolo Noemi Belt ($50) – Use this link to save $50 off your first order.
ALOHAS Shades of Beige Sandals ($147)
Furtalk felt hat ($25)
Related: ALOHAS shoes Review: Letizia Ombre Sandals
Should I Buy Everlane?
I actually loved my Everlane pieces and was wondering why it took me so long to give them a try. I can see why people love them for their high-quality essentials. I find myself throwing on the jeans just to walk around the house.
While they are still considered fast fashion, I still love that they do more compared to other companies and keep costs low and quality high for consumers. Their model works, but I see many ways in which they can improve upon their sustainability practices.
View this post on Instagram
Where to Buy Everlane
Buy Everlane directly on their website.
Use this link to save 10% off your first purchase at Everlane. (You will need to enable the deal in the top bar).
Don't forget to check out their sales section for awesome deals. We found some tees for $15! What a steal.
If you found our Everlane review helpful, please share it on Pinterest. Thanks for your support!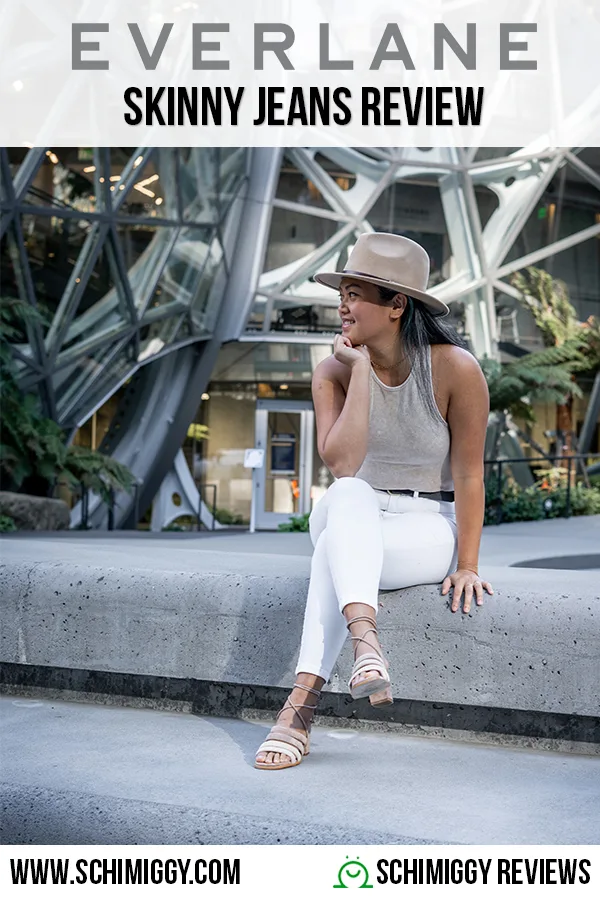 Thank you for visiting today! If you found this encouraging or informative, please connect with us on Instagram or TikTok.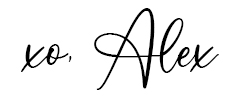 Sign up for our monthly newsletter for updates and more. We promise we won't spam you! Feel free to unsubscribe anytime.
If you're a brand and want to work with us, please visit this page to get in touch.