Reading Time:
3
minutes
If you've never experienced yoga, you're in for a treat! Start feeling closely connected to a new community of spiritually and physically balanced people who teach you more about loving yourself and staying centered. They often seem calmer and happier, and you will want to keep meeting up with them and improving yourself.
Also, many couples discover that doing yoga for the first time changes the chemistry in their relationship. For example, becoming more at one with yourself, including your physical and sexual needs, changes how you engage your senses fully when making love.
Going to yoga classes introduces you to new people, thereby creating chances for new friendships and potential relationships. If you're single, use local yoga classes to meet healthy balanced individuals, and you might even find a local hookup.
What's Going On in Your Love Life?
You and your partner might feel disconnected, which can happen for many reasons. Or, you feel disconnected from yourself because you haven't been making your wellness the focus. For example, you're both caught up in work and social obligations and forget to spend time together, which leads to decreased intimacy. That's common if you're not making fitness, nutrition, and recreation your top priorities.
Whatever your reasons for feeling that you both need to increase your physical and emotional wellness as well as your mental acuity, yoga is the perfect tool. Also, getting more in touch with your body and your inner emotions and thoughts can lead to improvements in your intimate life with your partner.
Here, we look at different ways different health benefits you get from doing yoga alone and with a partner.
You're feeling pain in your back. You should focus on the right

poses

, more stretching, and flexibility to make your back stronger for work and recreation. Being stronger in your core prevents injuries.

You're feeling stressed at work or at home. You need a way to learn new breathing techniques and mindfulness practices, to destress in any situation. This can make your stressful situation feel less overwhelming.

You're feeling you and your lover have hit a plateau in the physical dimension of the relationship. Work on centering yourself and encouraging your loving partner to do the same. If you're both feeling connected to yourselves, then it's easier to let down your protective layers and synch intimately. Deeper intimacy leaves you both feeling emotionally loved and content with your physical life.
The side effects of yoga on your mental and emotional well-being, as well as increased physical strength, flexibility, range of motion, and general happiness, can make you both more open to a deeper physical relationship. Although such results don't manifest immediately, the health benefits can be quickly felt.
The Most Common Things in Relationships and Yoga
Here are the most common things in relationships and yoga:
You must recognize your own needs and be able to communicate them.

You must open your mind to what your partner needs.

You must maintain two-way communication with yourself and your partner.

You must make changes to the relationship with yourself and your partner to improve how you feel.

Please stop relationships (or exercises) that feel wrong inside, including not continuing in a deep connection with a partner who causes more damage than good.
You get one chance to keep an intimate relationship going with your partner. However, being in a relationship should never lead to compromising your personal safety, health, and emotional needs.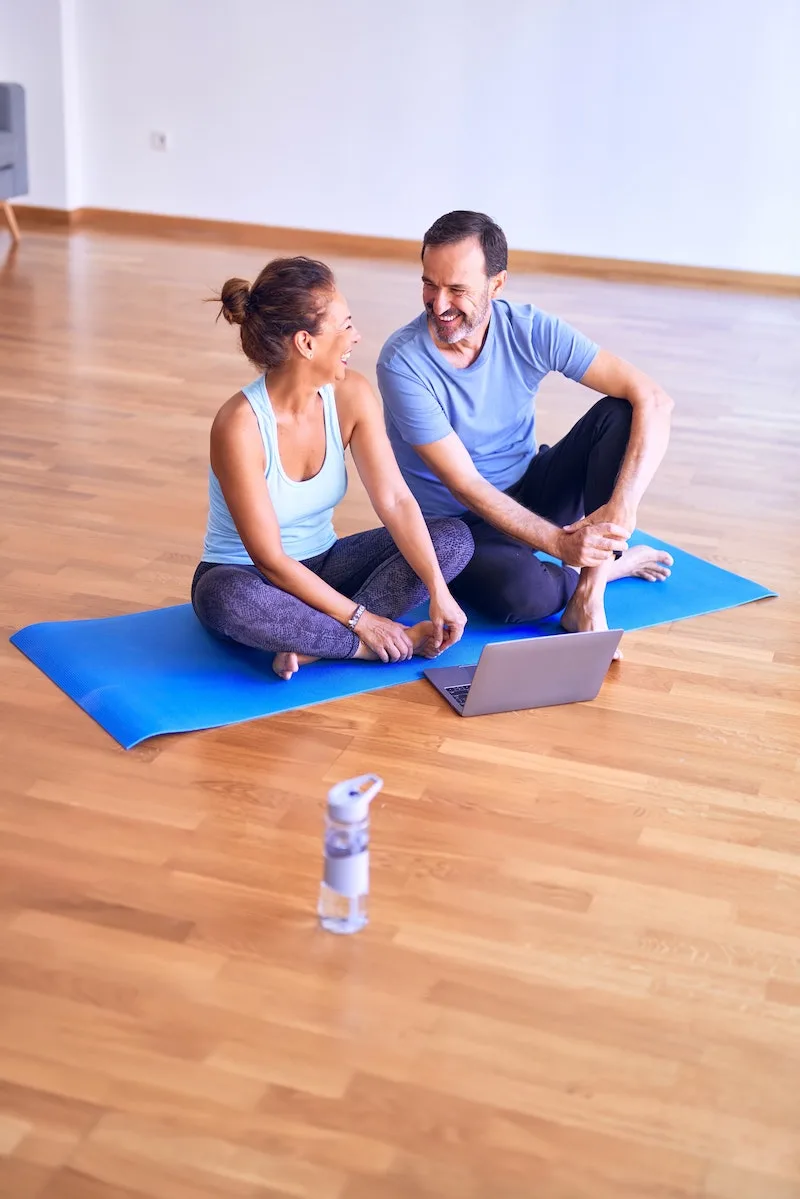 If you can't use yoga or other health tools, including therapy, to improve the relationship, yoga gives you the strength to continue through life alone until you attract a more suitable partner. It's scary to think yoga brings you closer to a romantic connection, but improved focus might also reveal can also help you recognize a deep need to recalibrate your life so you're happier.
To stay in tune with your partner, keep going to yoga alone and together. Doing yoga makes you more aware of your body, your intuition, things that are right and wrong inside and within your immediate surroundings and helps you stay more in control. Finally, yoga helps you limit the effects of other people and environments on how you feel centered within.
With an improved mindset, yoga practitioners feel more confident in many situations, including highly stressful moments, and they get through them with ease. Different platforms offering health and wellness advice will help you to stay informed on how yoga can change your life.
If you enjoyed our article on how to keep your Relationship Refreshed with Yoga, please share it on Pinterest. Thanks for your support!
---
Thank you for visiting today! If you found this encouraging or informative, please connect with us on Instagram, Youtube, Pinterest, Facebook or Twitter. We'd love to meet you!
Sign-up for our monthly newsletter for updates and more. We promise we won't spam you! Feel free to unsubscribe anytime.
For more fitness fashion discounts and offers, please visit our Fitness Instructor Discounts + Brands Directory or favorite brands coupon codes list.
If you're a brand and want to submit a product for us to review, please use this form to get in touch.
This site uses affiliate links. Clicking on or purchasing via an affiliate link may result in commissions for us which help keep the content flowing and lights on at Schimiggy Reviews. You may read more about this in our privacy policy.