Reading Time:
5
minutes
I returned from the 2022 edition of the Same Same But Different (SSBD) music festival with new experiences. This was my second time attending this festival and it only got better than the previous time. The festival is held at Lake Perris State Park in southern California. This year the festival moved a short distance up the beach to a new and larger location which improved the experience significantly.
Like many music festivals, the music is a major attraction with headliners including Chromeo, GRiZ, Tipper, and The Glitch Mob. However, this festival is held on the sandy beach of Lake Perris where festival goers can spend their afternoon cooling off in the lake while dancing to the music coming from the Coconut Club stage located right on the beach.
In this article, I'll highlight a few of the things that I saw that were a bit off many people's radar. The fun, interesting, and unusual things you might only see if you spend some time venturing away from the main areas to explore and create new memories.
#1 Discopia
Discopia was a small geodesic dome set up on the beach far away from all the main stages. The lineup for Discopia wasn't listed on the official festival poster or schedule.
This stage was not only one of the options during the Thursday night pre-party but also had DJs spinning house and disco music at various times all weekend. This was a perfect place to go if you needed a break from the large crowds at the main stage but you still wanted to be dancing.
The decorations were on point and all of the DJs I saw there kept the party going.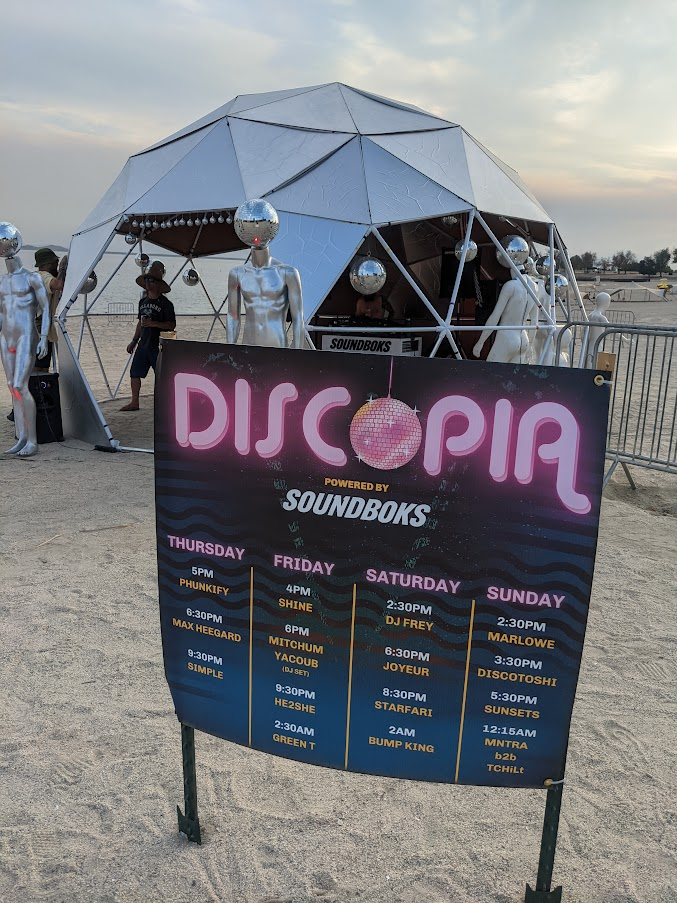 #2 Chill Spaces
Let's say you just needed a break from the crowds and dancing but didn't want to walk all the way back to your camp. SSBD has you covered!
There were several cozy "chill spaces" set up around the beach away from the main stages. The spaces had couches, hammocks, rugs, and platforms where festival goers could relax with friends, rest, and recharge.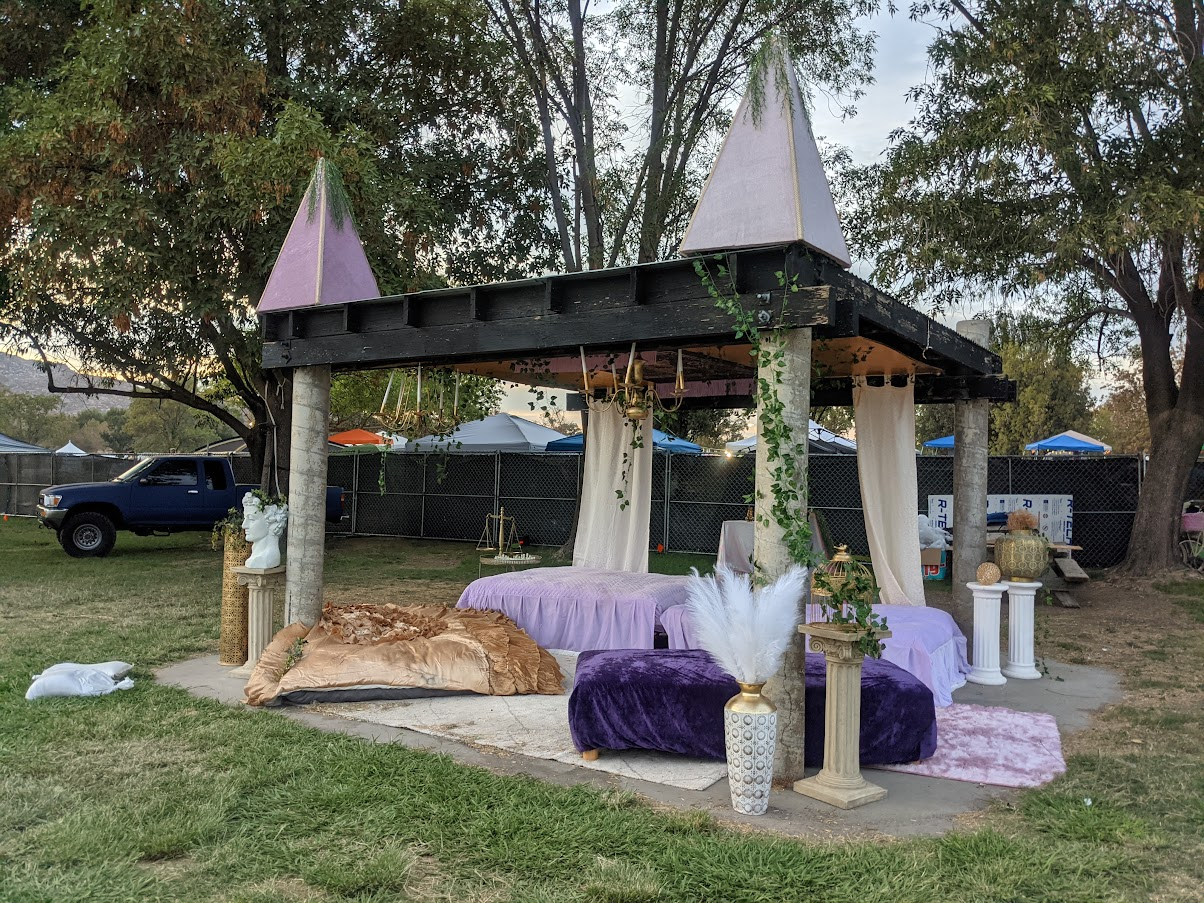 #3 The Tea Lounge
What can I say about the tea lounge? Probably the best way to describe it is a chill space on steroids.
The tea lounge was located inside a small dome and was completely decorated in black-light reactive art. And yes, they were actually serving tea here. This was a great spot to relax, sip on tea, and meet new people. The vibes here were always friendly and inviting.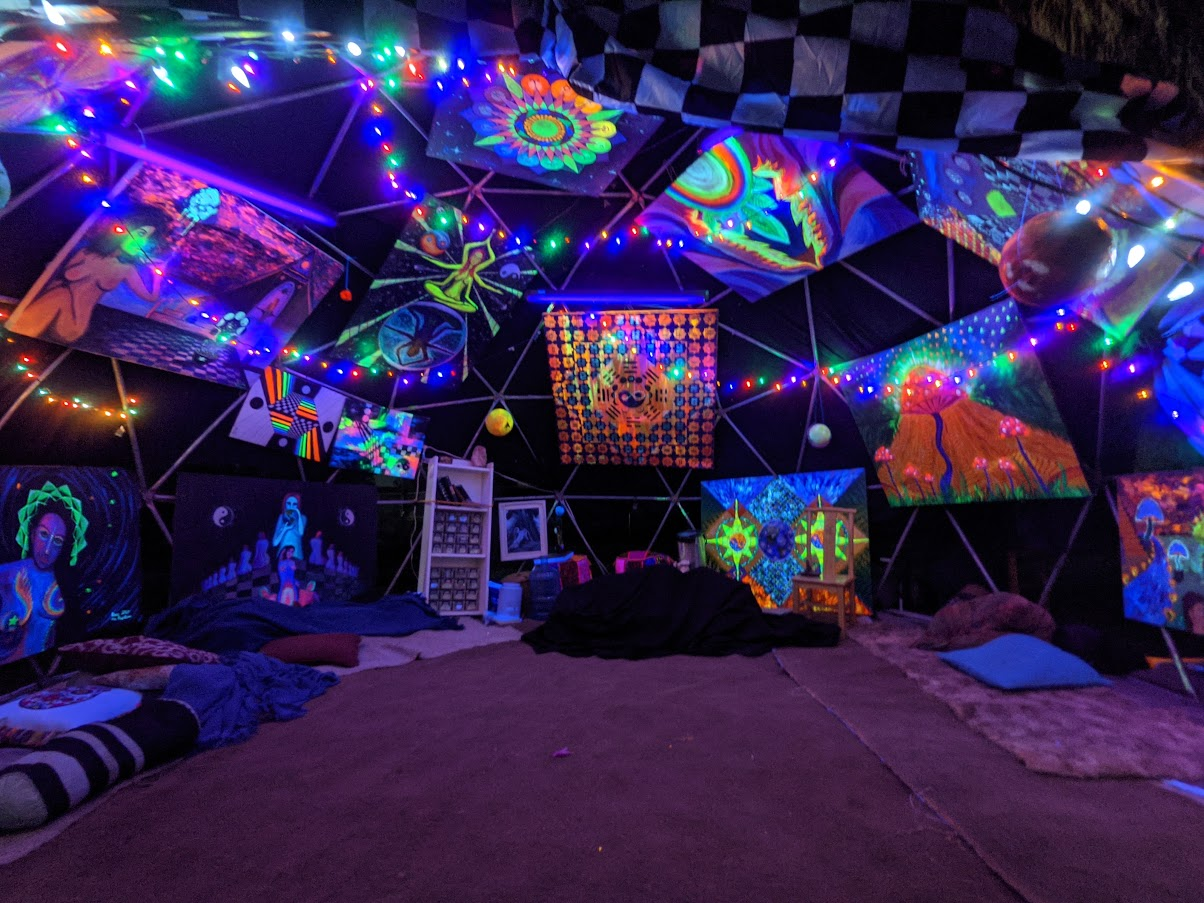 #4 Free Bananas!
I was in the right place at the right time! Saturday afternoon I was in the lake on my floaty enjoying the music coming from the Coconut Club stage when I noticed lots of people around me eating bananas! It turns out there were two guys with boxes of bananas handing them out for free to whoever wanted one. I didn't realize how much I wanted a banana until I had one of my own to bite into. It was an unexpected, yet delicious treat!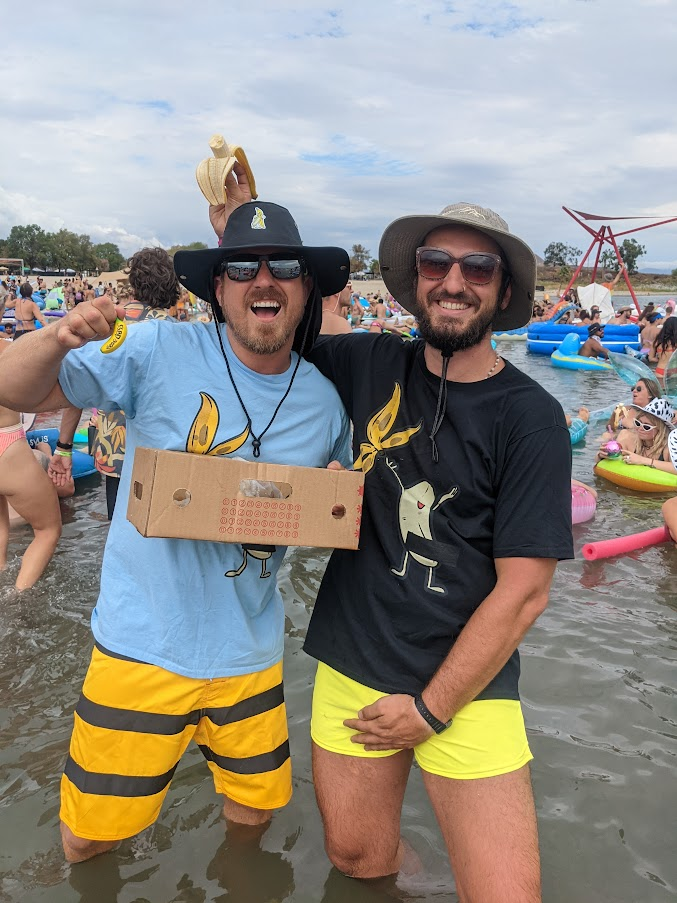 #5 Free Shots!!!
Late Saturday afternoon I decided to venture over to the RV camping area to check out the scene over there. While exploring the area I heard someone ask if I wanted a shot. When I saw all the disco balls decorating the table where the shots were located I immediately knew this was a place I should stop for a few minutes. They had tequila, whiskey, Fireball, and rum. I opted for whiskey.
Yet another example of the friendly and welcoming people that attend Same Same But Different. This totally made the walk over to the RV lot worth the effort!
#6 Floating Hammocks
I remember the HammockCraft people from last year. The idea is so simple yet so brilliant! Take several standup paddle boards and strap them together. Next strap hammock stands on all four sides and sets it afloat on the lake.
The great thing is these people let anyone and everyone get aboard and enjoy the experience of floating in a hammock above the water. Such a fun and unique experience and a perfect way to cool off on a warm day!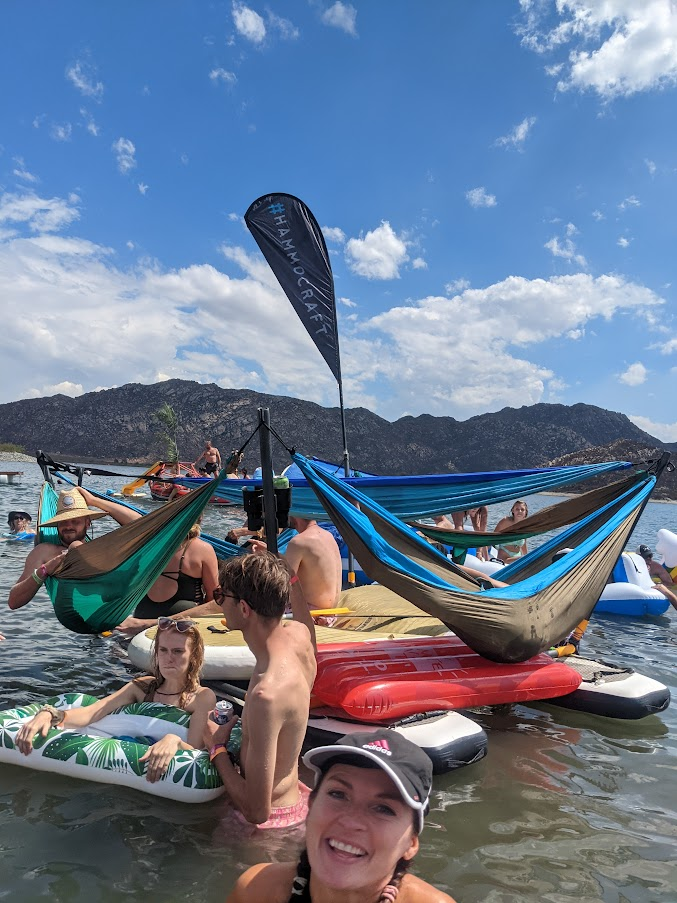 #7 Frick Frack Blackjack
For those people that attend many festivals, you might have seen Frick Frack Blackjack before. This is another really unique activity and attraction that you will probably only see if you explore the area away from the main stages.
The concept is simple yet fun. People are free to gamble on pretty much anything except money. When you take a seat at the table you offer up something to wager. This could be almost anything – a Hotwheels car, a painting, a collection of Star Wars DVDs….if it's not trash or cash you can wager it. The house then offers up something of equal value. Once everyone at the table has placed their wager, a round of blackjack starts. If you win, you keep what the house wagers, and if you lose you give up what you wagered.
#8 Free Tarot Cards
Well, this was unexpected! While walking through the campgrounds one afternoon on my way to the lake I spotted a stack of boxes with a sign in a clearing away from any tents. I decided to walk over to see what it was. It turned out to be a big stack of boxes all containing three decks of tarot cards…free for the taking!
I'm not sure who put these here but it's yet another example of the fun and generous spirit of the attendees of Same Same But Different.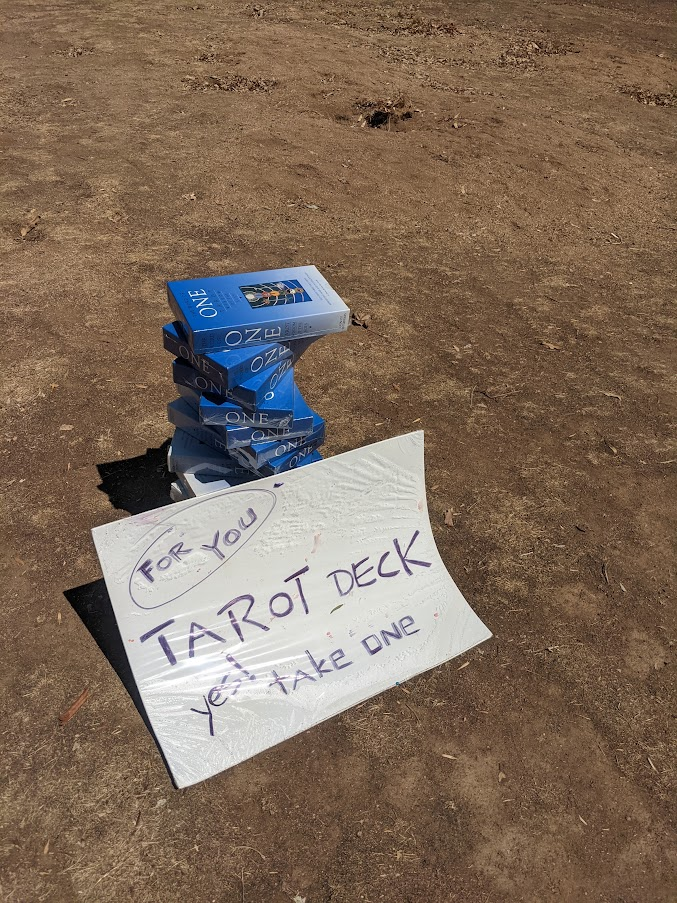 #9 Full Moon Saturday Night
This last item wasn't so hidden but worth a mention. Everyone was graced with a full moon on Saturday night. There aren't many music festivals where you're dancing on the sand of a beach next to a lake. And dancing in that sand next to the lake while under a full moon took the experience up to a whole new level! For me personally, dancing and grooving to Tipper under the full moon was an experience I will never forget.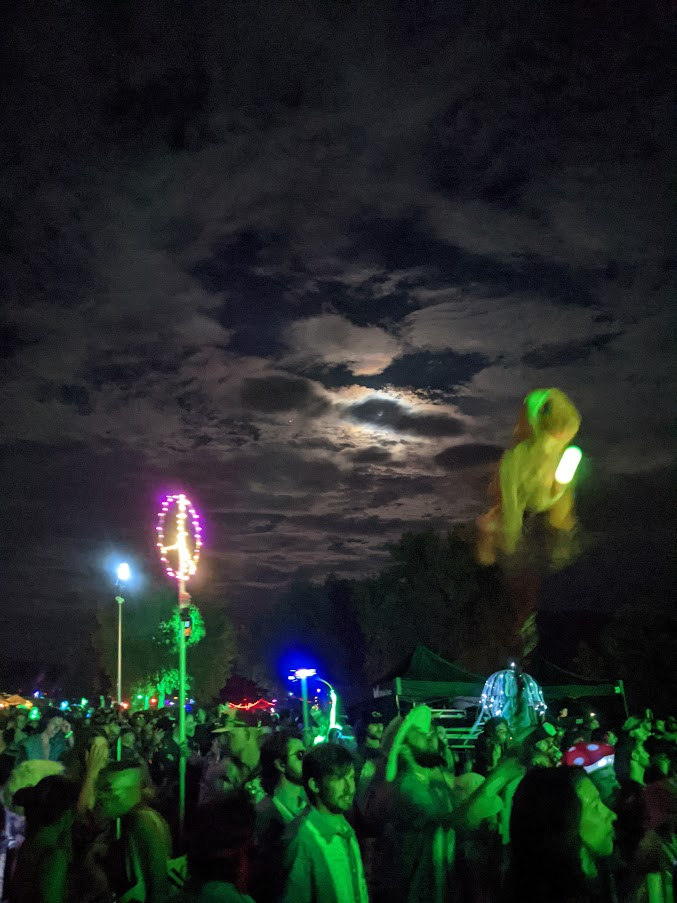 So there you have it, a list of interesting, unique things you might have missed at Same Same But Different this year. So next year, whether you're a first-time attendee or returning to re-experience the magic, don't forget to spend a little time exploring the areas away from the main stages and your own campsite. You never know what you'll find!
---
Thank you Same Same But Different for having the team at Schimiggy attend the festival this year. We can't wait to go again!
Written by Bryan Myron, Festival Expert for Schimiggy's Travel and Lifestyle Blog
---
Thank you for visiting today! If you found this encouraging or informative, please connect with us on Instagram, Youtube, Pinterest, Facebook or Twitter. We'd love to meet you!
Sign-up for our monthly newsletter for updates and more. We promise we won't spam you! Feel free to unsubscribe anytime.
For more fitness fashion discounts and offers, please visit our Fitness Instructor Discounts + Brands Directory or favorite brands coupon codes list.
If you're a brand and want to submit a product for us to review, please use this form to get in touch.
This site uses affiliate links. Clicking on or purchasing via an affiliate link may result in commissions for us which help keep the content flowing and lights on at Schimiggy Reviews. You may read more about this in our privacy policy.