Reading Time:
5
minutes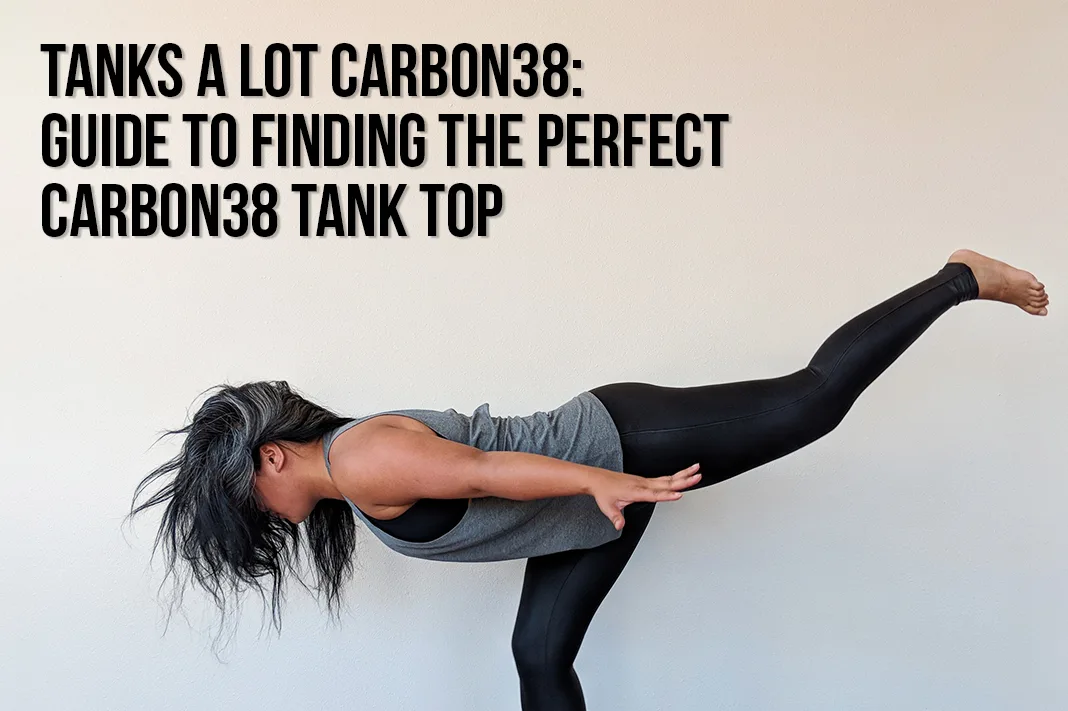 Current Carbon38 Deals
You can use discount code SHMGY25 for 15% off your first two orders. Shop now→

You can also check their sales section for regularly added products. Shop Carbon38 deals!
I've been steering further away from lululemon since I went down this activewear journey. I am glad I did because it allowed me to see and appreciate the craftsmanship of other brands. One brand, in particular, is Carbon38 and their tank tops.
Carbon38 was started in 2013 by lady bosses Caroline Gogolak and Katie Warner Johnson. In 2016, Carbon38 introduced their own line of activewear and sportswear pieces. The pieces are beautiful and practical, making them great for both active and casual wear. It took me about year before I finally bit the bullet and gave their products a try.
My foray into Carbon38-land was with the Rally Tank Top ($42) and their best-selling Takara leggings ($98). You can read my review of the outfit here. It was affordable and the colors were great. The emerald green Takara legging and the grey tank looked AND felt amazing on. If you want leggings that truly make you feel "naked," Takara leggings are the way to go. I was definitely blown away by Carbon38's quality. The material was very smooth and lightweight.
However, I did have some gripes about the Rally tank top. I teach and practice a lot of yoga so wearing the tank top tied up was really uncomfortable in supine positions. I decided to branch out to their other silhouettes.
I eventually added the Atom and Charge tank tops to my collection and I wish I had done it sooner! The fabrics are all different depending on the style and color of the top. The grey is jersey material that is heavy and the white and red are a thinner material that has a lot of stretch and has sheen to it. I love both materials equally. I also haven't had any issues with pilling or snagging and the colors have stayed true through multiple washes and wear and tear. I recommend SIZING UP in both Carbon38 tanks and bottoms for a comfortable and flattering fit.
Carbon38 has since released more tank tops and collections that will outfit you for any activity. Many of their tanks are high-neck style, which provides modest coverage. I hope they release some lower neckline tank tops down the line.
If you're in the market for some tank tops and Carbon38 has piqued your interest, here are some of my favorite Carbon38 tank tops. Click on the image of the tanks if you'd like to see more details about the tops.
#1 Atom Tank Top
This is by far the Carbon38 tank that I wear the most. I love the loose fit and back cut-out for added breathability. Pair a cute strappy bra with this top. The tank comes in many colors including a neon pink. The fabrics are very comfortable and durable.
#2 Motion Tank Top
I tried this top in the white variation and I fell in LOVE! The material feels amazing and is very breathable. It also looks slimming on. The high neck provides modest coverage and it goes with just about everything. I am definitely adding more of these to my collection.
#3 Charge Tank Top
The Charge and Motion tanks look pretty much the same, except for the Charge tank has pleating details on the back of the tank and a larger armpit opening. The tanks are made from the same material. I love the bell-shaped hem and high neck design. Both tanks also have pretty much the same color palettes. I wear both almost equally.
#4 Pearl Tank Top
The Pearl tank top is so lightweight it feels like you're wearing nada. I love the knotted detail in the back. This tank sells out quickly. Check back regularly in case they get more in stock, which also happens regularly. They've now released over 10 colorways for the Pearl tank top.
#5 Rally Tank Top
This was my first venture into the Carbon38 tank tops. I love the material and colors. I found that it was only practical for exercises and activities that don't require supine position (laying on your back). For the 2018 elections, Carbon38 collaborated with Democracy Works, Rock the Vote, Vote.org, #VoteTogether, Voto Latino, and When We All Vote to produce a tank that had a powerful message and supported these grassroot voter and democracy organizations. I had to add the "I am a voter" tank to my collection.
https://www.instagram.com/p/Bp07XuMARZg/
#6 Crop Tank
The Crop Tank is hands down my favorite Carbon38 tank top. It goes well with high-waist leggings and is a perfect match for the Carbon38 Takara leggings collection. This tank is also very affordable at only $34!
Tanks that Did Not Make the Cut
Other tanks that I tried and didn't make the cut include their Sayang Collection – Lovina Macrame Tank ($90) and the Alex Tank ($55). I really wanted to love both but the Lovina was too boxy despite having a very feminine macrame design in the back. It would have been better as a form-fitting tank and fit like their Seminyak bras ($105). The quality and fit of the Alex didn't translate well. The Alex tank has a raw seam hem and I am pretty sure would tear in the back if I got it stuck on something or if I sat on it the wrong way. I can't risk it when I'm in class or going about my day. Both were quickly sent back to find new owners.
I am not saying you shouldn't buy these, but they just didn't work for me. Definitely try them out if you think it's totally your style.
Where to Buy Carbon38
Shop at Carbon38 and use code SHMGY25 for 15% off your first two orders. Enjoy free shipping AND returns on purchases of $200+.
You can also check out their sales section for awesome deals on Carbon38 apparel and other brands.
You can also find great Carbon38 deals on the following third-party marketplaces such as:
Mercari - Use code SYVFUT for $10 off your first purchase.
Poshmark - Use code SCHIMIGGY for $5 off your first purchase.
Carbon38 Giveaway!
I am also running a Carbon38 giveaway for the rest of 2019! One lucky winner will win a $100 USD gift card to Carbon38! That's enough for a pretty pair of Carbon38 leggings or anything else you've been eyeing. Winner be notified on New Years Day 2020! Good luck everyone!!! Winner will be notified via e-mail and on the Schimiggy Reviews newsletter!
Please let me know in the comments if you have a Carbon38 tank and what you think about it! I would love to hear from my readers.
Tanks to tuning in! 😉
If you liked this post, you might like these articles too:
---
Thank you for visiting today! If you found this encouraging or informative, please connect with us on Instagram, Youtube, Pinterest, Facebook or Twitter. We'd love to meet you!
Sign-up for our monthly newsletter for updates and more. We promise we won't spam you! Feel free to unsubscribe anytime.
For more fitness fashion discounts and offers, please visit our Fitness Instructor Discounts + Brands Directory or favorite brands coupon codes list.
If you're a brand and want to submit a product for us to review, please use this form to get in touch.
This site uses affiliate links. Clicking on or purchasing via an affiliate link may result in commissions for us which help keep the content flowing and lights on at Schimiggy Reviews. You may read more about this in our privacy policy.